Want to make something easy for dinner, that's still festive and healthy? Chicken and Vegetables in Foil Packets is the perfect easy meal! Flavorful, juicy chicken and seasoned veggies are all cooked together in foil packets for a healthy, family favorite meal.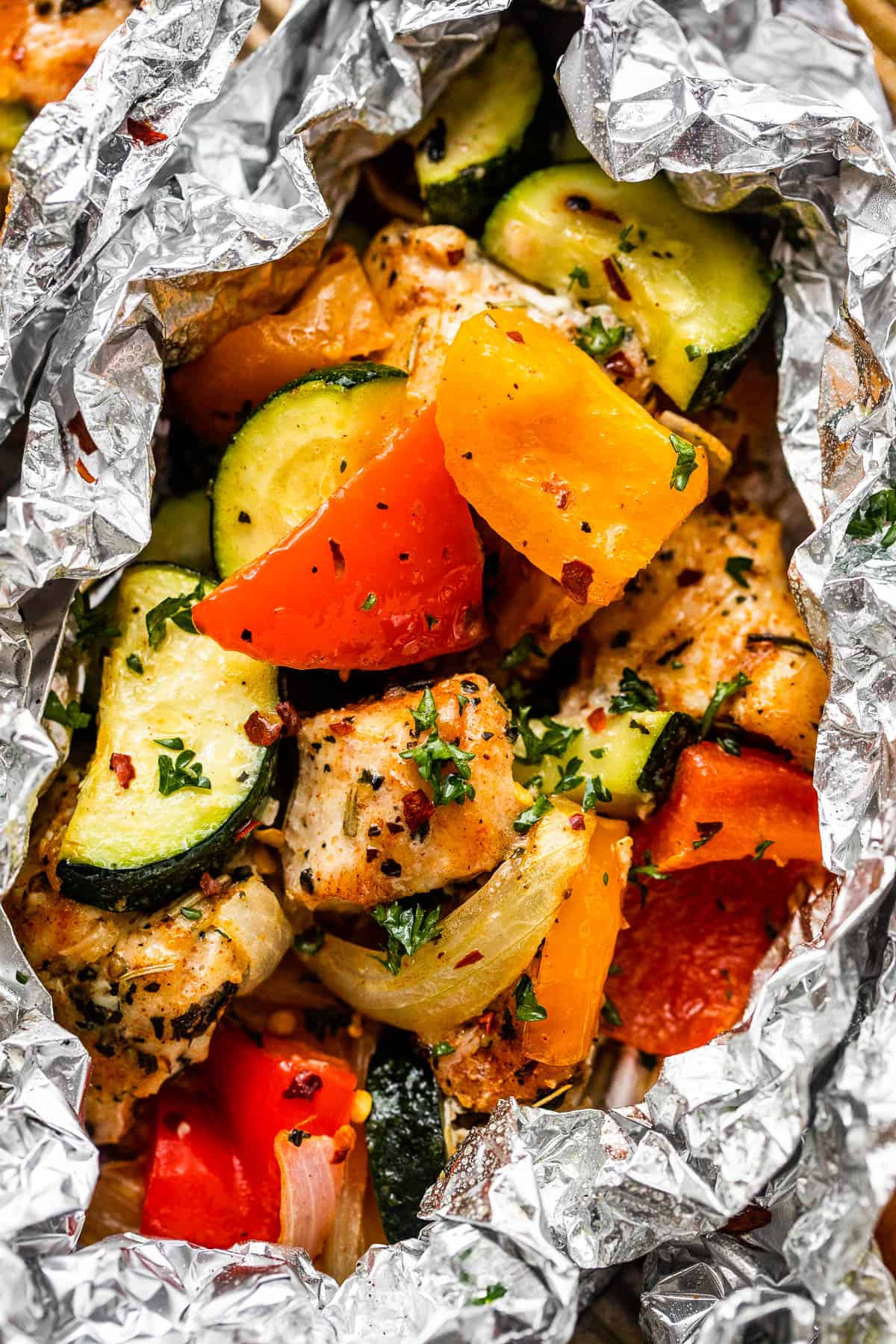 An Easy, Healthy, No-Mess Dinner Idea
Looking for a dinner idea that's easy to put together at the last minute, with practically no mess? This is one of my favorites! It's so simple to make, but it's packed with healthy protein and fresh, crisp-tender vegetables.
Much better than a fast-food night or junk food night, amirite?
Made with tender, juicy cubes of white meat chicken, and crisp colorful veggies seasoned to perfection, this recipe is one that every busy cook should have up their sleeve. As versatile as it is delicious, you can pull it together with just about any veggies and protein that you have! Also, because everything is cooked in foil, it makes cleanup a breeze.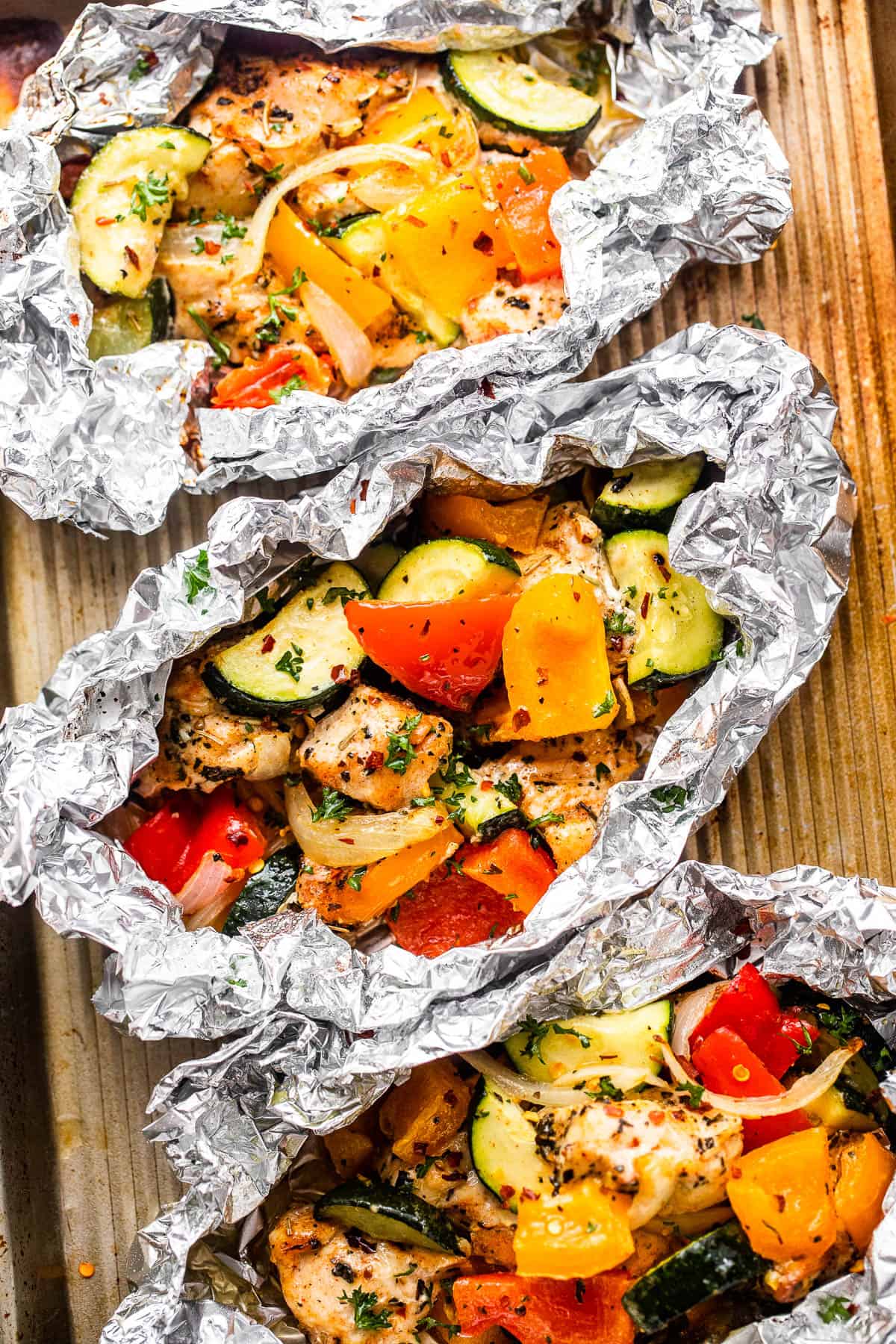 Tell Me More about these Chicken Foil Packets!
Sure thing! This easy chicken dinner recipe is…
Fun and Different
Quick-Cooking
Tender and Juicy
Well-Seasoned
Versatile
Oven-Friendly and Grill-Friendly
Healthy and Light
Made from Scratch
Simple and Foolproof
What Ingredients Do I Need?
To make this simple dish, you'll need fresh (or thawed) boneless, skinless chicken breasts, and fresh veggies. The rest of the ingredients are oil, seasonings, salt, and pepper. Easy!
Chicken: Cut the chicken into 1-inch cubes. Try to avoid leaving larger chunks of chicken, because they will not cook evenly in the oven.
Vegetables: I like to use a mix of two different color bell peppers, as well as some zucchini, garlic, and onion. You can substitute whatever tender vegetables you like, though!
Olive Oil: A good quality extra-virgin olive oil will have the most flavor.
Paprika: Made from dried, ground peppers, paprika isn't spicy, but does add a deep, sweet, earthy taste.
Italian Seasoning: Italian seasoning is a great way to add balanced flavor, fast!
Garlic and Onion Powder: These two basics are a great way to boost the umami flavor in a recipe.
Salt and Pepper: To taste.
Red Pepper Flakes: For serving, optional.
Parsley: For garnish.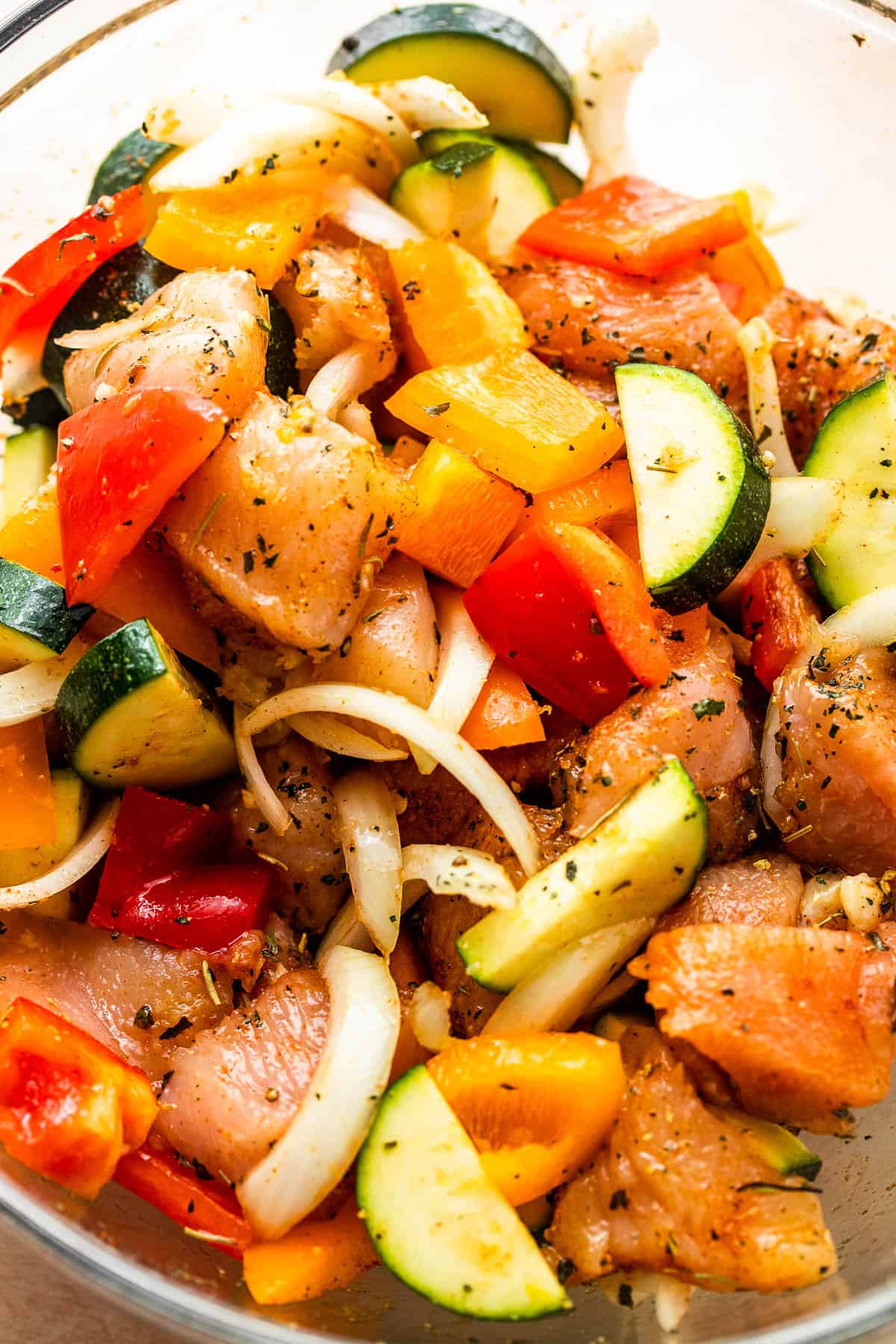 How to Make Chicken Foil Packets with Veggies
Okay, let's take a look at the method for putting the foil packets together. It's a super-simple technique that gets even easier every time you make it! Here's the skinny:
Prep the Oven and the Foil Sheets. Before you get started, make sure the oven is preheating. It's no fun to get everything ready to go, only to realize that the oven is cold. 😐 Next, set out four large sheets of foil, about one square foot each.
Combine the Packet Ingredients. In a mixing bowl, combine the chicken, vegetables, olive oil, and seasonings. Use a large spoon to mix it all together until evenly combined.
Assemble the Packets. Divide the chicken mixture evenly onto the four sheets of foil. Pull the side edges of the foil toward the center, and line them up. Fold them over together twice, to seal the top of the packet. Then fold the bottom edges up and over a couple of times to seal the bottom. Finally, fold the top edges down and over a couple of times to seal the top.
Bake. Place the foil packs on a baking sheet, or in a large baking pan, and bake them for 20 to 25 minutes. The chicken should be cooked through and veggies should be tender. (Chicken is cooked through when internal temperature registers at 165˚F.)
Open, Season, and Serve. Remove the cooked packets from the oven. Carefully poke a hole in the top of the packets, to let some of the steam out, and then open the packets away from your face (in case the remaining steam is still enough to harm you!). Taste the dish for salt and pepper, and adjust as needed. Garnish with pepper flakes (if using) and chopped parsley.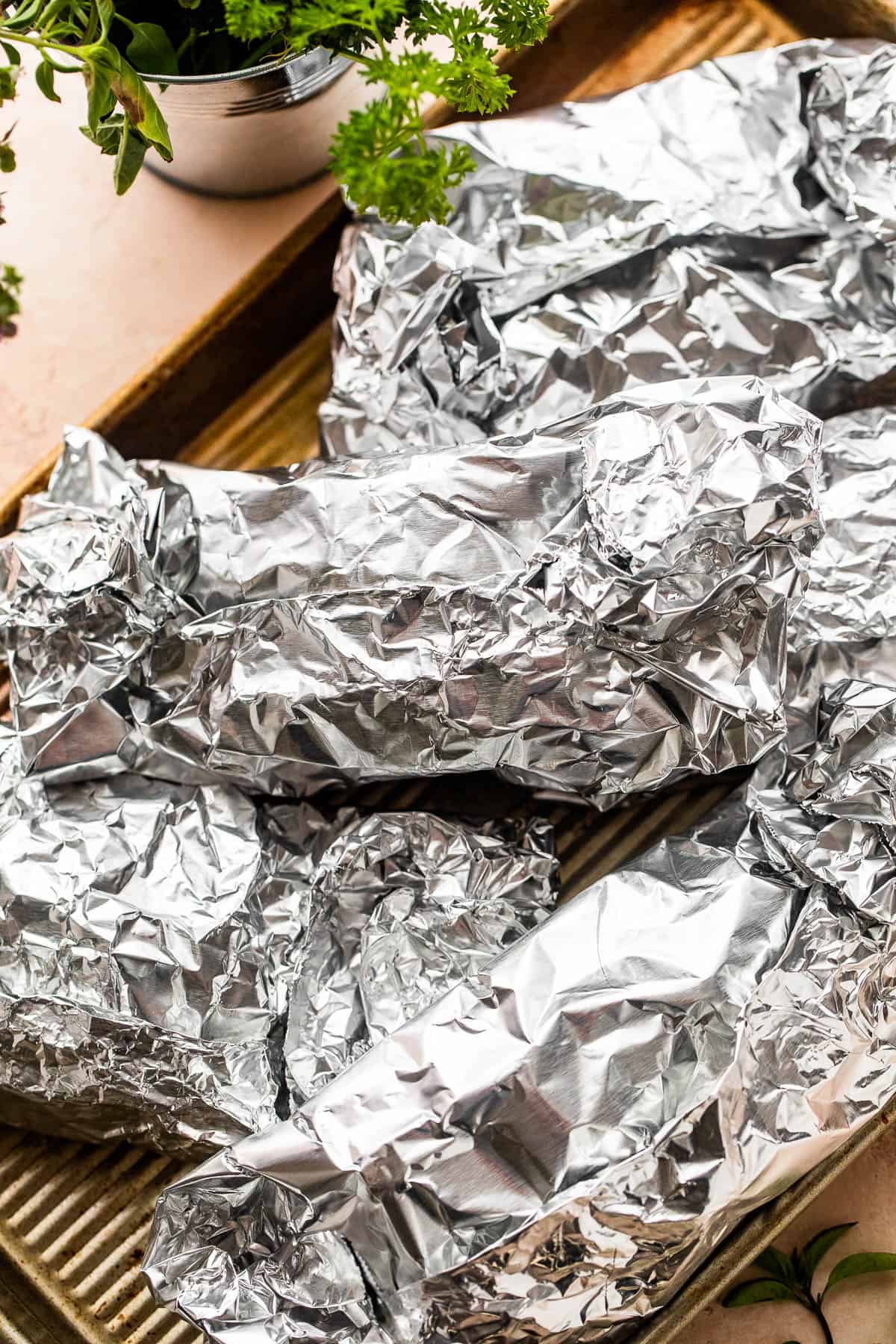 Helpful Tips and Tasty Variations
Before you get started, I hope you'll take a quick look at these handy tips and variation ideas. They'll help ensure that your foil packets turn out perfectly cooked and delicious, every time. Happy cooking!
Grilling Option: If you like, you can also make these cook your foil packets on a grill! To grill, preheat your grill to 400˚F. Place the foil packet on the grill, seamed side up, and grill it for 15 minutes. Turn the packet, and grill for another 10 or 15 minutes. Make sure to test the chicken for doneness with an instant-read thermometer before serving.
Protein Swap: If you don't want to use chicken breast, you could also use ground beef patties or sausage links! Neither of those your style? Make this a vegetarian feast with your favorite vegan meat, seitan, potatoes, or drained canned beans.
Veggie Swap: Onions, bell peppers, and zucchini are just the start! This dish would be wonderful with all kinds of veggies: green beans, snow peas, summer squash, mushrooms, green onions, kale, thinly sliced radish, or thinly sliced eggplant. Make it your own! Just choose vegetables that cook around the same amount of time.
Use Heavy-Duty Foil: Thin aluminum foil is fine for covering a bowl of leftovers, but for this recipe, you should reach for the heavier weight foil. That way, you can avoid tears and rips! You may even want to use two layers.
Safety First: Since the foil packets will be hot and full of steam when cooked, be very careful moving them and opening them. Steam can burn you, so I recommend poking a hole in the top or side of the packet to let some of the steam out before carefully opening the packet away from your face.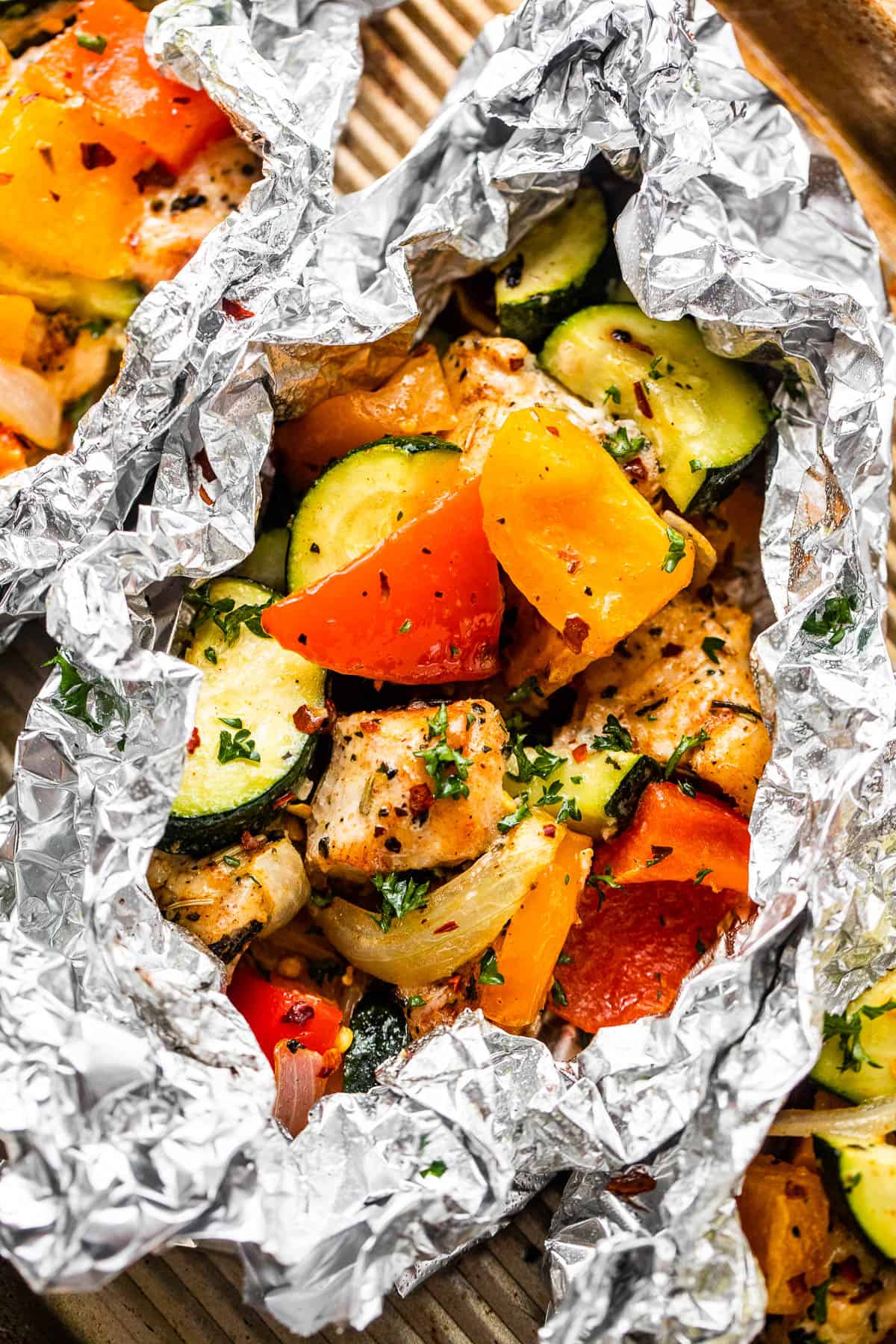 What Goes with this Foil Packet Dinner?
To serve, you can simply place the foil packets on dinner plates, open, and eat (carefully, of course, since they're literally steaming hot)! But if you'd like a side or two, try one of these. They're sure to please!
Mashed Potatoes: The juicy chicken and tender veggies go beautifully with Classic Creamy Mashed Potatoes. It's a warm and cozy side that'll bring out the best in almost any dinner!
Mexican Rice: This easy Instant Pot Mexican Rice is loaded with flavor, thanks to tomato purée, vegetable broth, corn, peas, carrots, and plenty of spices. It's a healthy dish that's like a fiesta in your mouth!
Sweet Potatoes: The naturally sweet and savory taste of sweet potatoes is always welcome on my table! Steamed and mashed are great, baked are a delight… but if you haven't tried Garlic Honey Roasted Sweet Potatoes, they just might be your new favorite!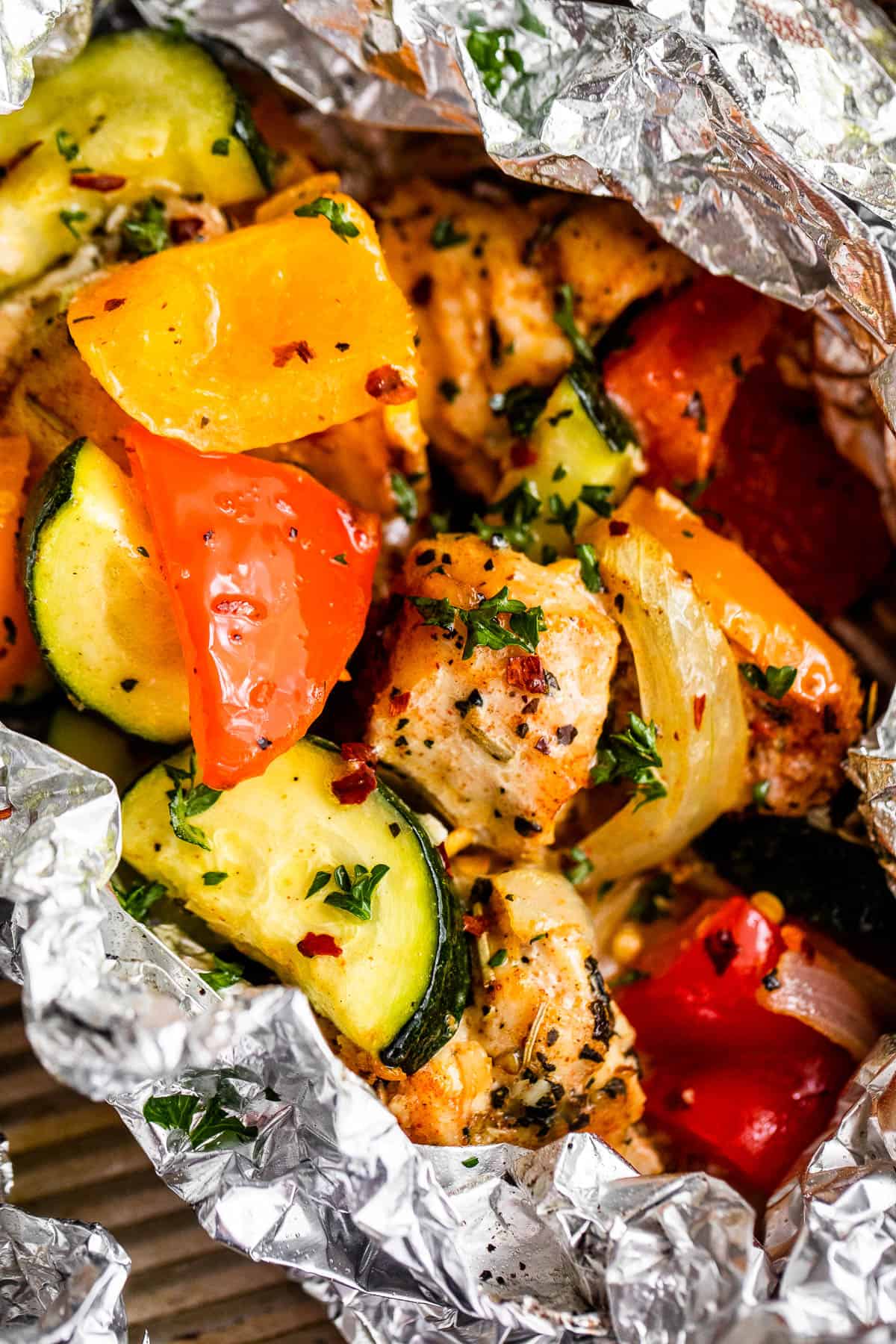 Storing and Reheating Leftovers
You can store and reheat this dish just the way you would any other chicken and veggie dinner.
To store, remove from foil and place the leftovers in an airtight container, and keep in the refrigerator for 3 to 4 days.
To reheat, place the desired portion in a covered skillet (add a splash of water or broth if it seems dry). Heat on low until everything is piping hot, all the way through.
Can I Make the Foil Packets In Advance?
Yes, you can! Foil packet meals are great for packing in the freezer and thawing out another time.
Just assemble the foil packets as directed, but instead of cooking them, place them in gallon-sized freezer bags and press out as much air as possible.
Freeze for up to 4 months, and thaw in the refrigerator overnight before heating.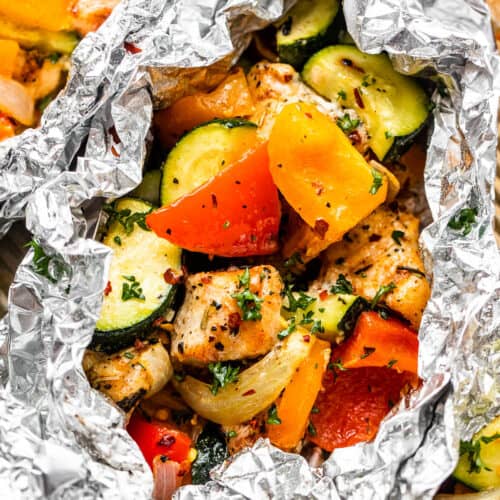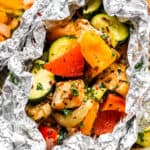 Print Recipe
Chicken and Vegetables in Foil Packets
Chicken and Vegetables in Foil Packets is the perfect easy meal! Flavorful, juicy chicken and seasoned veggies are a healthy family favorite!
Ingredients
1

pound

skinless boneless chicken breasts,

cut into 1-inch cubes

2

bell peppers,

chopped (I used 1 red bell pepper and 1 yellow bell pepper)

1

large zucchini,

sliced or chopped

1

small yellow onion,

thinly sliced

3

cloves

garlic,

minced

2

tablespoons

olive oil

1

teaspoon

paprika

1

teaspoon

Italian seasoning

1

teaspoon

garlic powder

1

teaspoon

onion powder

½

teaspoon

salt,

or to taste

¼

teaspoon

fresh ground black pepper,

or to taste

crushed red pepper flakes,

for serving, optional

chopped fresh parsley,

for garnish
Instructions
Preheat oven to 450˚F.

Cut out 4 sheets of foil, each measuring about 12"x12". Set aside.

In a large mixing bowl combine the chopped chicken, peppers, zucchini, onion, and garlic.

To the chicken mixture add olive oil, paprika, Italian Seasoning, garlic powder, onion powder, salt, and pepper; mix well until thoroughly combined.

Spoon mixture evenly onto the 4 foil sheets.

Fold all sides of the foil over the ingredients and seal it closed.

Transfer the foil packs to a large baking sheet and cook for 20 to 25 minutes, or until chicken is cooked through and veggies are tender. Chicken is cooked through when internal temperature registers at 165˚F.

Remove from oven.

Carefully poke a hole in the top of the packets, to let some of the steam out. Open the packets away from your face because of the remaining steam inside.

Taste for salt and pepper, and adjust accordingly.

Garnish with pepper flakes, if using, and chopped parsley.

Serve.
Nutrition
Calories:
245
kcal
|
Carbohydrates:
11
g
|
Protein:
26
g
|
Fat:
11
g
|
Saturated Fat:
2
g
|
Polyunsaturated Fat:
1
g
|
Monounsaturated Fat:
6
g
|
Trans Fat:
1
g
|
Cholesterol:
73
mg
|
Sodium:
434
mg
|
Potassium:
838
mg
|
Fiber:
3
g
|
Sugar:
6
g
|
Vitamin A:
2315
IU
|
Vitamin C:
95
mg
|
Calcium:
46
mg
|
Iron:
1
mg
More Quick and Easy Dinner Ideas