Making homemade waffles is quick and tasty with this Easy Waffle Recipe. Treat yourself to a wholesome breakfast made from scratch, and don't forget the syrup!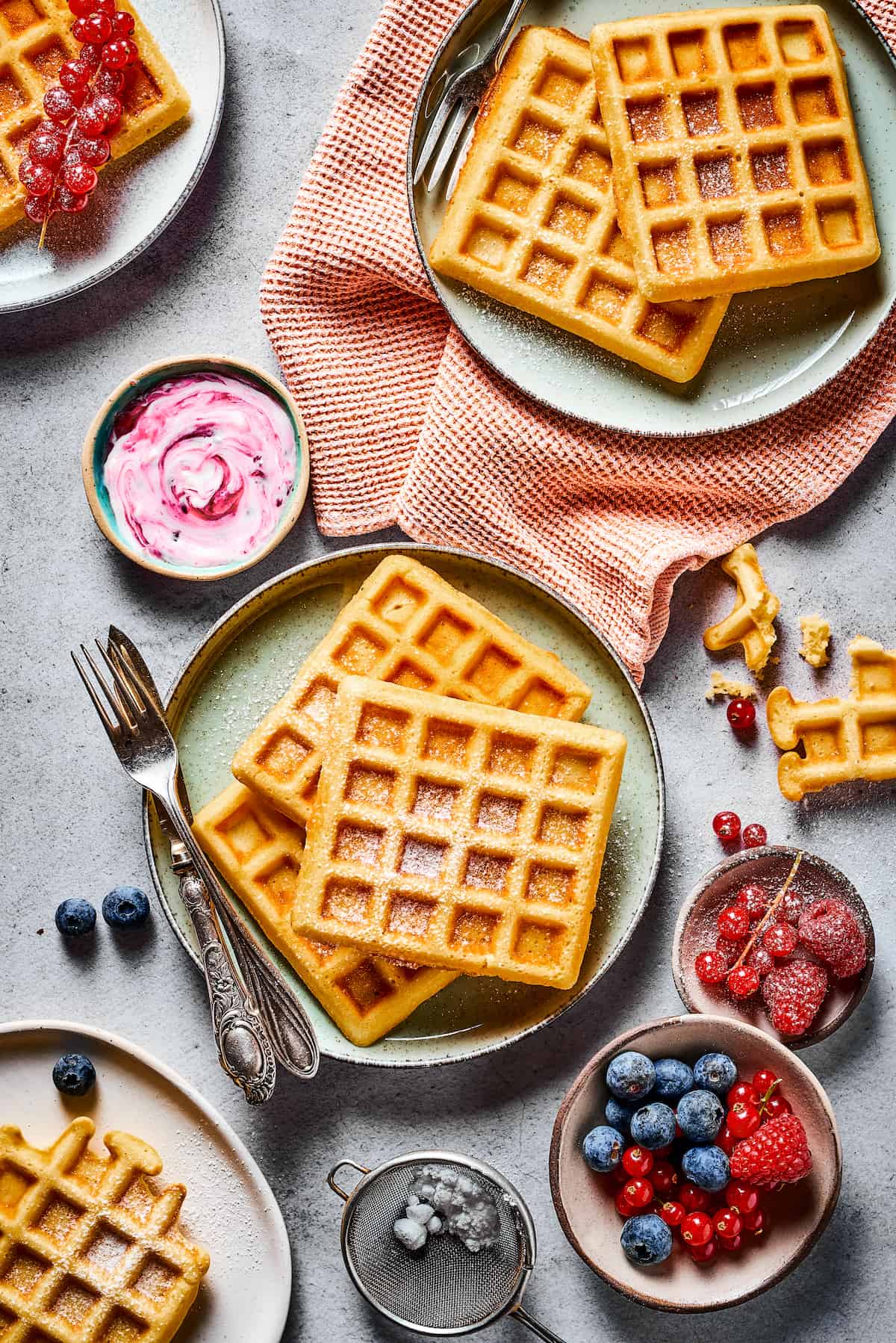 Light, Buttery Waffles Made from Scratch!
Need the perfect breakfast for Christmas? Or for Mother's Day, or Valentine's, or honestly, any day? For my money, homemade waffles are that breakfast. They're festive, easy to make, and you can basically coat them in syrup, butter, and whipped cream with zero shame.
If you're envisioning frozen waffles, which can often be disappointingly cardboard-y, think again! Homemade waffles are a whole different thing: light, fluffy, buttery, and crisp. Gently steaming and golden brown, fresh off the waffle maker, there's no better treat. This easy waffle recipe will show you how to make them.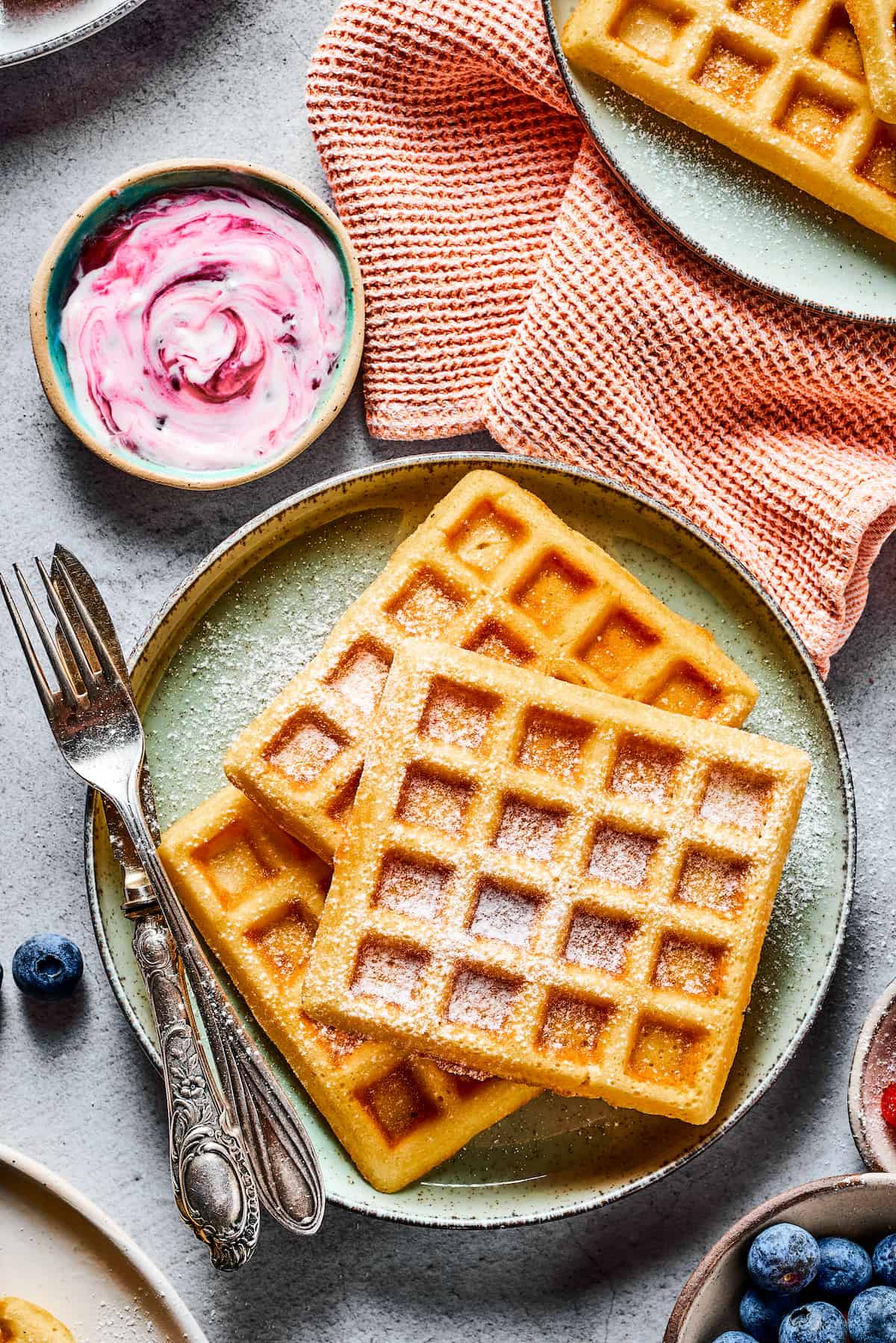 What Are the Three Types of Waffles?
There are actually a lot of different waffle varieties out there, but the most famous ones are probably Brussels style waffles, American waffles, and Belgian waffles. Brussels style waffles are on the thick side, and are famously fluffy thanks to yeast (or egg whites) in the batter.
American waffles, on the other hand, are smaller and more crisp, and lightened with baking powder. Belgian waffles are sort of a cross between the two: large and fluffy like their Brussels-style cousins, but made with baking powder like American waffles. My waffle recipe makes American-style waffles. 🇺🇸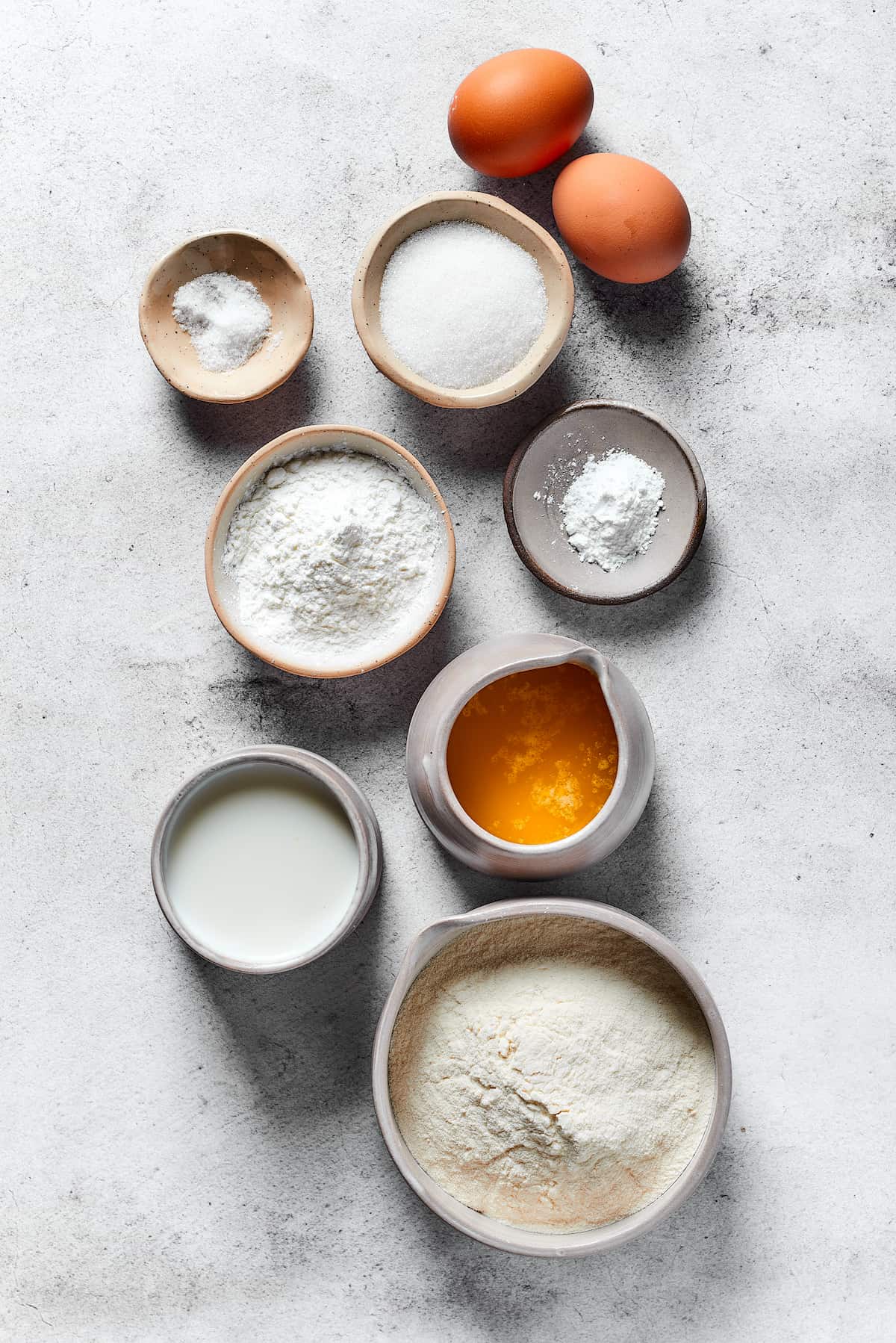 The Ingredients You'll Need
The secret ingredient for light, crisp waffles with a tender bite? Cornstarch! Let's take a look at the full ingredients list. (For the full waffle recipe with amounts and nutrition facts, scroll to the bottom of this post.)
Flour: All-purpose flour is the base of the batter.
Cornstarch: Make sure to use cornstarch, which is very finely ground and silky, not cornmeal which is coarse and gritty.
Baking Powder: So the waffles rise instead of being dense.
Salt: I like sea salt, but any salt is fine.
Sugar: A couple of tablespoons of sugar take the waffles from bland to lightly sweet and satisfying.
Buttermilk: Use room temperature buttermilk.
Eggs: At room temperature.
Butter: Melt the butter before using it. You'll need some for the batter and a bit for brushing the waffle maker.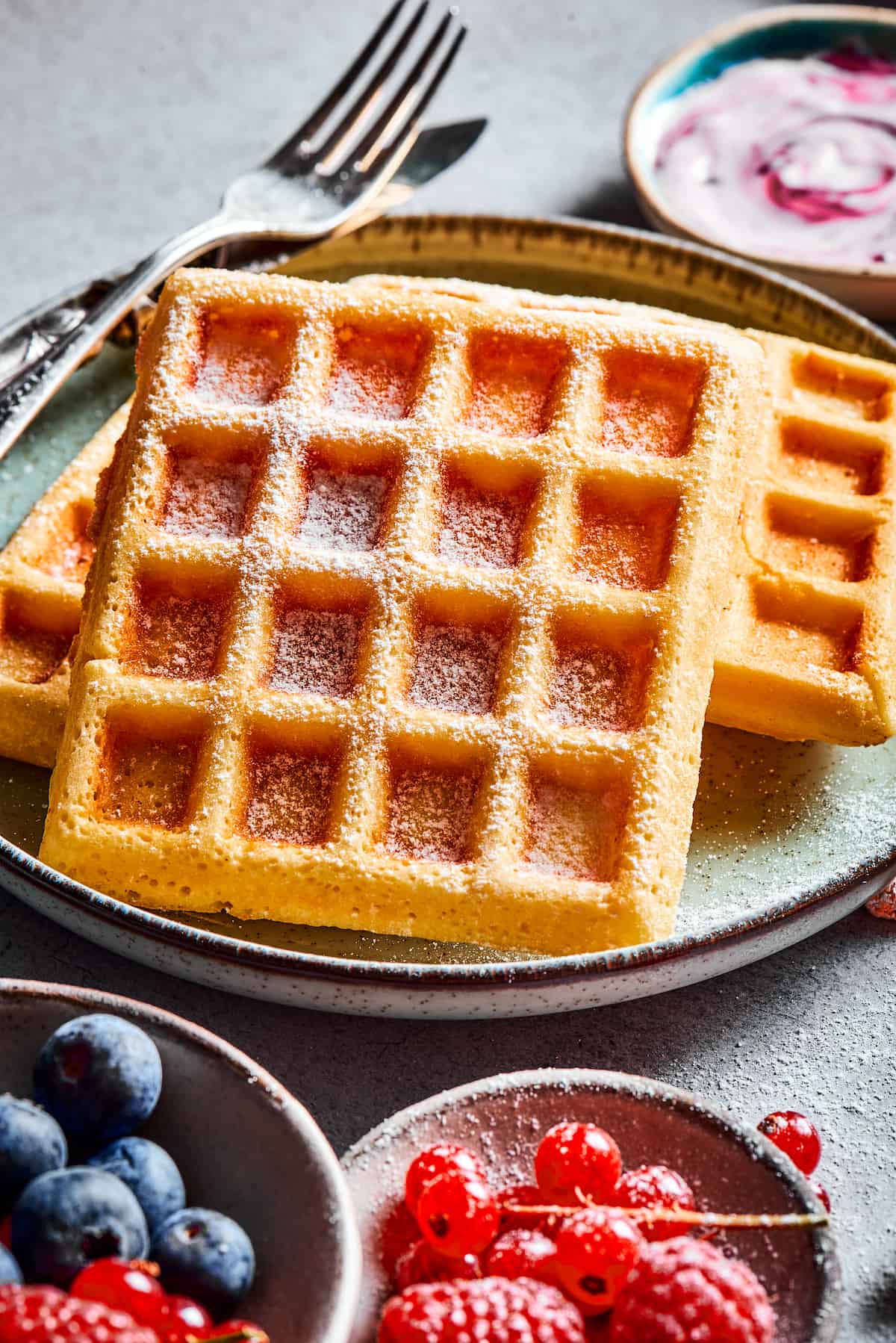 What Is a Substitute for Buttermilk?
If you don't keep buttermilk on hand, and lots of us don't, then it's helpful to have an easy substitute. This is such an easy way to make a foolproof substitute that it's kind of magical: just combine regular milk with a bit of vinegar or lemon juice. For this recipe, measure 2 ¼ teaspoons of vinegar or lemon juice into a measuring cup, and add enough milk to make ¾ cup. Let stand 5 minutes and VOILA!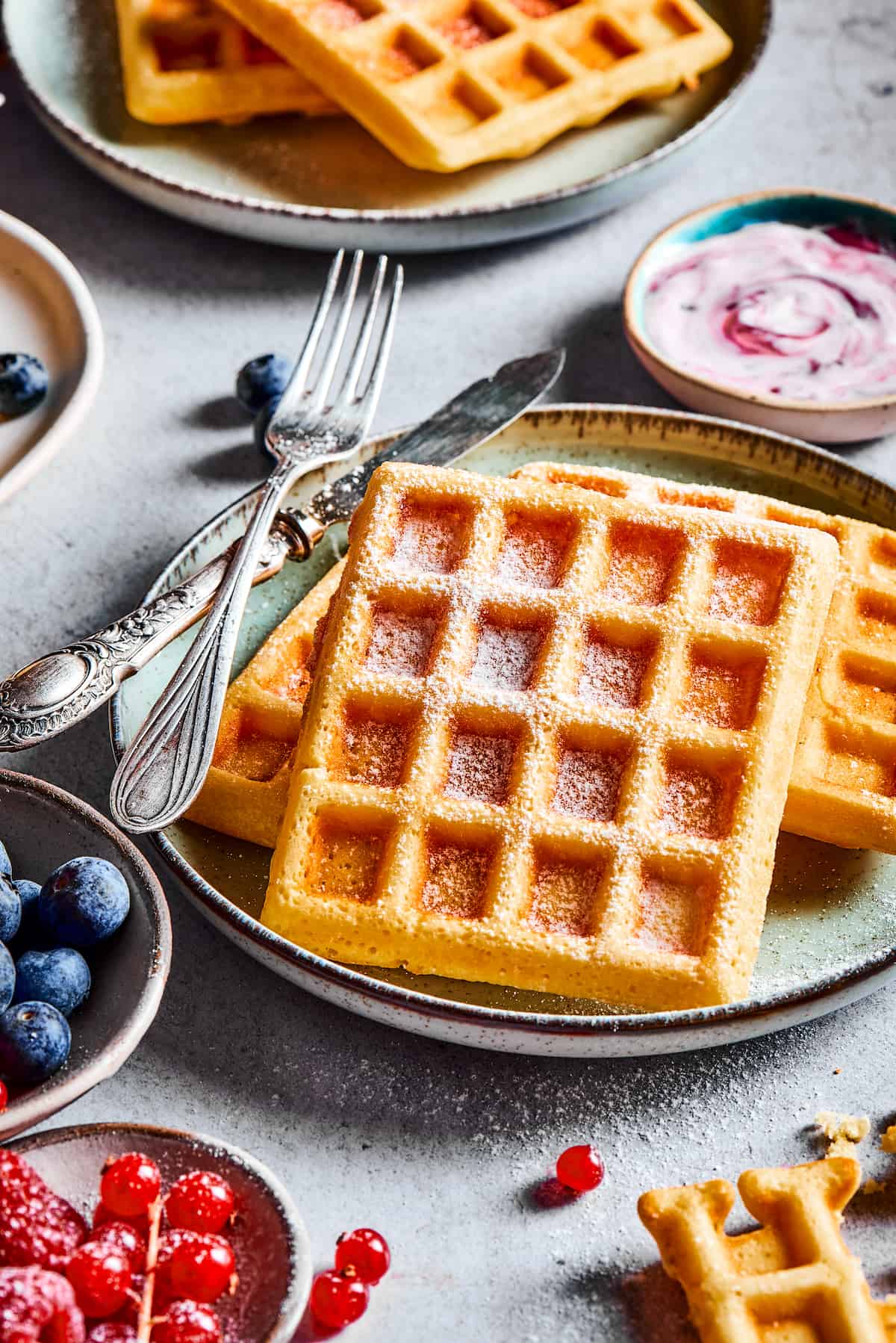 Let's Make Waffles!
Making this waffle recipe is simple once you get the hang of it, especially if you have a good waffle maker with even, reliable temperatures. Here are the steps for making them:
Prep the Waffle Maker. First, you'll want to get the waffle maker preheating. Once it's hot, brush it with some melted butter.
Make the Batter. While the waffle maker is heating, combine the flour, cornstarch, baking powder, sugar, and salt in a large bowl. Add the buttermilk, melted butter, and eggs. Stir to combine.
Bake the Waffles. Pour the batter onto the waffle iron, making sure it fills each line of the grid. Close the lid, and bake until golden brown.
Enjoy! Serve with a dusting of powdered sugar, maple syrup, fresh berries, or whatever toppings you choose.
Cook's Notes
These insider's tips are my best advice for making great homemade waffles. Read on, and enjoy this fabulous breakfast bake, made from scratch.
Don't Over-Stir: Like pancakes, waffle batter shouldn't be over-mixed – a few lumps in the batter are just fine. If you mix it too much, the results will be chewy and dense.
Prevent Sticking: Make sure your waffle maker is preheated properly – heat is essential for making sure the batter cooks through and doesn't end up stuck to the waffle iron. 🥴
Keep Warm: If you're serving a crowd, you can place cooked waffles in your oven (or toaster oven) on the "warm" setting while you make the next batch. That way, they'll stay crispy and warm until you are ready to serve.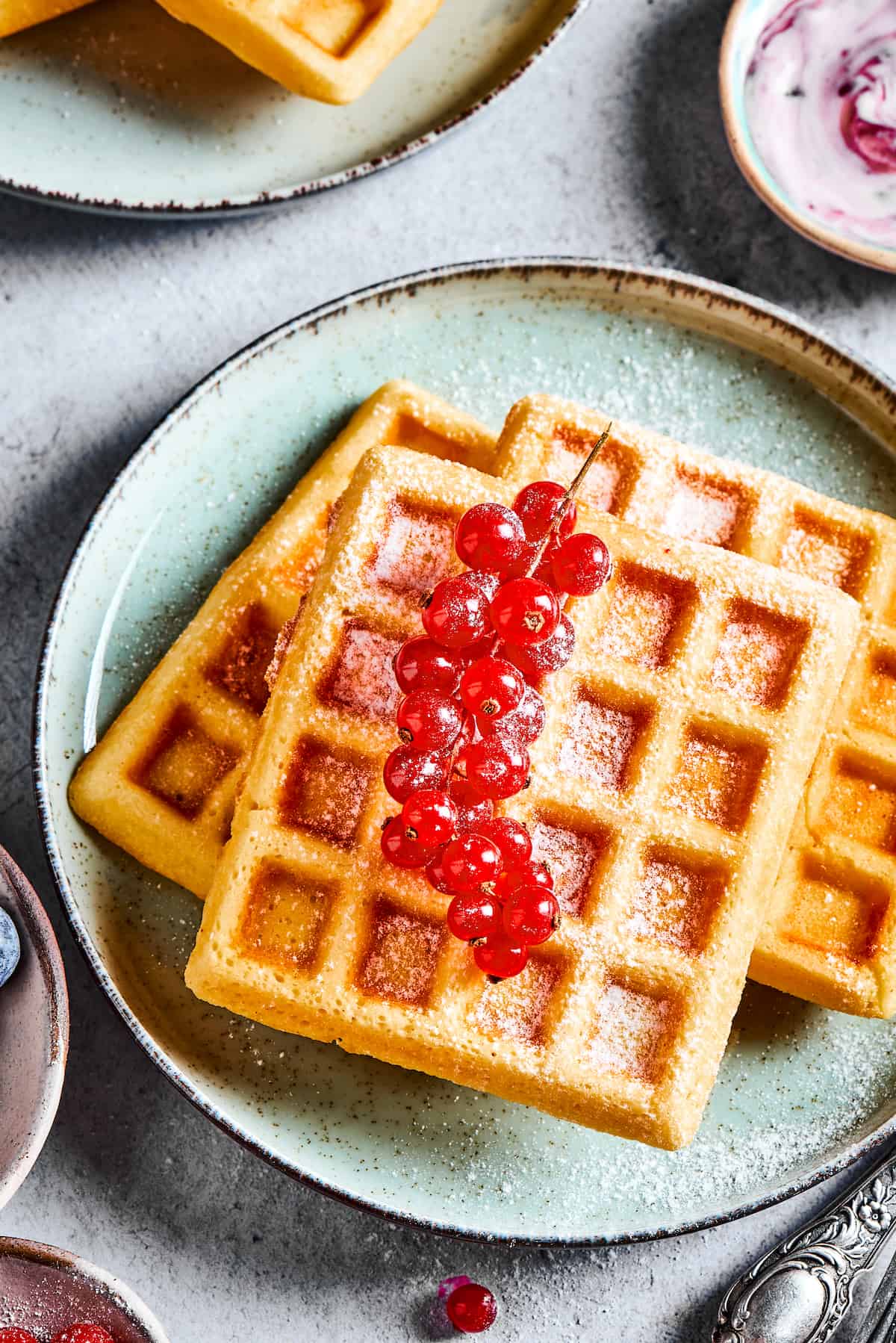 What to Serve with Homemade Waffles
Although a lot of us could make a meal just from yummy, homemade waffles (raises hand), it can also be nice to add an extra breakfast dish or two to the menu. One of these would be perfect!
Breakfast Cups: Scrambled eggs, savory sausage, cheese, and biscuits come together in this quick, easy recipe for Sausage Egg Breakfast Cups. The easiest way ever to make a "big" breakfast!
Classic Quiche: Another eggy favorite, quiche is a welcome addition to any brunch or breakfast. This Quiche Lorraine is a traditional quiche recipe you'll love!
Blueberry Sauce: Want something a change from the usual maple syrup? This Easy Blueberry Sauce Recipe makes a perfect partner for freshly made waffles.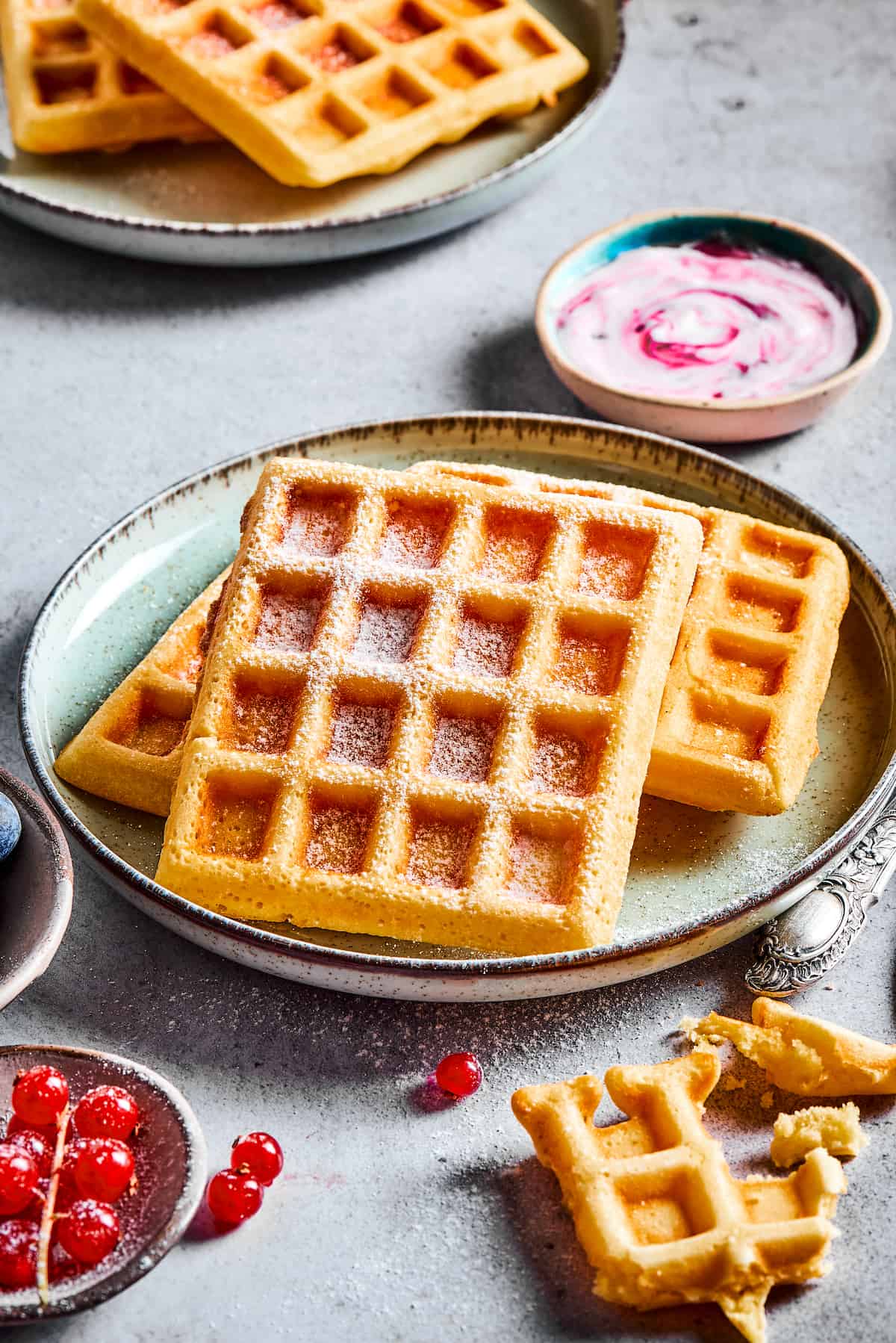 Storing and Reheating Instructions
Store any leftovers in your refrigerator, tightly wrapped or in zip-top bags. They will keep for two to three days.
To reheat, place the waffles in the microwave for 30 to 45 seconds, or bake at 350˚F until heated through.
Do Homemade Waffles Freeze Well?
You can keep a stash of these waffles in your freezer! Just place them on a baking sheet and place in the freezer until they're frozen solid.
Then, pack them into an airtight container or freezer bag with parchment paper or wax paper between them to prevent sticking.
Reheat as desired, directly from frozen.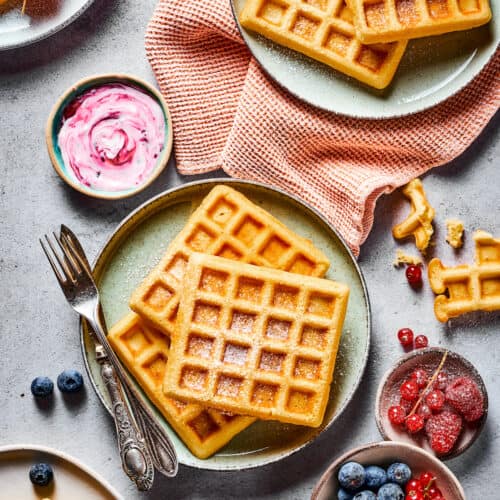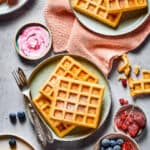 Print Recipe
Easy Waffles Recipe
Making homemade waffles is quick and tasty with this Easy Waffles Recipe. Treat yourself to a wholesome breakfast made from scratch – and don't forget the syrup!
Instructions
Preheat the waffle iron and brush it with melted butter.

In a large bowl whisk together the flour, cornstarch, sugar, baking powder, and salt.

To the flour mixture, add the buttermilk, melted butter, and eggs, and stir until well combined.

Pour some batter onto the hot waffle iron, making sure it fills all the crevices.

Close the lid and bake the waffles until golden brown, or to your preferred level of doneness.

Butter the iron in between batches, as needed.

Remove cooked waffles from the waffle maker.

Serve waffles with a dusting of powdered sugar, maple syrup, fresh berries, or any toppings of your choice.
Notes
Cooking Waffles: Drop it while it's hot. A hot iron, that is. This will ensure that the waffles won't stick to the iron, AND they will turn out golden brown plus crispy. Win win.
Cornstarch: For a perfectly crispy, yet tender waffle, don't forget the cornstarch.
Use Baking Powder NOT Baking Soda.
Keep Warm: While cooking the rest of the waffles, place previously cooked waffles on a baking sheet and keep in the oven on the "Warm" setting, or between 180˚F and 200˚F.
Nutrition
Calories:
246
kcal
|
Carbohydrates:
26
g
|
Protein:
5
g
|
Fat:
14
g
|
Saturated Fat:
8
g
|
Polyunsaturated Fat:
1
g
|
Monounsaturated Fat:
4
g
|
Trans Fat:
0.5
g
|
Cholesterol:
79
mg
|
Sodium:
332
mg
|
Potassium:
76
mg
|
Fiber:
1
g
|
Sugar:
4
g
|
Vitamin A:
459
IU
|
Calcium:
69
mg
|
Iron:
1
mg
More Sweet Breakfast Ideas