My cheesy Hashbrown Casserole is wonderfully creamy, melty, and savory, with tender shredded potatoes and a crunchy, buttery cornflake topping that takes it to a whole new level!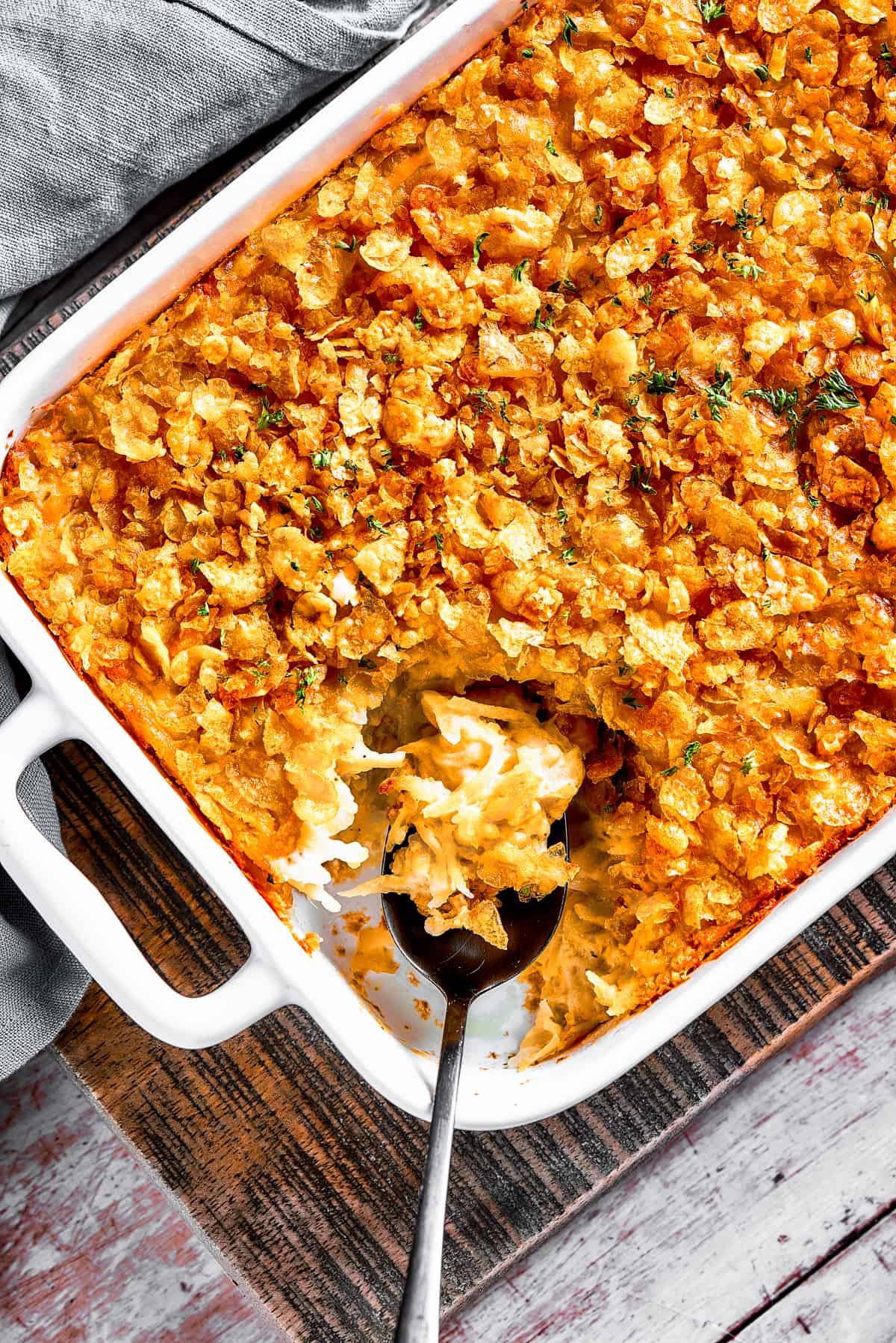 An Easy Hashbrown Casserole with A Crunch!
Need the best casserole dish for a potluck, holiday meal, or easy meatless dinner? Look no further! This cheesy hashbrown casserole is a wonderful dish combining frozen shredded hashbrowns with melted cheese, cream of chicken soup, and sour cream for a gooey, melty dish you'll adore.
If you've never tried a hashbrown casserole, you might think of this as a breakfast dish, but it's actually more of a side dish – think broccoli casserole, mac and cheese, that kind of thing. Only instead of broccoli or pasta you use potatoes. Why hashbrowns, you ask? Well, there are plenty of reasons, but my favorite reason is this: no prep! Since hashbrowns are already fully prepped and ready to go, you don't have to spend time peeling, chopping, or grating.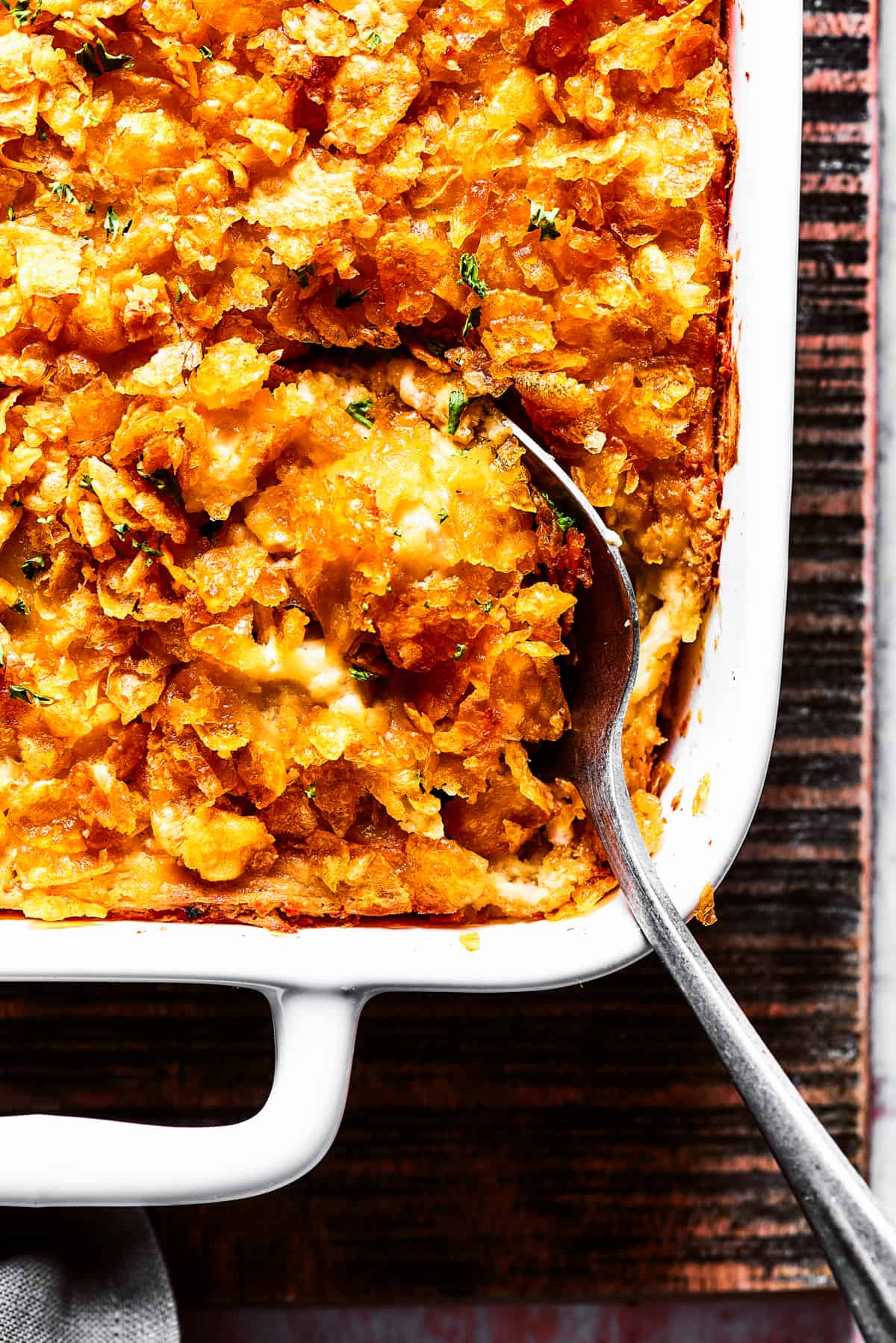 Why You'll Love This Cheesy Hashbrown Casserole
Creamy and Indulgent: This classic casserole is creamy and comforting, with a luscious texture that's totally satisfying!
Irresistibly Cheesy: With plenty of melty mild cheddar, there's so much flavor in this rich, cheesy recipe.
The Best Crunchy Topping: You can top a casserole in a lot of ways, but in this case, we cut to the chase and chose (drum roll, please) cornflakes. That's right, cornflakes! So crunchy, so buttery, and ever so slightly sweet. Yum.
Versatile: Make this as-is, or mix in your favorite flavorful additions (bacon, anyone?). See the Tips section below for mix-in ideas you'll crave.
Easy to Make. With just a few basic ingredients and a minimal amount of effort, you can have this comfy casserole in the oven! Like I said, so perfect for the holidays (or anytime you need a perfectly addictive casserole).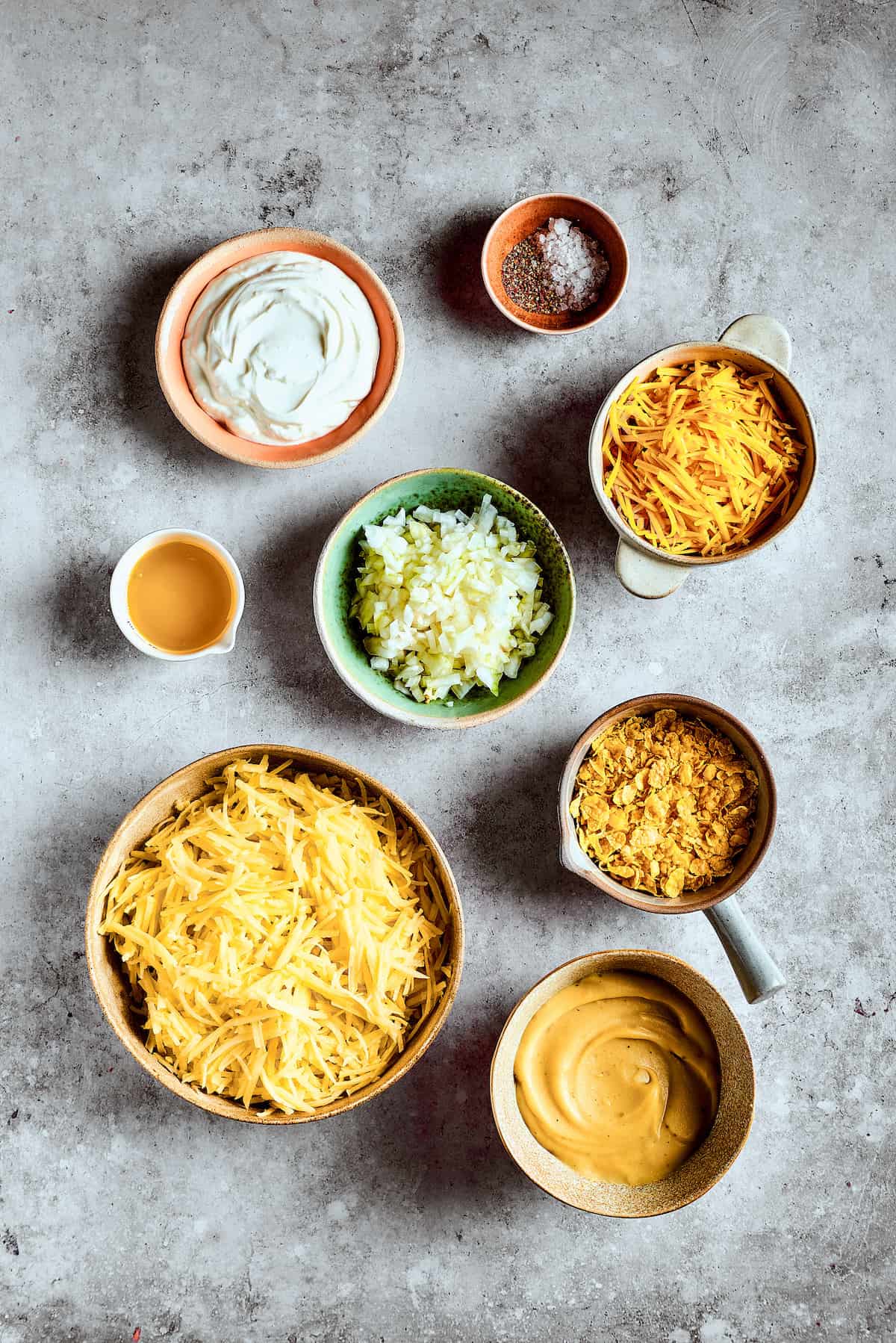 The Ingredients
A few basic ingredients are all you'll need to make this casserole, which is especially great around the holidays, when we could all use an easy recipe or two up our sleeve! Here's what you will need to gather up:
For the Casserole
Hashbrowns: Frozen hashbrowns, thawed in the fridge or on the counter. Cubed or shredded hash browns are fine.
Condensed Soup: Cream of chicken is my go-to. You could also use cream of celery or this homemade Cream of Chicken Soup Substitute!
Sour Cream: Full-fat sour cream tastes best here.
Shredded Cheese: Mild cheddar adds plenty of cheesy goodness, but doesn't overwhelm the potatoes.
Onion: Finely chopped.
Butter: Unsalted butter, melted.
Salt and Pepper
For the Crunchy Topping
Cornflakes: Classic cornflake cereal – you want the plain kind, not the frosted kind.
Butter: Melt the butter before using it.
Parsley Sprigs: For garnish.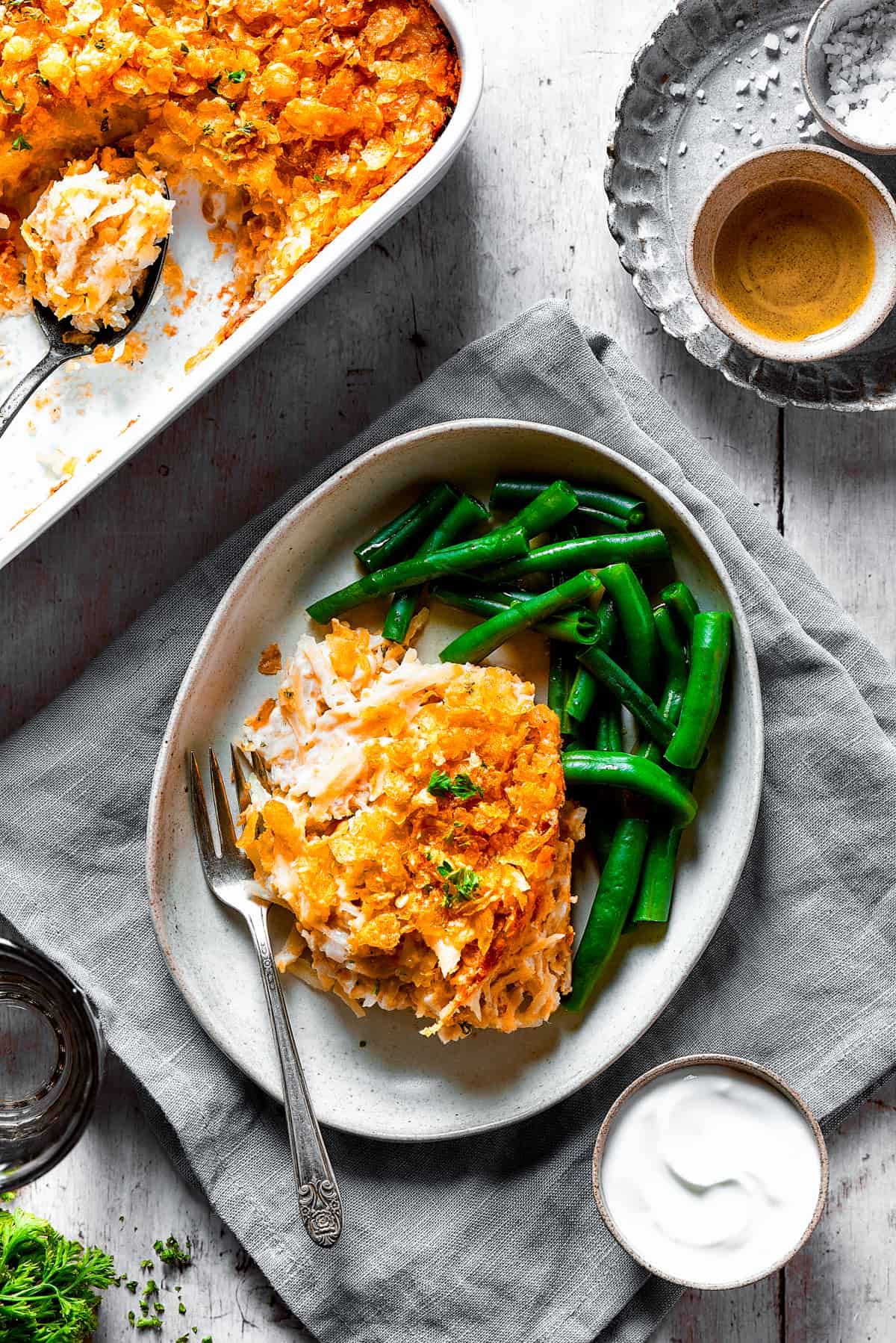 How to Make Hashbrown Casserole
If you're thinking, "This looks pretty simple. Probably just a mix-and-bake situation." You are exactly right. It really is that easy. Here are the steps in order:
Get Ready to Bake. Grease your casserole dish, and preheat the oven.
Mix the Casserole Ingredients. Get a big mixing bowl, and dump in the hashbrowns, condensed soup, sour cream, cheese, onion, melted butter, and seasonings to taste. Give it all a good stir to combine. Spread this into your casserole dish.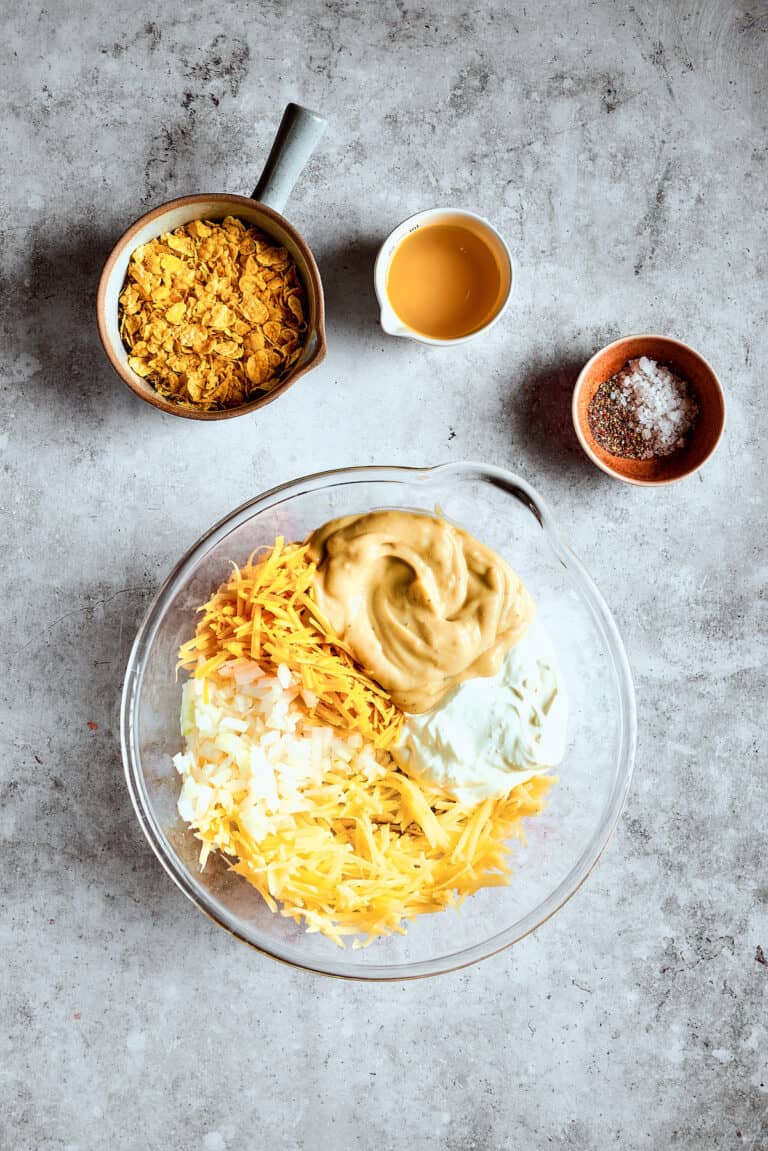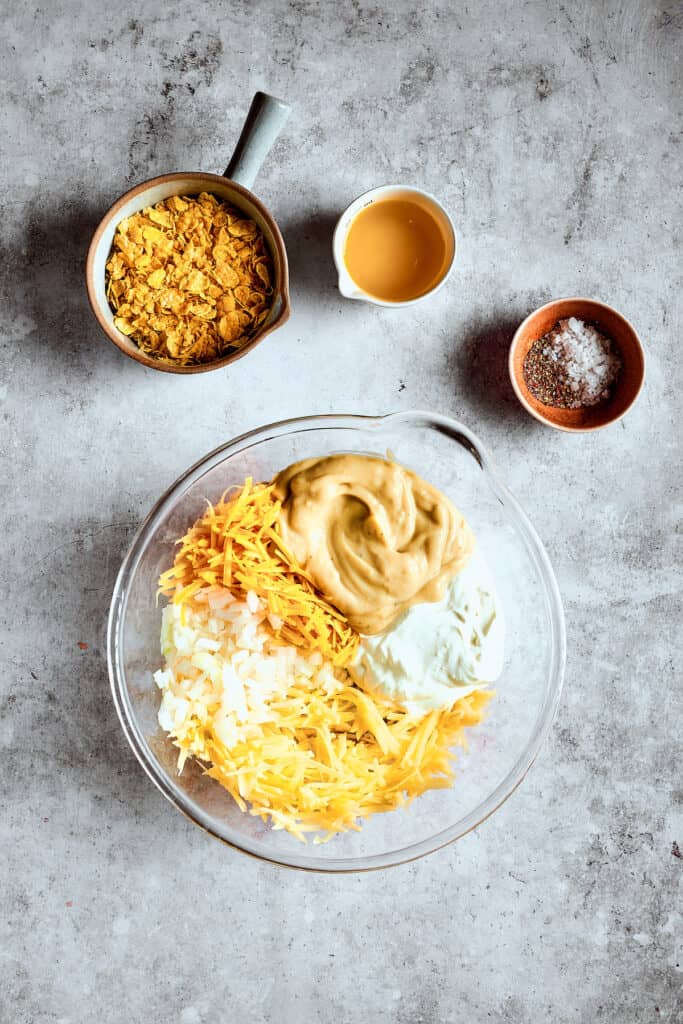 Make the Topping. Make the topping by crushing the cornflake into not-too-fine pieces, using a spoon or your hands. Ad the melted butter, and mix to coat. Sprinkle this evenly over the hashbrown mixture.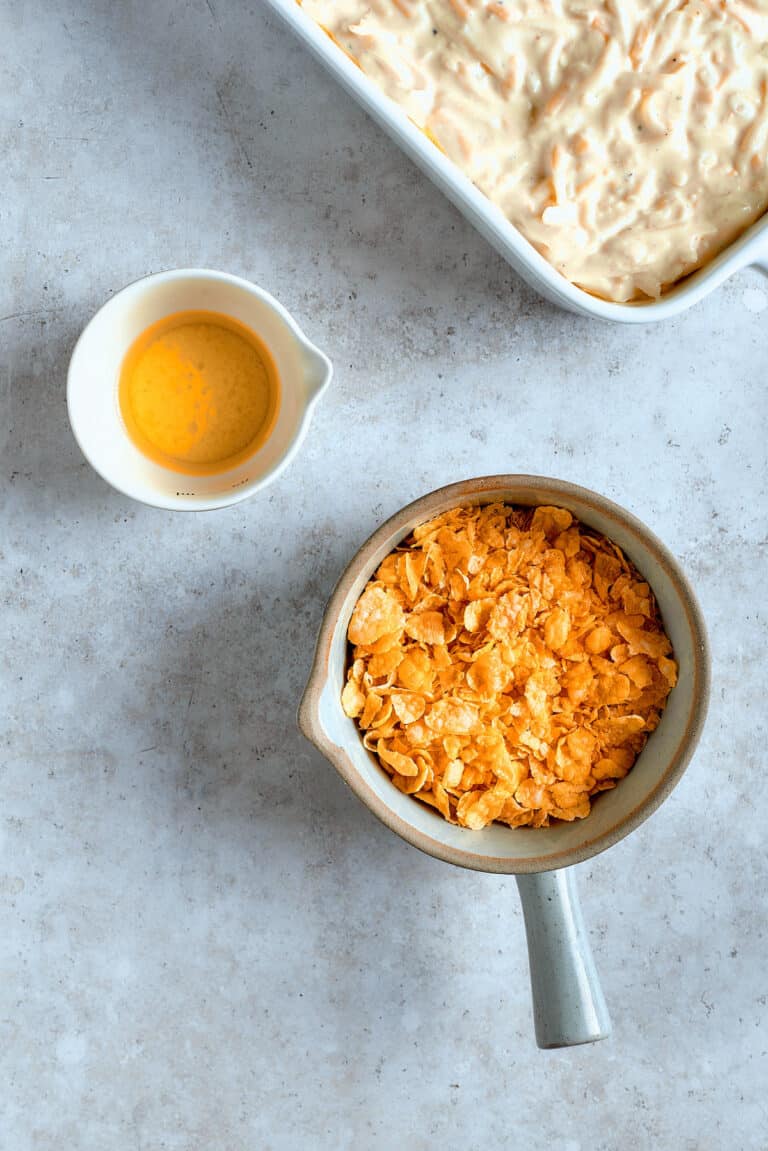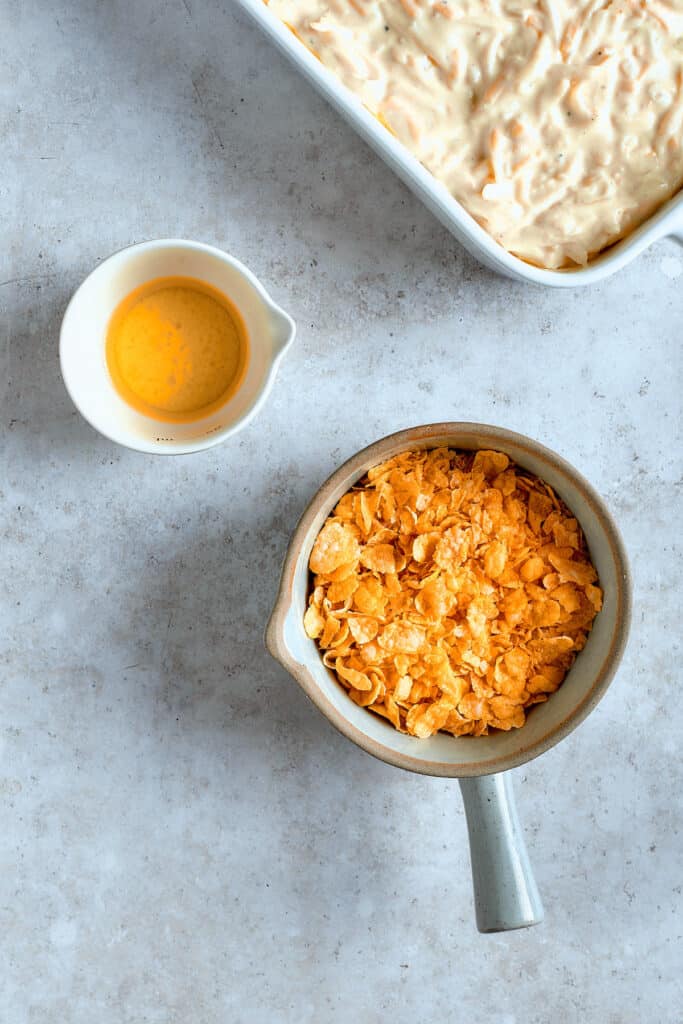 Bake! Bake the casserole for 45 minutes to 1 hour, or until the top is golden brown and the casserole is bubbly.
Cool and Serve. Once the cheesy hashbrown casserole is done, let it cool for a few minutes, and then garnish with parsley and serve.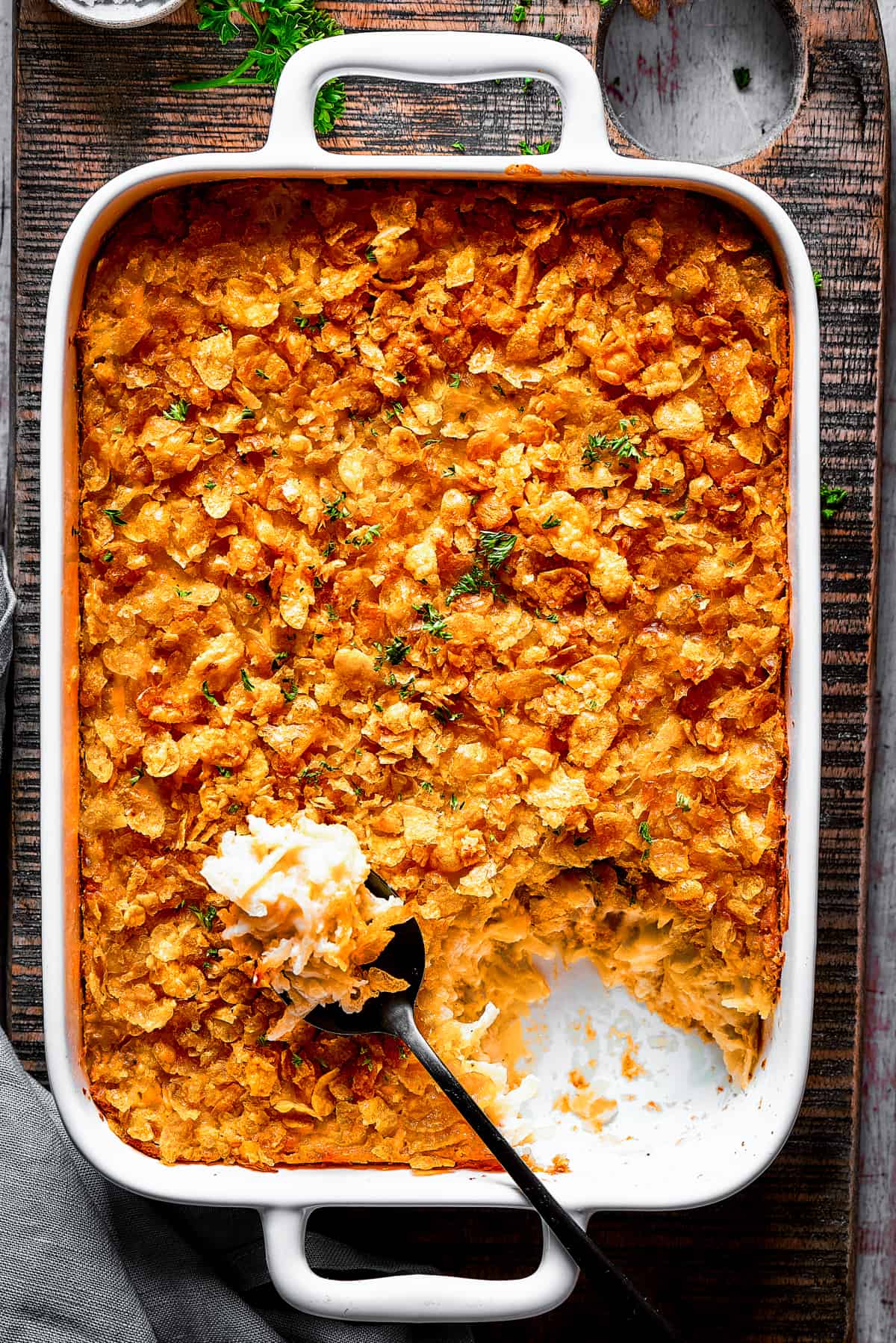 Can I use Fresh Shredded Potatoes Instead of Frozen in a Casserole?
Absolutely! Fresh potatoes will work fine in this recipe. For best results, grate them and then soak them in cold water, stirring the potatoes and changing the water several times. This will help wash away excess starch, giving the dish a texture that's not sticky or gummy.
Recipe Tips and Tricks
Making a delicious cheesy hashbrown casserole is easy, and it can be extra fun with these helpful tips and tricks:
Thawing the Hashbrowns: It's important to thaw the frozen hashbrowns completely and squeeze out excess moisture to keep the casserole from getting watery.
Adjusting the Seasonings: Add extra seasonings to change up the flavor – think garlic powder, onion powder, ranch seasonings, and more.
Try Other Cheeses: Besides cheddar, try cheeses like mozzarella, Monterey Jack, and other cheeses that melt well.
Customize with Add-ins: Personalize this dish with tasty items like diced ham, sautéed onions, bell peppers, or broccoli!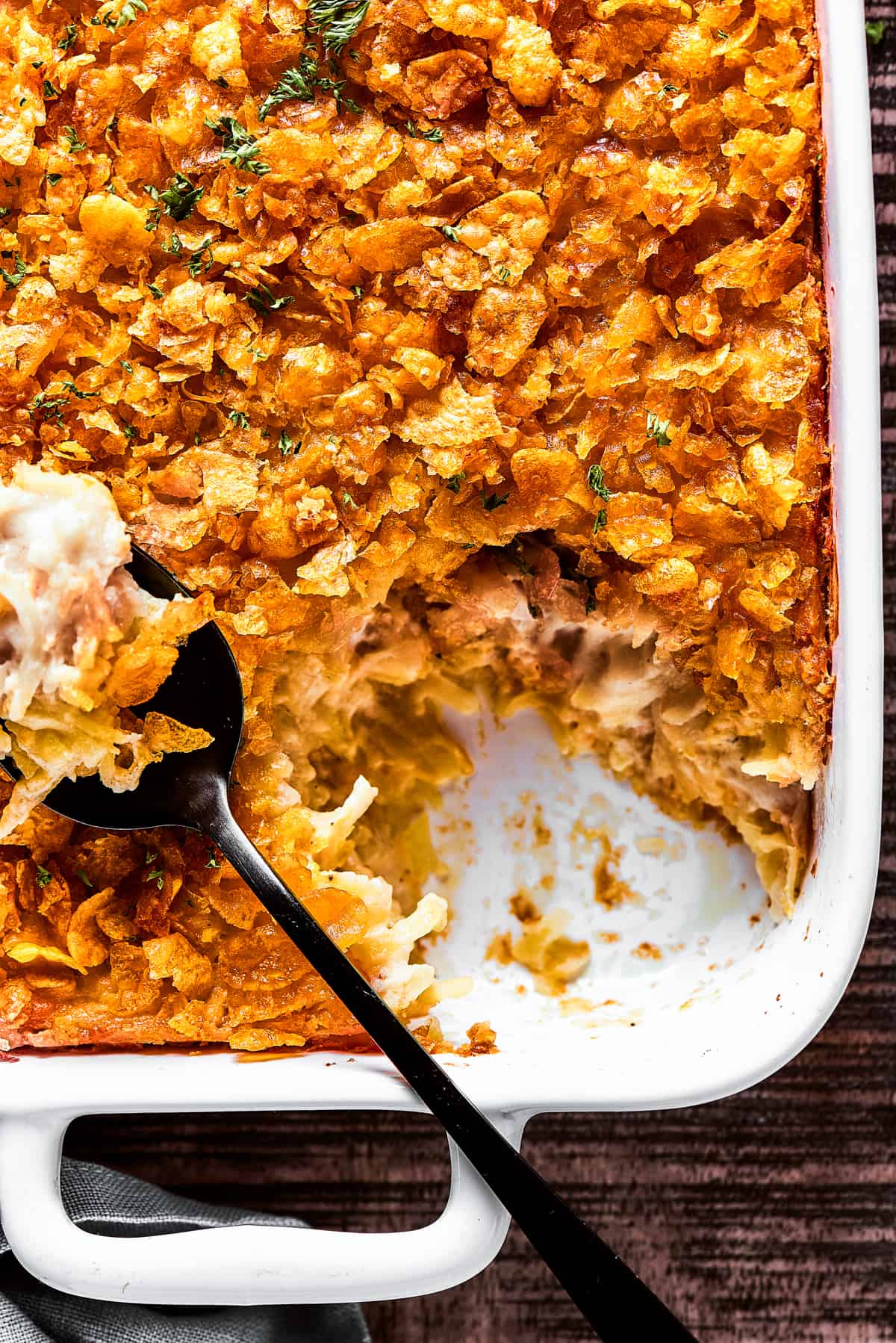 Serving Suggestions
This comfy casserole goes well with so many other dishes. You can go with barbecue-style casual dishes, fancy holiday favorites, or plain and simple weeknight fare.
Green Beans: You can't go wrong with fresh, healthy green beans, especially if you add garlic. Or these perfect Romano Green Beans in Garlic Butter Sauce. You'll want to serve them with everything.
Chicken Kiev: A retro favorite that's buttery and light, old-school Chicken Kiev is a recipe you're sure to love.
Pork Chops: Cheesy sides are always great with pork, so why not give these simple Brown Sugar Pork Chops a try? You won't be able to resist these juicy chops, which are so, so easy to make.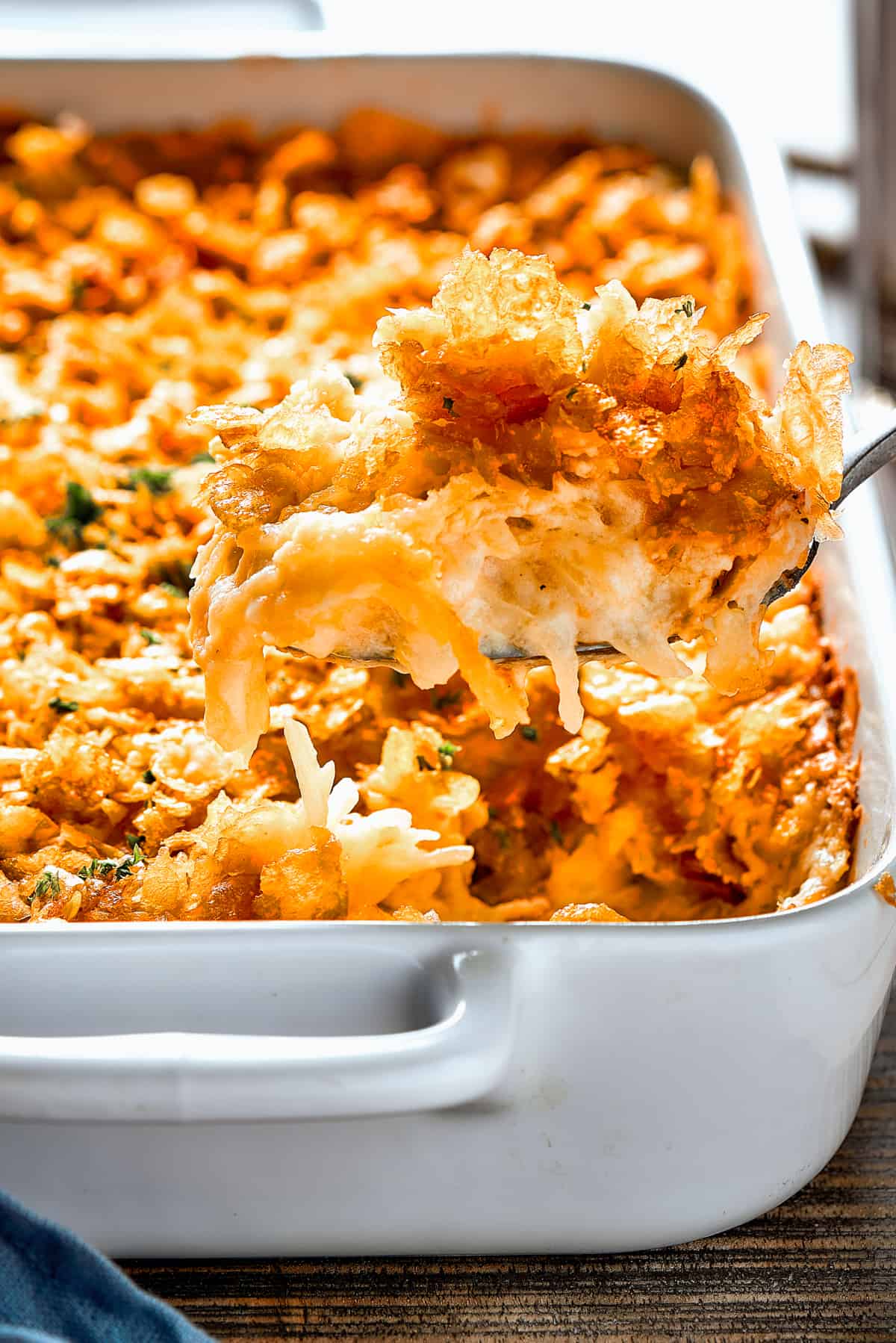 Storing and Reheating Instructions
To Refrigerate: Cover the casserole tightly with foil, or transfer the leftovers to an airtight container and keep refrigerated for 3 to 4 days.
To reheat: Microwave the desired amount, or bake it again until it's heated through.
To Freeze: The texture of the casserole may change slightly after freezing and thawing, but you can still freeze this. Cool it down first, then put it in freezer bags or containers, or wrap it up in a double layer of foil. It will keep in the freezer for up to 3 months. Thaw it in the fridge overnight and reheat at 350˚F until heated through.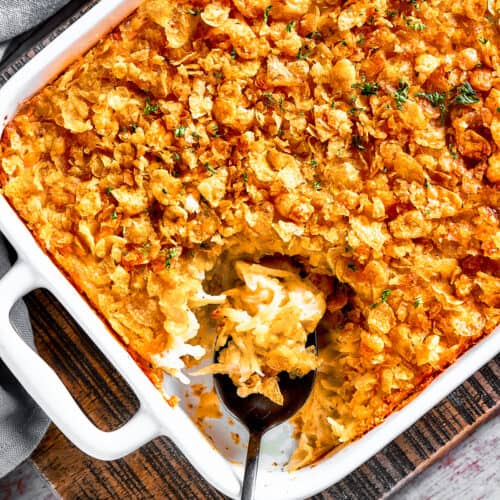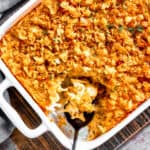 Print Recipe
Hashbrown Casserole
This Hashbrown Casserole elevates comfort food to a new height with its creamy, cheesy texture and tender shredded potatoes, all topped with a crispy, buttery cornflake topping.
Ingredients
Casserole
1

bag (32 ounces)

frozen hash browns,

thawed (cubed or shredded) and squeezed dry

1

can (16 ounces)

cream of chicken soup

1½

cups

sour cream

1

cup

shredded mild cheddar cheese

1

medium

yellow onion,

finely chopped

½

cup

unsalted butter,

melted

1½

teaspoons

sea salt

½

teaspoon

freshly ground black pepper
Topping
2

cups

cornflakes cereal

½

cup

butter,

melted

chopped fresh parsley,

for garnish
Instructions
In a large mixing bowl, combine the thawed hash browns, cream of chicken soup, sour cream, shredded Cheddar cheese, chopped onion, melted butter, salt, and black pepper. Mix everything together until well combined.

Grease a 9×13-inch baking dish to prevent sticking.

Pour the hash brown mixture into the greased baking dish, spreading it out evenly.

In a separate bowl, crush the cornflakes cereal into small pieces (not too fine) using your hands or the back of a spoon.

Add in the melted butter and mix until the cereal is coated with butter.

Sprinkle the butter-coated cornflakes evenly over the top of the hash brown mixture in the baking dish.

Bake the casserole in the preheated oven for about 45 minutes to 1 hour, or until the top is golden brown and the casserole is heated through and bubbly.

Once the casserole is done baking, remove it from the oven, and let it cool for a few minutes.

Garnish the hashbrown casserole with fresh parsley and serve.
Notes
Hashbrowns: Ensure that the frozen hashbrowns are completely thawed, and excess moisture is squeezed out. This prevents a soggy casserole.
Using Potatoes: Using fresh potatoes instead of hashbrowns (hash browns) is perfectly acceptable for this recipe. For optimal results, shred the potatoes and immerse them in cold water. Be sure to agitate the potatoes and change the water multiple times. This process helps to eliminate excess starch.
Seasoning Adjustments: Experiment with additional seasonings for a flavor twist. Consider options like garlic powder, onion powder, and ranch seasonings.
Cheese Variations: While cheddar is classic, try melting cheeses like mozzarella or Monterey Jack for a different taste.
Add-ins: Make the dish your own with add-ins like diced ham, sautéed onions, bell peppers, or even broccoli!
Nutrition
Calories:
695
kcal
|
Carbohydrates:
45
g
|
Protein:
12
g
|
Fat:
54
g
|
Saturated Fat:
30
g
|
Polyunsaturated Fat:
3
g
|
Monounsaturated Fat:
14
g
|
Trans Fat:
1
g
|
Cholesterol:
140
mg
|
Sodium:
1479
mg
|
Potassium:
608
mg
|
Fiber:
3
g
|
Sugar:
4
g
|
Vitamin A:
1798
IU
|
Vitamin C:
16
mg
|
Calcium:
232
mg
|
Iron:
5
mg
More Homestyle Casserole Recipes