Crispy Oven Baked Bacon is both delicious and hassle free. Top a soup or salad with it or serve it as a side at breakfast. With bacon, you can't go wrong.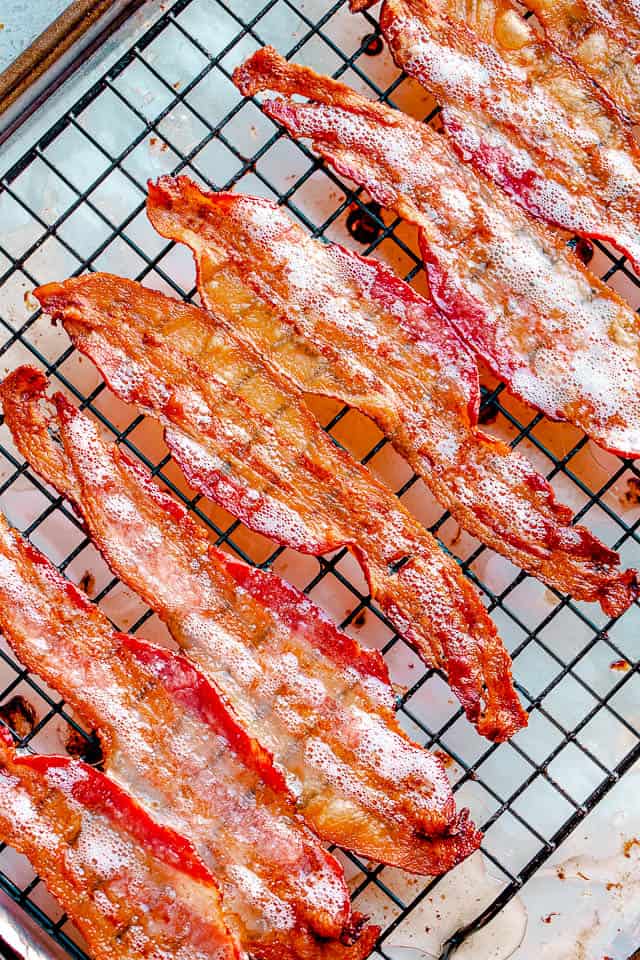 Crispy Oven Baked Bacon
Bacon! It makes everything better, am I right? Throw it in your breakfast casserole, top a warm winter soup, or add it to your favorite dessert with maple. There is nowhere bacon doesn't belong.
But who wants to stand over a pan dodging grease splatter and rotating multiple batches? Not me.
Enter crispy oven baked bacon. It's the easy, simple, hassle-free method for cooking perfect bacon.
Why is the Oven the Easiest Way to Make Crispy Bacon?
For starters, it's way less messy! Say goodbye to a grease covered cooktop. Buh-bye.
Better yet, it doesn't require your constant babysitting. This frees you up for other things like prepping other meal items or working on homework with the kids. I don't know about you, but I've got enough chaos going on in my kitchen. I'm happy to eliminate splattery fried bacon from that equation. Pop it in the oven and you can almost forget about it for the next 15-22 minutes. Just don't forget to set your timer!
Other pluses to oven baked bacon: it'll be evenly cooked and more crispy than its pan fried alternative!
How to Cook Bacon in the Oven
First up, let's preheat that oven to 400°F. Here's my super secret tip – let your oven sit at 400°F for 10 minutes.
Prepare Your Baking Sheet. For easy cleanup, line your rimmed baking sheet with aluminum foil and set your oven rack over it.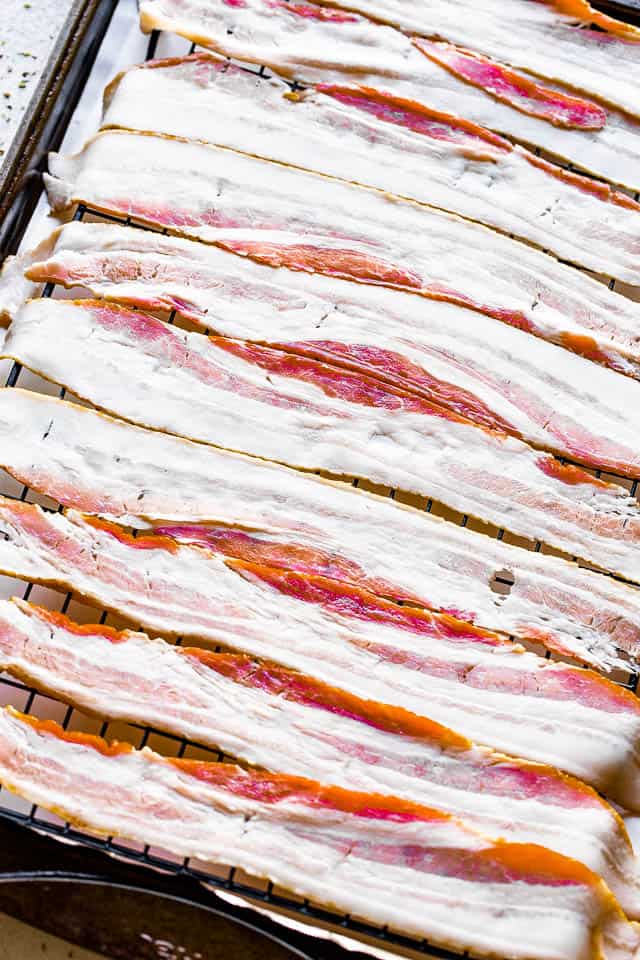 Lay the Bacon Strips on the Wire Rack. Arrange your bacon in a single layer over the wire rack. It's okay if the bacon slices touch since the bacon will shrink a bit as it cooks. Just make sure that your bacon doesn't completely overlap.
Bake! Bake until the bacon is crisped to your liking. This will likely fall between 15 and 22 minutes.
How Long to Cook Bacon in the Oven
I bake my bacon for just about 15 minutes if it's a regular cut. For thick-cut bacon, I go for around 22 minutes. Thinner sliced bacon may require less time. It is important to remember that the thickness and your desired crispness will both play a part in your cook time.
Definitely start checking on your bacon at the 15-minute mark.
Why I Bake Bacon at 400F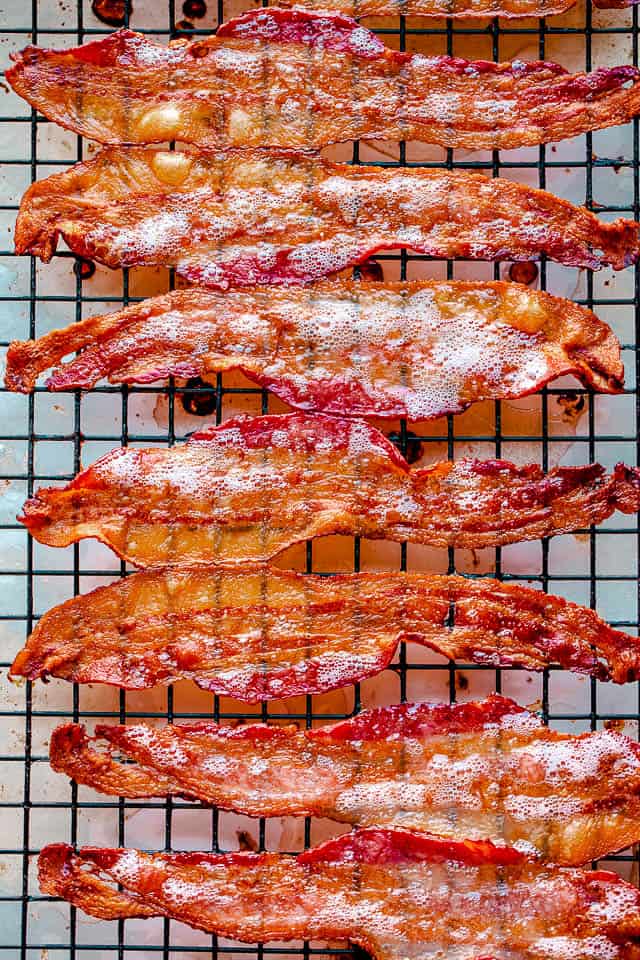 I've found that 400F is the absolute perfect temperature for oven baked bacon. For me, this offers the quickest cook time and the crispiest bacon.
Even after my oven has reached this temperature, I let it sit at 400F for a good 10 minutes prior to putting my bacon in. This is because your oven senses and controls the air temperature in the oven, which heats up relatively quickly, but the solid parts of the oven heat up more slowly. If you let the oven sit for 10 minutes before opening o pop in the bacon, the temp will drop less and recover more quickly.
How Much Bacon Can I Cook at Once?
You can cook as many slices of bacon that you can line up on your baking sheet without overlapping. For me, this is usually around 10-12 slices, depending on my pan size and the thickness of the bacon. You can also throw in more than one bacon-filled pan at a time. Such a time saver.
However you crack it, it will undoubtedly end up being more than you could fit in one go on a fry pan on your stovetop. This means less batches for you to cook. Score!
Do I have to Flip the Bacon?
Unlike frying bacon, you do not need to flip your crispy oven baked bacon. In the oven, your bacon will be heated from both top and bottom as opposed to on a stovetop pan where the heat escapes from above.
For even cooking, I do recommend rotating the pan halfway through your cook time.
How to Drain Bacon
When my bacon has finished cooking, I transfer it to a paper-towel lined plate using tongs. Here it will drain and cool. You can also blot the top of the bacon with a paper towel to remove any of the remaining bacon fat. The paper towels will soak up the bacon grease like magic.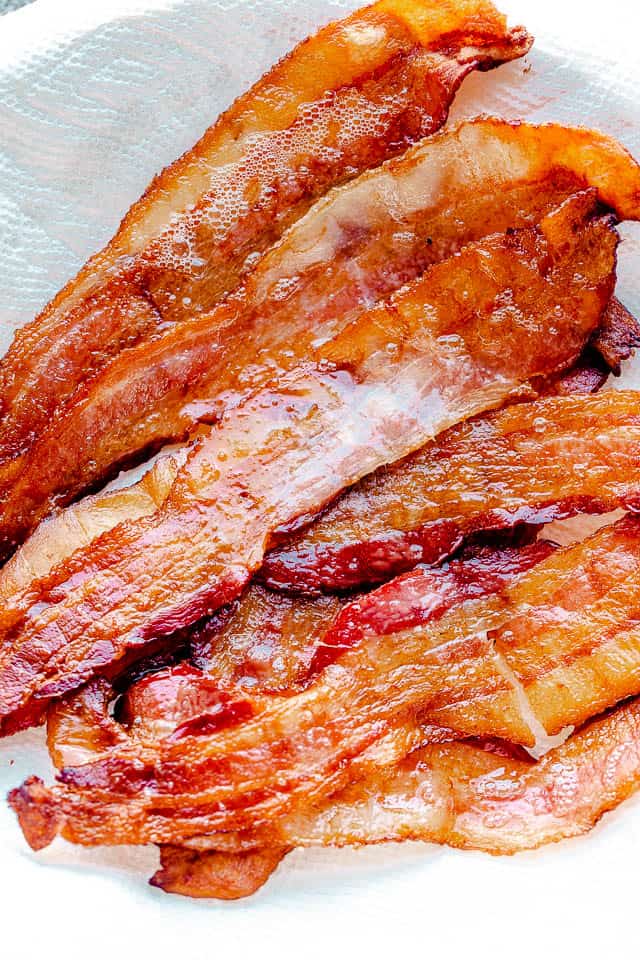 After I've removed the bacon from the wire rack on the aluminum foil lined baking sheets, I let them sit until the bacon fat hardens. Then, I simply roll up the foil and toss is in my waste basket. Super easy simple cleanup without any need to handle hot bacon grease and no risk of a clogged drain.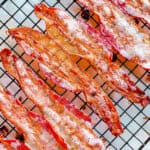 Print Recipe
Crispy Oven Baked Bacon
Baking bacon in the oven is the best way to make crispy bacon! Use this easy recipe to make perfect bacon every time.
Equipment
Oven baking rack (optional)
Instructions
Preheat oven to 400F. Let oven sit at 400F for 10 minutes.

Line two rimmed baking sheets with parchment paper. For crispier bacon, place an oven safe baking rack on top of the parchment paper.

Arrange bacon on top and bake until bacon is crisped to your liking, about 15 minutes for regular cut bacon and 22-24 minutes for thick-cut bacon