Warm, sweet, and moist, this is truly The Best Homemade Cornbread Recipe! The whole family will love this buttery, golden cornbread, lightly glazed with real honey.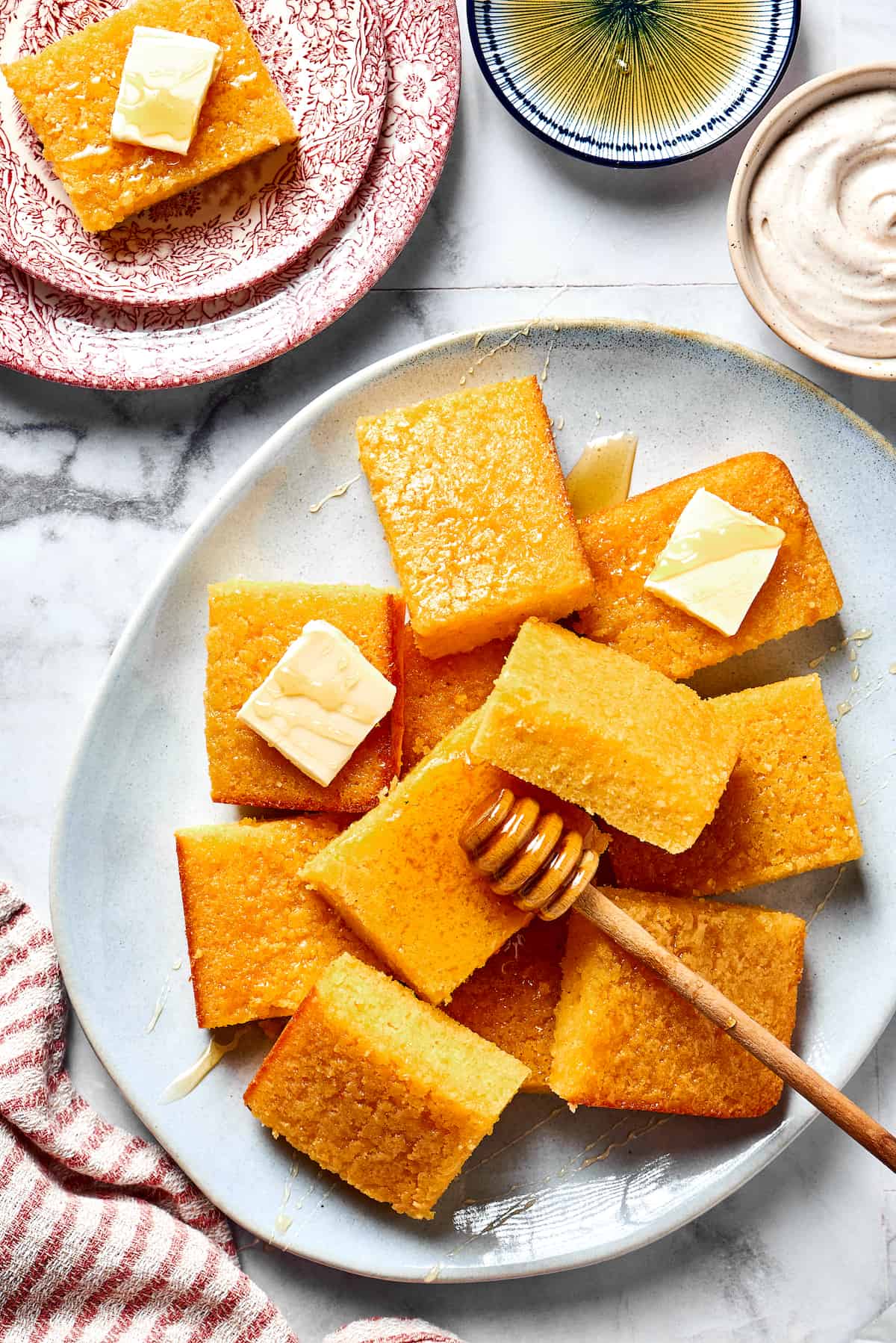 Real Homemade Cornbread Topped with Honey!
It's amazing how a bread-tastic side dish adds so much to a meal. Whether you break out some refrigerated crescent rolls, stop for croissants, or bake up some biscuits, there's no better way to make dinnertime more special.
Thus, make sure to add this easy cornbread to that list, because it is definitely a crowd-pleaser!
Made with yellow cornmeal, butter, sour cream, honey, and other wholesome ingredients, this is a from-scratch recipe you can feel good about. It's also really easy to make, even for a beginning baker. You can serve it with just about any main course, or save it for a simple afternoon snack with a glass of milk. Yum.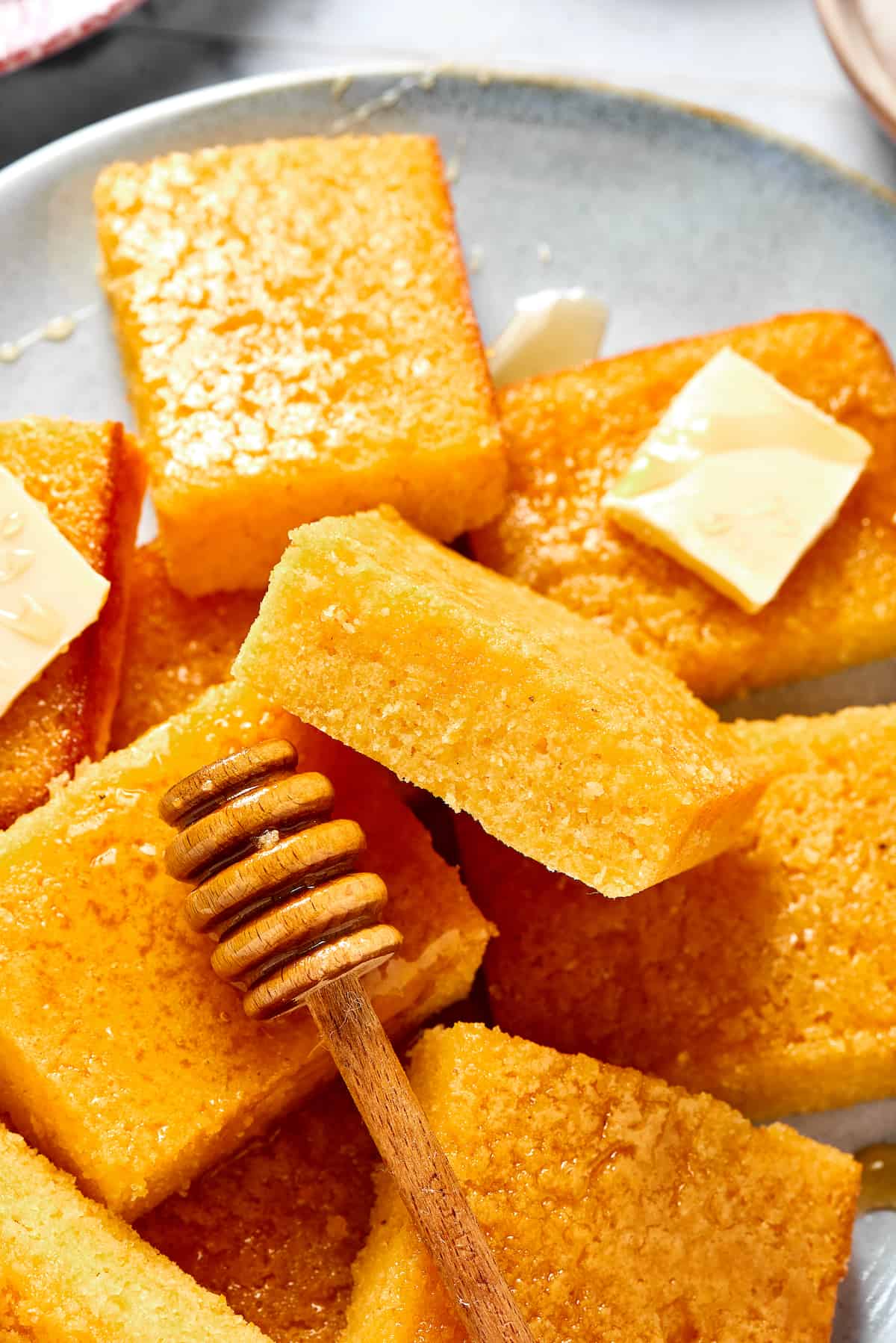 What's the Difference Between Southern Cornbread and Regular Cornbread?
It depends on who you ask, but the main issue usually boils down to sugar, or no sugar (and wheat or no wheat). Because cornbread was an everyday staple food in the South for many years, it did not usually include sugar or expensive wheat flour. To this day, many Southern bakers and cooks make their cornbread savory, not sweet.
In the Northern states, wheat flour was easier to produce and often added to cornbread, along with molasses for sweetener. This sweet cornbread was served as an accent to some meals, rather than a daily source of nutrition. Sweet cornbread eventually became common in both the North and South.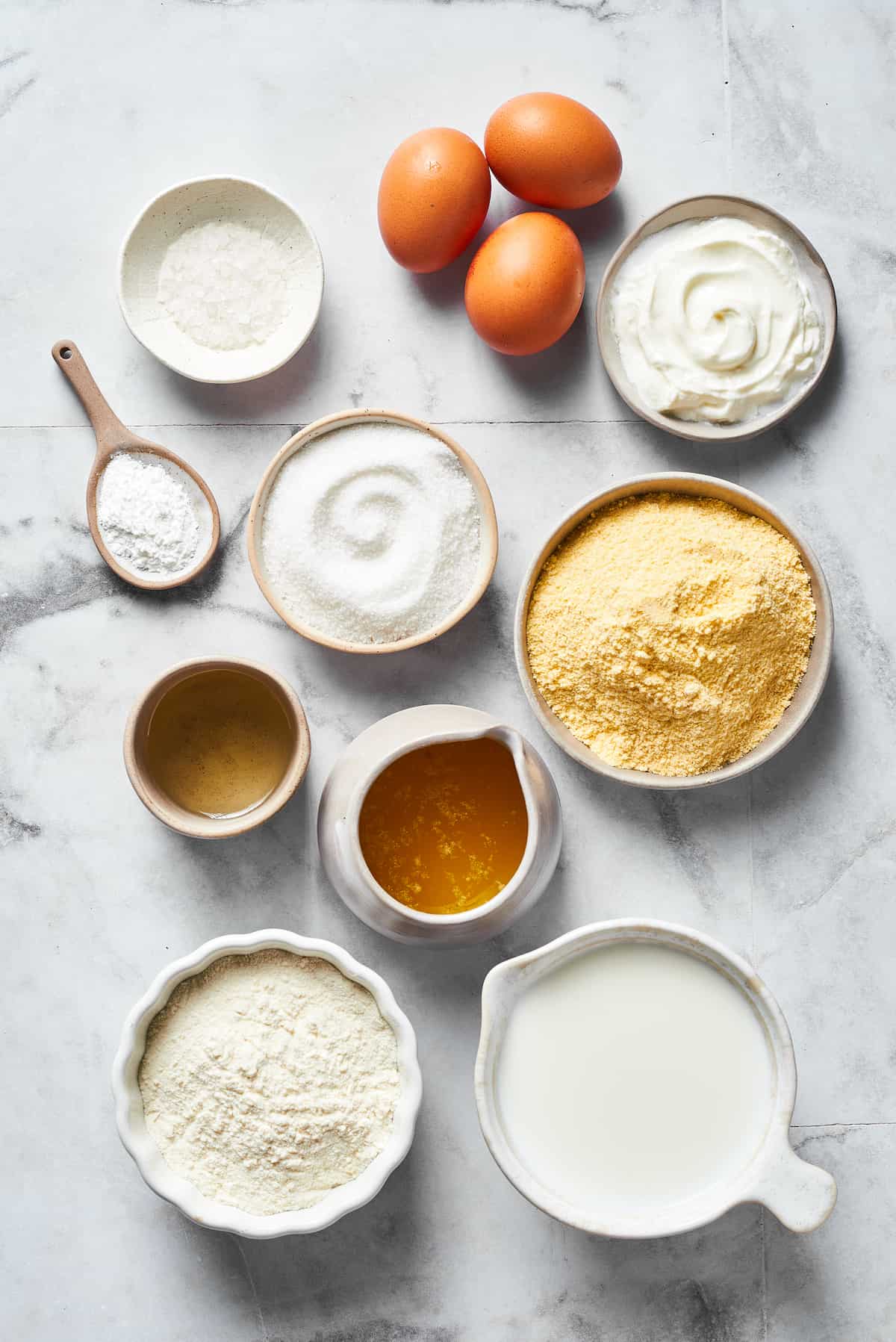 The Ingredients You'll Need
To make this cornbread recipe, you will want to have some good, fresh cornmeal on hand. If your cornmeal has been sitting in the cupboard for a while, smell it to see if it has a musty scent – cornmeal goes rancid, and you don't want to use that in your baking. Fresh cornmeal will have a pleasant, slightly sweet aroma.
Flour: Half cornmeal and half flour gives the cornbread a pleasant, cakey texture. All-purpose flour works perfectly.
Cornmeal: Make sure to use plain cornmeal, not self-rising meal or cornbread mix.
Sugar: Plain granulated sugar is fine, or you can substitute raw sugar.
Baking Powder: You'll need baking powder, not baking soda.
Salt
Milk: Whole milk will add the most flavor, but reduced fat will also work.
Eggs: The eggs should be at room temperature for best results.
Sour Cream: For added richness and a slight tang.
Butter: Melt the butter before using it.
Oil: A little oil helps keep the cornbread moist, without weighing it down or making it dense.
Honey: A bit of your favorite honey adds the perfect finishing touch.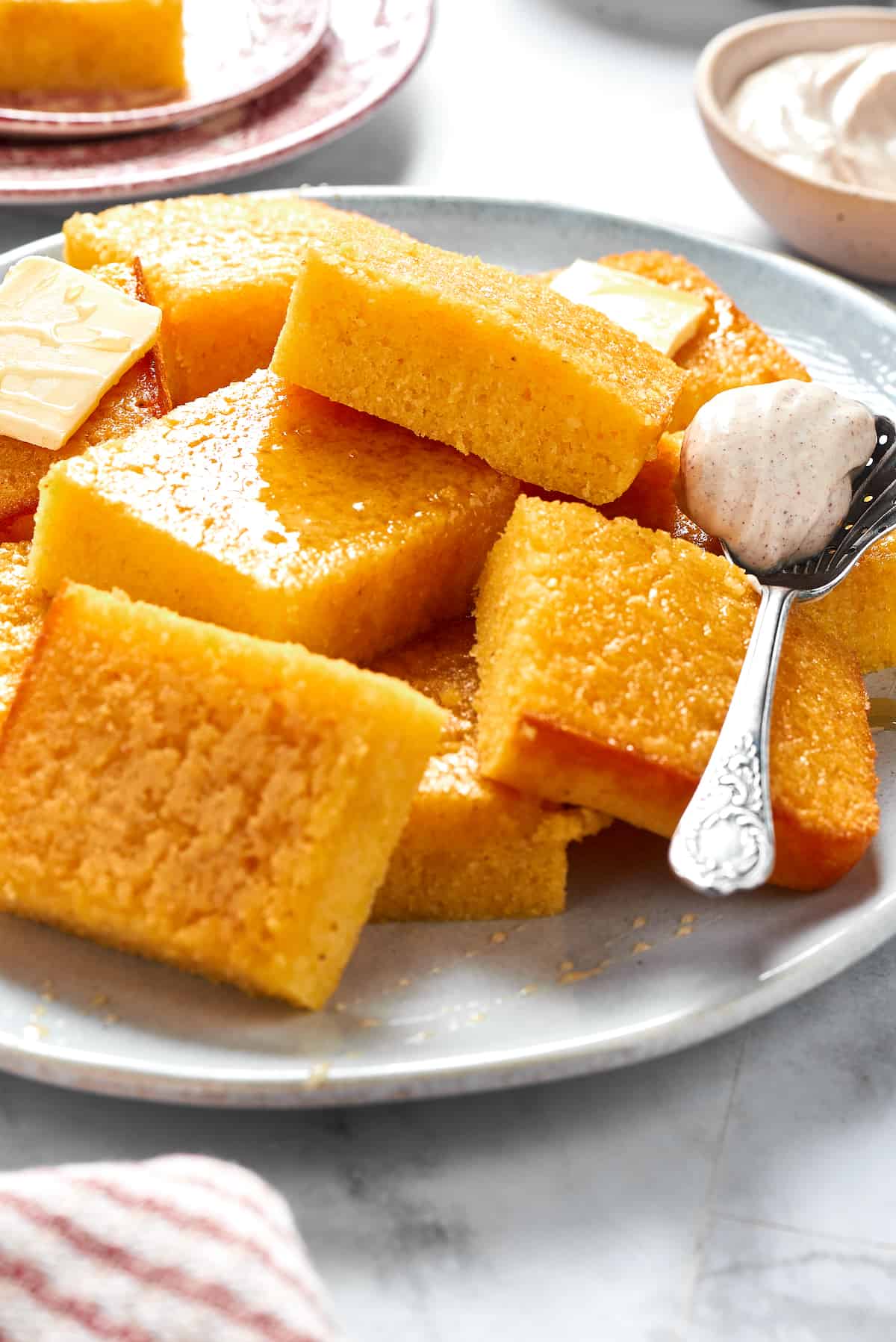 How to Make this Cornbread Recipe
The process for making this cornbread recipe is super easy! This quick recipe whips up in just one mixing bowl. Here's how to do it:
Prep the Oven, Baking Dish, and Dry Ingredients. For starters, preheat your oven to 350°F. Grease a medium 9×11 baking pan with oil. Then combine the flour, cornmeal, sugar, baking powder, and salt in a large mixing bowl, and give them a stir to combine.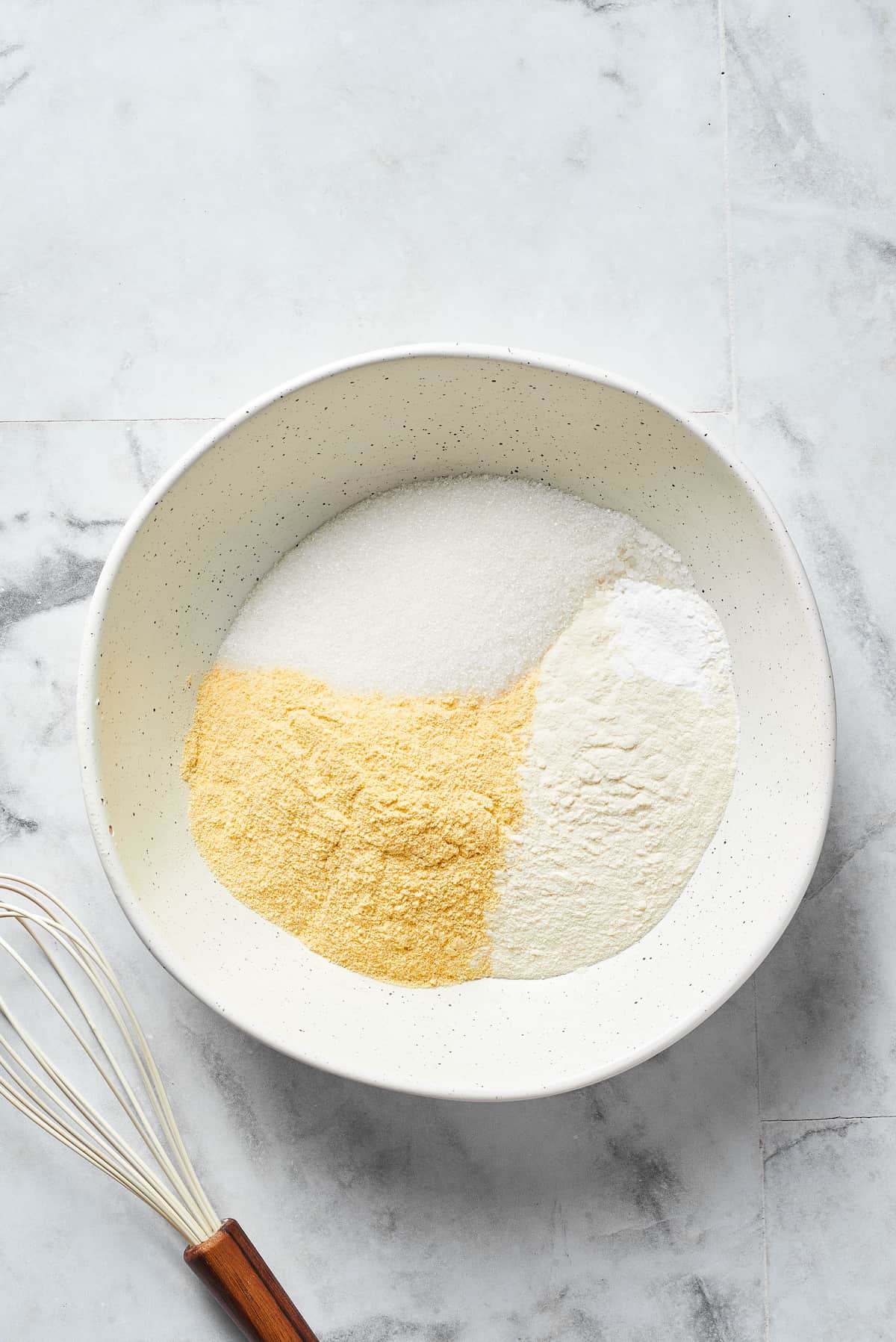 Add the Wet Ingredients. Make a well in the dry ingredients, and pour the milk, eggs, sour cream, melted butter, and oil into the well. Stir or whisk everything together to make a smooth batter.
Bake the Cornbread. Pour and scrape the cornbread batter into the greased baking dish, and place it in the preheated oven. Bake for about 25 to 30 minutes, or until the cornbread is fluffy and slightly golden around the edges.
Add Honey. This step is optional, but so good! While the cornbread is hot, coat the top with honey. Let the cornbread cool for about 15 minutes.
Enjoy! Cut the baked, cooled cornbread into slices, and serve.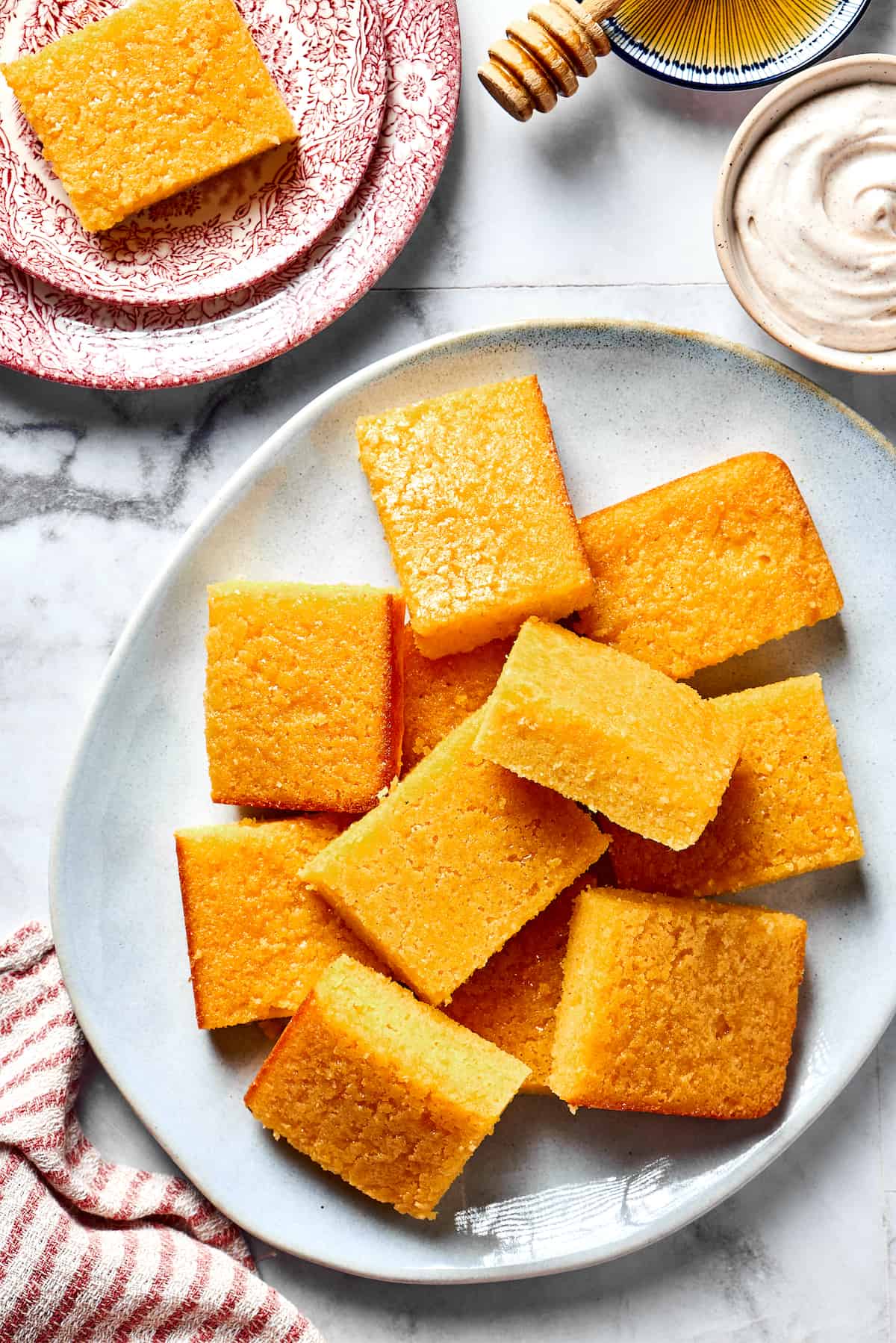 Tips for Success
What else should you know about this sweet little cornbread recipe? Glad you asked! These helpful tips will guarantee a scrumptious result.
Sugar: Again, many cooks prefer cornbread that is not sweet, or simply less sweet, so feel free to reduce the sugar in this recipe to suit your preferences. You can also leave out the honey, if you like.
Crusty Cornbread: For a darker crust to your cornbread, use a darker pan or a cast-iron skillet.
Buttermilk Cornbread: For a more tangy flavor, try using buttermilk instead of the milk in this recipe.
Add Mix-Ins: Sweet cornbread is a natural pair with bacon bits, cracklins, and finely chopped onion or bell pepper. For a spicy flair, add a little minced jalapeno!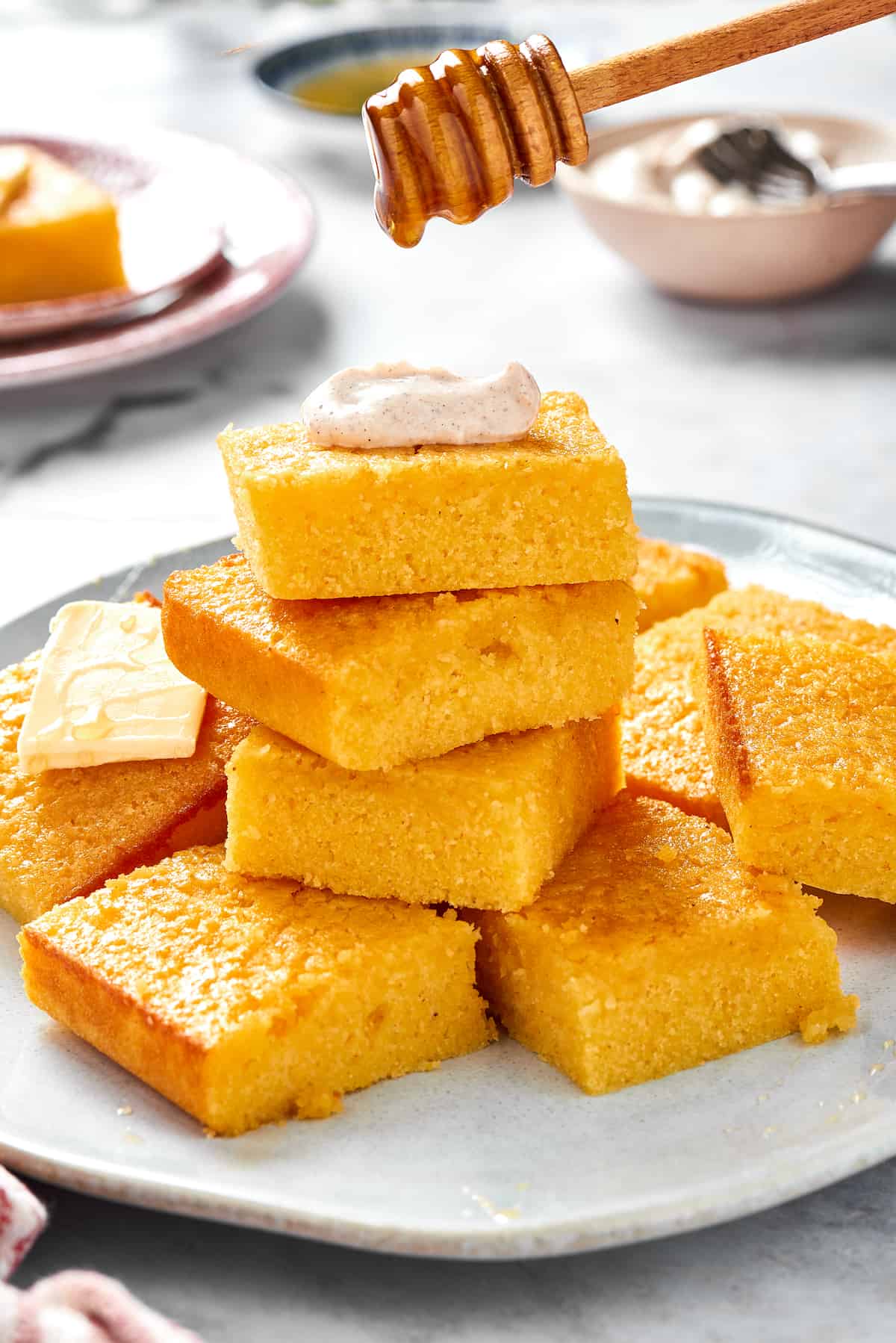 What Goes with this Cornbread Recipe?
One thing that I love to serve with this cornbread is cinnamon cream! To make this, just mix 3 tablespoons of cream cheese with an equal amount of maple syrup, and add a teaspoon of cinnamon. You can also make things easy by serving it plain, with a little butter on the side.
For main dishes that go well with cornbread, try one (or more) of these easy recipes:
Chili: A big bowl of hearty Chili con Carne is always tastier with something yummy for dipping – this cornbread would be just the thing! Sweet cornbread and spicy chili are a match made in heaven.
Ribs: Any kind of ribs are great with a side of cornbread, but I particularly like these saucy, Easy Instant Pot Ribs. Country-style ribs and honey-topped cornbread are a clear winner for dinner.
Enchiladas: The sweet, sunshiny flavor of homemade cornbread adds a nice balance to enchiladas, especially Salsa Verde Chicken Enchiladas! Make these two easy dishes, and your tastebuds will thank you.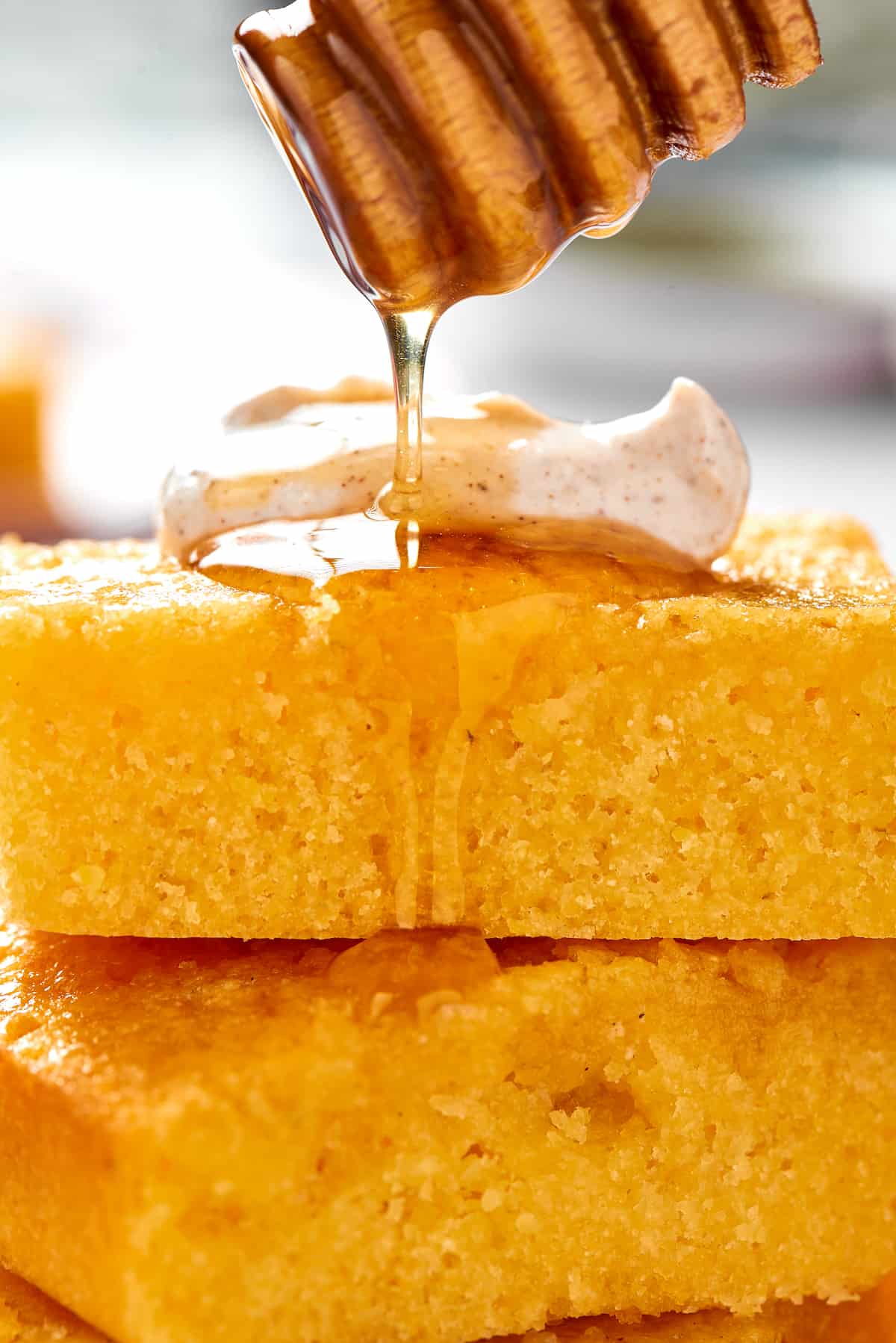 How Long Does Cornbread Last?
This homemade cornbread recipe is easy to store. Just wrap the cooled cornbread tightly and keep it on the counter for a couple of days, or in your refrigerator for up to a week.
When it's time to serve, you can enjoy it cold, or microwave it for a few seconds to warm it up again.
Freezing Instructions
Got extras? Great! Because this cornbread recipe also freezes well for another time. Wrap cooled cornbread tightly in plastic wrap, and then place in a freezer bag for extra protection.
Mark with the date, and freeze for up 3 – 4 months.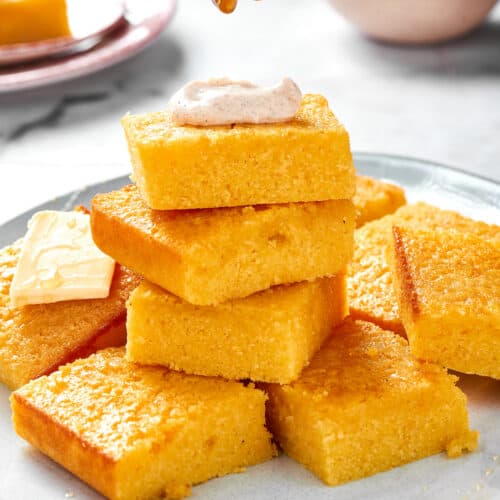 Print Recipe
The Best Homemade Cornbread Recipe
Warm, sweet, and moist, this is truly The Best Homemade Cornbread Recipe! The whole family will love this buttery, golden cornbread, lightly glazed with real honey.
Ingredients
1

cup

all-purpose flour

1

cup

cornmeal

½

cup

granulated sugar

½

tbsp

baking powder

2

tsp

salt

1

cup

milk

3

eggs,

at room temperature

3

tbsp

sour cream

½

cup

unsalted butter,

melted

¼

cup

vegetable oil

3

tbsp

honey
Instructions
Preheat the oven to 350°F.

In a large mixing bowl, combine the flour, cornmeal, sugar, baking powder and salt. Make a well in the center of the flour mixture.

In a separate bowl whisk together the milk, eggs, sour cream, melted butter, and vegetable oil.

Pour the milk mixture into the center of the well and whisk until smooth.

Grease a 9×11 inch baking pan with a little oil and pour the cornbread batter into the pan.

Bake for 25 to 30 minutes, or until fluffy and slightly golden around the edges.

When you take the cornbread out of the oven, coat it with 3 tablespoons of honey and let it cool for about 15 minutes.

Cut into slices and serve.
Notes
Serve cornbread with butter, or Cinnamon Cream.
To Make Cinnamon Cream:
Combine 3 tablespoons of cream cheese, 3 tablespoons of maple syrup, and
1 teaspoon of cinnamon. S
tir and serve with cornbread.
Nutrition
Calories:
285
kcal
|
Carbohydrates:
39
g
|
Protein:
5
g
|
Fat:
13
g
|
Saturated Fat:
7
g
|
Polyunsaturated Fat:
1
g
|
Monounsaturated Fat:
3
g
|
Trans Fat:
0.4
g
|
Cholesterol:
79
mg
|
Sodium:
784
mg
|
Potassium:
114
mg
|
Fiber:
1
g
|
Sugar:
17
g
|
Vitamin A:
466
IU
|
Vitamin C:
0.1
mg
|
Calcium:
132
mg
|
Iron:
2
mg
More Easy Bread Recipes