Everyone's favorite Homemade Crescent Rolls are a snap to make with this easy recipe! Using wholesome, simple ingredients, this beloved side dish is perfect for the holidays and beyond.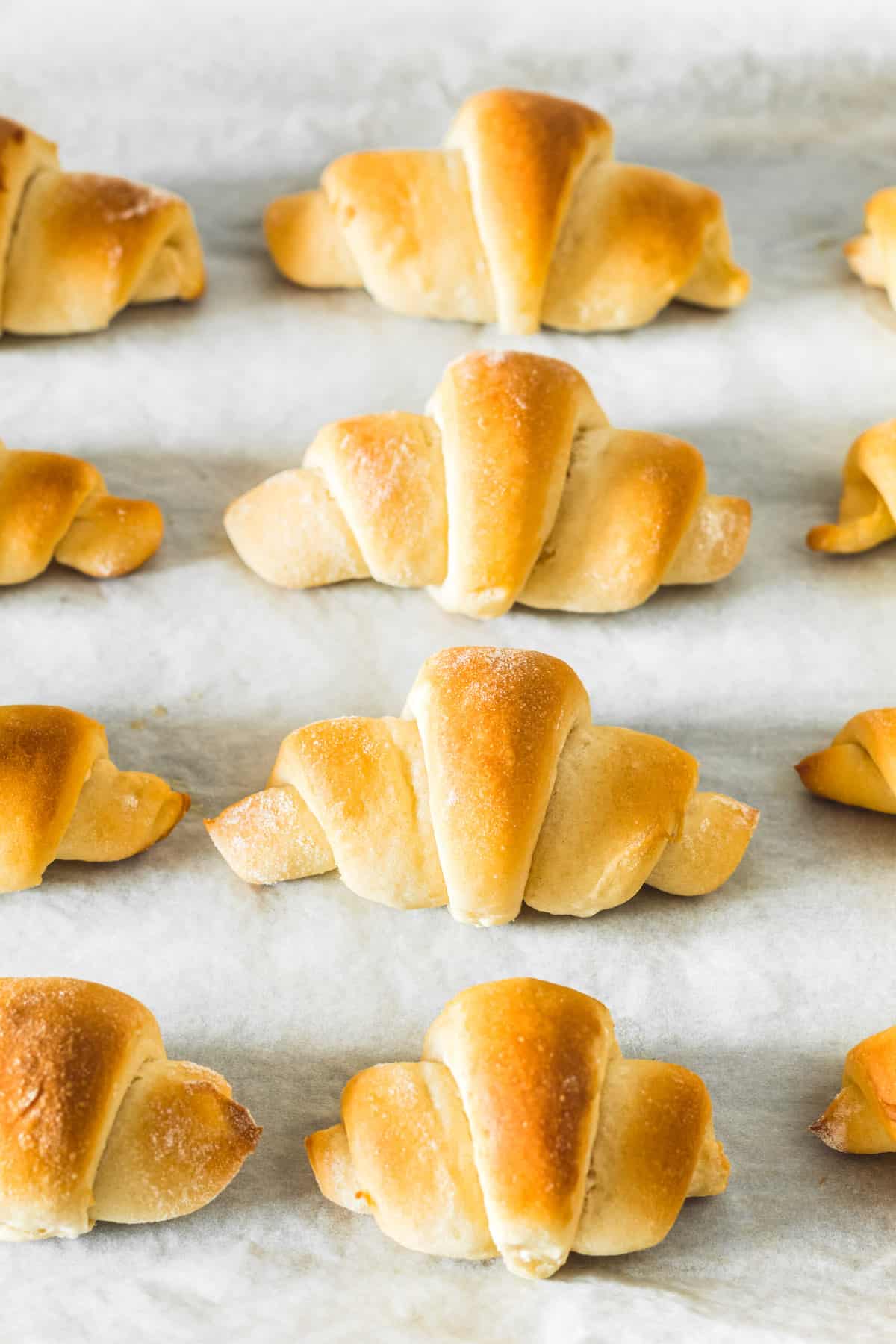 Easy, Buttery Dinner Rolls Made from Scratch!
Depending on where you live, you might hear these called butterhorn rolls, Amish butterhorns, or crescent rolls. I just call them to-die-for-dinner-rolls! Soft, sweet, and buttery, crescent (or butterhorn) rolls are easy to make and only require staple ingredients that you probably already have at home.
They are flaky, flavorful, and don't require much effort or advanced baking skills. Basically, all you have to do is mix up the soft and simple dough, and give it plenty of time to rise before shaping, rising again, and baking. They're the perfect rolls the whole family will love!
Are Crescent Rolls the Same as Croissants?
You might be wondering if butterhorn rolls or crescent rolls are the same kind of roll as classic French croissants. While both are buttery, flaky, and utterly addictive, the answer is no! The difference is in how the dough is treated to be light and get a good rise.
These crescent rolls are made with only melted butter, which creates a soft dough that's lightly flaky but not layered. Since croissant dough is rolled out repeatedly with layers of chilled butter, it forms distinctive, thin and crispy layers.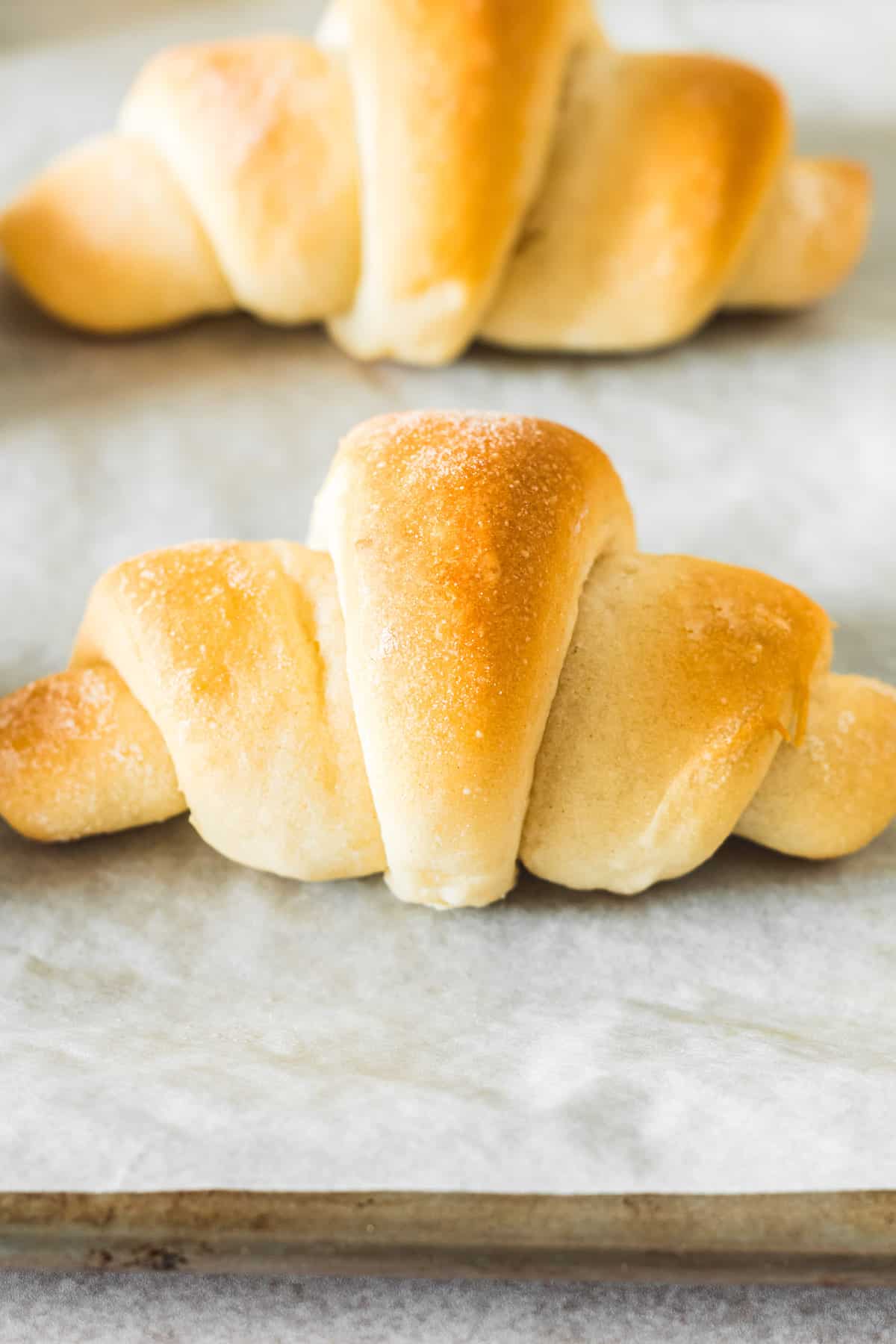 What Ingredients Will I Need?
Like many dinner roll recipes, this one uses only a few basic staples. The generous amount of butter and unique method are what make these crescents so scrumptious!
Yeast: For this recipe, make sure to use active dry yeast.
Water: The water needs to be about at your body temperature, not too hot and not too cold. Otherwise the yeast will not activate!
Milk: Like the water, make sure the milk is warm but not hot. I use whole milk for a rich flavor, but you could use reduced fat or even non-dairy milk.
Sugar: A little granulated sugar sweetens the dough and helps the yeast along.
Egg: Lightly beat the egg before adding it to the mixture. The egg should be at room temperature, for best results.
Salt
Flour: All-purpose wheat flour is best for this recipe.
Butter: I use unsalted butter here. I do not recommend dairy-free butter in this recipe.
How Do You Make Crescent Rolls?
The most important part of making these rolls is to give them the proper rising times. The first rise takes about 5 hours in the fridge, or overnight, so be sure to plan accordingly.
Proof the Yeast. Before you get started with your dough, give the yeast a chance to begin bubbling and activating. Working with a large mixing bowl, place the yeast into the warm water and let it sit for about five minutes.
Add the Milk, Sugar, and Egg. The yeast should be creamy and a little bubbly at this point. Add the sugar, the egg, and the milk, and give the mixture a good stir.
Add the Salt and Half of the Flour. Now stir in the salt, along with two and a half cups of flour. Stir to make a very soft dough/batter.
Add the Butter and Remaining Flour. Finally, pour the ¾ cup of melted butter (save the 3 tablespoons for brushing, later) into the mixture, along with the remaining two and a half cups of flour. Mix the dough well with your hands or a large spoon to form a sticky, smooth dough. If you feel that the dough is too wet, you can add ¼ to ½ cup flour to even it out, but remember that the dough should feel sticky rather than dry.
Let the Dough Rise. Move the dough to a clean bowl, and cover it with plastic wrap. Place it in the fridge for the first rise. This will take at least 5 hours, or you can leave the dough overnight if you prefer.
Shape the Rolls. Once the dough has risen, take it out of the refrigerator and punch it down. Divide it into 3 equal portions, and roll each portion out on a lightly-floured surface into a circle about 12 inches in diameter. Cut each circle into twelve wedges, pizza-style. You can even use a pizza cutter to do this. Brush with melted butter, and then roll each wedge up, starting at the wide end and ending with the point.
Let the Rolls Rise. Place the crescents pointy-side-down on greased or parchment-lined baking sheets. Cover them, and let them rise in a warm place for 1 hour or until they're roughly doubled in size.
Bake! When the rolls are ready to bake, preheat the oven to 350°F. Bake the rolls for 12 – 15 minutes, or until the tops of them are golden-brown.
Enjoy! Take the rolls out of the oven and cool them slightly on baking racks before serving warm.
Tips for Success
When it comes to making crescent rolls, there are a few helpful tips I would like to share! Take a look at my best helpful hints for making the most of this classic, beloved yeast roll recipe.
Warm Up: For best results, do not use cold ingredients when making this recipe. Keeping the butter melted and all of the ingredients at room temperature helps ensure that the rolls turn out soft and flaky.
Generous Rise: The first rise should be long and slow in the refrigerator—at least five hours. Don't skimp on this rise!
Bring On the Heat: Butterhorn rolls are best eaten when warm, so make sure to reheat them briefly before serving if they have been sitting for a while. I find that three to five minutes in a 350°F works well.
Add Butter: For an even more decadent buttery taste, try brushing the freshly-baked rolls with a small amount of melted butter before cooling slightly and serving.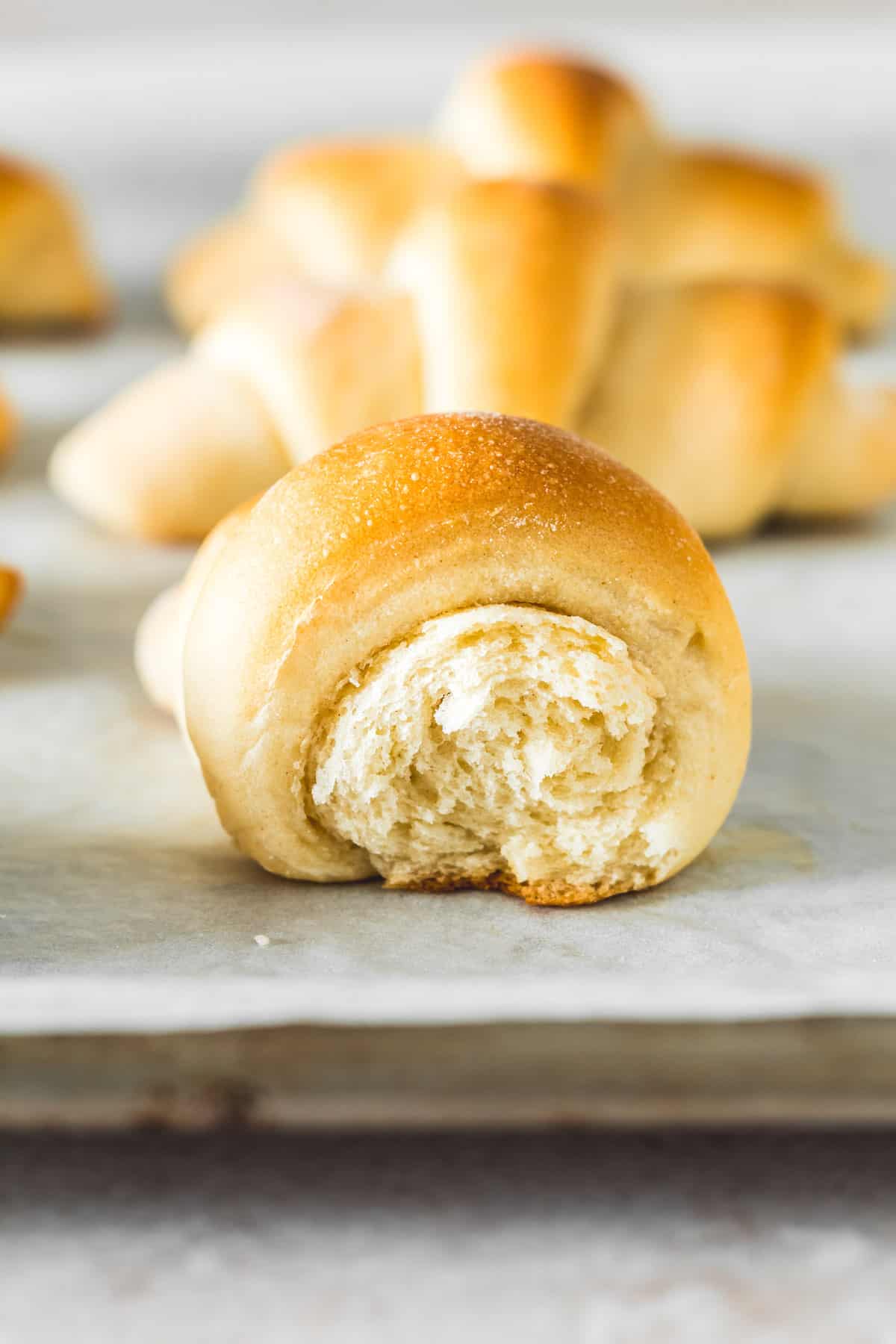 Serving Ideas
Butterhorn rolls are great with just about any main course, all year long. Whether you're pulling together a cozy meatloaf, serving some easy chicken salad, or making a traditional holiday spread, you can't go wrong with these! Here are some of my favorite holiday recipes to serve with butterhorn rolls:
Turkey: Butterhorn crescents are perfect with turkey, both on the table the day of and for yummy little crescent sandwiches afterwards. If you aren't up for a huge turkey dinner, try this easy tutorial for making a juicy Roast Turkey Breast. It's just as good, and oh-so-simple.
Ham: Sweet crescent rolls play perfectly with this sweet Christmas Ham with Brown Sugar Glaze. I seriously can't even look at this recipe without drooling, you guys.
Casserole: The holidays are all about doing things a little more over-the-top, and I think this turbo-charged Green Bean Casserole studded with bacon and brussels sprouts knocks it out of the park. Try it, and I can guarantee you'll adore this festive favorite—especially with a buttery roll or two to savor the creamy sauce.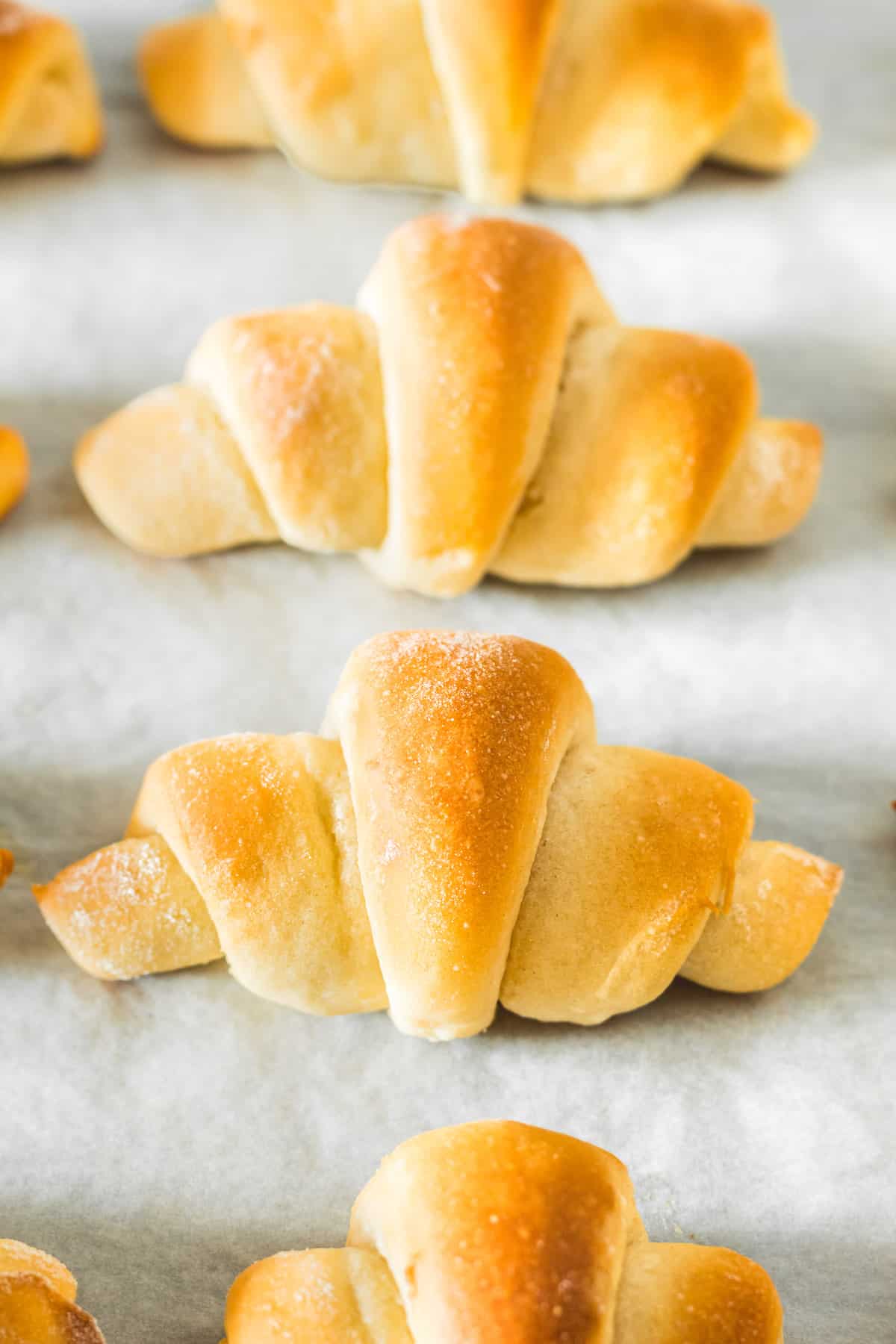 Storing Leftover Crescent Rolls
When you store leftover crescent rolls (if you have any!), you should keep them in airtight containers or food storage bags for the best results. You can store them at room temperature, in the fridge, or in the freezer!
At room temperature, crescent rolls will stay fresh for one or two days.
In the refrigerator, they'll keep for four or five days.
Frozen, they'll be good for up to three months.
Make-Ahead Instructions
It's easy to make these buttery rolls ahead of time, and freeze them to bake fresh on the day of. Here's how you do it!
Follow the recipe as written to mix the dough, rest it, and shape the rolls. Once the rolls are shaped and arranged on a baking sheet, flash freeze them for an hour or so until frozen solid.
Store the frozen rolls in freezer bags in the freezer for up to four weeks. (If you are using a deep freezer, these will keep almost indefinitely.)
To bake the frozen rolls, take them out of the freezer and arrange on a greased baking sheet (or one lined with parchment). Allow them to rise in a warm place until doubled in size, about 1 hour. Bake at 350°F until golden-brown, about 12 – 15 minutes.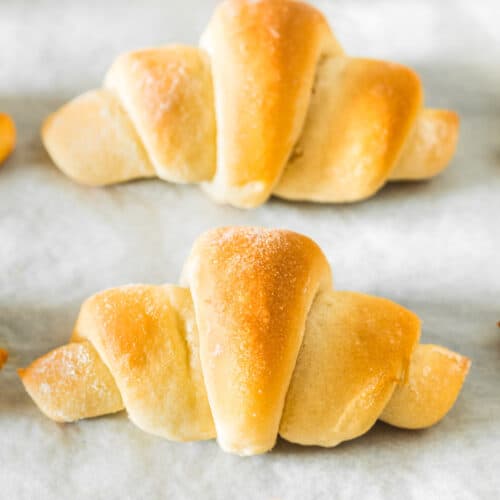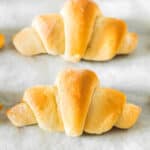 Print Recipe
Crescent Rolls (Butterhorn Rolls)
Everyone's favorite Homemade Crescent Rolls are a snap to make with this easy recipe! Made with wholesome, simple ingredients, this beloved side dish is perfect for the holidays and beyond.
Instructions
In a large bowl, dissolve the yeast into the warm water and let it sit for about 5 minutes. Add the milk, and stir.

Add the sugar and egg, and mix to combine.

Add the salt and 2.5 cups of the flour. Mix until well-incorporated.

Pour in ¾ cup of the melted butter and stir to combine. Add the remaining 2.5 cups flour; mix the dough well with your hands or a large spoon to form a sticky, smooth dough. You can add an additional ¼ cup to ½ cup flour, if your dough is too difficult to work with, but keep in mind that the dough should feel sticky rather than dry.

Transfer the dough into a large clean bowl, and cover with plastic wrap. Refrigerate for at least 5 hours, or overnight.

Take the dough out of the refrigerator, and divide it into 3 equal portions.

On a lightly floured surface, roll each portion into a 12-inch circle. Brush with 1 tablespoon of butter, and cut into 12 wedges.

Starting at the wide end, roll each wedge of dough up, to make a roll. Place the rolls, pointed ends tucked underneath, on a lightly greased baking sheet (you may line the baking sheet with parchment, if you prefer).

Cover, and let rise in a warm place for 1 hour.

Preheat the oven to 350°F.

Bake the rolls for 12 to 15 minutes, or until the tops are golden brown.

Take the rolls out of the oven and cool on baking racks.
Nutrition
Calories:
121
kcal
|
Carbohydrates:
16
g
|
Protein:
2
g
|
Fat:
5
g
|
Saturated Fat:
3
g
|
Polyunsaturated Fat:
1
g
|
Monounsaturated Fat:
1
g
|
Trans Fat:
1
g
|
Cholesterol:
17
mg
|
Sodium:
70
mg
|
Potassium:
31
mg
|
Fiber:
1
g
|
Sugar:
3
g
|
Vitamin A:
159
IU
|
Calcium:
12
mg
|
Iron:
1
mg
More Easy Side Dishes for the Holidays