The classic flavors of a warm shrimp taco blend amazingly with a fresh, crunchy Asian slaw in this delicious dinner recipe! My easy Shrimp Tacos with Asian Cabbage Slaw are guaranteed to be a new favorite.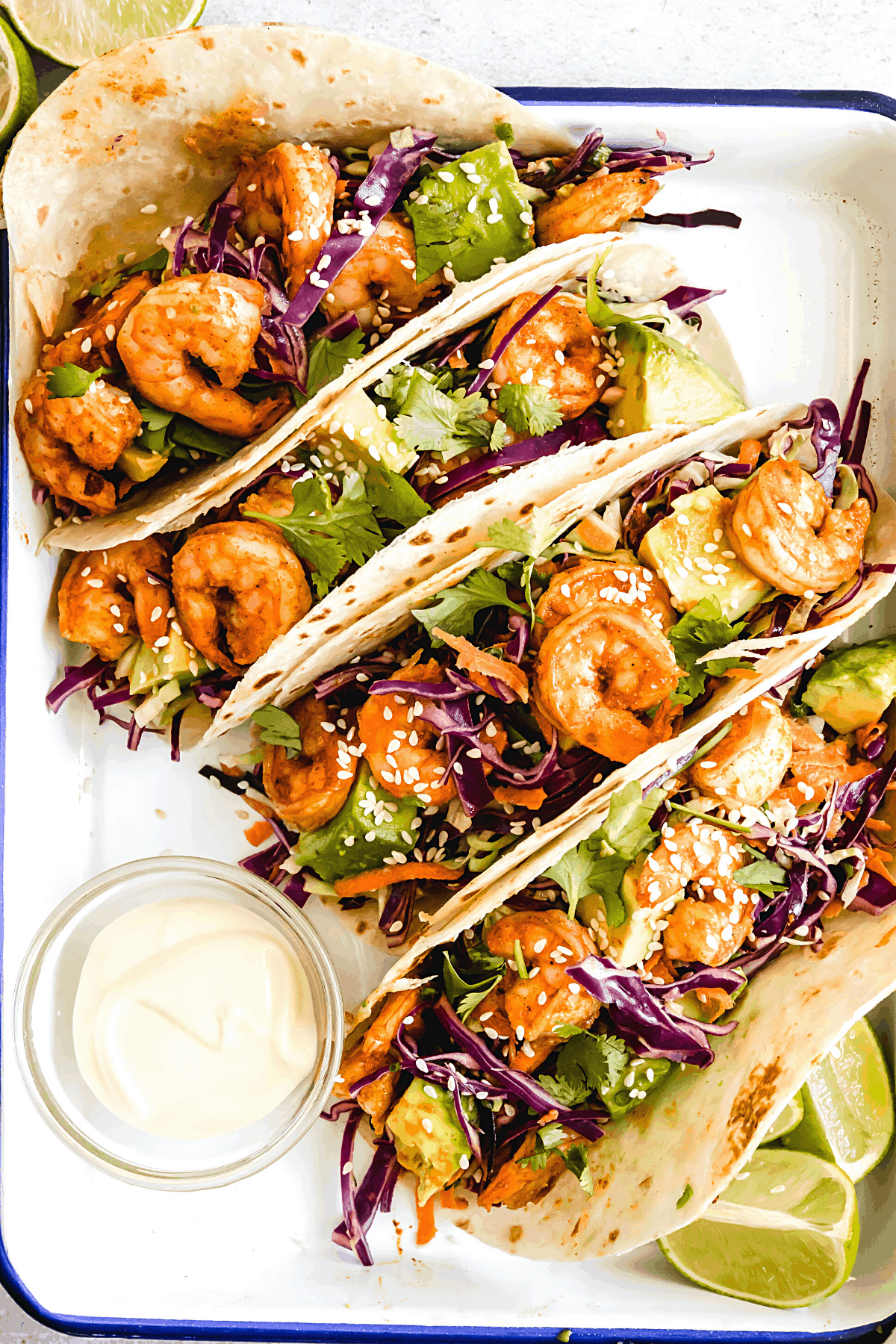 Easy Shrimp Tacos with Asian Slaw
Anyone who loves tacos has got to try shrimp tacos. They're just so good! Shrimp have a very versatile flavor and make a festive filling for flour or corn tortillas, especially when cooked up with traditional taco seasoning. No special seasonings needed!
But you guys. You GUYS. When you combine a shrimp taco with this amazing Asian slaw, you have officially taken things to the next level. And let me tell you, you want to experience that level!
The textures of the shrimp and slaw go perfectly together, of course—but the flavors are what really shine. The creamy, gingery slaw with its bite of scallion and warm sesame just goes so well with shrimp, and the taco spices and warm tortilla just add to the party! It's a beautiful, Asian-inspired fiesta in your mouth!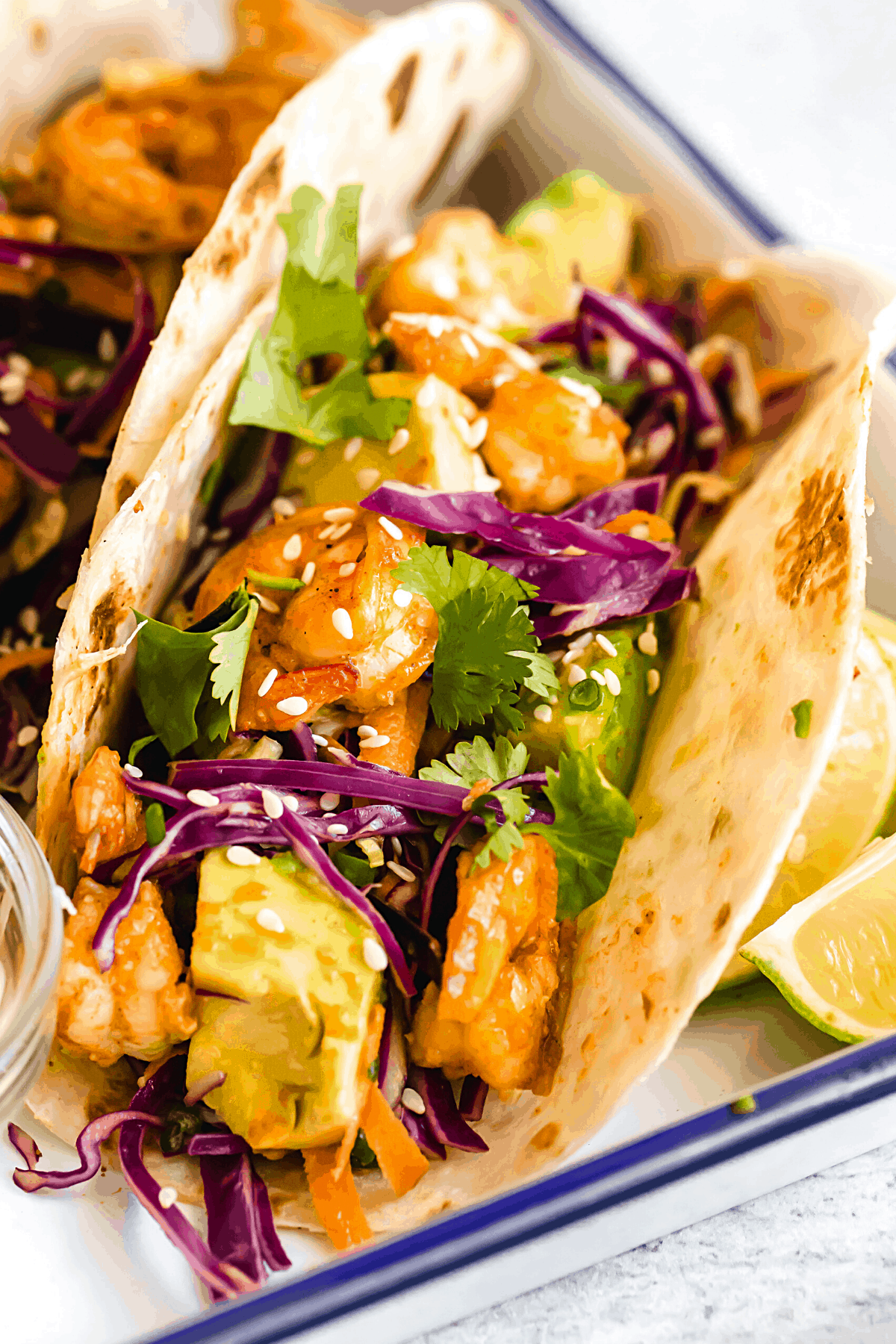 Recipe Ingredients
This might look like a lot of ingredients, but everything comes together very quickly. It's even faster if you can get your shrimp already peeled, deveined and tailed. And if you have some helpers to measure the dressing ingredients and shred the cabbage, it'll be ready even faster!
For the Shrimp Tacos
These spicy shrimp only need a few ingredients. They're always a hit, thanks to the awesome flavors of taco seasoning and butter.
Shrimp: You'll need a pound of raw shrimp, peeled and deveined, tails removed. I like to use smaller shrimp here, because they're easier to fit into a taco. Any size will do, though.
Butter: For sauteing the shrimp, some real butter adds a lot of flavor. You could use vegan butter, too, if you wish.
Olive Oil: A light olive oil helps cook the shrimp without burning or scorching it. I don't recommend extra virgin or virgin olive oil, since those have lower smoke points.
Taco Seasoning: You'll need 1 ½ tablespoons of your favorite taco seasoning, or you can make your own. For homemade, grab my Taco Seasoning recipe.
Tortillas: This recipe makes enough to fill 6 to 8 medium tortillas (corn or flour). The tortillas should be warmed before serving.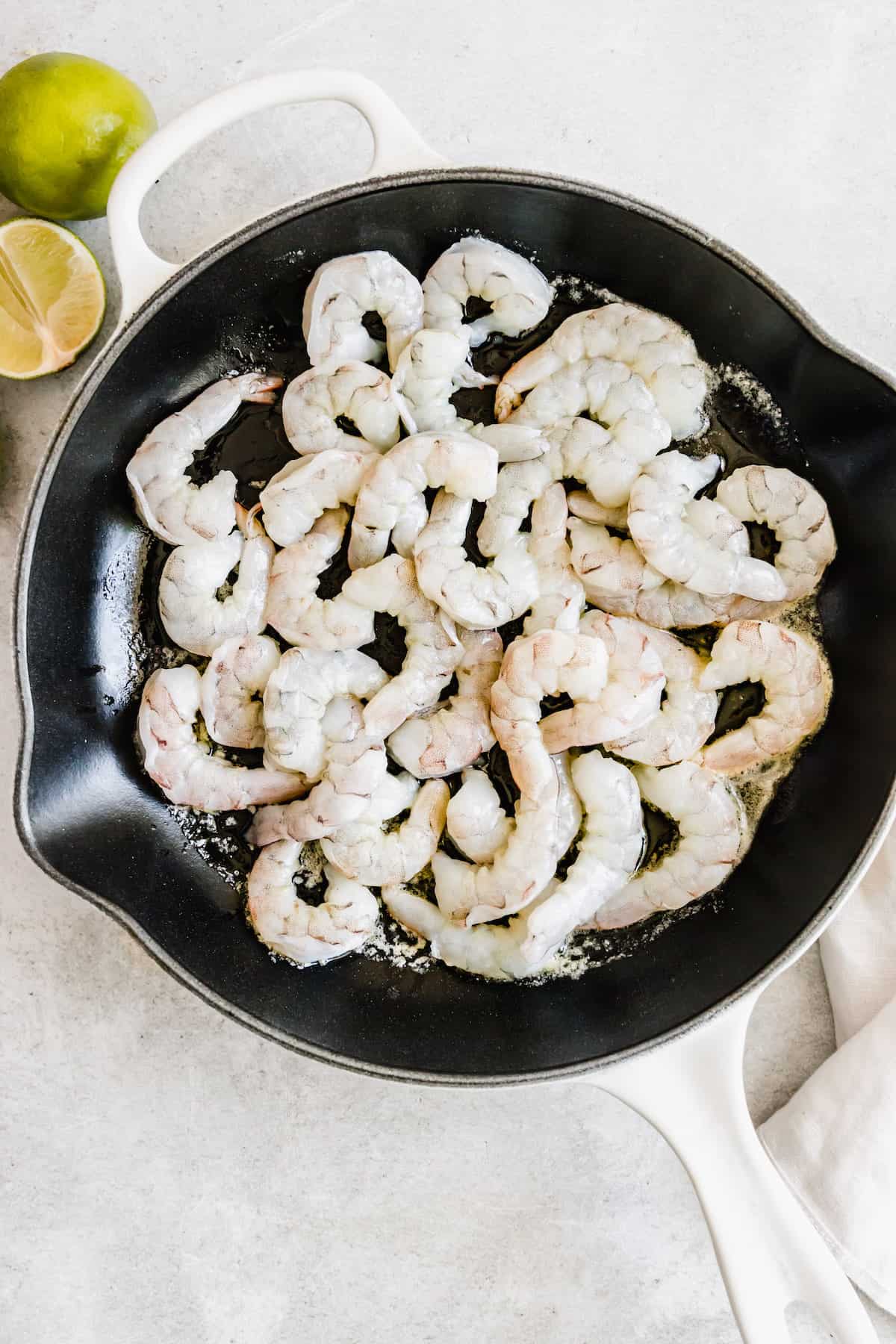 For the Cabbage Slaw
If you don't want to make your own, you could definitely use your favorite premade slaw mix here. There are often really good, fresh slaw mixes available at grocery stores, with a variety of veggies. Whatever you use, I recommend adding the scallions anyway. They add a delicious bite.
Red & Green Cabbage: Shred up 3/4-cup of each.
Carrots: You'll need 1/2-cup of shredded carrots.
Scallions: Finely slice 1/4-cup of scallions.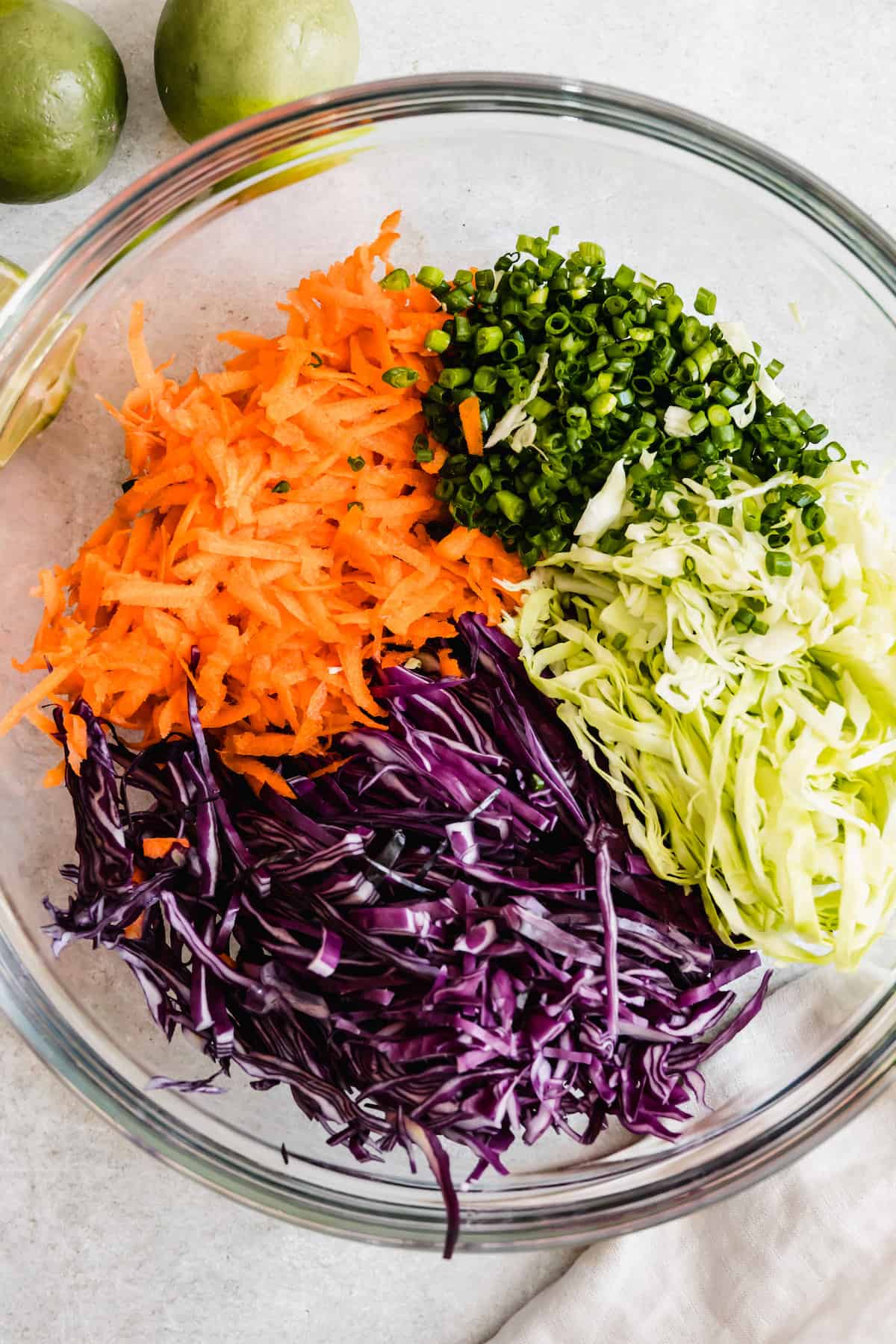 For the Dressing
Fresh Ginger: You'll need half a tablespoon of minced ginger.
Mayonnaise: Just a tablespoon and a half of your favorite mayonnaise makes this dressing deliciously creamy and flavorful.
Sesame Oil: One of my favorite ingredients! It brings a warm, nutty balance to the dressing.
Soy Sauce: For depth of flavor and seasoning.
Rice Vinegar: Rice vinegar is more delicate than regular vinegar, but you can substitute white vinegar, apple cider vinegar, or even lime juice, in a pinch.
Honey: A tablespoon of honey adds a nice touch of sweetness to this dressing.
To Garnish
Avocado: Cubed.
Lime Juice: Fresh is always better!
Sesame Seeds: For a light crunch and tons of flavor.
Fresh Cilantro: Chopped.
How to Make the Shrimp Tacos
Shrimp cooks very quickly, so it's best to have all of your other items prepped and ready to go before you start cooking. Bon appetit! 🍴
Cook Shrimp: Heat the butter and olive oil in a skillet over medium-high heat. Then, add the shrimp and the taco seasoning. Stir well and cook until the shrimp are pink and opaque, 3 to 4 minutes. Remove from the heat.
Keep Warm: If you're not serving immediately, cover the skillet and set it aside to keep warm.
How to Make the Cabbage Slaw
Once the veggies are shredded, this slaw is as easy as pie! To make shredding easier, try using a mandolin. I've even seen slaw made in a food processor. The pieces were tiny, but the slaw was still crunchy and easy to "spread" onto things. Whatever works for you!
Combine Veggies: In a large mixing bowl, mix together the red cabbage, green cabbage, carrots and scallions.
Make Dressing: In a small bowl or jug, make the Asian dressing by whisking together all the ingredients until well combined.
Dress Slaw & Chill: Pour the dressing over the slaw, and toss together until evenly coated.
Assemble Tacos: Place a dollop of the Asian slaw into the center of a warmed tortilla. Top with a few cooked shrimp and garnish with cubed avocado, sesame seeds and freshly chopped cilantro.
Tips for Success
Want some more advice for making the best shrimp tacos and cabbage slaw? Read on!
Don't Overcook the Shrimp: To make sure that your shrimp are properly cooked, without overcooking them, look at the thicker end of the shrimp. You should be able to see a notch where they were de-veined. When the shrimp are opaque into the deepest part of the notch, they're done! You can also tell because the shrimp will have turned pink and curled up, tail to tip, but they shouldn't be super tightly curled.
Fire Up the Grill (Pan): If you're more in the mood to grill these, go for it! Shrimp grill up really well, especially on skewers. Cast iron grill pans are also wonderful for cooking shrimp.
Heat the Tortillas: You can heat both flour tortillas and corn tortillas in the microwave or even the toaster oven, but I like heating them in a dry cast-iron skillet and then wrapping them in a clean kitchen towel to keep warm on the table. Corn tortillas can also benefit from heating with just a tiny bit of oil, if you don't mind using oil; if you try this, wrap in paper towels instead of a kitchen towel.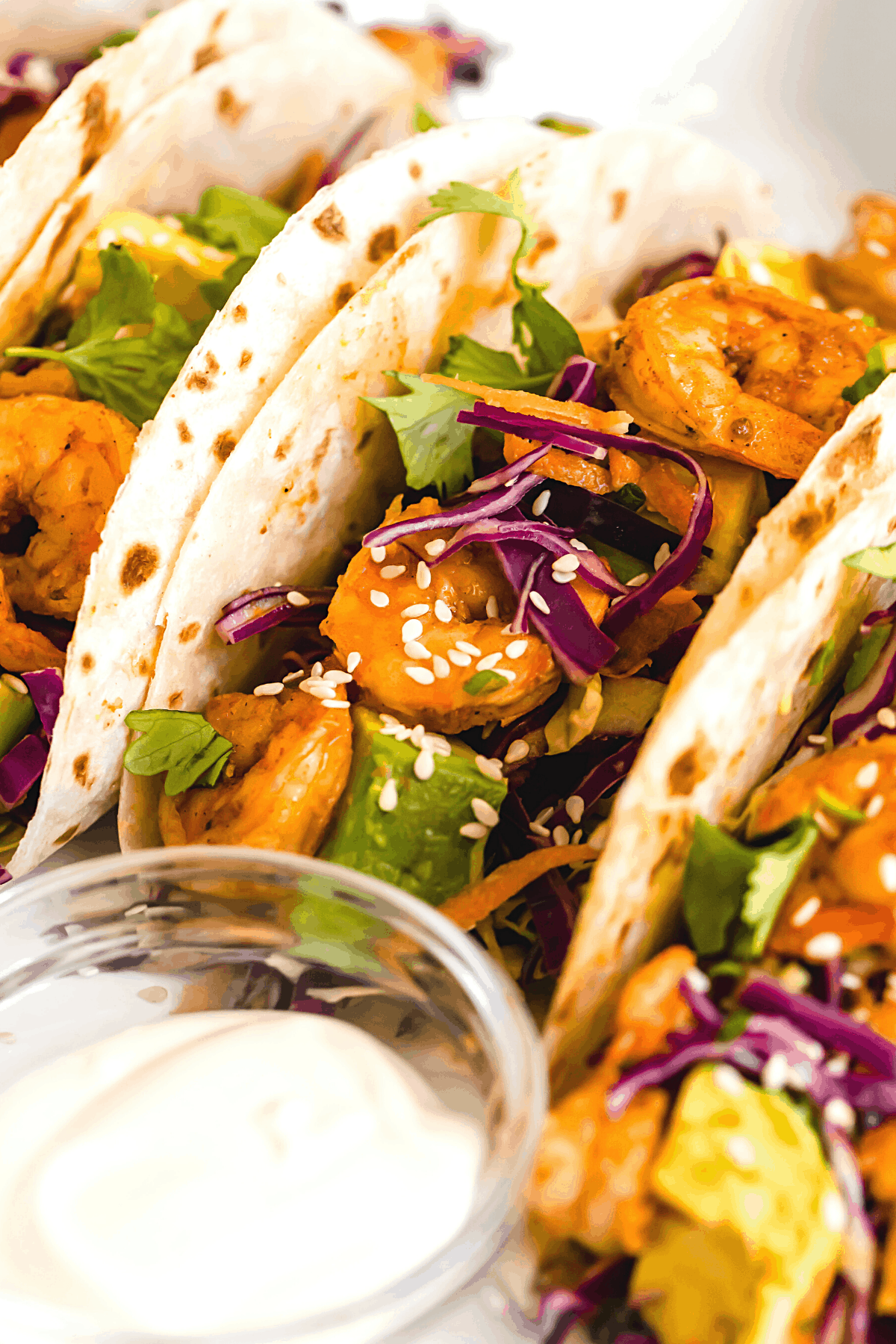 What to Serve with Shrimp Tacos
So what should you serve along with your yummy shrimp tacos? I've rounded up a few of my best recipes to complement this ultra tasty dinner, so let's dive in!
Chips and Salsa: The perfect side to any spicy meal, chips and salsa is easy to make, light, and even healthy! My Avocado Salsa is bursting with flavor and so simple to make, I guarantee you'll love this tasty appetizer.
Crab Rangoon Wontons: Another snackable side dish, Crab Rangoon Wontons play on the yummy Asian flavors in the slaw. Try them, and you'll fall in love!
Fries: I guess you guys probably know by now that I love fries. I could eat them with anything! But the fries I have in mind here are actually my Crispy Air Fryer Zucchini Fries! They're delicious, satisfying, and they bring an extra serving of veggies to the table that no one can resist!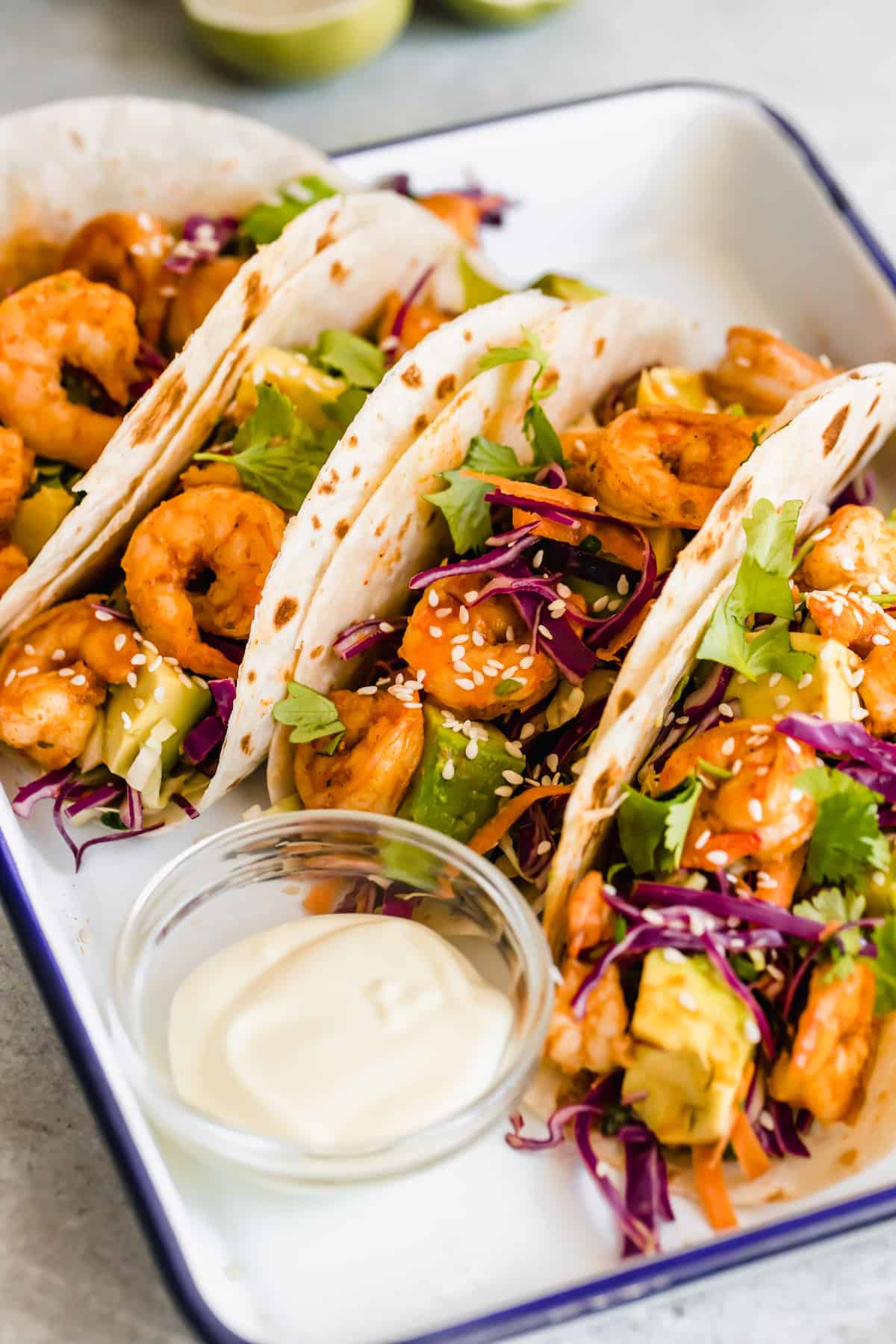 How to Store and Reheat Leftovers
These leftovers should be kept separately for the best results. Here's how to store them:
For the Shrimp: Place your leftovers in airtight food storage containers or resealable bags. Keep them in the refrigerator for up to 3 days.
To Reheat: Warm up leftover shrimp in a covered skillet over low heat, until heated through.
For the Slaw: Place leftovers in an airtight container or a bowl covered tightly with plastic wrap. Store for up to 3 days.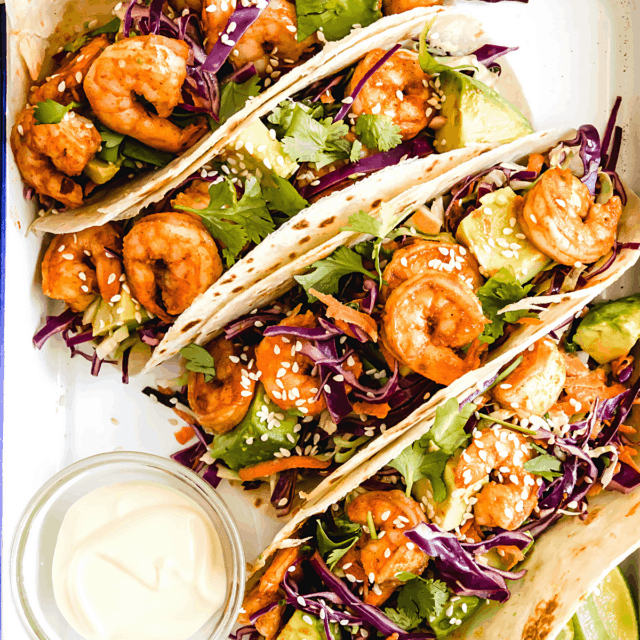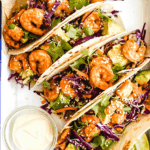 Print Recipe
Shrimp Tacos with Asian Cabbage Slaw
The classic flavors of warm shrimp tacos blend amazingly with a fresh, crunchy Asian slaw in this delicious dinner recipe!
Ingredients
For the Slaw
3/4

cup

red cabbage,

shredded

3/4

cup

green cabbage,

shredded

1/2

cup

carrot,

shredded

1/4

cup

scallions,

finely chopped
For the Shrimp Tacos
1

pound

shrimp,

peeled and deveined, tails removed

2

tablespoons

butter

1

tablespoon

olive oil

1 1/2

tablespoons

taco seasoning

6 to 8

flour tortillas,

or corn tortillas, warmed
For Serving
Avocado,

cubed

Lime juice

Sesame seeds

Fresh cilantro,

chopped
Instructions
In a large mixing bowl, mix together all the slaw ingredients.

In a small bowl or jug, make the Asian dressing by whisking together all the ingredients until well combined.

Pour the dressing over the slaw and toss together until evenly coated. Set aside.

In a skillet over a medium-high heat, add the butter and olive oil. Allow to heat up.

Once hot, add the shrimp and taco seasoning and mix together; cook until shrimp are pink and opaque. About 3 to 4 minutes.

Assemble the tacos by placing a serving of the asian slaw in the centre of a warmed tortilla. Top with a few of the prepared shrimp. Squeeze lime juice over the shrimp, and add some avocado, sesame seeds, and fresh chopped cilantro.

Serve immediately and enjoy.
Nutrition
Calories:
235
kcal
|
Carbohydrates:
19
g
|
Protein:
14
g
|
Fat:
11
g
|
Saturated Fat:
3
g
|
Trans Fat:
1
g
|
Cholesterol:
152
mg
|
Sodium:
802
mg
|
Potassium:
164
mg
|
Fiber:
1
g
|
Sugar:
3
g
|
Vitamin A:
1600
IU
|
Vitamin C:
11
mg
|
Calcium:
127
mg
|
Iron:
2
mg
More Shrimp Recipes to Try
Can't get enough shrimp? These easy shrimp recipes are a must-try: