Beef Stir Fry with Glass Noodles (Japchae) is a beloved Korean classic prepared with steak, veggies, and oodles of springy glass noodles. The sweet-and-savory sauce only takes five simple ingredients!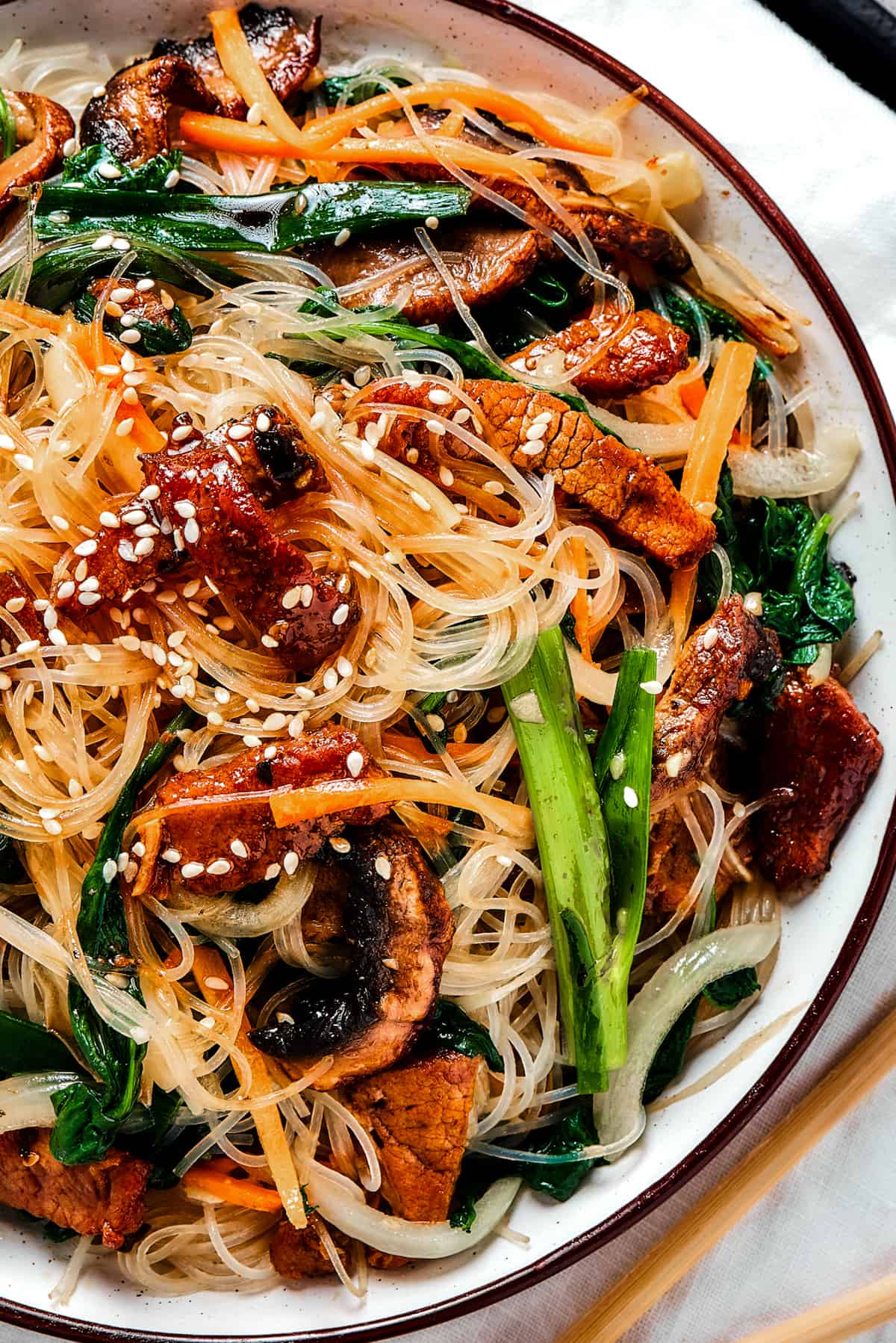 Stir-Fried Noodle Dish
Beef stir-fry with glass noodles is a Korean dish known as Japchae. It's extremely popular in Korea for everything: from major holidays to get-togethers, to simple family dinners. And once you taste it, you'll see why – this dish has everything!
For starters, there are the noodles: clear, springy, and made for absorbing sauces, glass noodles are addictively delicious. If you've never tried them or cooked with them, you are going to love their unique texture and mild flavor.
Then there's the sauce. It's a great balance of salty, savory, and lightly sweet, and allows each vegetable (and all that tender beef) to really shine, while giving the dish a mouthwatering sesame-soy taste.
Oh, and did I mention the beef? This is a steak dish, so you'll be slicing up some good grilling steak. Some recipes even use filet mignon, but I think that thinly-sliced flank steak or sirloin steak works really well.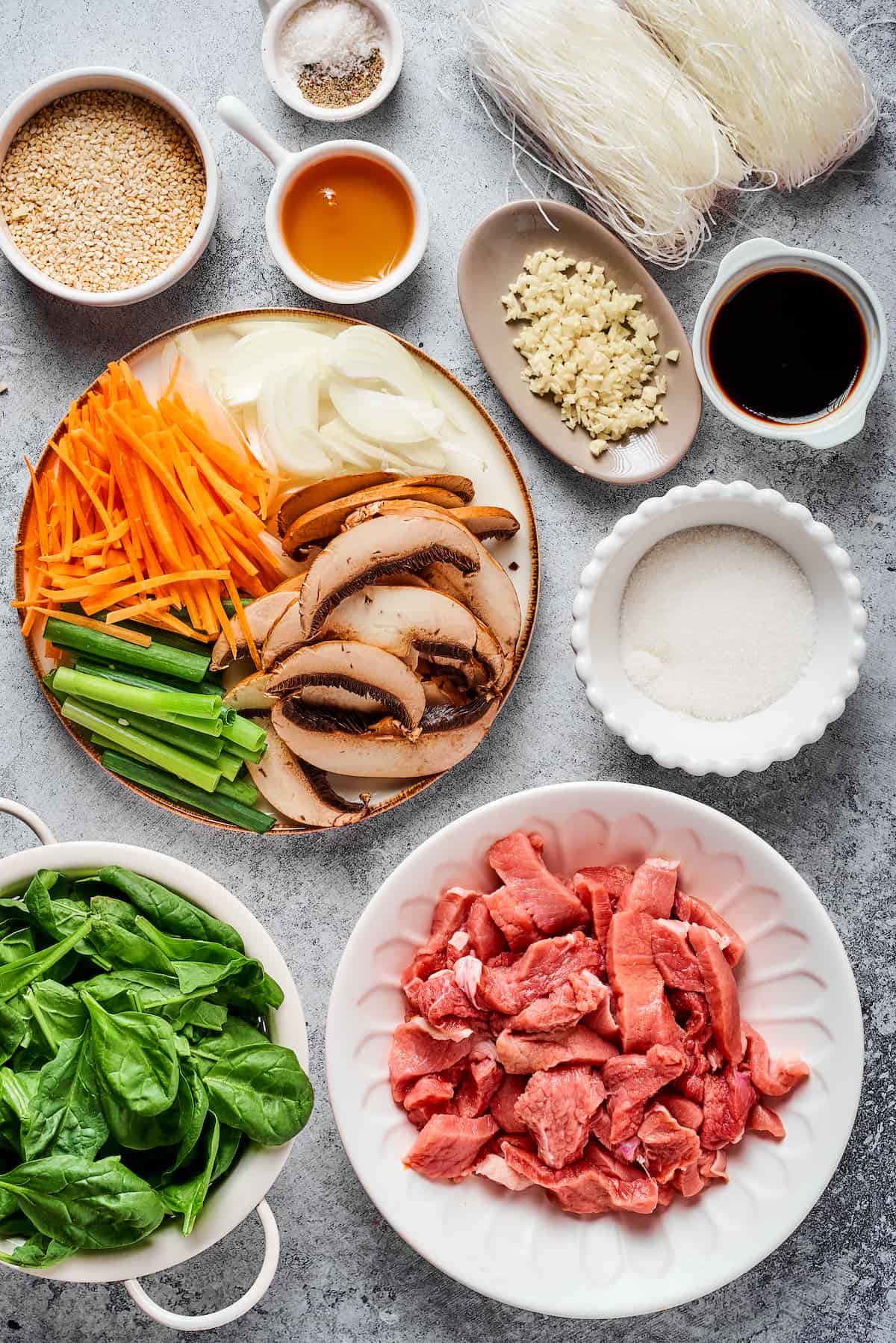 Are Glass Noodles Healthy for You?
Glass noodles are surprisingly similar to wheat pasta in terms of nutrition. They tend to have more carbs, but fewer overall calories – but the difference is not very significant. If you're looking for a noodle dish that's different from ordinary pastas, try this recipe!
Glass noodles are also gluten-free most of the time, since they are made without wheat. However, be careful and always check your package of glass noodles to make extra sure.
If you're trying to stay low-carb, keep in mind that glass noodles are not low in carbohydrates and should only be eaten sparingly (or replaced with zucchini noodles or similar).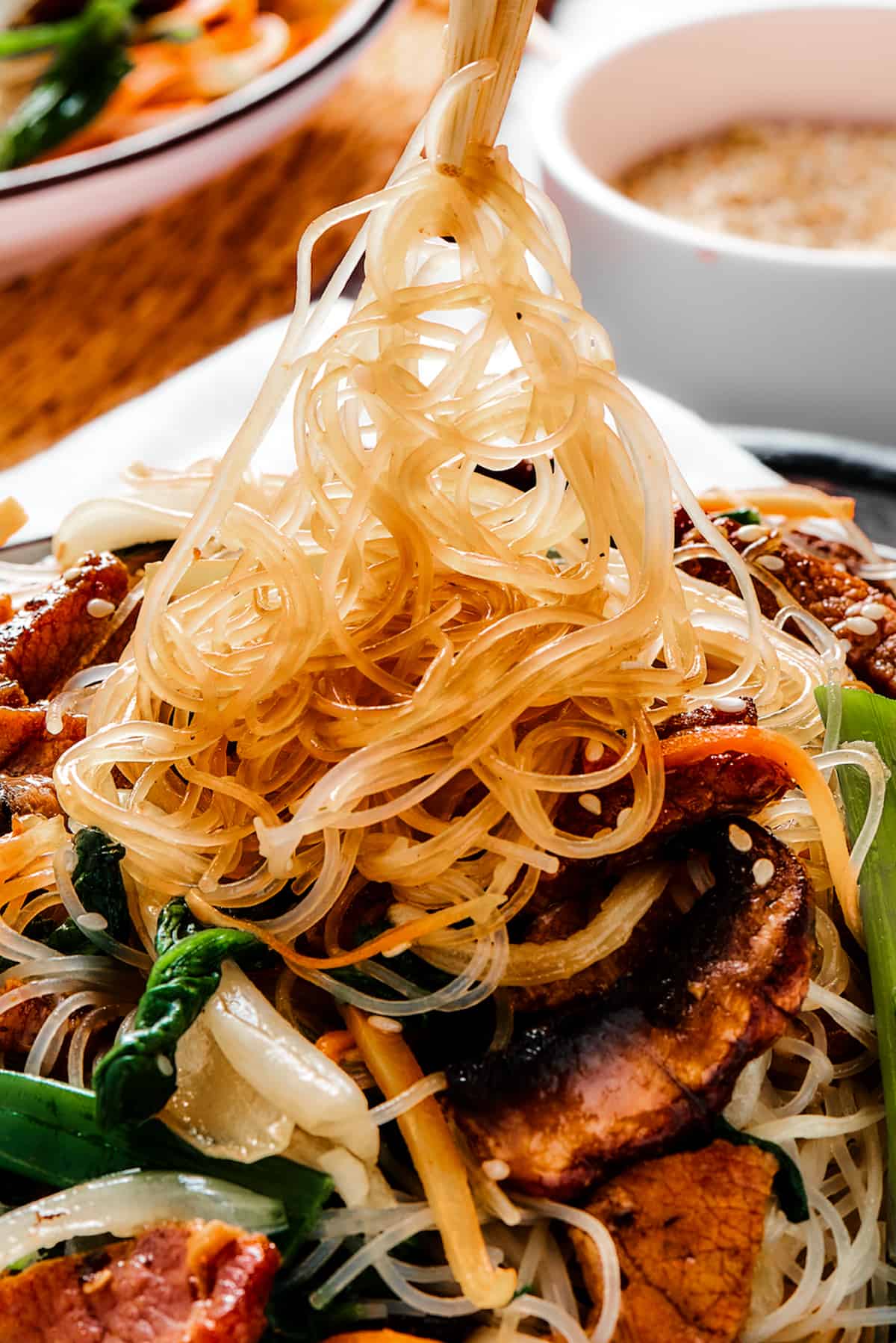 What Does Japchae Consist Of?
Although beef stir fry with glass noodles looks like a complicated recipe, the ingredients are surprisingly simple. The sauce is especially easy! You only need five basic items, nothing fancy.
For the Stir Fry
Glass Noodles: Glass noodles can be made with various ingredients, like mung bean, but for this recipe we're using Korean potato starch noodles.
Beef: You'll need a pound of good grilling steak, like flank steak.
Carrots: Cut these into matchsticks, or buy pre-cut carrot matchsticks.
Onion: Thinly slice a small onion.
Mushrooms: I like to use portobello, but shiitake or oyster mushrooms would be great as well.
Spinach: Baby spinach is nice because the leaves are small, and don't need to be cut. If you use regular spinach, make sure to tear or cut the leaves into bite-size.
Green Onions: Remove the roots and any withered tips, and chop the rest into bite-sized pieces.
Olive Oil: Or peanut oil, vegetable oil, avocado oil, etc. For stir-frying.
Salt and Pepper
For Seasoning
Soy Sauce: Tamari or coconut aminos can be used, if preferred.
Sesame Oil: Usually found on the international foods aisle, but can also be found with the other oils like olive oil.
Sugar: Just a few spoonfuls.
Garlic: Minced or pressed.
Toasted Sesame Seeds: Add some to the seasoning mixture, and have more on hand for garnish.
How to Make Beef Stir Fry with Glass Noodles
Making this dish is not difficult, in spite of the number of ingredients and steps. However, it would be helpful to read through the recipe a few times before you get started, to familiarize yourself with the process. Here's the scoop:
Make the Glass Noodles. Bring a large pot of salted water to boil. Once it boils, take it off of the heat. Place the dried glass noodles into the hot water, and let them soak for about 8 minutes (or however long the package directions state). Rinse with cold water, and then set the noodles aside.
Marinate the Beef and Noodles. Place the beef pieces in a small bowl. In a separate bowl or measuring cup, mix together all of your seasoning ingredients. Add about three tablespoons of that mixture to the beef, and toss to coat. Set the beef aside. Then add two tablespoons of the seasoning to the noodles, toss to coat, and set the noodles aside as well.
Blanch the Spinach. If you haven't already done this, bring a small amount of water to boil in a saucepan, and add the spinach, pressing it down as it wilts. Add a pinch of salt to the spinach while cooking. Next, drain the spinach, rinse with cold water, and drain very well.
Start Stir-Frying! First, the Carrots and Onions. In a lightly-oiled skillet over medium heat, stir-fry the sliced onions and carrots with a pinch of salt, for couple minutes. Remove from skillet and set aside.
Stir-Fry the Beef and Mushrooms. Increase heat to medium-high, and stir-fry the beef pieces for about 5 minutes, until it's cooked through. Add your mushrooms, cover the skillet, and cook for 2 to 4 minutes, or until the mushrooms are tender.
Add the Noodles and Seasoning. Finally, pour the noodles and the remaining seasoning mixture on top of the beef, and start stirring and tossing everything to coat. The noodles will absorb the sauce as you stir. Once the sauce is evenly absorbed, take the skillet off the heat, and pour the whole mixture into a large mixing bowl.
Finish the Dish. Stir in your spinach, carrots, onions, and green onion, and sprinkle with salt and pepper to taste. Toss the mixture (sometimes it's easiest to to this with your hands, if it's not too hot!). Taste for salt and pepper, and adjust. Garnish with sesame seeds, sesame oil, and soy sauce as desired
Serve. Serve warm (or chill and serve cold), and enjoy!
Helpful Hints
Making japchae is fun, but it can be a bit complex since the various ingredients need to be cooked separately. I would definitely plan ahead for this one, and read the recipe over a few times, so that the process goes smoothly.
Prep Ahead of Time: Since this stir-fry has several ingredients that have to be cooked separately, it's helpful to get the slicing and chopping out of the way, along with measuring various ingredients.
Cook the Spinach and Noodles at the Same Time: But not in the same pot! They do need to cook separately. But if you have stovetop space, it's a time-saver to get the spinach and noodles cooked and drained at the same time, instead of one at a time.
Use Quality Steak: The pieces of steak need to be tender, without gristle, so I recommend using a good-quality flank steak or other grilling steak, cut against the grain.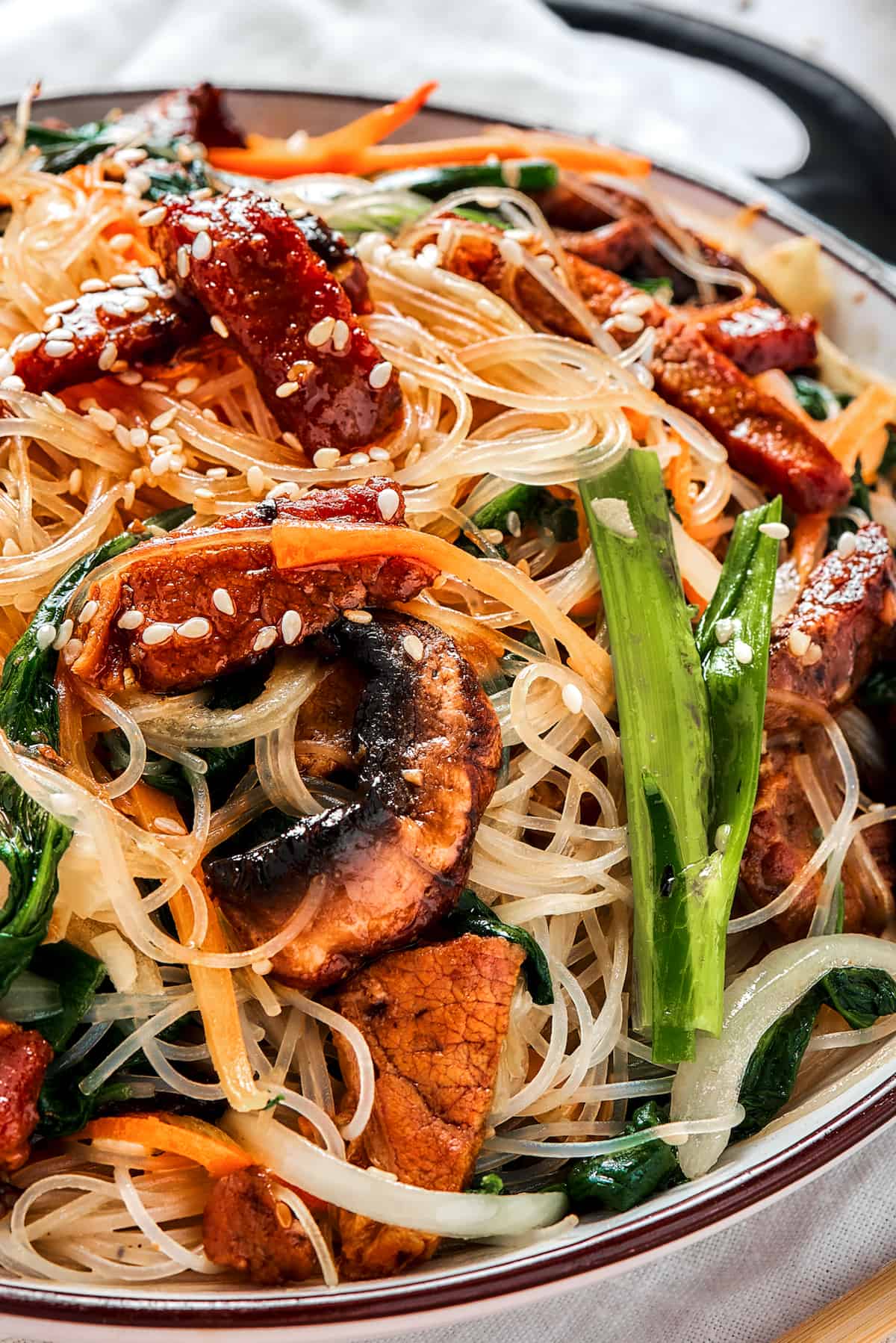 Side Dish Ideas
To serve your stir-fry, you really don't need anything other than a pair of chopsticks (or a fork, if you're so inclined). However, if you want to add a side dish or two, I definitely recommend these!
Egg Drop Soup: Warm, comforting, and super simple, classic Egg Drop Soup is a great side or starter to make with stir-fry. This recipe shows just how easy it is to make at home.
Potstickers: Who could resist these delightful little dumplings? Easy Chicken Potstickers are fun to make and scrumptious to eat, thanks to a filling of cabbage, scallions, and lots of other goodies.
Spring Rolls: Another takeout fave, Golden Veggie Spring Rolls are crispy, crunchy, adn craveable. This recipe is sure to bring smiles to your table.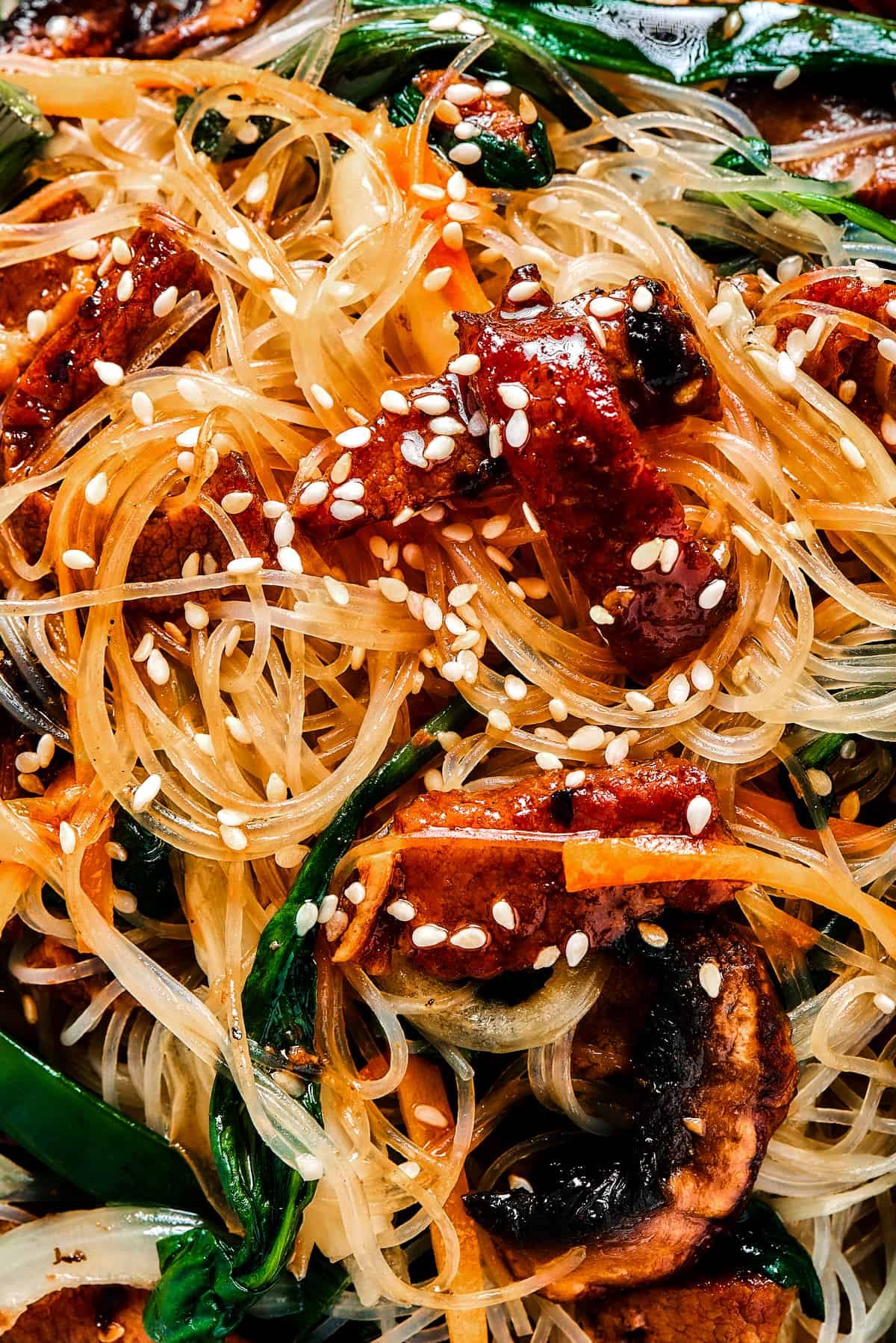 Storing and Reheating Instructions
This dish is best enjoyed fresh, but if you do find that you have leftovers, you can store them safely. The texture may not be quite as good after storing and reheating, however.
To store your leftover beef stir fry with glass noodles, just cool it down and place it in a resealable bag or airtight container. Refrigerate for up to two days.
To reheat, place the stir-fry in a lightly-oiled skillet over medium heat, and cover. Cook, stirring occasionally, for a few minutes or until the beef pieces are heated through, but don't stir too much or cook too long – the noodles will be very soggy if you do!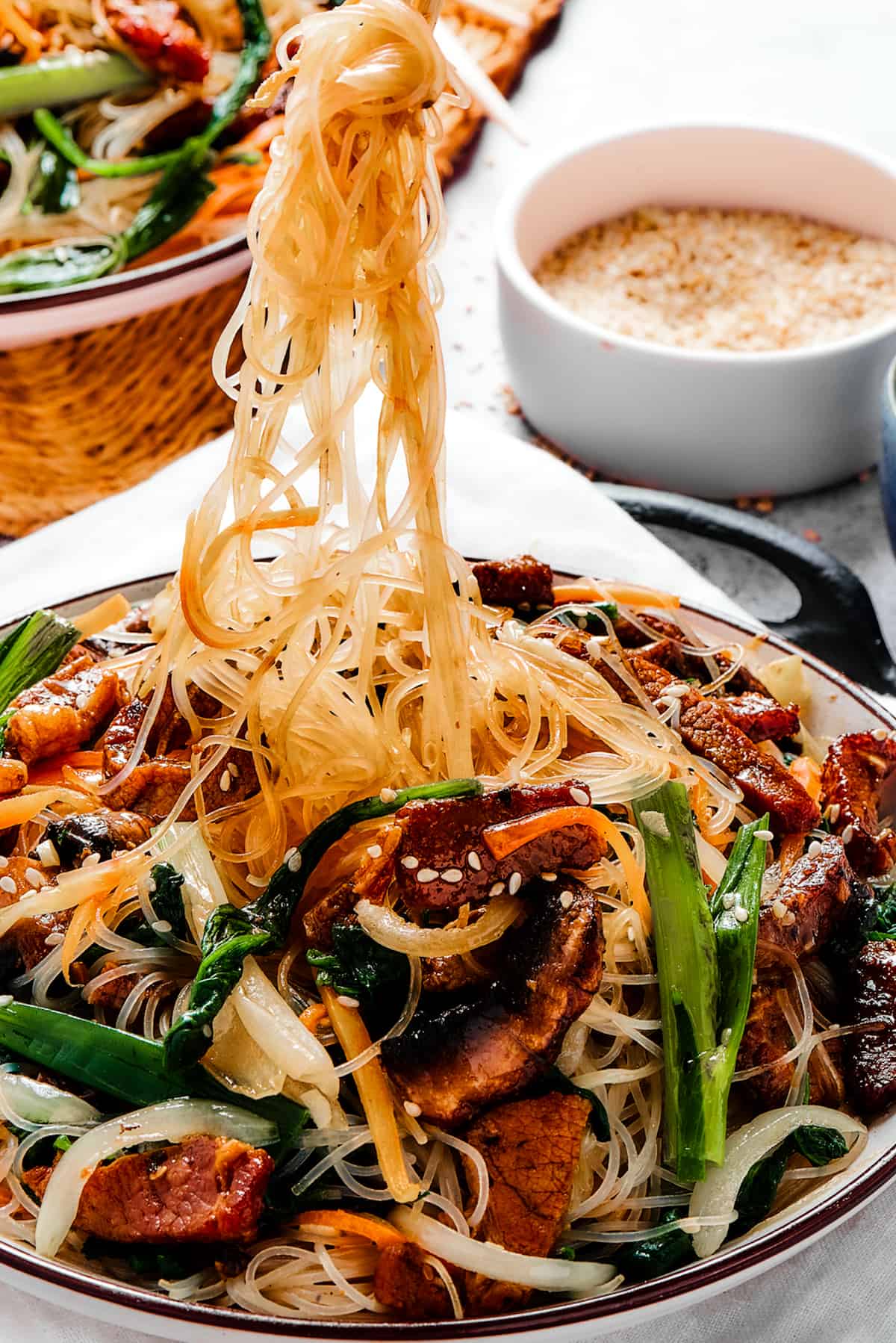 Can I Freeze This Dish?
Yes, you can freeze leftover beef stir fry with glass noodles. The vegetables and noodles may have a softer texture after freezing and thawing, but the dish will still be safe to eat if stored and reheated properly.
To freeze, place the leftovers in freezer bags or airtight containers, mark with the date, and freeze for up to 2 months. Thaw overnight in the refrigerator before reheating.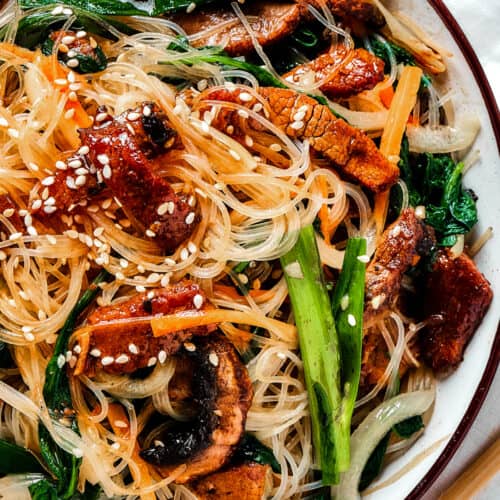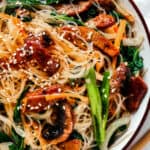 Print Recipe
Beef Stir Fry with Glass Noodles (Japchae)
Beef Stir Fry with Glass Noodles (Japchae) is prepared with steak, veggies, and delicious, springy glass noodles.
Ingredients
For the Stir Fry:
7

ounces

Korean potato starch noodles,

(glass noodles)

1

pound

flank steak,

cut into bite-sized pieces

2

cups

bunch baby spinach

3

tablespoons

vegetable oil,

divided

1

yellow onion,

thinly sliced

2

medium

carrots,

cut into matchsticks

2

green onions,

root ends removed, cut into bite-sized pieces

4 to 5

fresh portobello mushrooms,

thinly sliced

salt and freshly ground black pepper,

to taste
Instructions
Mix all seasoning ingredients together in a small bowl.

Bring a large pot of salted water to boil.

When the water has come to a boil, remove it from the heat and place the noodles in it. Leave them in the hot water for 7 to 8 minutes, or follow the instructions on the package.

Drain the water, and rinse briefly with cold water. Set aside.

Place the beef pieces in a separate bowl, and season with about 3 tablespoons of your seasoning mixture. Set aside to marinate.

Add 2 tablespoons of the seasoning to the drained and rinsed glass noodles. Mix well, until the noodles are evenly coated in the sauce. Set aside.

Lightly blanch the spinach by adding it to a pot of boiling water with a pinch of salt, for about 30 seconds. Rinse under cold running water to stop the cooking process and preserve the spinach's nutritional value. Drain and set them aside.

Heat 1 tablespoon vegetable oil in a large skillet or wok set over medium heat; stir in the sliced onions, carrots, and green onions. Add couple pinches of salt, and cook for about 2 to 3 minutes, or until aromatic but still crisp; transfer to a plate and set aside.

Pour a little more oil in the skillet, increase the heat to medium-high, and stir in the beef chunks; cook for about 4 to 5 minutes, or until cooked through.

Next, add the sliced mushrooms to the beef. Cover and cook for 3 minutes, or until the mushrooms are tender and cooked.

To the skillet, add the cooked noodles and the remaining seasoning mixture. Stir and toss to coat the noodles evenly. Once the sauce is absorbed into the noodles, remove the skillet from the heat. Transfer the ingredients to a large, clean mixing bowl.

Add the prepared vegetables to the same bowl, along with salt and pepper to taste. Toss well to distribute the ingredients evenly. Taste and season accordingly.

Garnish with toasted sesame seeds, adding more sesame oil and soy sauce as needed.

Serve warm, or chill and serve cold.
Notes
Notes: Nutrition values are given as a courtesy, and are only approximations. Actual nutrition facts may vary.
Nutrition
Calories:
368
kcal
|
Carbohydrates:
42
g
|
Protein:
20
g
|
Fat:
14
g
|
Saturated Fat:
3
g
|
Polyunsaturated Fat:
4
g
|
Monounsaturated Fat:
5
g
|
Trans Fat:
0.002
g
|
Cholesterol:
45
mg
|
Sodium:
648
mg
|
Potassium:
686
mg
|
Fiber:
2
g
|
Sugar:
9
g
|
Vitamin A:
4375
IU
|
Vitamin C:
7
mg
|
Calcium:
57
mg
|
Iron:
3
mg
More Savory Stir Fry Recipes