All the comfort food goodness of classic pot pie, with a fraction of the work! Leftover Turkey Pot Pie Soup is a quick, creamy one-pot meal the whole family will enjoy.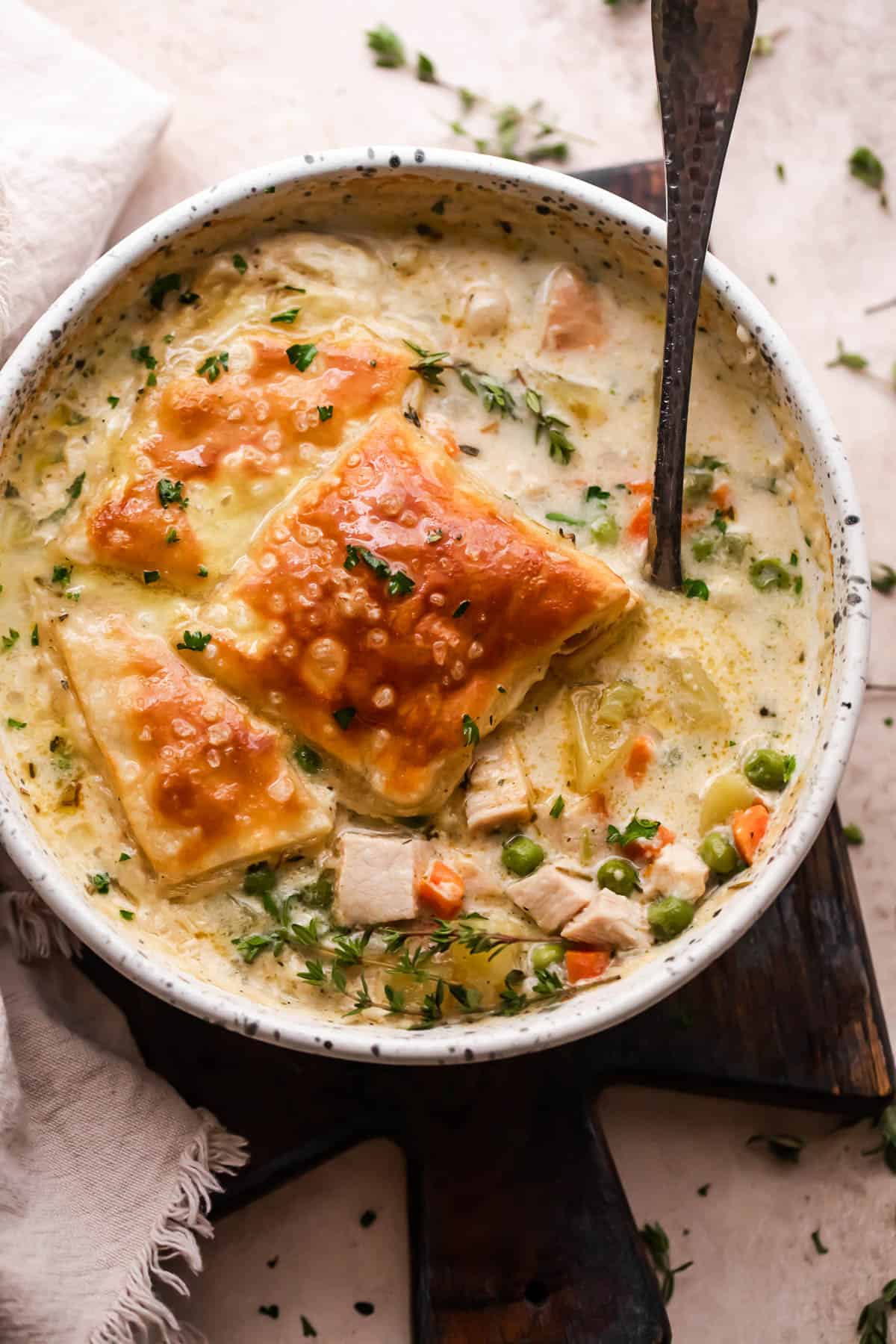 Creamy, Homemade Turkey Pot Pie Soup—Yum!
Are you a pot pie person? As a self-professed aficionado of all things soupy and gravy-ish, I am a big fan. HELLO Chicken Pot Pie! 🥧 ❤️
But, I know that not all of us are THAT into the combination of creamy pot pie filling and crust. Maybe you're trying to go low-carb, or you just don't need the crust on top of the potatoes… or maybe you're more of a soup person. No shame in that game!
Whatever your pot pie persuasion, I hope you'll give this easy soup a try! It's like the best creamy pot pie filling, but as a cozy soup that you can whip up in about half an hour.
You get all the good vibes in a fraction of the time. Plus, it's a great way to use up leftover chicken or turkey!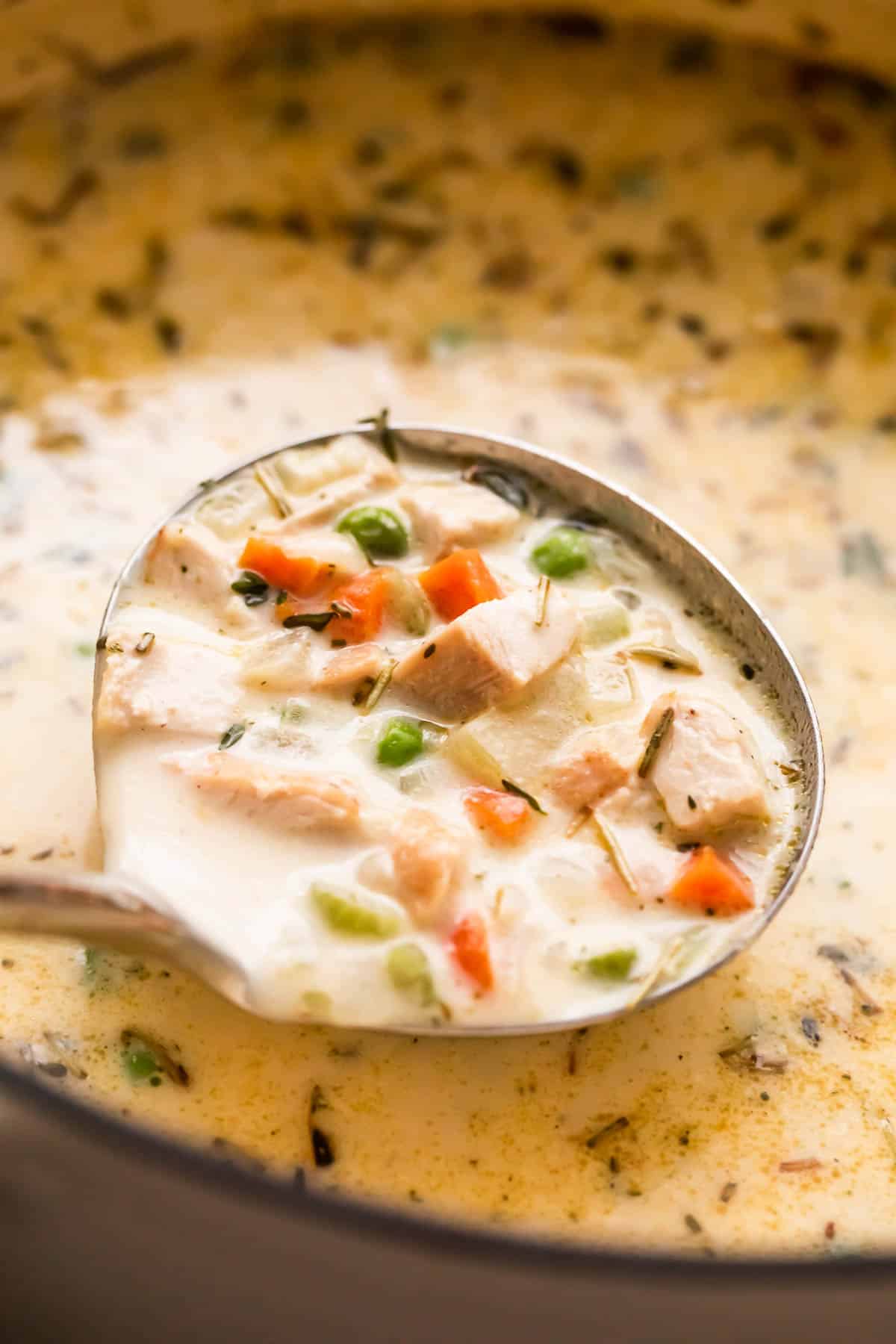 What Are the Ingredients for Turkey Pot Pie Soup?
So just what goes into this easy, hearty soup? All the good stuff, and nothing processed or unhealthy! Here's the skinny:
Butter and Olive Oil: A little of each, for sautéing up the veggies.
Onion, Carrot, and Celery: These colorful diced veggies are also known as mirepoix, (pronounced "meer-pwah"). The combination adds a nice, balanced flavor as well as great nutrition!
Garlic: Fresh garlic is my preference, or you can use garlic granules or powder.
Flour: A little all-purpose flour is perfect for thickening the creamy sauce.
Potatoes: What's pot pie soup without potatoes? Peel and dice a couple of your favorites: I like to use russets.
Dried Herbs: You can use any herbs you like! My favorites are dried rosemary and thyme, but you could certainly go with sage and parsley, basil and oregano, etc.
Salt and Pepper: Make sure not to under-season the soup; you definitely don't want it to be bland. Freshly ground black pepper gives the best flavor.
Broth: Using low-sodium chicken broth helps you control the amount of salt. Regular chicken broth, vegetable broth, and homemade chicken broth or stock are all good options, too.
Half and Half: For the perfect creamy finish. Heavy whipping cream would also be great!
Turkey: Shred your leftover turkey meat, and remove any skin. (The skin tends to be soggy in soup.)
Peas: Frozen peas add a nice pop of color, texture, and sweetness.
Parsley: Chopped fresh parsley makes a lovely optional garnish.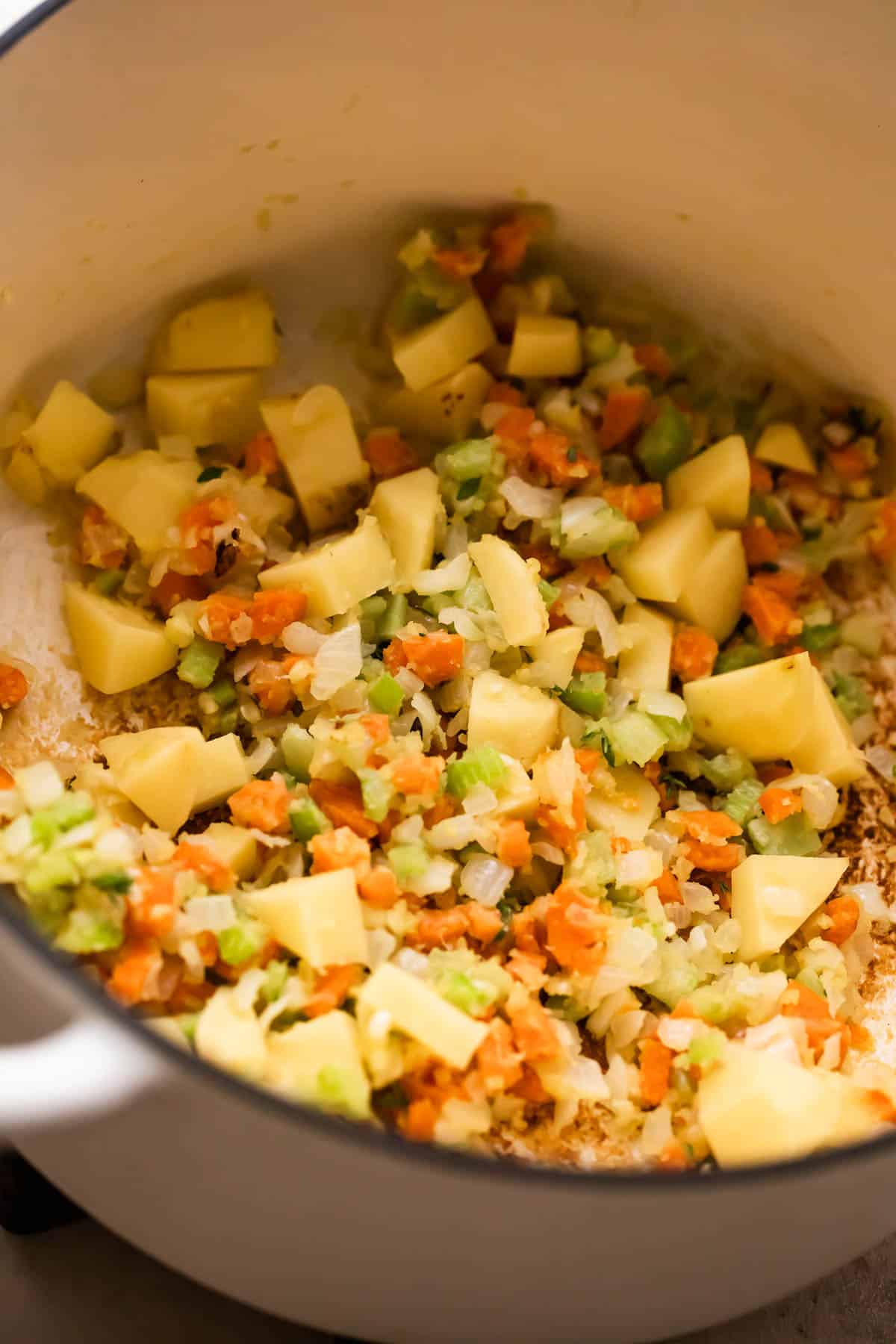 How to Make Pot Pie Soup (So Easy!)
Making this simple soup could not be easier! It all cooks up easily in one pot, and is ready in about twenty minutes! Here's how you do it.
Cook the Garlic and Mirepoix. Place the butter and olive oil in a large Dutch oven (or a large soup pot) over medium heat. Add the diced onions, and cook them for about one minute. Add the garlic to the pot, and then the diced carrots and celery. Cook gently for three minutes more.
Add the Flour, Potatoes, and Seasonings. Sprinkle the flour over the veggies and stir well to coat. Next, add the potatoes to the pot, along with the herbs, salt, and pepper. Stir everything again.
Add the Liquids. Stir or whisk in the chicken broth and the half & half. Turn the heat up to medium-high, so the soup comes to a boil. Then reduce the heat back to medium, and simmer the soup until vegetables are tender.
Add the Turkey and Peas. Stir the shredded turkey and peas into the soup last. Allow the soup to cook for just a few more minutes, or until the turkey is heated through and the peas are tender, but still bright green.
Enjoy! Taste the finished soup for salt and pepper, and adjust as needed. Ladle it into bowls, and serve warm.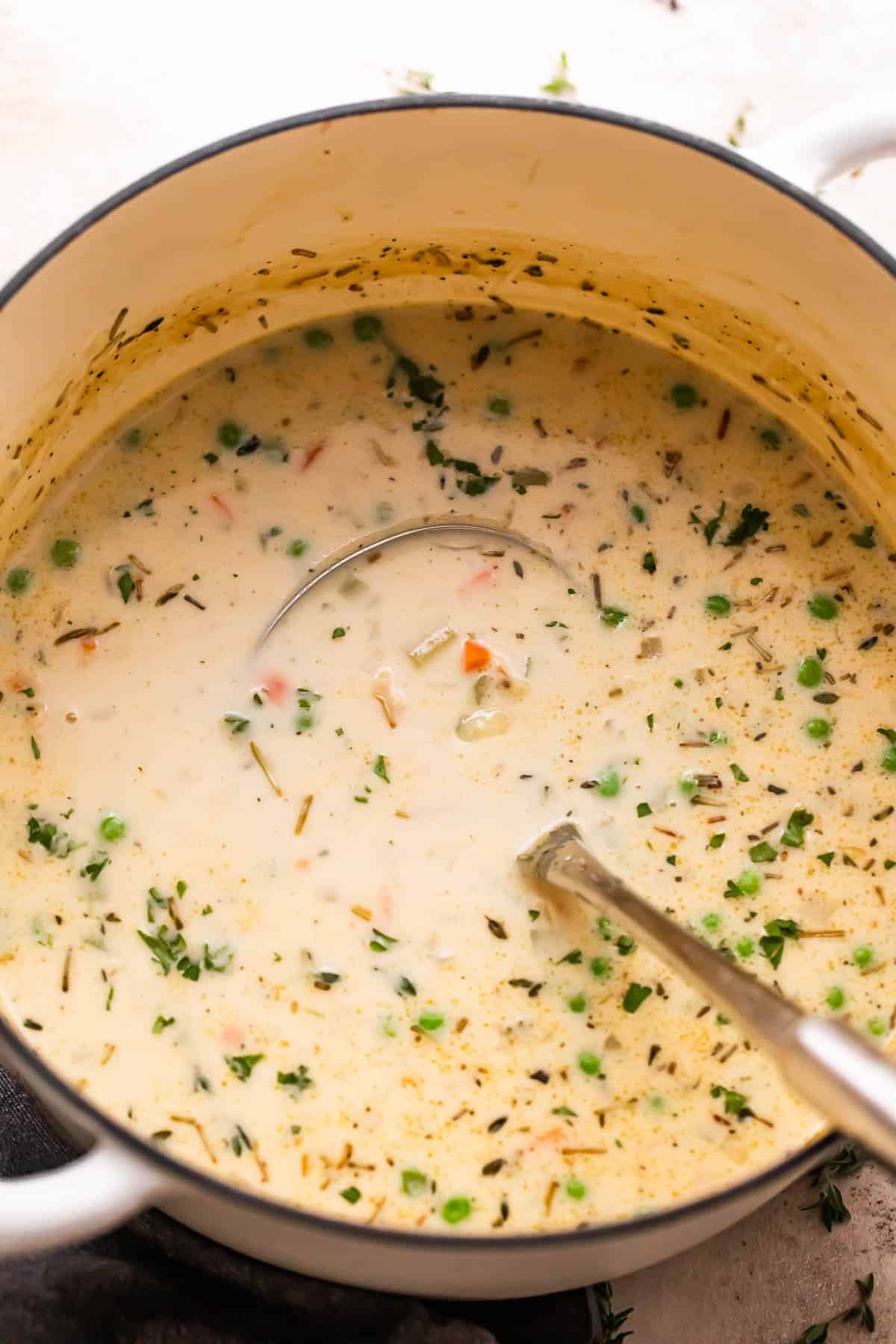 Top-Notch Turkey Pot Pie Tips
Before you make turkey pot pie soup, take a look at these awesome ideas for customizing it! There's something here for everyone!
Use Chicken: This is also a great soup to make with leftover shredded chicken.
Mini Crusts: Still want crust? You can make little crust croutons easily by cutting out circles from pre-made pie crust (use a cookie cutter or drinking glass). Bake them on a parchment-lined tray for 10 to 12 minutes at 350°F, or until golden-brown, and serve with a warm cup or bowl of soup.
Add Veggies: To finish the soup with a special touch, sauté some sliced mushrooms or asparagus tips in butter with a little salt. Generously garnish the finished soup with them. Yum!
Add Puff Pastry Squares: Cut up puff pastry dough into little squares and bake per the directions on the package. Top soup with one pastry square and serve.
Add Bacon: A little bit of crisply cooked bacon also makes an amazing garnish!
Make It Low-Carb: Omit the potatoes and peas in favor of cauliflower florets, extra carrots, cut green beans, etc.
Serving Suggestions
This creamy turkey pot pie soup is a meal in one pot, but it also goes really well with lots of different side dishes! Anything that goes well with turkey, veggies, and creamy gravy is a good option. Here are some ideas to get you started!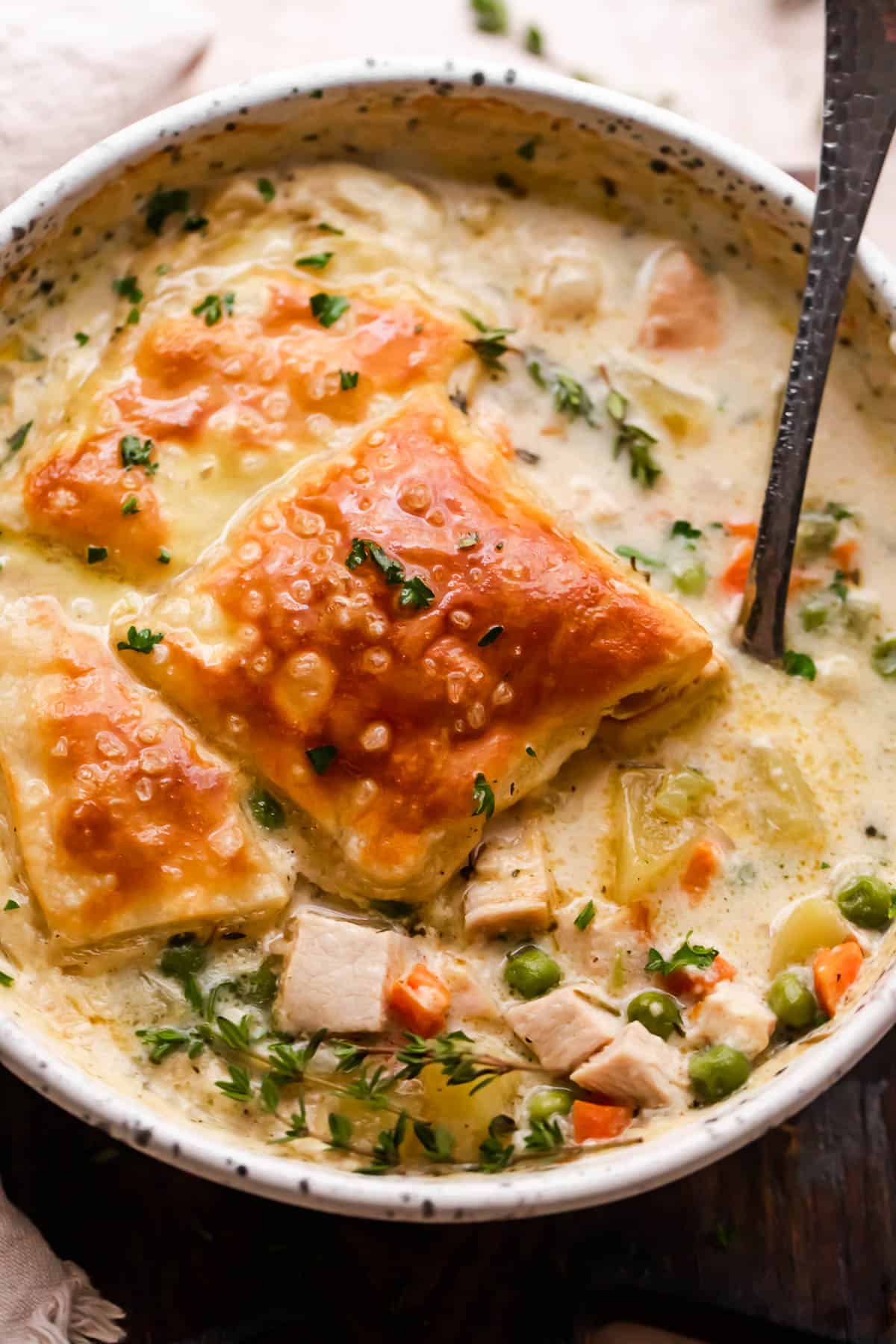 Storing Leftover Soup (Fridge and Freezer)
This soup can be cooled down and refrigerated for up to 4 days. Remember that leftover turkey is only good for up to four days, total. So, if the turkey is already several days old, adjust the storage time accordingly.
This soup freezes well if stored in an airtight container.
Thaw overnight in the refrigerator.
Reheat and add a splash of chicken broth or milk, if needed.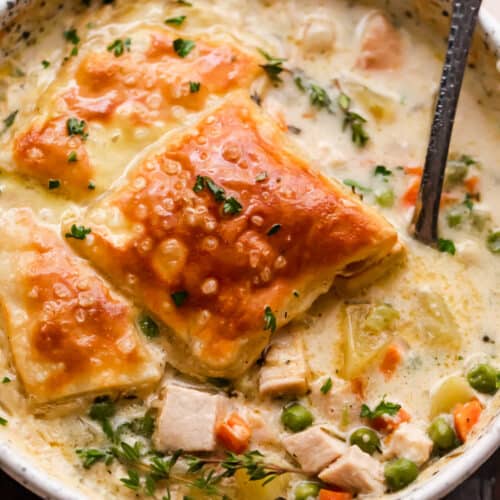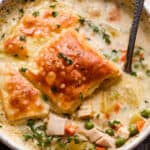 Print Recipe
Leftover Turkey Pot Pie Soup
All the comfort food goodness of classic pot pie, with a fraction of the work! Leftover Turkey Pot Pie Soup is a quick, creamy one-pot meal the whole family will love.
Ingredients
1

tablespoon

butter

1

tablespoon

olive oil

1

small yellow onion,

finely diced

4

cloves

garlic,

minced

2

carrots,

peeled and diced

2

celery stalks,

diced

¼

cup

all purpose flour

2

russet potatoes,

peeled and diced (make sure to dice the potatoes because if they are too big, they won't cook up as quickly)

½

teaspoon

dried thyme

½

teaspoon

dried rosemary

¾

teaspoon

salt,

or to taste

½

teaspoon

fresh ground black pepper,

or to taste

4

cups

low sodium chicken broth

1

cup

Half and Half

3

cups

shredded leftover turkey meat

1

cup

frozen peas,

or rinsed canned peas

Chopped fresh parsley,

for garnish
Instructions
Melt butter and heat up olive oil in a large Dutch oven or soup-pot set over medium heat.

Add the onions and cook for 1 minute.

Stir in the garlic and cook for 15 seconds.

Stir in carrots and celery; continue to cook for 3 minutes.

Sprinkle with flour; mix and cook for 1 minute.

Add in potatoes, thyme, rosemary, salt, and pepper; stir to combine.

Stir in the chicken broth and half & half; increase heat and bring to a boil.

Reduce heat to medium and simmer for about 8 to 10 minutes, or until potatoes are tender.

Stir in the shredded turkey and peas; continue to cook for a couple more minutes, or until heated through.

Taste soup for salt and pepper; adjust accordingly.

Ladle into bowls and garnish with parsley.

Serve.
Nutrition
Calories:
226
kcal
|
Carbohydrates:
21
g
|
Protein:
18
g
|
Fat:
8
g
|
Saturated Fat:
4
g
|
Polyunsaturated Fat:
1
g
|
Monounsaturated Fat:
3
g
|
Trans Fat:
1
g
|
Cholesterol:
50
mg
|
Sodium:
347
mg
|
Potassium:
589
mg
|
Fiber:
2
g
|
Sugar:
3
g
|
Vitamin A:
2862
IU
|
Vitamin C:
13
mg
|
Calcium:
67
mg
|
Iron:
2
mg
More Homestyle Dinner Ideas