Rich, creamy, and incredibly moist and tender, these butter swim biscuits are the perfect side dish for breakfast, lunch, or dinner. They're easy to make, super affordable, and loaded with buttery goodness.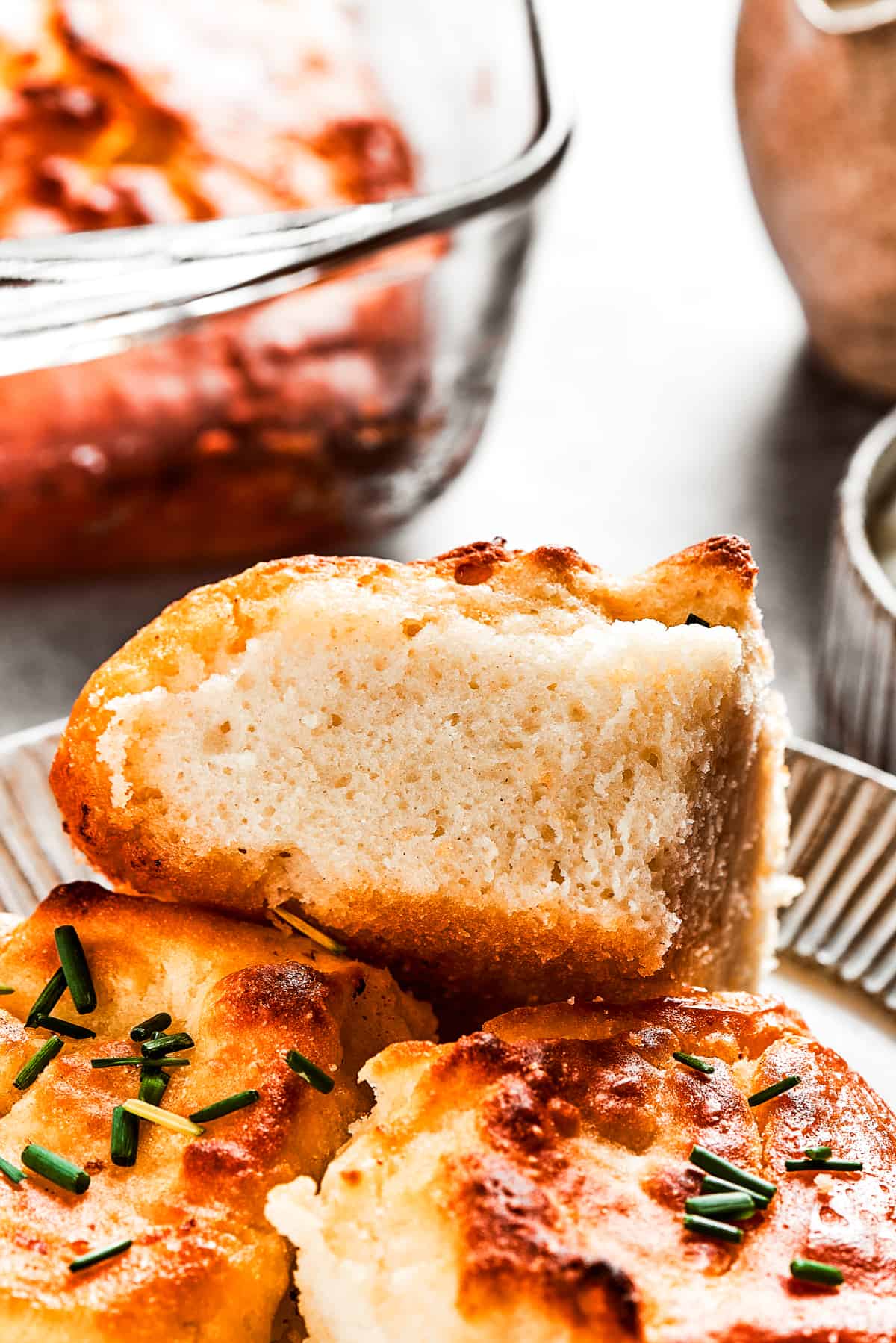 The Best Butter Swim Biscuits Recipe
Sometimes, simple foods are the best foods, and these moist and rich butter swim biscuits are a great example of that. You only need 6 basic ingredients to make this very easy recipe, but the buttery and creamy biscuits will melt in your mouth. Whether you need a side dish, a snack, or the base for a biscuit sandwich, these soft and pillowy biscuits are the perfect comfort food. Packed full of buttermilk and cooked in melted butter, the biscuits are rich, creamy, tangy, and indulgent. They have a crisp golden-brown top, but the inside is light and fluffy. You've got to try making them!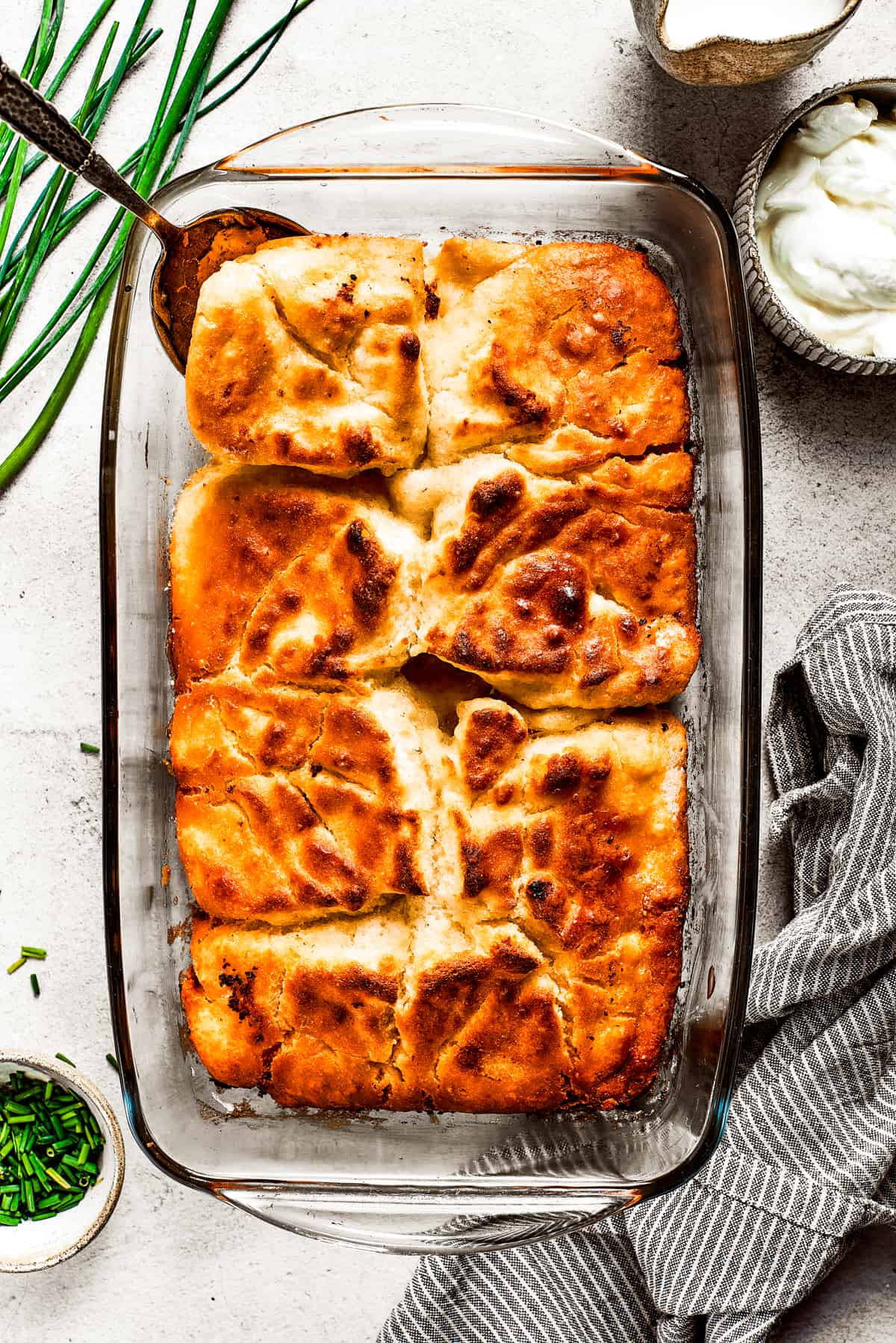 Why You'll Love These Easy Biscuits
I make these biscuits all the time. And whenever I make them, they seem to disappear immediately! Here's why you need to try this butter swim biscuits recipe.
Easy. Even though these butter biscuits taste like they came from your favorite bakery, they're incredibly easy to make. You only need 6 affordable ingredients, and the recipe takes less than half an hour to make.
Comforting. These buttermilk biscuits are soothing and nostalgic, and will instantly make you feel better. They're warm, pillowy, and buttery, with just the right amount of crispiness on the edges. This is one of my go-to recipes when I need comfort food.
So moist. I love biscuits, but so many recipes are dry and dense. Not these butter swim biscuits! They stay incredibly moist and soft thanks to all the butter and buttermilk.
Versatile. One thing I really love about these butter swim biscuits is that I can eat them with pretty much anything. Sometimes I serve them as a side dish with dinner, and sometimes I serve them as part of breakfast. They're great with jam or honey as a midday snack, and you can put an egg and sausage on them for a perfect breakfast sandwich.
What Are Butter Swim Biscuits?
Butter swim biscuits are basically just biscuits that are baked in butter. Before pouring the biscuit batter into your pan, you add a lot of melted butter for the biscuits to cook in. That makes the biscuits moist and also fries the outer edges of the biscuits, giving them a slightly crispy crust.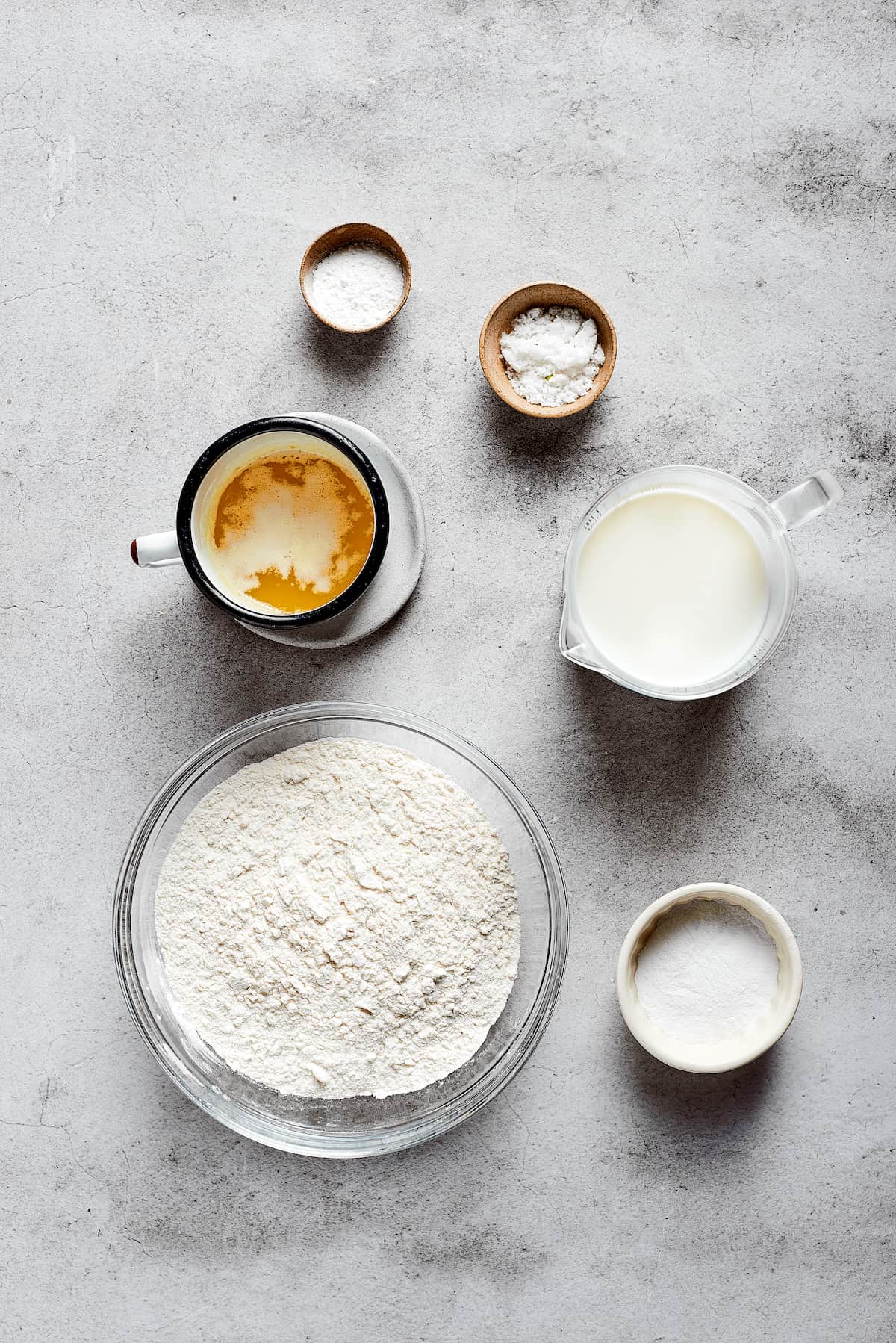 Butter Swim Biscuits Ingredients
Here are the 6 kitchen staples that you'll need to make these soft and rich biscuits. Make sure to check out the recipe card at the end of the page for the exact amounts of each ingredient.
All-purpose flour
Baking powder
Granulated sugar
Sea salt
Buttermilk – It's important to use buttermilk that's pretty cold when making biscuits.
Butter – Make sure to use melted unsalted butter for this recipe.
How To Make Butter Swim Biscuits
Prep. Preheat your oven to 450˚F.
Mix the dry ingredients. Add the flour, sugar, baking powder, and salt to a mixing bowl, then stir to combine.
Add buttermilk. Make a well in the dry ingredients and pour in the buttermilk. Stir the mixture until it comes together.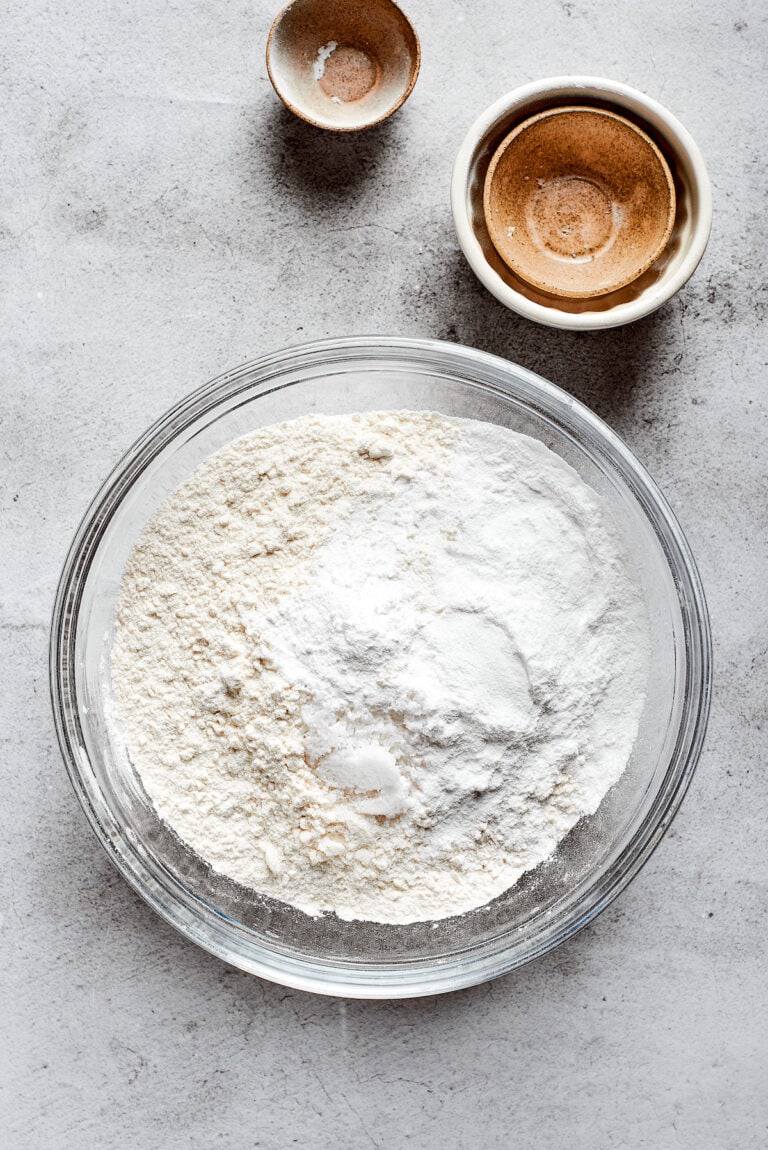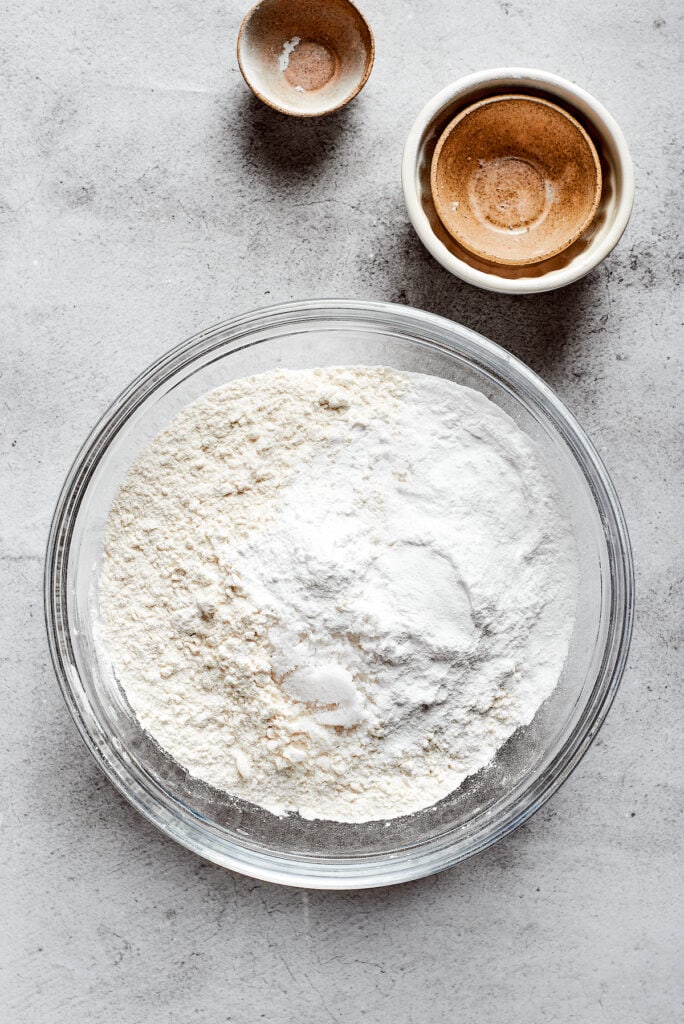 Pour the butter into the pan. Take your melted butter and pour it into a 9×13-inch baking dish or cast-iron skillet.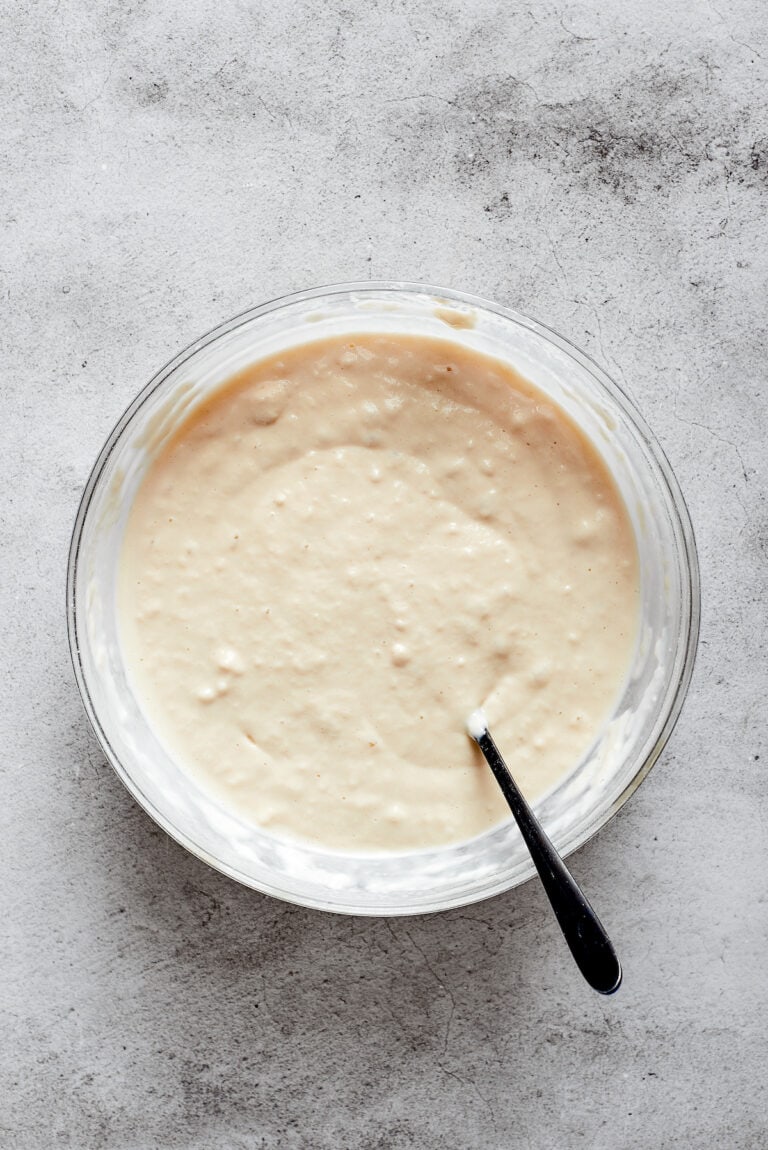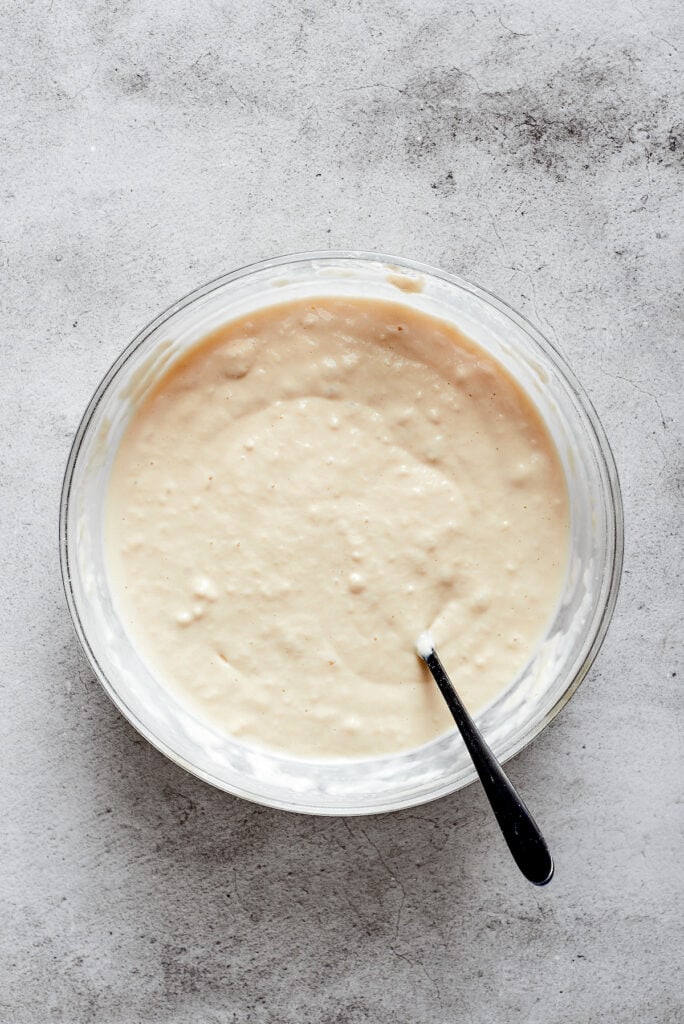 Add the dough. Pour the biscuit dough into the baking dish on top of the butter.
Slice. Cut the uncooked biscuits into 9 squares.
Bake. Put the butter swim biscuits in the oven and bake until golden brown on top, about 15-18 minutes.
Cool. Remove the biscuits from the oven and let them cool slightly before eating.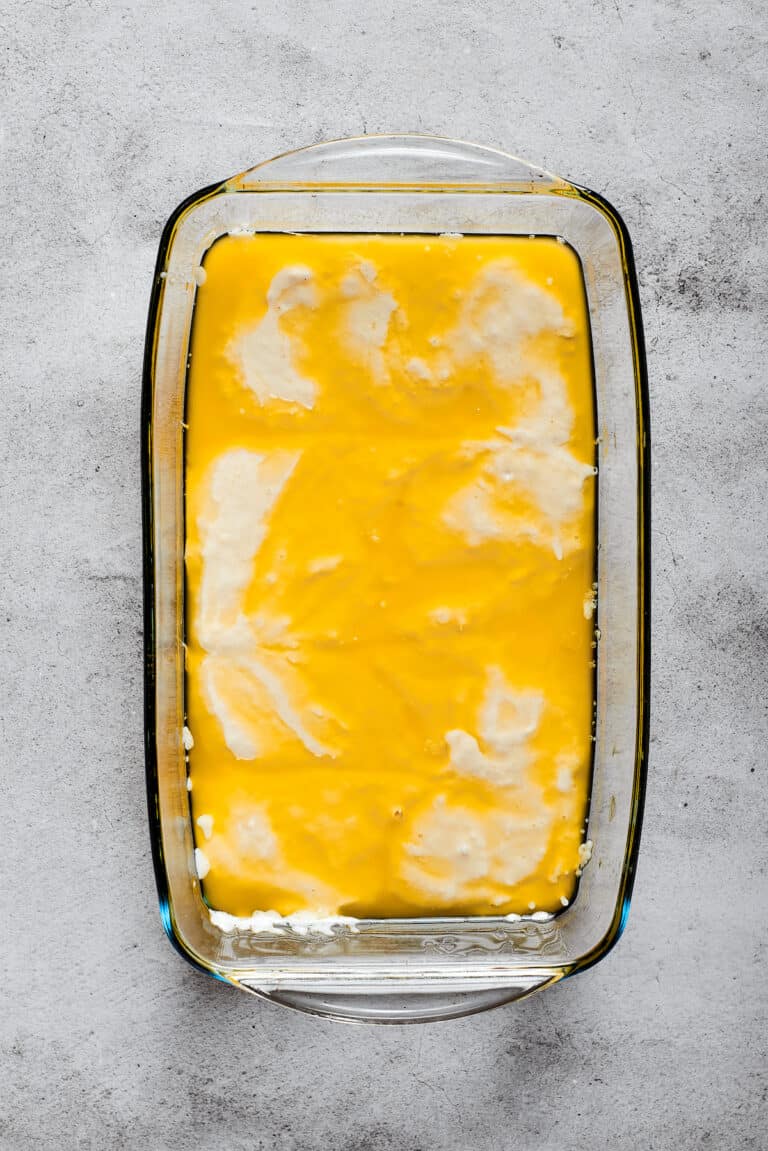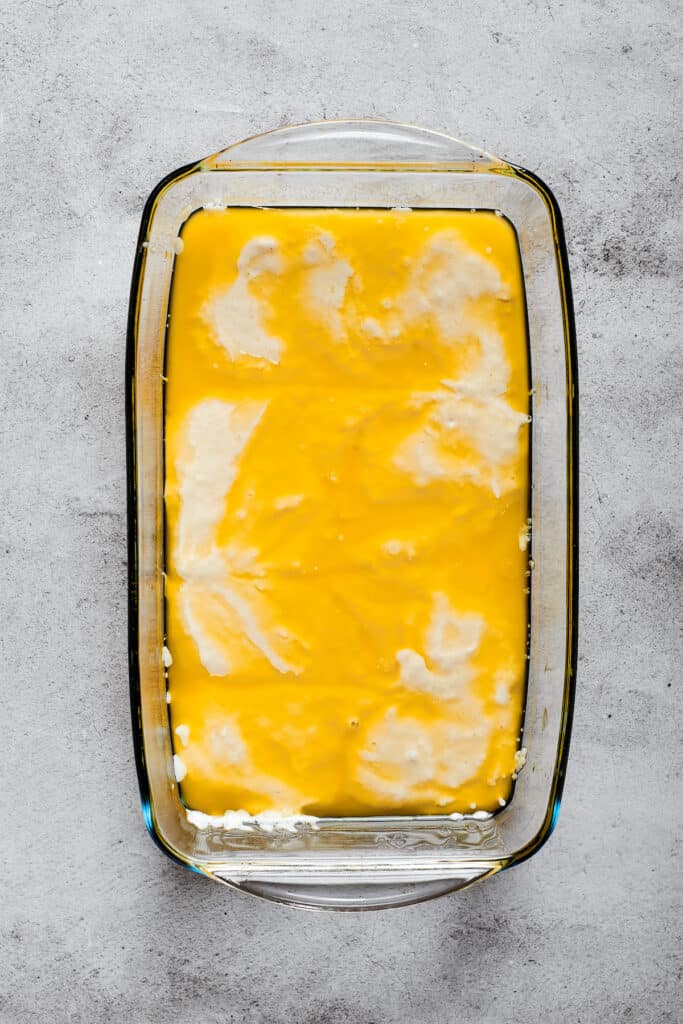 Tips for Success
These fool-proof golden brown butter biscuits couldn't be easier to make, but here are a few tricks and tips to help you out.
Don't overmix. It's really important not to overmix the biscuit dough. When you add the buttermilk to the flour mixture, stir the dough just until it comes together. If you mix it much longer than that, the biscuits will end up hard and dense.
Really cut the biscuits. When you cut the biscuit dough before baking, don't just draw a line in the batter. Really make sure you cut through the dough as much as you can. That will make it a lot easier to separate the biscuits after they bake, and it will give each biscuit more surface area to turn golden brown and crispy.
Turn if you need to. Keep an eye on your biscuits when they're in the oven. Not all ovens heat evenly, so sometimes your baked goods will bake unevenly. If you notice that half of the butter swim biscuits are browning more quickly than the other half, rotate the pan halfway through.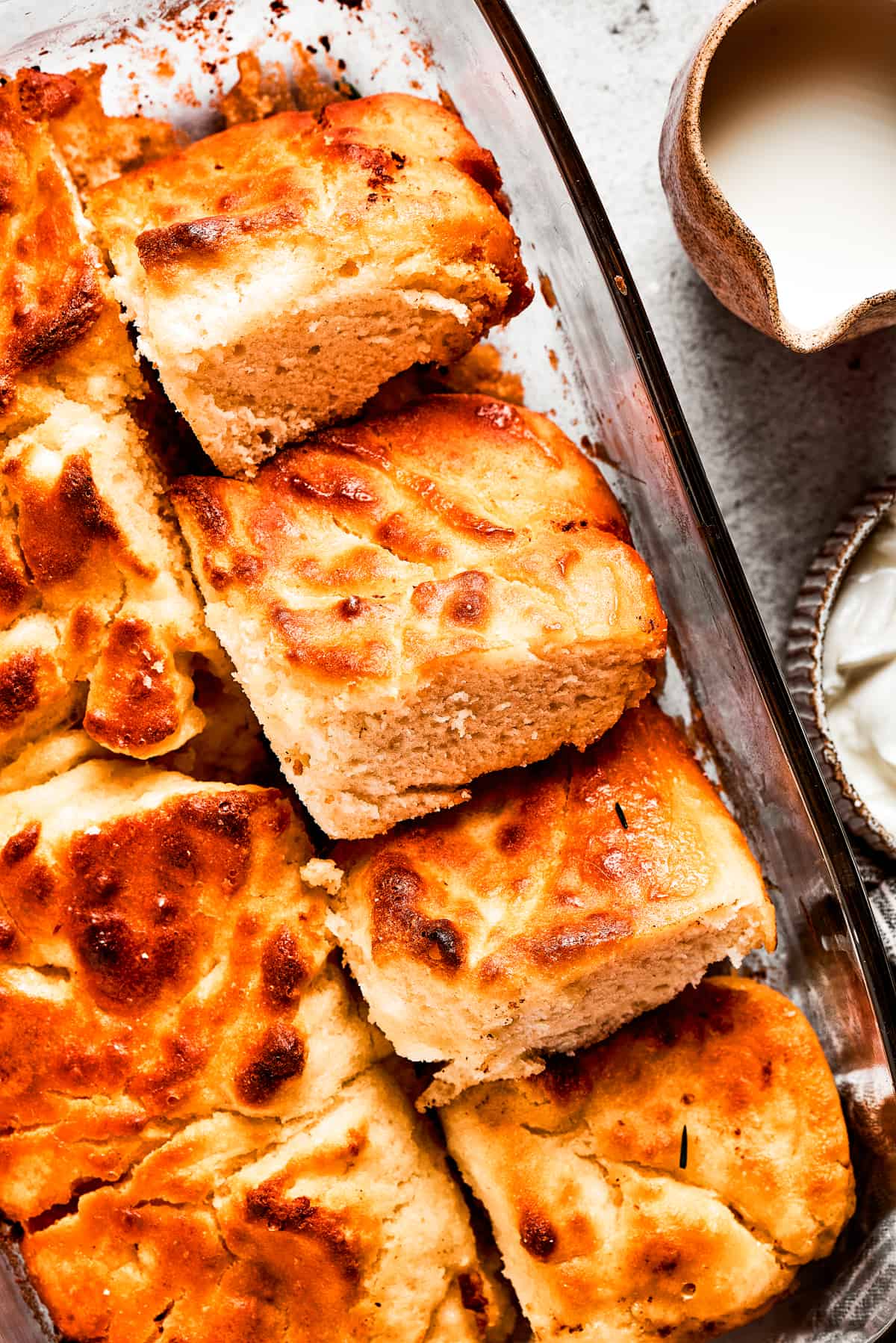 Serving Suggestions
One of the best things about these butter biscuits is that you can serve them with just about anything! They're great on a breakfast plate alongside a Frittata and some Roasted Potatoes with Bacon and Cheese. I also love to serve butter swim biscuits next to a hearty entree, like Honey Garlic Baked Chicken Thighs and Creamy Seafood Pasta. And these luscious biscuits are the perfect late morning or early afternoon snack when sipping on a Caffe Macchiato or a Pumpkin Cream Cold Brew Coffee.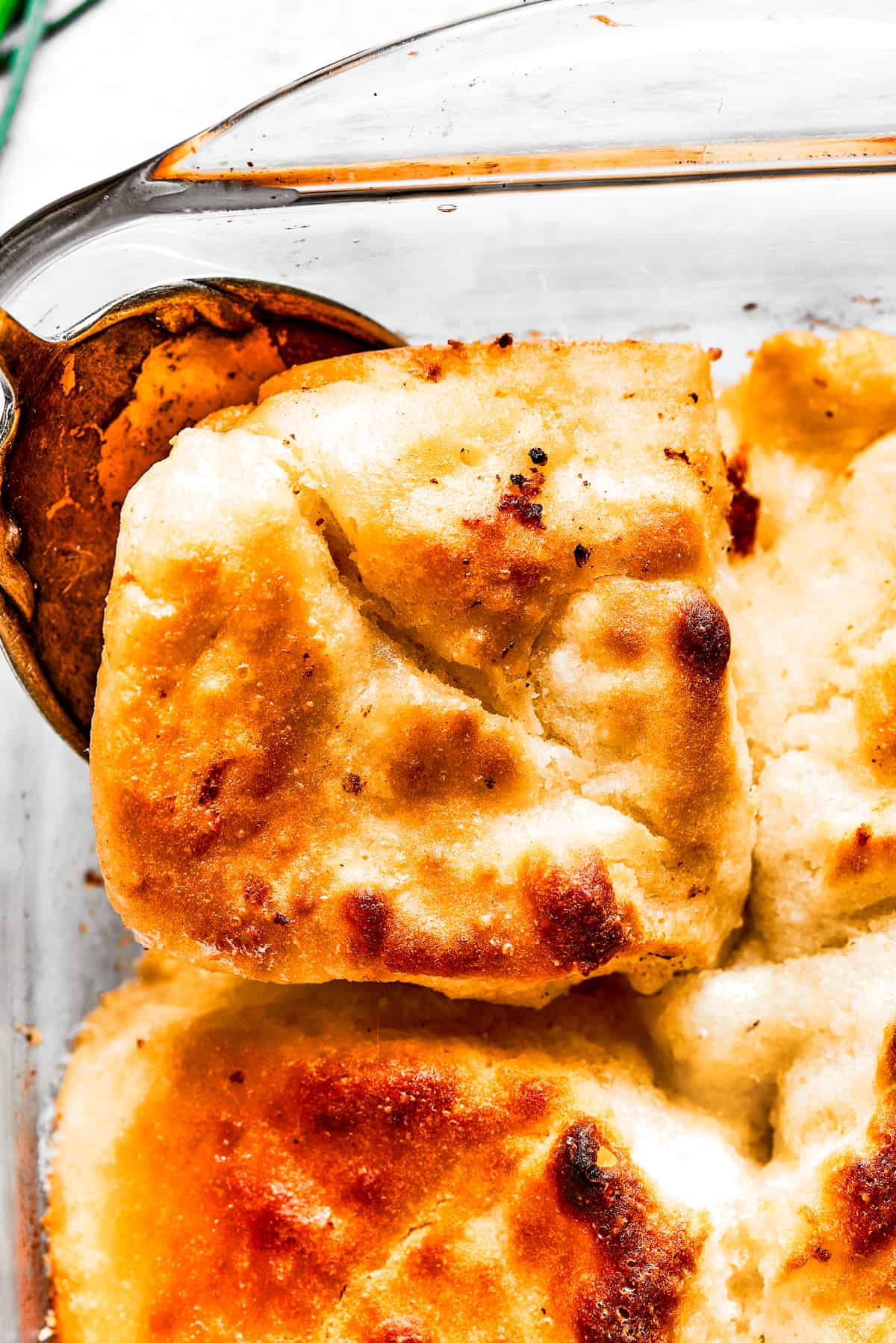 Proper Storage
Always store leftover butter swim biscuits in an airtight bag or container. You can leave the biscuits at room temperature for a day or store them in the fridge for up to 5 days. If you want to reheat the biscuits, you can warm them in a 250˚F oven for 6 to 8 minutes or heat them in the microwave on 80% power in 15-second increments.
Can You Freeze Butter Swim Biscuits?
You can absolutely freeze these biscuits! Wrap them tightly in plastic wrap, then store them in an airtight container or bag in the freezer for up to 3 months. Thaw or defrost the biscuits fully before reheating them.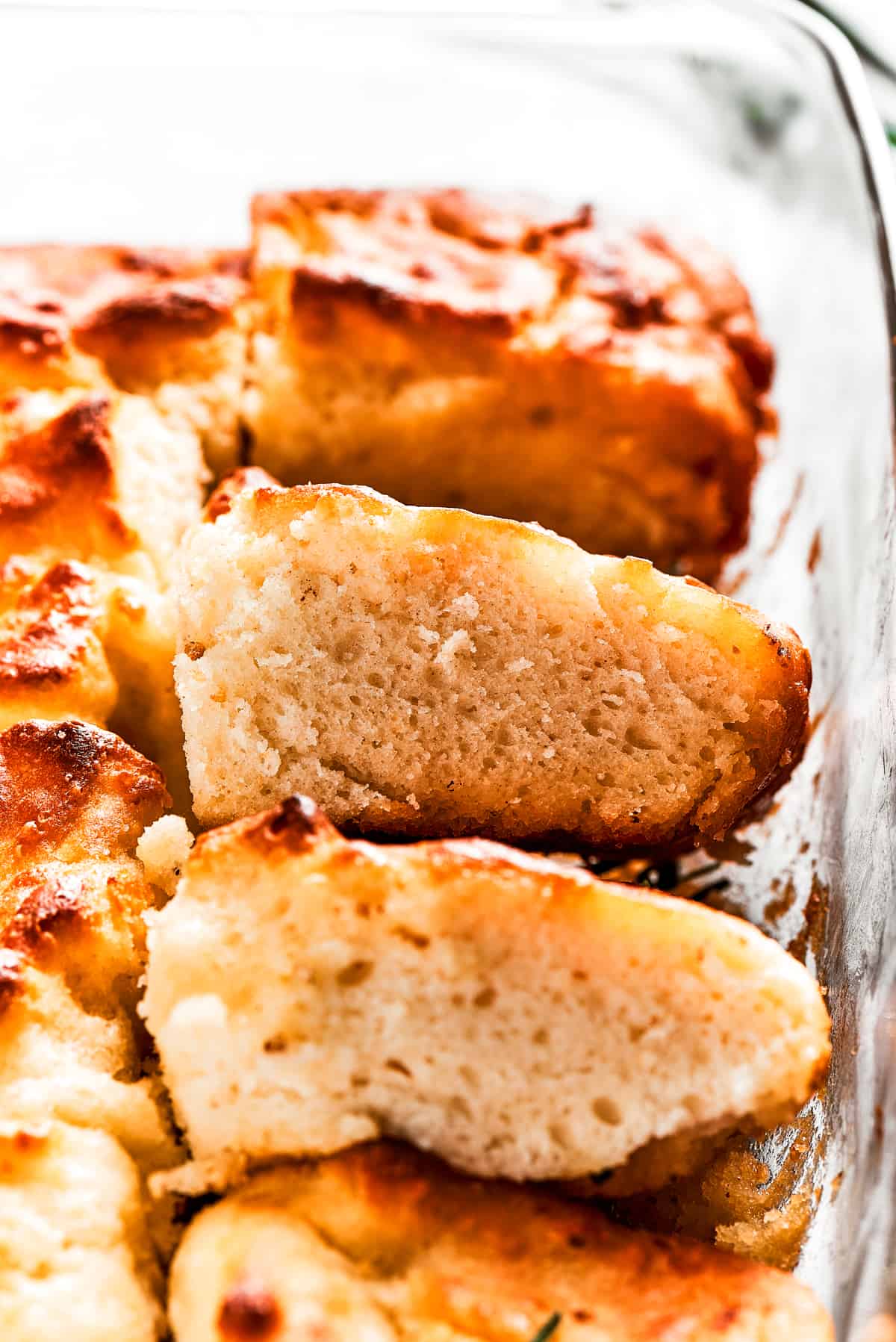 More Breads & Biscuits Recipes
More Side Dish Recipes
Side dishes are a great way to take a good meal and make it great. Here are some more of my favorites for you to make.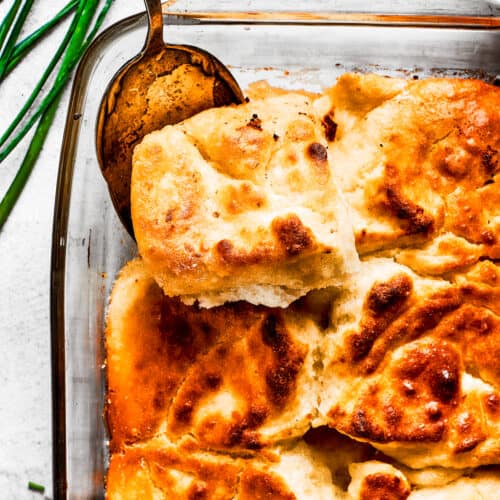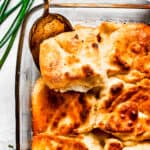 Print Recipe
Butter Swim Biscuits
Packed with buttermilk and butter, these creamy and rich Butter Swim Biscuits are the perfect side dish for any meal. They're golden brown and crispy on the outside, moist and fluffy on the inside, and so easy to make.
Ingredients
2½

cups

all-purpose flour

1

tablespoon

baking powder

1½

tablespoons

granulated sugar

2

teaspoons

sea salt

2

cups

buttermilk

½

cup

unsalted butter,

melted
Instructions
Preheat the oven to 450˚F.

Add the flour, sugar, salt, and baking soda to a mixing bowl and whisk until well combined.

Make a well in the center of the flour mixture and pour in the cold buttermilk. Use a spatula or wooden spoon to gently stir the mixture until it comes together. Make sure not to overmix the dough.

Pour the melted butter into a 9×13-inch baking dish or cast iron skillet.

Pour the biscuit batter into the dish on top of the melted butter.

Slice the uncooked batter into about 9 squares, which will make it easier to remove the biscuits after they cook.

Bake for 15 to 20 minutes or until the biscuits turn golden brown on top.

Remove the biscuits from the oven and allow the butter to be absorbed into the biscuits before cutting and serving.
Notes
Avoid overmixing. Just stir the dough until it comes together when adding buttermilk to the flour mix to avoid hard, dense biscuits.
Cut the biscuits. Ensure you fully cut through the dough before baking for easy separation and optimal crispiness post-bake.
Monitor the biscuits in the oven. If you notice uneven browning due to oven heat distribution, simply rotate the pan halfway through.
Store leftovers in an airtight container or bag at room temperature for 1 day or in the fridge for 5 days. Reheat in a 250˚F oven or in a microwave.
To freeze, wrap the biscuits in plastic wrap, then store them in an airtight bag in the freezer for 3 months.
Nutrition
Calories:
258
kcal
|
Carbohydrates:
31
g
|
Protein:
5
g
|
Fat:
12
g
|
Saturated Fat:
8
g
|
Polyunsaturated Fat:
1
g
|
Monounsaturated Fat:
3
g
|
Trans Fat:
0.4
g
|
Cholesterol:
33
mg
|
Sodium:
716
mg
|
Potassium:
113
mg
|
Fiber:
1
g
|
Sugar:
5
g
|
Vitamin A:
403
IU
|
Calcium:
148
mg
|
Iron:
2
mg