Tender and juicy medallions of pork are given the royal treatment in this easy Pork Parmesan Recipe! First, they're lightly breaded and fried, then they're baked with a tangy tomato sauce and plenty of melting cheese. You'll love this delicious dinner!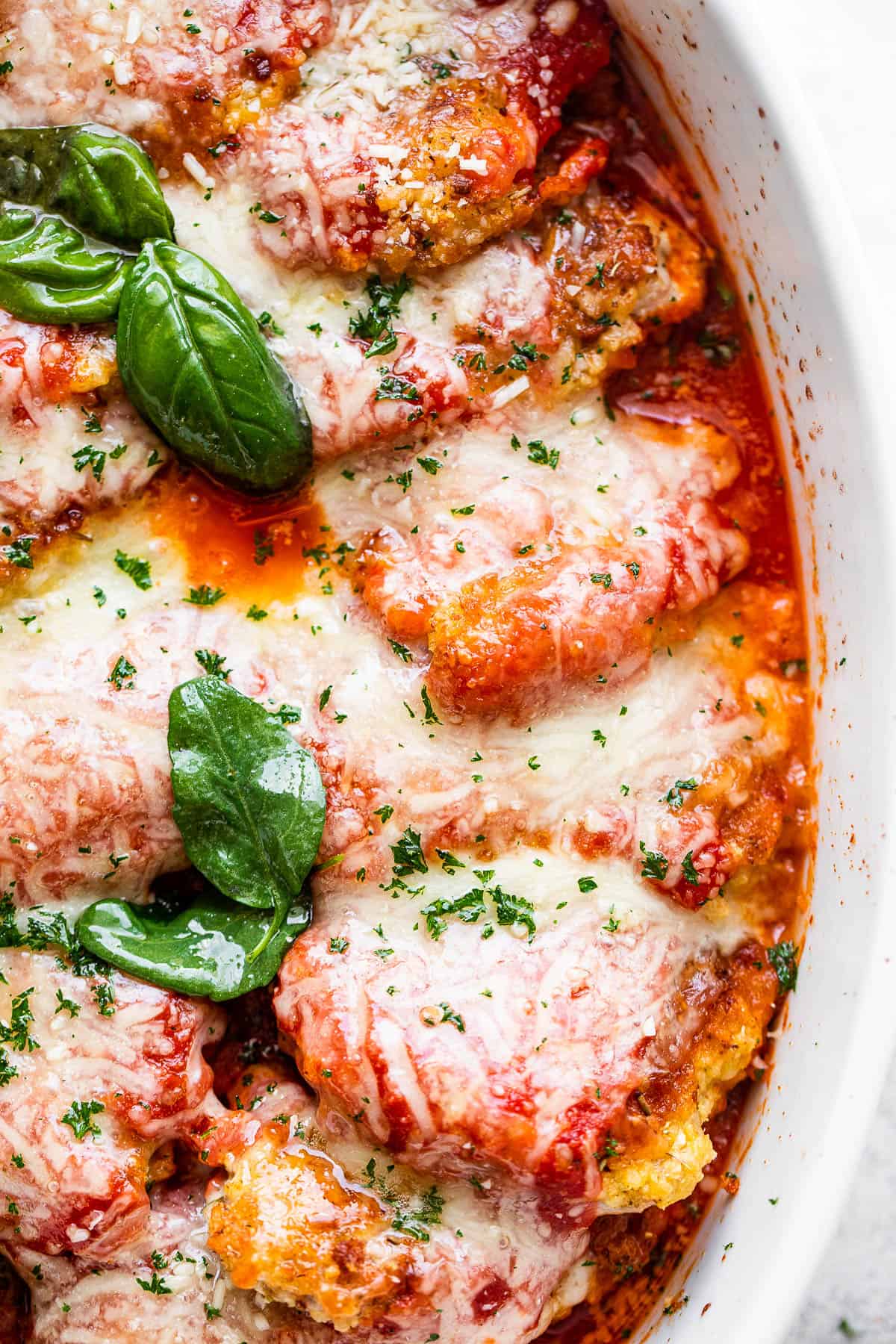 Easy & Cheesy Pork Recipe
You've probably tried eggplant parmesan, chicken parmesan, and even veal parmesan. They're all so delicious! (Frankly, you could probably bread just about anything and cook it with tomato sauce and cheese, and it would be delicious, right?) Well, get ready to try this amazing parmesan bake, starring delicious medallions of pork tenderloin.
This is a really easy method for cooking with pork. You don't need a lot of fancy kitchen equipment or difficult techniques. It's just a simple, home-cooked meal that smells amazing and tastes even better, thanks to the savory pork tenderloin, fragrant sauce, and meltingly indulgent mozzarella and parmesan cheeses.
I make this dish using a pork tenderloin, which is boneless and rather small. The meat is very tender, which is a great fit, because you want it to be fork-tender by the end of cooking. It's also a very lean cut of meat, which is important because the tomato sauce, breading and cheese add a lot of richness.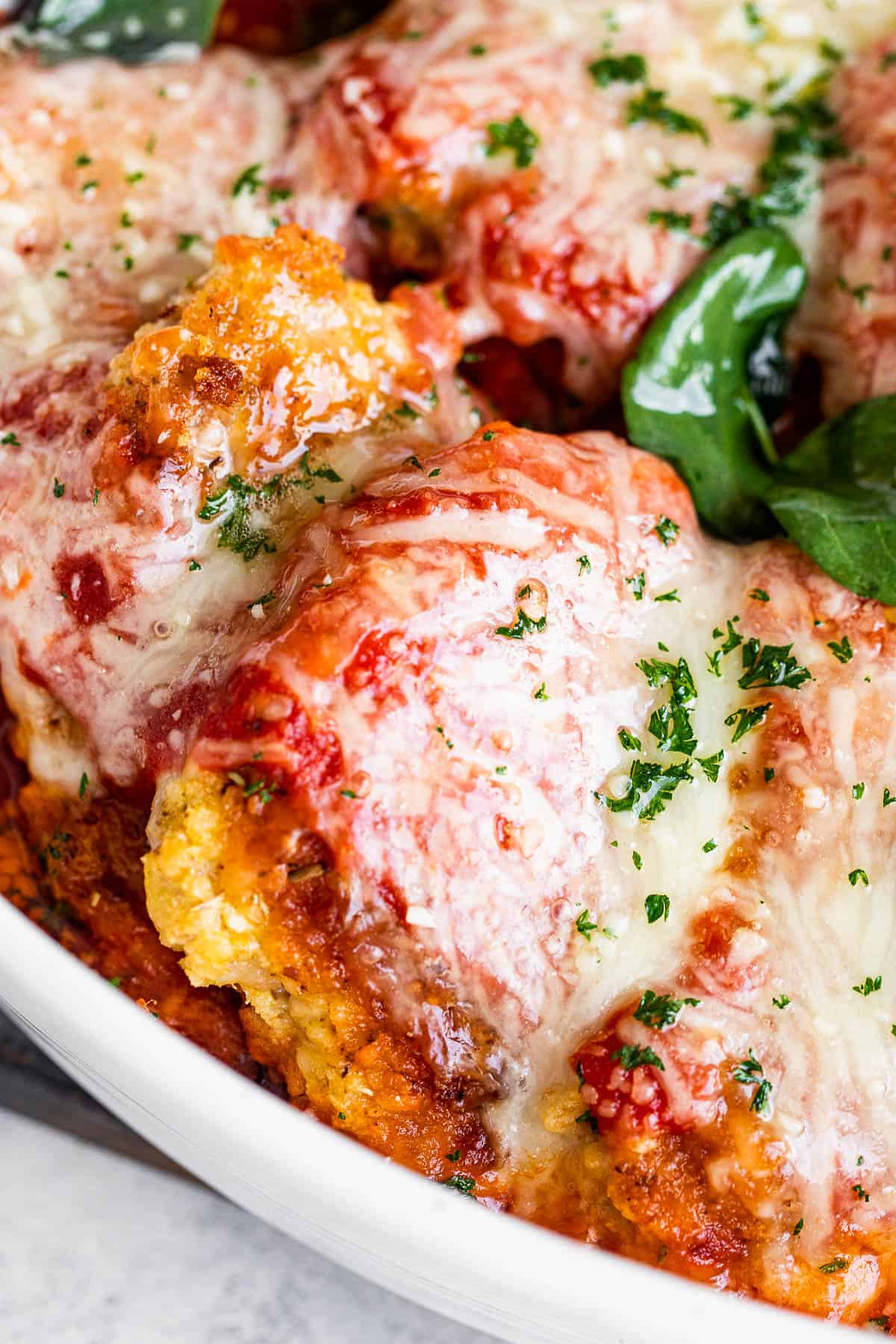 Recipe Ingredients
To keep things simple, I like to use a prepared spaghetti sauce to make my pork parmesan. There are so many delicious, ready-made sauces on the market now, from organic artisanal ones made in small batches, to well-loved major brands with lots of flavors to choose from! Feel free to use your favorite one, or make your own.
Pork Tenderloin: You'll need a little over a pound of tenderloin, sliced into half-inch thick medallions.
Egg: Lightly beat one whole egg in a small dish, for breading the pork.
Breadcrumbs: I used about a cup of plain breadcrumbs to bread the pork; feel free to substitute your favorite breadcrumbs or Panko crumbs. They're also delicious with pork rind crumbs.
Parmesan: Just about a half cup of grated Parmesan makes this dish super tasty.
Italian Seasoning: Always a useful seasoning blend! You'll need 1 tablespoon.
Olive Oil: For sauteing the pork medallions. I recommend using a light olive oil, rather than extra virgin; lighter olive oils have higher smoke points.
Tomato Sauce: You can use any tomato sauce you like; I recommend using a good quality spaghetti sauce. You'll need about 4 cups of sauce.
Shredded Cheese: I use two cups of shredded mozzarella to make this nice and melty!
Chopped Fresh Parsley: For garnish.
Grated Parmesan Cheese: For garnish.
How to Prepare Pork Medallions
For this dish, you'll need to first bread and sauté the pork medallions. Some recipes call for pounding the medallions thinly with a meat mallet, similar to making scallopine. I don't think that's necessary for this pork recipe; the tenderloin will be luscious and easy to cut, regardless of its thickness.
Slice Pork: Place the pork on a cutting board. To avoid cross-contamination, it's best to have a non-wood cutting board specifically for preparing raw meats. Using a sharp knife, cut the tenderloin into medallions about half an inch thick; set aside.
Bread Medallions: Lightly beat an egg in a shallow bowl. On a separate plate, combine the breadcrumbs, parmesan cheese and Italian seasoning. Mix together. Dip each pork medallion in the beaten eggs, and then into the breadcrumbs.
Brown Medallions on Both Sides: Heat some olive oil in a large skillet over medium-high heat. Add the pork medallions to the heated oil, and cook for 4 minutes per side, or until golden brown. They don't need to be completely cooked through, just nicely browned. Lay the slices aside on paper towels as they finish browning. You may have to cook them in batches.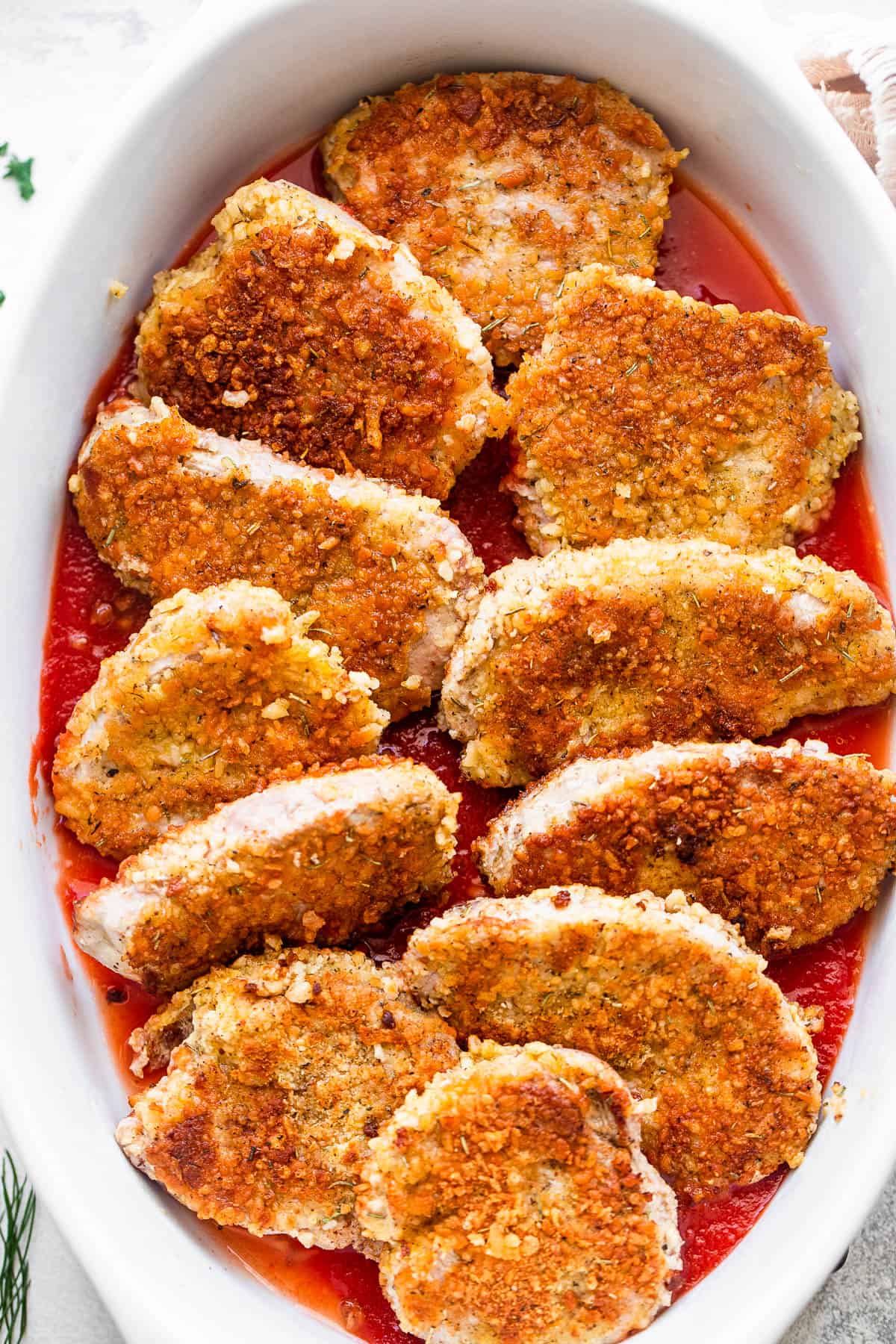 How to Make Pork Parmesan (Pork Parmigiana)
Once you've breaded and browned the pork slices, it's time to assemble and bake! This step is easy, and a great time to involve the kids… if ya want!
Prep Oven & Baking Dish: Preheat your oven to 350˚F. Then, lightly spray a large 13×9 inch baking dish with cooking oil, and set aside. (You can butter or oil the dish by hand, if you'd prefer.)
Add Pork & Tomato Sauce: Place 1 cup of the tomato sauce in the bottom of the baking dish. Spread it out evenly. Arrange the pork medallions over the tomato sauce. Then, pour your remaining tomato sauce over the pork.
Add Cheese & Bake: Top the dish with mozzarella cheese. Cover with foil, and bake for 25 minutes. After that time, remove the foil and bake for 10 more minutes, or until hot and bubbly.
Let Cool: Remove the pork parmesan from the oven and let it stand for a few minutes to stabilize. Garnish with parsley and parmesan cheese.
Enjoy!
Tips for Making This Pork Recipe
If you've never made a parmesan bake before, don't worry. These tips are here to help the process go smoothly!
Watch the Breadcrumbs: Breadcrumbs are a somewhat delicate breading option, so when you're browning the medallions, try dipping the edge of just one into the hot oil. It should immediately sizzle. If it doesn't, the oil isn't hot enough. On the other hand, if it starts to smoke and fry rapidly, the pan is probably too hot. You want a medium setting so that the pork will brown, but not burn.
Substitute Pork Loin: Can't find (or prefer not to use) a pork tenderloin? You can also make this recipe using sliced pork loin. I like to use boneless loin. If you don't want to slice it yourself, try using lean boneless pork chops, which are essentially sliced pork loin. Easy!
Extra Nutrition (and Taste!): If you, like me, are often looking for ways to introduce more veggies to your menus, this is a great place to do it! The tomato sauce and cheese can entice even the pickiest eater to try some additional vegetables. I think you get the best results by lightly sauteing the vegetables first. Good options include spinach, zucchini, grated carrots, sliced mushrooms, and diced or minced onion.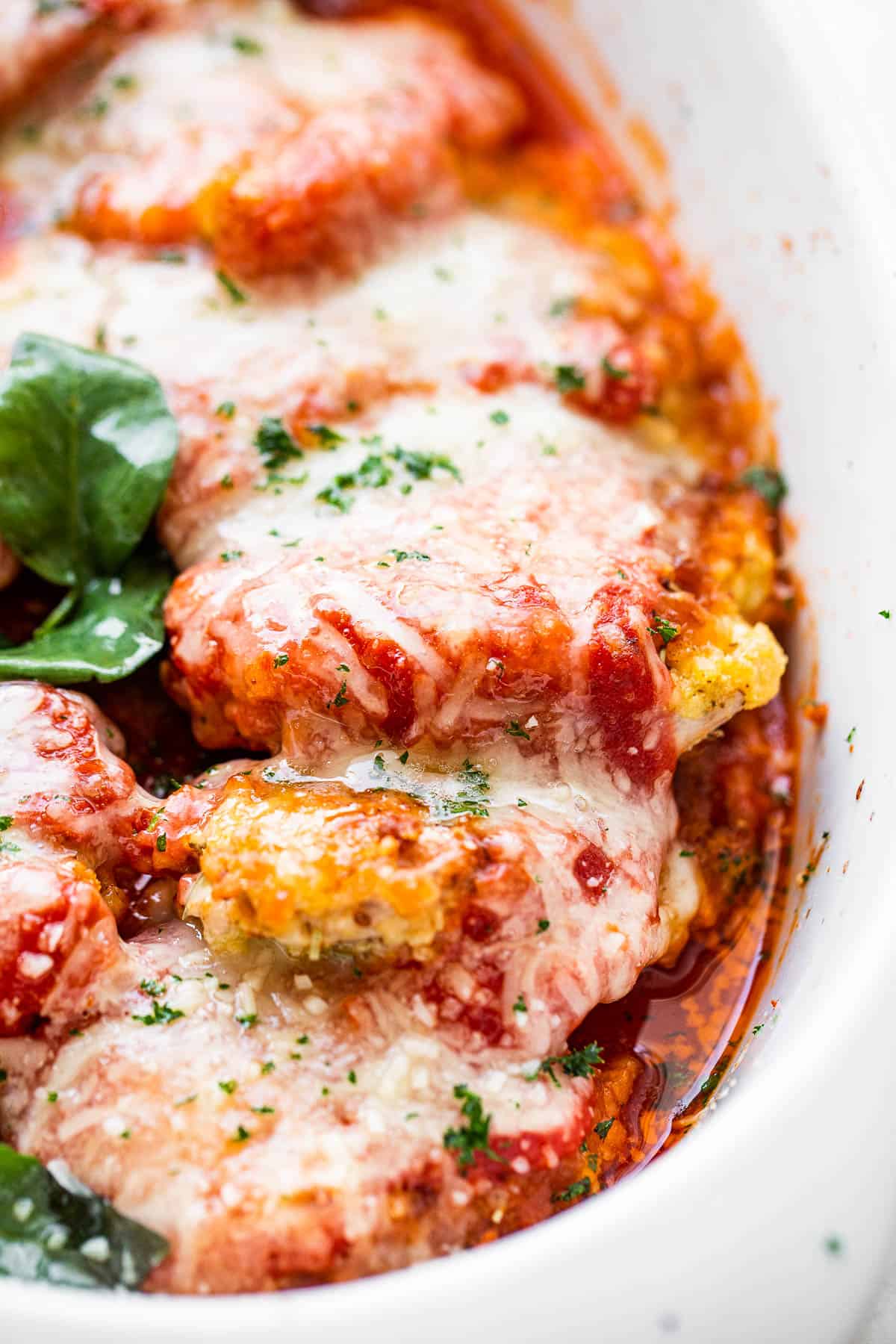 Serving Suggestions
This hearty pork recipe calls for some yummy sides to go with it. The dishes below pair so well with pork parmesan!
Salad: Obviously, a nice garden salad goes with just about anything! And I'm a big fan of small Caesar salads for a wholesome, simple side dish. But there's also antipasto, which makes such a wonderful and uber-flavorful addition to any meal. Try my Italian Antipasto Pasta Salad for a side that'll wake up your taste buds!
Garlic Bread: You can go whole-hog and make some super-tasty Garlic Bread Bruschetta, Cheesy Garlic Pull-Apart Bread, or even just rub a cut garlic clove across some toasted baguette slices (followed up with lots of butter)! So delicious, and so easy.
Green Beans: I don't know why, but tomato sauce just goes really well with green beans, doesn't it? I like to serve steamed green beans along with lasagna, spaghetti, and other saucy dishes like this one. If you have more time, try making my Sauteed Garlic Butter Green Beans for even more yumminess!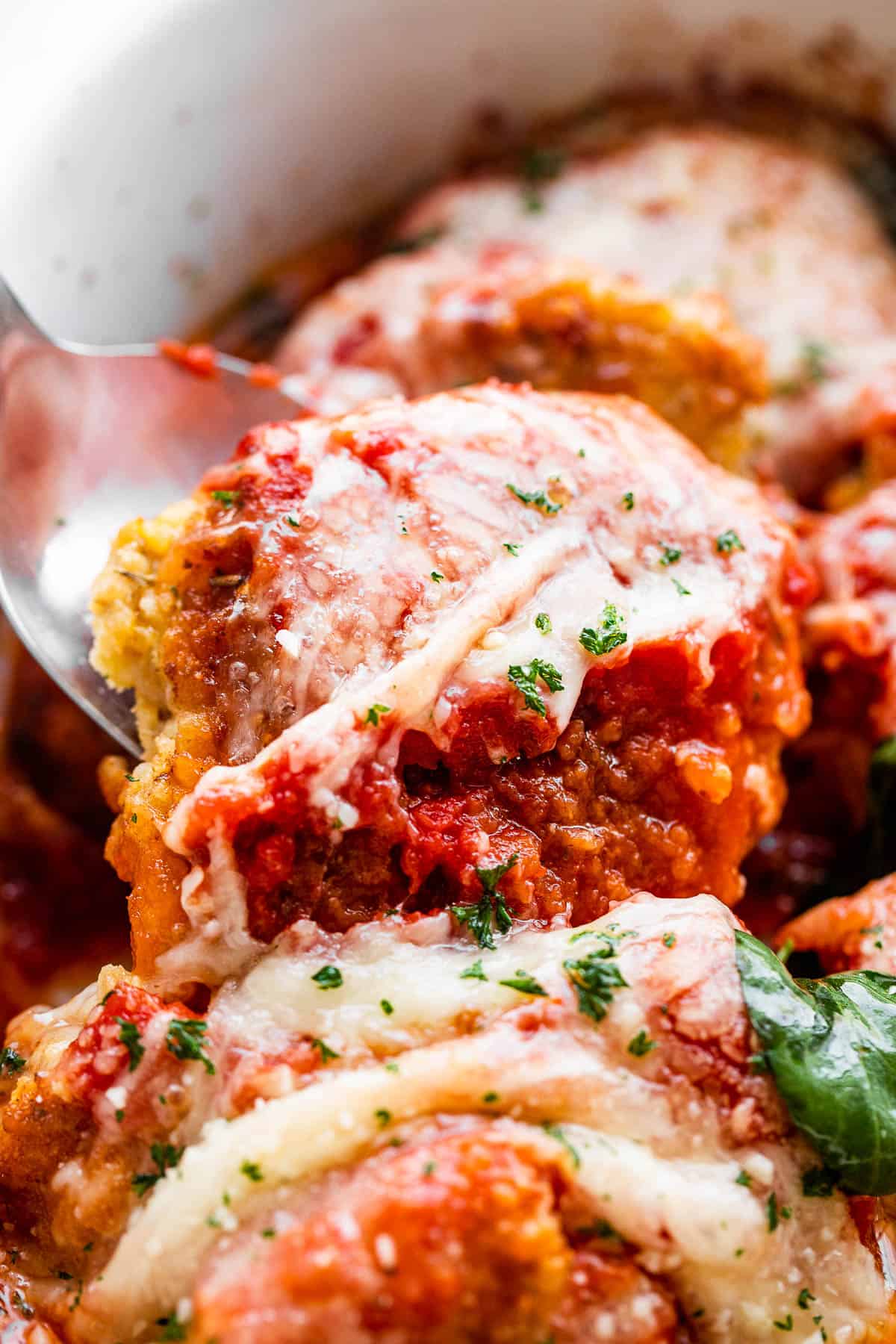 How to Store and Reheat Leftovers
Part of the beauty of this dish is how well it keeps and reheats. You can even freeze it for extra long-lasing leftovers!
To Refrigerate: Store any leftovers in shallow, airtight containers in the refrigerator. Leftover cooked pork is good for 3 to 4 days, if properly refrigerated.
To Freeze: Cover the medallions completely with sauce and place in freezer storage bags or containers. Try to leave as little air in the containers as possible to avoid freezer burn, but do leave a small amount of space for the sauce to expand slightly as it freezes. Use within two months.
To Reheat: First, thaw the leftovers overnight in the refrigerator, if frozen.
Then, place leftover pork and sauce in a baking dish and cover well with foil.
Bake at 350˚F until just heated through; this will take about 30 minutes. The sauce is important, because it adds moisture and helps keep the medallions from drying out as they reheat. The safe temperature for reheated pork is 165˚F.
ENJOY!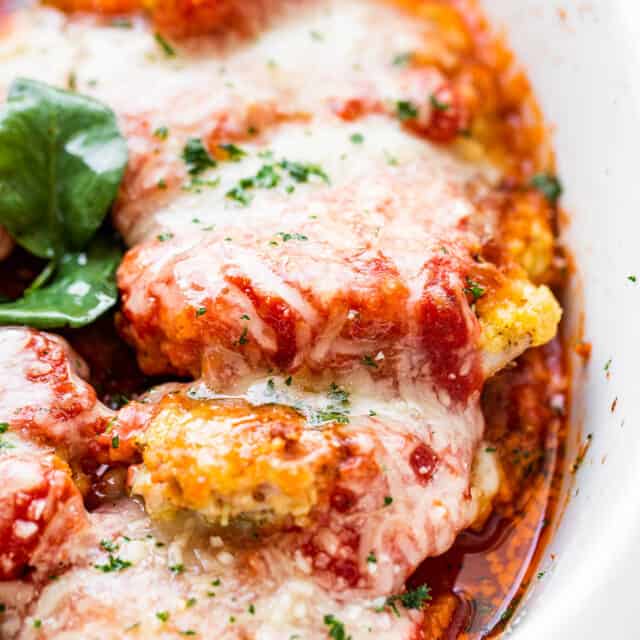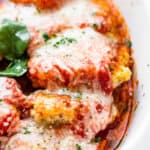 Print Recipe
Pork Parmesan (Pork Parmigiana)
Lightly breaded and fried pork tenderloin medallions, then baked with a tangy tomato sauce and plenty of melting cheese.
Instructions
Preheat oven to 350˚F.

Lightly spray 9×13 baking dish with cooking oil and set aside.

Cut pork tenderloin into medallions; set aside.

Place lightly beaten egg in a shallow bowl.

In a separate plate combine breadcrumbs, parmesan cheese, and Italian Seasoning.

Heat olive oil in a large skillet set over medium-high heat.

Dip each pork medallion in beaten eggs and then into breadcrumbs.

Add pork medallions to the heated oil and cook for 3 to 4 minutes per side, or until golden brown. It doesn't need to be cooked through, but you want to brown it nicely on both sides.

Meanwhile, add 1 cup tomato sauce to the bottom of previously prepared baking dish.

Arrange fried pork medallions over the tomato sauce.

Pour remaining tomato sauce over pork medallions.

Top with mozzarella cheese.

Cover with foil and bake for 25 minutes.

Remove cover and continue to bake for 10 more minutes, or until hot and bubbly.

Remove from oven and let stand 5 minutes.

Garnish with parsley and parmesan cheese.

Serve.
Nutrition
Calories:
403
kcal
|
Carbohydrates:
24
g
|
Protein:
33
g
|
Fat:
20
g
|
Saturated Fat:
8
g
|
Trans Fat:
1
g
|
Cholesterol:
113
mg
|
Sodium:
1399
mg
|
Potassium:
932
mg
|
Fiber:
4
g
|
Sugar:
9
g
|
Vitamin A:
1087
IU
|
Vitamin C:
11
mg
|
Calcium:
357
mg
|
Iron:
4
mg
More Easy Dinner Ideas
From easy entrees to meals that are made with their own side dishes, you have to try these easy dinner recipes!