Need a weeknight meal that will wake up your mouth? Creamy Rasta Pasta with Jamaican spices, sweet shrimp, and colorful veggies is that meal. The whole family will devour this spicy, creamy, cheesy dinner.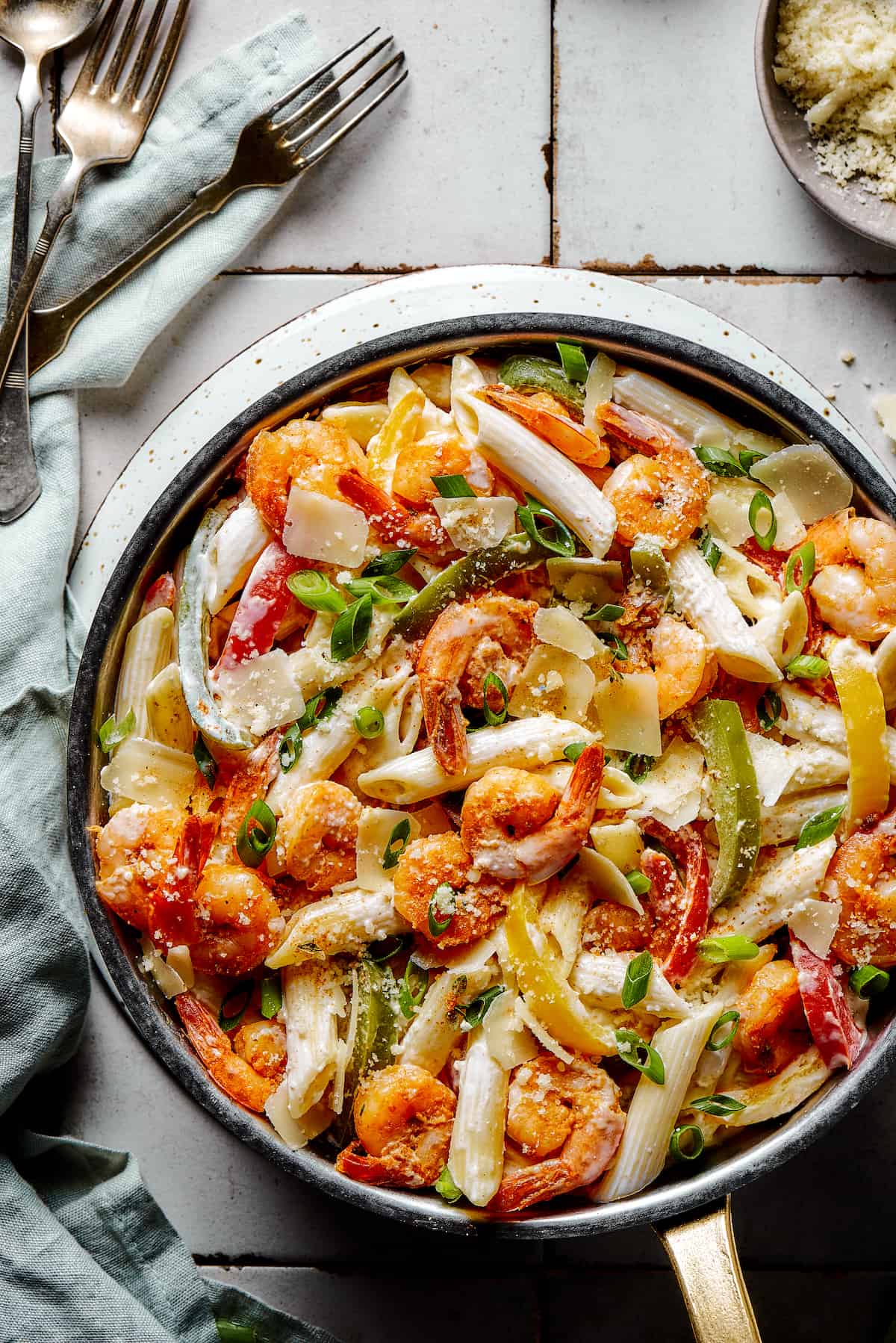 Creamy Pasta with Shrimp and Jamaican Spices
One-pot dinners. Skillet meals. One-bowl pasta meals. They're so good, aren't they? I just love serving up an easy, fast dish like this, with all of your meat, veggies, and carbs in one healthy dish. Cleanup is a snap, and everyone loves a dinner that comes in a creamy sauce!
This one takes things in a slightly different direction, thanks to the addition of savory, sweet Jamaican spices. Somewhat like a Cajun pasta alfredo, Rasta Pasta combines a milky parmesan cheese sauce with shrimp, penne pasta, crisp-tender veggies, and a fragrant spice blend. Cayenne pepper gives it heat, while fresh thyme and cream cheese add depth and a little tangy taste.
Are you starving all of a sudden? Yeah, me too! 🫶 Let's get cooking.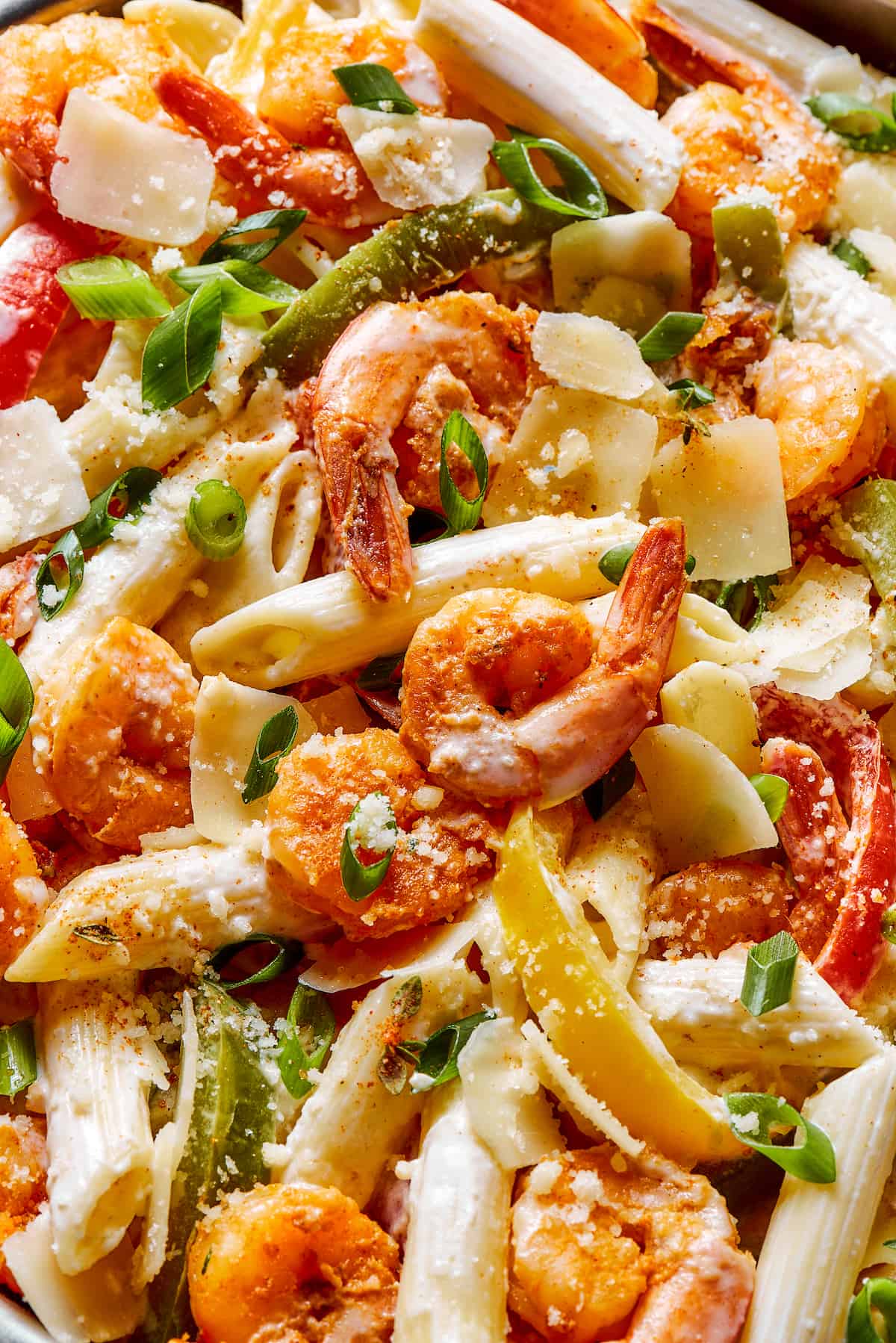 Why Do They Call It Rasta Pasta?
The tri-colored bell peppers in this dish inspired its name, according to most sources. Red, yellow, and green are important colors in the Rastafarian religion, and when a table of diners tried this dish for the first time back in the 1980s, they joked that the chef should name it "Rasta Pasta." The name stuck, and Rasta pasta has become one of Jamaica's most popular casual dishes.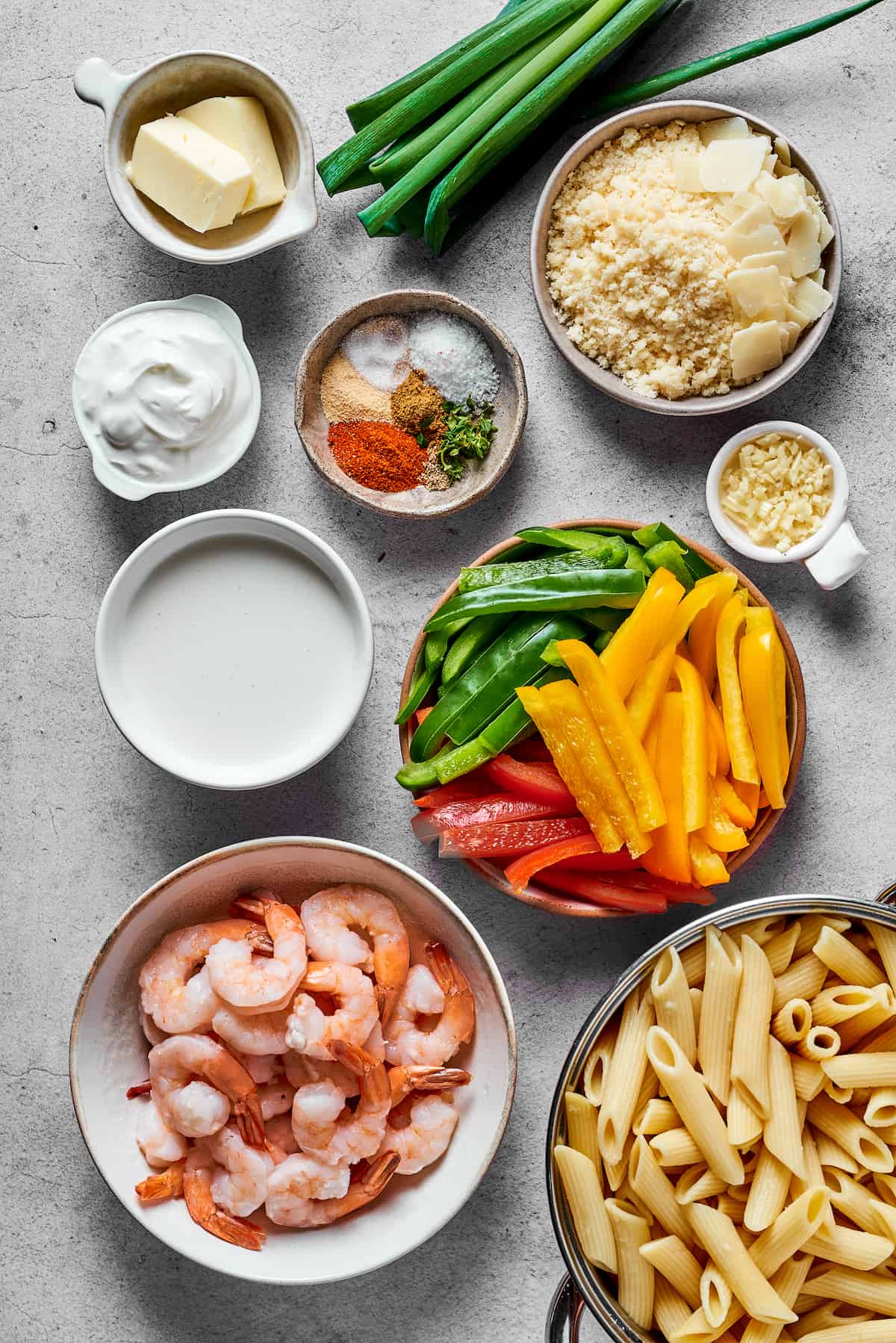 What Is Rasta Pasta Made Of?
Jamaican jerk spice and all kinds of other goodies make this creamy pasta so, so flavorful. If you like Creole Blackened Chicken Pasta and other dishes like that, you will love this one! Here's what you'll need to make it:
Pasta: 1 pound penne pasta, cooked
Shrimp: ½ pound shrimp, peeled and deveined
Spices and Seasonings: Cinnamon, nutmeg, cumin, garlic powder, and a good shot of ground cayenne give the shrimp and sauce their spicy goodness.
Sugar: Just a little, to balance the flavors.
Fresh Thyme: If you don't have fresh thyme, you can use a small amount of dried thyme instead. Remember that dried herbs are usually more concentrated in their flavor than fresh.
Salt and Pepper
Butter: For sauteing.
Garlic: Minced, fresh garlic adds a nice pungent oomph!
Bell Pepper: One red, one yellow, and one green.
Heavy Cream: Using real heavy cream gives the sauce all the richness it needs, without having to make a roux.
Cream Cheese and Parmesan Cheese: To give the sauce a subtle tang, and an alfredo-like flavor.
Green Onions: Sliced, for garnish. You could also use fresh parsley for a pretty garnish.
Can I Use Frozen Shrimp?
Sure! Frozen shrimp are great in this recipe, and often, frozen shrimp is of higher quality than shrimp that's been defrosting behind the grocery store glass case all day. If you do use frozen shrimp, make sure they are raw, peeled, and deveined, and let them thaw out in your fridge before you drain them and use them.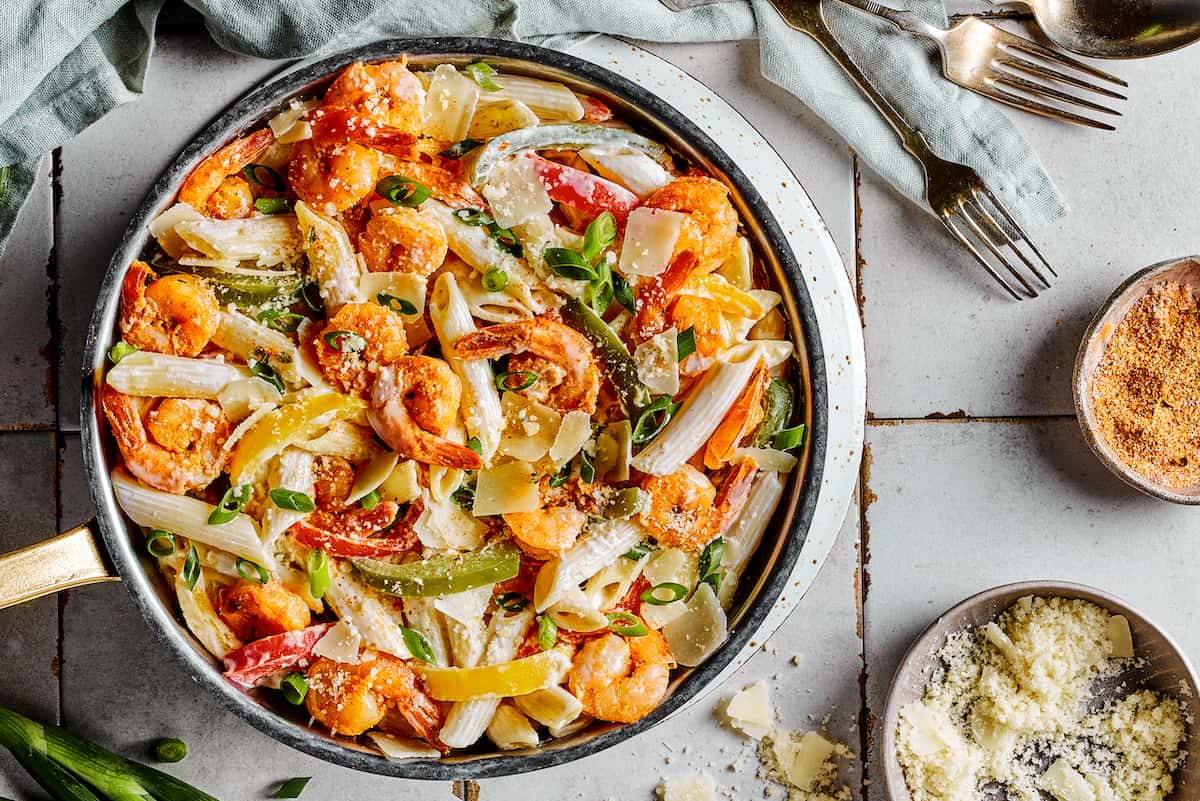 Cooking Instructions
Don't you love skillet cooking? Skillet meals are the best, because (like this Rasta pasta) they take so little time. From start to finish, you really only need about 30 minutes to make this meal. Don't forget to cook the pasta while you make the sauce!
Prep the Shrimp (and Cook the Pasta, If Needed). First things first: take your peeled, deveined shrimp and place them in a medium bowl. Add the spices to the shrimp, toss to coat, and let them marinate for about 10 minutes. If your pasta is not already cooked, go ahead and start cooking it according to the package instructions.
Cook the Shrimp. Once the 10 minutes is up, it's time to cook those shrimp. Melt a tablespoon of butter in a skillet over medium heat, and gently add the shrimp. Let them cook for a minute or two per side, until opaque and pink. Once they are pink and opaque, take them off of the heat so they don't overcook and get rubbery.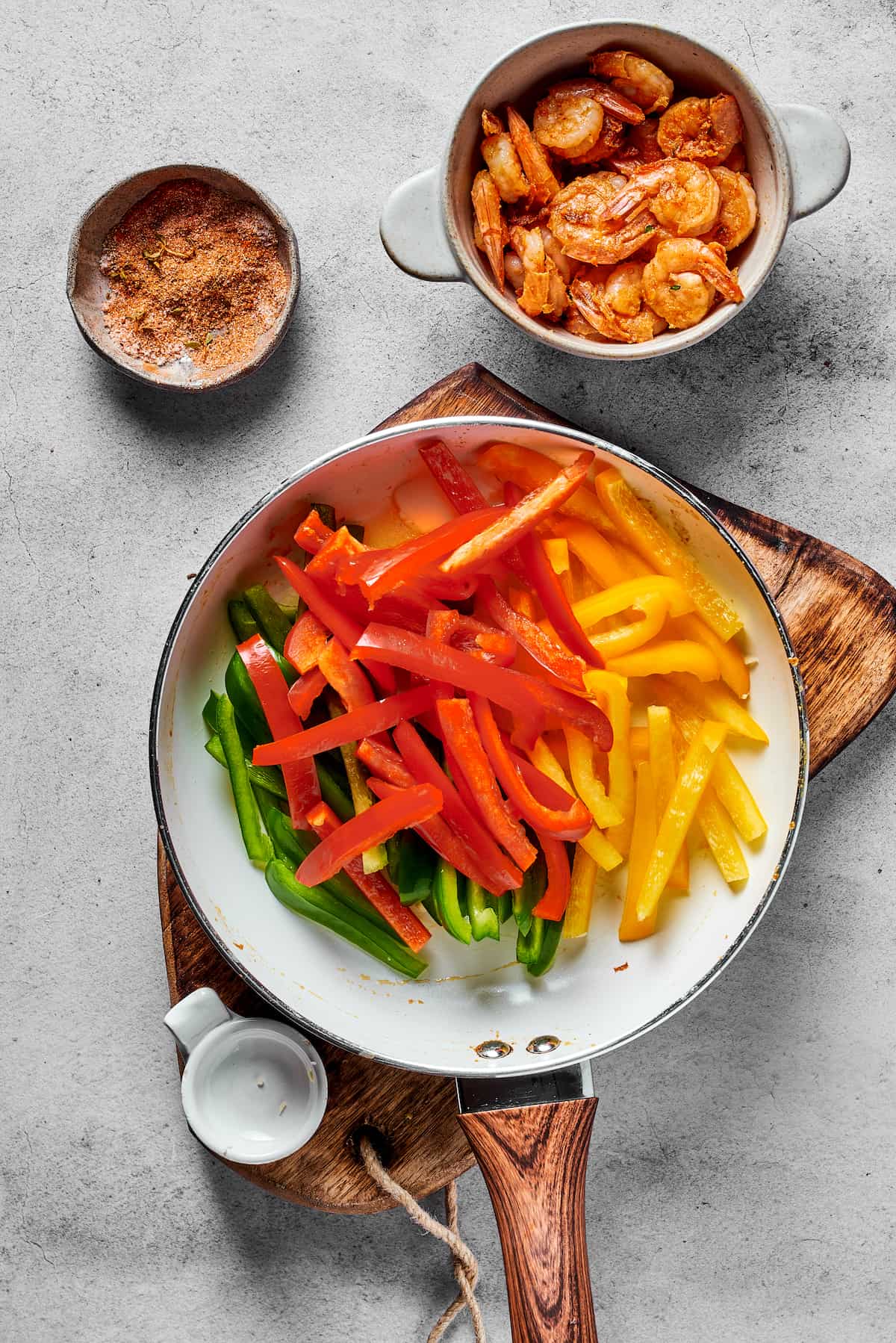 Cook the Vegetables. Transfer the cooked shrimp to a clean dish, and then place the skillet back on the heat – no need to wipe it out. Add the rest of the butter, turn the heat to low, and once the butter melts, throw in the garlic. Let that cook for about a minute to become fragrant. Next, stir in the sliced peppers, and cook them for 5 minutes or until tender.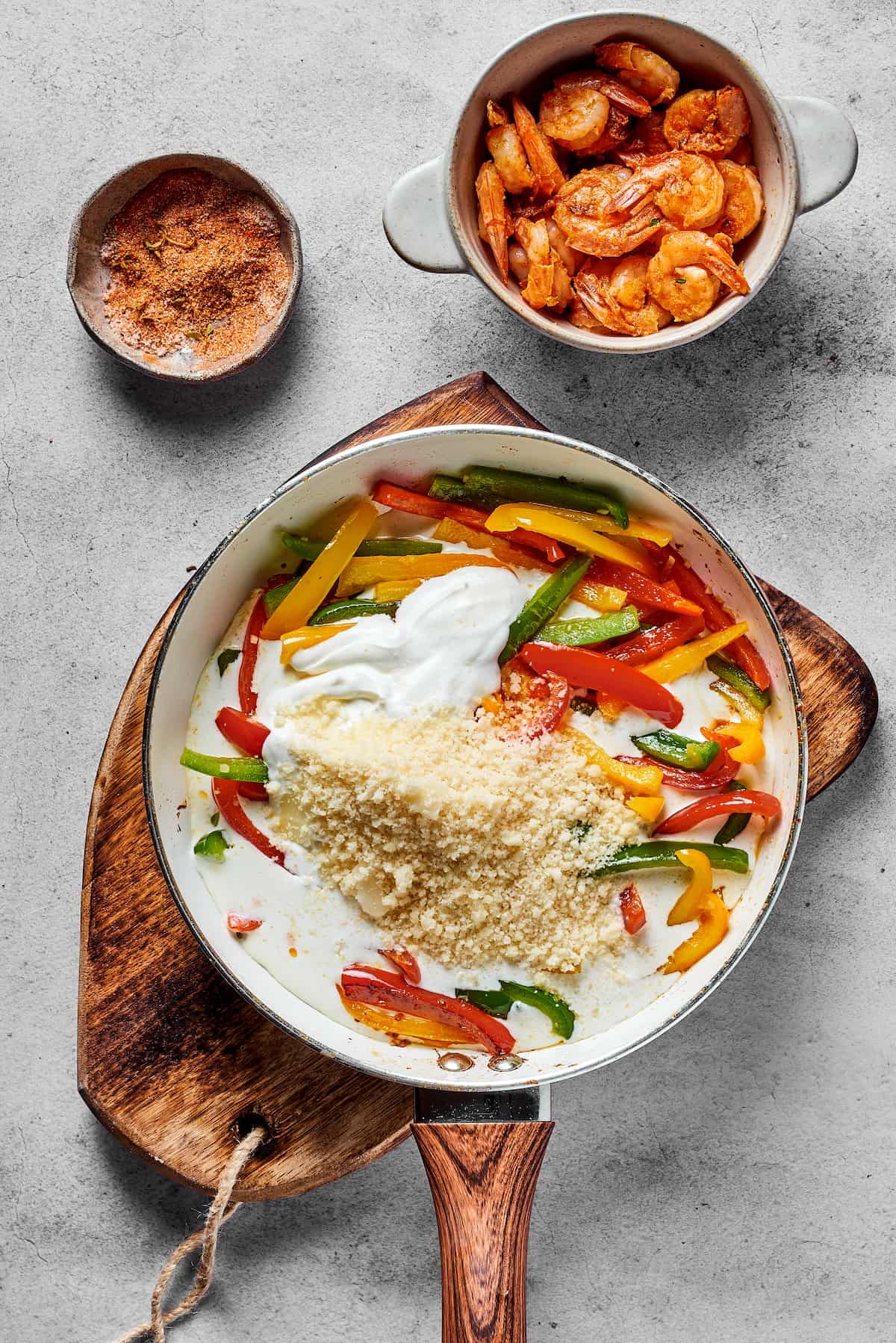 Add the Dairy. Things are about to get even more scrumptious! At this point, you can pour in the heavy cream, and mix in the cream cheese and the parmesan. Stir this mixture over the heat, until the sauce is smooth and the cheese is melted. This should take around 7 minutes.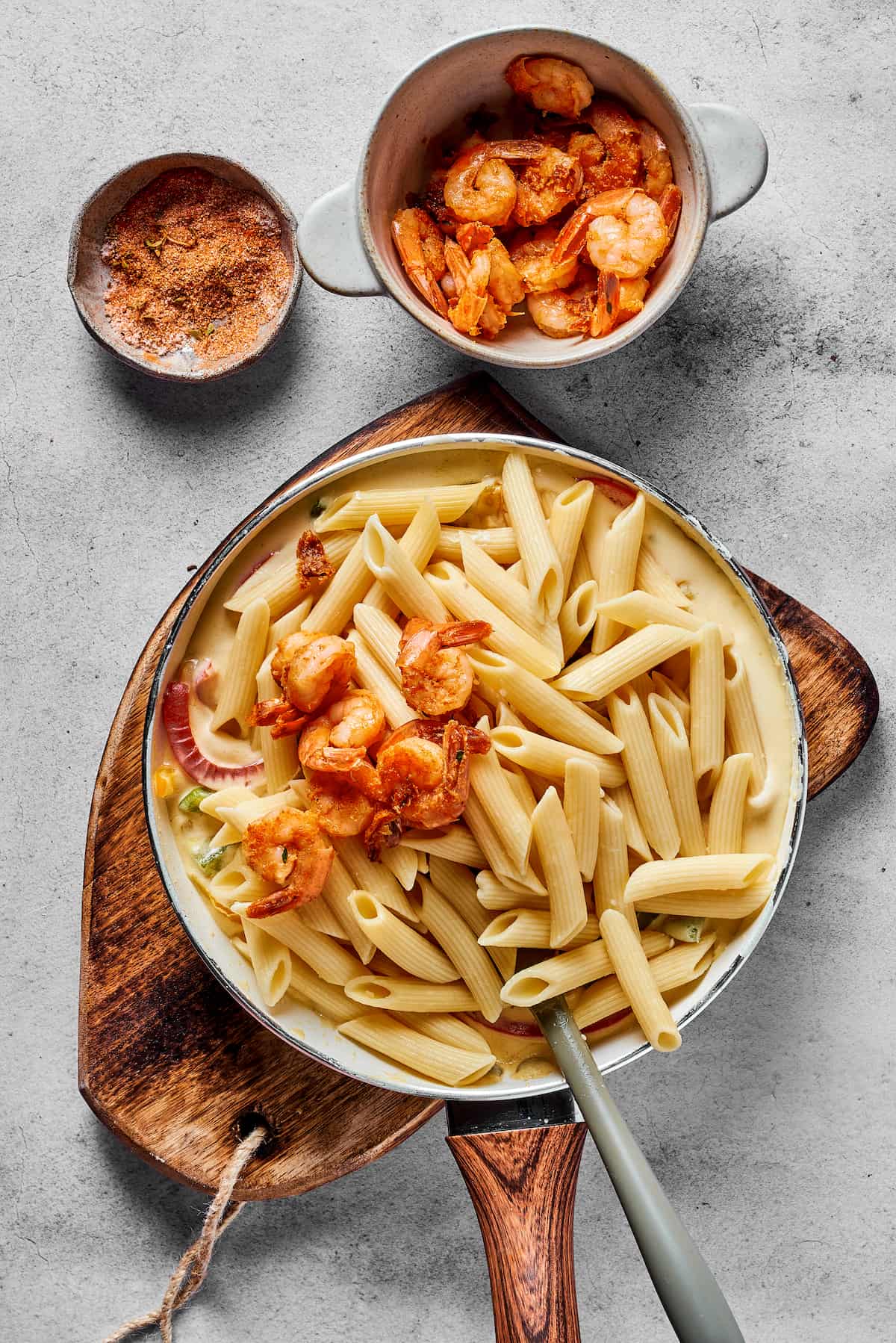 Finish the Dish. Add the cooked penne pasta and cooked shrimp to the skillet, and stir to combine. Take the skillet off of the heat, and garnish with green onions or chopped parsley, and a sprinkling of extra parmesan.
Enjoy! Serve the Rasta pasta immediately.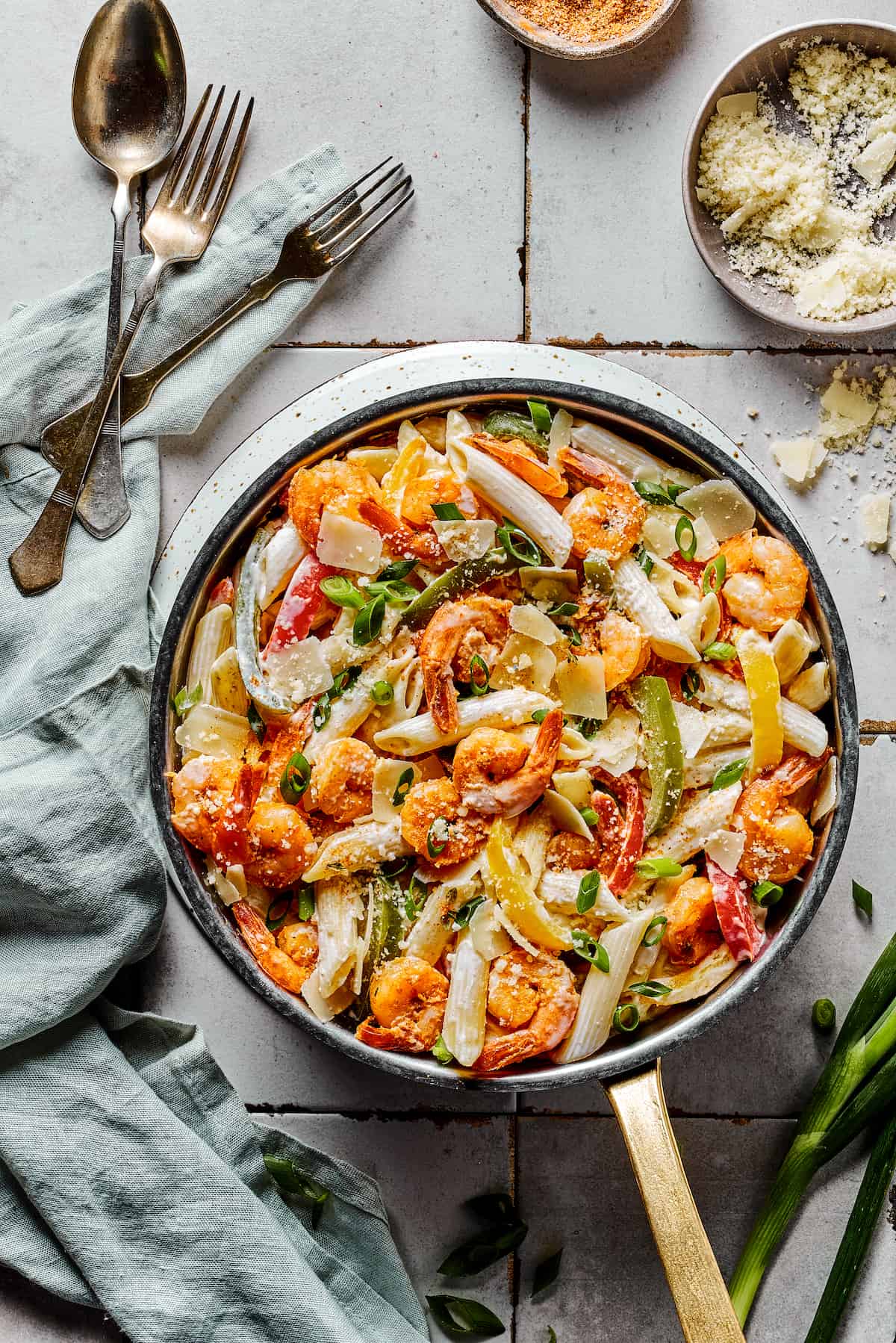 Notes and Tips
This simple, spicy pasta dish is even easier to make when you have a few helpful hints – keep reading for my best tips and tricks for creamy Rasta pasta.
Shrimp Substitutions: If you'd like to serve this healthy pasta dish without shrimp, that's totally an option! Substitute chicken, lean pork, or sausage – or just add more veggies.
Use Short Pasta Shapes: You can use other pasta shapes besides penne, but it's best to avoid long noodles. Short pasta like penne and fusilli are easier to eat with the shrimp and sliced veggies. If you do use longer pasta, break it into 2-inch pieces.
Add Veggies: A few extra veggies are always welcome in my pasta dinner, how about you? Matchstick carrots, half-moons of zucchini or summer squash, baby spinach, and even chopped tomato would all be amazing here.
Control the Heat: The cayenne pepper in this recipe will help give your dish some spicy heat, but you can definitely play with the amount. Leave it out entirely for Rasta pasta that's flavorful, but not hot.
Spice Blend: Speaking of spices, the spice blend listed is an easy way to get a jerk-like flavor, but feel free to use your own Jamaican jerk seasoning instead. Just add it to taste.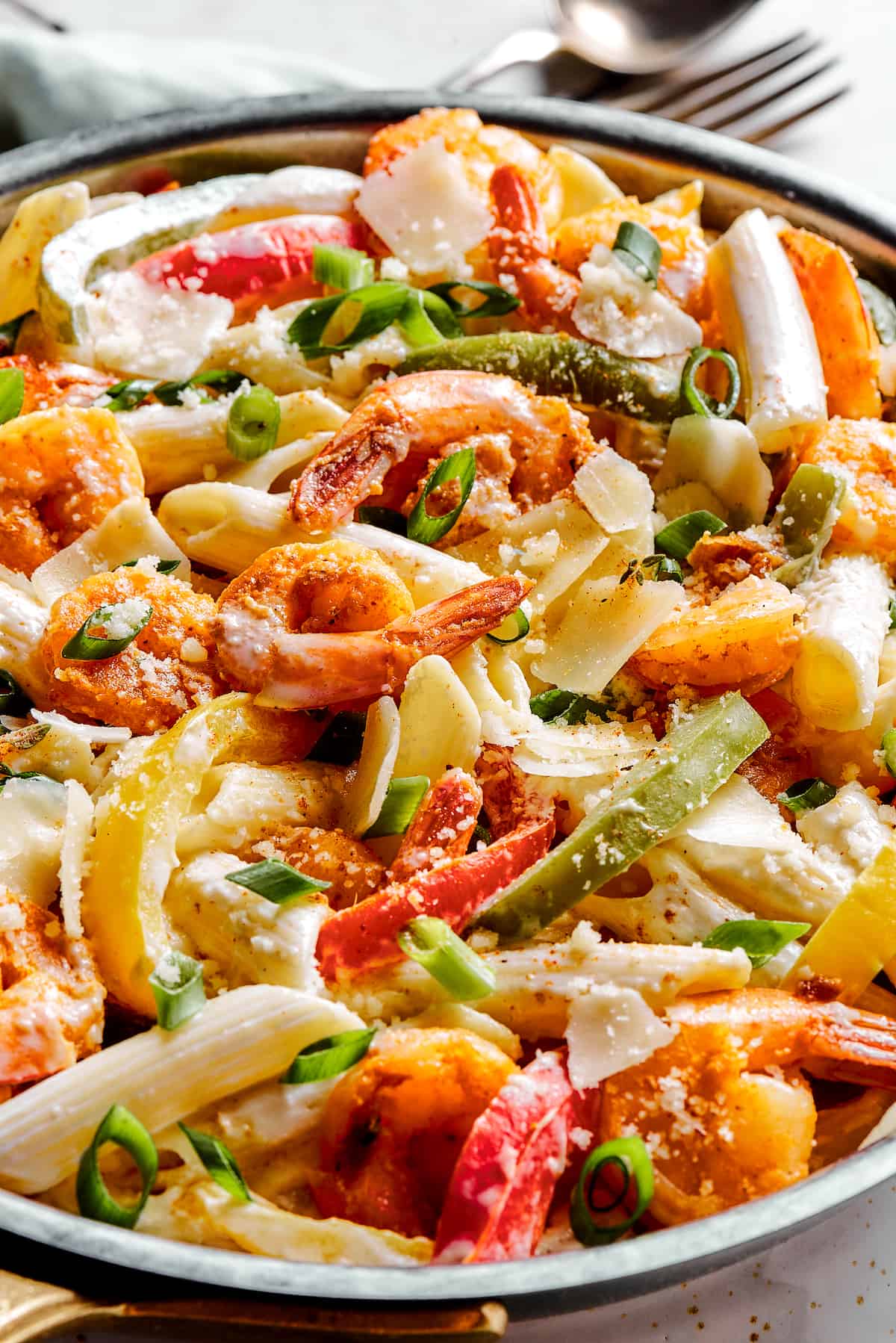 Side Dish Suggestions
Rasta pasta is a one-pot meal, with veggies, meat, and carbs all in one yummy dish. It also goes well with fresh, flavorful side dishes like these:
Bread: The whole family goes crazy for these Easy Garlic Knots, and they are so quick and foolproof thanks to pre-Made pizza dough.
Asparagus: Fresh, green asparagus spears go beautifully with creamy pasta – and this simple roasting method delivers tons of savory asparagus flavor. Garlic Butter Roasted Asparagus for the win!
Snap Peas: Sweet, wholesome sugar snap peas are paired with colorful slivers of red onion in this easy recipe for Roasted Sugar Snap Peas. The sweet crunch of the snap peas is just right with spicy Jamaican shrimp!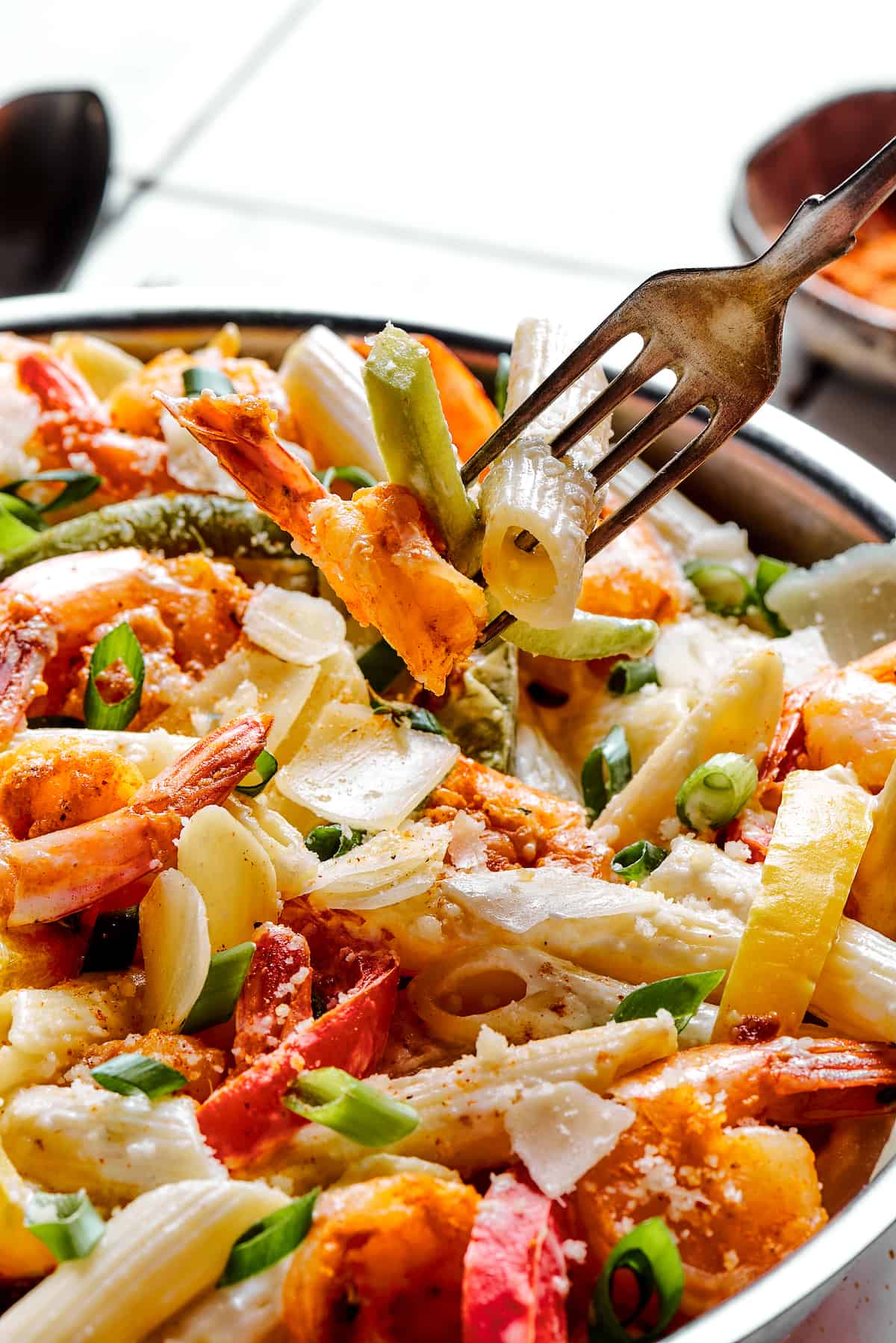 Storing and Reheating the Leftovers
To store, pack leftover Rasta pasta in airtight containers and refrigerate for up to three days.
To reheat, place the desired amount in a covered skillet over low heat. Let it cook until just heated though, adding a little cream if it seems dry.
Does Rasta Pasta Freeze Well?
While lots of recipes recommend freezing Rasta pasta for up to three months, the creamy sauce does have a tendency to separate once you freeze and thaw it. I think it's best served fresh.
If you do freeze it, be sure to squeeze as much air out of the freezer bag as possible before sealing, and thaw in the fridge before reheating.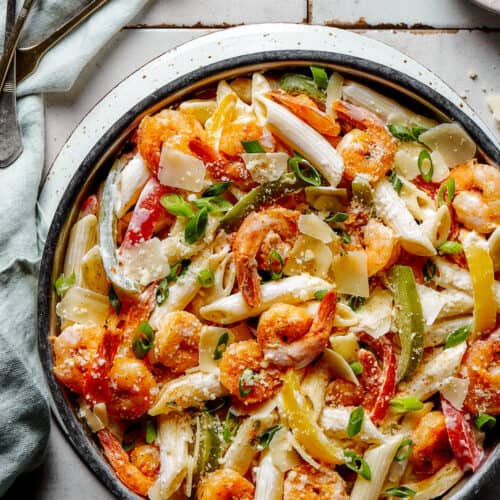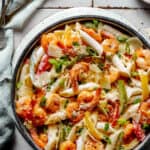 Print Recipe
Rasta Pasta
Need a weeknight meal that will wake up your mouth? Creamy Rasta Pasta with Jamaican spices, sweet shrimp, and colorful veggies is that meal. The whole family will devour this spicy, creamy, cheesy dinner.
Ingredients
1

pound

penne pasta,

cooked

½

pound

fresh shrimp,

peeled and deveined

1

teaspoon

garlic powder

½

teaspoon

cayenne pepper

⅛

teaspoon

ground cinnamon

⅛

teaspoon

ground nutmeg

½

teaspoon

ground cumin

1

teaspoon

granulated sugar

1

teaspoon

fresh thyme

salt and pepper,

to taste

2

tablespoons

butter,

divided

2

cloves

garlic,

minced

1

red bell pepper,

thinly sliced

1

yellow bell pepper,

thinly sliced

1

green bell pepper,

thinly sliced

1

cup

heavy cream

½

cup

cream cheese,

softened

½

cup

parmesan cheese,

plus 2 tablespoons for garnish

1 to 2

green onions,

sliced, for garnish
Instructions
In a mixing bowl, combine the shrimp with the spices, and set aside to marinate for about 10 minutes

Meanwhile, heat a large skillet over medium-high heat. Melt 1 tablespoon of butter in the skillet, and add the marinated shrimp. Cook for 2 to 3 minutes, or until the shrimp are pink and opaque.

Transfer the shrimp to a clean bowl, and set aside.

In the same skillet, melt the remaining butter. Add the minced garlic, stir and cook for about 30 seconds over medium-low heat.

Add the sliced peppers, increase heat to medium-high and cook for about 5 minutes, or until the vegetables are tender.

Pour in the heavy cream, and stir in the cream cheese and parmesan cheese. Cook, stirring, until the cheese melts and the mixture thickens, about 7 minutes.

Add the cooked penne pasta and shrimp to the skillet. Stir to combine.

Garnish the rasta pasta with freshly sliced green onions (or chopped parsley), and parmesan cheese. Serve immediately.
Nutrition
Calories:
857
kcal
|
Carbohydrates:
97
g
|
Protein:
24
g
|
Fat:
42
g
|
Saturated Fat:
25
g
|
Polyunsaturated Fat:
2
g
|
Monounsaturated Fat:
11
g
|
Trans Fat:
0.2
g
|
Cholesterol:
119
mg
|
Sodium:
363
mg
|
Potassium:
591
mg
|
Fiber:
6
g
|
Sugar:
9
g
|
Vitamin A:
2850
IU
|
Vitamin C:
120
mg
|
Calcium:
264
mg
|
Iron:
3
mg
More Pasta Dinners