Savory, crisp, and buttery, this easy recipe for Garlic Butter Roasted Asparagus hits all the right notes! Make this as a side for your favorite main course, and enjoy the melt-in-your-mouth tenderness of fresh, caramelized asparagus.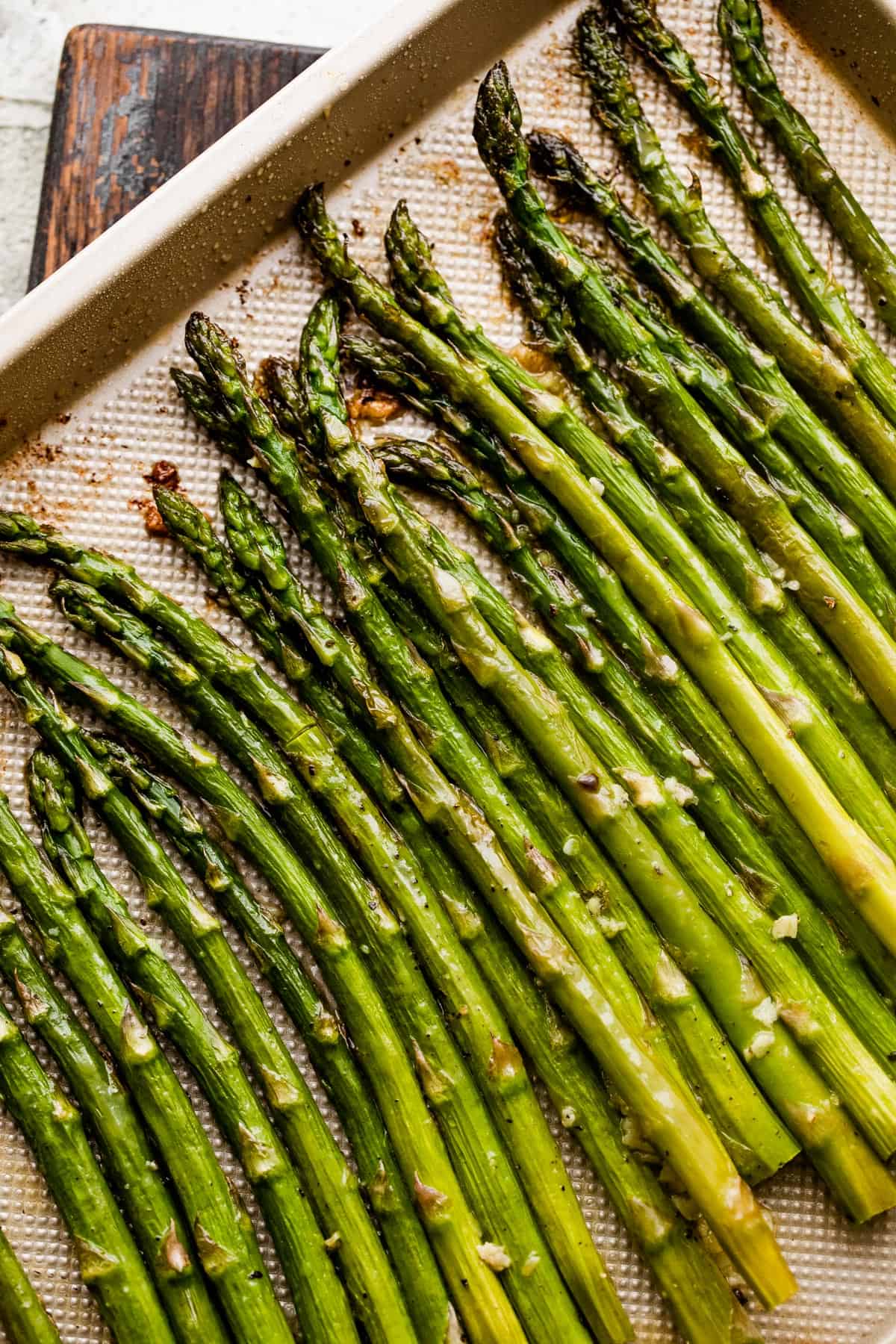 An Ultra-Flavorful, Ultra-Easy Veggie Side Dish!
Spring is springing, which means Asparagus! Among other things, obviously, but still, this bright-green veggie with its hearty, fresh flavor and crisp texture is a springtime fave.
You can make all kinds of recipes with asparagus, but one of the best is a quick oven roast. Roasting deepens the flavor, adds a crisp texture, and brings out the hidden sweetness in asparagus.
Olive oil is one of my favorite healthy fats for roasting, but you know what else rocks with fresh asparagus? Garlic butter! Yah… incredible. And, if you can get your hands on the grass-fed stuff, even better! With real butter and fresh garlic, you hardly need anything else. This roasted asparagus is that finger-lickin' good.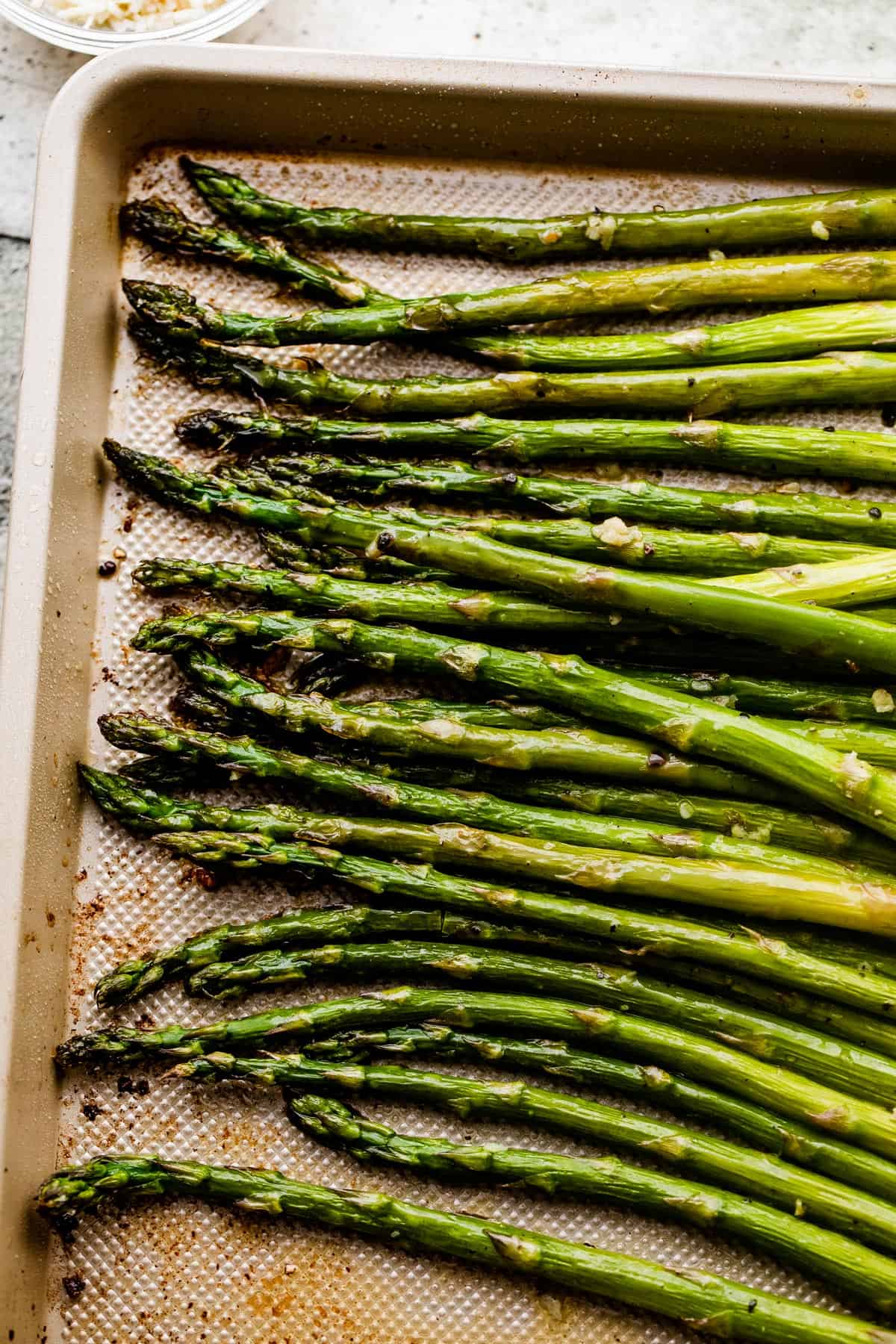 Is Roasted Asparagus Healthy?
Definitely! It would be difficult to make an entire meal out of them (although you might be tempted to try!), but they are a low-carb, low-calorie side dish that provides folate, vitamin C, vitamin A, and vitamin K. Add some healthy fats, protein, and maybe some quality carbs, and you've got one great and healthy meal.
What You'll Need
There are only a handful of ingredients you'll need to make this, which is one of the things I love about it! All you really have to do is pick up some fresh asparagus, and make sure you have butter and garlic in your fridge or pantry.
Asparagus Spears: Trim the tough ends from your fresh asparagus spears, and give them a quick rinse. Drain well and pat dry with paper towels.
Butter: I use unsalted butter, but salted is fine too.
Garlic: Mince or press four cloves (more or less, according to your taste) of fresh garlic.
Parsley: I like to use fresh, but dried will definitely work. You could also omit the parsley.
Salt and Pepper: To taste.
Parmesan Cheese: Freshly grated parmesan cheese is the perfect optional garnish.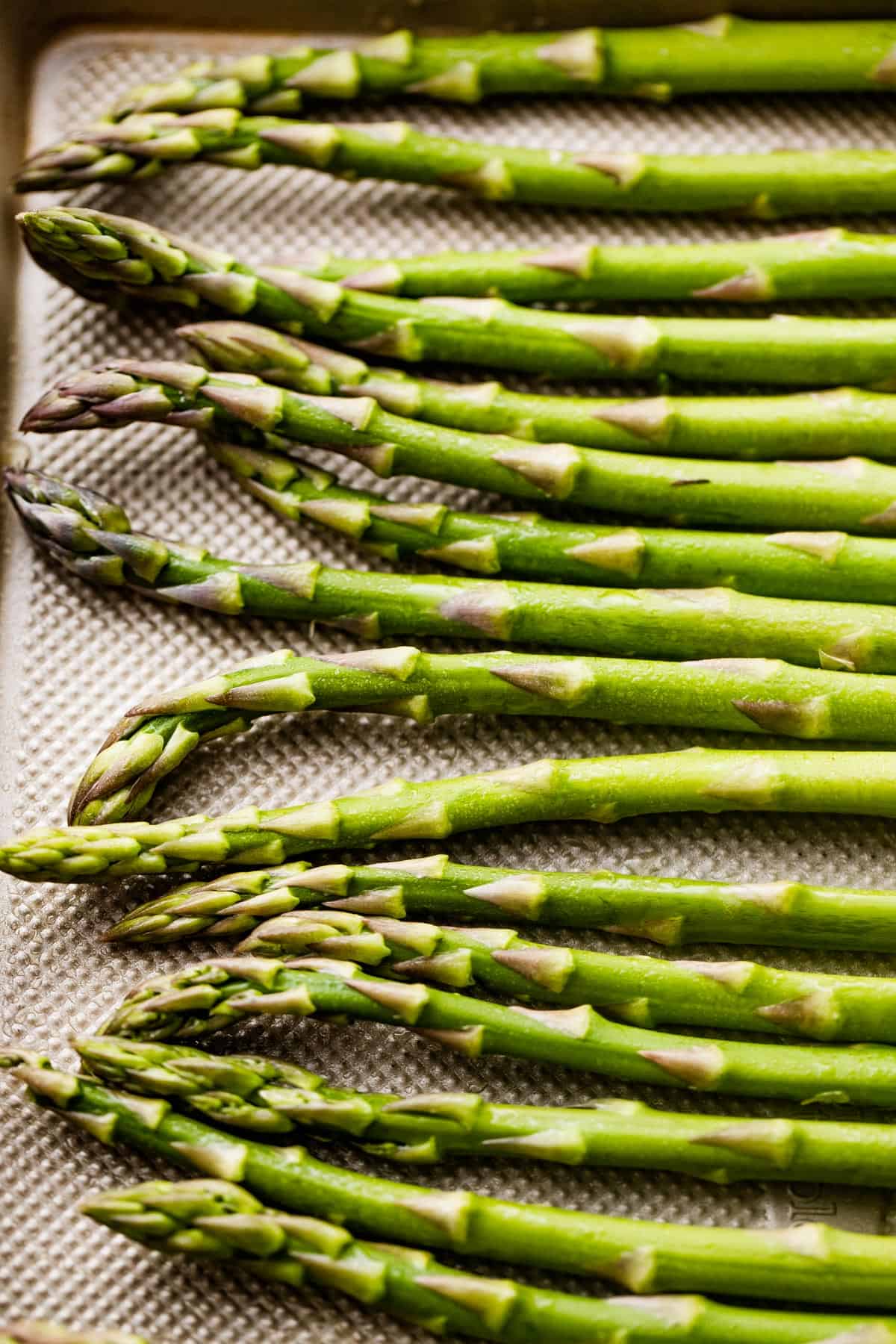 Let's Make Roasted Asparagus!
The method for roasting your own asparagus really couldn't be easier! Here's how to do it, step by step. (Bonus: this method also works for all kinds of other wonderful produce!)
Prep the Oven, Baking Sheet, and Asparagus. To begin, preheat the oven to 400˚F, and line a baking sheet with foil. Next, trim the asparagus, removing the tough lower portion of each stalk, and spread them out on the baking sheet in one single layer.
Make the Garlic Butter. Now, melt the butter. You can do this in the microwave or in a skillet on the stove – whichever works best for you. Stir the garlic and parsley into the melted butter, and season it to taste with salt and pepper.
Roast. Pour the garlic butter sauce over the asparagus, and toss the asparagus to coat all over. Spread the asparagus out again in a single layer, and roast for about 15 to 18 minutes. The asparagus should be tender, but not mushy. Start checking for doneness at around the 15-minute mark.
Add Parmesan and Enjoy! Once the asparagus are done, remove them from the oven, sprinkle with parmesan cheese, and serve immediately.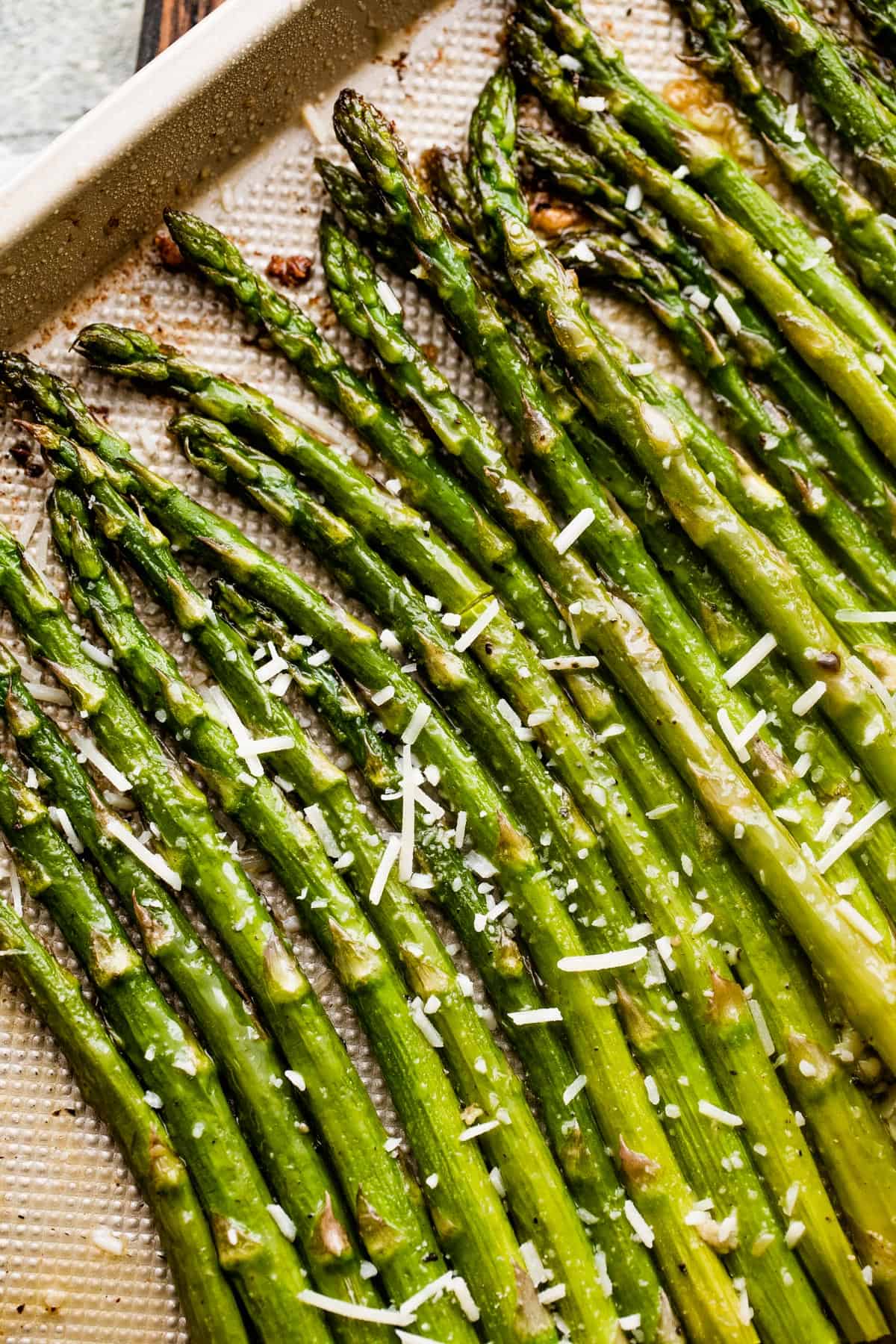 Should I Soak Asparagus Before Roasting?
I would say no, soaking isn't normally necessary. The reason for soaking asparagus is to loosen any grit that's hiding in the tips and leaves along the stalk, but I find that a quick rinse removes that. So, just as with your other produce, give it a wash, but don't worry about soaking it unless you simply prefer to do so, or unless your asparagus comes packaged in a way that might increase the amount of dirt or grit in the stalks.
Tips for Success
Do you still have questions about cooking asparagus for the maximum flavor and texture? Well, that's great! Questions lead to answers, and answers lead to deliciousness! 😃 At least, that's how I see it. For that reason, I'm sharing some FAQs here to help make your roasted veggies the best they can be.
Cooking Time: It's important to remember that the cooking time for asparagus is kind of an art, since different size asparagus spears will cook slower or faster, depending on their thickness. Also, since ovens vary, you may find that your oven cooks asparagus more quickly or slowly than mine! To get your asparagus just right, check them frequently. When the spears are fork-tender, they're done.
Easy Cleanup: I like to roast veggies on a baking sheet lined with parchment or foil, because it can really make cleanup a breeze. But you definitely don't have to! A plain oiled baking sheet or cast-iron skillet would work just fine.
To Peel or Not to Peel: Some recipes, especially older recipes, call for peeling your asparagus – but in general, it is not necessary. If you have especially thick asparagus, you could peel them toward the ends of the stalks to make them a more even thickness from top to bottom – but leaving them as they are is fine, too!
My Favorite Serving Suggestions
To serve your asparagus, just pair it with your favorite main dish – anything from scrambled eggs to beef wellington! Here are a few ideas to get you started:
Steak and Potatoes: Steak, potatoes, and asparagus are a classic trio, and you can't do better than this easy cast-iron skillet recipe for Garlic Steak Bites with Potatoes. Each savory bite is sure to please!
Chicken Schnitzel: Satisfyingly simple Chicken Schnitzel is made with juicy chicken cutlets, lightly breaded and fried. They're an amazing main course with roasted asparagus!
Roasted Pork Tenderloin: Another hearty main dish, Roasted Pork Tenderloin with Potatoes is both simple and scrumptious – a natural fit with easy roasted asparagus.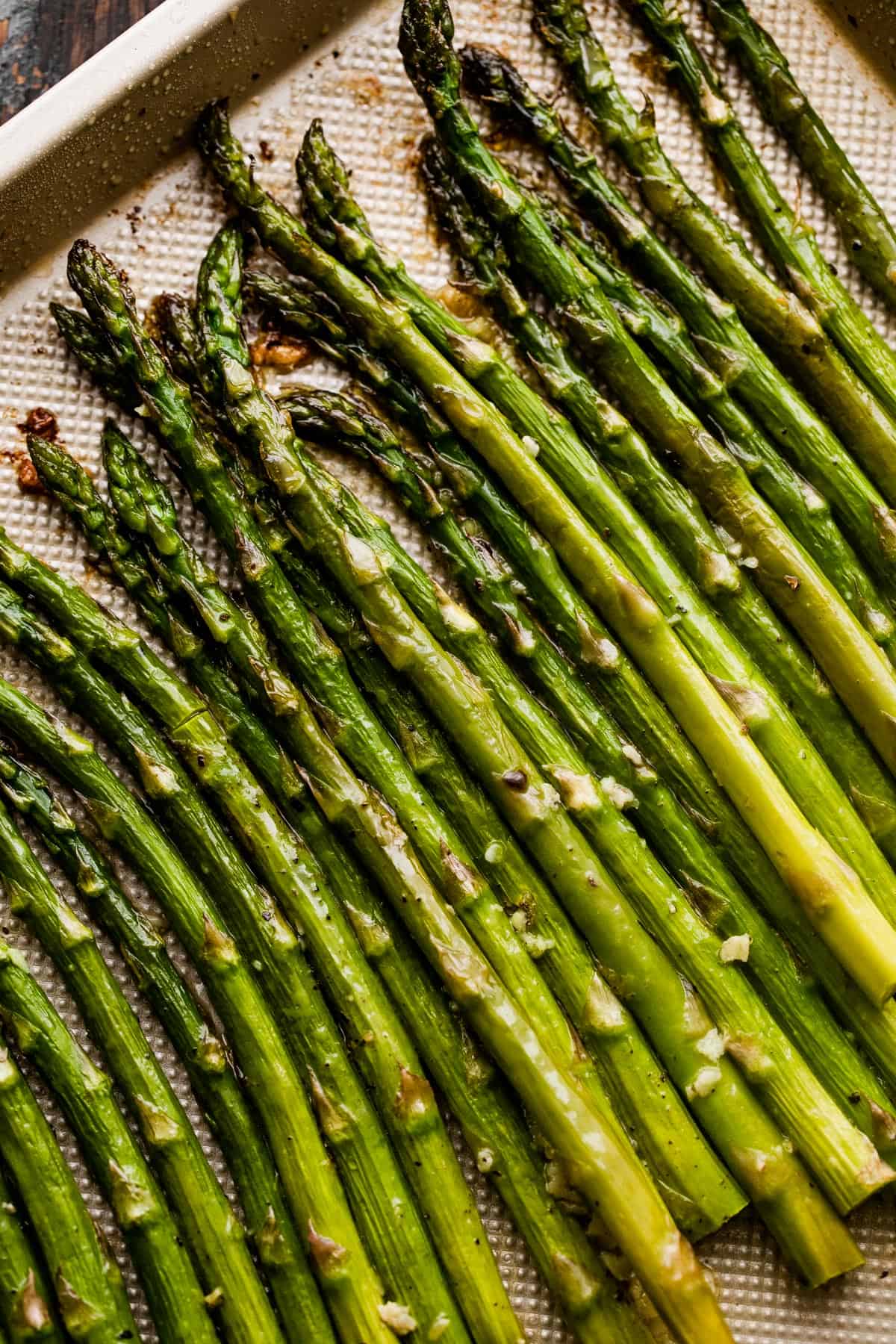 How to Store and Reheat Your Leftovers
To store leftover roasted asparagus, just pop it into an airtight container or a food storage bag, and place in the fridge. It will keep for 3 to 5 days.
To reheat, place the desired portion in a covered skillet over low heat until warmed through. If the asparagus seems dry, you can add a tiny splash of water, broth, or olive oil as it heats.
Can I Freeze This?
Absolutely! Freshly-cooked asparagus is a great candidate for freezing, although like most veggies it will be slightly softer after freezing and thawing.
To freeze your asparagus, just cool them down and then pack them into freezer bags. Store in your freezer for up to 8 months.
Reheat directly from frozen, or thaw in the fridge first if you prefer.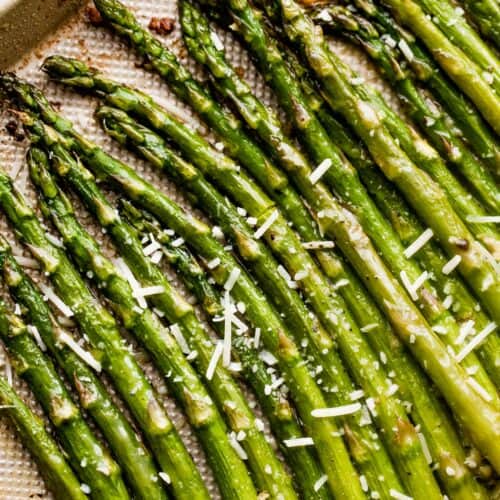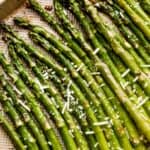 Print Recipe
Garlic Butter Roasted Asparagus
Savory, crisp, and buttery, this easy recipe for Garlic Butter Roasted Asparagus hits all the right notes! Make this as a side for your favorite main course, and enjoy the tenderness of fresh, caramelized asparagus.
Ingredients
1

pound

fresh asparagus spears,

ends trimmed and discarded

4

tablespoons

unsalted butter

4

cloves

garlic,

minced

¼

cup

chopped fresh parsley

½

teaspoon

salt,

or to taste

¼

teaspoon

fresh ground black pepper,

or to taste

freshly grated parmesan cheese,

for serving, optional
Instructions
Preheat oven to 400˚F.

Line a baking sheet with foil.

Snap off the ends of the asparagus and arrange the asparagus on the baking sheet, in one single layer; set aside.

Melt the butter in the microwave or in a skillet.

Stir the garlic and parsley into the melted butter; add salt and pepper.

Pour the garlic butter sauce over the asparagus, and toss the asparagus to coat.

Roast for 15 to 18 minutes, or until tender, but crisp. Cooking time will depend on the thickness of the asparagus spears. Start checking for doneness at around the 15 minute-mark.

Remove from oven.

Sprinkle with parmesan cheese.

Serve.
Nutrition
Calories:
132
kcal
|
Carbohydrates:
6
g
|
Protein:
3
g
|
Fat:
12
g
|
Saturated Fat:
7
g
|
Polyunsaturated Fat:
1
g
|
Monounsaturated Fat:
3
g
|
Trans Fat:
1
g
|
Cholesterol:
30
mg
|
Sodium:
302
mg
|
Potassium:
288
mg
|
Fiber:
3
g
|
Sugar:
2
g
|
Vitamin A:
1238
IU
|
Vitamin C:
9
mg
|
Calcium:
55
mg
|
Iron:
3
mg
More Easy Veggie Recipes