Rich with real pumpkin and fragrant pumpkin pie spice, these Sheet Pan Pumpkin Pancakes are an easy and super delicious no-fuss breakfast!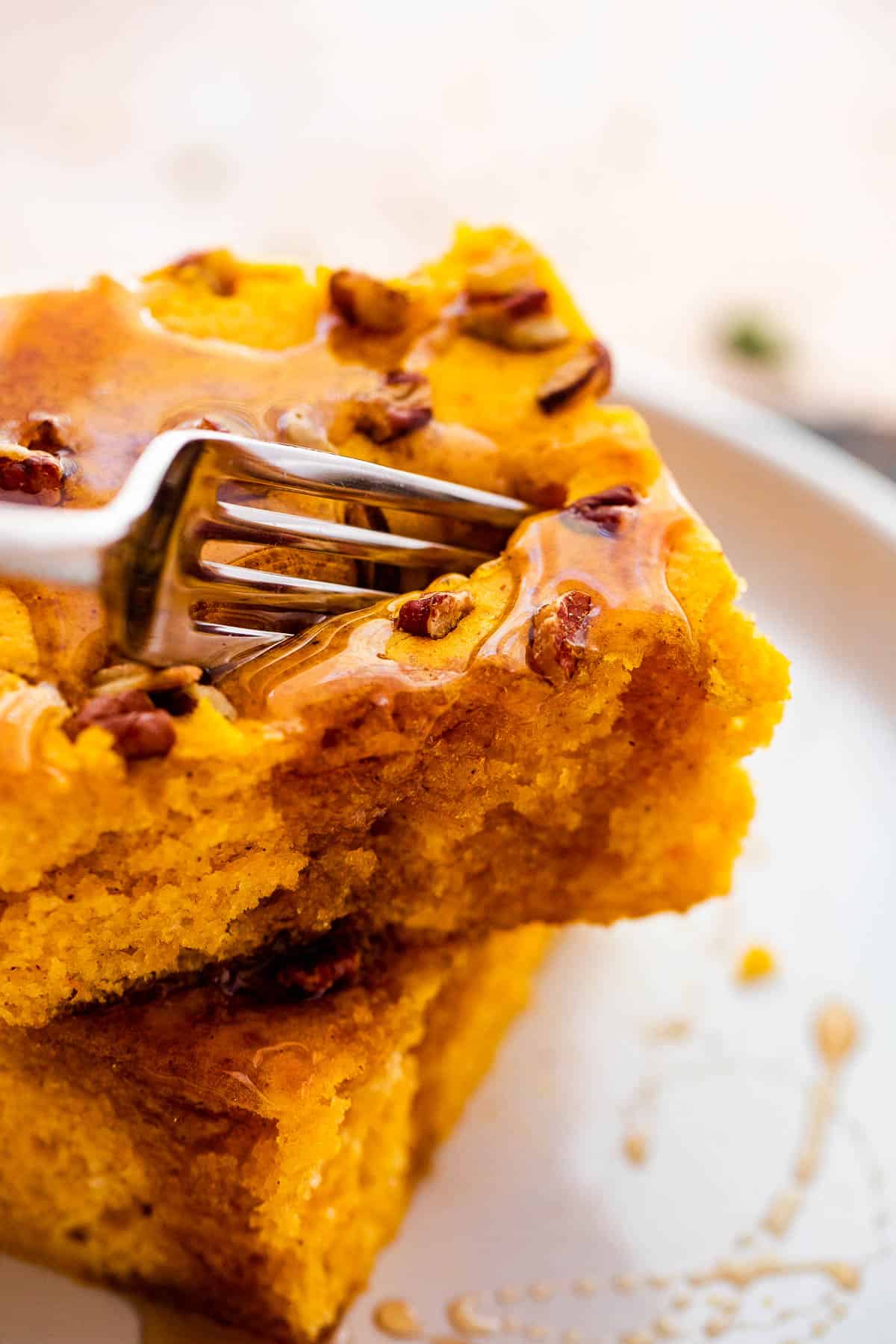 The Perfect Easy Fall Breakfast
Do you ever find yourself torn between whipping up a super special breakfast…and just making something easy? I think most of us can relate! Especially after a busy week.
That's why I love sheet pan pancakes! They're yummy and festive, the perfect weekend breakfast, but the oven does most of the work! Instead of flipping the individual pancakes, these bake up light and fluffy in a big sheet pan. You can have your (pan)cake and eat it, too!
But, wait, there's more! This recipe is extra special because it is loaded with seasonal pumpkin spice goodness. Say hello to Fall, everyone! Let's make it delicious!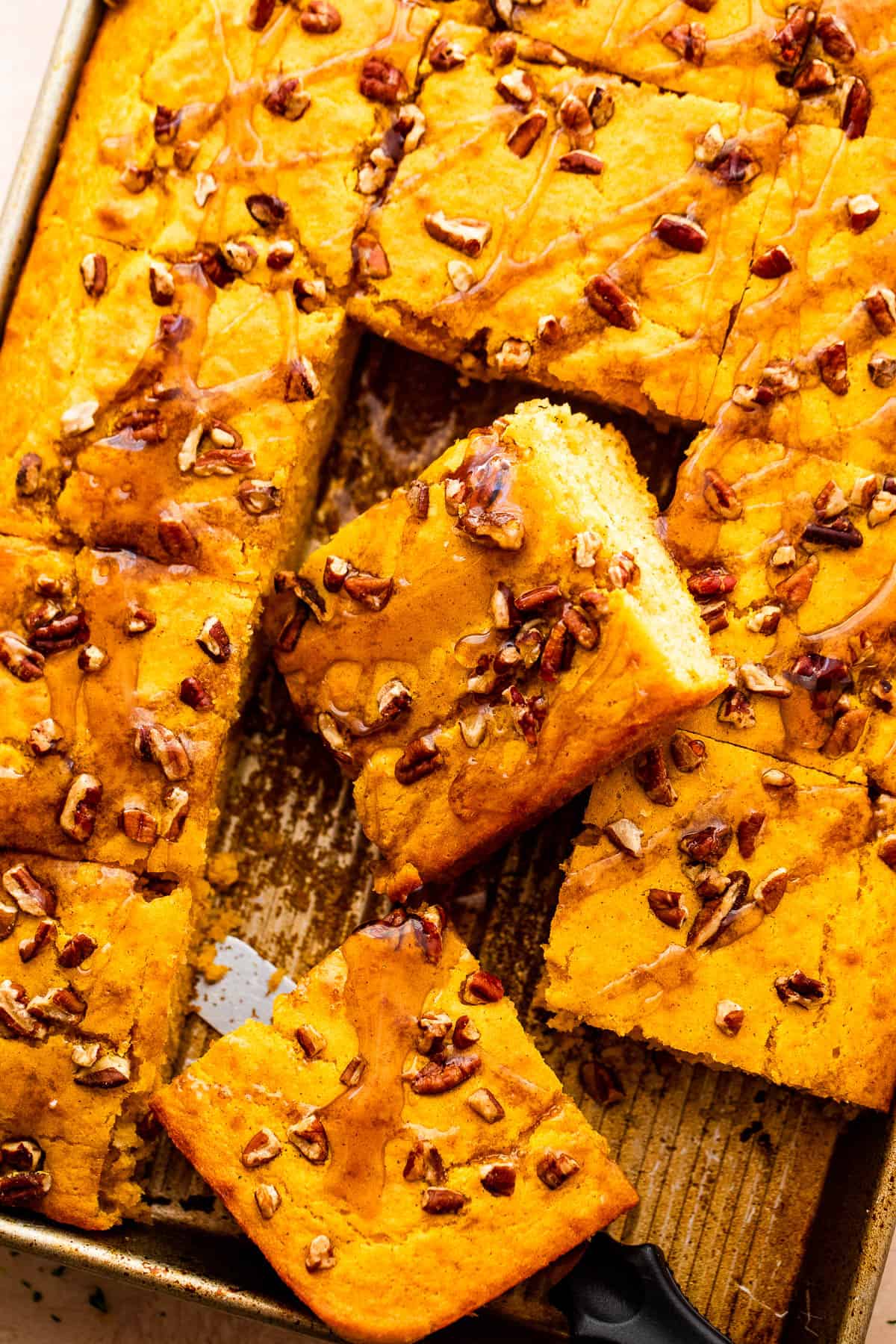 Recipe Ingredients
This is such an easy bake, and it is wholesome, too! I love using real, simple ingredients like pumpkin, pecans, and whole milk and butter to make something special for the fam.
Milk: You will need two cups of milk. Whole regular milk is great, but it is also fine to substitute non-dairy milk in this recipe. The texture and taste may vary slightly depending on what milk you choose.
Egg: This recipe uses one large whole egg.
Pumpkin: To give the sheet pan pancakes their pumpkin deliciousness, you will need ¾ cup of real pumpkin puree (not pumpkin pie filling, which has extra sugar and other ingredients added to it).
Sugar: I sweeten the pancakes with ¼ cup granulated sugar, but you could use maple syrup or honey if you prefer.
Butter: Four tablespoons of melted butter add a hint of richness, but not too much.
Vanilla: For the best flavor, use pure vanilla extract.
Flour: You will need 2 ¼ cups of all-purpose flour. If you would like to make these gluten-free, substitute your favorite gluten-free AP flour blend. Again, the texture and flavor may vary slightly.
Baking Powder and Baking Soda: These two leavening agents make the pancakes fluffy and light.
Pumpkin Pie Spice: Spice things up with a teaspoon of pumpkin pie spice. So good!
Salt
Pecans: If you would like a nutty crunch, you can add chopped pecans, too.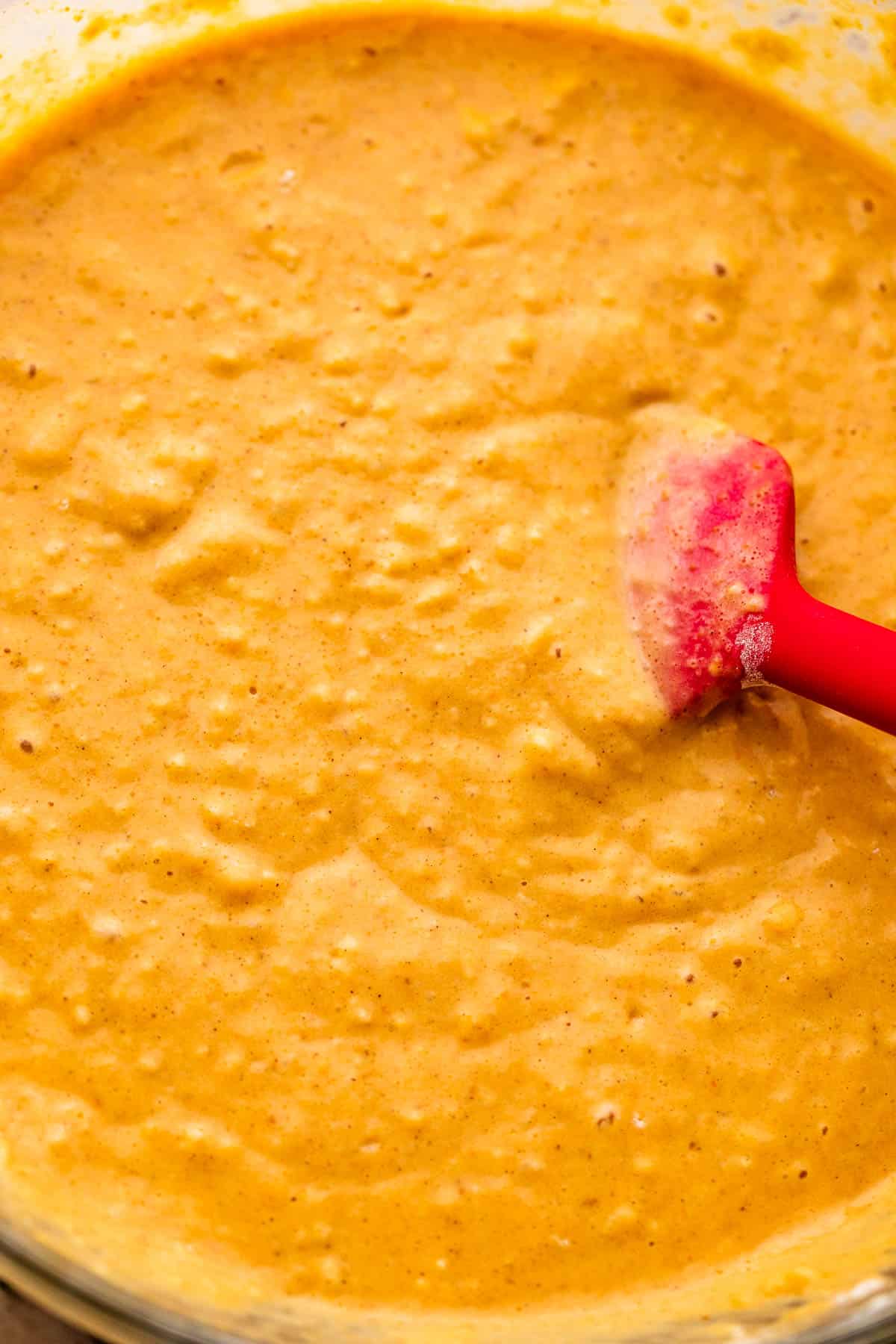 How to Make Sheet Pan Pumpkin Pancakes
To get this batter light and fluffy, be careful not to overmix the ingredients! It's important not to over-activate that gluten or it will make the pancakes chewy.
Prep the Oven and Sheet Pan. Preheat the oven to 450˚F, and then grease an 18×13 baking sheet with cooking spray. Set aside. (Note: If you want taller pancakes, you can use a 15×11 inch baking sheet!)
Combine the Liquid Ingredients. In a mixing bowl, whisk together your milk, the egg, the pumpkin, sugar, melted butter, and vanilla.
Combine the Dry Ingredients. In a different mixing bowl, combine the flour, baking powder, baking soda, pumpkin spice, and salt. Give these ingredients a quick whisk to combine.
Combine the Wet and Dry Ingredients. Add the flour mixture to the milk mixture, and fold until thoroughly combined.
Bake! Carefully pour the batter into the prepared baking sheet, and spread it out into an even layer. Top with pecans and bake for 14 to 18 minutes, or until the pancake is puffy and golden brown, and pulling away from the edges of the pan.
Enjoy! Remove the sheet pan pancakes from the oven, cool slightly, and then cut into squares and serve.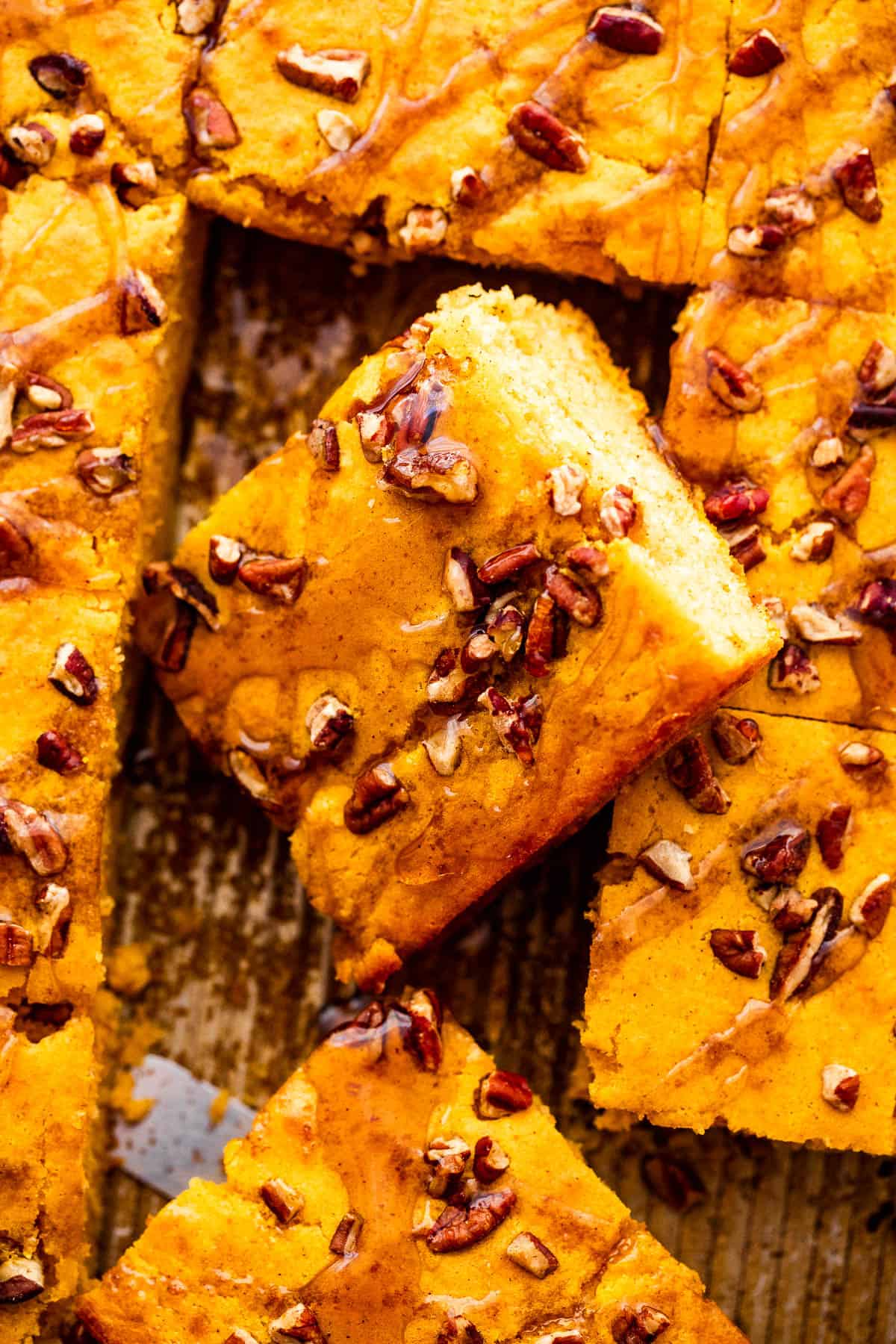 Variation Ideas
These simple tips can make this recipe one of your most versatile breakfast options! Awesome, right?
Add Chocolate: For an extra-decadent dish, sprinkle semisweet chocolate chips or white chocolate chips (or both) over the pancakes before baking.
Add Fruit: Try subbing half the pumpkin for applesauce or mashed banana! Yum!
Use Buttermilk: Substitute buttermilk for the milk to get a down-home taste that's out of this world.
Toss in Some Marshmallows: For a taste reminiscent not unlike sweet potato souffle, scatter marshmallows on the surface of the batter before baking. And hey, why not throw on some chopped nuts while you're at it? Perfection!
Sausage: Pre-cooked sausage crumbles take this breakfast to a whole new level!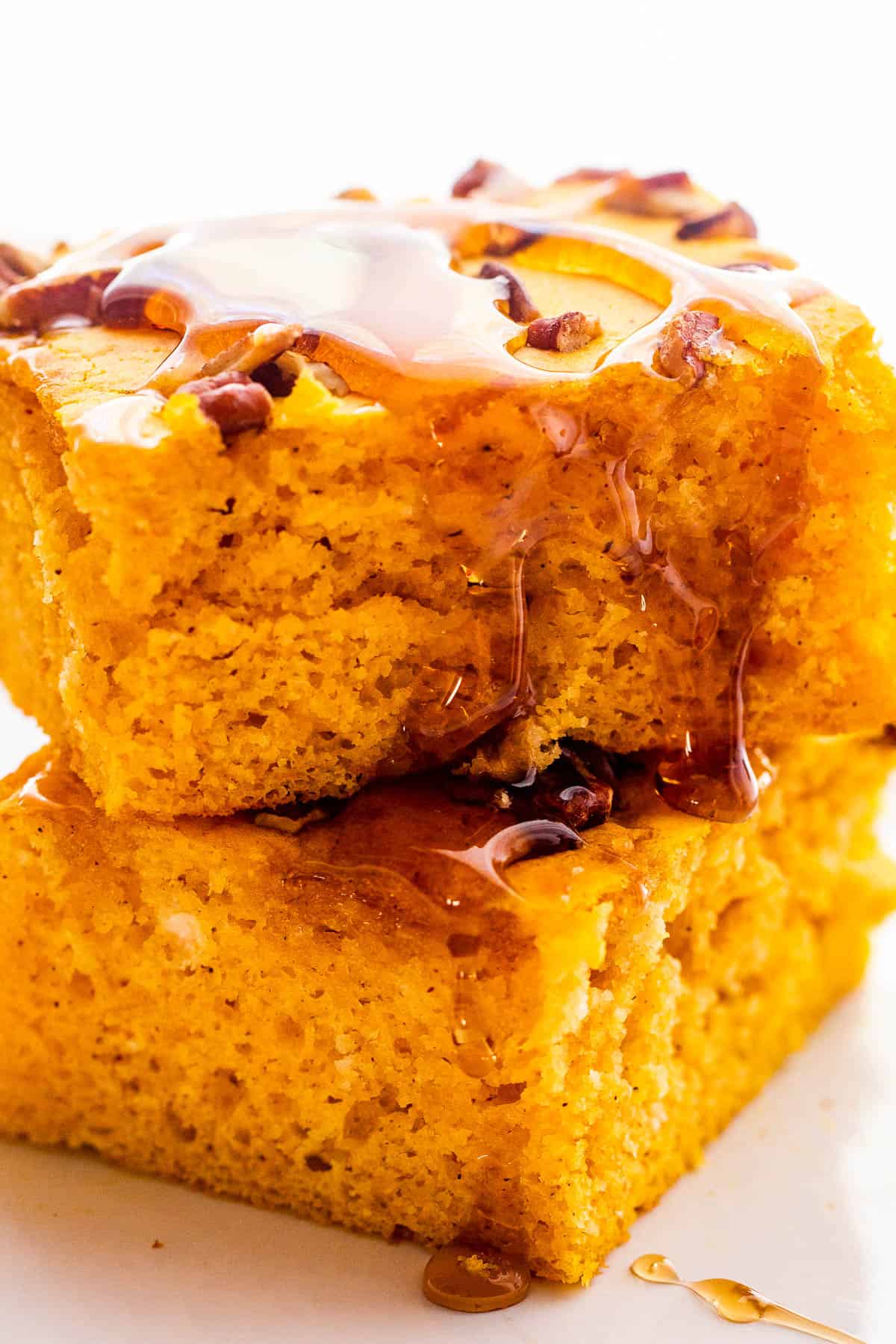 What to Serve with Sheet Pan Pumpkin Pancakes
If you want to make an extra dish or two to go with your pancakes, I've got you! Here are some great easy breakfast ideas to fill out that menu.
Quiche: This Quiche Lorraine with Bacon is made with bacon, eggs, shallots, and Swiss cheese. It's a scrumptious dish that's good anytime, and goes perfectly with a side of pumpkin pancakes!
Denver Omelette: My easy Denver Omelette is a savory breakfast idea that is also super easy. Win win! Make it a part of your breakfast menu, along with these fall-favorite pancakes.
Bacon: Forget standing and flipping—let the oven do the work! With this easy method for making Crispy Oven Baked Bacon, you get all the flavor and none of the mess.
How to Store and Reheat Leftovers
Store leftover pancakes packed into food storage bags or shallow, airtight containers.
Place a wide strip of parchment paper between the pancakes and zigzag it back and forth as you add pancakes to the stack.
They will keep in the fridge for 3 days.
To reheat, bake the pancakes at 350˚F for five to ten minutes, until heated through.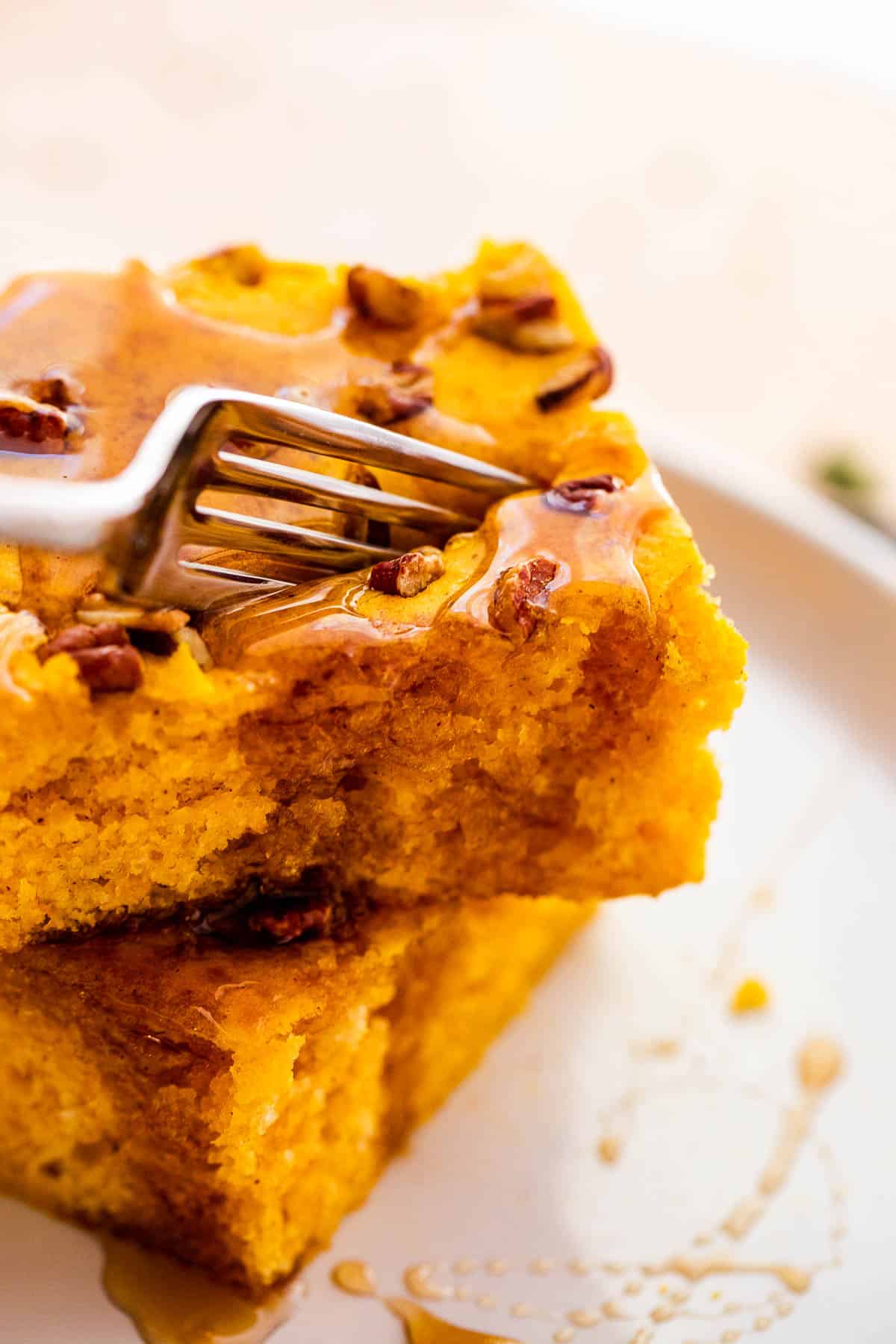 Can I Freeze Pumpkin Pancakes?
Definitely! Just cut the pancake into squares and place in a single layer on a clean tray or baking sheet.
Freeze for about half an hour, until frozen solid.
Then stack the pancakes with a wide strip of parchment zigzagged between them, to keep them from sticking together.
Pack into freezer bags and store in the freezer for up to one month.
Reheat directly from frozen.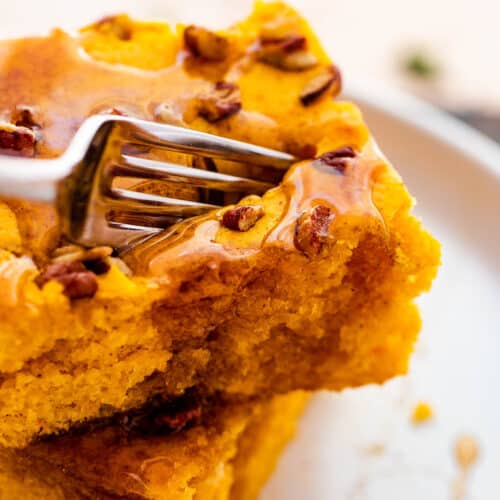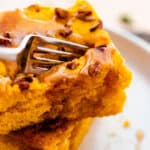 Print Recipe
Sheet Pan Pumpkin Pancakes
Rich with real pumpkin, and fragrant with pumpkin spice, these easy sheet pan pancakes are the perfect Autumn breakfast!
Instructions
Preheat oven to 450˚F.

Generously grease an 18×13 baking sheet with cooking spray and set aside. For taller pancakes, use a 15×11 baking sheet.

In a mixing bowl, whisk together milk, egg, pumpkin, sugar, butter, and vanilla; set aside.

In a separate mixing bowl, combine flour, baking powder, baking soda, pumpkin spice, and salt; whisk until well combined.

Add the flour mixture to the milk mixture and, using a rubber spatula, fold the mixture until thoroughly incorporated. Do not overmix.

Transfer batter to previously prepared baking sheet and spread it out into an even layer. Top with pecans.

Bake for 14 to 18 minutes, or until pancake is puffed up, top is golden brown, and pulls away from the edges of the pan.

Remove from oven and allow to cool slightly; about 10 minutes.

Cut into squares, and serve with maple syrup.
Nutrition
Calories:
161
kcal
|
Carbohydrates:
20
g
|
Protein:
4
g
|
Fat:
8
g
|
Saturated Fat:
3
g
|
Polyunsaturated Fat:
1
g
|
Monounsaturated Fat:
3
g
|
Trans Fat:
1
g
|
Cholesterol:
22
mg
|
Sodium:
203
mg
|
Potassium:
108
mg
|
Fiber:
1
g
|
Sugar:
5
g
|
Vitamin A:
1944
IU
|
Vitamin C:
1
mg
|
Calcium:
76
mg
|
Iron:
1
mg
More Cozy Breakfast Recipes