Simple tilapia fillets get a zesty Parmesan breading in this quick recipe for Air Fryer Parmesan Crusted Tilapia! It's a family-friendly, weeknight-friendly meal that's so delicious, and sure to please.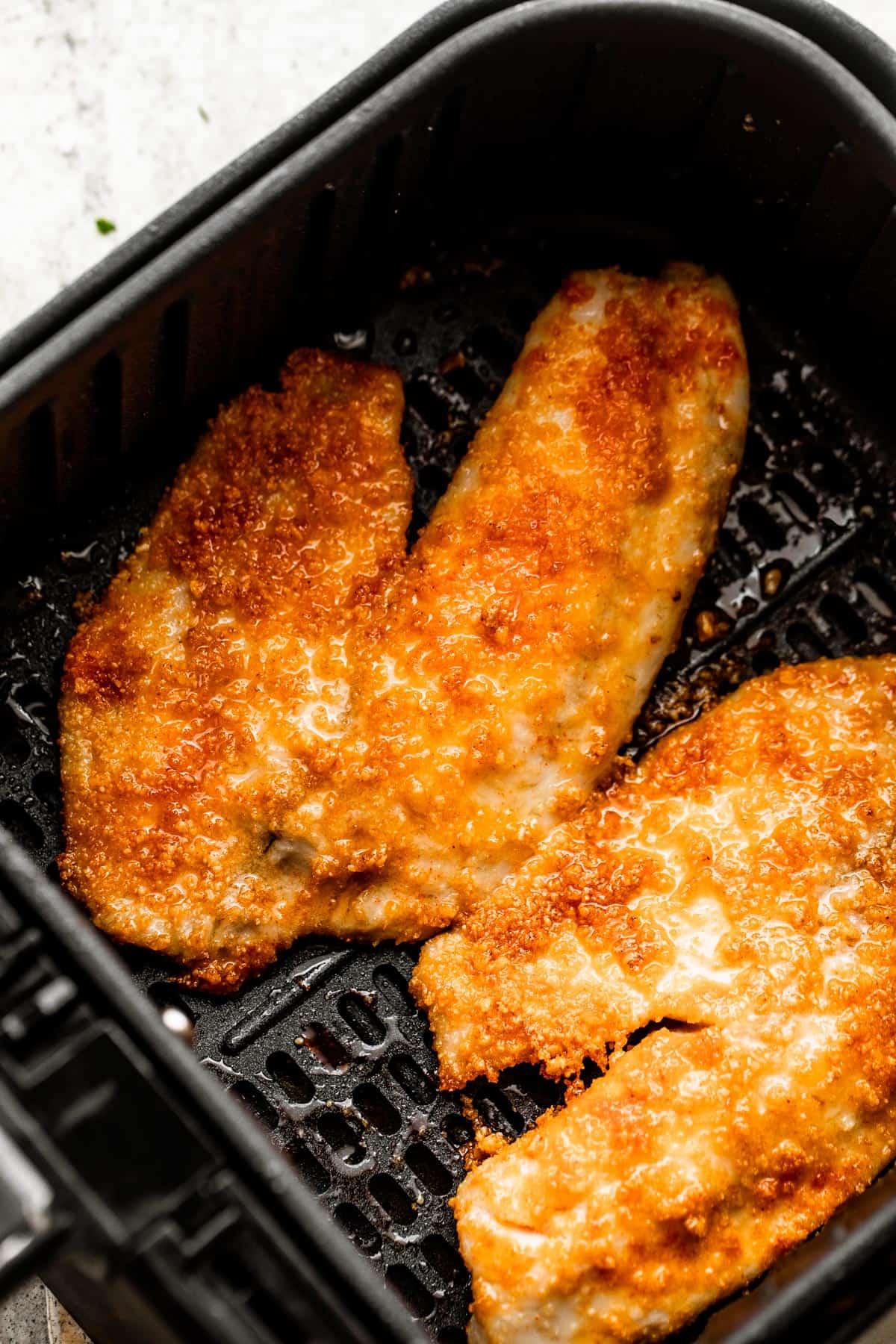 Flavorful Air-Fryer Tilapia with a Crunchy Parmesan Crust
A lot of cooks want to serve more seafood than they do, but sometimes it just seems easier to stick with chicken or beef, if you aren't familiar with cooking fish or shellfish.
If that's you, then you have to try this super-simple Air Fryer Tilapia recipe! It's guaranteed to turn out perfectly crispy and well-seasoned, with minimal effort and hardly any time involved. Plus, you get that satisfying "fried" taste, without all the oil (and hassle). It's perfection!
You can make this recipe anytime. I tend to think of it as a dinner recipe, but in all honesty, it's so quick that it makes a great lunch, as well. Say goodbye to store-bought fishsticks, and hello to your new favorite way of serving seafood.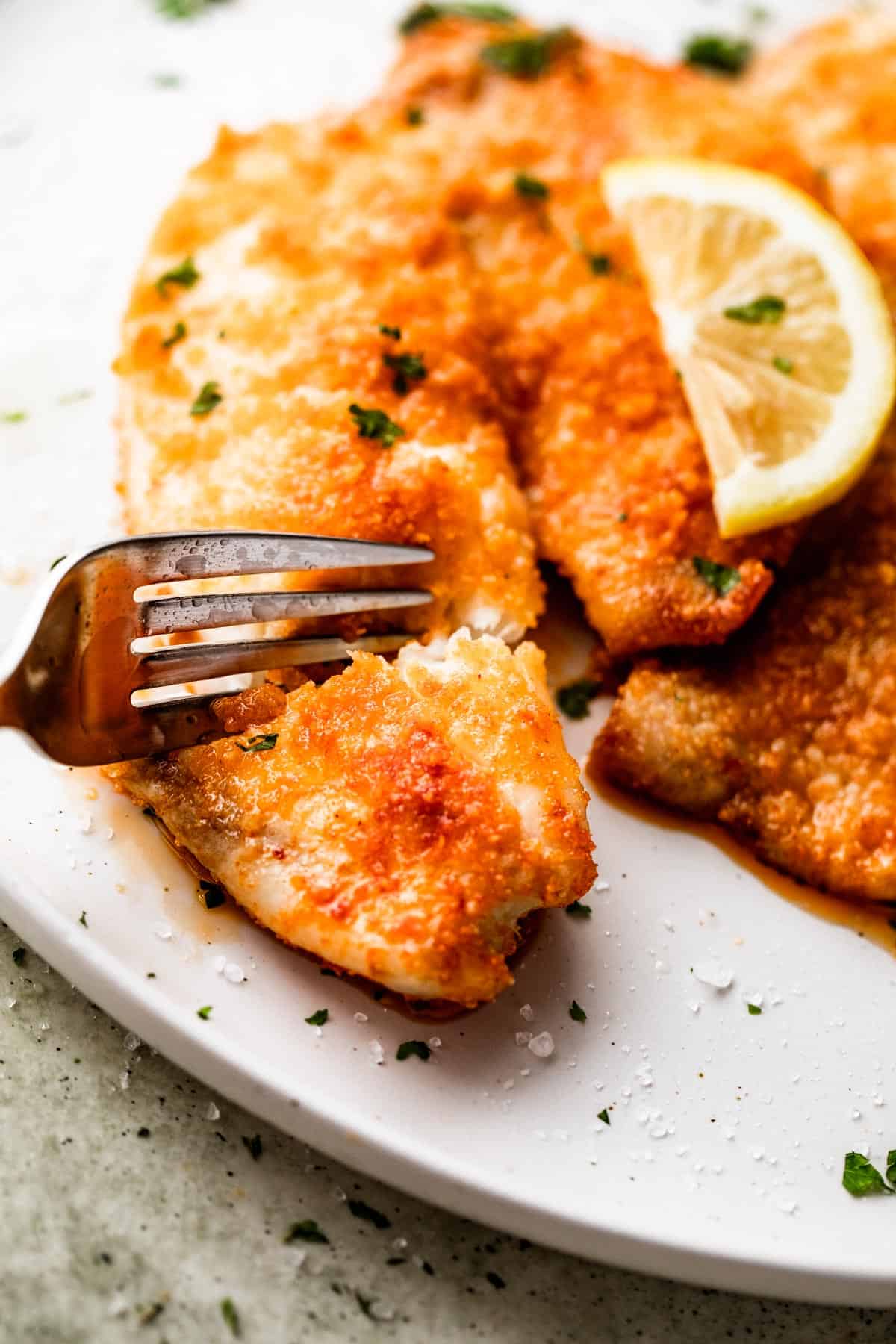 The List of Ingredients
Seriously, this recipe is such a payoff in terms of flavor, and you don't have to "invest" a ton of fancy ingredients or time into it! I call that a major win. 🏆 Here are the simple ingredients you will need to make your own air-fried tilapia with a crispy Parmesan crust:
Tilapia Filets: This recipe serves four. Fresh or frozen tilapia is fine. Thaw the tilapia before cooking.
Panko: You can use the pork rind panko for a low carb option, or just go with regular panko crumbs.
Parmesan: Freshly-grated parmesan has the boldest taste, but pre-shredded or grated is fine, too.
Spices: Paprika, garlic powder, onion powder, salt, and pepper add plenty of flavor to the fish.
Cooking Spray: Non-aerosol cooking spray is best.
Parsley: Optionally, chop up some fresh parsley for garnish.
Lemon Slices: Also optional, for serving.
What to Use Instead of Tilapia
If you don't have tilapia or prefer to use another type of fish, try catfish, bream, red snapper, flounder, or any relatively firm white fish. This recipe is very flexible!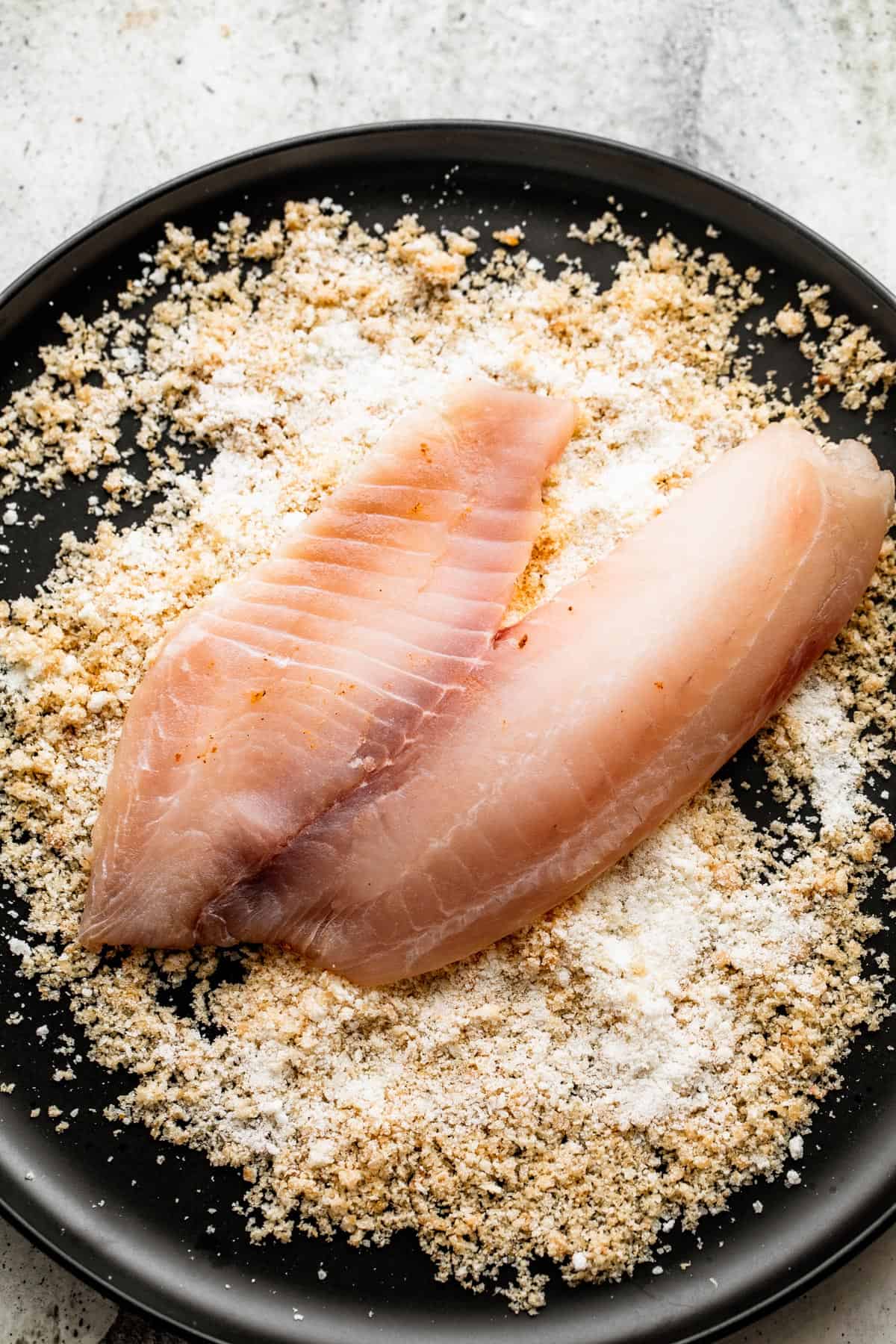 How to Make Tilapia in the Air Fryer
Making air-fryer tilapia is so simple, but most of all, it's easy and quick! If you're making sides to go with it, I recommend getting started on those first, because once the fish is in the air fryer, you only need 5-ish minutes to cook it.
Prep the Air Fryer, Tilapia Filets, and Parmesan Mixture. First off, preheat the Air Fryer to 350˚F. While it preheats, pat your filets dry with clean paper towels, and make the Parmesan crust mixture by mixing together all of the crust ingredients in a small bowl (that's the crumbs, parmesan, garlic powder, onion powder, salt and pepper).
Bread the Fish Filets. To bread the filets, start by spraying the filets lightly with cooking spray. This will help the crust mixture stick. Dip the filets one by one into the crust mixture, and gently press the crust into the filets with your fingers to help it stay on.
Place the Tilapia in the Air Fryer Basket. Arrange 2 tilapia filets in a single layer inside the air fryer basket, or however many will fit without crowding. It's important not to crowd the basket, because if you do, the fish will steam rather than fry. If you can't cook all the filets at once, cook them in batches.
Air-Fry the Fish. Cook for 5 to 6 minutes, or until each piece is golden brown. The fish is done when the internal temperature registers at 145˚F. Remove the fish from the air fryer and continue to cook the rest.
Enjoy! Once all the filets are cooked, garnish them with parsley, and serve with lemon slices.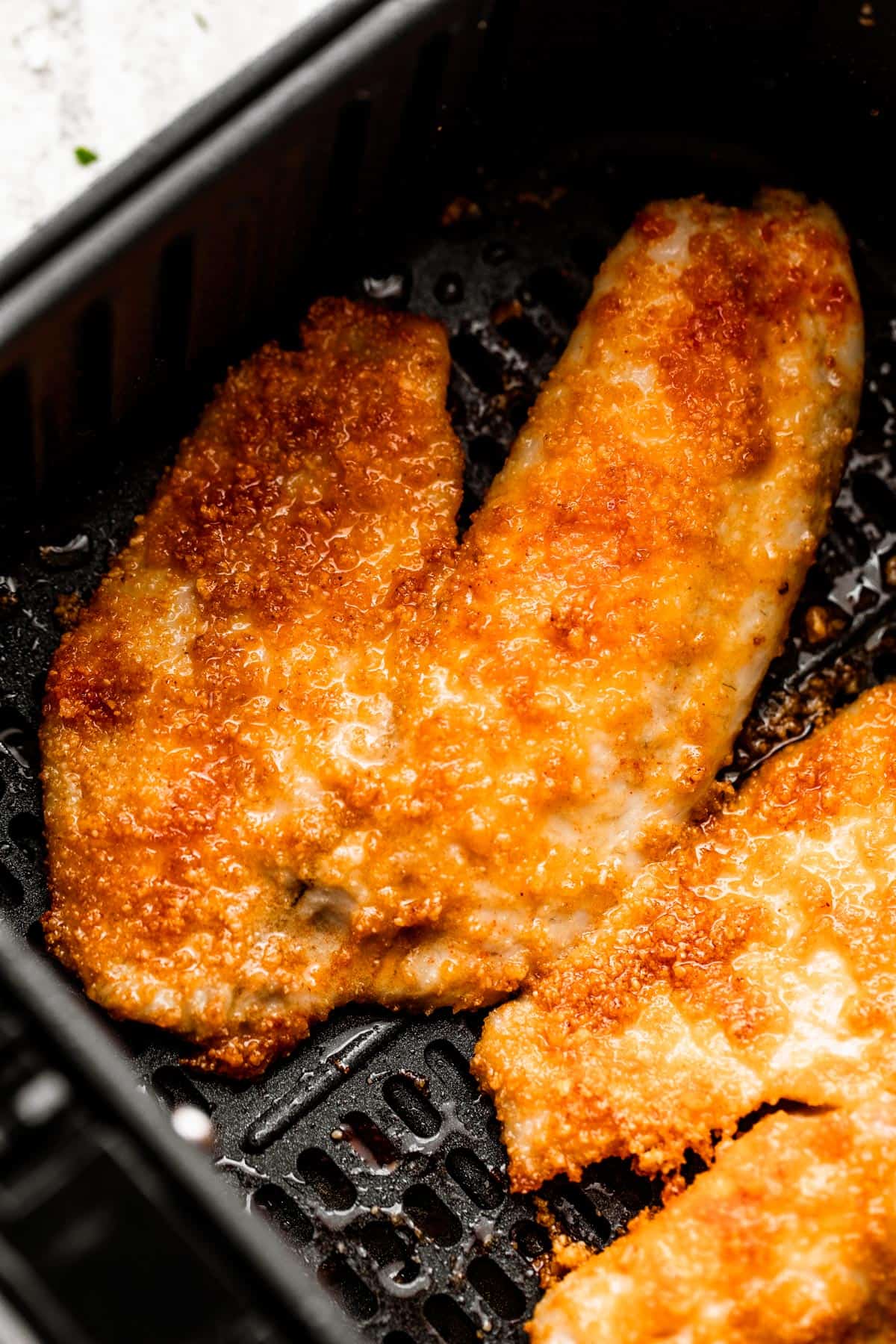 Can You Put Frozen Tilapia in an Air Fryer?
Actually, yes! That's another amazing thing about air-frying fish filets: they cook up very well straight from your freezer. If you use frozen filets, they will need to cook for around 10 minutes. Fresh filets will only need about half that time.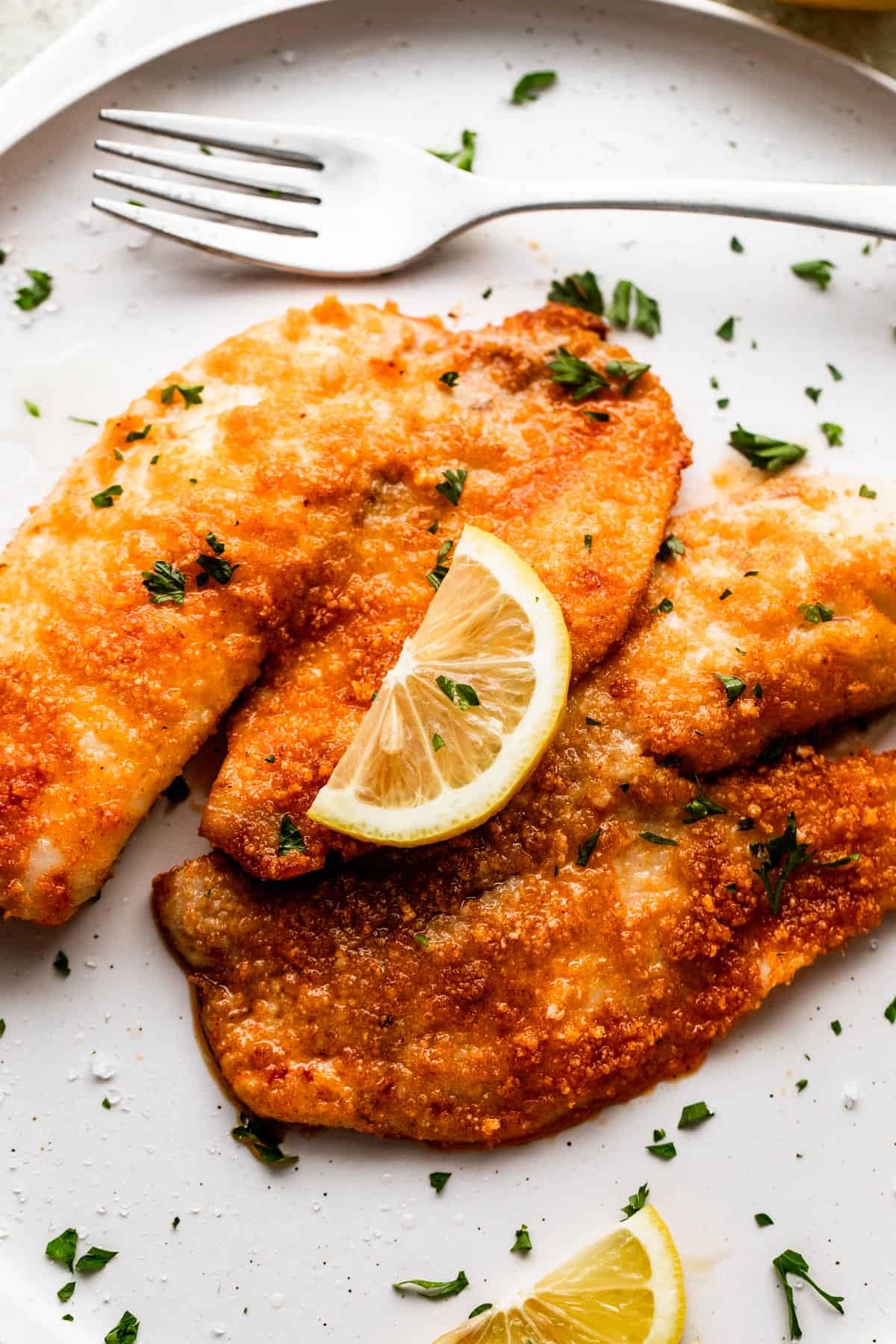 Helpful Hints and Yummy Variations
Want to know more about air-frying your own tilapia? Great! These helpful tips will ensure that your dinner turns out picture-perfect.
Thaw Just a Little: If you're using frozen filets, I recommend letting them sit at room temperature just for a few minutes, while the air fryer preheats. Pat dry, bread, and go! The tiny bit of thawing time, plus patting dry, will help the breading stick to the fish. If your fish are encased in ice glaze, use cool running water to melt it away. Then let the fish thaw for a few minutes, pat dry, and proceed.
Don't Crowd the Air Fryer: While it might be tempting to load up the air fryer basket, the fish won't cook evenly if you do. It's best to leave a little room around each filet, so that the air can circulate and crisp up every piece. If your air fryer can't hold all of the fish comfortably, you should cook it in batches.
Avoid Aerosol: Food that is being air fried doesn't need much oil, but it does need a little bit. When food that has been lightly spritzed with oil goes into the air fryer, the hot air causes the oil to sizzle, creating a crispy "fried" effect. However, make sure not to use aerosol-powered oil sprays. The chemicals in the aerosol can damage your air fryer's finish over time.
Season It Your Way: The seasoning blend in this recipe can easily be replaced with your favorite pre-mixed seasoning, such as Old Bay or any all-purpose seafood seasoning.
Heat Things Up: If you'd like a spicy kick, try adding a pinch of cayenne pepper or a few crushed red pepper flakes to the dredging mixture.
Serving Suggestions
To serve, I recommend making an easy veggie side or two, and maybe serving rolls or bread on the side as well. Here are a few fantastic side dishes for seafood dinners:
Roasted Snap Peas: This beautiful recipe for Roasted Sugar Snap Peas with red onions is colorful, flavorful, and full of nutrition! Once you try them, you'll want to make them again and again.
Cucumber Salad: Easy and light, Cucumber Salad with Sour Cream Dressing is a simple side that goes with everything. You'll love the contrast of crisp, cool cucumbers, creamy dressing, and warm, crispy tilapia.
Pull-Apart Bread: No one can resist this simple, cheesy bread! Cheesy Garlic Pull-Apart Bread is made with a store-bought loaf, plenty of butter, fresh garlic, and cheese. Seriously, it's magical.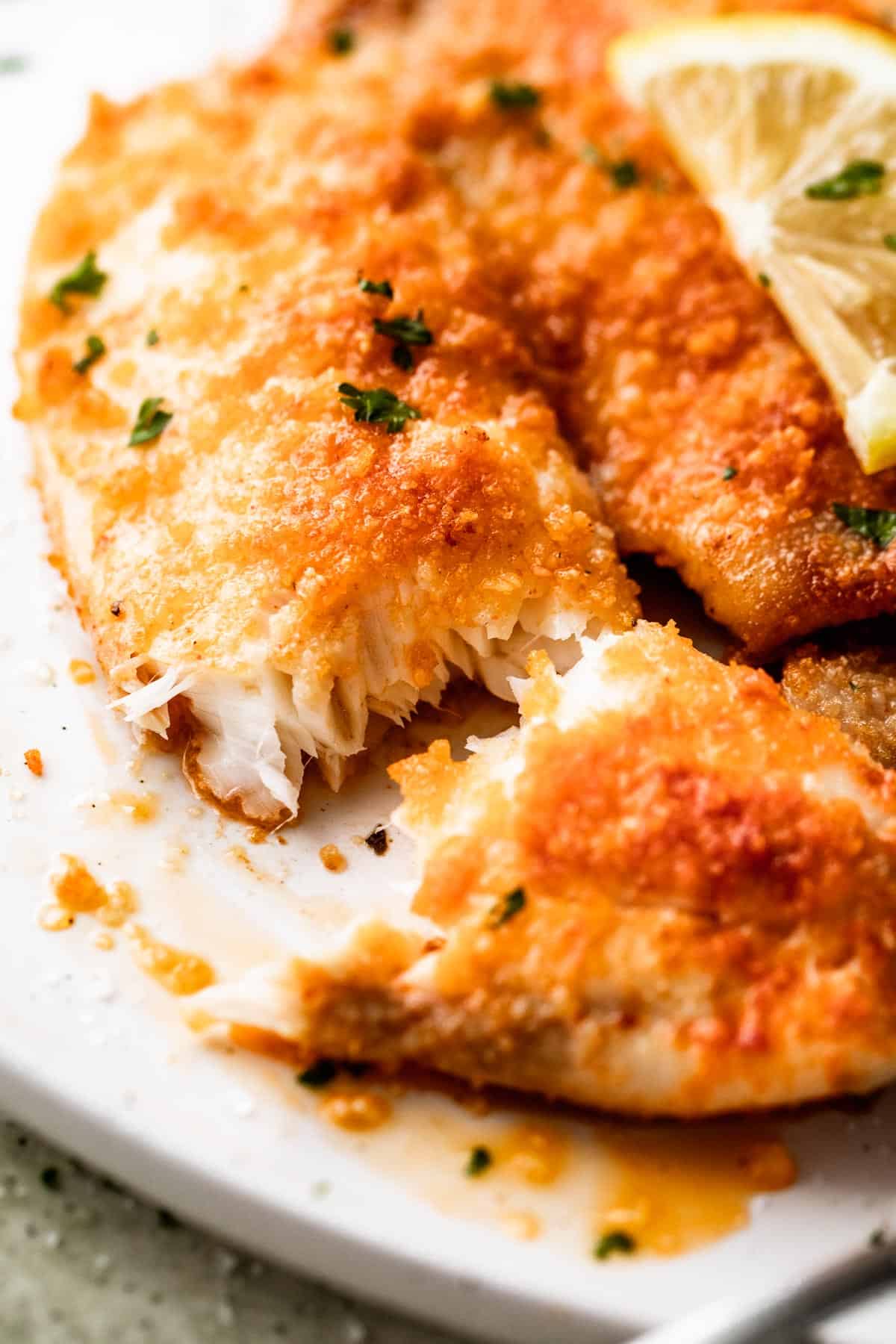 How to Store and Reheat Your Leftovers
Store leftovers in an airtight container and keep refrigerated for up to 2 days.
To reheat, place the fish in a preheated 350°F oven or air fryer. If you're using a regular oven, you can reheat it on a wire rack over a baking sheet, or directly on the baking sheet itself – your call. It will take about 6 to 8 minutes or so in a regular oven, and couple minutes in an air fryer.
Can I Freeze Air-Fried Tilapia?
Yes, you can! Just cool it to room temperature (don't leave it out for more than two hours, though) and then place it in freezer bags, or in a shallow, airtight container.
Freeze for up to one month.
Reheat directly from frozen.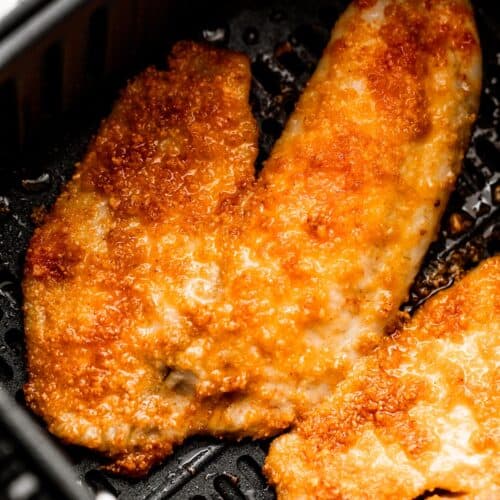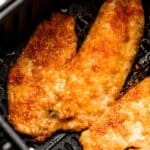 Print Recipe
Air Fryer Parmesan Crusted Tilapia
Simple tilapia filets get an ultra-zesty Parmesan breading in this quick recipe for Air Fryer Parmesan Crusted Tilapia!
Instructions
Preheat the air fryer to 350˚F.

Pat dry the tilapias with paper towels.

In a shallow dish combine the crumbs, grated parmesan, garlic powder, onion powder, salt and pepper; mix until thoroughly incorporated.

Spray the filets with cooking spray; dredge in the cheese and crumb mixture, pressing it in with your fingers to adhere.

Arrange 2 tilapia filets in a single layer inside the air fryer basket; do not crowd the basket because it will steam the fish rather than fry.

Cook for 5 to 6 minutes, or until golden brown and internal temperature registers at 145˚F.

Remove fish from air fryer and continue to cook the rest.

Garnish with parsley and serve with lemon slices.
Nutrition
Calories:
249
kcal
|
Carbohydrates:
8
g
|
Protein:
39
g
|
Fat:
7
g
|
Saturated Fat:
3
g
|
Polyunsaturated Fat:
1
g
|
Monounsaturated Fat:
2
g
|
Cholesterol:
96
mg
|
Sodium:
653
mg
|
Potassium:
565
mg
|
Fiber:
1
g
|
Sugar:
1
g
|
Vitamin A:
232
IU
|
Vitamin C:
1
mg
|
Calcium:
144
mg
|
Iron:
1
mg
More Easy Seafood Recipes