This easy recipe for Blackened Balsamic Tuna Steaks has it all! Spicy Cajun blackened seasoning and a sweet-sour balsamic vinaigrette give it tons of flavor, and the prep and cooking couldn't be easier.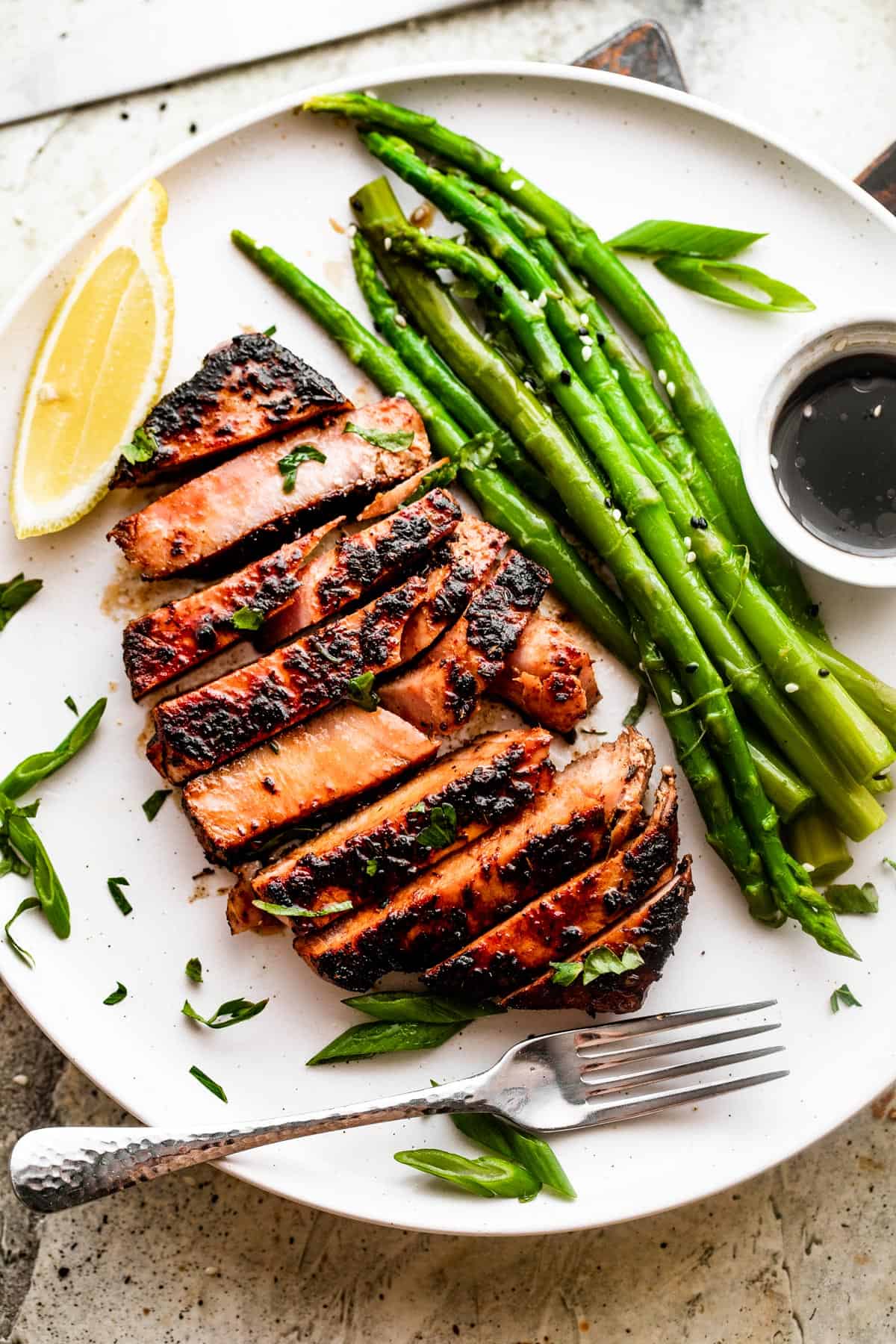 A Flavor-Packed Recipe for Tuna Steaks
Seafood is a big deal for my family – everyone is always happy when shrimp, salmon, or tilapia is on the menu (and that's just for starters). But no doubt, one of my favorite seafood dinners is this upscale blackened balsamic ahi tuna steak recipe. 🍴
All you have to do is marinate the tuna for a few minutes in a super-simple marinade, dip it in blackened seasoning, and sear it on all sides. The result? Meltingly tender, flavorful tuna with a savory blackened crust. DEEE-LISH!
This recipe is perfect for warmer weather, so you'll want to make it all summer long! With the lightning-quick cooking time and ultra-easy prep, it's a quick low carb dinner option that feels like you went to a fancy restaurant. AND, there's virtually no cleanup.
Use this tuna as a main course, or add it to salads, tacos, and other recipes for an unbelievably flavorful protein.
We're really digging our blackened tuna recipe because it is easy to make with spices you have on hand in the pantry, it's ready in mere minutes, and it is very versatile. You'll find us using this recipe to add protein to salads or to make easy blackened tuna tacos.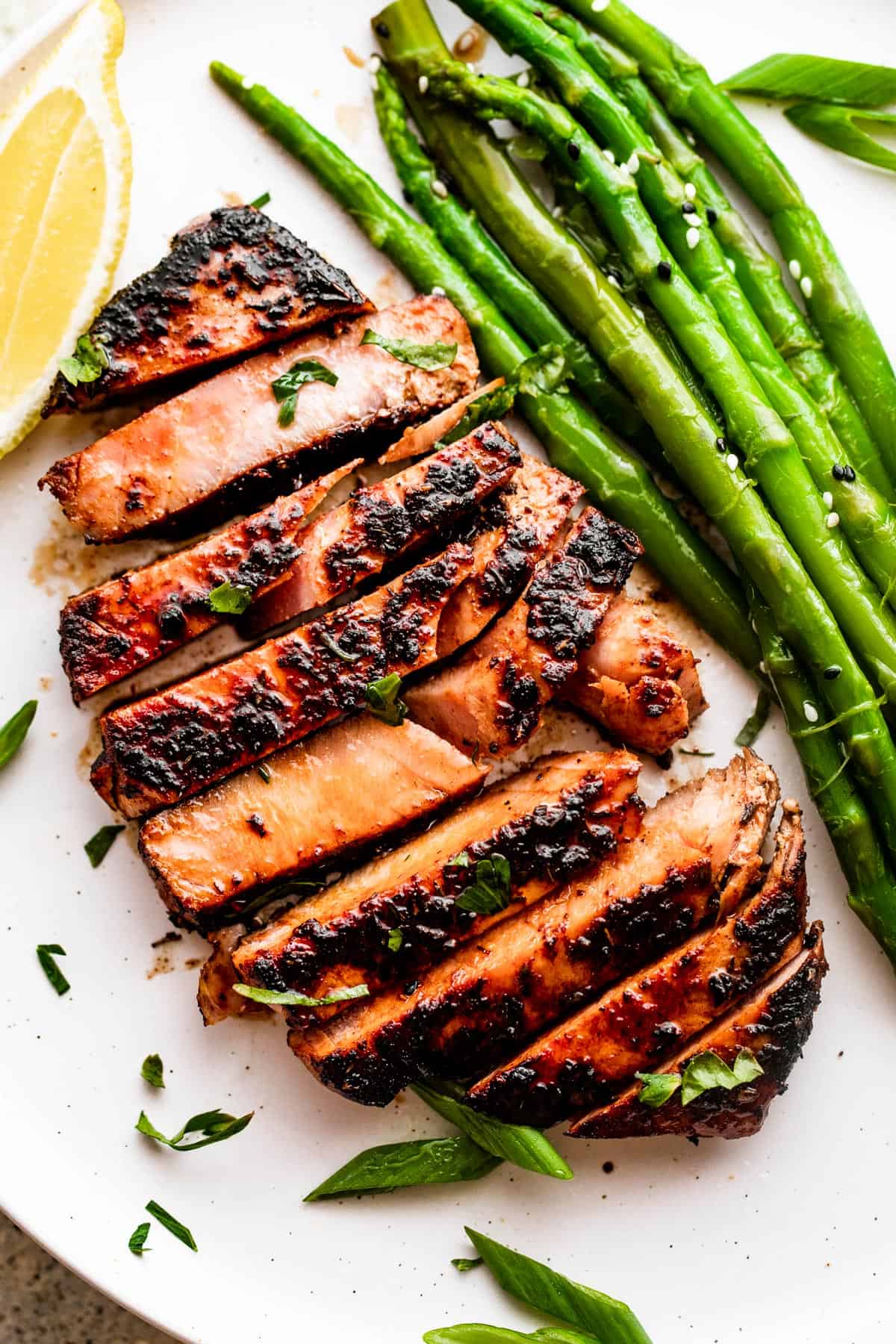 Is Tuna Steak Hard to Cook?
Many people wonder if tuna is unusually hard to cook, and the answer is definitely not! The reason that it turns out poorly usually involves overcooking the tuna in some way – which can be easy to do if you aren't aware of how differently tuna responds to heat.
Unlike beef, chicken, and even some other fish, tuna is easy to overcook. Once it overcooks, it can be dry, rubbery, and have a strong smell. To avoid this, make sure that you only cook it for the recommended amount of time – even a minute or two longer can ruin your tuna!
Ingredients
To make this particular tuna steak recipe, you'll need blackened seasoning and a balsamic marinade. While you can buy either or both of those in stores, they're even better when you make your own! Here are the ingredients you'll need for the tuna, marinade, and seasoning blend.
For the Tuna Steaks
Tuna: This recipe makes two tuna steaks. I like fresh ahi tuna, but you could also use frozen sushi grade tuna, thawed.
Oil: You will need a high-heat oil, such as vegetable oil, for searing.
For the Marinade
Vinegar: Balsamic vinegar has a unique tangy flavor with a distinctively dark, sweet-sour notes. It makes amazing dressings and marinades, and goes beautifully with tuna!
Olive Oil: Extra-virgin olive oil has the most flavor, but any olive oil that you like will do.
Honey: To balance the vinegar.
Salt
For the Blackened Seasoning
Paprika: Sweet paprika is fine, or you could substitute smoked paprika for an extra smoky taste.
Cayenne Pepper: This gives the tuna a little spicy kick. For a milder seasoning blend, feel free to reduce or omit the cayenne.
Garlic Powder: An easy ingredient for adding intense, savory flavor to just about anything.
Thyme and Oregano: These give the seasoning that classic earthy taste that goes so well in blackened dishes.
Salt and Pepper
What Is the Best Oil to Sear Tuna?
This is a common question – and like most questions involving food, the ultimate guide is your taste! However, in general, it's important to use a neutral, high-heat oil when you're searing tuna. That way, the flavors in your seasoning and in the tuna itself can shine through, without the oil overcooking or tasting "off" due to the high heat. Canola oil and Vegetable oil work well for this.
Use your expensive, flavorful oils like extra virgin olive oil and sesame oil, for sauces and drizzling.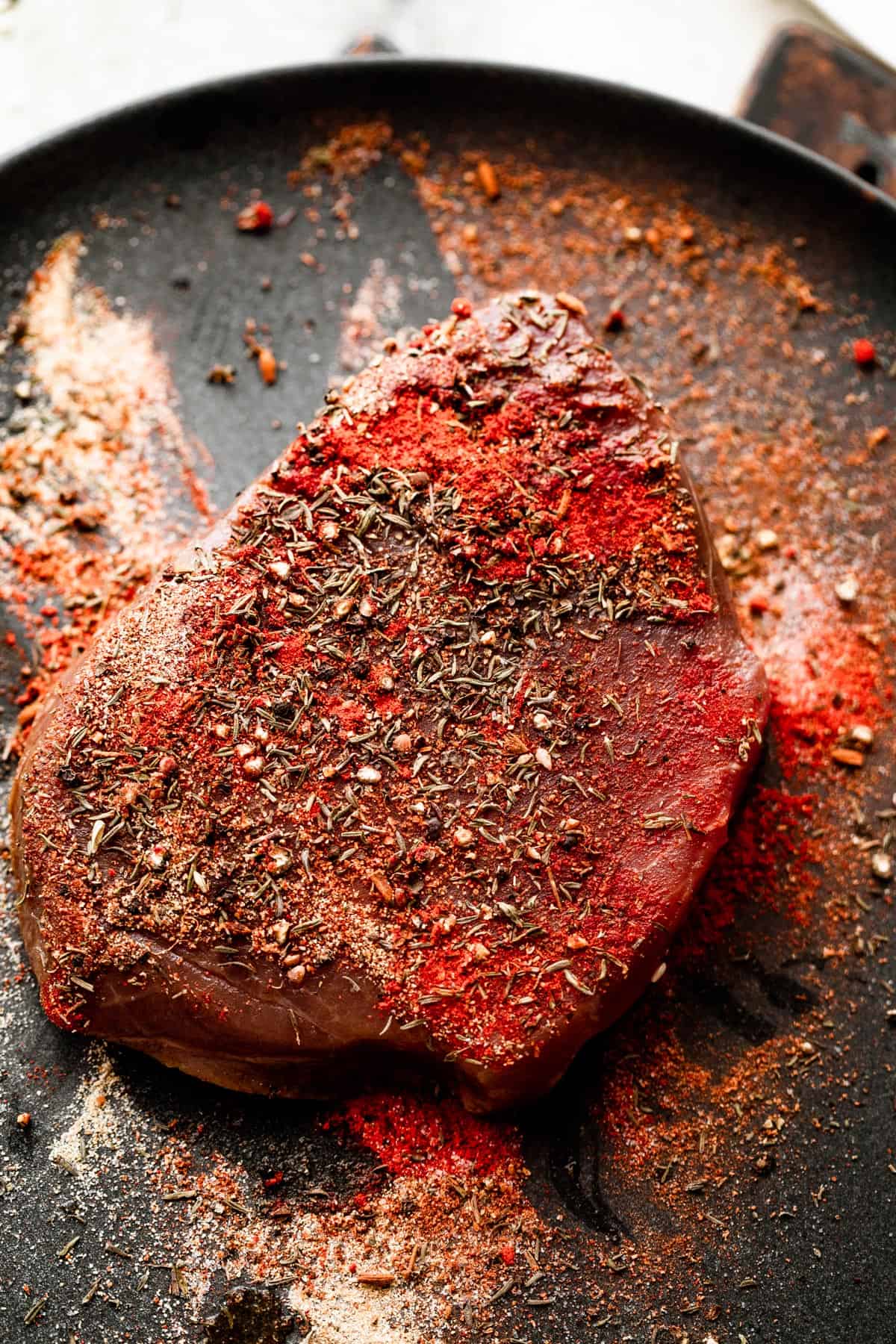 Let's Make Tuna Steaks!
Since this recipe takes such a short time to cook, it's best to have your sides prepared in advance. Once the tuna hits the pan, you've only got a minute or two until dinnertime!
Marinate the Tuna Steaks. To begin, pat dry the tuna steaks with paper towels. Place them in a large plastic zip-top bag, and then whisk together the marinade ingredients (balsamic vinegar, olive oil, honey, and salt) in a separate bowl. Set half of this aside, and pour the rest into the zip-top bag with the tuna. Seal the bag and massage the liquid around to coat the tuna steaks. Marinate for 10 minutes.
Make the Blackened Seasoning, and Season the Tuna. While the tuna is marinating, combine the blackened seasoning ingredients (paprika, cayenne pepper, garlic powder, thyme, oregano, salt, and pepper) in a small bowl. Mix well. When the tuna is done marinating, take the steaks out of the bag, lightly pat dry again, and season with the seasoning mix. Press down on the spices to help them adhere to the tuna.
Sear the Tuna Steaks. Heat a dry cast-iron skillet over medium-high heat, until it is smoking hot. Carefully add 2 tablespoons vegetable oil to the hot skillet, and then place the tuna steaks in the pan. They should immediately begin to sear. Cook for about 2 minutes per side, for medium-rare.
Rest, Slice, and Serve. Once the steak is seared, place the tuna steaks on a clean cutting board to rest for 3 minutes before slicing. Serve the sliced tuna steaks with the reserved sauce.
Enjoy!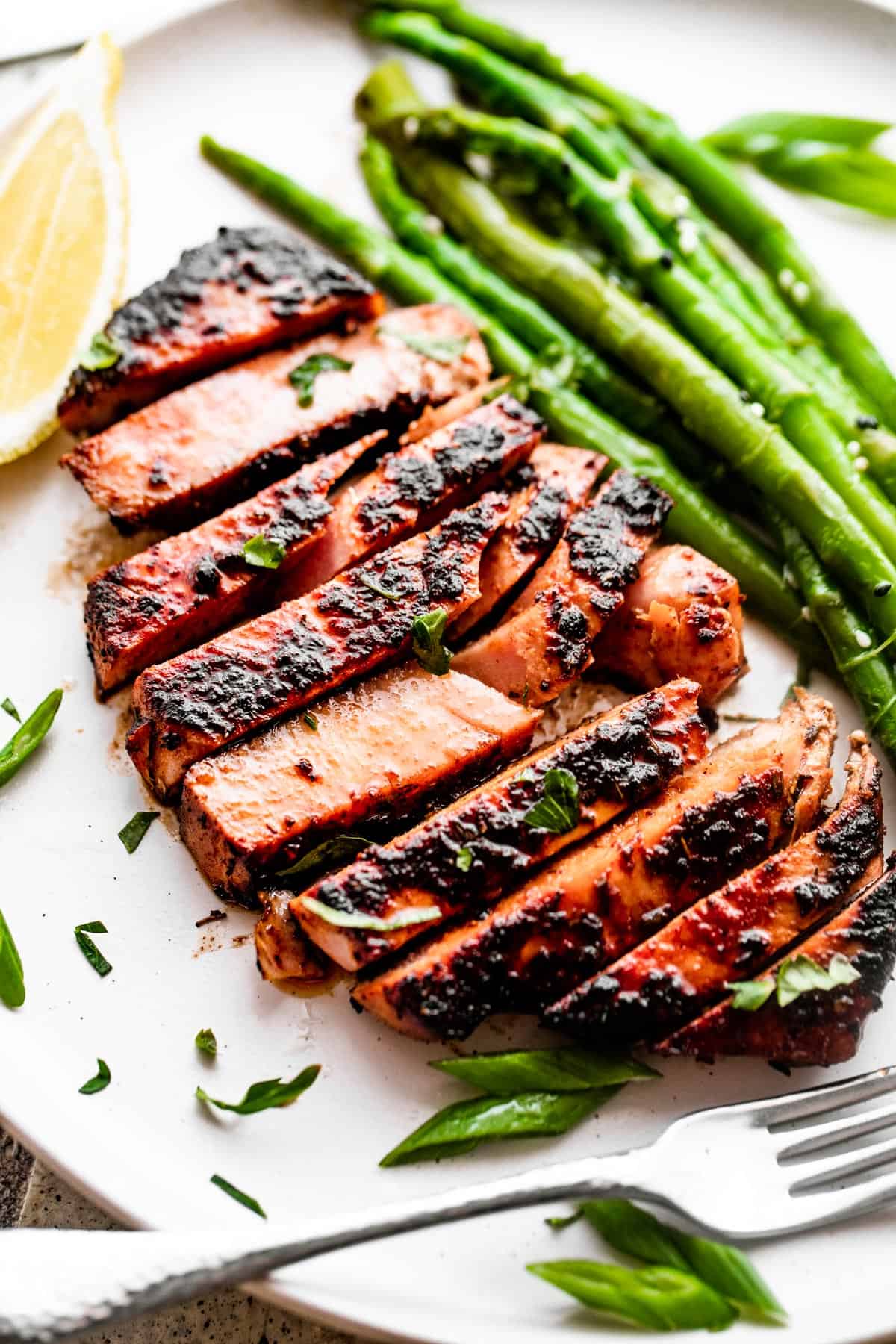 Does Ahi Tuna Steak Need to Be Cooked Through?
Sushi grade tuna, such as Ahi Tuna, is generally not cooked through in the sense of being well-done; it is almost always served medium-rare. The searing should cause the outer ⅛ inch or so of the tuna to be cooked all around, with a nice pink interior.
However, if you don't like medium-rare tuna, you can cook it longer – just until the interior begins to change color and is no longer translucent. Don't overcook, or the tuna will be tough, dry, and hard to chew.
Helpful Tips and Variations
Are you hungry yet? If so, you're not alone! This amazing recipe is a favorite at my house, and it's so easy to make – especially with these handy tips and easy recipe variations.
Tuna Steak Thickness: This recipe works best with tuna steaks that are at least 1 inch thick. Thinner steaks will overcook in this amount of time. If you only have thin tuna steaks, try cooking them for a maximum of 30 seconds per side. (You can always cook them for another 30 seconds if needed.)
Sushi Grade Tuna: In general, sushi or sashimi-grade tuna is good for making seared tuna steaks. This kind of tuna has typically been frozen to kill any bacteria or other bad guys, making it safe to serve raw or rare.
Spice Blend: While the blackening spices make this dish extra delicious, you can skip them if you prefer, and season your tuna simply with salt and pepper. OR grab this store-bought blackening seasoning.
Slicing: Unlike other meats, which can be eaten bite by bite, tuna steaks should be sliced thinly after cooking for the best texture and flavor.
What Goes with Tuna Steaks?
This is a dish that deserves an awesome side dish or two, don't you agree? With that in mind, I've collected a few ideas here for inspiration! Check out these mouthwatering sides – and bon appetit!
Potato Wedges: Crispy, herbed potato wedges are a favorite with seafood. These easy Grilled Potato Wedges are irresistibly flavorful, crisp on the outside, and steamy on the inside! Make them on the grill or a cast-iron pan.
Summer Squash: Colorful yellow squash, zucchini, and red onions make a beautiful side dish, especially when loaded onto skewers and grilled! Grilled Summer Squash Kebabs have all that summery vegetable flavor, and they're healthy as well.
Asparagus: This succulent green veggie is always welcome, especially in this unusual recipe for Parmesan Panko Asparagus Fries! Coated in a crunchy panko topping, these bright and tender asparagus spears are basically irresistible.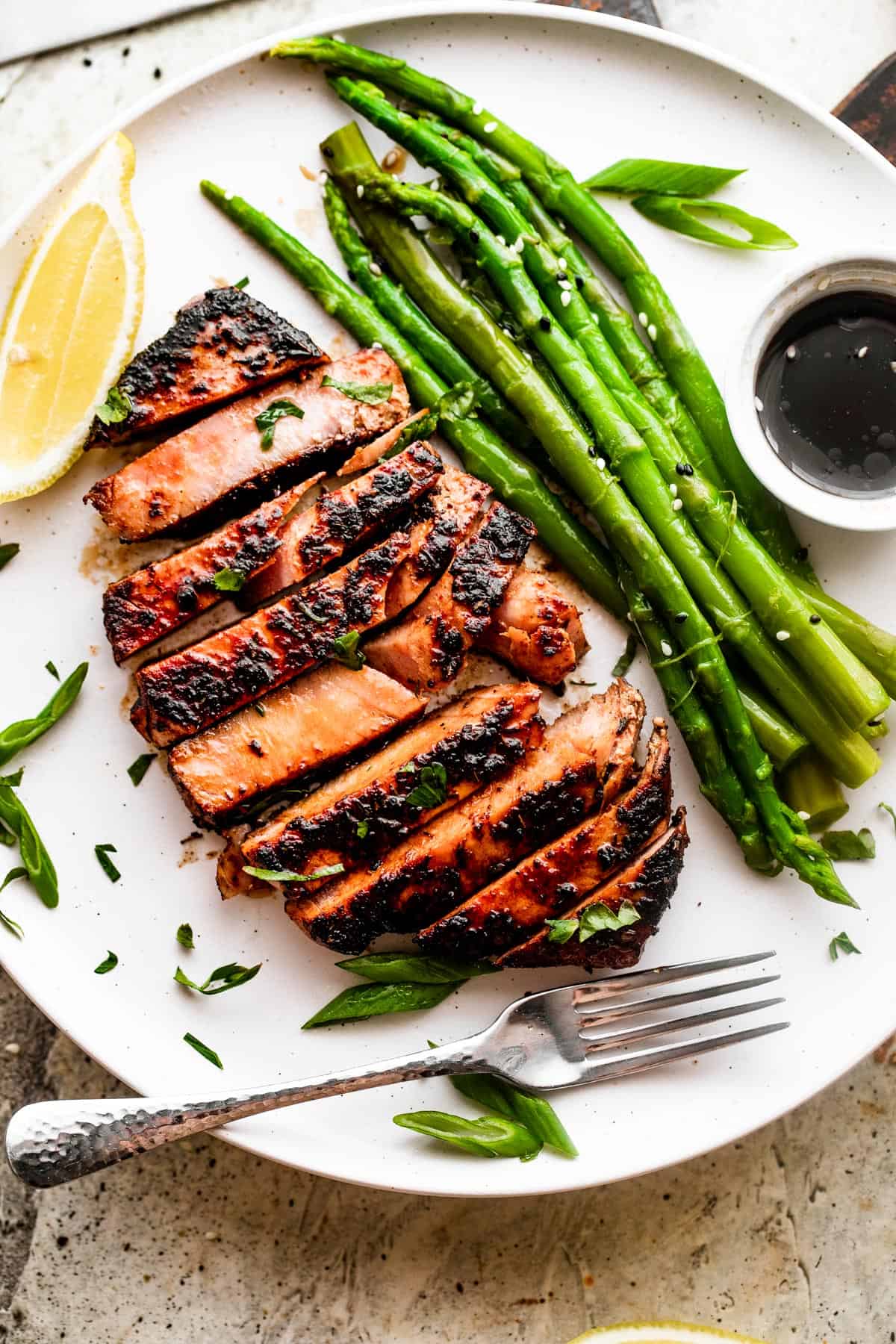 How to Store and Reheat Leftovers
Leftover seared tuna steaks can be refrigerated for two or three days at most, and should be covered well or stored in airtight food storage bags.
To reheat, place the tuna steaks on a hot pan or grill, and re-sear. Don't overcook. It's easiest to do this if you set the cold, refrigerated steaks out on the counter for 5 – 10 minutes before reheating, so that they are less cold when they hit the pan.
Can I Freeze Leftover Tuna Steaks?
Yes, you can, although the texture and taste of the thawed tuna steaks may not be quite as good.
To freeze, wrap the tuna in a layer of plastic wrap, followed by a layer of foil, and mark with the date.
It will keep for up to three months.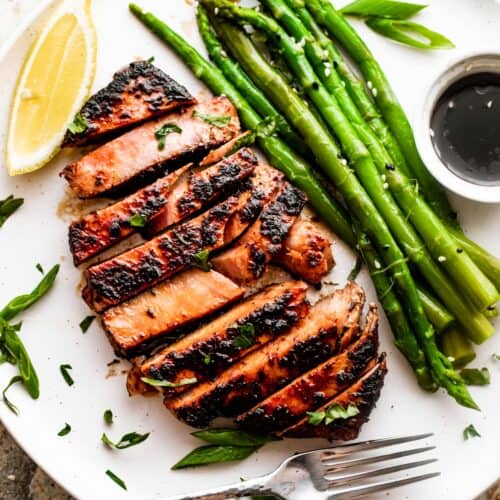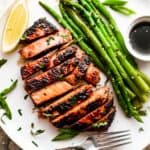 Print Recipe
Blackened Balsamic Tuna Steaks
This easy recipe for Blackened Balsamic Tuna Steaks has it all! With blackened seasoning and a balsamic vinaigrette, the tuna is super-flavorful. Prep and cooking are a breeze!
Ingredients
For the Blackened Seasoning
Instructions
Pat dry the ahi tuna steaks with paper towels.

Place the steaks in a large plastic zip top bag.

In a small mixing bowl whisk together the balsamic vinegar, olive oil, honey, and salt; remove half of the sauce/marinade and transfer it to a small serving bowl. Set it aside.

Pour the rest of the marinade into the plastic bag with the tuna.

Close the bag and massage the liquid around to coat the tuna steaks. Let stand 10 minutes. (You can also refrigerate overnight.)

In the meantime, in a small bowl combine the paprika, cayenne pepper, garlic powder, thyme, oregano, salt, and pepper.

Sprinkle all sides of the tuna steaks with the seasoning mix, pressing down to adhere.

Heat a cast iron skillet over medium-high heat until smoking hot.

Add 2 tablespoons vegetable oil to the hot skillet.

Place the tuna steaks in the pan; cook for about 2 minutes per side, for medium rare.

Transfer the tuna steaks to a cutting board and let rest for 3 to 5 minutes.

Thinly slice the tuna and serve with the reserved sauce.
Nutrition
Calories:
376
kcal
|
Carbohydrates:
16
g
|
Protein:
40
g
|
Fat:
16
g
|
Saturated Fat:
3
g
|
Polyunsaturated Fat:
3
g
|
Monounsaturated Fat:
8
g
|
Cholesterol:
65
mg
|
Sodium:
1239
mg
|
Potassium:
524
mg
|
Fiber:
1
g
|
Sugar:
14
g
|
Vitamin A:
4433
IU
|
Vitamin C:
1
mg
|
Calcium:
41
mg
|
Iron:
3
mg
More Flavorful Seafood Recipes