This easy recipe for Salmon Florentine takes the cake for fancy, but easy meals. It's as rich and creamy as could be, with a mouthwatering garlic and herb Parmesan flavor. This is going to be one of your favorite salmon dinners, guaranteed!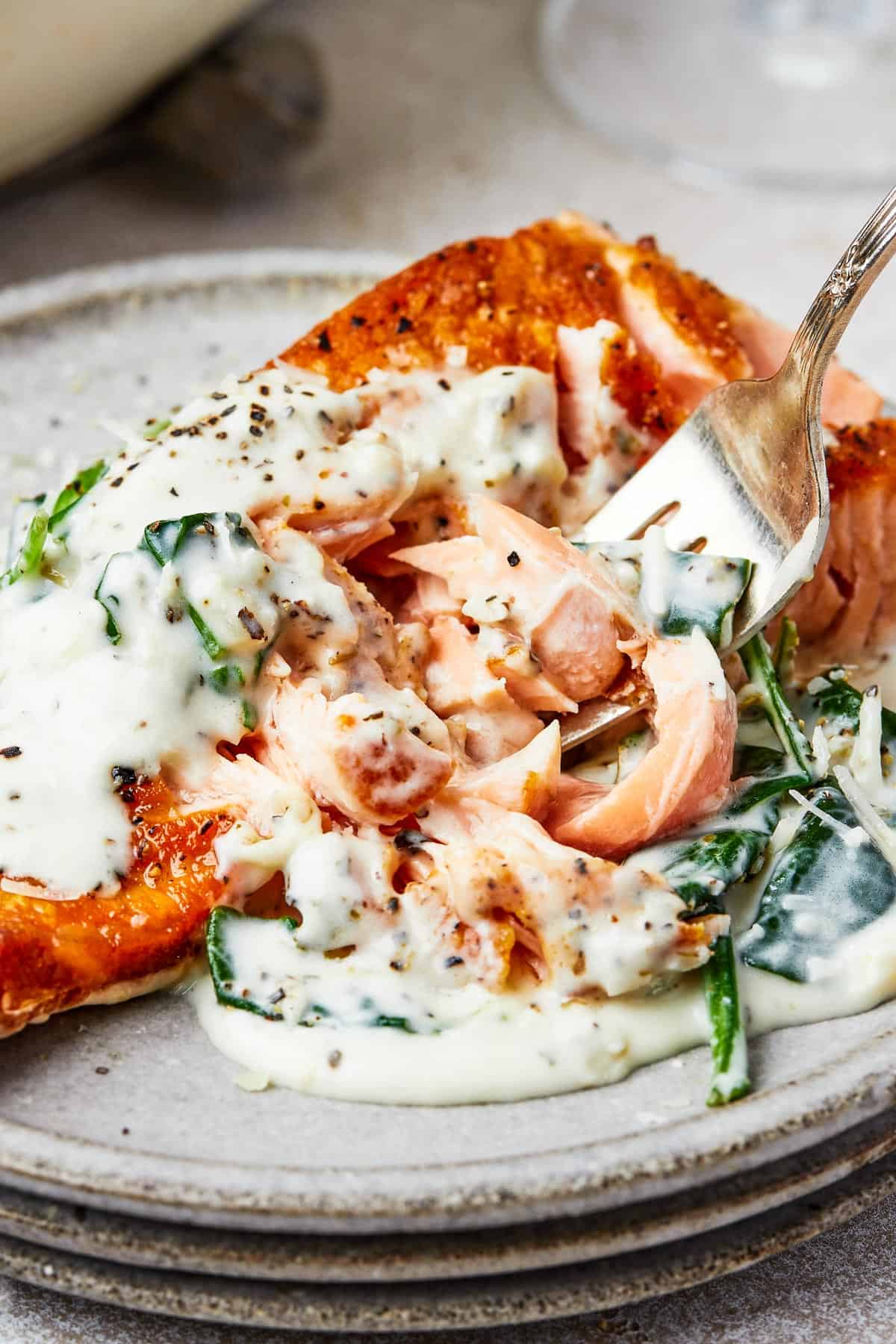 Savory Salmon Fillets in Florentine Sauce
Salmon is a rich, buttery, delectable fish that practically everyone loves! Even those picky eaters (you know the ones) who may not like fish will definitely love this recipe. Savory salmon fillets are pan-fried to tender perfection, and smothered in a creamy Florentine sauce. The ultimate dinner!
Though it may sound like an expensive, gourmet meal, this recipe is actually pretty simple to make. Pan-frying salmon and making the Florentine sauce is way easier than it sounds, and the result is a wholesome, homemade meal that tastes like it came from a restaurant.
If you make this dish, be prepared for everyone to want seconds!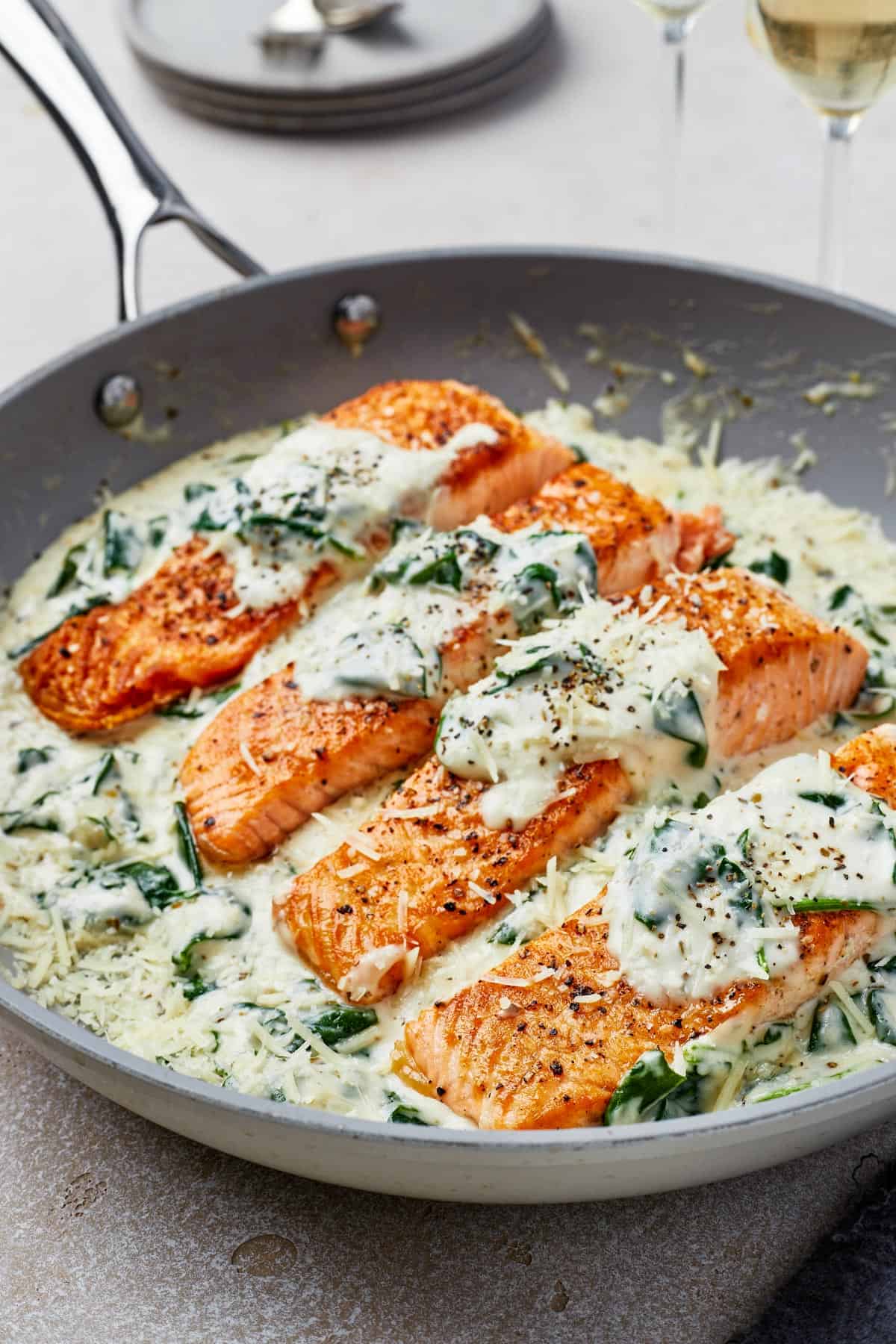 What Is Florentine Sauce?
Florentine sauce is a creamy, garlicky sauce that is typically made out of butter and heavy whipping cream, and it includes spinach. You'll often find it served with chicken. In this recipe, of course, we'll be using salmon – a match made in culinary heaven!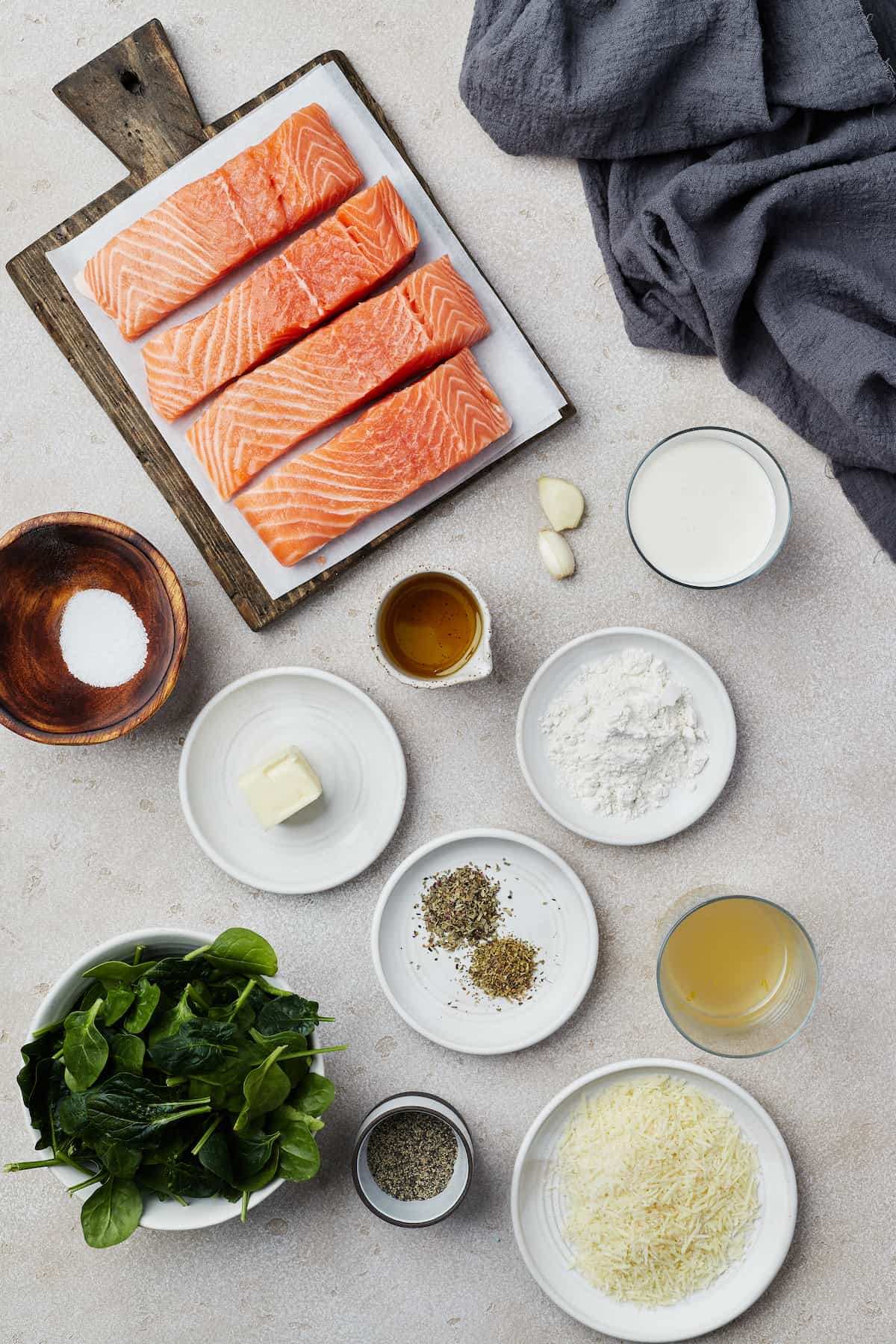 The Ingredients You'll Need
The star of this show is the salmon, so be sure to use good-quality fillets. The best fillets are usually wild-caught, but keep in mind that frozen can be as good (or better than) the salmon you find at the fish counter.
The highest-quality fish is the freshest, so you may find that wild-caught frozen fillets are fresher than salmon which was caught, transported, and displayed for an uncertain amount of time.
For the Salmon
Salmon: I like to use skinless salmon fillets in this recipe. Skin-on fillets are fine, too.
Salt and Pepper
Olive Oil: You can use olive oil (that's my go-to) or any mild cooking oil that you like.
For the Sauce
Butter: Salted or unsalted is fine – if you use salted, you may want to reduce the amount of salt in the recipe.
Garlic: Finely mince the garlic cloves.
Flour: A little all-purpose flour thickens the sauce. You could also use cornstarch, for a gluten-free version.
Heavy Cream: Half-and-half will also work, or even milk, but it won't be quite as rich and creamy.
Broth: I typically use low-sodium chicken broth. Regular chicken broth works, too, or you can substitute vegetable broth, or just use a little bit of water.
Herbs: Dried basil and oregano add a lovely Italian flavor to the sauce.
Salt and Pepper
Baby Spinach: The spinach should be washed and dried before using. You can also use frozen spinach that has been thawed well in a colander and squeezed dry.
Parmesan Cheese: Parmesan-Romano blend is fine, too.
How to Make It
To make Salmon Florentine, you'll need to cook the salmon fillets first, and then set them aside while you make the creamy sauce. Here are the steps in detail:
Pan-Fry the Salmon. To begin, season each salmon fillet with salt and pepper. Then heat the oil in a large skillet over medium heat. Once the oil is hot and shimmering, gently lay the salmon fillets in the oil and let them cook for about five minutes on each side, or up to seven minutes per side. When the fillets are crispy and firm, take them out of the skillet and set them aside.
Make a Roux. Turn the heat down to medium-low. Take the skillet off the heat for a moment, and wipe away any excess oil, being very careful not to burn yourself (hot cooking oil can soak through a paper towel or dish towel very quickly and cause very serious burns!). Next, melt the butter in the skillet and add the minced garlic. Allow this to cook for a minute or so to release the fragrance, and then sprinkle in the flour. Mix thoroughly until the flour fully dissolves into the butter and forms a paste (this takes about 30 seconds). This is the roux.
Make the Sauce. Whisk your heavy whipping cream into the skillet, completely dissolving the roux. Follow this with the chicken broth, basil, oregano, salt, and pepper. Stir or whisk constantly until the sauce thickens. Finally, add the spinach and stir until the spinach is wilted and the sauce is hot, about 1 to 2 minutes.
Combine the Salmon and the Sauce. Add the salmon back to the pan, spooning the sauce over the fillets. Sprinkle with parmesan cheese, and serve immediately.
Tips for Success
I hope you are inspired to try this recipe! But, before you do, take a look at these helpful tips. Here's everything you need to know to help you achieve success when making salmon Florentine at home.
Dairy-Free Version: You can also make a dairy-free version of the sauce using coconut cream, almond milk, or your other favorite non-dairy milk substitute. Just keep in mind that some of these may have a different flavor, or may not boil as well in the sauce.
Fish Substitutions: Florentine sauce goes beautifully with other fish and seafood, too! So feel free to substitute your favorite firm fish fillets in this recipe, or use shrimp.
Overcooking: Be careful not to over-cook your salmon. This can lead to dry, flaky fish that really isn't too tasty. For best results, you can use a meat thermometer to make sure the fish is done without being overcooked. Salmon should be cooked to an internal temperature of 145°F.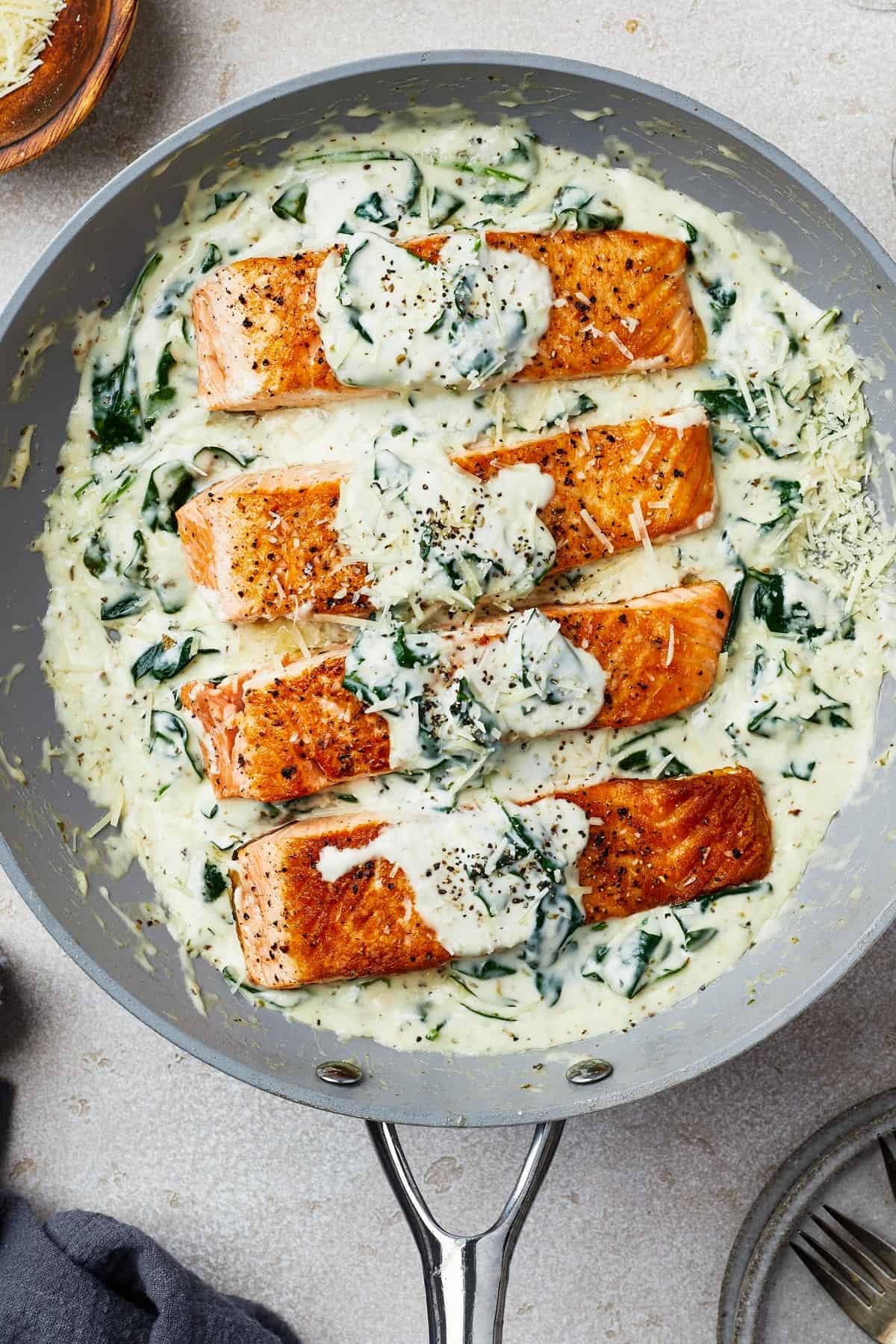 What Are Good Sides for Salmon?
Wondering what to serve with your salmon Florentine? The good news is that salmon goes well with just about anything. This recipe would be perfect just with some crusty bread and a salad, but if you'd like to make something a little more special, try one of these easy side dishes.
Green Beans: These Sautéed Garlic Butter Green Beans are easy to make on the stovetop, and turn out bright, colorful, and full of flavor. They're amazing with nearly everything, but especially well-seasoned salmon!
Roasted Sweet Potatoes: Healthy and tasty, these Garlic Honey Roasted Sweet Potatoes are an epic side dish with tons of nutrition. I love the light sweetness ofs sweet potatoes with hearty, savory salmon.
Crispy Asparagus: If you like asparagus, you will love this crispy air-fried version! Parmesan Panko Asparagus Fries are crisp, light, and just right with creamy salmon Florentine.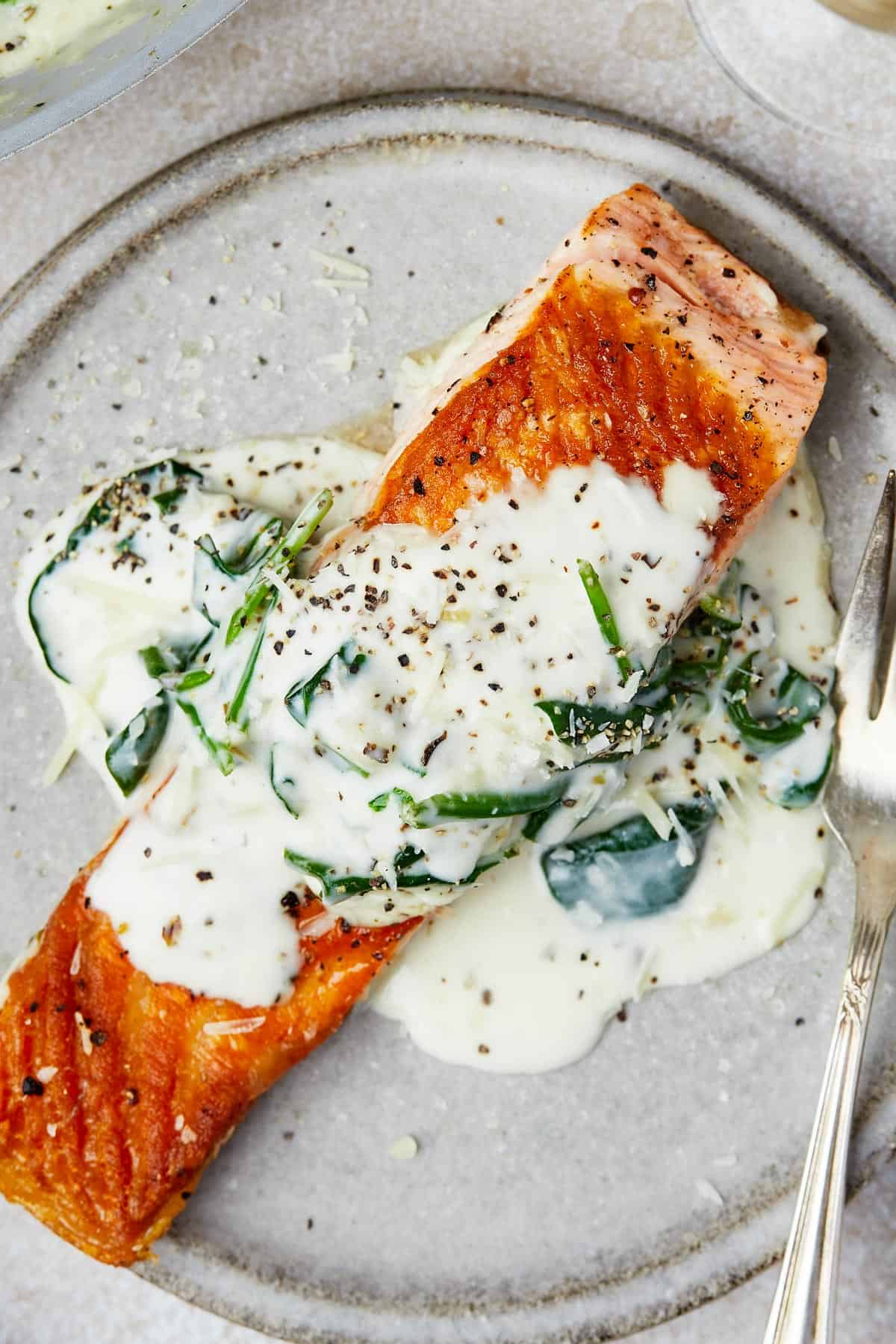 Storing and Reheating the Leftovers
For easy storage, keep any leftover salmon Florentine in an airtight container in the refrigerator. It will stay good for up to 3 days.
To reheat, place the desired portion in a covered skillet over low heat. Heat until the salmon is fully heated through, but do not overcook or it will become dry.
Can I Freeze This Dish?
You can freeze Salmon Florentine, but keep in mind that both the salmon fillets and the sauce may not freeze and thaw very well. Cooked and thawed salmon can turn out a bit mushy, and the sauce may split after freezing and thawing.
Still, if you want to freeze it, the salmon and sauce can be packed into freezer bags or airtight containers, and then frozen for up to three months. Thaw in the fridge before reheating, for best results.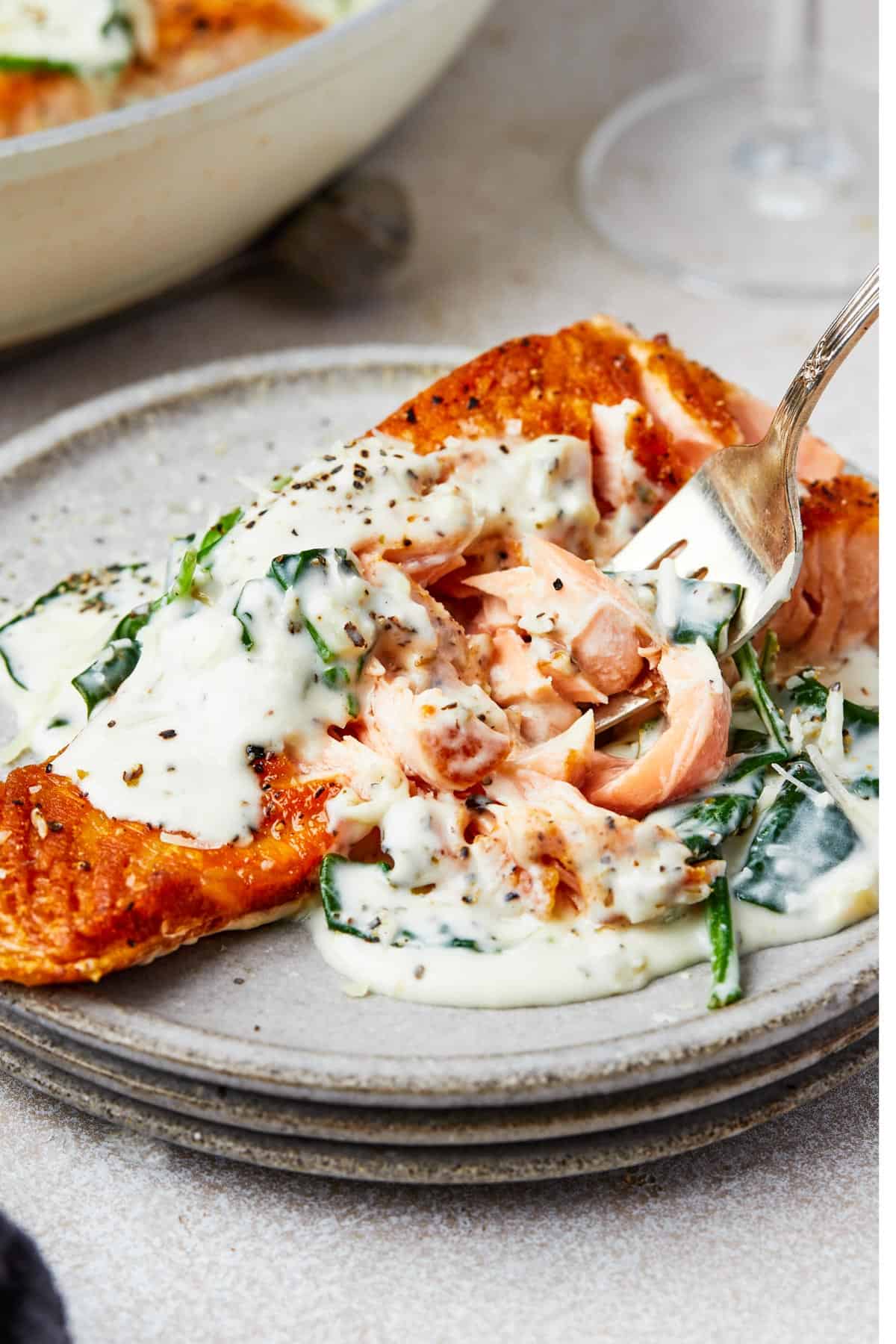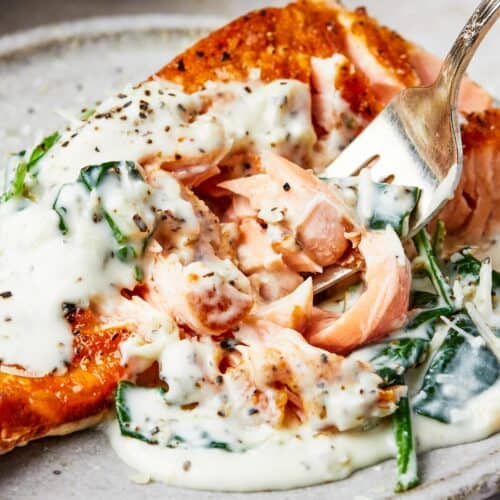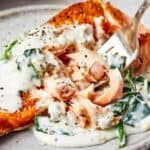 Print Recipe
Salmon Florentine
This easy recipe for Salmon Florentine takes the cake for fancy-but-easy meals. It's as rich and creamy as could be, with a mouthwatering garlic and herb Parmesan flavor.
Ingredients
For the Salmon
4

salmon filets,

(each filet should weigh about 4 to 6 ounces)

½

teaspoon

salt

½

teaspoon

fresh ground black pepper

2

tablespoons

olive oil
Instructions
Pat dry the salmon filets with paper towels and season with salt and pepper.

Heat a large pan over medium heat and add oil. Once the oil is heated and shimmering, fry the salmon for 5 to 7 minutes on each side, until crispy and firm to the touch. Cook time will depend on how thick your salmon is.

Remove the salmon from the pan and discard any excess oil. Wipe it clean.

Return pan to heat and melt the butter over medium low heat. Add garlic and gently fry until softened and fragrant, about 20 seconds.

Sprinkle in the flour and mix until it forms a paste, about 30 seconds.

Whisk in heavy whipping cream, chicken broth, basil, oregano, salt, and pepper. Stir constantly until thickened, about 1 to 2 minutes.

Add spinach and stir until the spinach is wilted, about 1 to 2 minutes.

Add the salmon filets back to the pan, spoon sauce over the filets, and sprinkle with parmesan cheese.

Serve immediately.
Nutrition
Calories:
523
kcal
|
Carbohydrates:
6
g
|
Protein:
28
g
|
Fat:
43
g
|
Saturated Fat:
20
g
|
Polyunsaturated Fat:
5
g
|
Monounsaturated Fat:
15
g
|
Trans Fat:
1
g
|
Cholesterol:
150
mg
|
Sodium:
963
mg
|
Potassium:
696
mg
|
Fiber:
1
g
|
Sugar:
2
g
|
Vitamin A:
1857
IU
|
Vitamin C:
3
mg
|
Calcium:
153
mg
|
Iron:
2
mg
More Easy Salmon Recipes