This satisfying Cabbage Roll Casserole is an easy twist on traditional cabbage rolls! With crushed tomatoes, ground beef, and tender, chopped cabbage, it's a delicious, old-fashioned meal with minimal prep.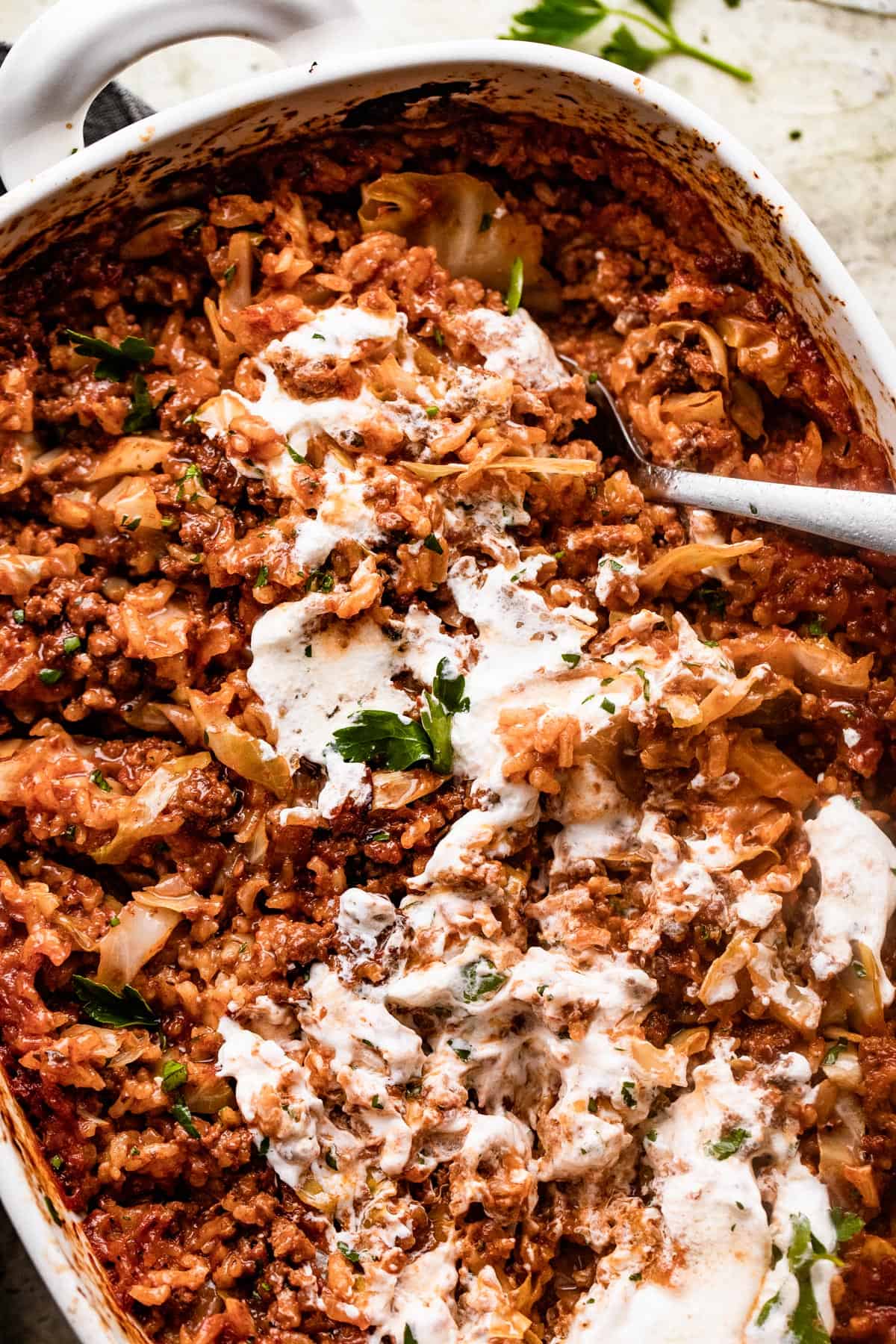 A Comforting Classic, Made Easy
There's nothing like homemade cabbage rolls. This hearty, homespun classic is the ultimate comfort food! The combination of tender cooked cabbage, savory ground beef, and tangy tomatoes is so nourishing, and all of the flavors compliment each order perfectly, transforming a few simple ingredients into a mouthwatering meal, beloved by generations.
The only downside to cabbage rolls? Like other classic recipes (looking at you, egg rolls!) it takes a significant amount of time to make the filling and assemble the individual cabbage rolls. That's why I'm in love with this easy casserole version! It takes all the hassle out of the process, while still delivering that amazing taste.
So if you're like me, and you adore cabbage rolls but don't always have the time to make them the old-school way, try this recipe! And, if you've never tried cabbage rolls, seriously – make this. You will love it!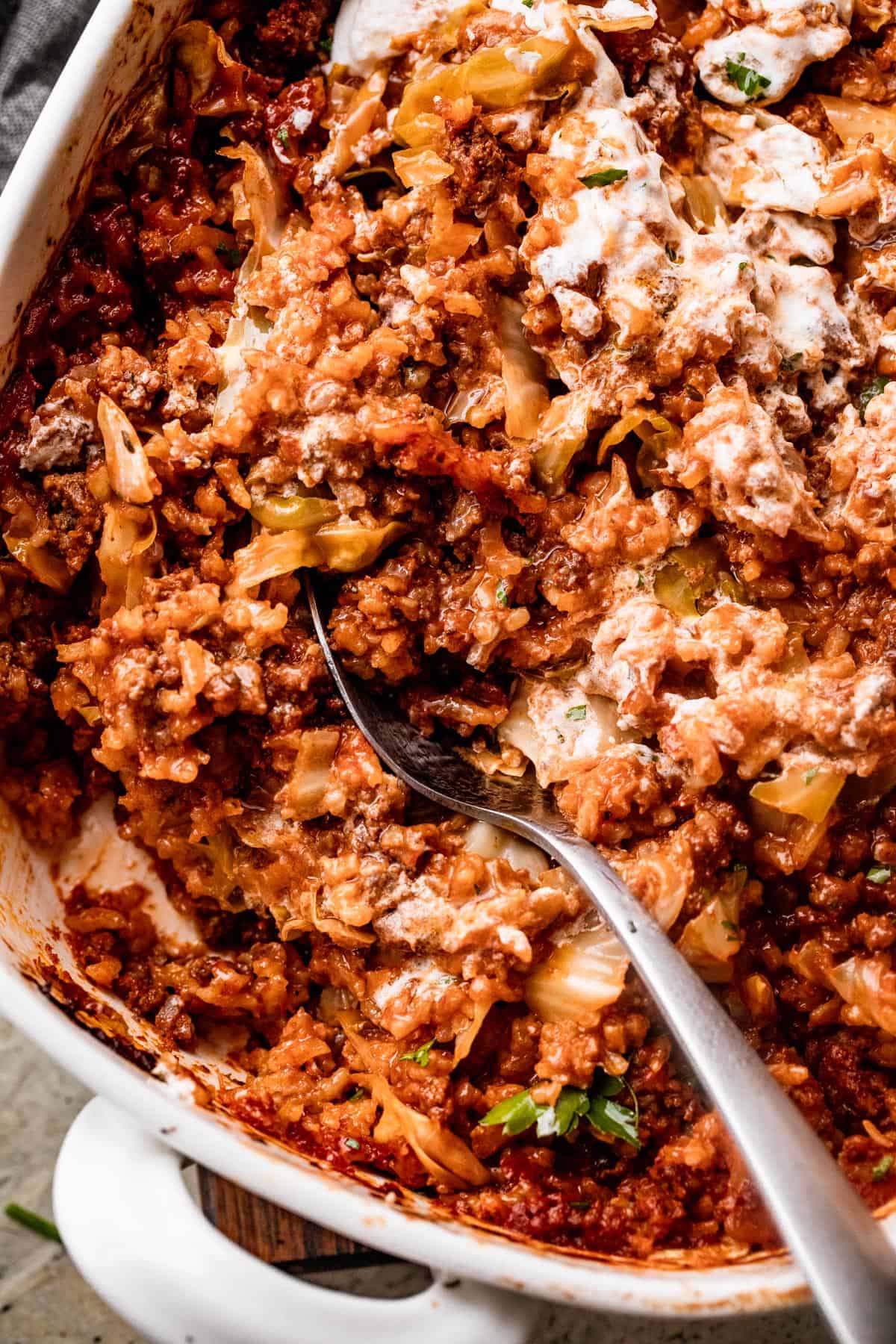 How Do I Prepare Cabbage for Cabbage Rolls?
If you're familiar with making classic cabbage rolls, you're probably envisioning a giant stock pot filled with boiling water, and a whole head of cabbage cooking away in there. Alternatively, you might be picturing blanching each raw cabbage leaf one by one, before rolling it up around a spoonful of homemade filling.
Well, this recipe is a whole lot easier. There's literally no prep for the cabbage in this recipe, other than giving it a rough chop. Since we're not rolling the cabbage leaves, they do not need to be softened in boiling water. You just stir the chopped cabbage right into the beef, and bake!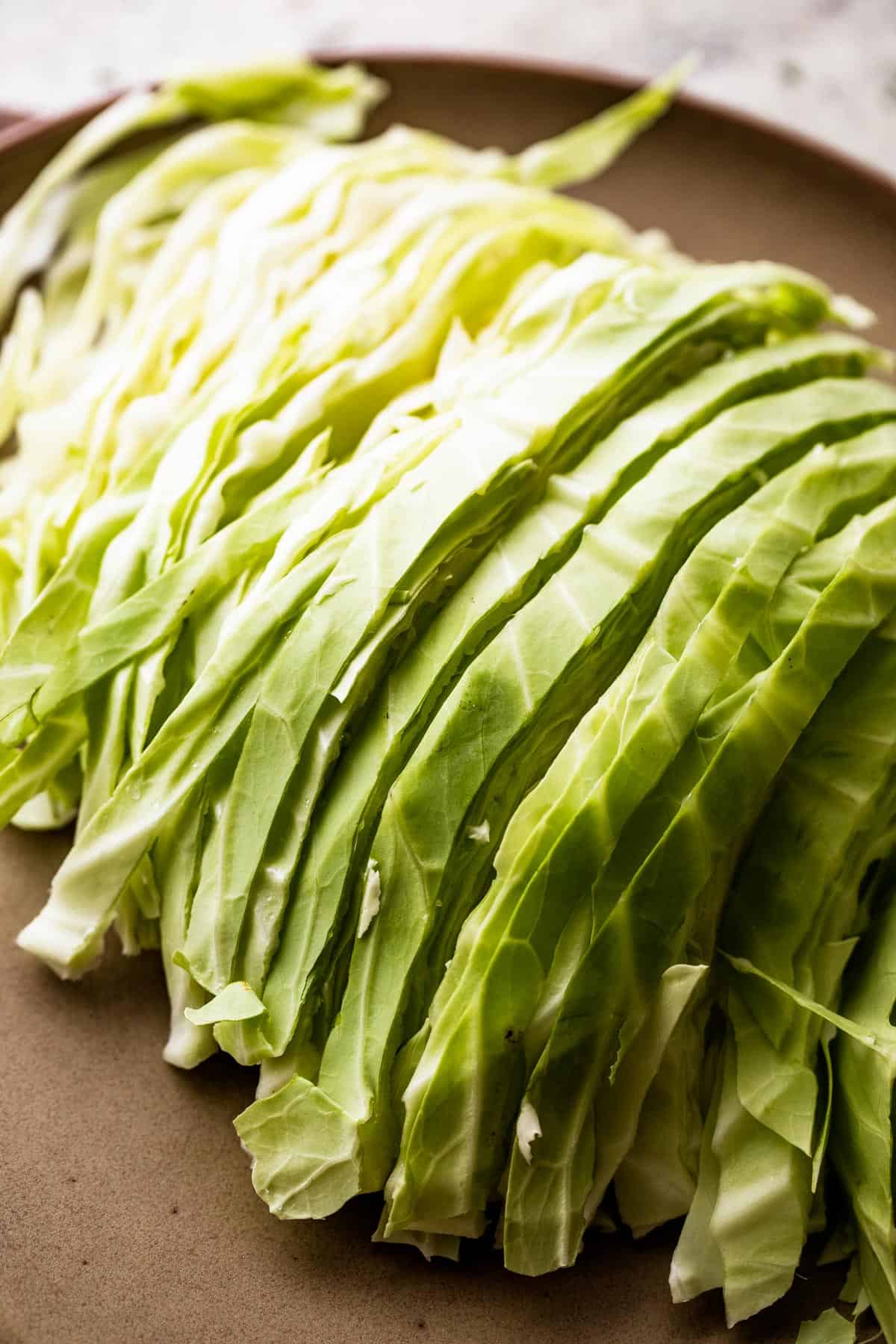 What's In Cabbage Roll Casserole?
Cabbage is versatile and can be made in many different ways. For this one, you will want fresh, cabbage for the best taste.
Olive Oil: You could also use butter, or another cooking oil of your choice.
Yellow Onion: Dice up the onion, and feel free to substitute a red onion, white onion, or sweet onion.
Ground Beef: Lean ground beef has the advantage of not really needing to be drained, but ground chuck and other fatty ground beef tends to be more flavorful. It's up to you!
Thyme: I use about a teaspoon, dried. Fresh thyme is also great.
Paprika: You'll want sweet paprika for this recipe, not smoked or hot.
Garlic: Mince or press the garlic, or use powdered garlic if you're short on time.
Tomatoes: A can of crushed tomatoes helps create the saucy, tangy cabbage roll flavor and texture.
Cabbage: You can chop or thinly slice a head of cabbage, or simply substitute pre-shredded coleslaw mix from the grocery store.
Rice: Uncooked, long-grain, white rice is what you'll need. Brown rice will not cook in the time listed.
Salt and Pepper
Beef Broth: I use low-sodium, but any beef broth is fine.
Parsley: Chopped parsley makes a nice garnish, but it's optional.
Sour Cream: For serving, also optional.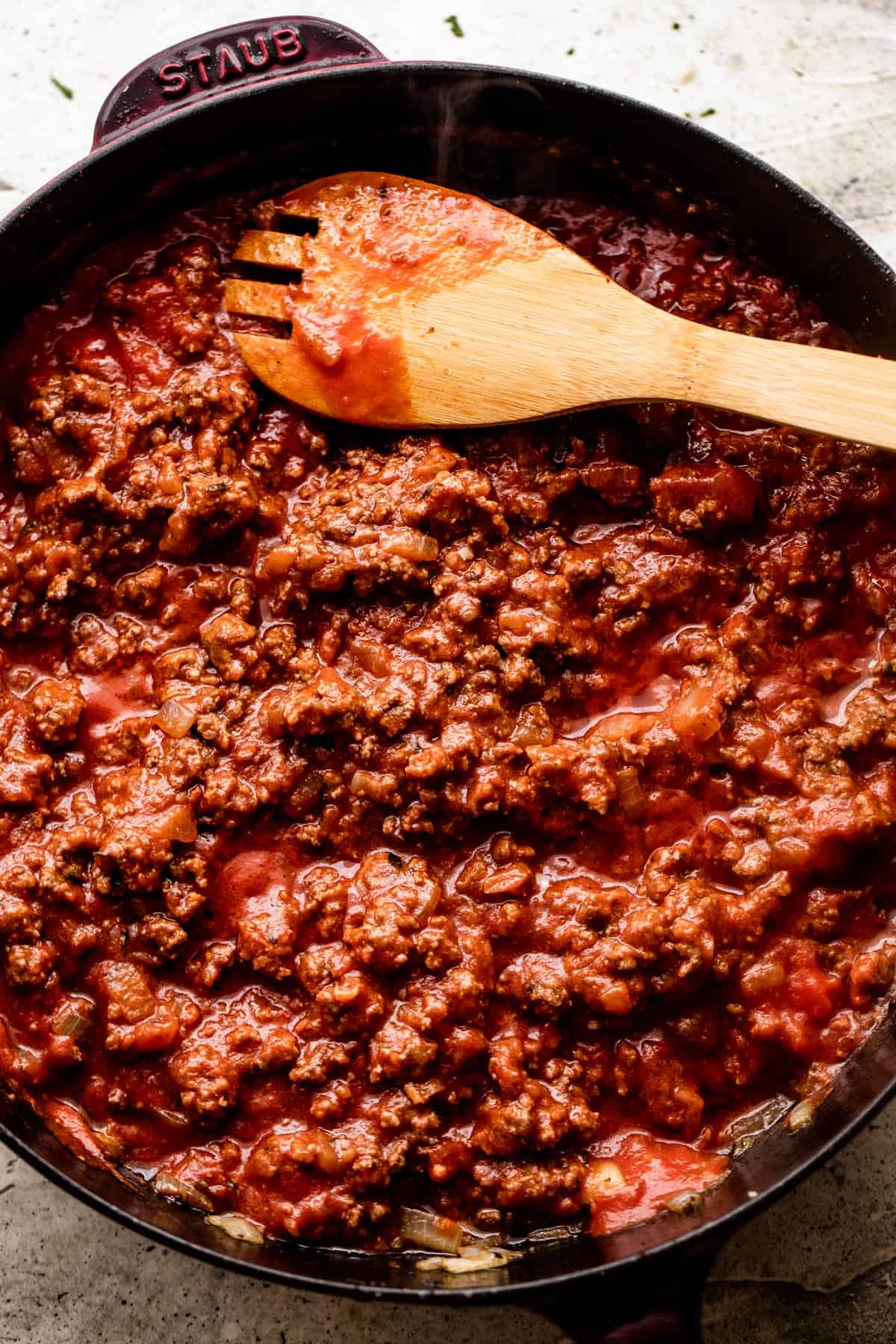 Let's Make Cabbage Roll Casserole!
So, just how do you put this dish together? Let's get into the process, step by step. It's super simple!
Prep the Oven and Baking Dish. First, preheat the oven to 350˚F, and lightly grease a baking dish with cooking oil. Set the dish aside while you cook the beef mixture.
Cook the Onions and Ground Beef. Next, heat a swirl of olive oil in a large skillet, over medium-high heat. Add your diced onions to the hot oil, and let them cook for about a minute. Then stir in the ground beef, sprinkle in the thyme and paprika, and brown the beef, breaking it up with a wooden spoon as it cooks.
Add the Garlic and Tomatoes. Once the beef is cooked, stir in garlic, and let it cook for 20 seconds or so, to release the fragrance. Stir in the crushed tomatoes, and cook for another minute. Take the skillet off of the heat, and pour the ground beef mixture into your greased baking dish.
Add the Remaining Ingredients. Gently stir the chopped cabbage and rice into the casserole dish, along with the salt and pepper. Pour in the beef broth, and use a spoon or spatula to push the cabbage and rice down into the liquid.
Bake. Cover the casserole with foil, and bake it for 45 minutes. Take off the foil, stir, and re-cover. Bake for another 30 minutes or so, until the rice is cooked through and tender.
Enjoy! Let your casserole stand for about 10 minutes, before garnishing with parsley and serving with a dollop of sour cream.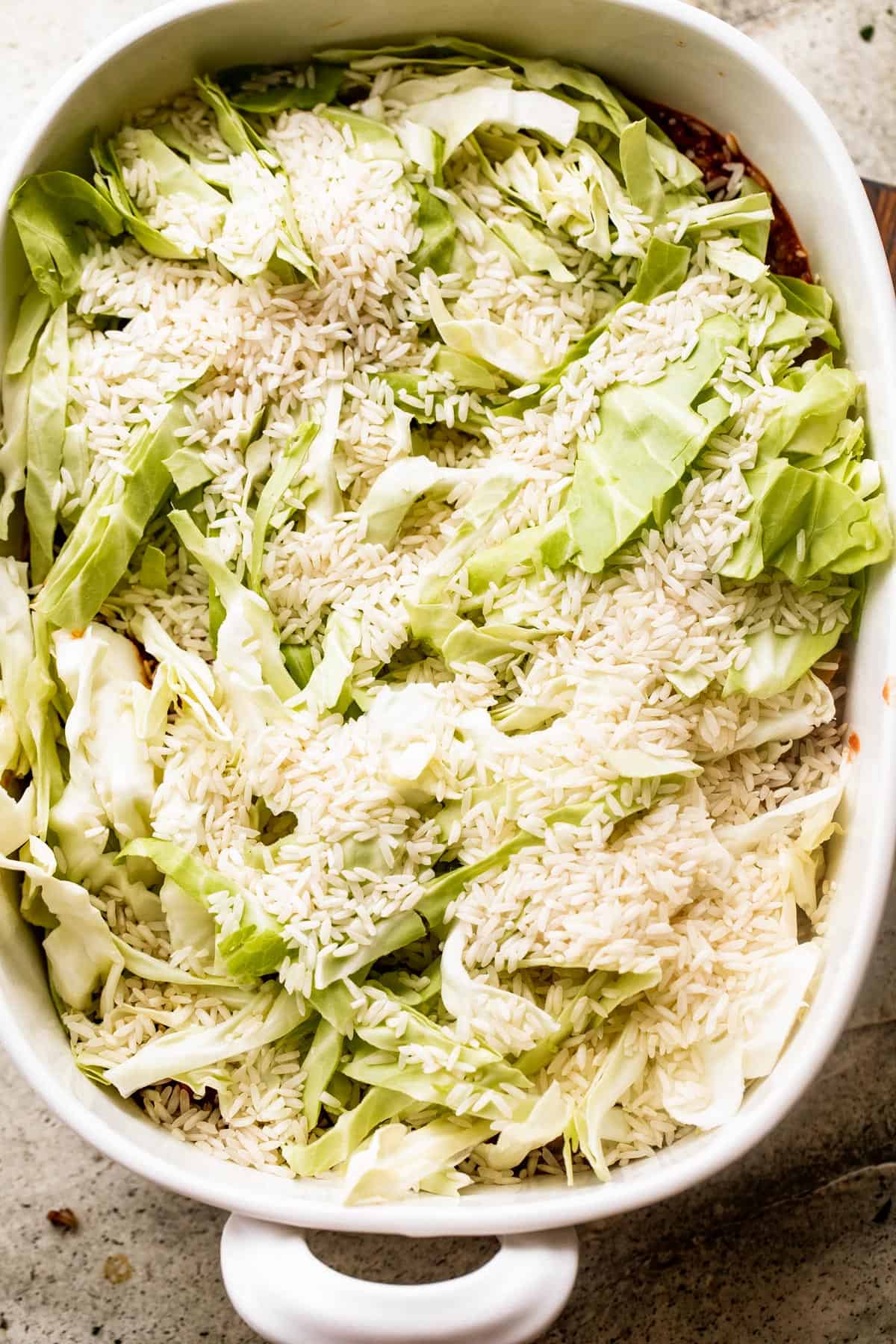 Helpful Tips and Variations
Making this casserole couldn't be simpler – but I still have a few easy tips to share for making the most of this hearty meal, as well as some ideas for yummy variations. Read on, and bon appetite!
Cabbage Substitutions: I use regular green cabbage in this recipe, but if you need to substitute, Savoy or Napa cabbage will work as well.
Tomato Substitutions: The crushed tomatoes can be replaced with strained tomatoes or diced tomatoes – just don't drain the juice.
Add Sausage: You can spice things up a little by using half beef and half ground Italian sausage – not traditional, but tasty!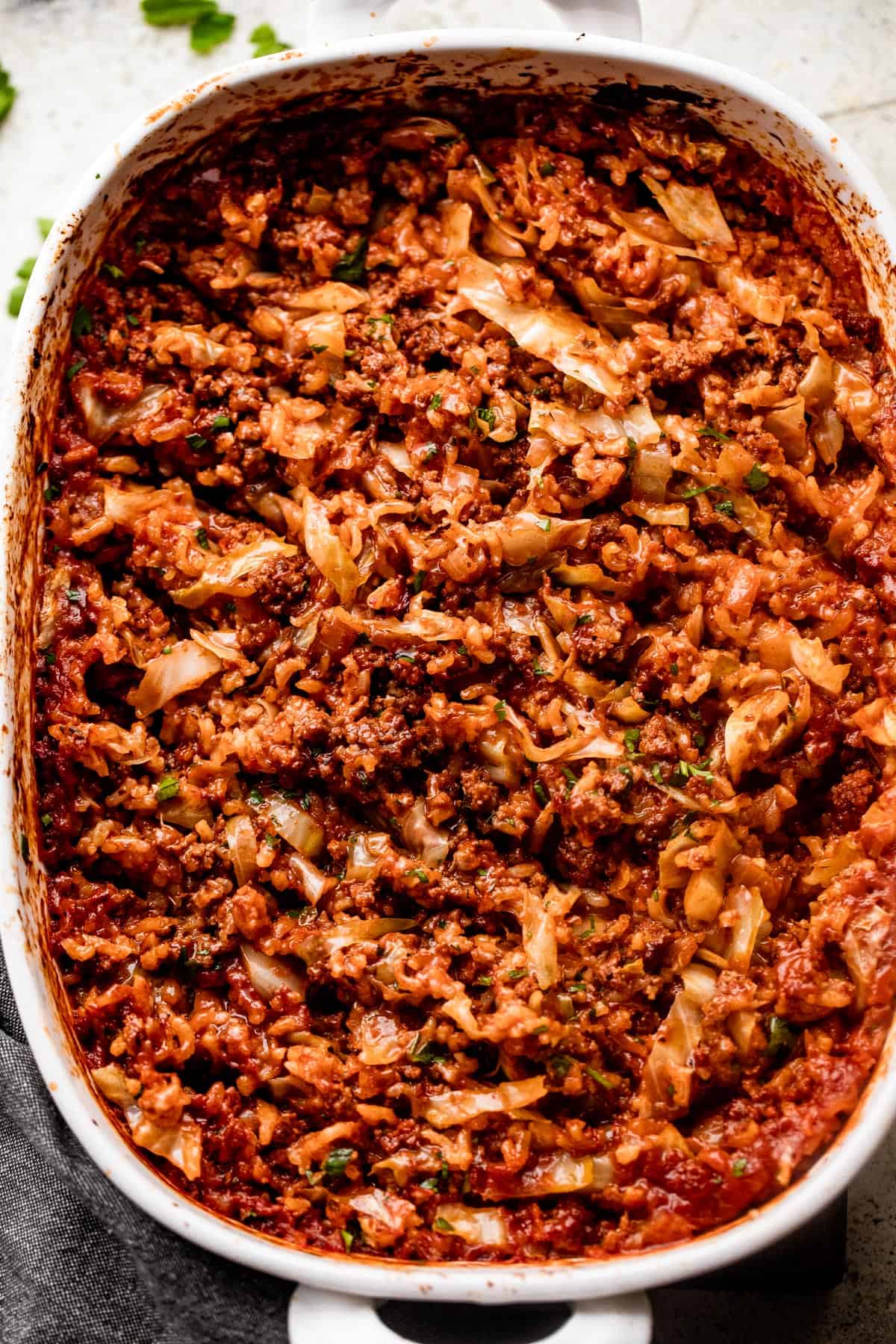 Yummy Serving Ideas
Cabbage Roll Casserole is a perfect one-dish dinner, complete with beef, veggies, and rice. But it also goes beautifully with all kinds of side dishes! Try one or more of these savory sides, and enjoy!
Garlic Knots: Warm, golden-brown Garlic Knots make a satisfying side dish with this tangy, meaty casserole. And since they're made with store-bought pizza dough, they're incredibly easy to make!
Green Beans: Everyone loves green beans, especially these flavorful Sautéed Garlic Butter Green Beans! And the no-blanch sauté technique makes this simple side quick to make.
Carrots: The sweetness of Honey Balsamic Roasted Carrots makes a perfect partner for savory cabbage rolls! These simple glazed carrots are a classic recipe the whole family will love.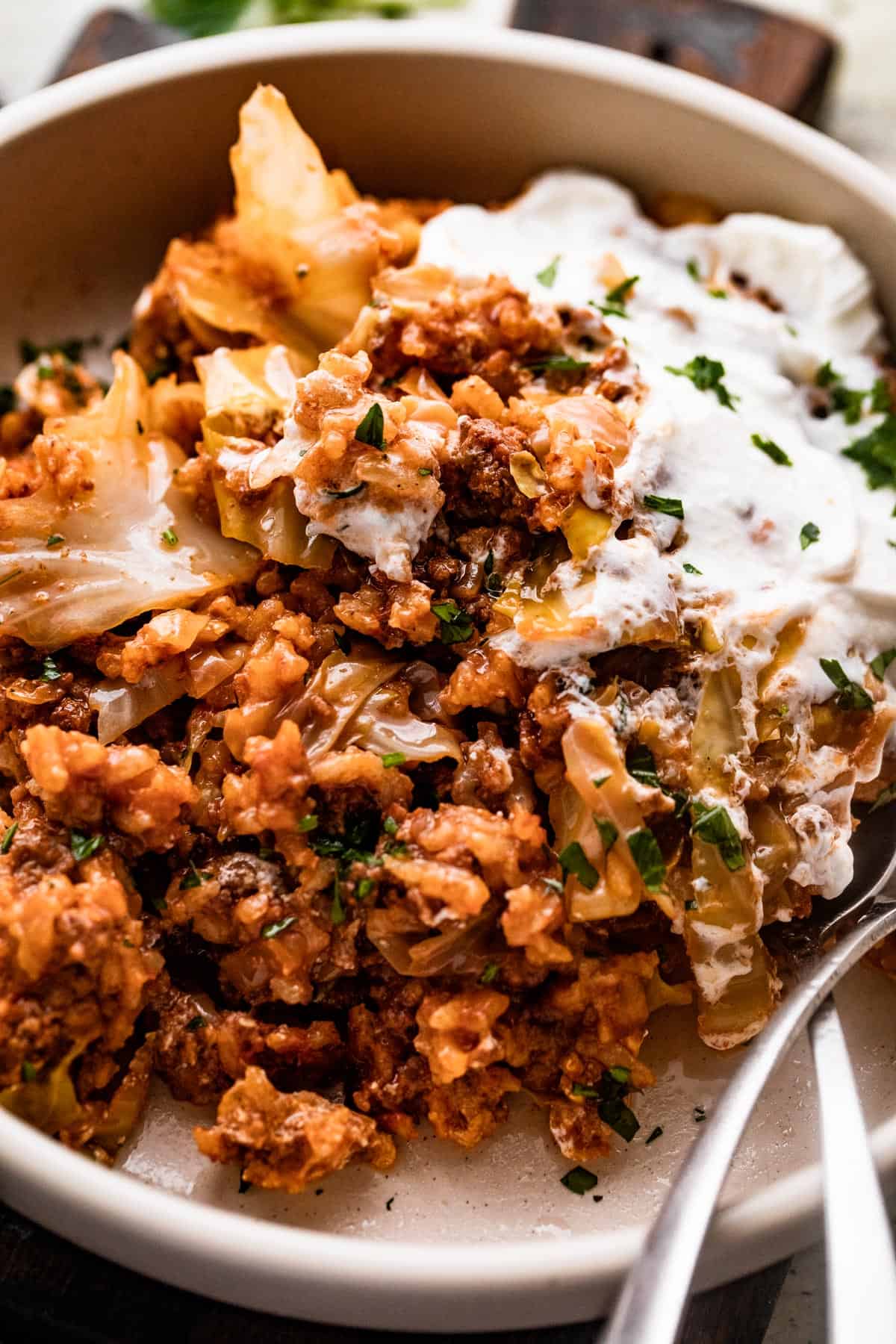 How to Store and Reheat Leftovers
To refrigerate, place leftover casserole in an airtight container or food storage bag, and keep in the refrigerator. Leftover cabbage roll casserole will stay good for about 4 days.
To reheat, place the desired portion of the casserole in an ovenproof dish, and bake at 350˚F for about 15 minutes, or until heated through.
Can You Freeze a Cabbage Casserole?
Yes, you can freeze this casserole! I recommend taking the cooled casserole out of the baking dish and placing portions into freezer bags, pressing out as much air as possible before sealing. It will keep for up to three months.
Thaw overnight before reheating.
Alternatively, make this casserole ahead! Cool the casserole down, and wrap the entire dish in a layer of plastic wrap and a layer of foil.
Freeze for up to three months, and thaw overnight before reheating.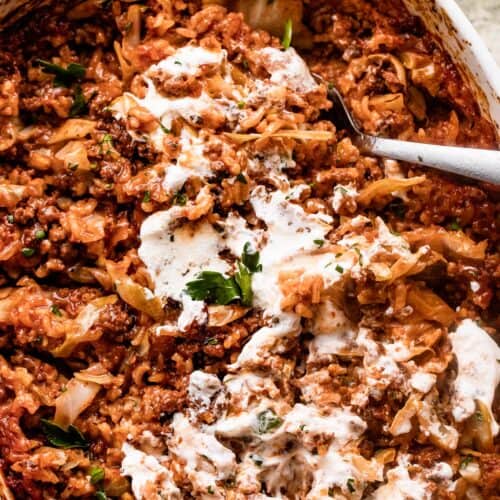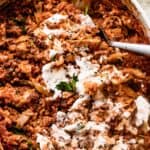 Print Recipe
Cabbage Roll Casserole
With a meaty filling and plenty of tender, chopped cabbage, this Cabbage Roll Casserole is a delicious, old-fashioned meal you'll make again and again.
Instructions
Preheat oven to 350˚F.

Lightly grease a 9×13 baking dish with cooking oil and set aside.

Heat olive oil in a large skillet set over medium-high heat.

Add the diced onions to the hot oil and cook for 1 minute.

Stir in the ground beef; season with thyme and paprika, and continue to cook until browned, breaking it up with a wooden spoon as it cooks.

Add in the minced garlic and cook for 20 seconds.

Stir in the crushed tomatoes and cook for 1 minute.

Remove from heat and transfer the meat mixture to previously prepared baking dish.

Stir in the chopped cabbage, rice, salt, and pepper.

Pour in the beef broth.

Cover with foil.

Bake for 45 minutes.

Remove foil; stir and cover with foil again.

Continue to cook for about 30 minutes, or until rice is cooked through and tender.

Remove from oven and let stand 8 to 10 minutes.

Taste for salt and pepper, and adjust accordingly.

Garnish with parsley and serve with a dollop of sour cream.
Nutrition
Calories:
221
kcal
|
Carbohydrates:
28
g
|
Protein:
17
g
|
Fat:
5
g
|
Saturated Fat:
2
g
|
Polyunsaturated Fat:
1
g
|
Monounsaturated Fat:
3
g
|
Trans Fat:
1
g
|
Cholesterol:
35
mg
|
Sodium:
230
mg
|
Potassium:
628
mg
|
Fiber:
3
g
|
Sugar:
5
g
|
Vitamin A:
298
IU
|
Vitamin C:
27
mg
|
Calcium:
61
mg
|
Iron:
3
mg
More Cozy Casserole Recipes