Fresh broccoli florets are dressed with a homestyle cheddar cheese sauce and crisp crumb topping, in this Creamy, Cheesy Broccoli Casserole. It's a warm and cozy family classic!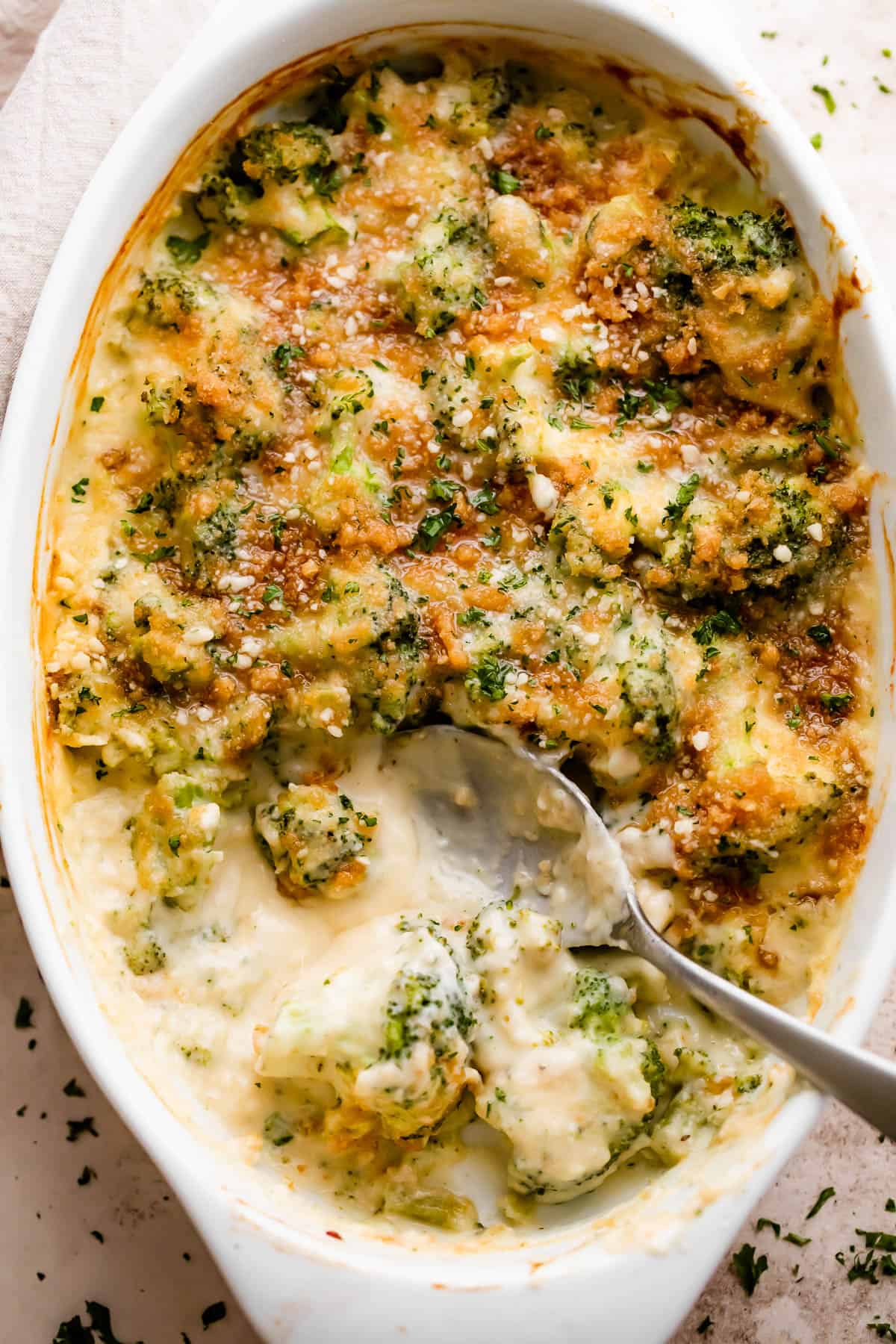 The Easiest, Cheesiest Way to Serve Broccoli
One of my favorite ways to serve broccoli is with a great homemade cheese sauce. Even the pickiest eaters are usually willing to try veggies with cheese, and if I do say so myself, this cheese sauce can make a broccoli believer out of anyone!
And, since it's easy to make from scratch, using wholesome, simple ingredients, you can feel good about, is a total win.
To (literally) top it off, this isn't just any broccoli and cheese! This one is topped with a buttery Panko topping that adds the perfect crispy crunch to each bite. It's a balanced, flavorful casserole that works equally well for a weeknight meal as it does for the holidays. Make it once, and you'll return to it again and again!
This Creamy Broccoli Casserole Is…
Made from Scratch
Easy to Put Together
Cozy and Hearty
Perfect for a Vegetarian Main Course
Great for a Holiday Menu
Kid-Friendly (Even for Picky Eaters)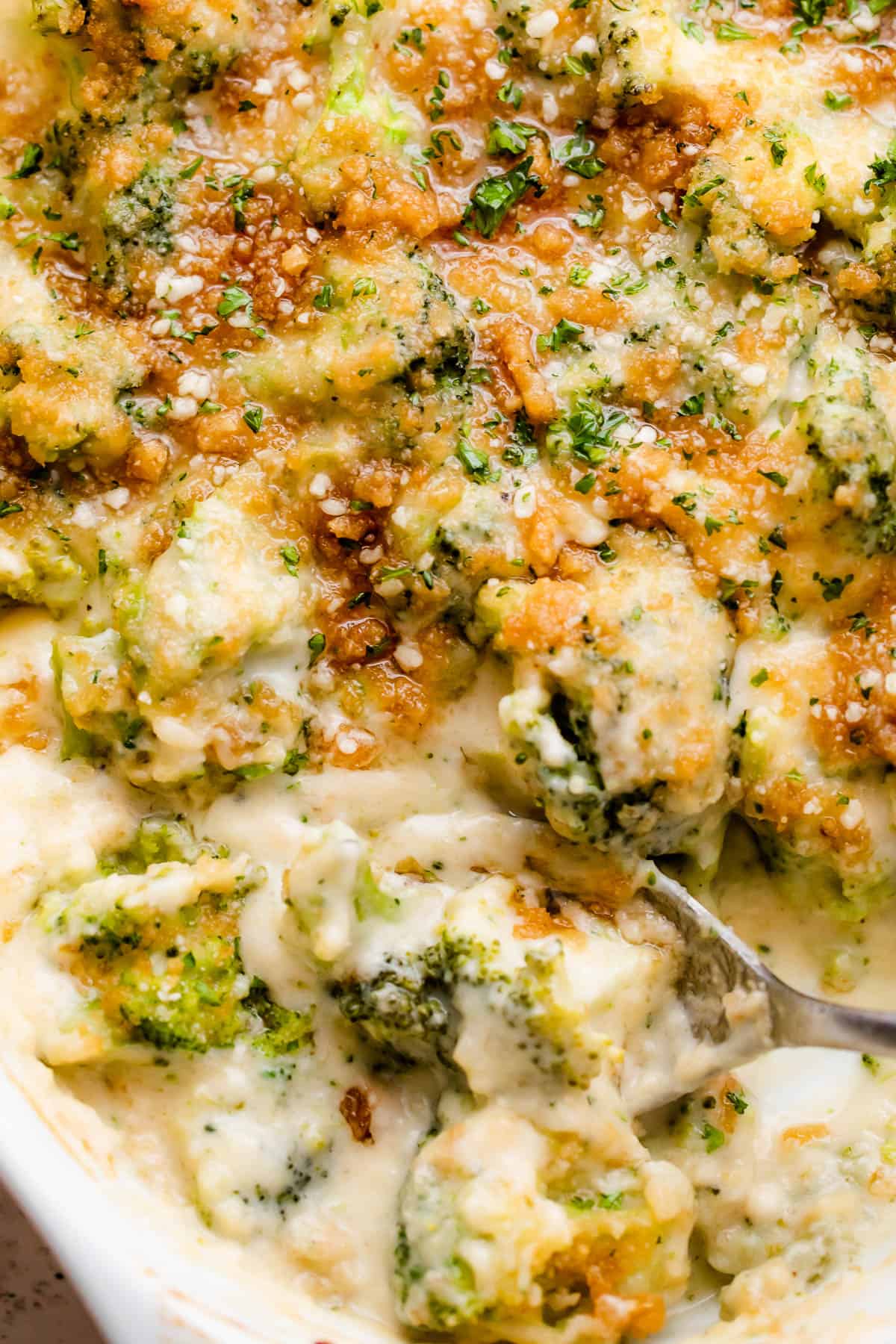 What Ingredients Do You Need?
Making cheesy broccoli casserole doesn't have to mean gathering together a ton of ingredients, or using processed "shortcuts". This simple and wholesome recipe gets it just right.
Broccoli: Cut your fresh broccoli (about 2 heads) into bite-sized florets.
Butter: You can use salted or unsalted butter—it's up to you.
Garlic: I like to use fresh minced garlic, but powdered garlic will also work.
Flour: The flour combines with the butter to make a quick roux, which then thickens the cheesy sauce.
Milk: Any kind of milk is fine; 2%, whole milk, or even non-dairy milk.
Water or Broth: For a little extra flavor, you can use chicken broth or veggie broth. But if you don't have any broth on hand, a bit of water will do just fine.
Cheese: To make this recipe extra flavorful, I use two kinds of cheese: cheddar, and Parmesan.
Salt and Pepper
Panko: Regular or low-carb is fine.
Can I Substitute Frozen Broccoli Instead?
Yes, you can! Just make sure it is very well drained. I recommend placing it in a colander at room temperature for 15 minutes or so before cooking, and then using paper towels to press out some of the excess moisture.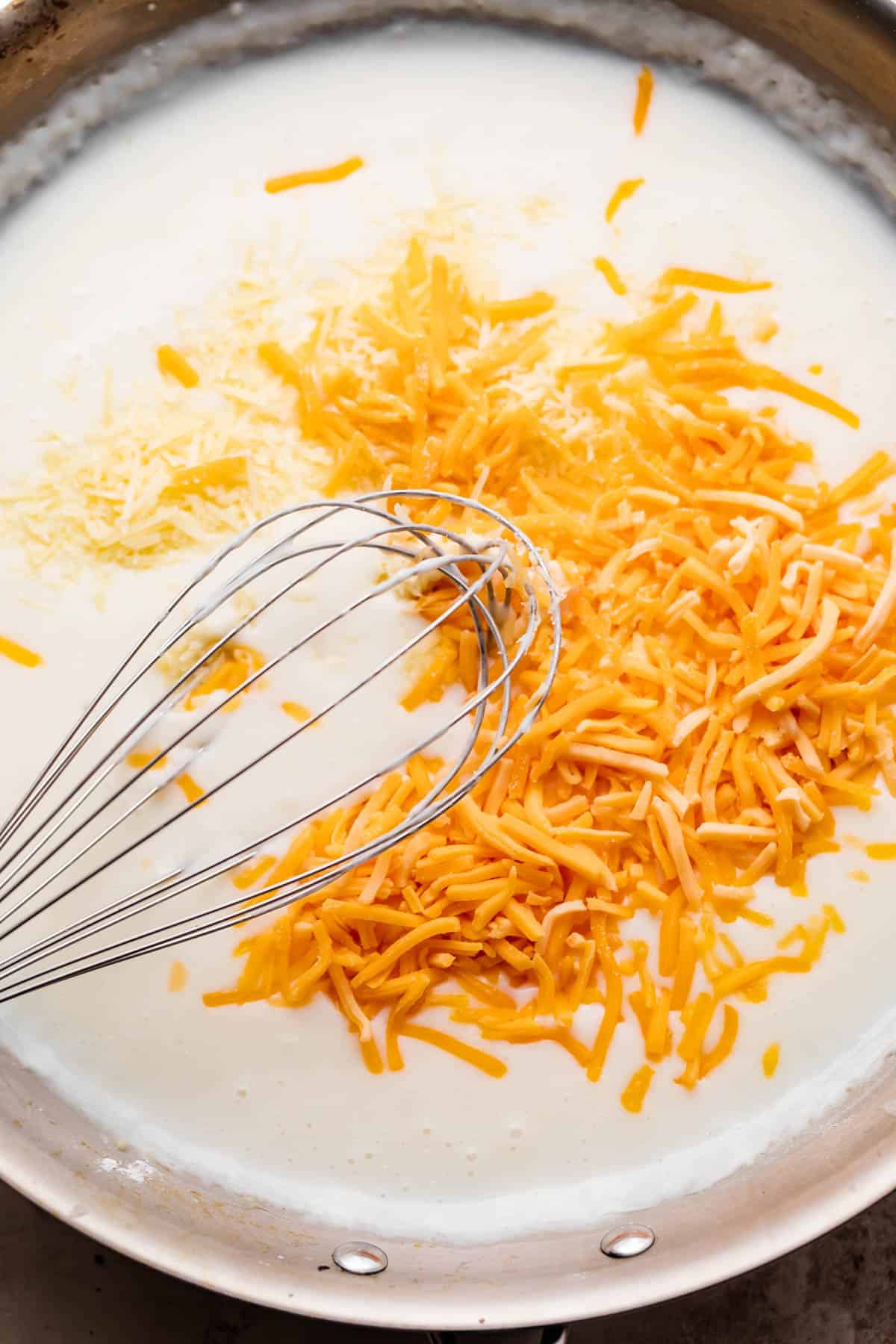 Let's Make Cheesy Broccoli Casserole!
This recipe is essentially two easy steps: make a drool-worthy cheese sauce, and then bake the broccoli in it. Let's take a closer look:
Prep the Oven and Broccoli. To begin, turn your oven to 350˚F, and allow it to preheat while you make the sauce and assemble the casserole. Add the broccoli florets to a large ovenproof baking dish, and set it aside.
Cook the Garlic. Set a large skillet over medium heat. Add the butter, and let it melt. Once the butter has melted, stir in the minced garlic, and let that cook for just a few seconds.
Make the Roux. sprinkle the flour over the melted butter and garlic, and use a whisk to stir it into a smooth paste. Cook, stirring continuously, for about one minute.
Add the Milk and Broth. Now, slowly pour your milk into the roux, whisking the whole time to eliminate any lumps. Follow the milk with the chicken broth, still whisking. Cook and whisk for several minutes, until it thickens to a creamy sauce.
Add the Cheese. Take the sauce off the heat. Add the shredded cheddar and grated Parmesan, and stir until you have a smooth, melted cheese sauce. 🫕 Season with salt and pepper, to taste.
Assemble the Casserole. Pour your homemade cheese sauce over the broccoli in the baking dish, and give it a good stir to mix it all together. Combine the panko and a tablespoon of melted butter together in a small dish, and then sprinkle this mixture over the casserole to make the crunchy topping.
Bake! Cover the dish with foil. Bake the casserole, covered, for 25 minutes. Then take the foil off, and bake for 15 minutes longer, or until the topping is browned and the casserole is bubbly.
Enjoy! Let the casserole stand for 5 minutes. Taste it for salt and pepper, and add more if needed. Serve warm.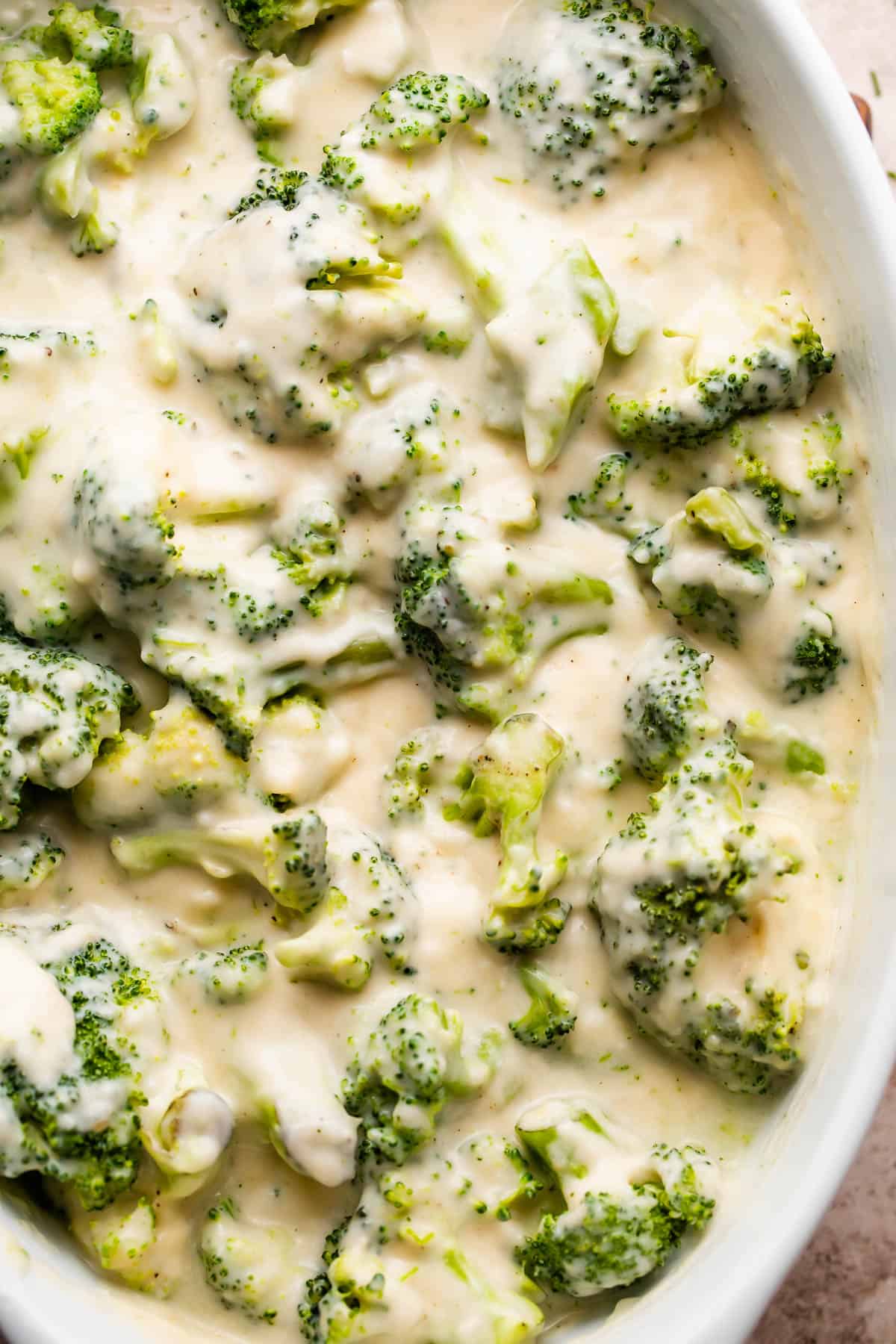 Do You Have to Cook Broccoli Before Putting It in a Casserole?
While some cooks recommend blanching and shocking veggies before adding them to a casserole dish, I find that this one cooks up just as well with plain raw broccoli. Easy!
Broccoli Casserole Tips and Hacks
If you would like to tweak this recipe a bit, go for it! It's easy to make the dish your own by adding (or subtracting) ingredients as you please. Here are some of my favorite ideas:
"Cream of" Soup: Use your favorite "cream of" soup, or a creamy soup substitute, in place of the homemade cream sauce in the recipe. It's a quick and easy shortcut.
Add Chicken: Make it a chicken and broccoli bake by adding in your favorite shredded (or cubed) cooked chicken. Yum!
Add Ham (or Bacon, or Sausage…): All of the above go perfectly in this wonderful dish. Just quickly pre-cook them, and sprinkle on top (bacon) or stir right in (sausage or ham).
Change Up the Toppings: You don't have to use panko here. Anything crispy is great, from crushed butter crackers to corn flakes!
More Veggies: You don't have to go with just broccoli, if you don't want to. Sauteed mushrooms go beautifully here, as do carrots, or cauliflower, or whatever you like!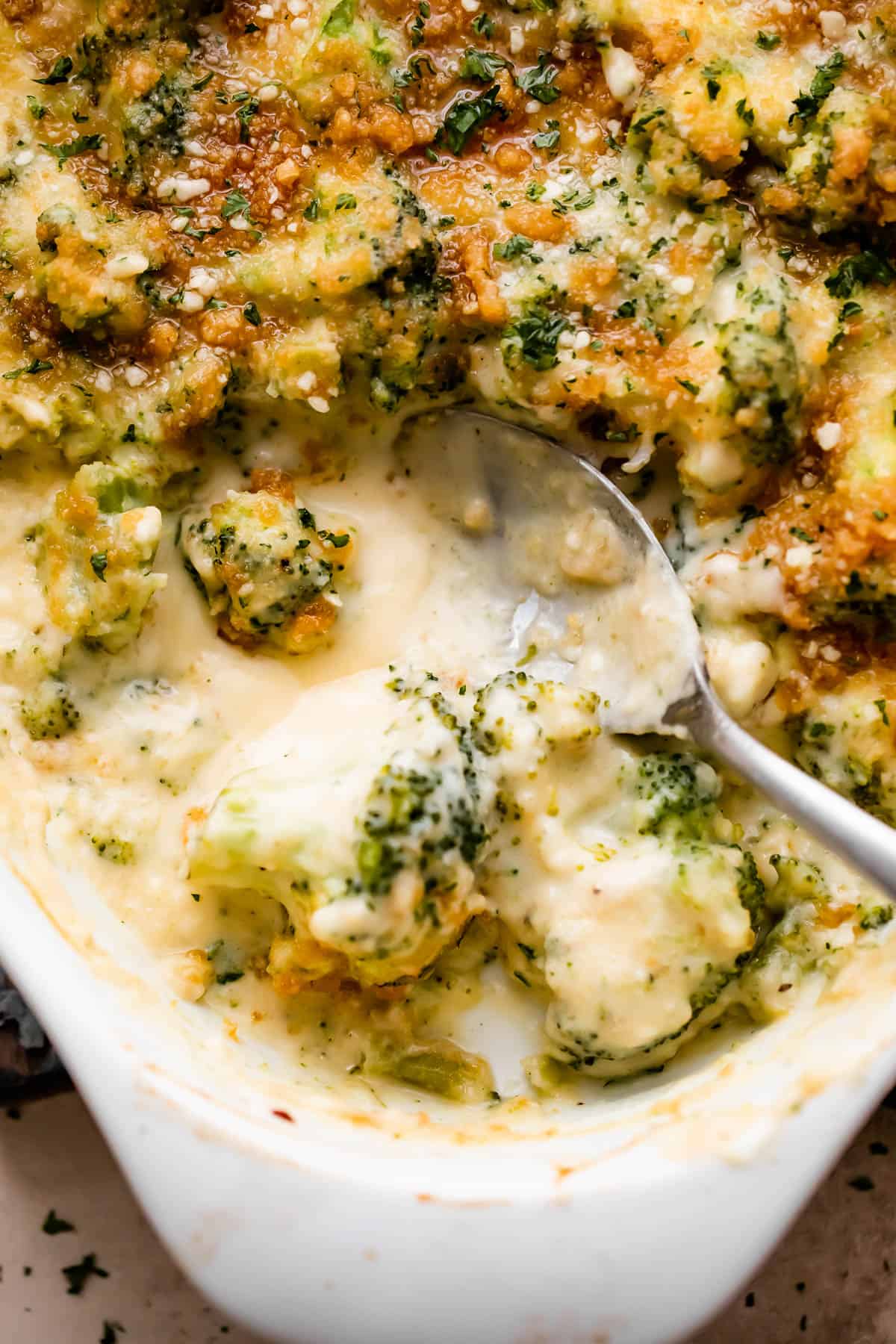 Perfect Serving Ideas
So what do you serve with this creamy, cheesy broccoli casserole? Anything you want! I think it makes a spectacular side dish, but it's also perfect as an easy vegetarian main course. Here are some of my favorite recipes to go with it:
Bread: A rustic loaf of artisan No Knead Dutch Oven Bread is a wonderful accompaniment to this cheesy, satisfying casserole. Whether you serve it for a vegetarian main course, or a comfy-cozy side dish, don't miss out on the bread!
Tomato Soup: A cup or bowl of this creamy Roasted Tomato Soup goes perfectly with cheesy broccoli casserole. Yum!
Baked Ham: This Christmas Ham with Brown Sugar Glaze isn't just for the holidays—it's also an easy, festive option that you can pull together anytime. Bonus: it's practically a feast when paired with cheesy broccoli.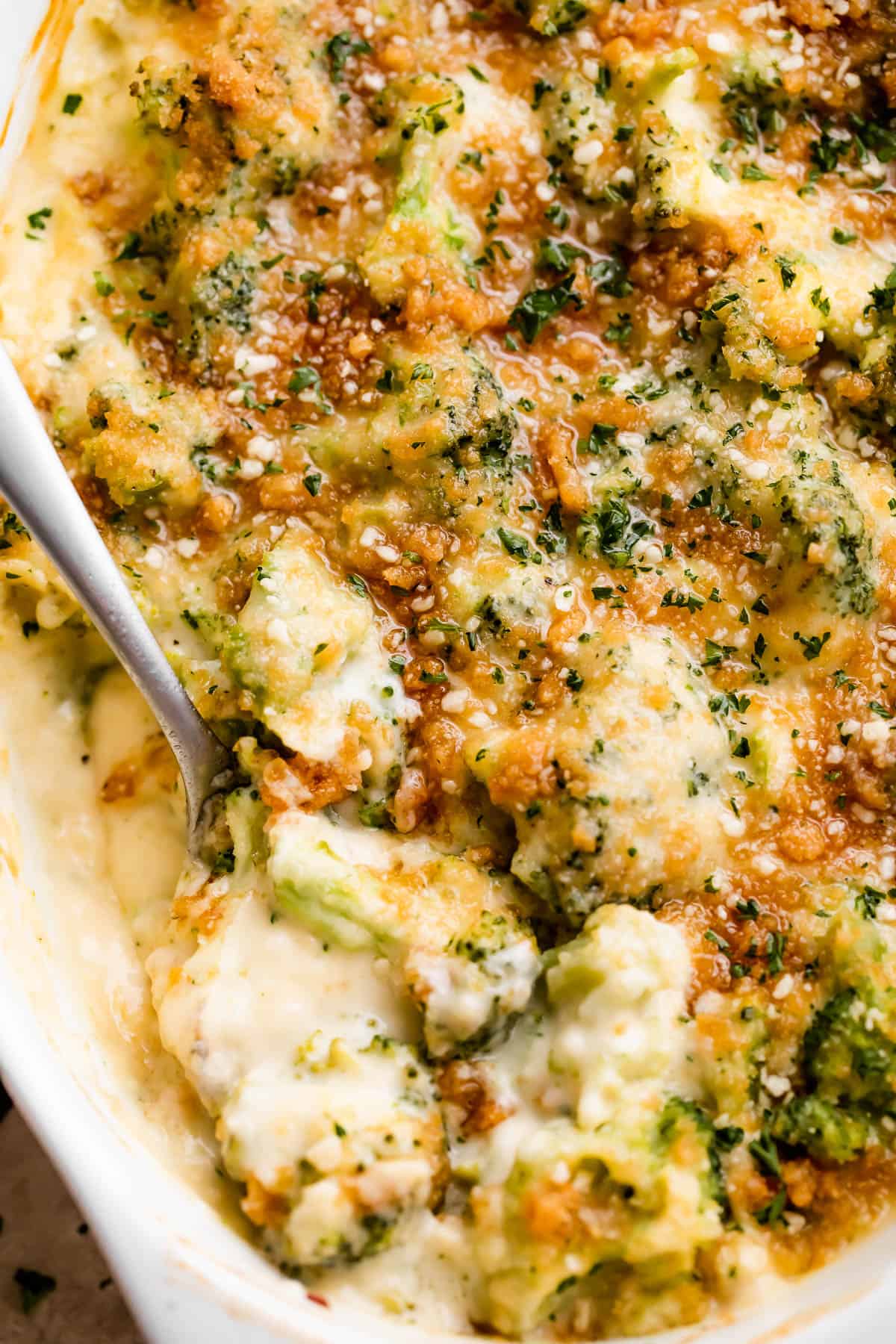 Storing and Reheating Leftovers
To store leftover casserole, first cover the baking dish well with plastic wrap. Alternatively, move the leftovers to airtight containers or food storage bags.
Refrigerate for up to 3 days.
Reheat in the oven, in an ovenproof dish covered with foil, at 350°F. Take the foil off of the dish for the last few minutes of baking to help crisp up the topping.
Can I Freeze This Casserole?
Definitely! You can cover this well (or store cooled leftovers in freezer containers/bags) and freeze for up to 2 months.
Thaw overnight in the refrigerator before reheating.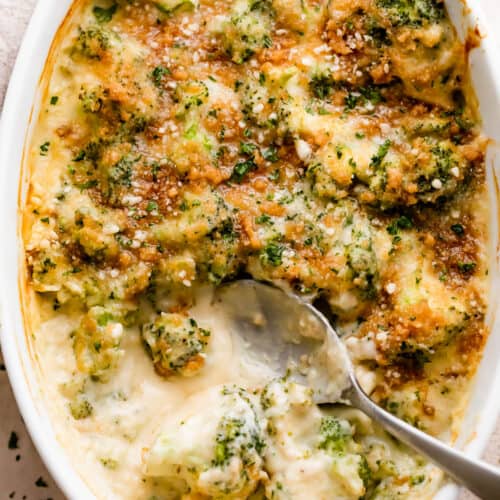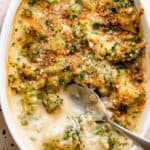 Print Recipe
Creamy Cheesy Broccoli Casserole
Fresh broccoli florets are dressed with a homestyle cheddar cheese sauce and crisp crumb topping in this Creamy, Cheesy Broccoli Casserole.
Instructions
Preheat oven to 350˚F.

Add garlic to the melted butter and cook for 10 seconds, or just until fragrant.

Sprinkle the flour over the melted butter and garlic; cook and whisk for 1 minute.

While whisking, start to slowly pour in the milk; continue to cook and whisk until everything is fully combined.

Whisk in the water or chicken broth; cook for 3 to 4 minutes or until the sauce is thickened.

Remove from heat and whisk in the cheeses, salt, and pepper.

Pour the cheese mixture over the broccoli in the baking dish; stir it all together until combined. Set aside.

In a small mixing bowl combine the panko crumbs and melted butter.

Sprinkle the panko mixture over the broccoli.

Cover with foil and bake for 25 minutes.

Remove foil and continue to bake for 15 minutes, or until top is browned and the casserole is bubbly.

Remove from oven and let stand 5 to 8 minutes.

Taste for salt and pepper; adjust accordingly.
Nutrition
Calories:
280
kcal
|
Carbohydrates:
17
g
|
Protein:
13
g
|
Fat:
19
g
|
Saturated Fat:
11
g
|
Polyunsaturated Fat:
1
g
|
Monounsaturated Fat:
5
g
|
Trans Fat:
1
g
|
Cholesterol:
53
mg
|
Sodium:
481
mg
|
Potassium:
439
mg
|
Fiber:
3
g
|
Sugar:
5
g
|
Vitamin A:
1151
IU
|
Vitamin C:
84
mg
|
Calcium:
347
mg
|
Iron:
1
mg
More Cozy Side Dishes