A new twist on taco night? Perfect! Zesty Chicken Quesadillas are easy to make, with juicy chicken, crisp-tender veggies, flour tortillas, and plenty of melted cheese. You'll want to make them again and again!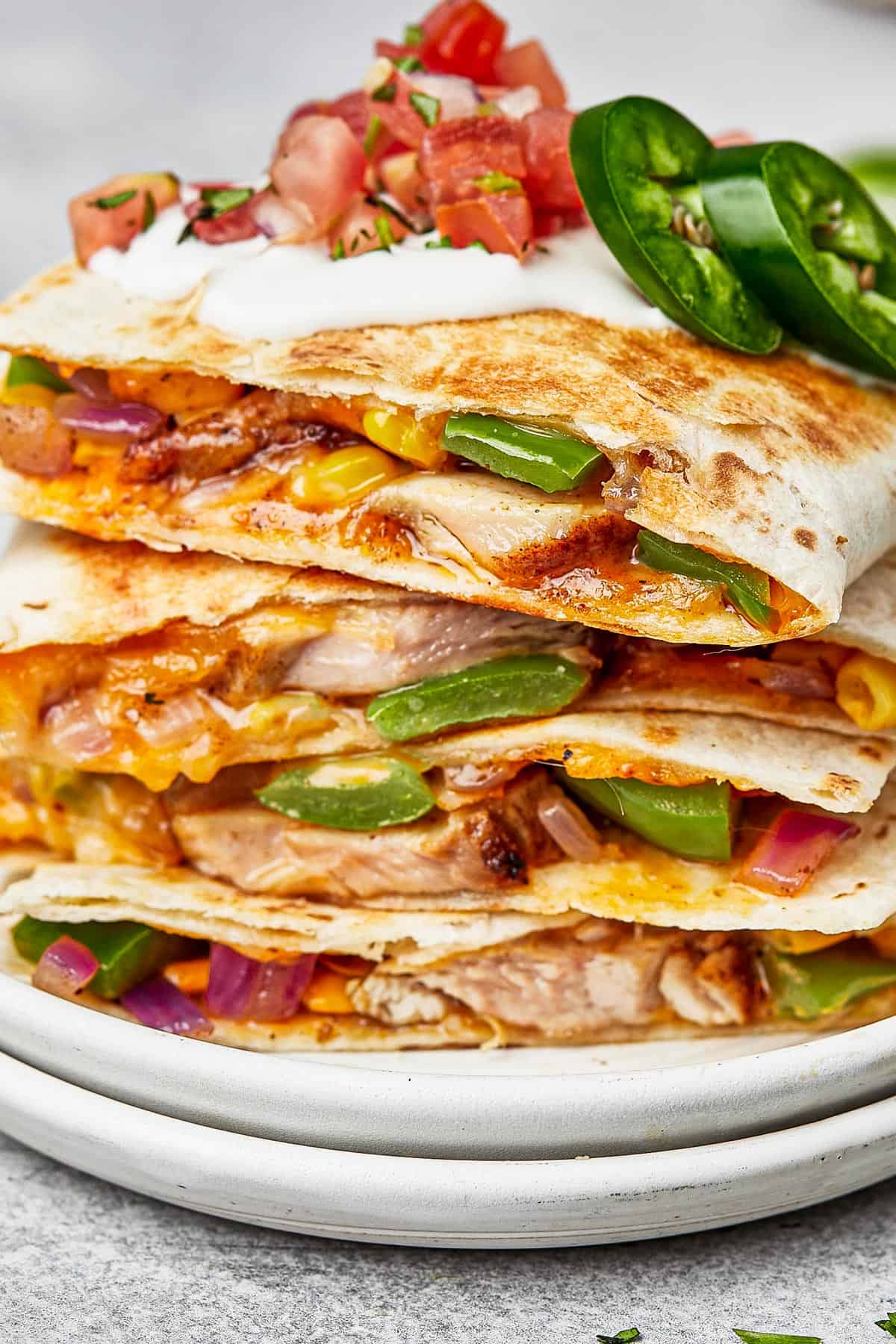 Perfect Homemade Chicken Quesadillas
Fajitas, tacos, burritos… at my house, we love all things Tex-Mex. Basically, if it involves tortillas and sour cream, we're in! And these easy chicken quesadillas definitely fit the bill. With layers of tender sauteed chicken, peppers, onions, corn, and Mexican blend cheese, they're an ultra-satisfying dinner option that's guaranteed to please. No one can be bored while eating quesadillas!
Of course, you could order takeout if you wanted to really hit the easy button, but I like to make my own chicken quesadillas at home for a number of reasons. First, they taste better right out of the skillet! No time is wasted picking up and driving home. You get the freshest, meltiest quesadillas when you make them yourself!
Second, it's more cost-effective to make them, which means you can feed a crowd for the same price as one or two entrees at your local restaurant. And, finally, when you make your own chicken quesadillas, you can decide what goes in – and what stays out. Use trusted, quality whole ingredients, and your body will thank you!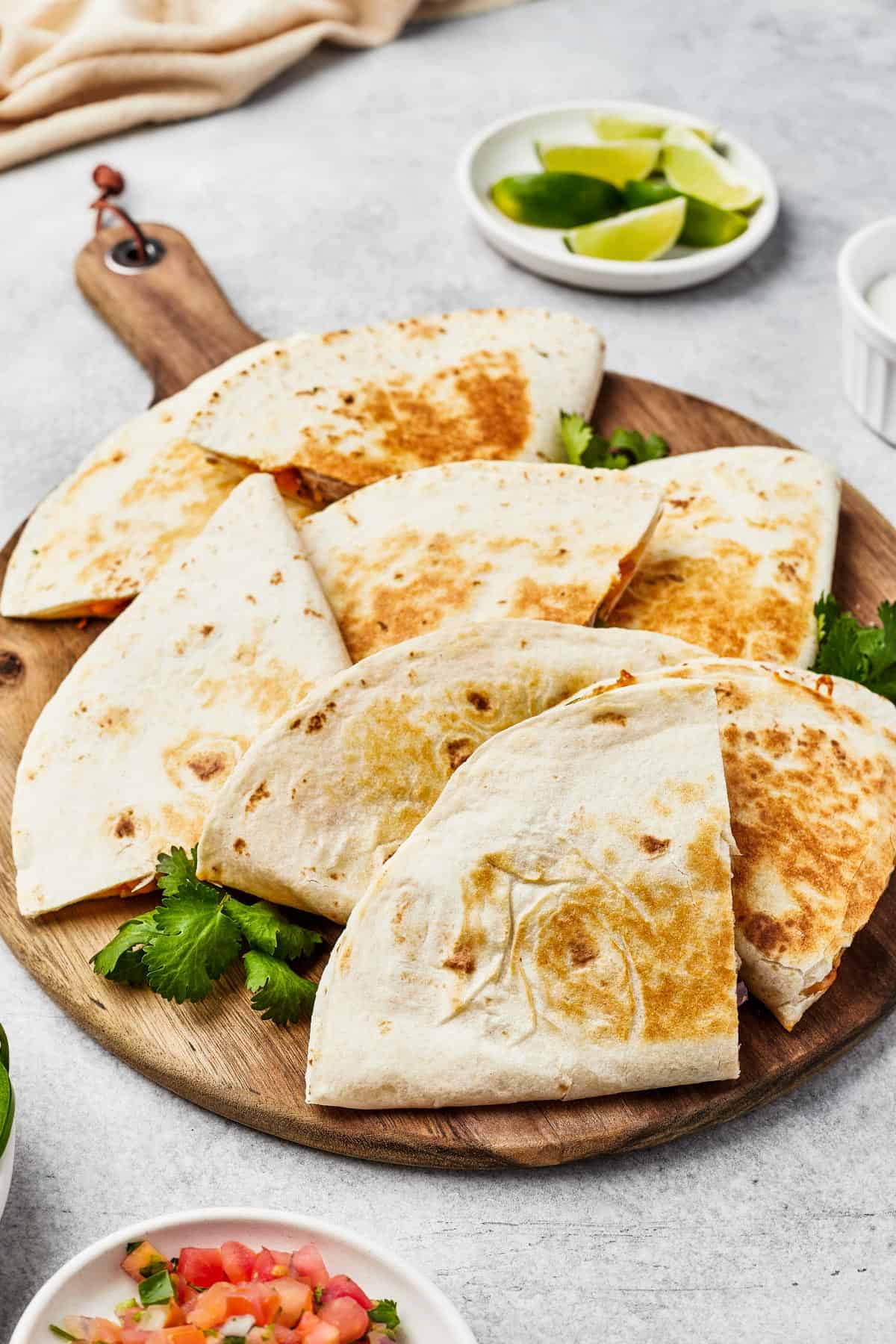 Are Quesadillas Healthy?
Like most recipes, this depends on how you make them. I think quesadillas are great for a healthy dinner, because you can use very little oil, some quality cheese and chicken, and fresh veggies. Voila! A great balance of healthy fats, proteins, and carbs. Plus tons of flavor. 😋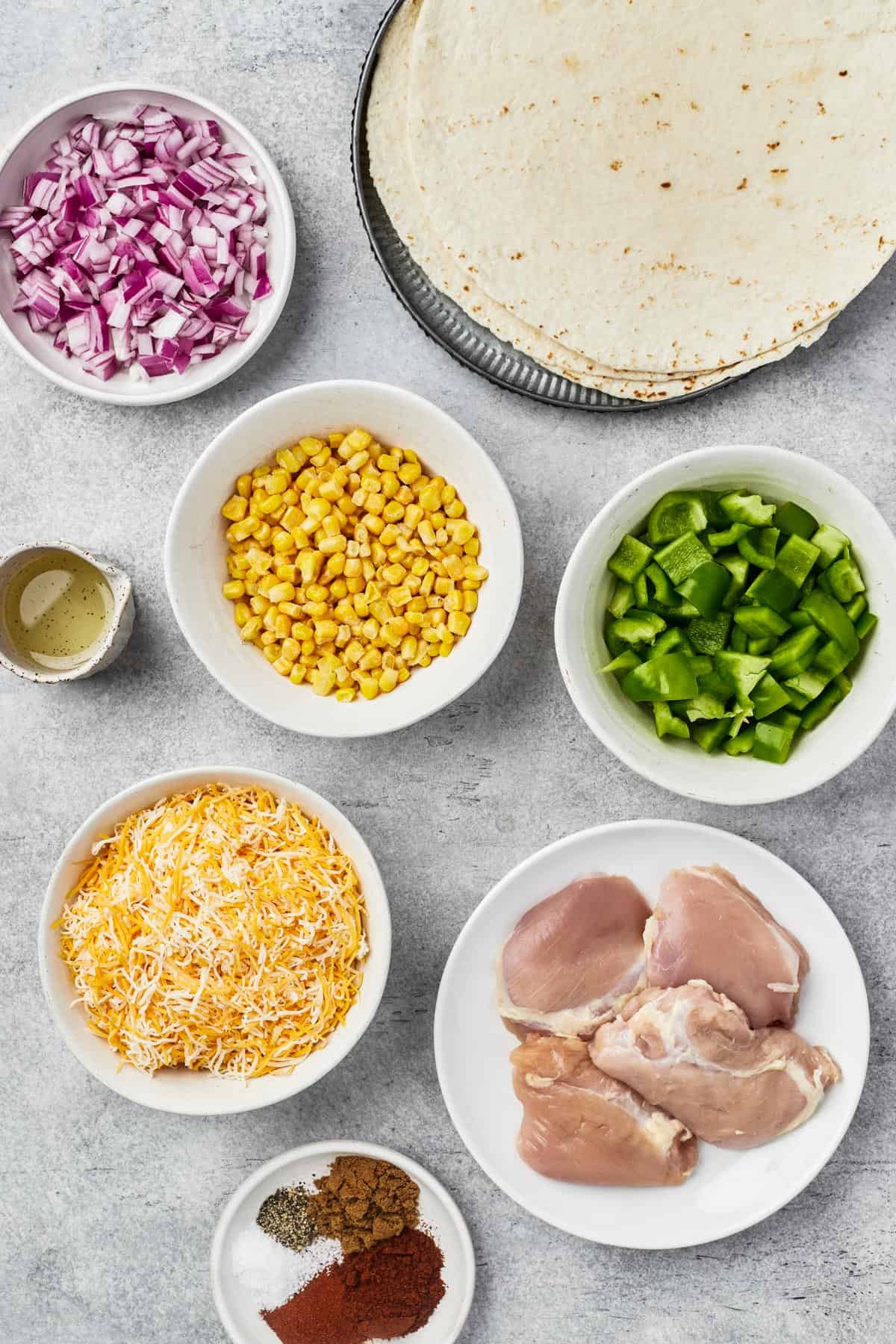 What You'll Need
Let's take a closer look at the ingredients for this simple dinner. If you'd like to take a shortcut, you can substitute taco or fajita seasoning for the homemade seasoning mixture I use. Here's the scoop:
For the Chicken Quesadillas
Spices: Chili powder, cumin, and paprika add plenty of flavor without having to measure and mix too many ingredients.
Salt and Pepper
Chicken: Boneless, skinless chicken thighs taste amazing in this recipe! I cook mine first, and slice afterward, but you could slice first if you prefer.
Veggies: Onions, bell pepper, and corn are perfect in quesadillas. Don't like one (or more)? No problem! Feel free to swap in your favorites. Mushrooms, black beans, green onions, fresh summer squash, and even cooked sweet potatoes are all super-tasty alternatives.
Tortillas: You'll want large, burrito-sized tortillas, perfect for folding in half around the filling.
Cheese: Any kind is fine, but pre-shredded Mexican blend cheese is a tasty time-saver.
For Serving
Sour cream
Pico de gallo
Chopped cilantro
Lime wedges
Chopped jalapeno
What Is the Best Cheese for a Quesadilla?
A little more about the cheese: if you don't want to use shredded Mexican cheese, some other great options include cheddar, Colby jack, Monterey jack, and even pepper jack (if you like a little spicy kick). Colby cheese tastes similar to cheddar and would work just fine. A bit of mozzarella can be nice, but I would combine it with another stronger-tasting cheese like cheddar, to get the most flavor in your recipe.
How to Make 'Em
This part is really very simple. Essentially, you cook the chicken and set it aside, and then you cook the veggies and set those aside as well. After that, it's time to assemble the quesadillas and brown them in the same skillet (wiped clean). Easy!
Cook the Chicken Thighs. In a large bowl, mix the spices with the salt and black pepper. Add the chicken thighs to the bowl, and gently toss to coat. Next, heat the oil over medium-high heat in a big skillet. Once the oil is hot, cook the chicken for about 5 minutes per side, until cooked through and browned. Set the chicken aside.
Cook the Veggies. Turn the heat down to medium, and throw your onions and peppers into the skillet. Stir-fry for a few minutes, until the vegetables are crisp-tender (not mushy!). Add in the corn, cook it for a minute longer, and then set the veggies aside.
Assemble the Quesadillas and Cook. Cut the chicken into slices. Make a quesadilla by layering one half of a large tortilla with ¼ cup shredded cheese, some chicken, some veggies, and another ¼ cup cheese on top. Fold in half, and cook over low heat in a dry skillet until browned on the bottom. This should take a couple of minutes. Carefully flip the quesadilla and brown the other side.
Repeat. Place the quesadilla on a clean plate or platter, and use the remaining ingredients to make the rest of the quesadillas.
Enjoy! Serve immediately, with your favorite toppings!
Helpful Tips and Yummy Variations
Before you start cooking, hold on a sec – I've collected a few helpful hints to make your chicken quesadillas just amazing, and some fun variations as well. Read on, and happy cooking!
Cheese Layers: It's important to put cheese on the bottom and top layers of the quesadilla, to keep the filling "glued" in place. Don't skip this, or the quesadillas are more likely to fall apart!
Use a Dry Pan: When you brown the assembled quesadilla, make sure to use a dry pan with no oil or butter. Oil can cook the tortilla too quickly, leading to un-melted cheese inside burned tortillas.
Chicken Breast: Chicken breasts can be used instead of thighs if preferred. They may cook faster than the thighs, so be careful not to dry them out.
Leftover Chicken Option: You can easily use leftover chicken in this recipe, if you prefer. Just cook it lightly with the spices and oil, enough to seal in the flavors, but not enough to dry it out. 2 minutes should be plenty!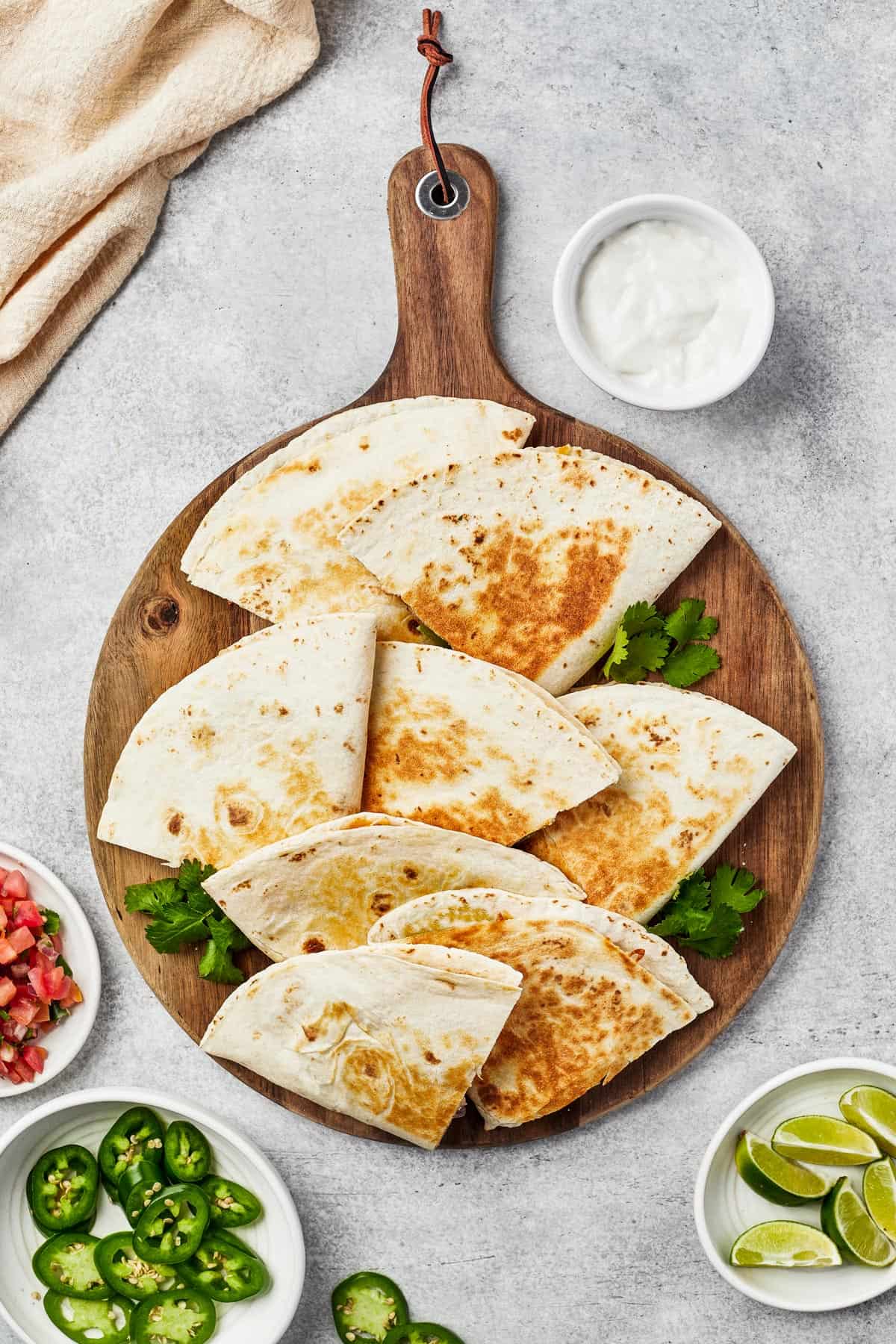 Yummy Ideas for Serving
Chicken quesadillas are a complete meal, with veggies, chicken, cheese, and a few carbs from the tortilla and corn. But if you'd like to round out your menu with some sides, these are easy options that pair really well!
A Juicy Salad: Balance the warm, cheesy quesadillas with a fresh, colorful salad! This Avocado Tomato Salad has all the flavors of summer in one amazing bowl.
Mexican Rice: Let your instant pot do the work with this easy recipe for Instant Pot Mexican Rice. You'll love this rosy-red rice dish with spices and jalapeno.
Albondigas: A soup starter is always comforting, and Albondigas Soup with meatballs and a rich tomato broth is one of the best. Easy to make, easy to love! Be sure to make extra, because the leftovers are divine!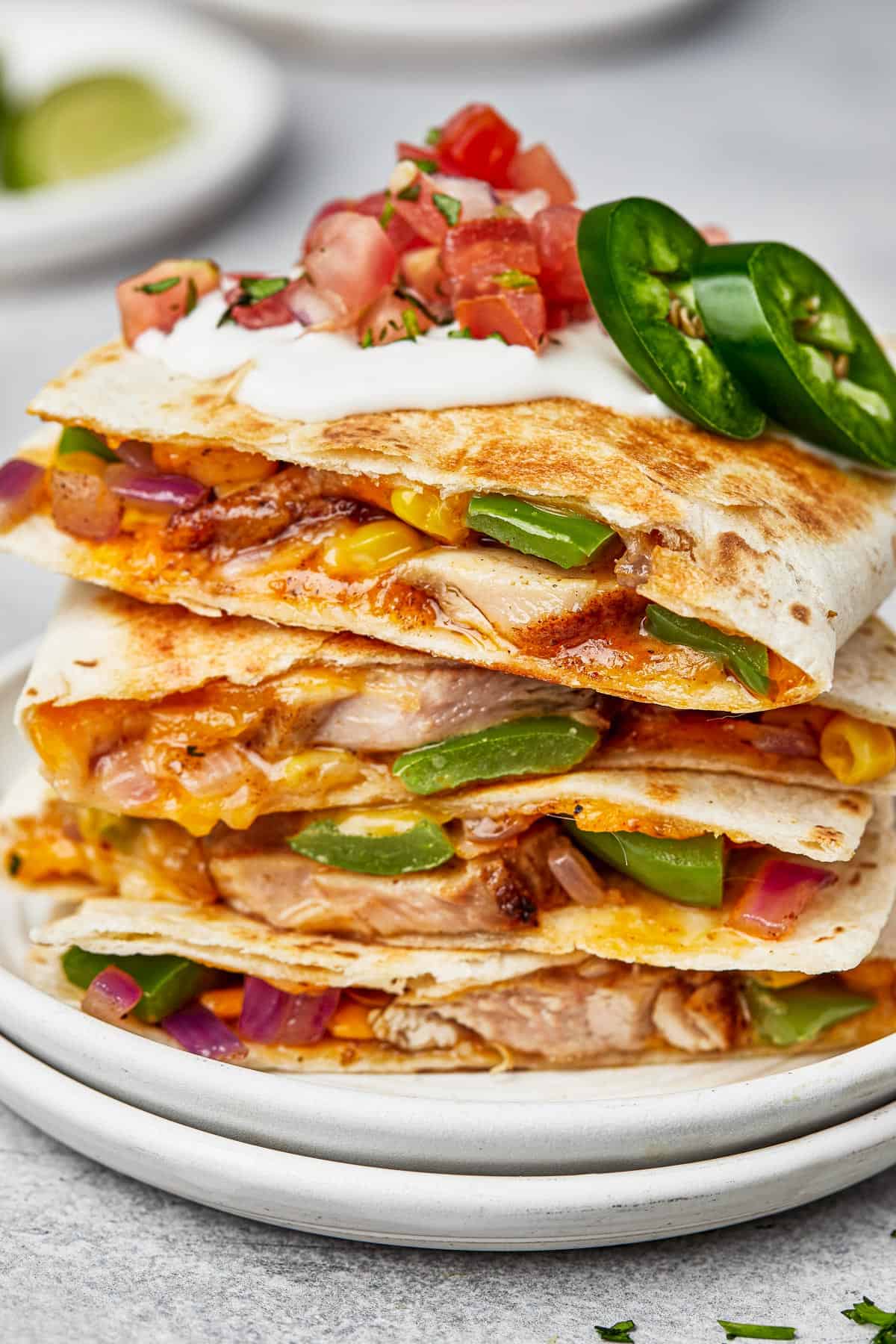 Storing and Reheating Leftover Chicken Quesadillas
If you find that you have leftovers, no worries! Cool them down and wrap each one in plastic wrap (or pop them into a zip-top bag). Store in the fridge for up to three days.
Reheat leftover quesadillas in the oven, or on the stovetop. Use a dry skillet on the stove, and heat on medium-low until the quesadilla is hot all the way through. In the oven, bake at 350°F, directly on your clean oven rack, with a pan underneath to catch any drips.
Can I Freeze Chicken Quesadillas?
Sure! They will not be as crispy when reheated, but they will be safe to eat.
Just wrap each chicken quesadilla tightly in plastic wrap, followed by a layer of foil. Label with the date, and freeze for up to four months.
Thaw in the fridge before reheating.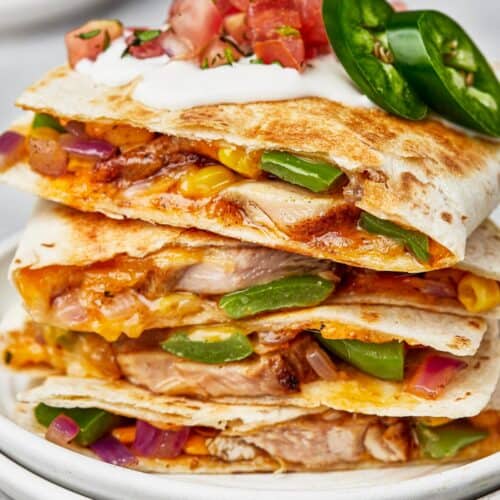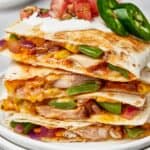 Print Recipe
Chicken Quesadillas
Chicken Quesadillas are easy to make, with juicy chicken, crisp-tender veggies, flour tortillas, and plenty of melted cheese.
Ingredients
For Serving
Sour cream

Pico de gallo

Chopped cilantro

Lime wedges

Chopped jalapeno
Instructions
In a large bowl, mix the chili powder, cumin, paprika, salt, and black pepper. Toss and coat the chicken thighs in the seasoning.

In a large skillet, heat the olive oil over medium-high heat.

Once the oil is heated and shimmering, add the chicken thighs, and cook until browned and cooked through, about 5 to 6 minutes per side.

Remove the chicken from the pan, tent with foil, and set aside.

Reduce the heat to medium, and add the onion and bell pepper to the pan. Stirring occasionally, cook until softened but crisp-tender, about 3 to 4 minutes.

Add the corn to the pan, and cook until heated through, about 1 minute.

Set the vegetable mixture aside, and carefully wipe the excess oil from the skillet. Turn the heat down to medium-low.

Slice the chicken thighs and prepare to assemble the quesadillas:

On half of one tortilla sprinkle an even layer of cheese, using about ¼ cup. Top with chicken and vegetables, followed by another ¼ cup of cheese. Fold the tortilla in half.

Place the quesadilla in the pan (dry, with no oil added). Cook on one side for 2 to 3 minutes, or until the cheese begins to melt and the tortilla is golden-brown on the bottom.

Flip, and cook the quesadilla for another 2 minutes, or until the tortilla is golden-brown on both sides and the cheese is melted.

Remove the quesadilla from the skillet, and repeat with the remaining ingredients.

Using a pizza cutter or a sharp knife, cut the prepared quesadillas in half and serve immediately with desired toppings.
Nutrition
Calories:
400
kcal
|
Carbohydrates:
16
g
|
Protein:
33
g
|
Fat:
22
g
|
Saturated Fat:
9
g
|
Polyunsaturated Fat:
3
g
|
Monounsaturated Fat:
9
g
|
Trans Fat:
1
g
|
Cholesterol:
143
mg
|
Sodium:
908
mg
|
Potassium:
464
mg
|
Fiber:
2
g
|
Sugar:
3
g
|
Vitamin A:
920
IU
|
Vitamin C:
18
mg
|
Calcium:
307
mg
|
Iron:
3
mg
More Flavorful Chicken Dinners