Sun Dried Tomato Chicken is a hearty, satisfying, Italian-inspired skillet dish! Boneless skinless chicken thighs are pan-fried, and then smothered in a creamy sun dried tomato sauce with herbs, garlic, and baby spinach.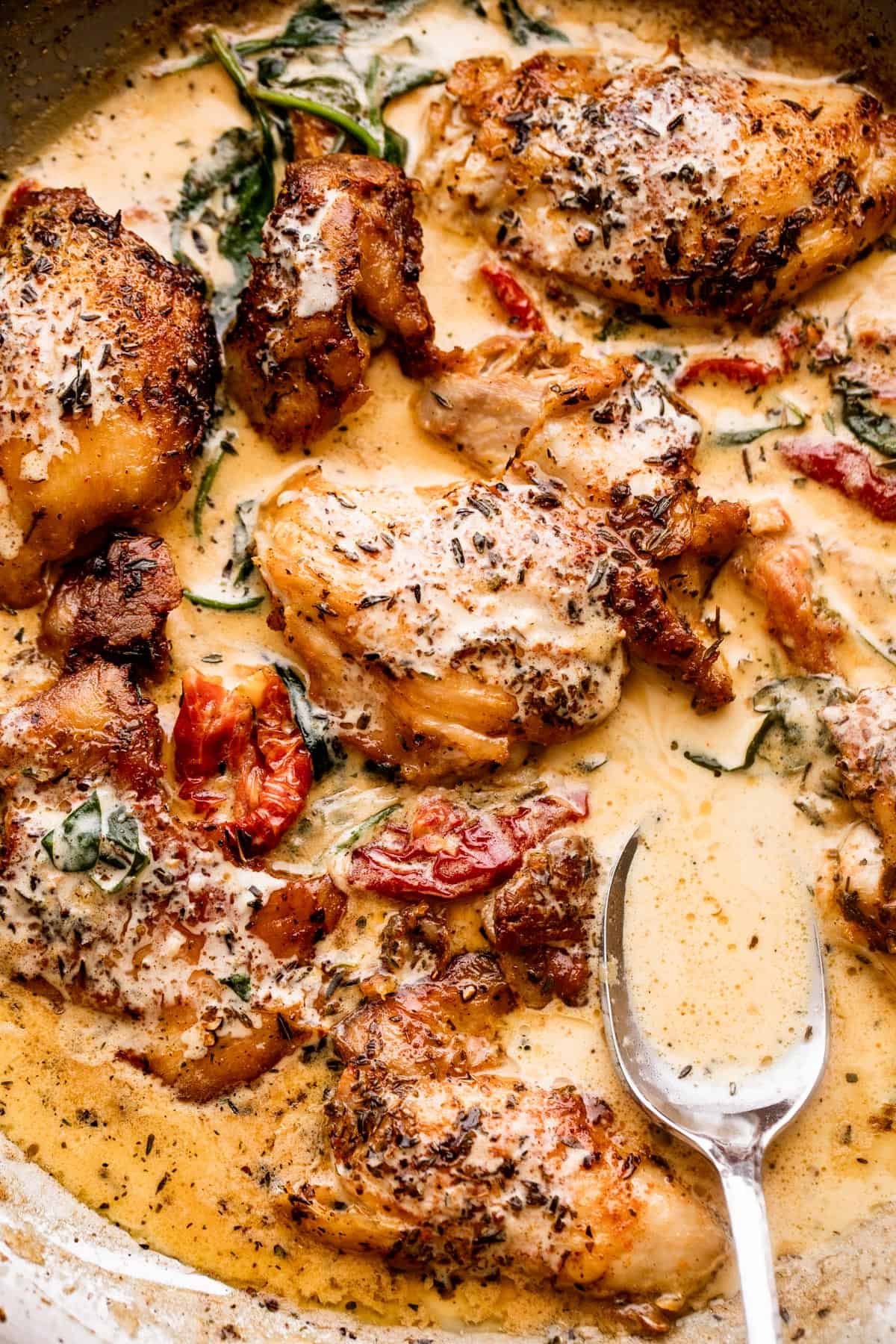 A Low-Carb Chicken Dish with Oodles of Flavor
Sun dried tomato anything is always welcome at my dinner table. There's just something about that rich, golden flavor that makes a recipe extra special. And, when combined with hearty pan-fried chicken and real heavy cream?! 😲 Oh my goodness, yes! It's seriously the best food-thing ever.
I love, love, love making chicken with sun dried tomatoes, because it's a nice change from typical chicken sauces and gravies. Chicken thighs work especially well, because they are moist and extra-flavorful.
The tangy taste of sun dried tomato works very well with dark meat chicken, especially when the right herbs are part of the mix. Thyme and oregano have pungent, earthy notes, which help to balance the richness of the chicken and the cream. This recipe is a real Yum! 😋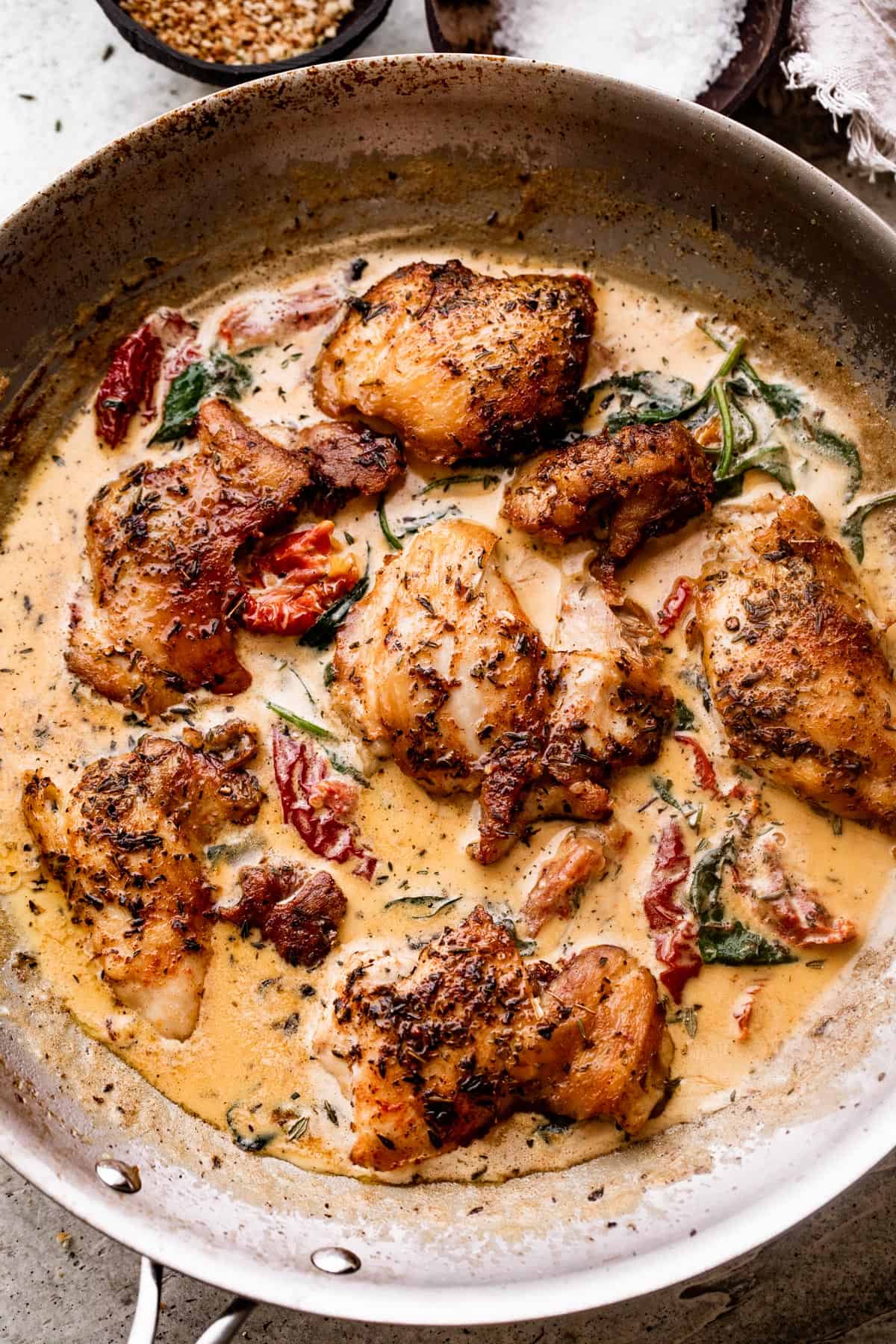 What You'll Need
Sun dried tomato chicken is a dish made with only a few ingredients, including a handful of seasonings and herbs that you probably already have in your pantry. That makes it even easier to pull together in a flash!
Olive Oil: For pan-frying the chicken.
Boneless, Skinless Chicken Thighs: You can cook them whole, or cut them into small chunks for faster cooking. I keep them whole.
Salt and Pepper: To taste.
Herbs: Dried oregano and dried thyme. If you like, you can substitute other herbs, like parsley and basil.
Spices: Paprika and garlic powder round out the seasoning for the chicken thighs. You can use sweet paprika or smoked. Either is fine!
Minced Fresh Garlic: To flavor the sauce, I like to use fresh garlic, but you could substitute additional garlic powder if you prefer.
Broth: Low sodium chicken broth is my go-to, but vegetable broth is also a good option.
Heavy Cream: Half and half will do in a pinch, but I don't recommend using milk because it is not as thick and rich.
Spinach: Baby spinach, or chopped regular spinach, to wilt in the sauce. Make sure it is washed and thoroughly dried.
Sun dried Tomatoes in oil: Measure half a cup of sun dried tomato pieces, and give them a good chop.
Parmesan Cheese: A little bit of grated Parmesan adds the perfect finishing touch to this creamy recipe.
Can I Use Chicken Breasts Instead?
You might be wondering if you can just use chicken breasts instead of thighs, and the good news is, yes! Chicken breasts will work just fine. They may cook up faster than thighs, depending on how large they are, so keep an eye on them and don't overcook. A meat thermometer is the easiest way to make sure chicken is done without overcooking.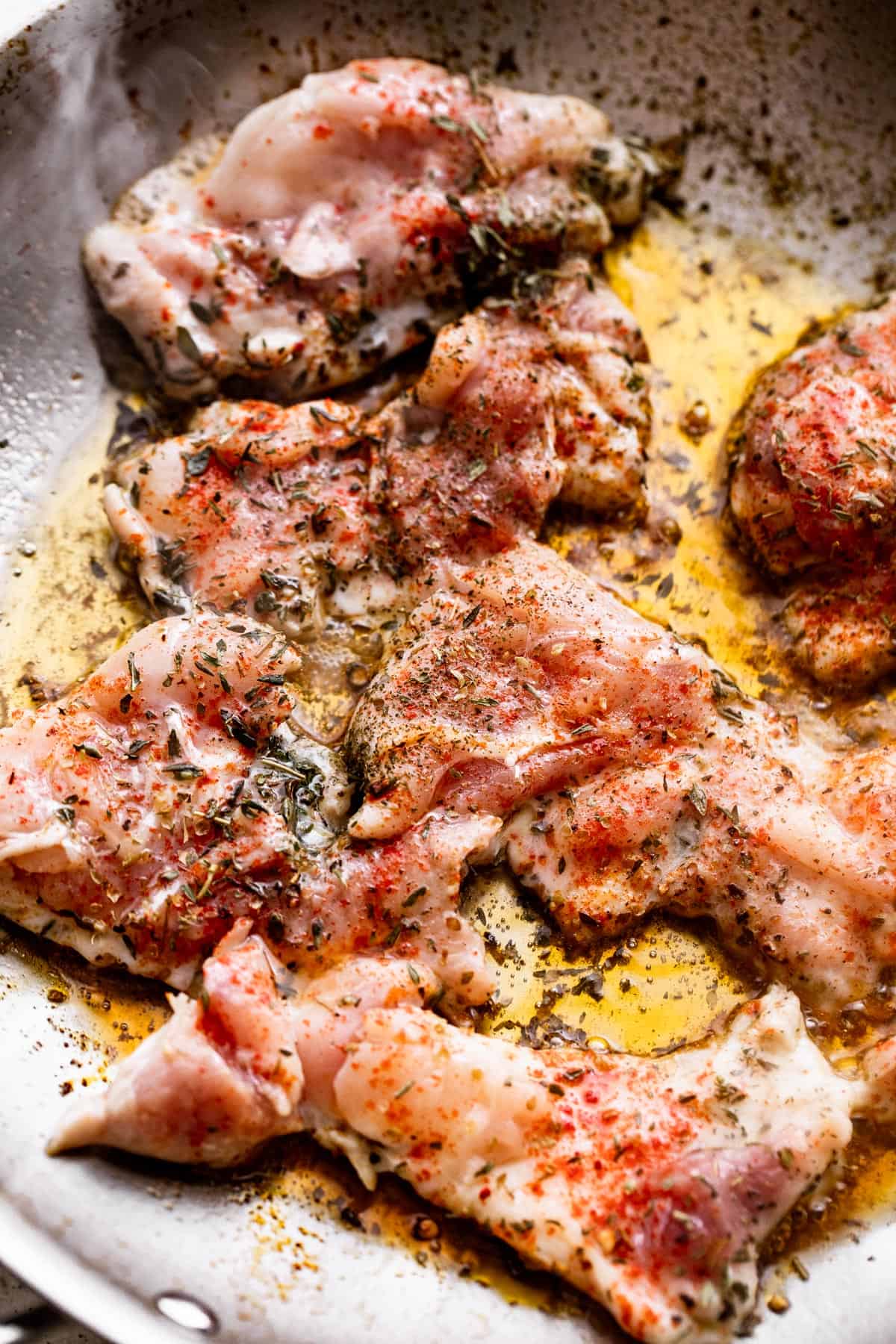 How to Make Sun-Dried Tomato Chicken Thighs
Let's take a look at the process for making this skillet chicken dish. You're going to love how quickly this savory recipe for chicken thighs in creamy tomato sauce comes together, all in one pan.
Season the Chicken and Pan-Fry. First, heat a generous swirl of olive oil in a large skillet, over medium-high heat. Sprinkle the chicken thighs with salt, pepper, herbs, and spices. Cook the chicken on one side for 6 minutes, flip, and cook on the second side for 5 more minutes.
Cook the Garlic and Deglaze the Pan. Take the chicken thighs out of the skillet and set them aside. Add the minced garlic to the skillet and cook for 15 seconds or so, adding more oil if the skillet seems dry. Then whisk in the chicken broth, while scraping up all the browned bits from the bottom of the skillet. (This is known as deglazing the pan.)
Make the Sauce. Now, add the heavy cream, spinach, tomatoes, and parmesan cheese to the skillet. Cook this for 5 minutes, stirring occasionally.
Simmer the Chicken in the Sauce. Return the chicken thighs to the skillet and cook them in the sauce for a few minutes, until chicken is cooked through and sauce is thickened.
Enjoy!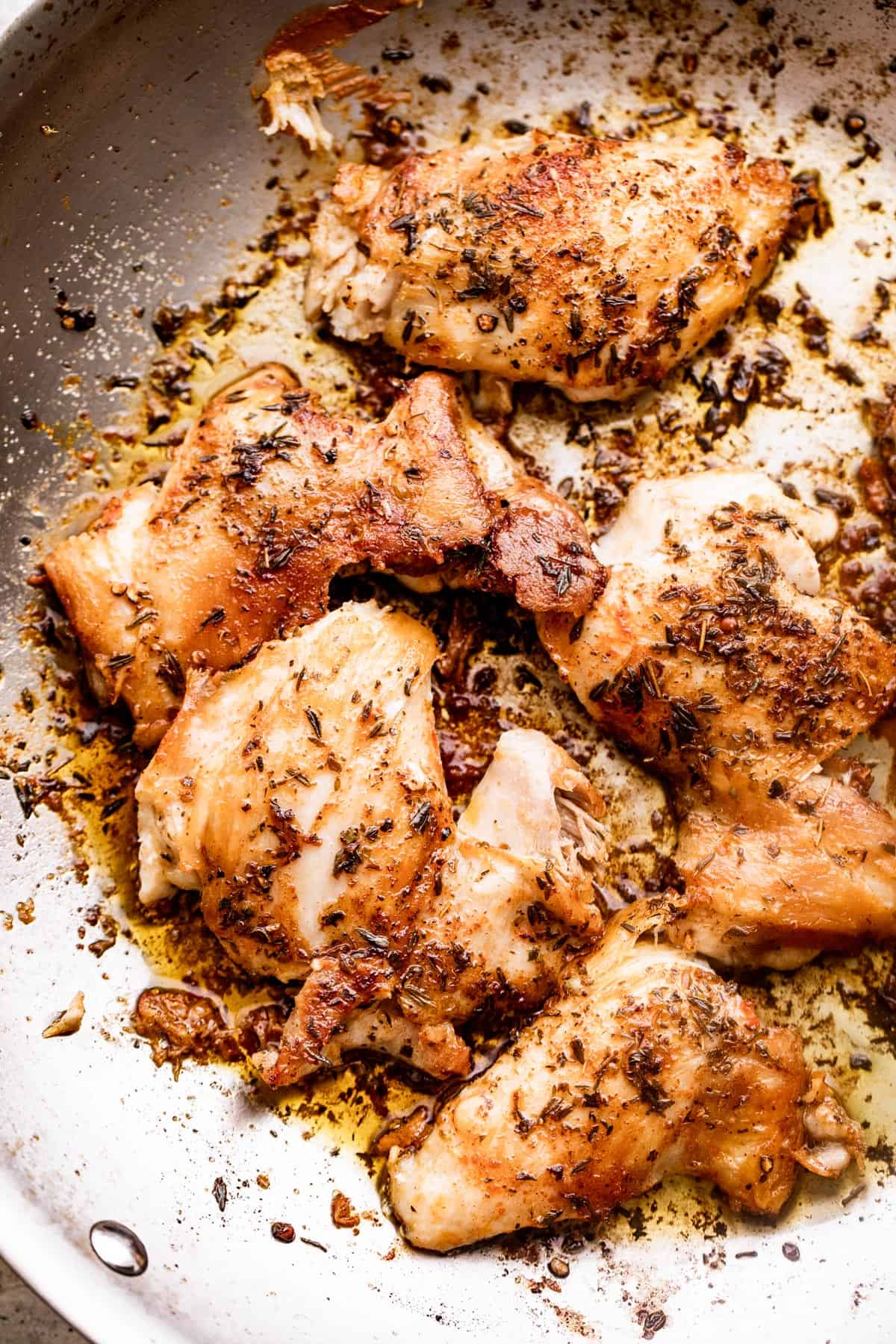 Tips for Success
When it comes to making this recipe, you really can't go wrong – it's very straightforward and also very forgiving. However, I do have a couple of tips to share, just to make sure it's the best it can be. Read on, and happy cooking!
Adjust Tomatoes to Taste: You can add more sun dried tomatoes if you want a more tomato-y sauce, but keep in mind that they have a fairly intense flavor. I recommend starting with the recommended amount and adding a teaspoon more at a time, according to your taste.
Tomatoes in Oil: This recipe was written for tomatoes packed in oil, but if you have dried tomatoes that are not packed in oil, be sure to rehydrate them for a couple of hours in water before draining and using.
Kitchen Shears: When chopping your tomatoes (and even your chicken, if you decide to cut it up), clean kitchen shears make this task extra easy! Be sure to sanitize them properly after using.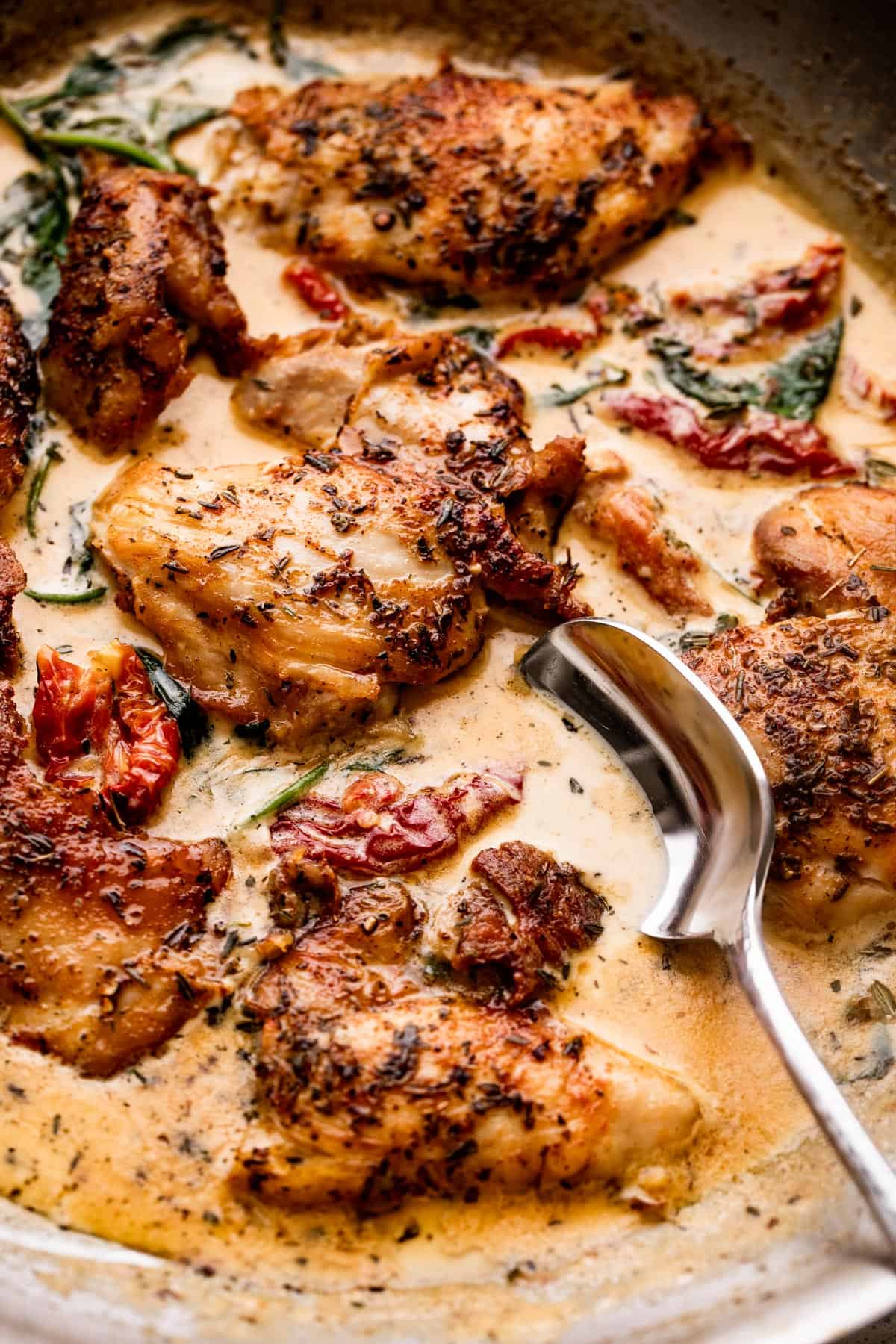 Serving Suggestions
Pasta is a natural with this recipe, including your favorite low carb or gluten-free pasta – just cook it according to the package directions, and you're good to go! But, there are lots of other good options, too. Here are a couple of our favorites;
Bread: Fresh bread is a great idea for mopping up all that creamy sauce! Try my Spinach and Feta No Yeast Bread for a quick option that complements the sun dried tomato sauce perfectly.
Green Beans: Who could resist a pan of shiny, perfectly green Sautéed Garlic Butter Green Beans? This easy side is a favorite with just about any meal, and very popular, too!
Bruschetta: Crisp bruschetta is a delightful starter or side dish, especially when it's loaded with all kinds of goodies! This BLT Bruschetta with real bacon is especially irresistible. 😍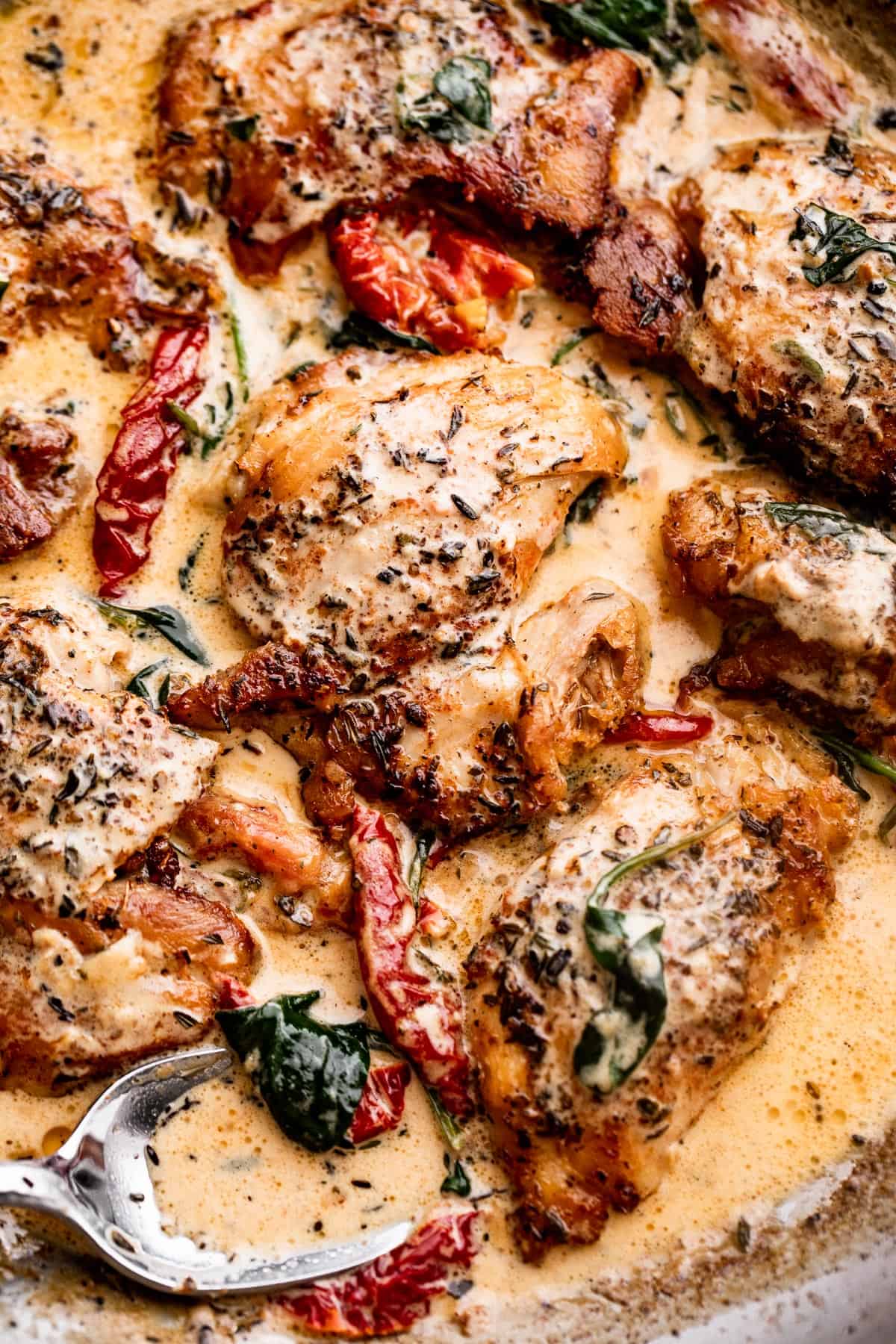 How to Store and Reheat the Leftovers
To store, just place the chicken and sauce in a food storage container or bag, and refrigerate for up to 3 days.
To reheat, place the desired portion in a skillet over low heat. Cook until the chicken reaches a safe internal temperature (165°F).
Can I Freeze Extras?
You can definitely freeze this recipe, although you may find that the sauce separates a little bit after thawing. If you have this problem, whisk the sauce over medium heat to bring it back together, and add a little more cream.
To freeze, just pack the cooled chicken and sauce into an airtight container or freezer bag, leaving as little air in the container as possible. Freeze for up to 2 months.
Thaw overnight in the refrigerator before reheating.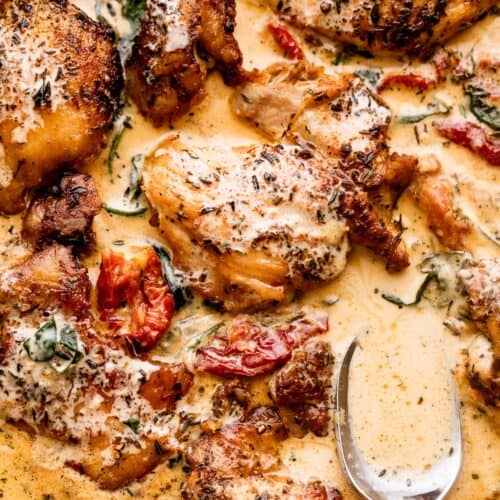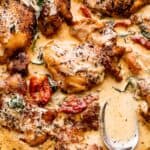 Print Recipe
Sun Dried Tomato Chicken
Boneless skinless chicken thighs are pan-fried and then smothered in a creamy sun dried tomato sauce with herbs, garlic, and baby spinach.
Instructions
Heat olive oil in a large skillet set over medium-high heat.

Season chicken thighs with salt, pepper, oregano, thyme, paprika, and garlic powder.

Add chicken thighs to the hot oil and cook for 6 minutes; flip and cook for 5 more minutes.

Remove chicken thighs from the skillet and set them aside.

Return skillet to the burner and stir in the minced garlic; cook for 15 seconds. Add more oil, if needed.

Whisk in the chicken broth while scraping up all the browned bits from the bottom of the skillet.

Stir in the heavy cream; add spinach, tomatoes, and parmesan cheese.

Continue to cook for 5 minutes. Stirring occasionally.

Return chicken thighs to the skillet; and cook for 3 to 4 more minutes, or until chicken thighs are cooked through and sauce is thickened.

Remove from heat.

Serve.
Nutrition
Calories:
470
kcal
|
Carbohydrates:
7
g
|
Protein:
38
g
|
Fat:
32
g
|
Saturated Fat:
13
g
|
Polyunsaturated Fat:
3
g
|
Monounsaturated Fat:
13
g
|
Trans Fat:
1
g
|
Cholesterol:
212
mg
|
Sodium:
328
mg
|
Potassium:
784
mg
|
Fiber:
1
g
|
Sugar:
1
g
|
Vitamin A:
1690
IU
|
Vitamin C:
17
mg
|
Calcium:
124
mg
|
Iron:
2
mg
More Healthy Low-Carb Recipes