Crisp celery and onion, a creamy mayonnaise dressing plus Yukon Gold potatoes? Yes, please! This American Classic Potato Salad has all of that and more. It's the perfect summertime side, and it's so easy to make!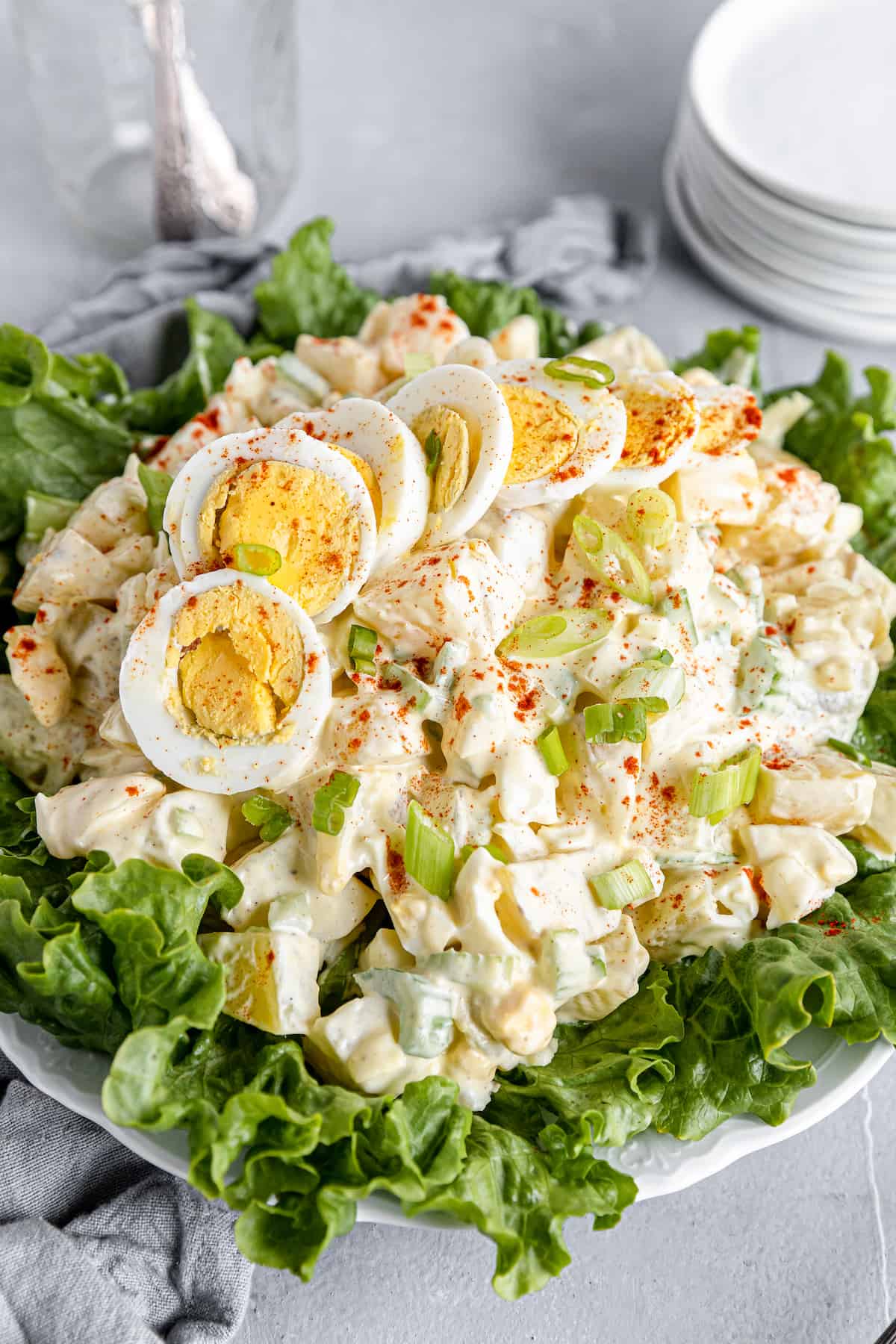 The Best Potato Salad Recipe
What's your favorite comfort food? I know, I know—that's a hard question. There are so many amazing dishes that just spell delicious, easy, and comfy, right? But, I bet most of the recipes that occur to you are either sweet (think ice cream) or warm (think mac and cheese).
However! When it's hot outside and you need a comfort-food dish to go with dinner, what do you choose? As much as I love salsa and chips, there's only so many times I can go there, you know?
Enter potato salad: summer's most comforting dish! It has it all: perfectly tender chunks of potato, a creamy dressing spiked with onion and apple cider vinegar, the crispy crunch of celery, and the protein-packed goodness of hard-boiled eggs.
I love making a big batch of potato salad to go with a grilled main course, but it's also great to keep on hand in the fridge for an easy lunch or snack. You can feel good about serving your family this from-scratch version that's more delicious than any ready-made potato salad, and just about as easy to put together.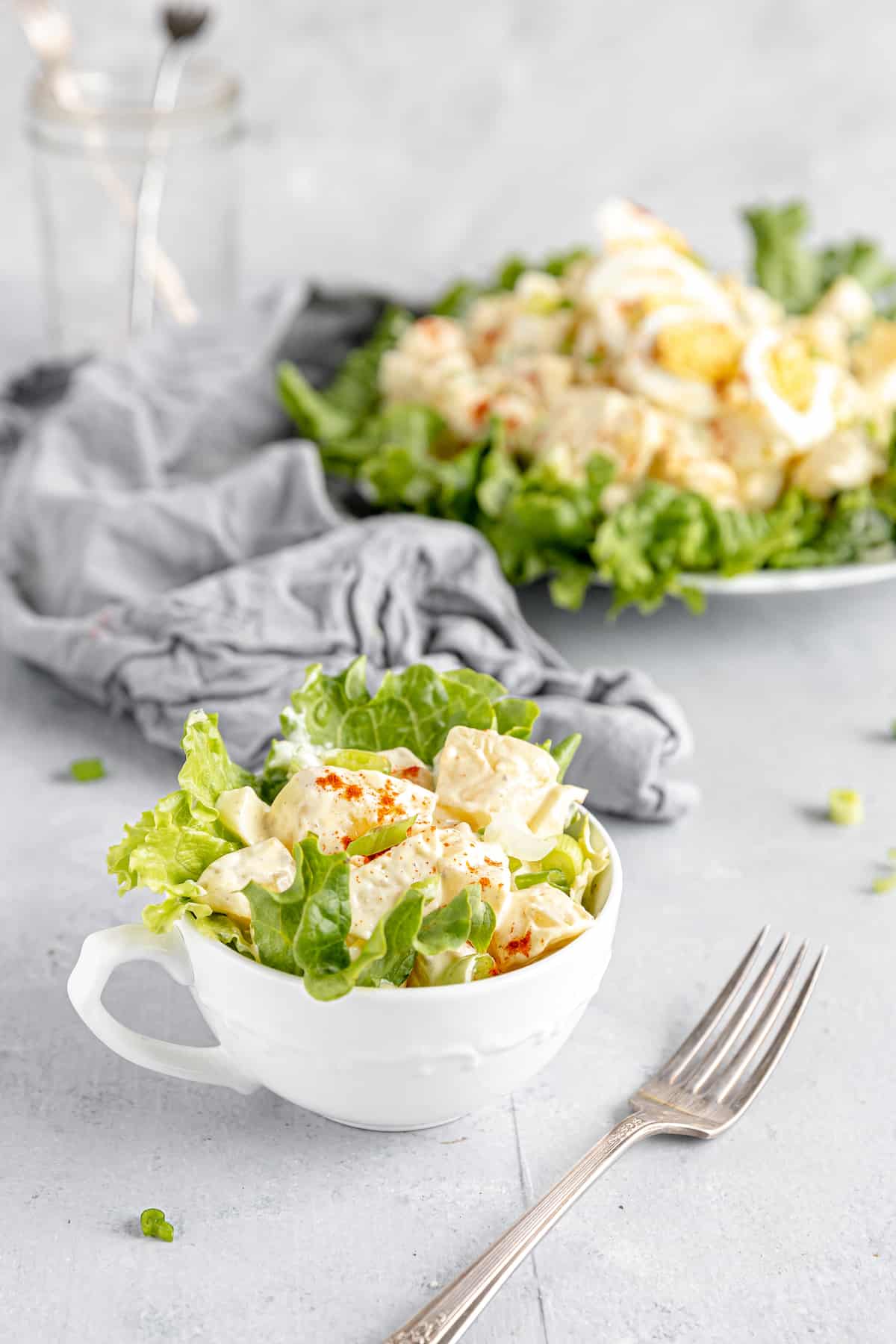 What You'll Need
While some recipes call for bacon bits, chives and even cheese, we're going old-school in this recipe! I use real mayonnaise, yellow mustard, celery seed, apple cider vinegar, and other traditional ingredients to make a big bowl of grandma-would-approve YUM.
Potatoes: For this recipe, you'll need 8 medium-sized Yukon Gold potatoes, peeled and diced.
Mayonnaise: To get that perfectly creamy texture and flavor, I use one and a half cups of mayonnaise. You can use regular, keto, vegan, or any other type of mayonnaise that you prefer. (I don't recommend sweet mayos or salad dressings because that will change the flavor significantly!)
Apple Cider Vinegar: You know that special tangy-sweet hint in a really good potato salad? We're adding just a touch of ACV to get it.
Mustard: You can use any mustard you like, but I prefer plain yellow mustard.
Sugar: I add just a little bit of sugar to my potato salad, but you can omit this if you wish.
Salt: About a teaspoon, to taste.
Celery Seed: This old-fashioned spice gives a perfect punch of celery flavor to your recipe! Don't skip it!
Pepper: Pepper provides a pleasant bite and cuts some of the richness of the dish. Use about half a teaspoon.
Celery: Freshly diced celery gives crunch and adds a cool, quenching vibe to the mix!
Onion: I like to dice up some sweet onion for my potato salad, but you can also finely chop or even grate the onion for a more delicate texture.
Eggs: For me, potato salad just isn't complete without hard-boiled eggs!
Smoked Paprika & Chopped Green Onion: For garnish, optional.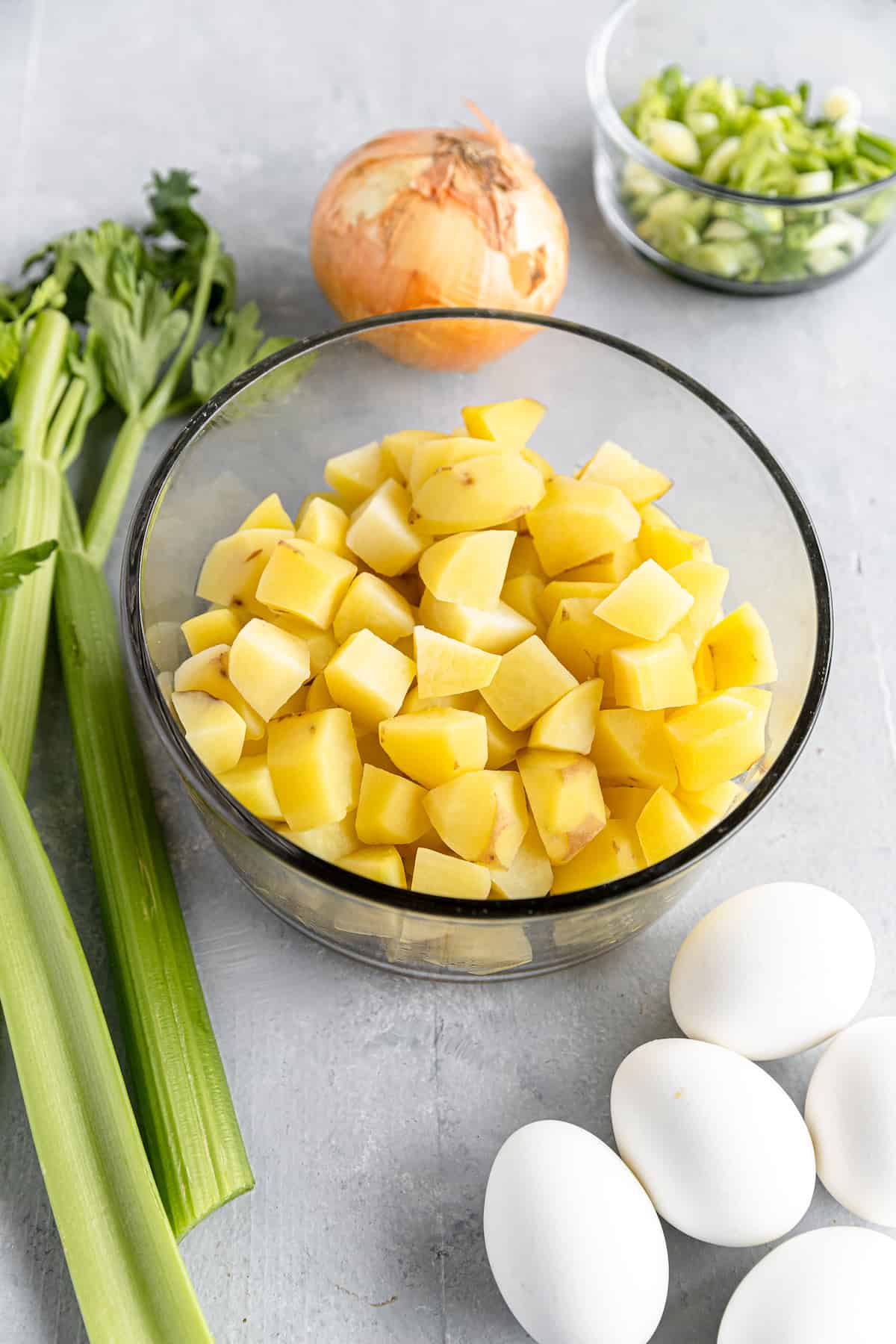 How to Make Classic Potato Salad
You'll love how easy it is to bring this dish together. It only takes a short time to cook the potatoes, and from there, it's mix and chill, baby! Let's dive in.
Prepare Potatoes: Peel and dice the potatoes into small chunks, roughly ¾-inch. Place the potatoes in a pot with cold water and a dash of salt. Bring to a low boil and cook for 20 minutes, or until the potatoes are slightly tender (check with a fork). Drain and rinse under cold water, then set aside.
Prep Celery, Onion & Eggs: Dice up the celery, onion and hard boiled eggs. Place them in a large mixing bowl along with the cooled potatoes.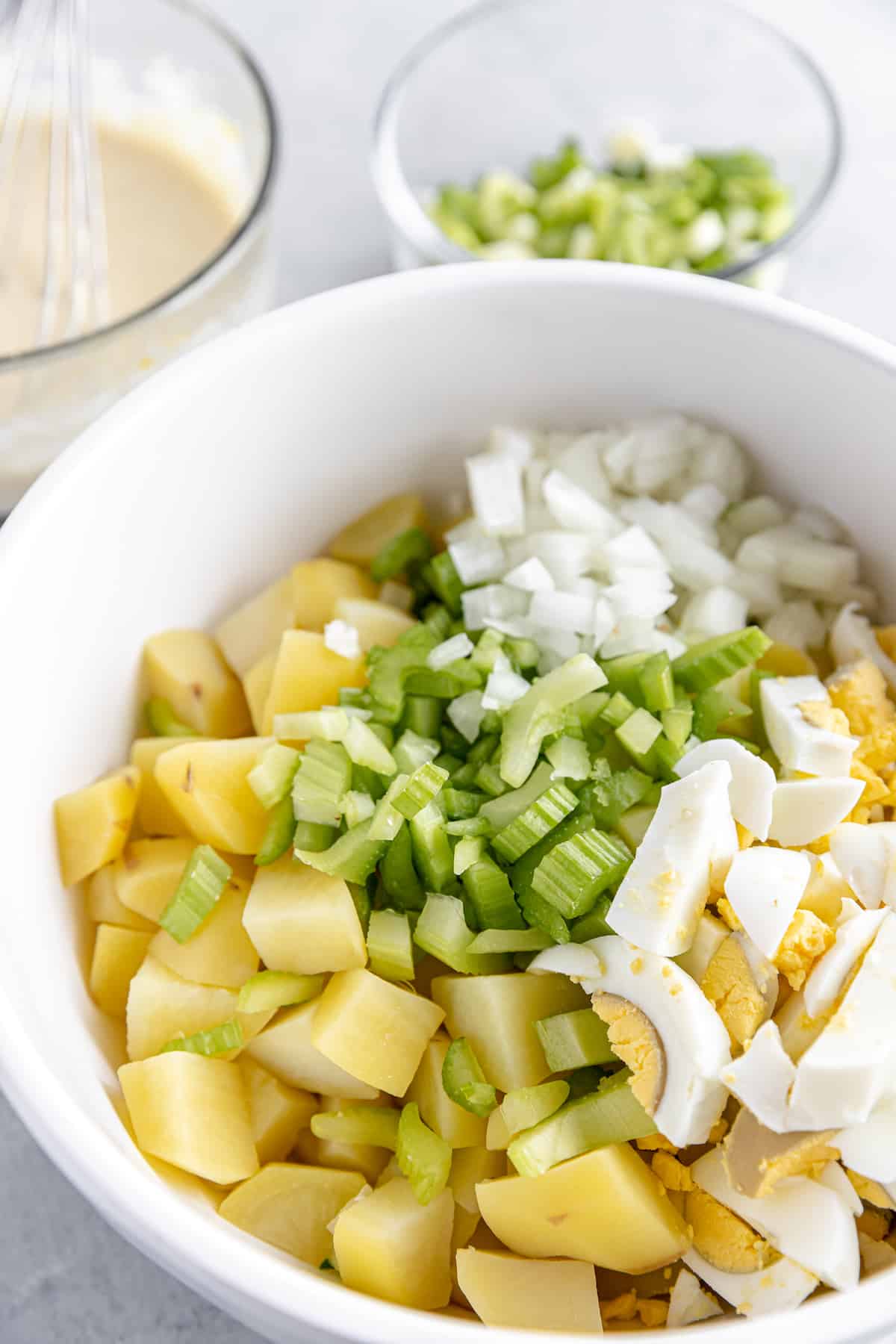 Dress it Up: In a separate bowl, mix together the mayonnaise, apple cider vinegar, sugar, mustard, salt, celery seed and pepper. Pour this mixture over the potatoes and chopped ingredients and mix until evenly distributed.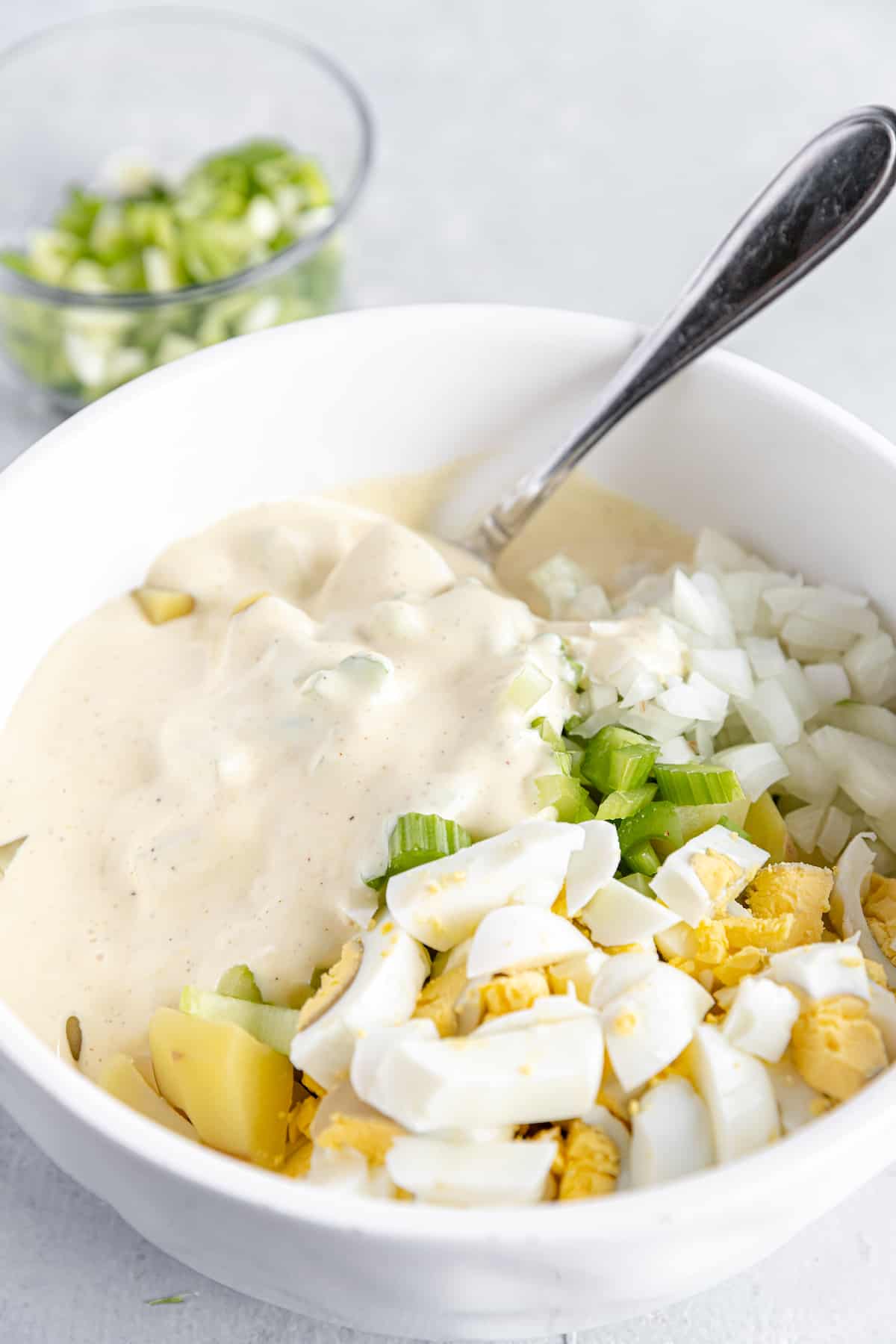 Chill Out: Chill your potato salad for at least thirty minutes before garnishing it with chopped green onion and a sprinkling of smoked paprika.
Enjoy!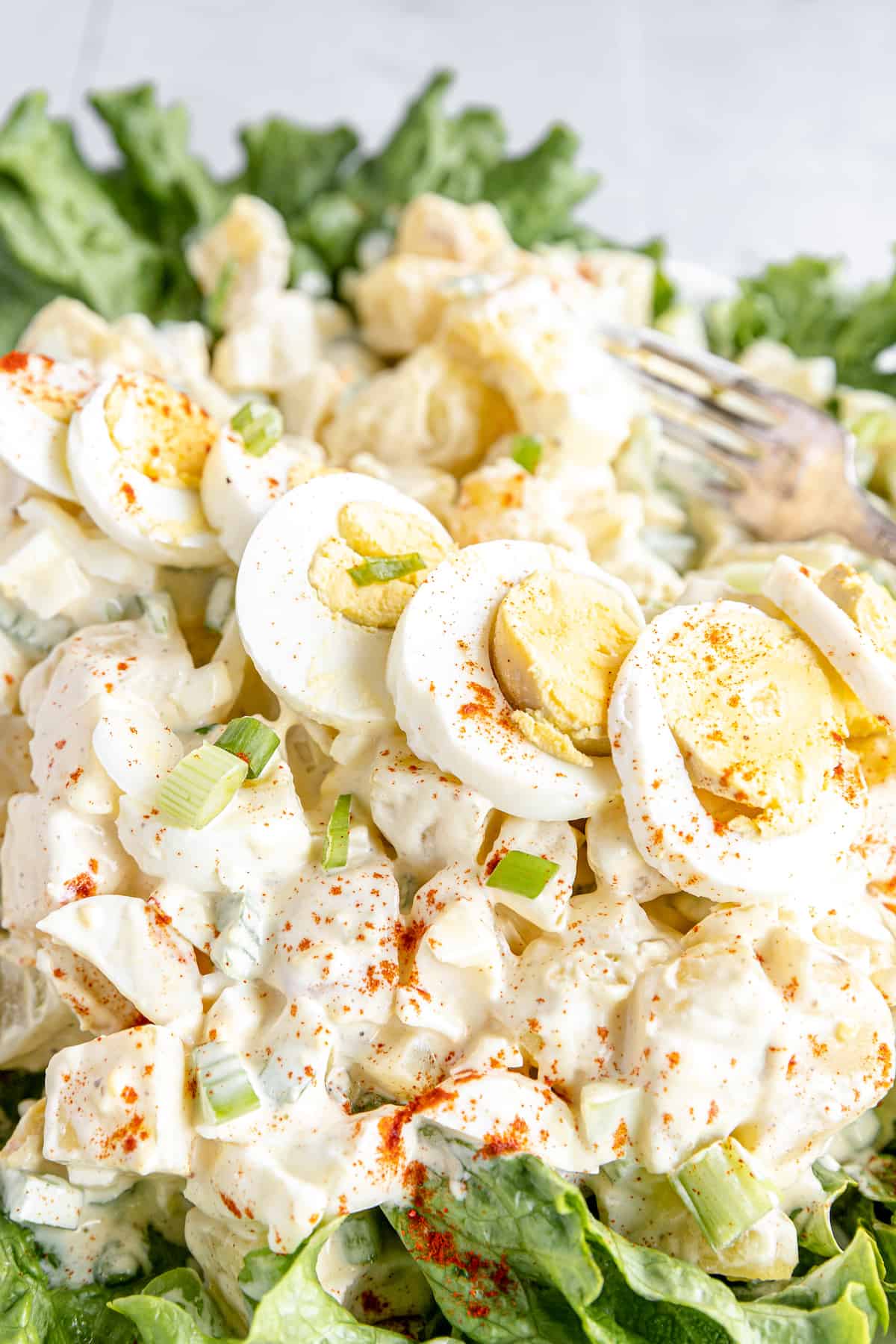 Tips for Success
Read on for my best tips on making this ultimate summer side dish. Potato salad is a classic for a reason, and I'm here for it!
Drain Thoroughly: To keep your potato salad from turning out watery, make sure to drain the potatoes really well. (The same goes for your celery and onions; after washing or using a wet cutting board.) Some people opt to steam their potatoes instead, or even bake them, to get a nice dry finish.
Don't Overcook: Be sure not to overcook the potatoes, or they will fall apart as you mix in the dressing. It's also important to use the correct potatoes – red potatoes, fingerling potatoes and Yukon Gold are the most likely to stay firm.
Make It Your Own: You can keep this recipe just as it is (delicious!), or jazz it up with your favorite ingredients. From pickles to bacon to black olives, this recipe makes the ultimate base for the potato salad of your dreams!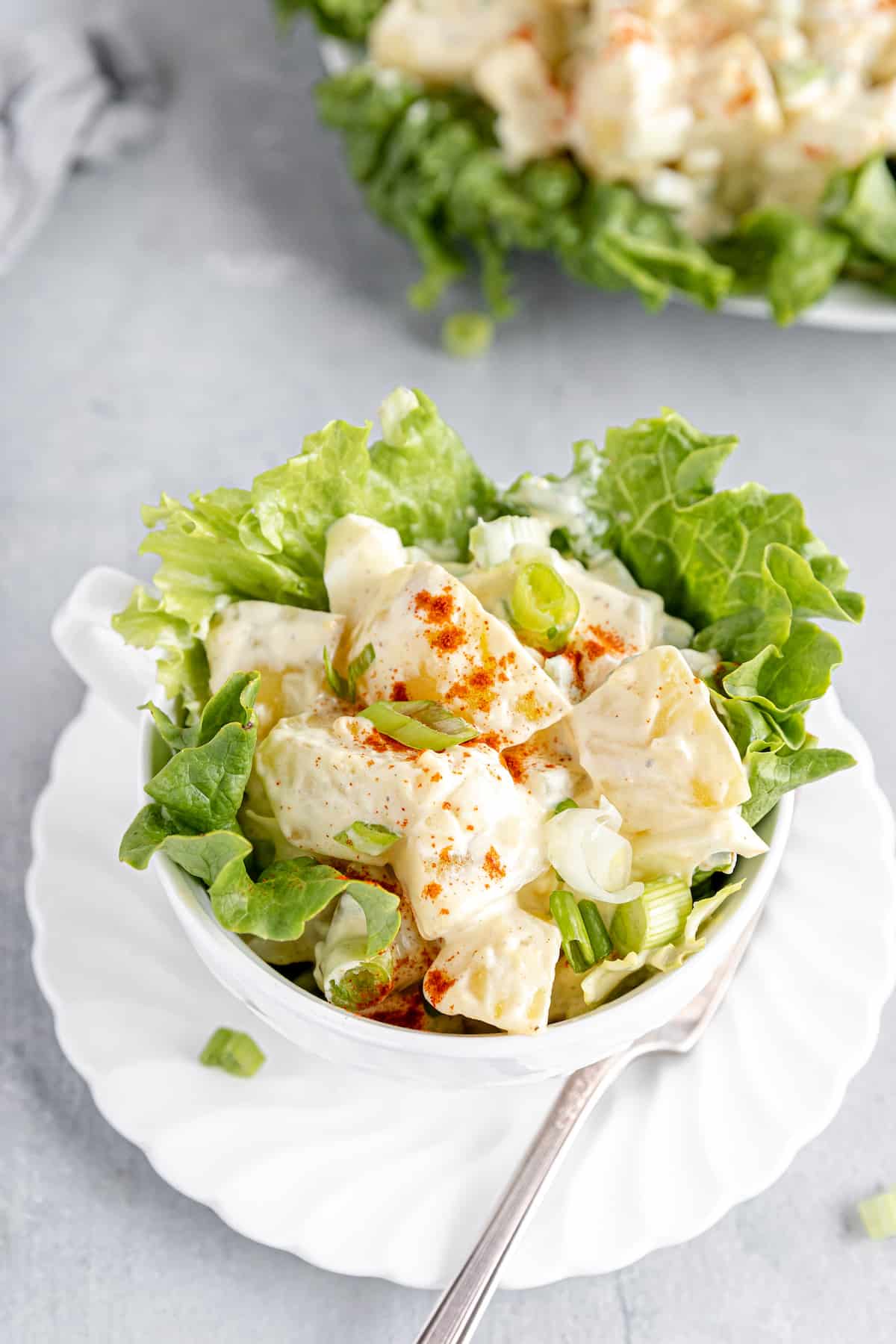 Serving Suggestions
I like to serve this potato salad with other classic summer dishes, like the ones below. But it goes with just about everything!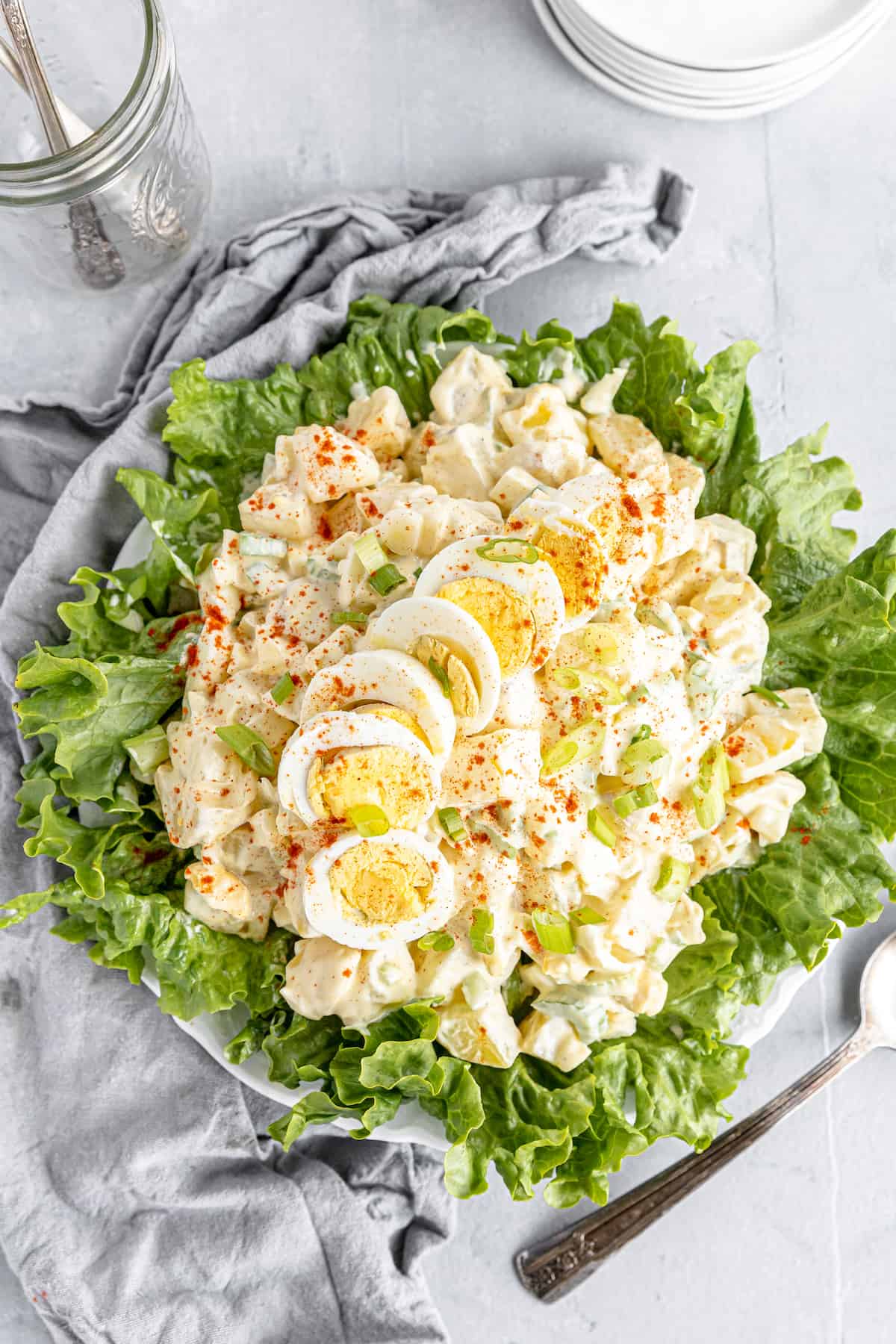 How to Store Potato Salad
To store potato salad, place any leftovers in airtight containers and refrigerate them for 3 to 5 days.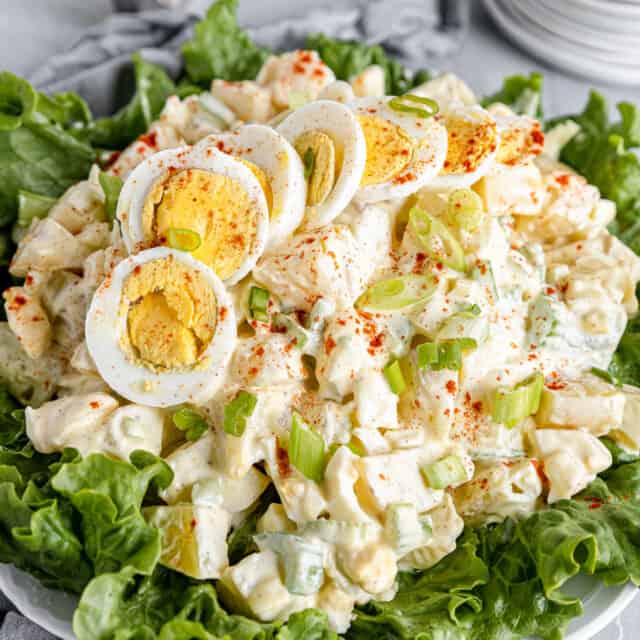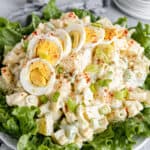 Print Recipe
American Classic Potato Salad
Classic Potato Salad with eggs, crisp celery, onion, and a creamy mayonnaise dressing. This American Classic Potato Salad is the perfect summertime side dish, and it's so easy to make!
Ingredients
8

Yukon Gold potatoes,

peeled and diced

1.5

cups

mayonnaise

2

tablespoons

apple cider vinegar

1.5

tablespoons

granulated sugar

2

tablespoons

yellow mustard

1

teaspoon

salt

1

teaspoon

celery seed

1/2

teaspoon

pepper

3

small celery ribs,

diced

1/4

cup

yellow or white onion,

diced

5

hard-boiled eggs,

diced or sliced

Smoked paprika and chopped green onion,

for garnish, optional
Instructions
Peel and roughly dice the potatoes into 3/4 inch chunks. Place them in a medium-sized pot with cold water to cover, and a dash of salt.

Bring to a low boil and cook until potatoes are just tender (test with a fork). Drain and rinse with cold water; then, transfer to a large mixing bowl.

Chop the celery ribs, onion, and hard-boiled eggs. Place the chopped ingredients into the mixing bowl with the cooled potatoes.

In a separate small mixing bowl, mix together the mayonnaise, apple cider vinegar, sugar, mustard, salt, celery seed, and pepper.

Pour mayonnaise mixture over the potato mixture, and stir until evenly combined.

Cover and chill for at least 30 minutes before serving.

Garnish with green onions and a sprinkling of smoked paprika. Serve.
Nutrition
Calories:
480
kcal
|
Carbohydrates:
33
g
|
Protein:
8
g
|
Fat:
35
g
|
Saturated Fat:
6
g
|
Polyunsaturated Fat:
19
g
|
Monounsaturated Fat:
8
g
|
Trans Fat:
1
g
|
Cholesterol:
134
mg
|
Sodium:
651
mg
|
Potassium:
788
mg
|
Fiber:
4
g
|
Sugar:
5
g
|
Vitamin A:
204
IU
|
Vitamin C:
34
mg
|
Calcium:
49
mg
|
Iron:
2
mg
More Easy Side Dishes
Need more simple sides to serve up this summer? Say no more.