Rich, buttery, and indulgent, this cinnamon roll casserole is the perfect sweet breakfast. It's loaded with spicy cinnamon and sticky maple syrup, topped with nuts and icing, and full of soft and steamy cinnamon rolls.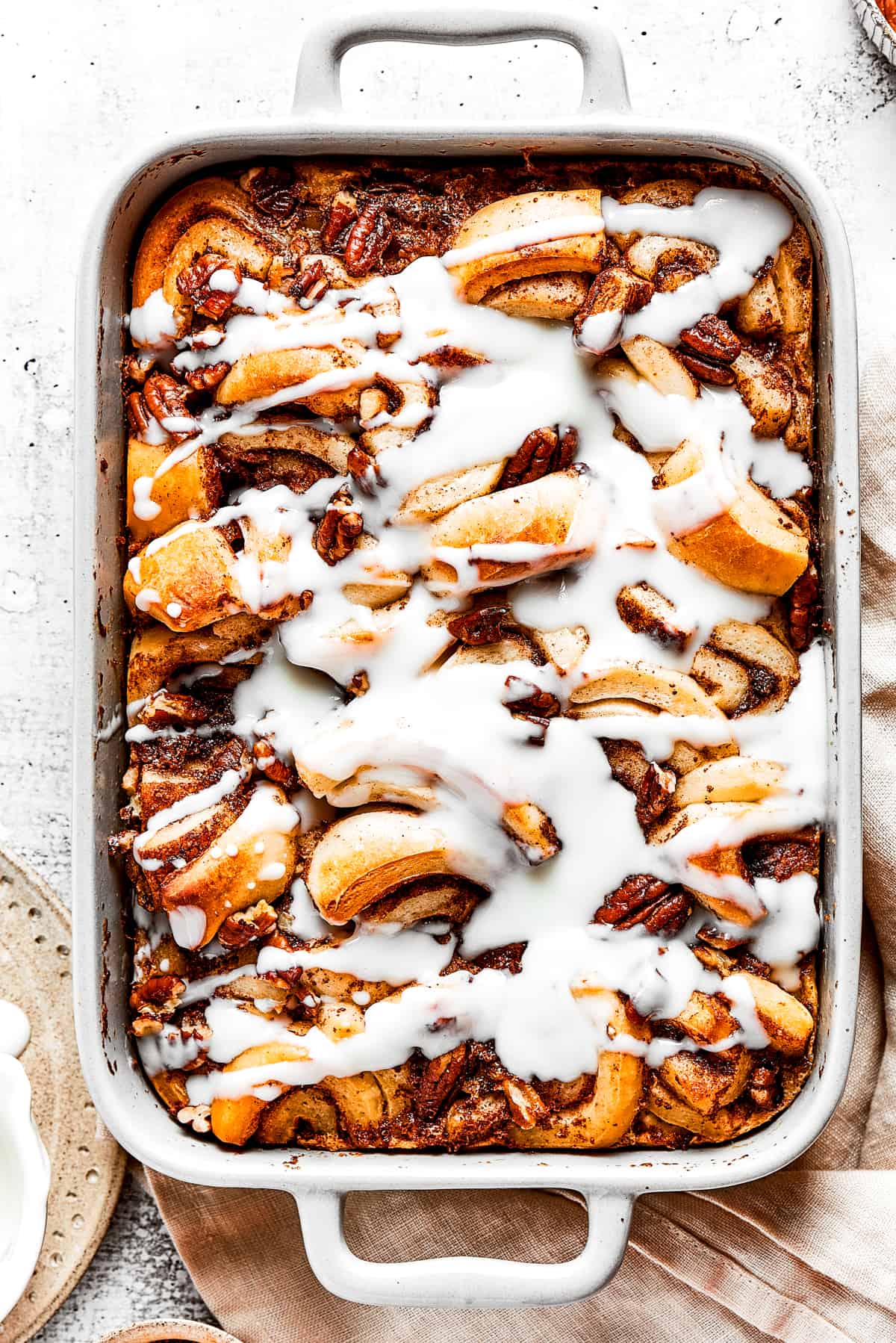 Easy Cinnamon Roll Casserole Recipe
Cinnamon rolls are one of my favorite pastries. But sometimes, it's fun to take one of your favorite foods and make it even more delicious. That's why I love this cinnamon roll casserole, which is the ultimate breakfast when you need an indulgent treat to start your morning.
Packed with cinnamon, maple syrup, butter, and nuts, this sweet and sticky breakfast casserole is perfect for a weekend or a celebratory morning. With soft dough and a rich, buttery sauce, this breakfast will leave everyone rushing for seconds and thirds. You're going to love it!
Why You'll Love This Cinnamon Roll Breakfast Casserole
This is my go-to breakfast when I need something delicious and able to feed a crowd. Here's why I know you'll love it too.
Quick and easy. This is a festive breakfast, but it's surprisingly easy to make. Because the recipe uses canned cinnamon rolls, it barely takes any time or effort to make this restaurant-quality treat.
Celebratory. Cinnamon roll casserole is the perfect celebratory breakfast. It's excellent for holidays, birthdays, or any other special occasion.
Easy to make a large batch. This recipe serves 12, but it's really easy to double or triple the breakfast casserole if you're serving a large group of people. It barely takes any more work to make a larger batch of sweet and sticky cinnamon roll casserole.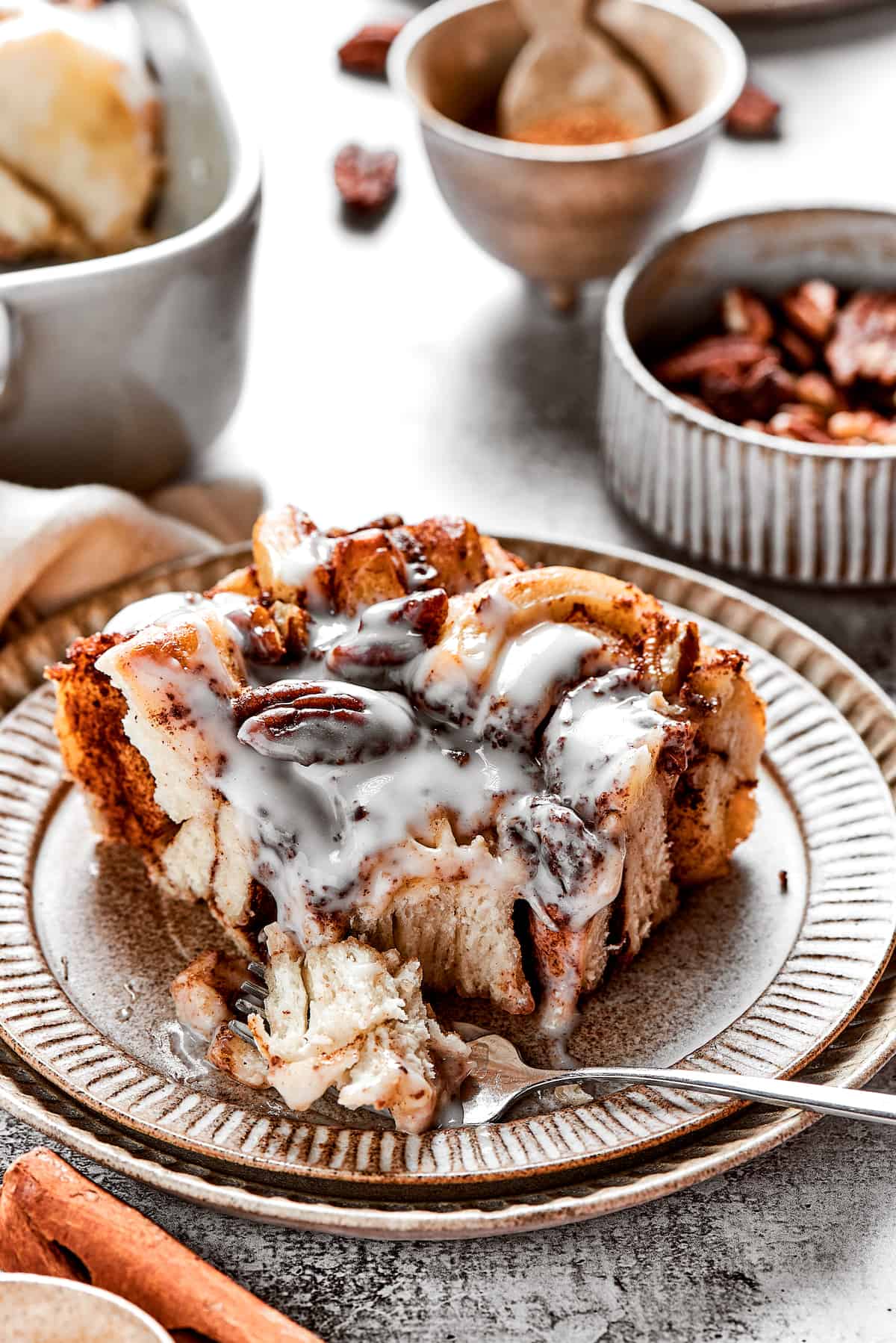 Cinnamon Roll Casserole Ingredients
You only need a handful of ingredients to make this rich and buttery breakfast recipe. Make sure to check out the recipe card at the end of the article for specific amounts of each ingredient.
Unsalted butter – You'll need to melt the butter.
Canned refrigerated cinnamon rolls – Use your favorite brand.
Eggs
Milk – For the creamiest casserole, use whole milk.
Cinnamon
Vanilla extract – Always use 100% pure extract.
Maple syrup – Make sure to use real maple syrup with no artificial ingredients.
Chopped nuts – I prefer pecans or walnuts.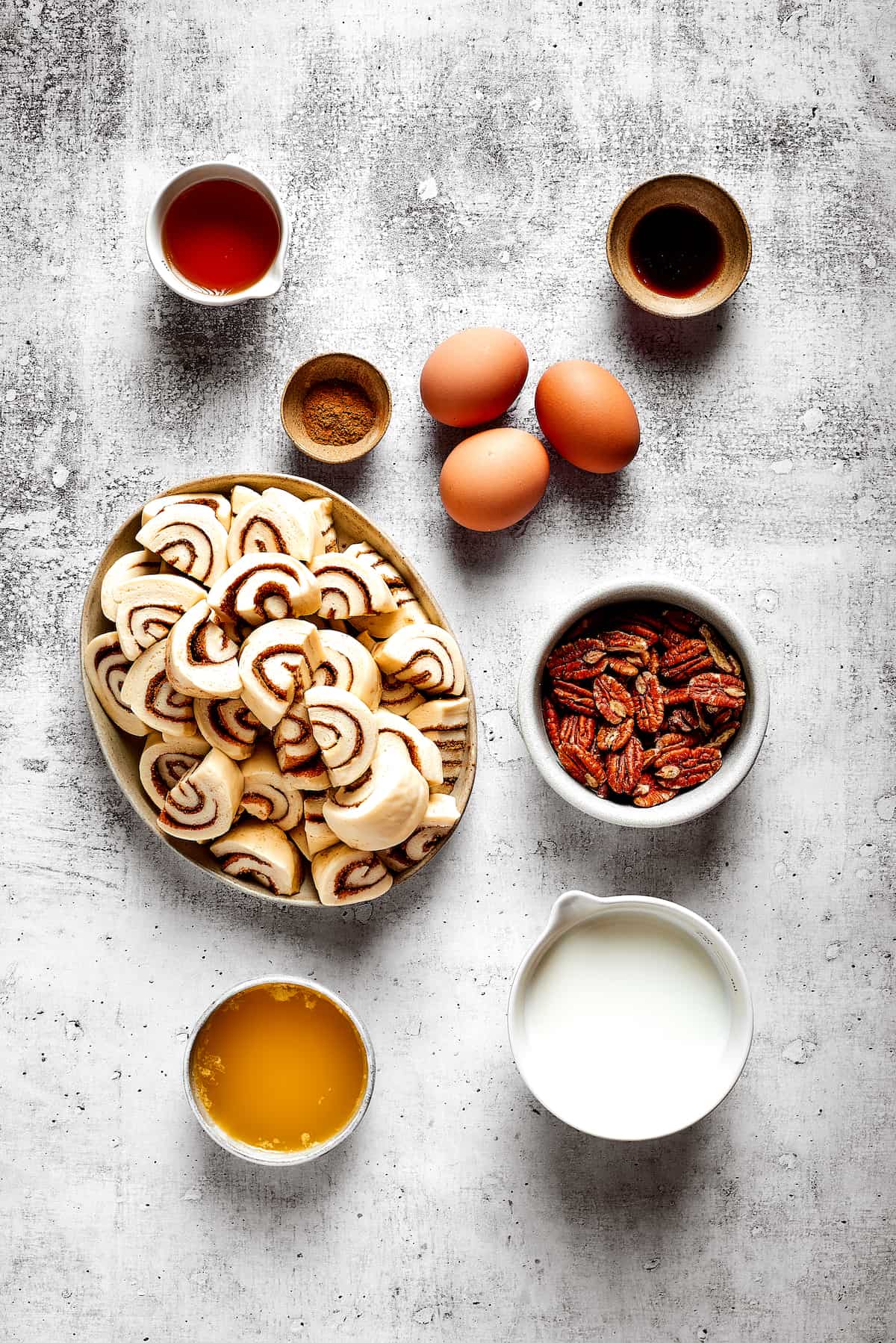 How to Make Cinnamon Roll Casserole
It's so easy to make this rich and buttery breakfast casserole, and it takes less than an hour. Here's how to do it.
Prep. Preheat your oven to 350˚F, then pour the melted butter into a 9×13-inch baking dish. Spread the butter over the bottom of the dish to coat evenly.
Add the cinnamon rolls. Open the cans of cinnamon rolls and cut them into quarters. Spread them out evenly in the baking dish.
Make the casserole mixture. Put the eggs, milk, cinnamon, vanilla, and maple syrup in a bowl, and whisk together until well combined.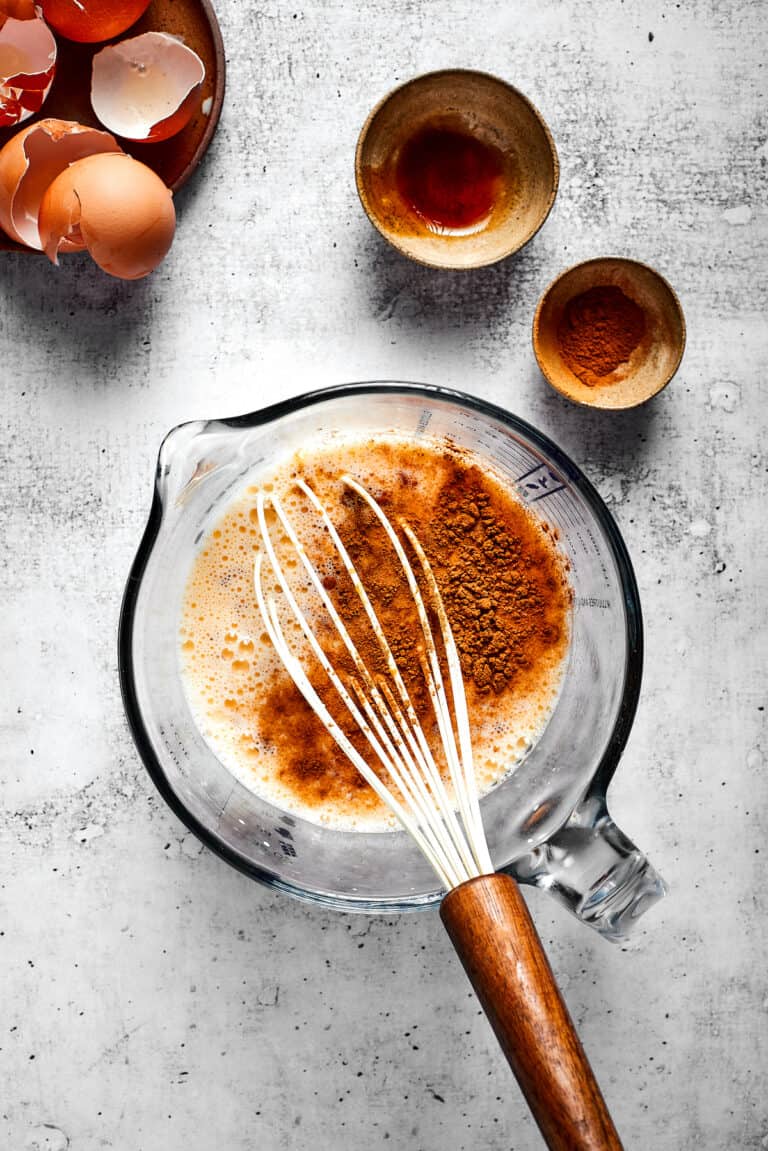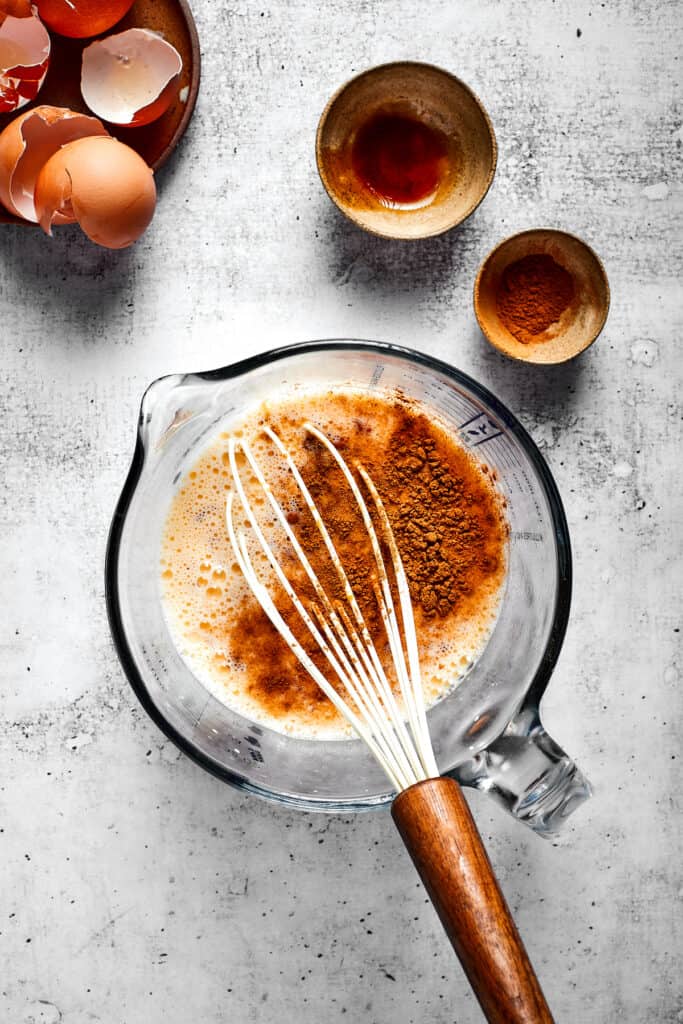 Add the egg mixture. Pour the egg liquid over the cinnamon rolls in the baking dish and gently press down on the rolls with a fork.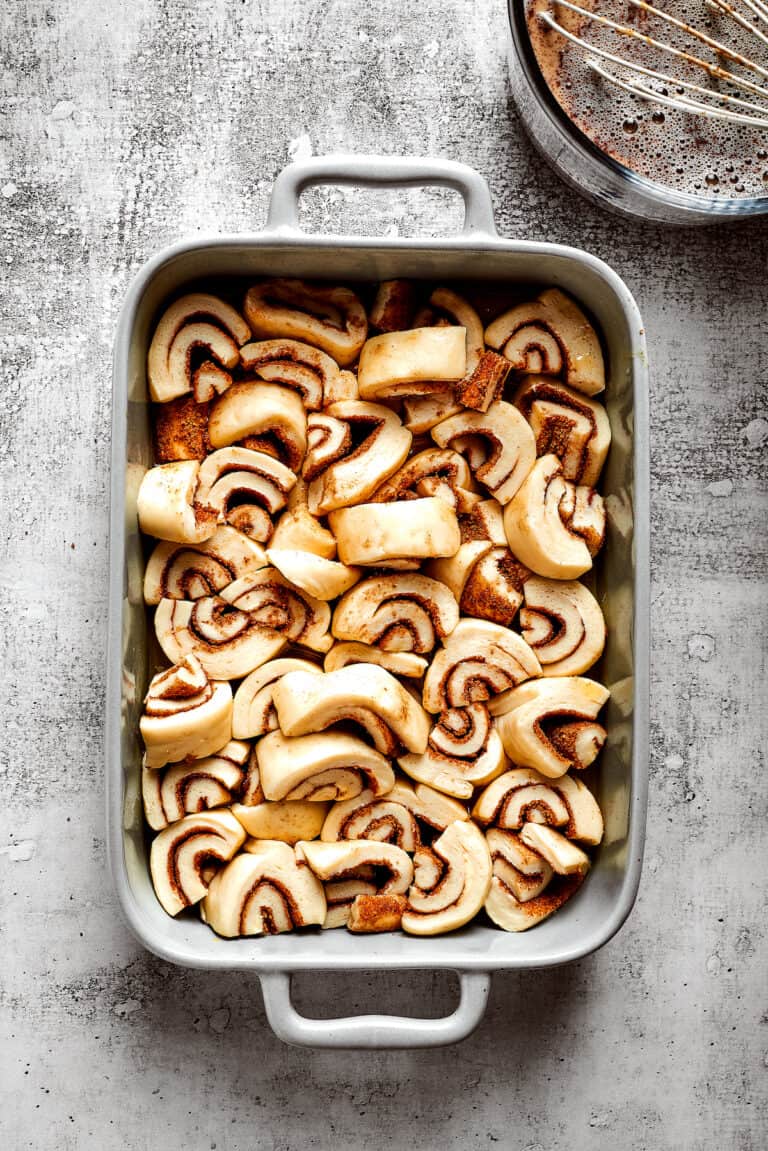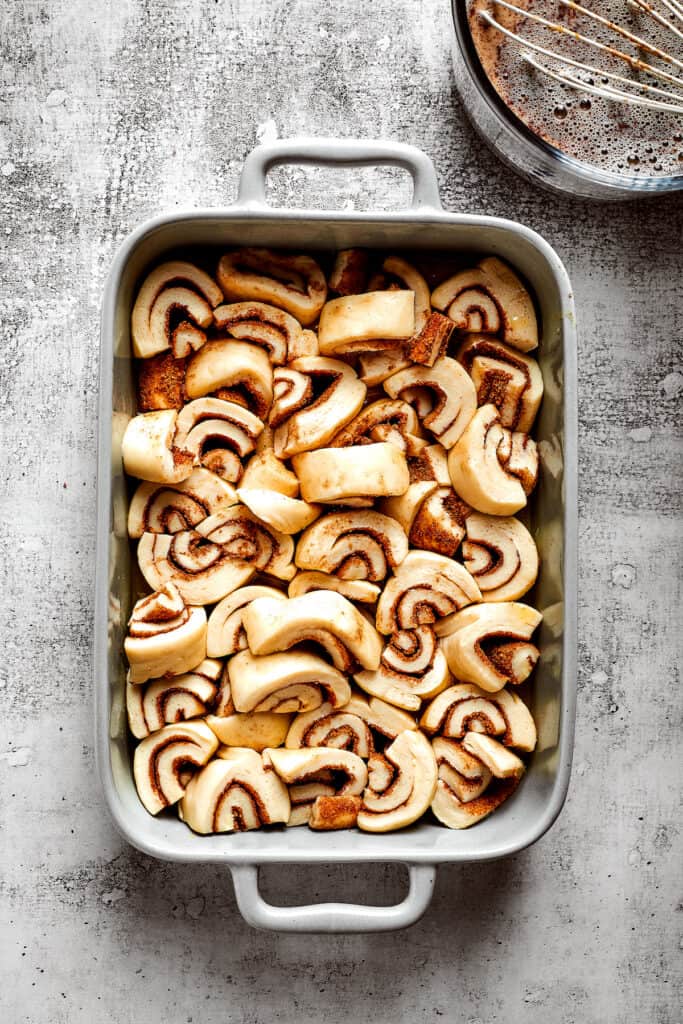 Sprinkle the nuts. Take the nuts and spread them over the top of the casserole.
Bake. Put the breakfast casserole in the oven and bake until the top is puffy and golden brown. This should take about 35 to 40 minutes.
Glaze. Let the cinnamon rolls cool for a few minutes, then drizzle with the cinnamon roll icing and any additional garnishes, then serve warm.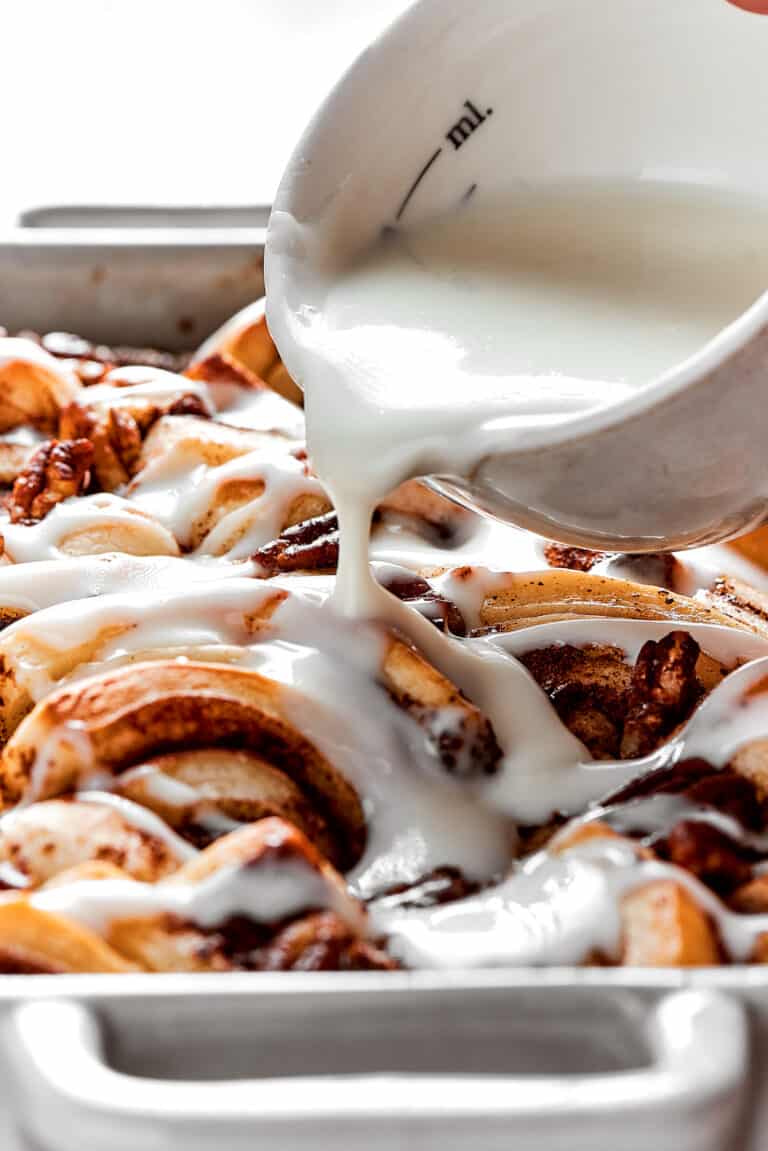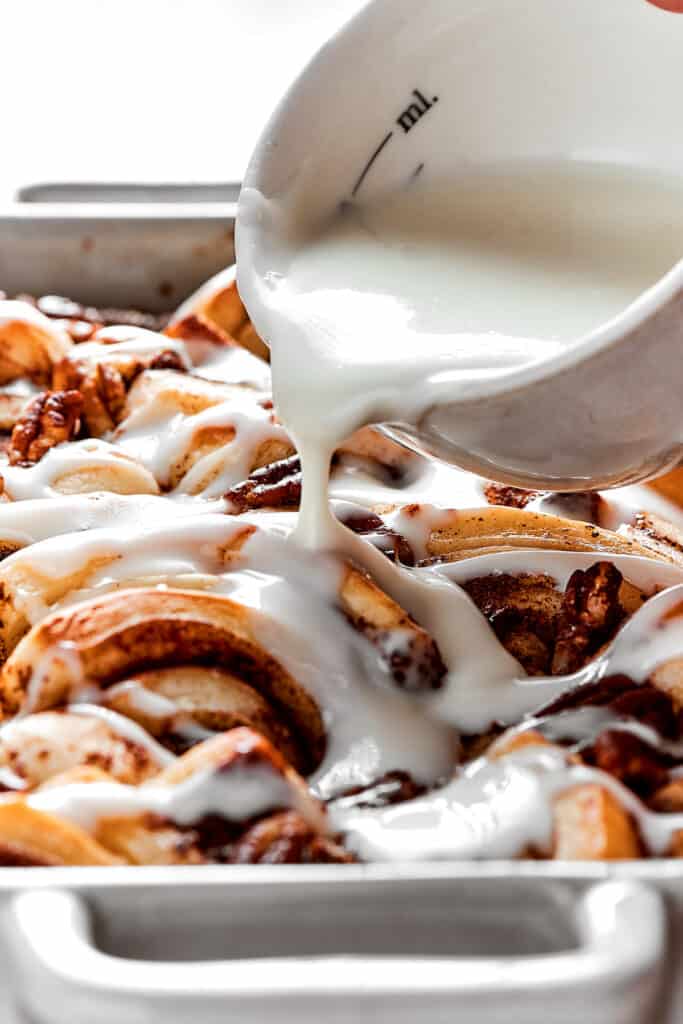 Topping Ideas
I top this casserole with a few extra nuts and the glaze that comes with most canned cinnamon rolls. You can also sprinkle some raisins or other dried fruit or add some whipped cream. You could also top the cinnamon roll casserole with powdered sugar, ground cinnamon, orange zest, or fresh berries. And if you want to turn this breakfast into a dessert, just add ice cream!
What If My Cinnamon Rolls Didn't Come With Icing?
Most cans of cinnamon rolls come with the pack of icing that you'll need for this recipe, but if yours didn't come with glaze, then you can easily make your own. All you have to do is put 1 tablespoon of powdered sugar and 1 tablespoon of milk in a bowl, then stir to combine. Add 3 tablespoons of softened cream cheese and stir until the mixture is smooth. It's that simple!
Tips for A Successful Cinnamon Roll Casserole
This nutty, buttery weekend brunch or breakfast casserole is fool-proof, but here are a few tricks and tips to make it perfect.
Turn, if necessary. Keep an eye on the casserole when it's in the oven – some ovens don't heat evenly, so if you notice the casserole is cooking unevenly, rotate it halfway through the baking time.
Serve warm. While this breakfast casserole is still delicious once it cools down, it's at its best when served warm. When the cinnamon rolls are still warm, the dish tastes even fancier and more special.
Don't melt the glaze. Even though you want to serve this cinnamon roll casserole warm, let it cool for a few minutes before adding the icing. If you add the icing as soon as the casserole comes out of the oven, it will melt. Wait a few minutes so that the casserole cools just enough to not melt the glaze, then ice it and eat!
Use room-temperature eggs. When possible, use room-temperature eggs for baking. Eggs that are at room temperature will mix better with the rest of the ingredients, which will make this creamy breakfast casserole even smoother.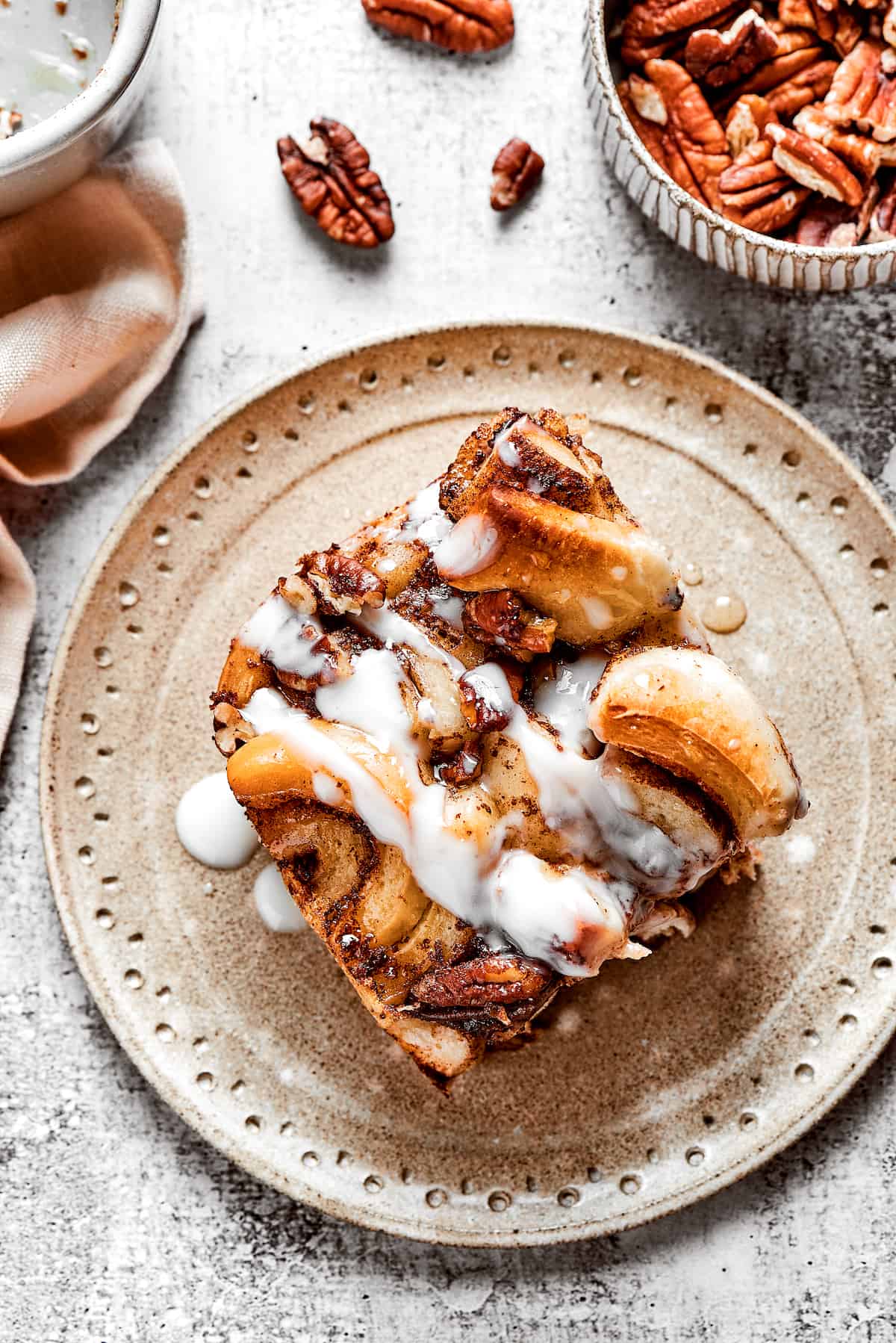 What To Serve with A Breakfast Casserole
My favorite way to eat this buttery breakfast casserole is by serving it with an Easy Fruit Salad and some of my favorite breakfast drinks. Here are a few recipes to get you started.
Can I Make Cinnamon Roll Casserole in Advance?
Absolutely! You can assemble the casserole the day before you want to serve it. Then, just cover it with plastic wrap or aluminum foil and leave it in the fridge for up to 24 hours. When you're ready for the casserole, heat up your oven and bake it.
How to Store and Reheat Leftovers
Leftover cinnamon roll casserole will last in the fridge for up to 4 days, as long as you store it in an airtight container. It's delicious cold, but you can reheat it in the microwave in 20-second increments until warm throughout. I do not recommend freezing this breakfast casserole.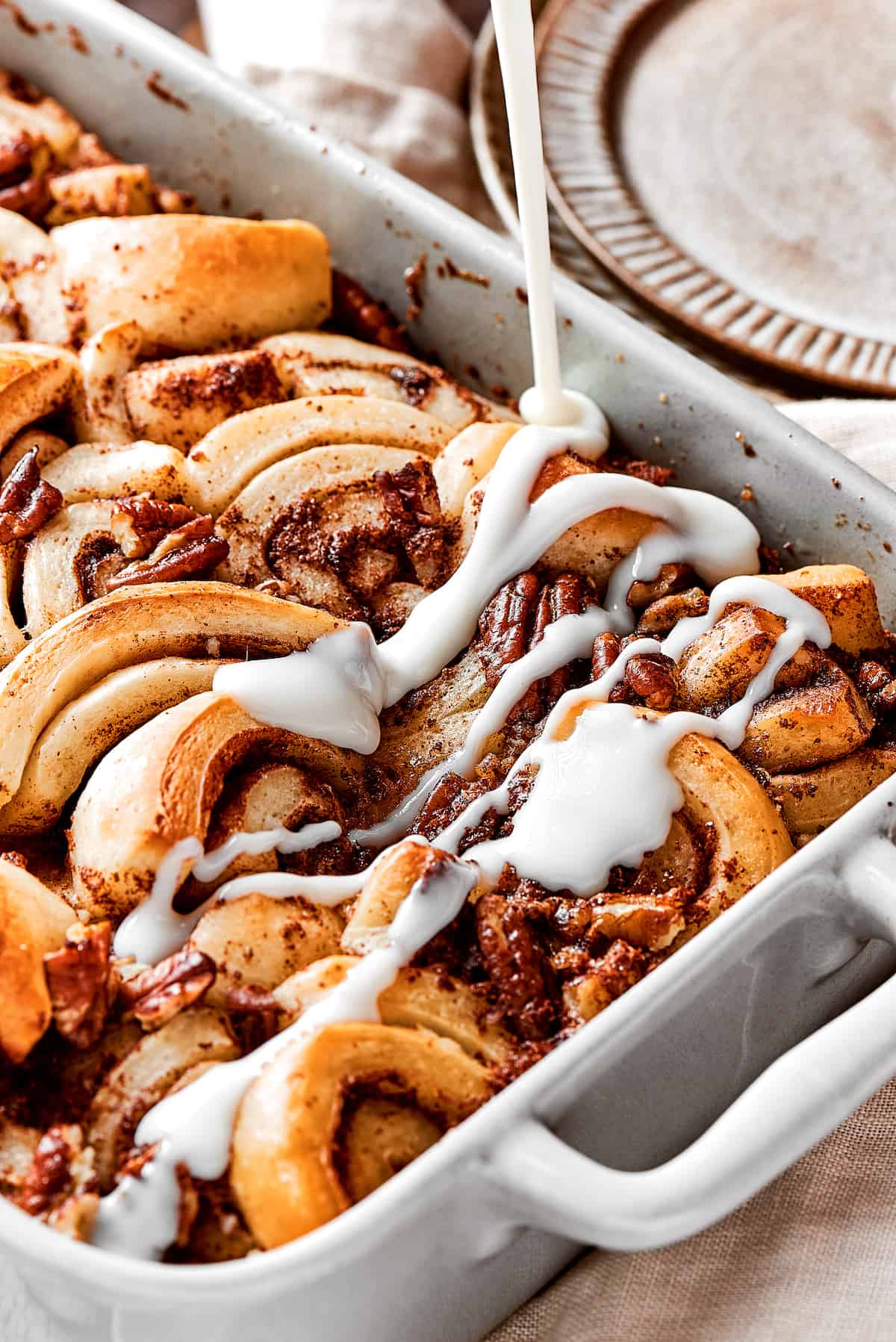 More Sweet Breakfast Ideas
I will never get enough sweet breakfasts! Here are some more of my favorite recipes to make for an exciting and tasty start to the morning.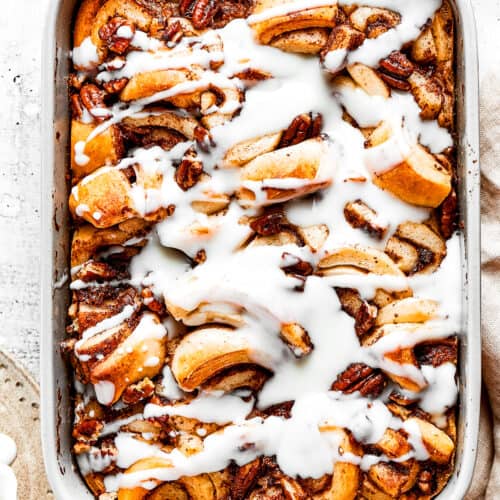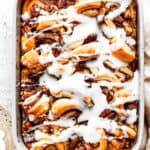 Print Recipe
Cinnamon Roll Casserole
This cinnamon roll casserole is fluffy, rich, creamy, and so buttery. It's the perfect breakfast or brunch treat for a celebration or a long weekend.
Instructions
Preheat your oven to 350˚F, then pour the melted butter into a 9×13-inch baking dish and spread it evenly over the bottom.

Open the cans of cinnamon rolls and set aside the glaze.

Cut each cinnamon roll into quarters and spread the pieces evenly over the melted butter in the baking dish.

In a mixing bowl, whisk together the beaten eggs, milk, vanilla, cinnamon, and maple syrup until well combined.

Pour the mixture over the cut-up cinnamon rolls in the baking dish. Gently press down on the cinnamon rolls with a fork. Sprinkle the chopped nuts evenly over the top of the casserole.

Bake the breakfast casserole for 35 to 40 minutes or until the top is golden brown and puffy.

Remove the cinnamon roll casserole from the oven and let it cool for 5 minutes, then drizzle the glaze over the top.

Garnish with more nuts and serve warm.
Notes
Make Ahead: You can assemble the cinnamon roll casserole up to a day in advance, then cover it and place it in the fridge until you're ready to bake it.
Glaze: If your canned cinnamon rolls didn't come with icing, you can make your own. Just mix 1 tablespoon powdered sugar with 1 tablespoon milk, then stir in 3 tablespoons of softened cream cheese until smooth.
Storage: Store leftovers in an airtight container in the fridge for up to 4 days. Eat cold or reheat in the microwave in 20-second increments until warm throughout.
Cinnamon Rolls: This casserole is made with a total of 16 cinnamon rolls. I used Pillsbury Cinnamon Rolls, but you can use any brand you like or make your own using my recipe for from-scratch cinnamon rolls.
Nutrition
Calories:
141
kcal
|
Carbohydrates:
8
g
|
Protein:
4
g
|
Fat:
11
g
|
Saturated Fat:
3
g
|
Polyunsaturated Fat:
5
g
|
Monounsaturated Fat:
2
g
|
Trans Fat:
0.1
g
|
Cholesterol:
56
mg
|
Sodium:
26
mg
|
Potassium:
103
mg
|
Fiber:
1
g
|
Sugar:
6
g
|
Vitamin A:
179
IU
|
Vitamin C:
0.1
mg
|
Calcium:
46
mg
|
Iron:
1
mg