Mini skewers loaded with goodies are stacked and shaped in a ring to make this gorgeous Holiday Antipasto Wreath! Everyone will rave over the rich variety of marinated artichokes, prosciutto, cherry tomatoes, fresh basil, and more.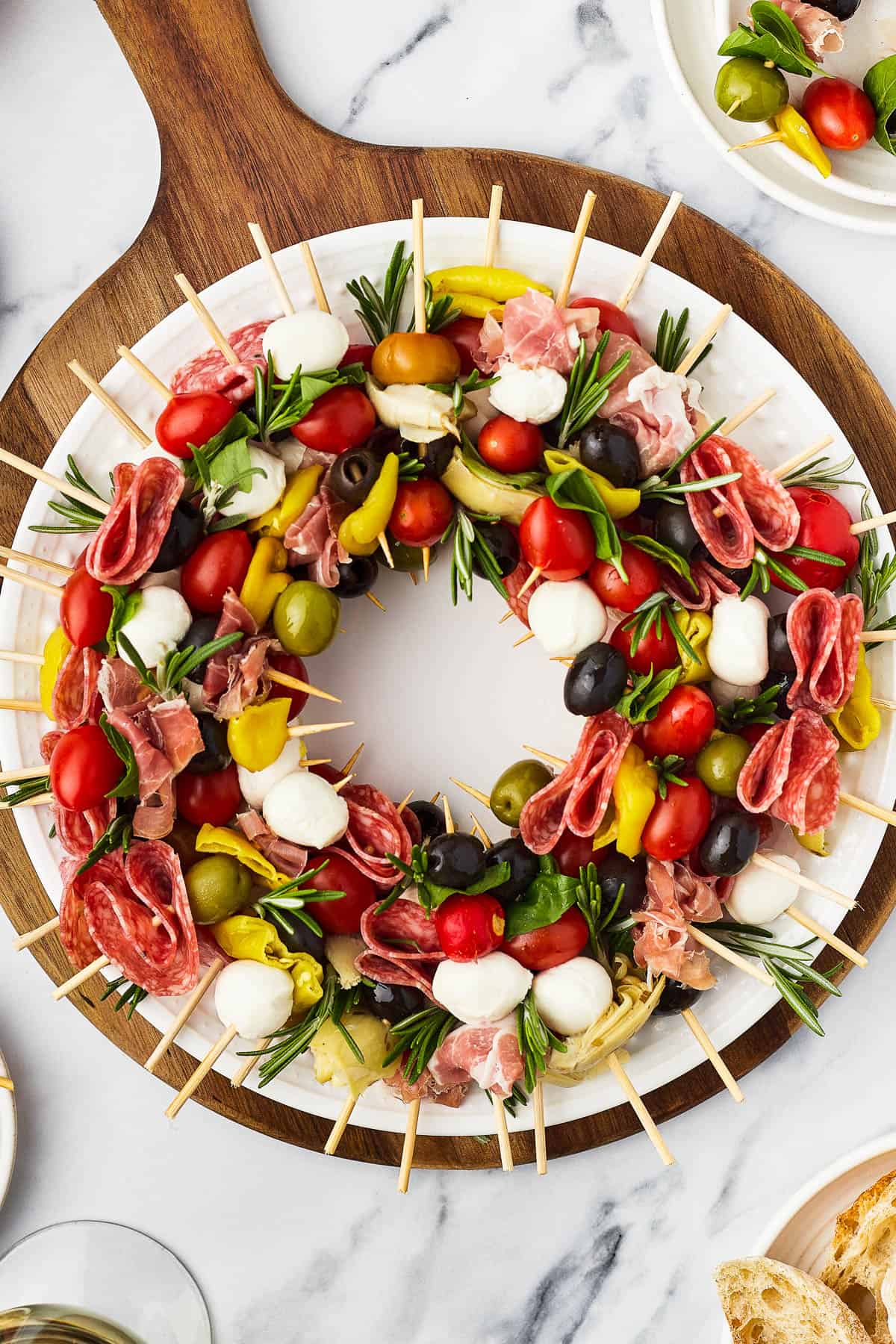 The Easiest, Most Elegant Holiday Appetizer Ever
Sometimes, you just need a recipe that doesn't require a ton of cooking or a lot of time-consuming steps. This is definitely one of those recipes! It makes entertaining, or whipping up something special for the family, so easy. All you have to do is prep a few ingredients, and then pop everything onto little bamboo skewers.

I know, I know. It sounds almost too easy! But, the result is so appealing and elegant, which is perfect for a special occasion. This is a beautiful, colorful, and flavorful platter to set out on Christmas Eve or Christmas Day, as part of a New Year's Eve celebration, or to just make Saturday evening a little more festive.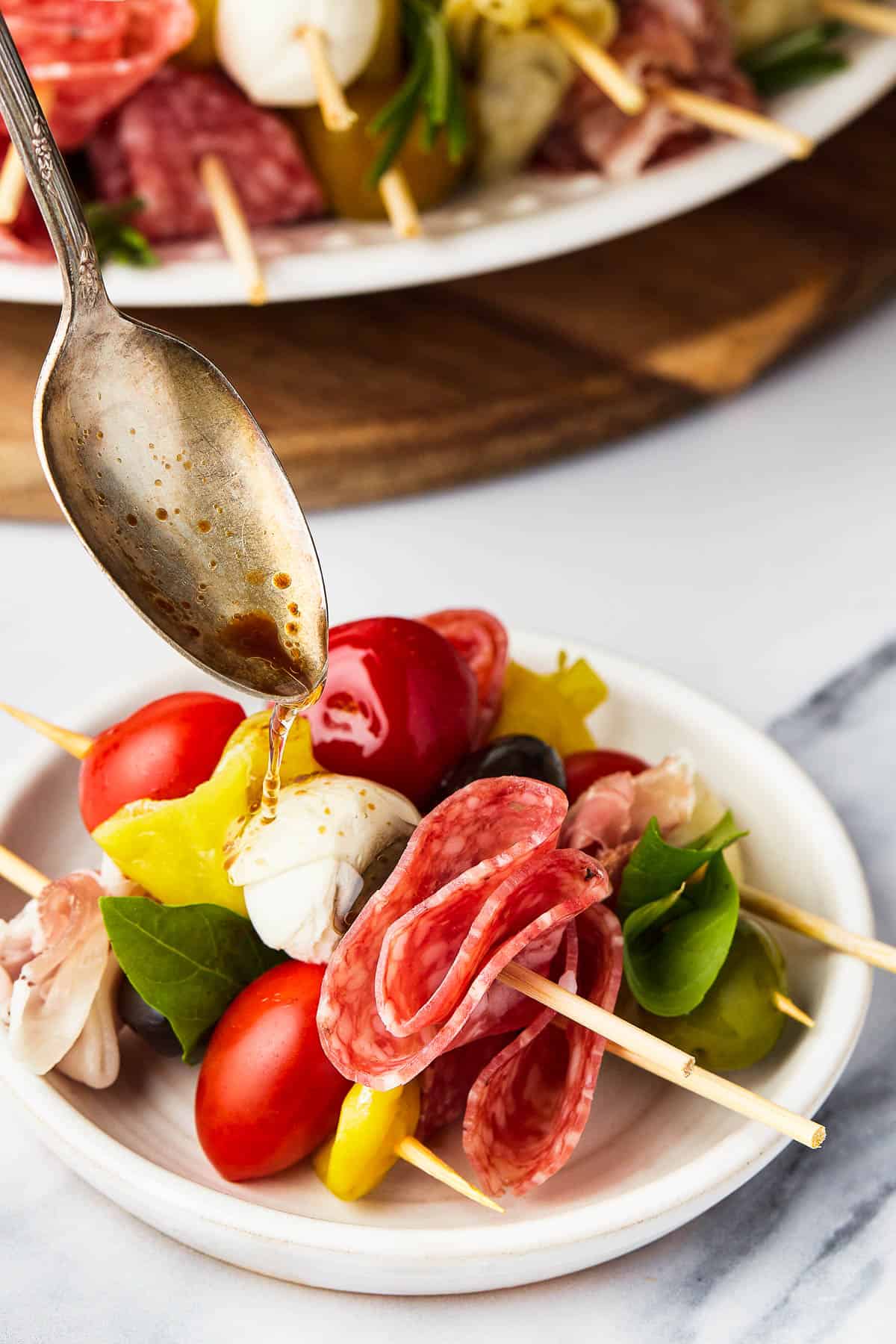 What Is Antipasto?
If you're already familiar with the charcuterie board trend, then this dish will be very familiar to you! Antipasto is very similar to charcuterie. Cured meats, pickled or brined veggies, cheeses, and more are all welcome in an antipasto spread.
The word "antipasto" is actually Italian for "before the pasta," because these ingredients are usually served as a starter in Italian cuisine. That's how we're using them here as well—threaded onto skewers for a perfect appetizer (whether you're serving pasta, or not!).
Tell Me More About This Recipe!
There's a lot to love, that's for sure! This easy seasonal appetizer is made with a variety of protein and veggies, mostly with items that come ready to eat, like salami, olives, and fresh mozzarella. That makes it…
A snap to put together
Full of flavor, without the need for seasonings or cooking
Colorful and vibrant
Easy to adjust for special diets
Fun to make
Nourishing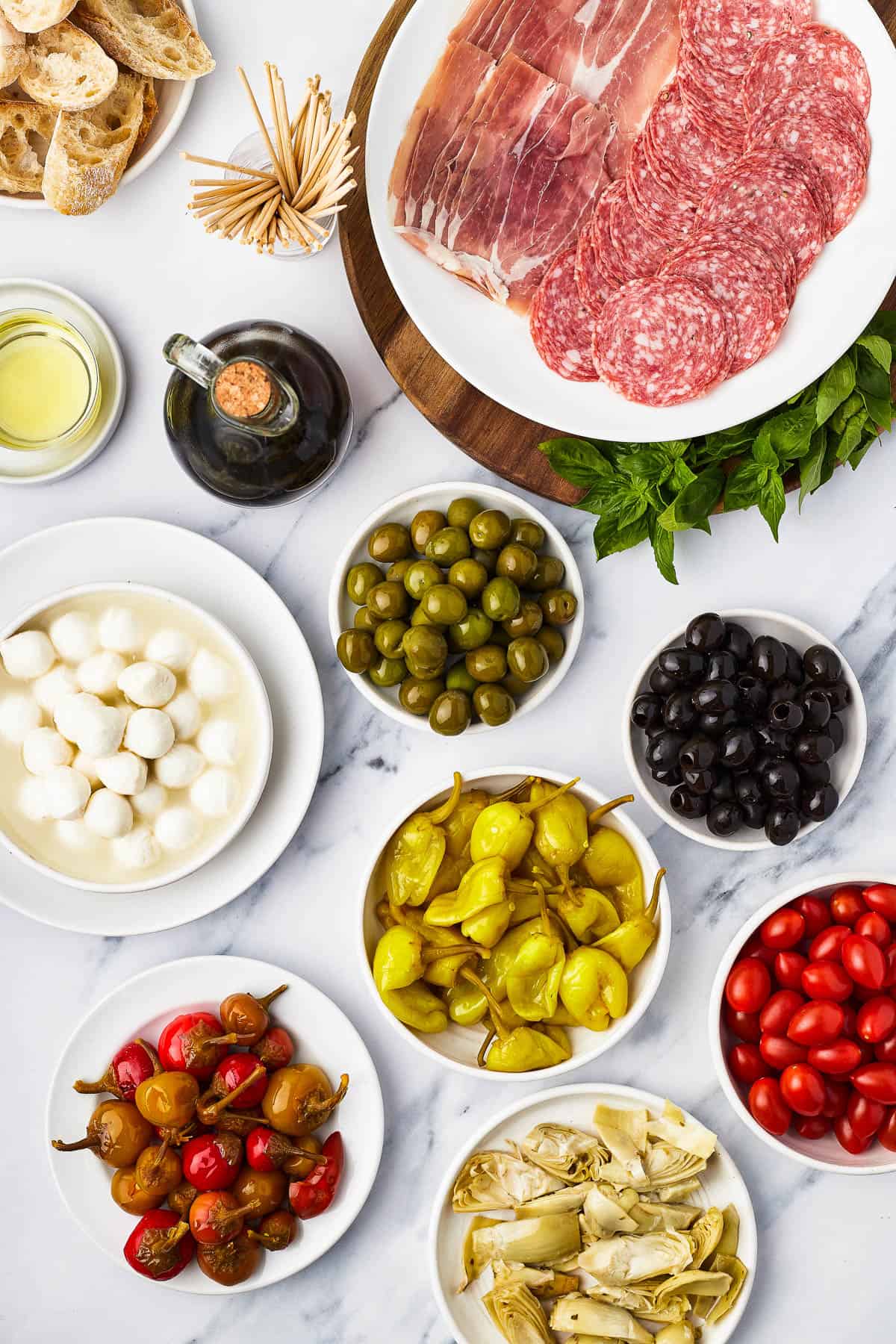 The Ingredients List
While antipasto is a loose term, and lots of different ingredients can be used for antipasto skewers, this mix is a well-balanced mix of color, texture, and flavor.
Skewers: You won't need any fancy techniques here, but you do need little skewers—the four inch kind are fine. This recipe makes 40 to 50 skewers.
Salami: Thinly sliced salami is a savory addition to the skewers. You can fold each slice to make it fit attractively on the skewer.
Prosciutto: Like the salami, this delicious Italian ham should be folded to fit th skewer.
Mozzarella: Fresh mozzarella balls are creamy and add a bright pop of white to the wreath. Look for ciliegine, which are the perfect bite-size.
Cherry Tomatoes: Grape or cherry tomatoes fit well on the skewer without exuding too much juice.
Pepperoncini: Tangy and a little bit spicy, pepperoncini should be halved, and the stems removed.
Sweet Cherry Peppers: Drain a jar of sweet cherry peppers and remoe the stems and seeds.
Artichokes: Use marinated artichokes, not fresh. If they are whole (or just too large compared to the other ingredients), cut them into bite-sized pieces.
Olives: The buttery mildness of bright green castelvetrano olives is such a treat! Make sure they are pitted. I also use regular black olives, pitted, for contrast.
Basil: Fresh basil leaves elevate the entire dish and add a heavenly fragrance.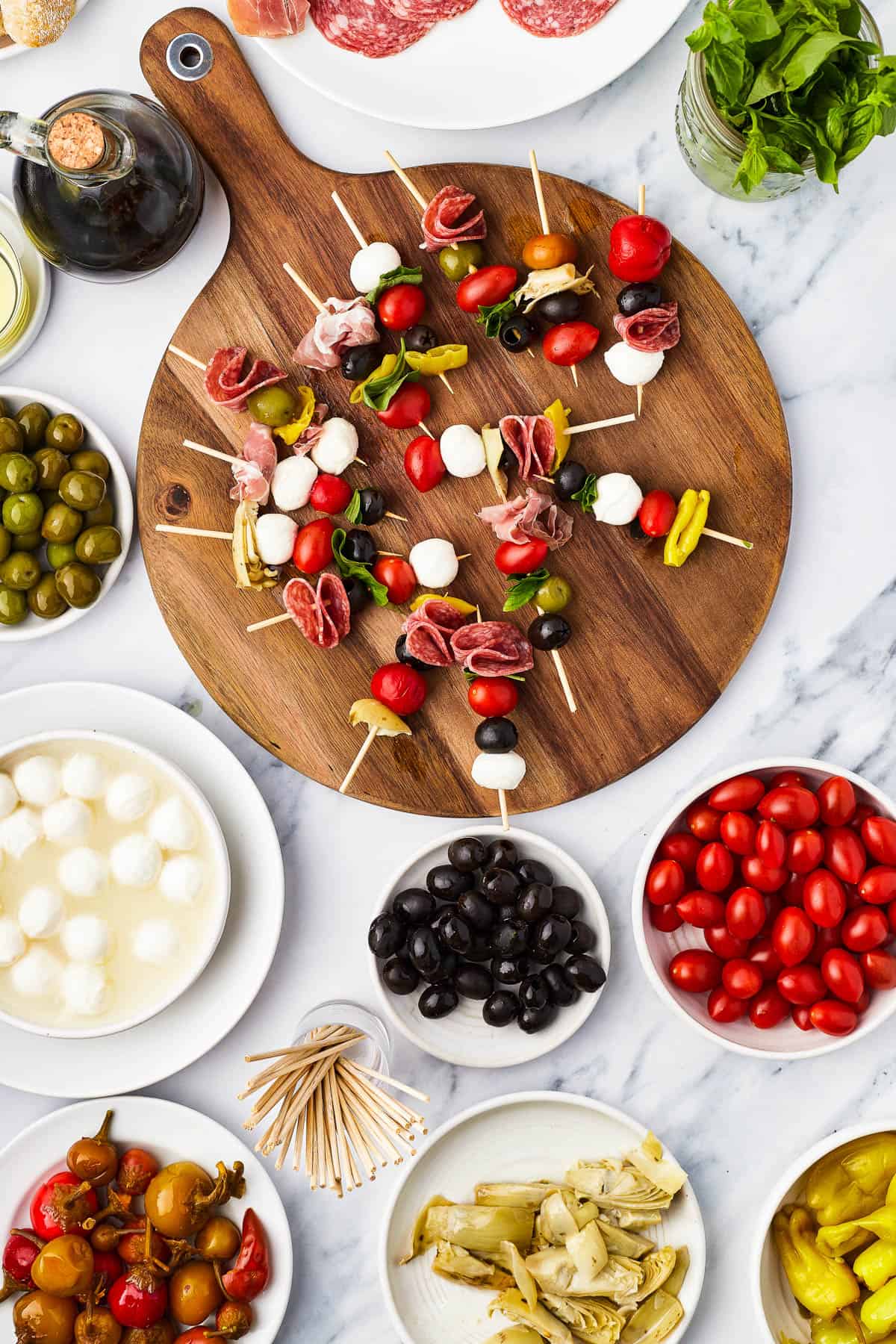 How to Make a Holiday Antipasto Wreath
Making this recipe is so simple! Pro tip: randomizing ingredients on the skewers gives the wreath more visual interest, and provides options for those who may not eat meat or dairy.
Assemble the Skewers. First, prep and set out all of the ingredients. Then thread four or five different ingredients onto each skewer, varying the order and type of ingredients used.
Arrange the Skewers in a Wreath Shape. On a large platter, tray, or charcuterie board (do not use a cutting board meant for preparing raw meats), lay out your antipasto skewers in a circle. Continue to add skewers, until you've run out ingredients and have a full, layered wreath.
Add Rosemary. Use a sharp knife or kitchen scissors to cut rosemary stems into small sprigs. Arrange them throughout the wreath for decoration.
Enjoy! Serve the antipasto wreath, with (optional) sides of olive oil, balsamic vinegar, and bread.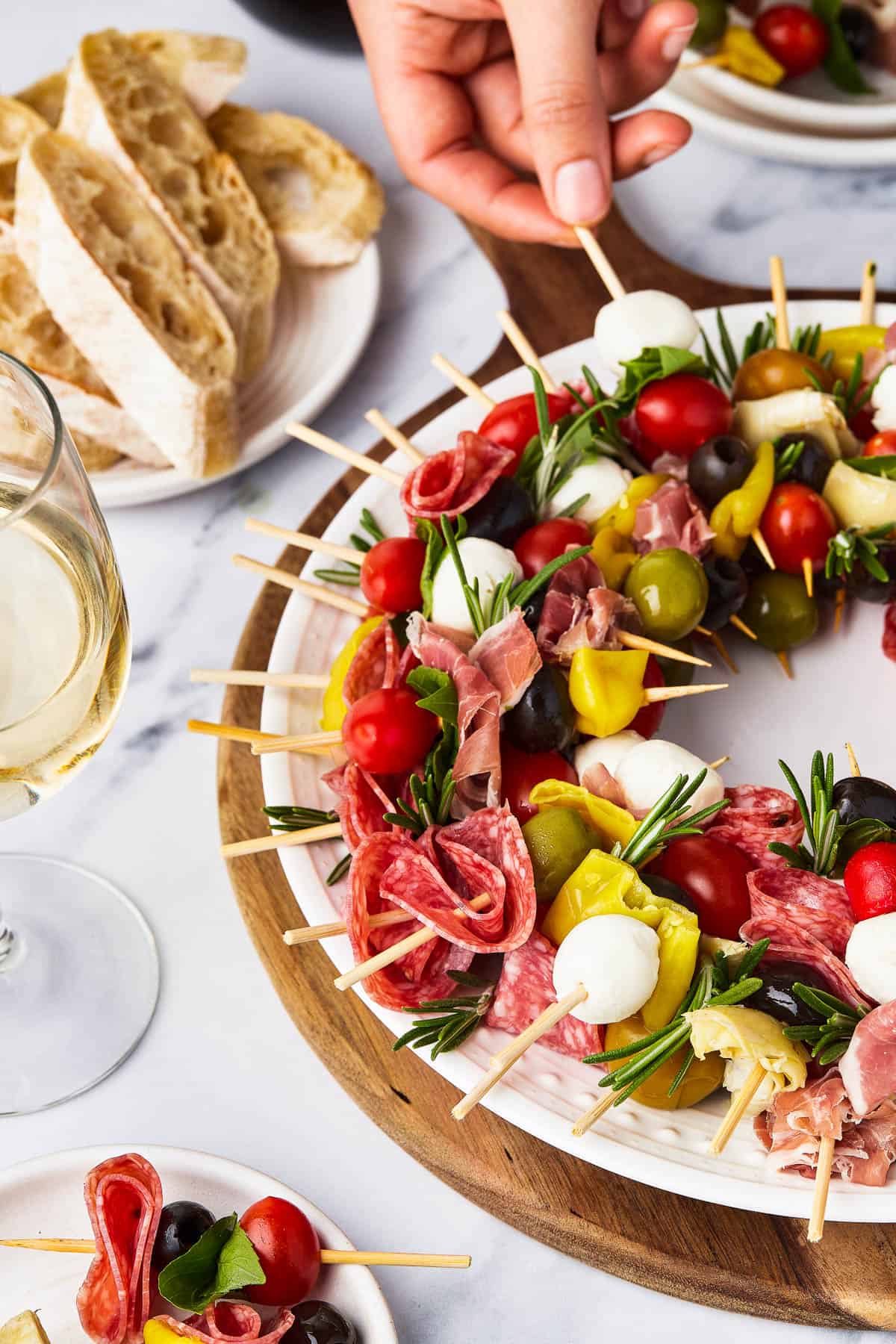 Tips and Tricks
Want to know more about making and serving this easy antipasto wreath? I've got all the tips and tricks right here! Enjoy!
Meat Options: This recipe uses prosciutto and salami, but you can use a variety of Italian cured meats, such as mortadella, coppa, or soppressata.
Cheese Options: Ciliegine cheese is perfect for these skewers, but you can substitute any mozzarella cheese you'd like.
Olive Options: Castelvetrano olives are buttery and mild, balancing out the more robust flavors of the peppers. However, you can use any green olive variety you prefer.
Fresh Is Best: Keep your basil fresh by placing the stems in a glass of water, and storing at room temperature.
Extra Goodies: If you have extra ingredients remaining, serve them in small bowls alongside the wreath, with toothpicks or skewers.
Ideas for Serving
Serve this perfect appetizer on its own, or make it part of a tempting appetizer spread! These are just a few delicious ideas to get you started:
Pasta Chips: Made in the air fryer or the oven, these Crunchy Pasta Chips are addictively delicious! You'll love the tender, cheesy crispness of al dente pasta cooked into perfect "chips."
Bacon Wrapped Shrimp: Festive Grilled Bacon Wrapped Shrimp can also be made in a cast-iron skillet or grill pan. However you make them, get ready for them to disappear!
Crab Dip: Everyone's favorite, this creamy Hot Crab Dip is full of sweet crabmeat, Old Bay, garlic, and cream cheese. Yum!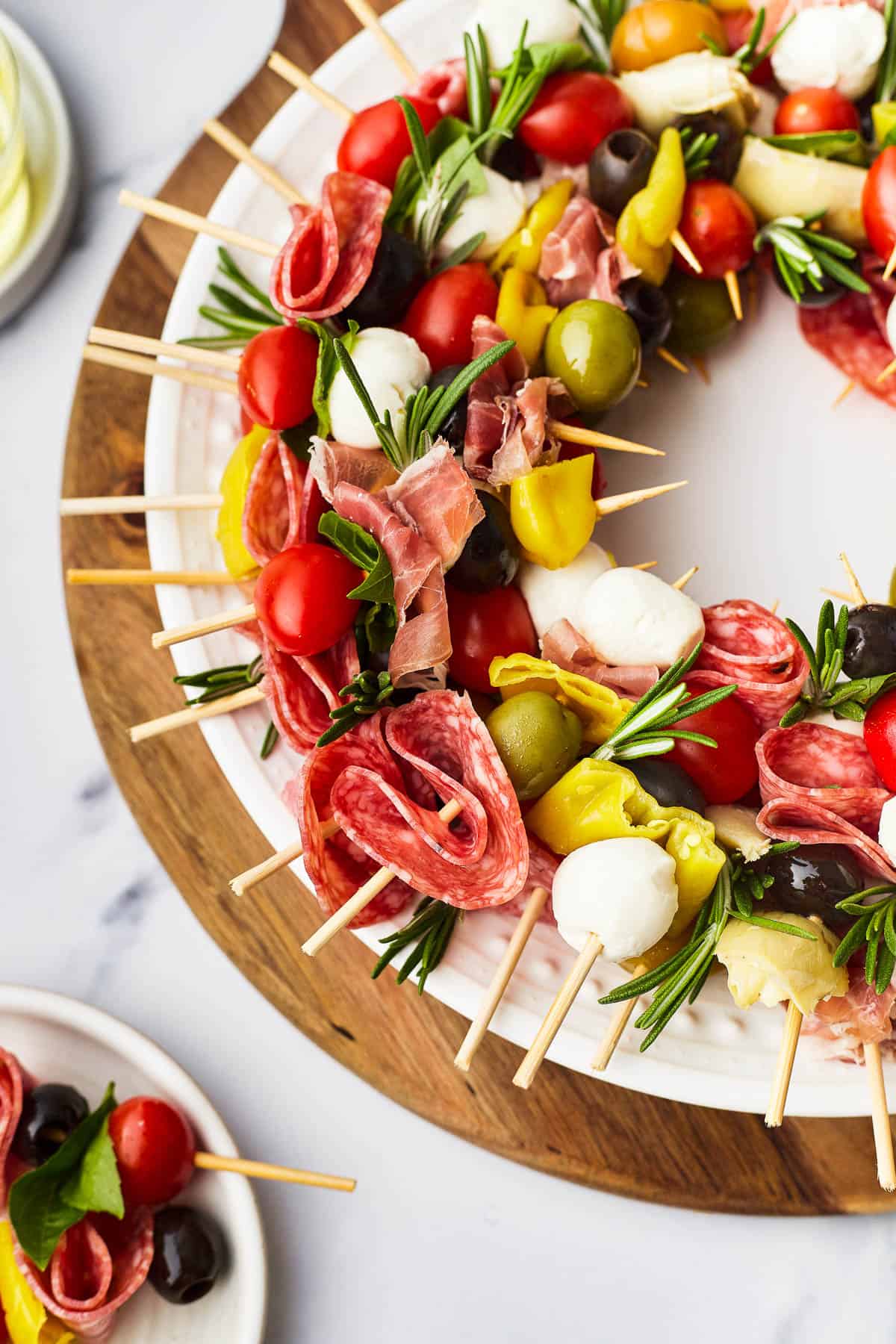 Storing Leftover Antipasti
While you can store these skewers for a day or so in the refrigerator, the ingredients will (for the most part) keep better separated and stored in individual airtight containers or bags.
How long they will keep fresh depends on each item.
You can also serve the antipasto as a salad the day after. Just take the antipasto ingredients off of the skewers, and arrange them on top of your favorite fresh salad greens.
Serve with Italian dressing.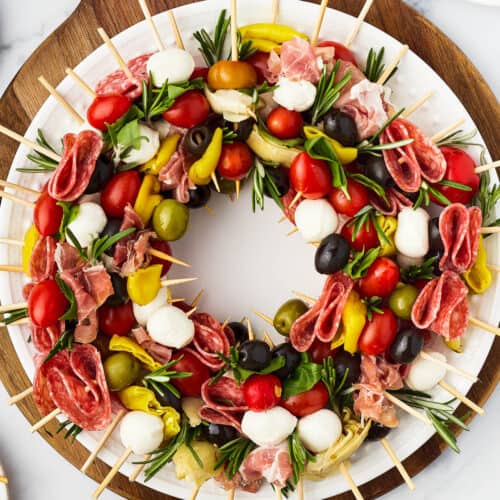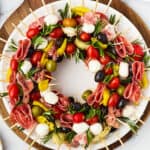 Print Recipe
Holiday Antipasto Wreath
Mini skewers loaded with salami, olives, peppers, and more are stacked in a ring to make this easy Holiday Antipasto Wreath!
Equipment
4 inch wooden skewers (40 to 50 count)
Ingredients
For Garnish and Serving
⅔

ounce

fresh rosemary,

for garnish (optional)

Olive oil and balsamic vinegar,

for serving (optional)

Sliced bread,

for serving (optional)
Instructions
Prepare all of the skewer ingredients.

Thread 4 to 5 different ingredients onto each skewer, varying the order and type of ingredients used.

On a large platter, place the skewers in a circle to form a wreath shape. See photos.

Continue to add skewers until you've run out of ingredients.

Cut small rosemary sprigs and place them in random spots throughout the wreath for decoration.

Serve with optional sides of olive oil, balsamic vinegar, and bread.
Notes
Nutrition facts are approximate and will vary depending on the ingredients and amounts.
Nutrition
Calories:
196
kcal
|
Carbohydrates:
6
g
|
Protein:
9
g
|
Fat:
16
g
|
Saturated Fat:
4
g
|
Polyunsaturated Fat:
1
g
|
Monounsaturated Fat:
5
g
|
Trans Fat:
1
g
|
Cholesterol:
21
mg
|
Sodium:
1017
mg
|
Potassium:
181
mg
|
Fiber:
3
g
|
Sugar:
1
g
|
Vitamin A:
493
IU
|
Vitamin C:
31
mg
|
Calcium:
128
mg
|
Iron:
1
mg
More Elegant Appetizers