Experience the burst of flavors with our Asian Cabbage Slaw recipe. Freshly shredded red and green cabbage, carrots, and green onions mixed with a tangy Asian-inspired dressing. A perfect side dish that's both colorful and crunchy, adding a refreshing touch to any meal.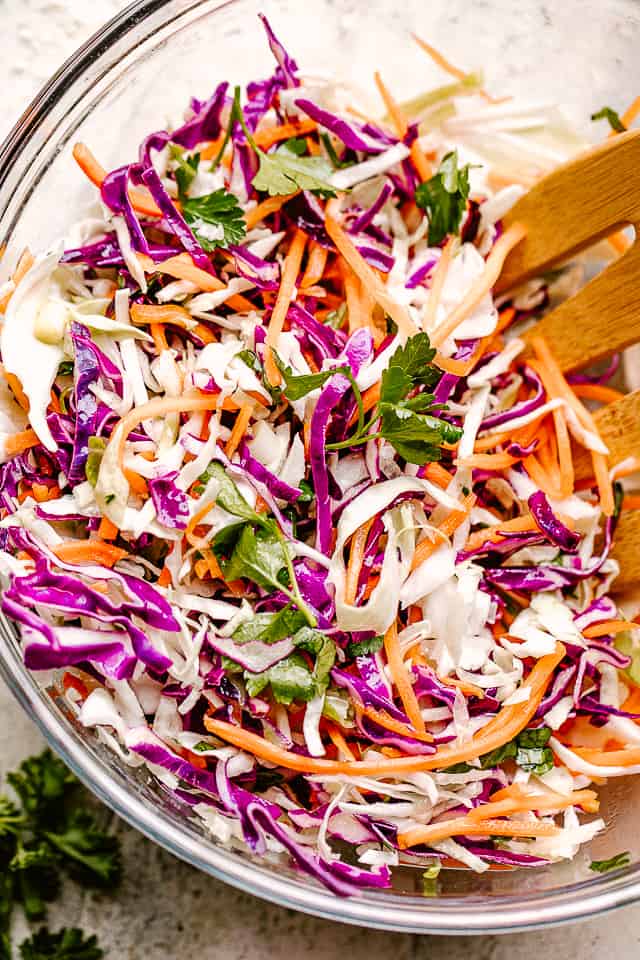 Vibrant and Flavorful Asian Cabbage Slaw
Welcome to a celebration of crunch and colors with our Asian Slaw, a lively mix of shredded red and green cabbage, carrots, green onions, and a generous sprinkle of cilantro. This salad doesn't just bring a burst of vibrant hues to your table but also a diverse set of flavors that are distinctively Asian.
Our Asian Slaw is all about freshness and texture. The shredded cabbages lend a delightful crunch, the carrots add sweetness, while green onions and cilantro bring an aromatic freshness. This salad is a wonderful way to enjoy your veggies, with each ingredient contributing its unique flavor and texture to the overall symphony of the slaw.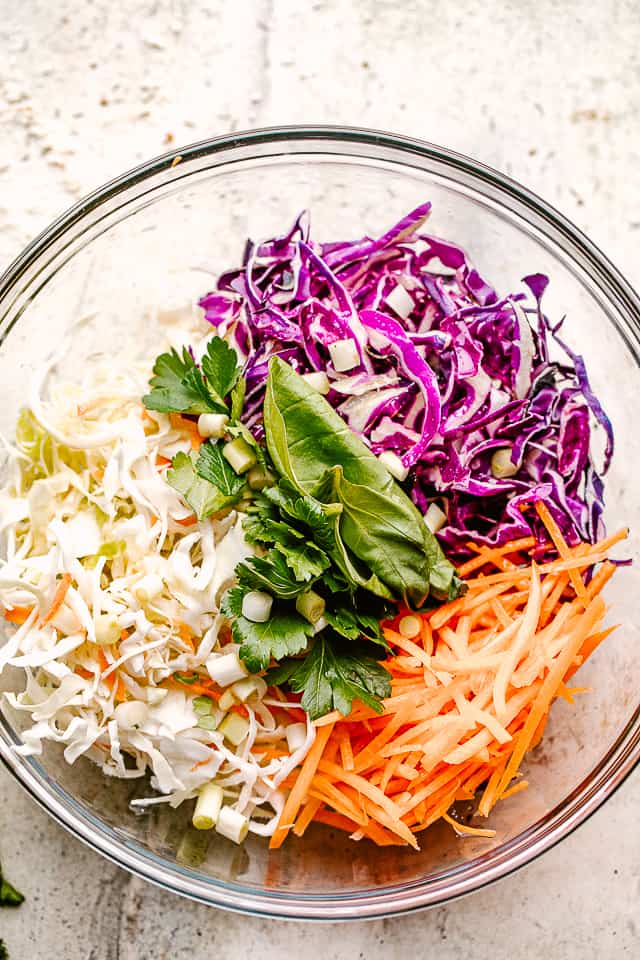 Ingredients For Asian Slaw
Red & Green Cabbage
Carrots
Green Onions
Cilantro
How To Make Asian Cabbage Slaw
Start by shredding your red and green cabbages, along with the carrots. The key here is to shred the veggies finely to allow them to mix well and absorb the dressing.
Next, chop your green onions and cilantro. Combine all these in a large bowl and set aside.
A great slaw is incomplete without a great dressing. For this Asian slaw, we are going to make a mix of olive oil, toasted sesame oil, hot sauce, garlic, rice vinegar, soy sauce, and lime juice. Toss it all together with the salad, cover, and place it in the fridge for 20 minutes to an hour before serving.
How To Shred Cabbage
Preparation: Start by removing any damaged or wilted outer leaves from the cabbage.
Cut: With a sharp knife, cut the cabbage in half from top to bottom (through the core). Then cut each half again the same way, so you end up with quarters.
Remove Core: Cut out the hard core from each quarter.
Shred: Cut each cabbage quarter down, and slice along the width to create thin shreds. Make the shreds as thin or thick as you like depending on your preference. You can also use a box grated, or if you have a food processor with a shredding disc, you can use that to shred the cabbage quickly.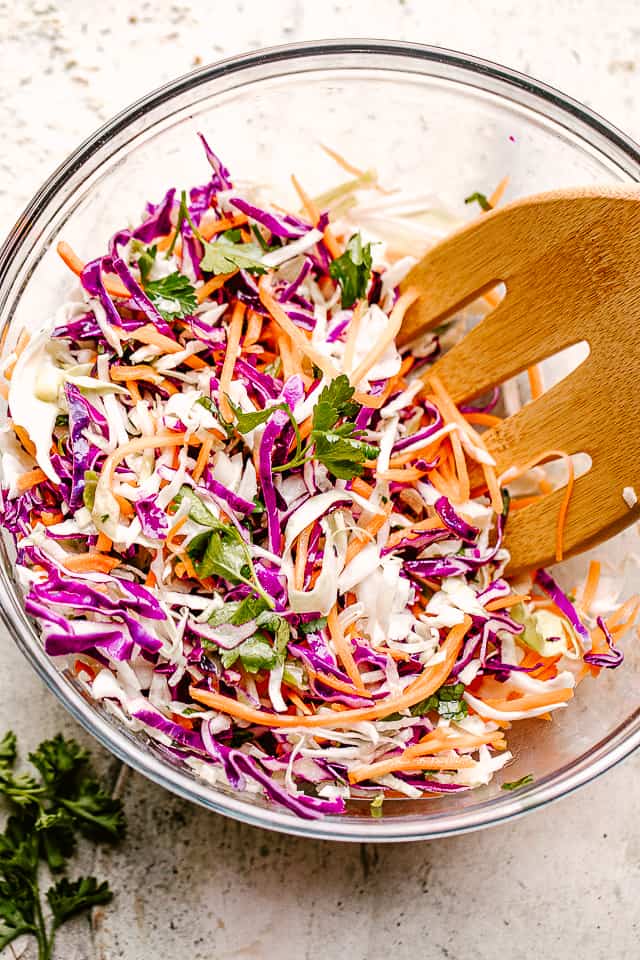 What To Serve With Cabbage Slaw
This vibrant Asian Slaw can be enjoyed in many ways. It pairs perfectly with grilled chicken or grilled salmon adding a refreshing crunch. You can also use it as a filling for your tacos or wraps. Or simply enjoy it on its own as a light and healthy meal. The possibilities are endless, and the flavor is absolutely memorable.
So, why wait? Dive into the world of flavors with this crunchy and colorful Asian Slaw. You're in for a treat!
Quick Salad Recipes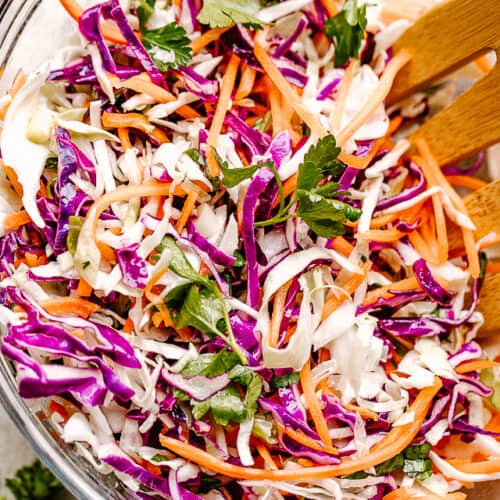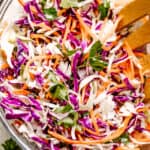 Print Recipe
Asian Cabbage Slaw
Ingredients
For The Asian Slaw
6

cups

shredded red and green cabbage

3

green onions,

thinly sliced

2

large

carrots,

shredded

½

cup

chopped fresh cilantro
For The Asian Dressing
2

tablespoons

olive oil

1

tablespoon

toasted sesame seed oil

3

tablespoons

rice vinegar

3

tablespoons

soy sauce

2

tablespoons

fresh lime juice

2

tablespoons

granulated sugar

2

cloves

garlic,

minced

1

teaspoon

chili hot sauce,

optional
Instructions
Combine the cabbage slaw ingredients in a large mixing bowl. Set aside.

In a separate bowl, whisk together the ingredients for the dressing. Taste and adjust to your liking.

Pour the dressing over the slaw mixture; toss to combine.

Cover and place it in the fridge for 20 minutes and up to 1 hour.
Notes
Cut or shred the veggies very thin so they soak up the dressing and are easier to eat.
Use the freshest veggies for a crisp, delicious slaw.
Dress it Right: Balance tangy, sweet, and spicy flavors in your dressing.
Rest but Don't Soak: Let the slaw sit a bit to absorb flavors, but not too long—you want to keep the crunch.
Add chicken, tofu, or shrimp, and make it a meal.
Garnish: Top with sesame seeds or peanuts for crunch and extra cilantro for freshness.
It's not recommended to refrigerate slaw leftovers as the veggies will get soggy.
Nutrition
Serving:
1.5
cups
|
Calories:
116
kcal
|
Carbohydrates:
12
g
|
Protein:
2
g
|
Fat:
7
g
|
Saturated Fat:
1
g
|
Polyunsaturated Fat:
2
g
|
Monounsaturated Fat:
4
g
|
Sodium:
337
mg
|
Potassium:
259
mg
|
Fiber:
3
g
|
Sugar:
8
g
|
Vitamin A:
4232
IU
|
Vitamin C:
31
mg
|
Calcium:
47
mg
|
Iron:
1
mg