This Philly Cheesesteak Burger is a satisfying, cheesy, hot sandwich made with thinly sliced steak, peppers, and onions – yum! The family will rave over this hearty, easy dinner.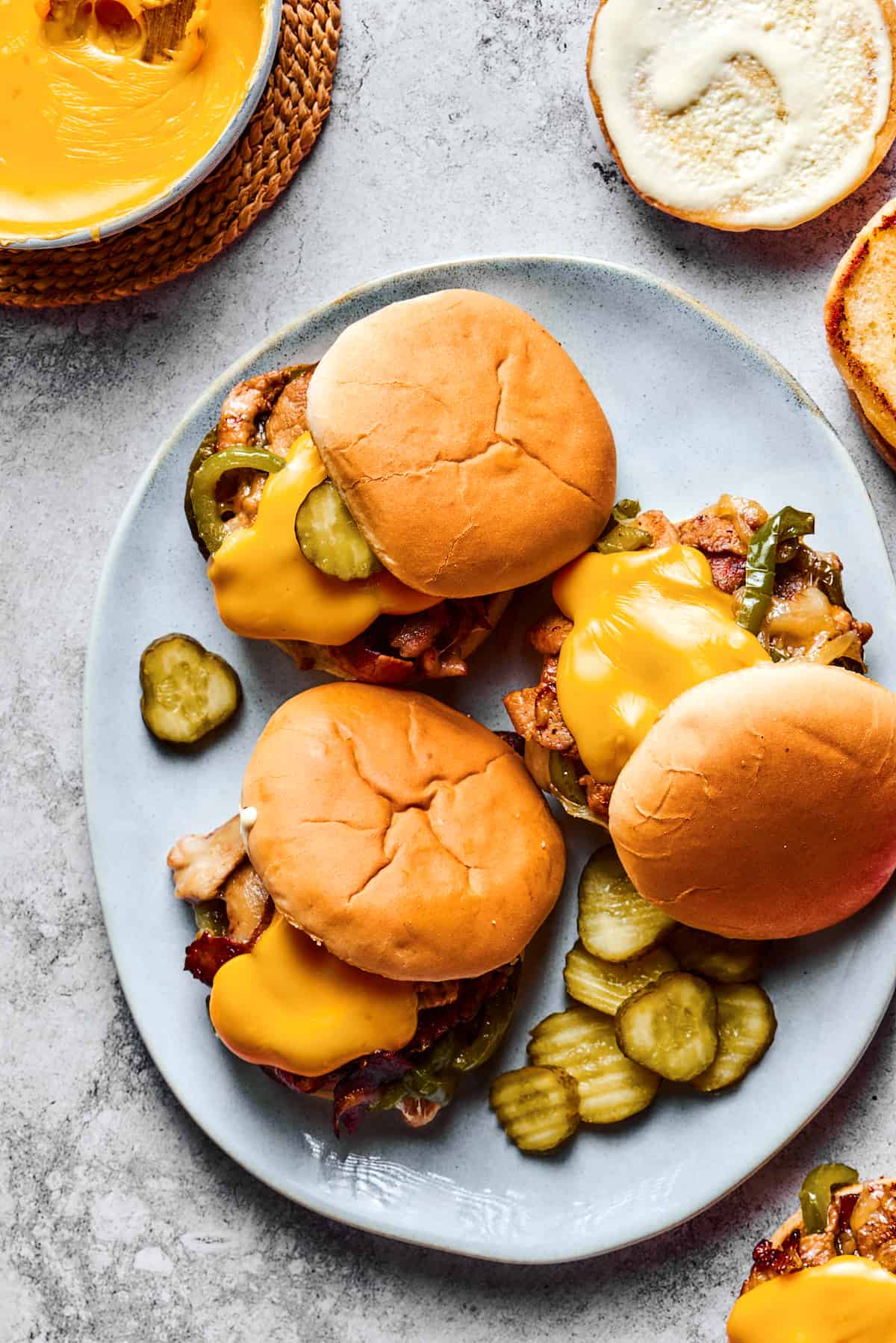 An Easy, Cheesy, Steak Sandwich Dinner
If you're tired of hot dogs and hamburgers, but you still want a crave-worthy, indulgent American classic, you can't do better than a classic Philly Cheesesteak. Made with thin-sliced, tender steak, and plenty of hearty onions and peppers, this sandwich is usually served on a long hoagie roll. I like to make it a little more kid-friendly by serving it on soft, toasted hamburger buns. The melted Provolone and Cheez Whiz (hey, it's a tradition!) put this cheesy delight over the top. 🍔
A great thing about this recipe is that it's very quick and easy to make. The most time-consuming part is totally hands-off (and totally optional, too): freezing the steak. That's a little trick to make slicing steak easier, but you don't have to do it if you don't have time! A good sharp knife will do the job, whether the steak is frozen or not. Once you've got your steak sliced, it only takes a few minutes in a hot pan, and dinner is done.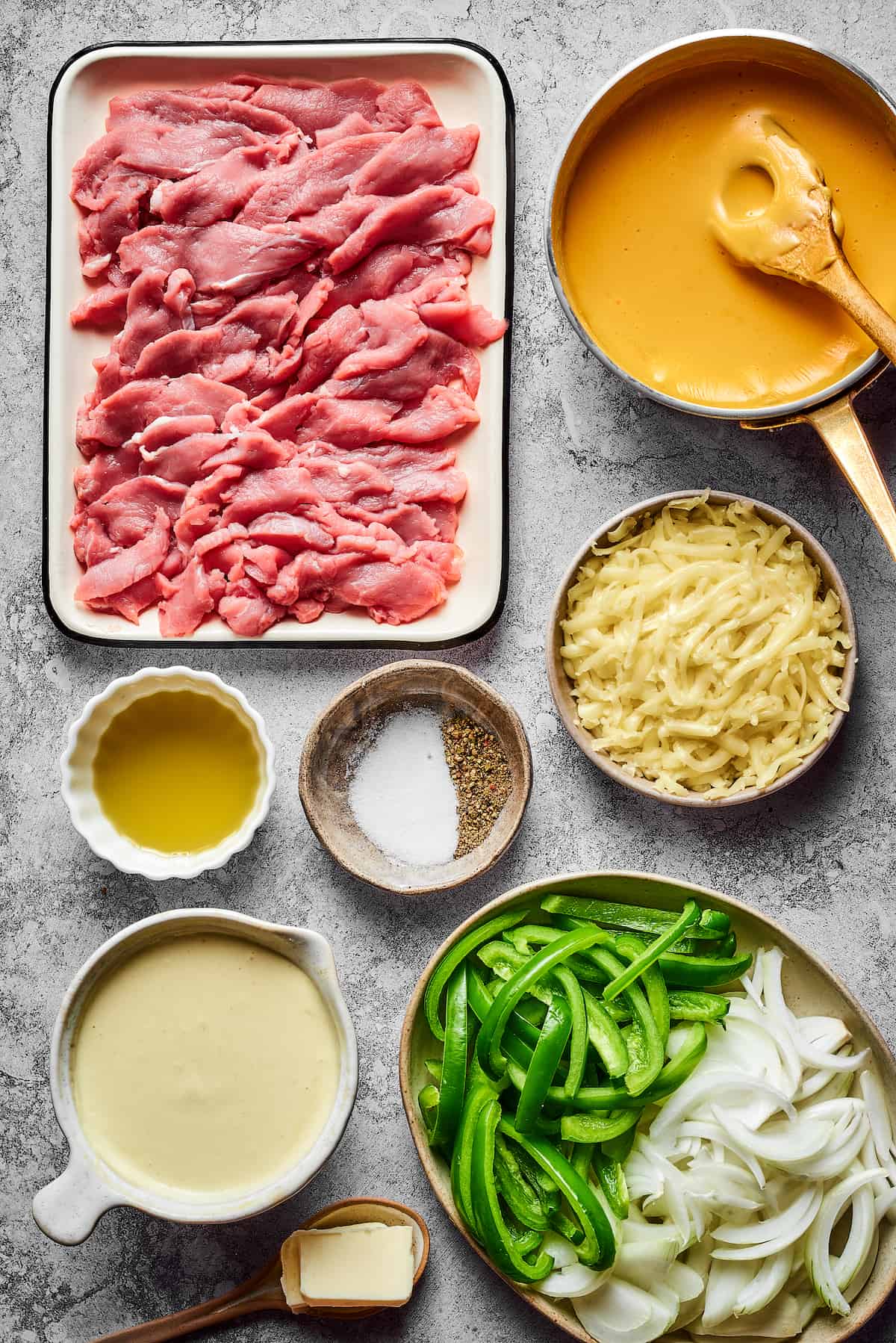 What Is a Philly Cheesesteak Made Of?
This intensely flavorful philly cheesesteak burger includes all the classic elements you know and love: tender, lightly-sauteed steak, green bell peppers, melted cheese, and a toasted bun. Here's the list, in detail:
Steak: For this dish, I like to use really good steak. Beef Tenderloin is amazing, but it can be pricey, so don't hesitate to swap in a different cut. Just make sure to go for a tender grilling steak, not a braising cut like chuck. (See more on this in the section below!)
Onions and Peppers: Thinly slice a yellow onion (or whatever type of onion you have) and a green bell pepper.
Butter and Olive Oil: You'll need some butter and olive oil for sauteing, and a bit of extra butter for spreading on the toasted buns.
Provolone Cheese: Grated or sliced is fine.
Sandwich Buns: Hamburger buns are great, or any other kind of sandwich bun.
Cheez Whiz: Warm up the Cheez Whiz on low heat in a saucepan, or in a microwave-safe dish in your microwave. It doesn't need to be super hot.
Salt and Pepper: Of course!
Aioli Sauce: A little bit of store-bought aioli adds the perfect touch. If you don't have aioli, try using mayonnaise with a bit of garlic powder and lemon juice stirred in.
Pickles: These are optional, but if you like a little tangy contrast, they're nice for adding to the philly cheesesteak burgers.
Thyme: A spring of fresh thyme makes an attractive, optional garnish.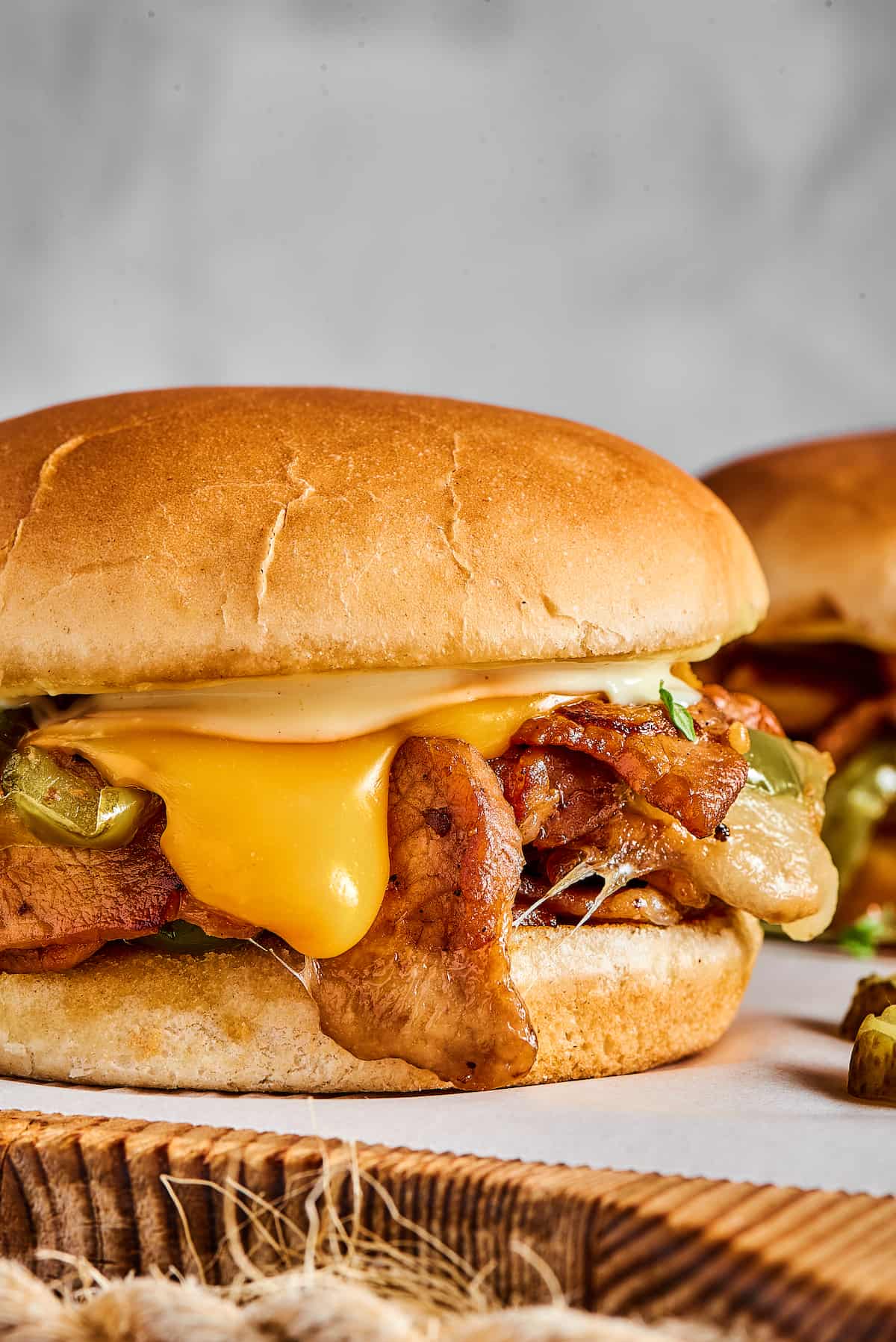 What Kind of Meat Is Used for Philly Cheesesteak?
Any "steakhouse" cut is good for making philly cheesesteak burgers. The only requirement is that the meat should be tender when quickly cooked, so rule out any tough, slow-cooker cuts. Ribeye, sirloin, tenderloin, Porterhouse (you'll have to cut it away from the bone), strip steak, and all the rest would be good. If you find an evenly-marbled "top sirloin" steak, that can work too.
How to Make It
Let's get into the process, now that we've covered the list of ingredients. This is a very simple dish. Just slice everything up, cook it up, and melt that cheese!
Freeze and Slice the Steak. 30 to 45 minutes before you're ready to cook, place your steak in the freezer and let it firm up. Then take it out, and slice it thinly against the grain. While the meat is freezing, you can toast the buns and spread them with butter.
Cook the Veggies and Steak Slices. Next, set a non-stick skillet over medium heat. Add a small amount of olive oil, and saute the onions and peppers until they have softened. Move them to a clean plate, and then saute the steak in the same pan, on high heat, with a bit of butter and some more olive oil. Cook for one minute per side, and then return the peppers and onions to the skillet. Cook everything together for 2 more minutes.
Melt the Cheese. Last, lower the heat back to medium. Lay slices of Provolone cheese over the meat and veggies, and let it melt.
Assemble the Philly Cheesesteak Burgers. Once the cheese melts, you're ready to make the sandwiches. Take the skillet off of the heat, and divide the mixture into the toasted buns. Spoon a tablespoon or two of Cheez Whiz over each helping of meat and veggies, and pickles if desired. Spread aioli on the top buns, and place them on top of the sandwiches.
Enjoy! Serve the cheesesteak burgers garnished with fresh thyme.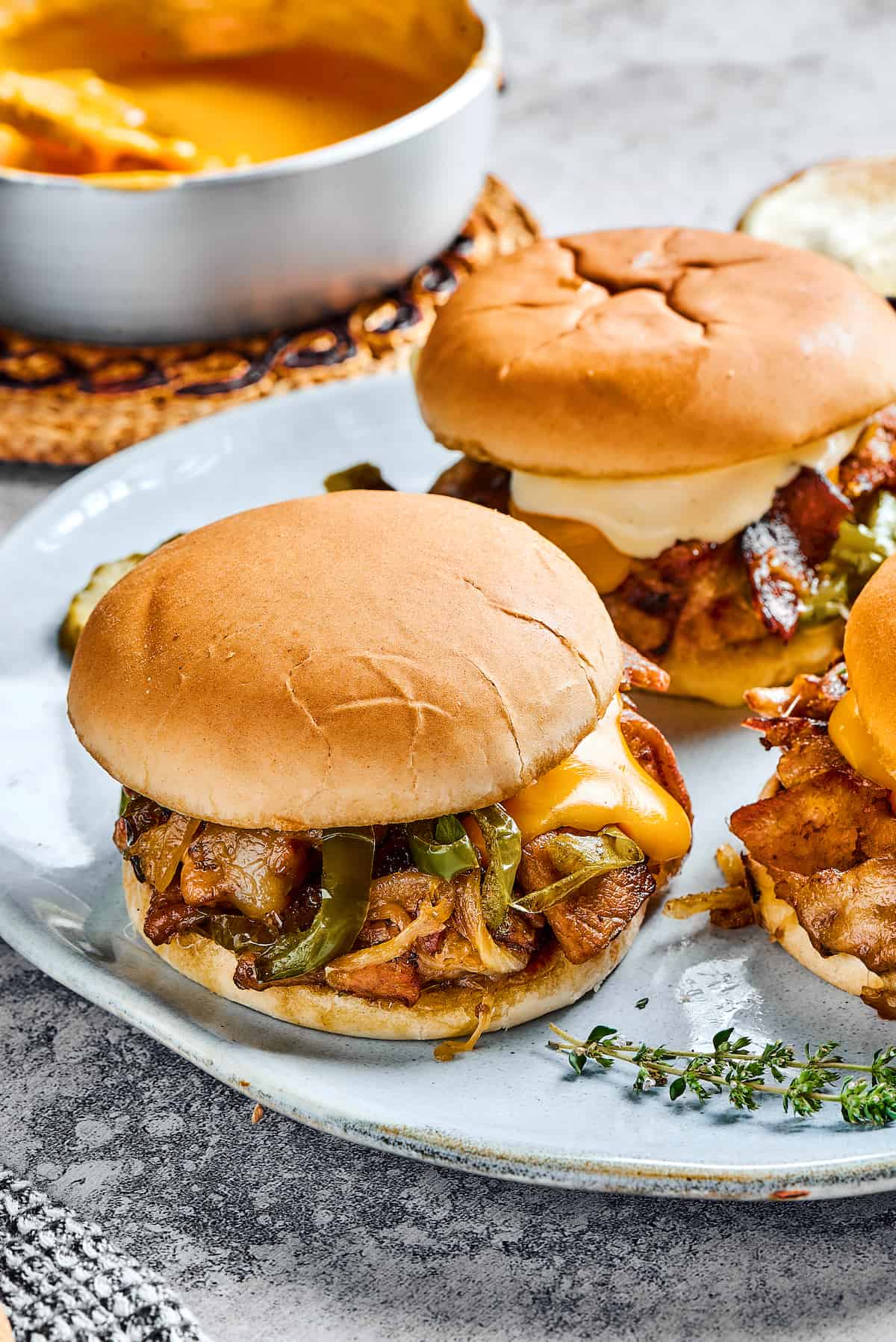 Tips for Success
Even for a recipe as easy as this one, I still have some easy tips and hacks to share! These quick cook's notes will guarantee a delicious meal. Happy cooking!
About that Cheez Whiz… This is a highly-debated addition to philly cheesesteaks. Some people swear by it, and others hate it – if you don't like Cheez Whiz, feel free to leave it out.
Chicken Option: This recipe is also excellent with tender, thinly-sliced chicken breast. So good!
Add-Ins: Boost the veggie power in this recipe by adding some sliced mushrooms, leeks, or other veggies to the pepper and onion mixture.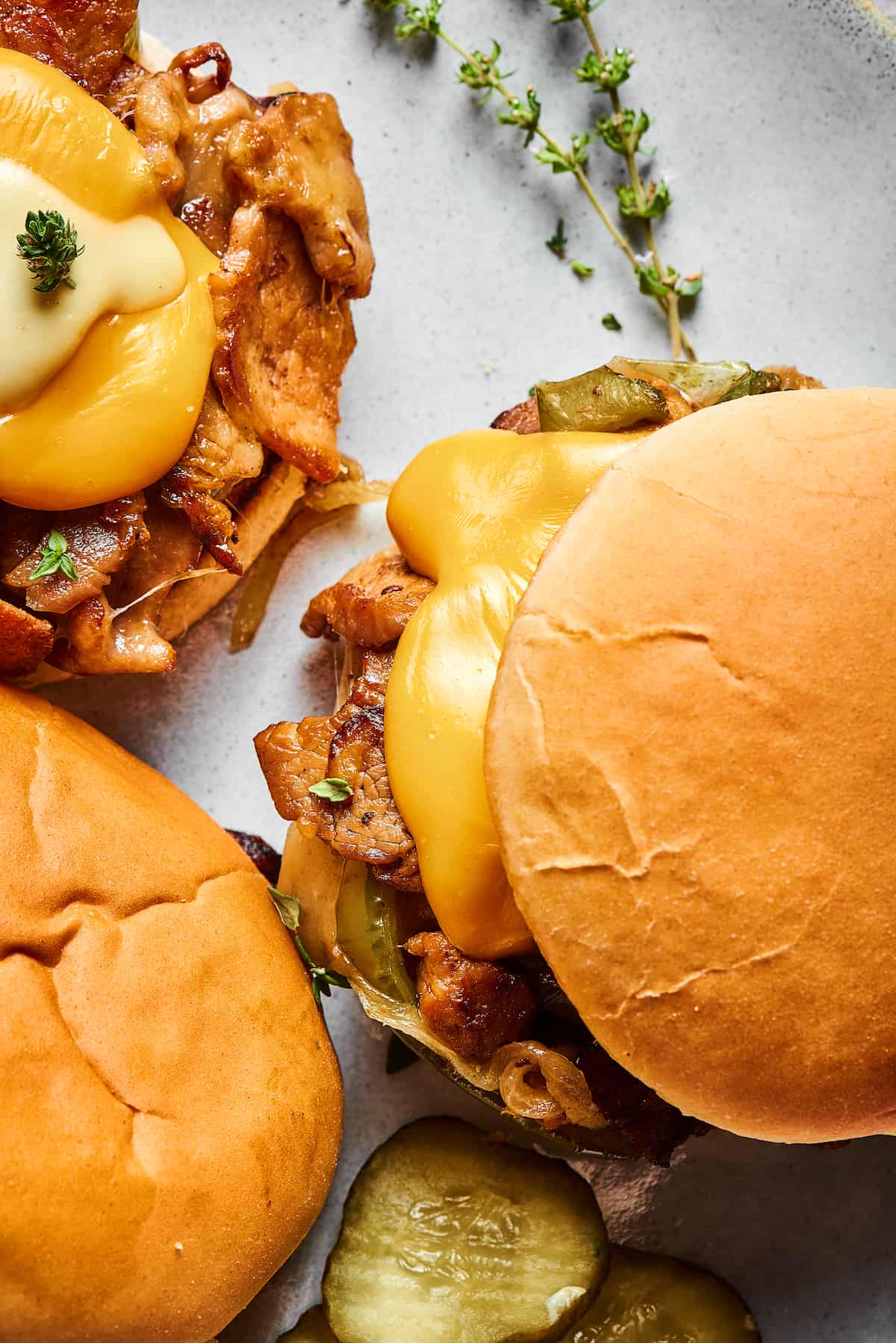 What to Serve with a Philly Cheesesteak Burger
What should you serve alongside this hearty dinner? All kinds of side dishes would be great, but I've got a couple of favorites to share with you here.
Coleslaw: Crisp, creamy coleslaw is a much-loved side dish with any hot sandwich! The easy slaw from my Instant Pot Pulled Pork with Coleslaw recipe would be just the ticket.
Fries: From classic shoestring french fries to sweet potato wedges, any "fry" would be great here. For a healthy, low-carb option, take a gander at these Crispy Air Fryer Parmesan Zucchini Fries. Doesn't get better than that!
A Light Salad: Salad is such a healthy addition to any meal. But you don't have to stick with a garden or Caesar salad – try throwing together some Caprese Stuffed Avocados for a special treat.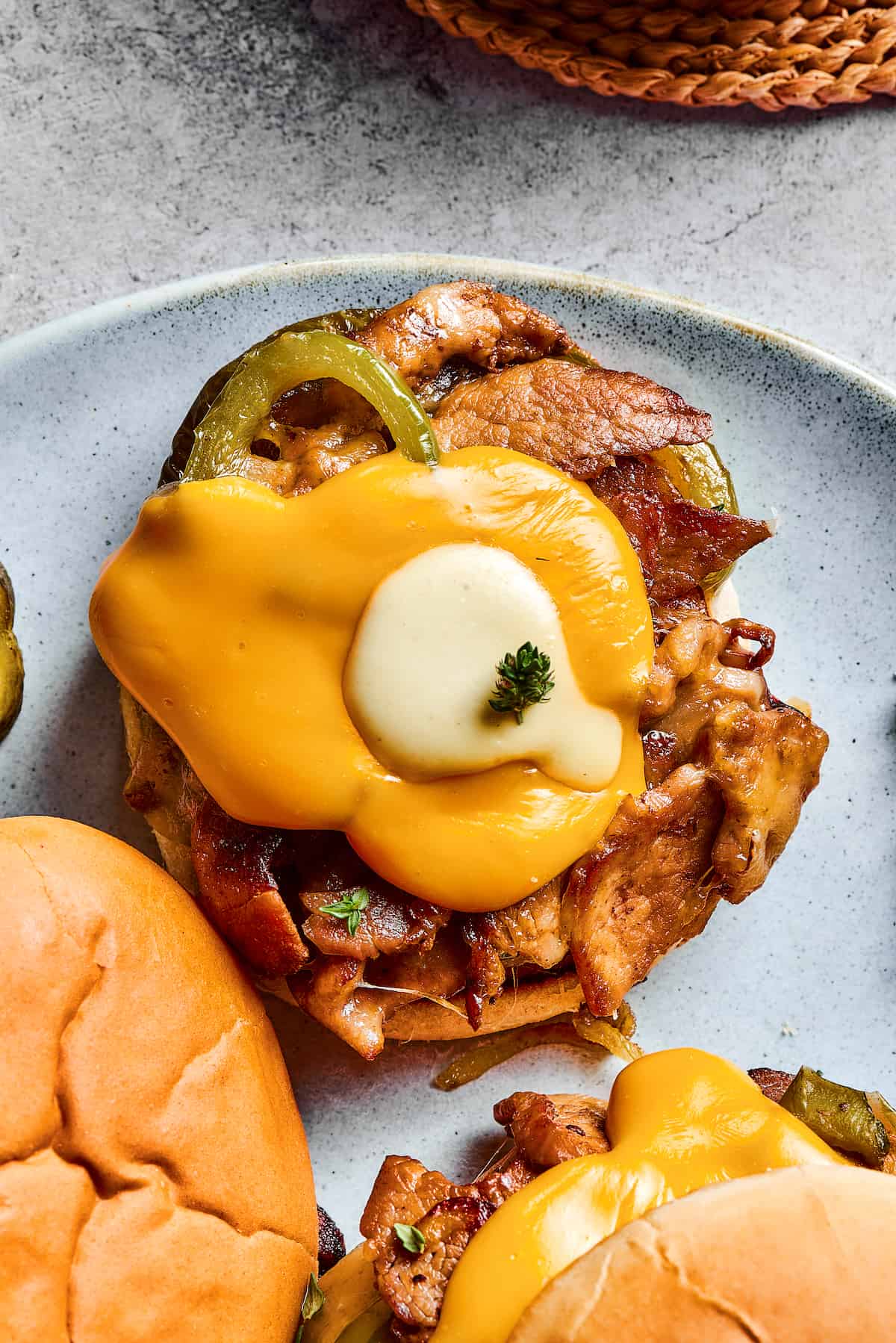 Storing and Reheating the Leftovers
If you're lucky enough to have leftovers, you can easily store them for a day or two in your fridge. Here's how:
To Store: Take the cheesesteak filling off of the bun, and place it in a food-storage bag or an airtight container. Keep it in the fridge for up to two days.
The bun can be saved in the fridge as well, in its own baggie, but if it's already soggy, you might want to discard it and use a fresh one when you reheat the meat.
To reheat: Place the serving of cheesesteak filling in a covered skillet over low heat. Allow it to heat until the meat and veggies are heated through, and the cheese is melted, but don't overcook or the steak will be tough.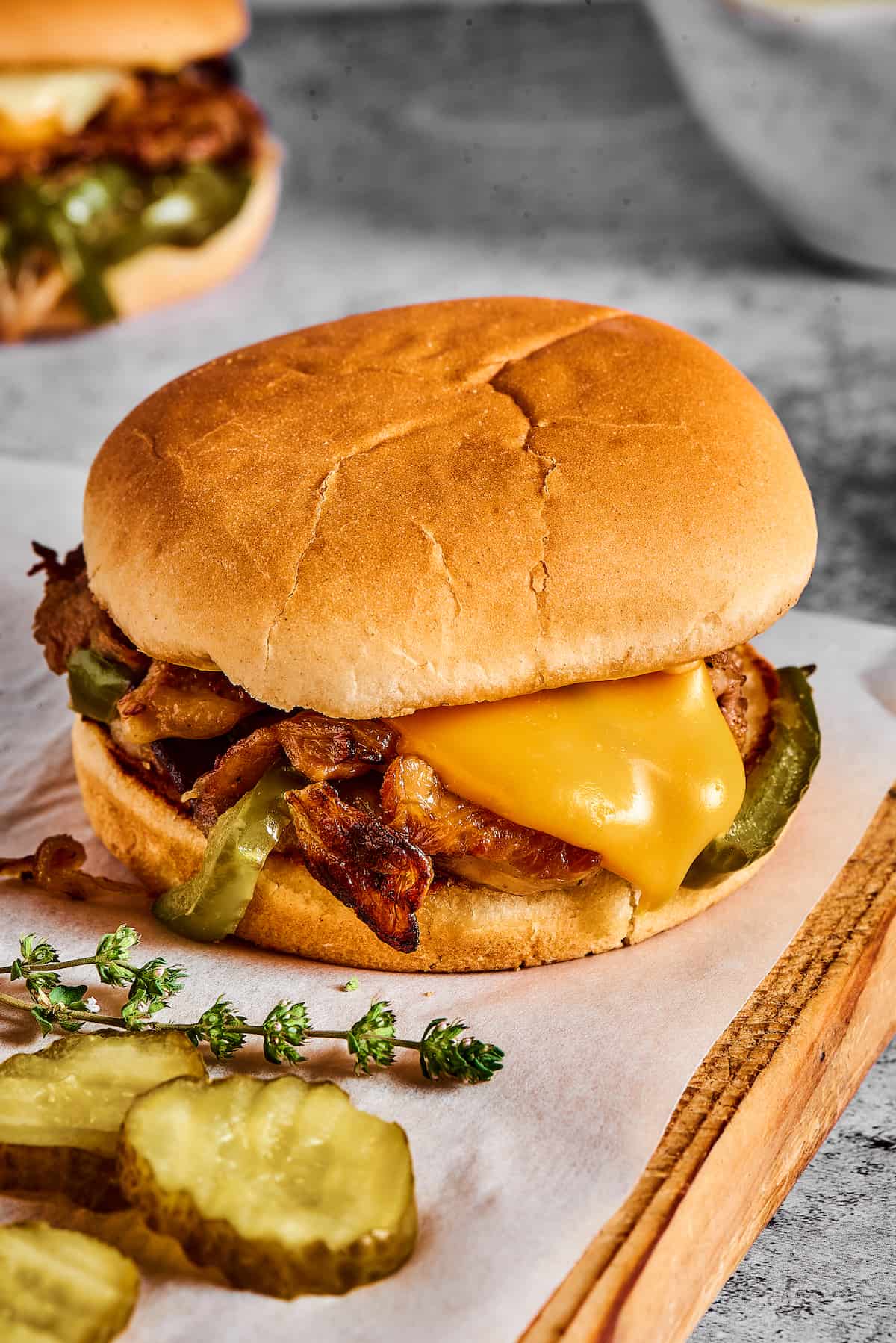 Can I Freeze This?
Sure! Just pop the cooled meat-veggie-cheese filling into a freezer bag or container, and freeze for up to 3 months. For best results, squeeze out all the air you can before you seal the bag.
Thaw out the filling in the fridge before reheating.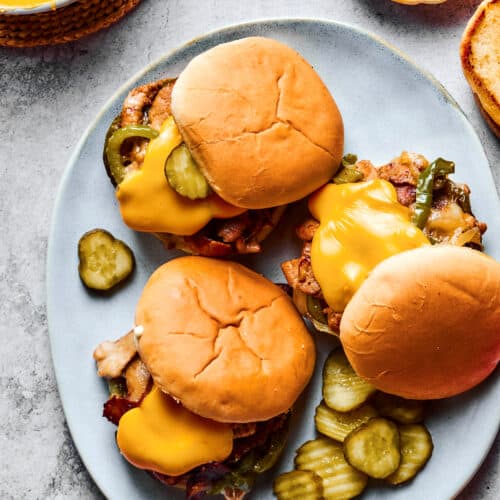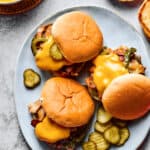 Print Recipe
Philly Cheesesteak Burger
This Philly Cheesesteak Burger is a satisfying, cheesy, hot sandwich made with thinly sliced steak, peppers, and onions.
Ingredients
1

pound

beef tenderloin,

(you can also use ribeye, sirloin, or Porterhouse)

3

tablespoons

unsalted butter,

room temperature, divided

2 ½

tablespoons

olive oil,

divided

1

yellow onion

thinly sliced

1

green bell pepper

thinly sliced

salt and fresh ground black pepper,

to taste

4

ounces

Provolone cheese,

grated or sliced

¼

cup

cheez Whiz

warmed

pickles,

optional
Instructions
Place the tenderloin in the freezer for 20 to 30 minutes (to make slicing easier).

Meanwhile, melt 2 tablespoons butter in a large nonstick skillet; add the buns to the melted butter and toast them on all sides.

Transfer buns to a plate and keep covered.

Heat 1-½ tablespoons olive oil in the same skillet; add the sliced onions and bell peppers and cook until softened, about 4 minutes. Stir frequently.

Remove onions and peppers from skillet and transfer to a plate; keep covered.

Take the meat out of the freezer, and cut into very thin slices.

Preheat the same skillet to high heat. Add the remaining butter and olive oil to the skillet. Cook the sliced steak for 1 minute on each side.

Return the cooked peppers and onions to the skillet, season with salt and pepper, and cook for 2 more minutes.

Lower the heat to medium. Place the Provolone cheese on top of the meat and vegetables to melt.

Once the cheese has melted, take the skillet off the heat and evenly divide the cheesesteak mixture among the toasted buns.

Spoon 1 to 2 tablespoons of Cheez Whiz over each cheesesteak sandwich, and add pickles, if desired.

Spread a small amount of aioli on the top bun before placing it on top of the burger.
Nutrition
Calories:
741
kcal
|
Carbohydrates:
27
g
|
Protein:
34
g
|
Fat:
54
g
|
Saturated Fat:
24
g
|
Polyunsaturated Fat:
3
g
|
Monounsaturated Fat:
22
g
|
Trans Fat:
0.3
g
|
Cholesterol:
133
mg
|
Sodium:
720
mg
|
Potassium:
567
mg
|
Fiber:
2
g
|
Sugar:
6
g
|
Vitamin A:
719
IU
|
Vitamin C:
27
mg
|
Calcium:
349
mg
|
Iron:
5
mg
More Satisfying Sandwich Recipes