Golden, perfectly toasted, and filled with luscious melted cheese, these hearty Baked Grilled Cheese Sandwiches are a comforting dinner that's super quick and so delicious! Your favorite easy sandwich just got even easier.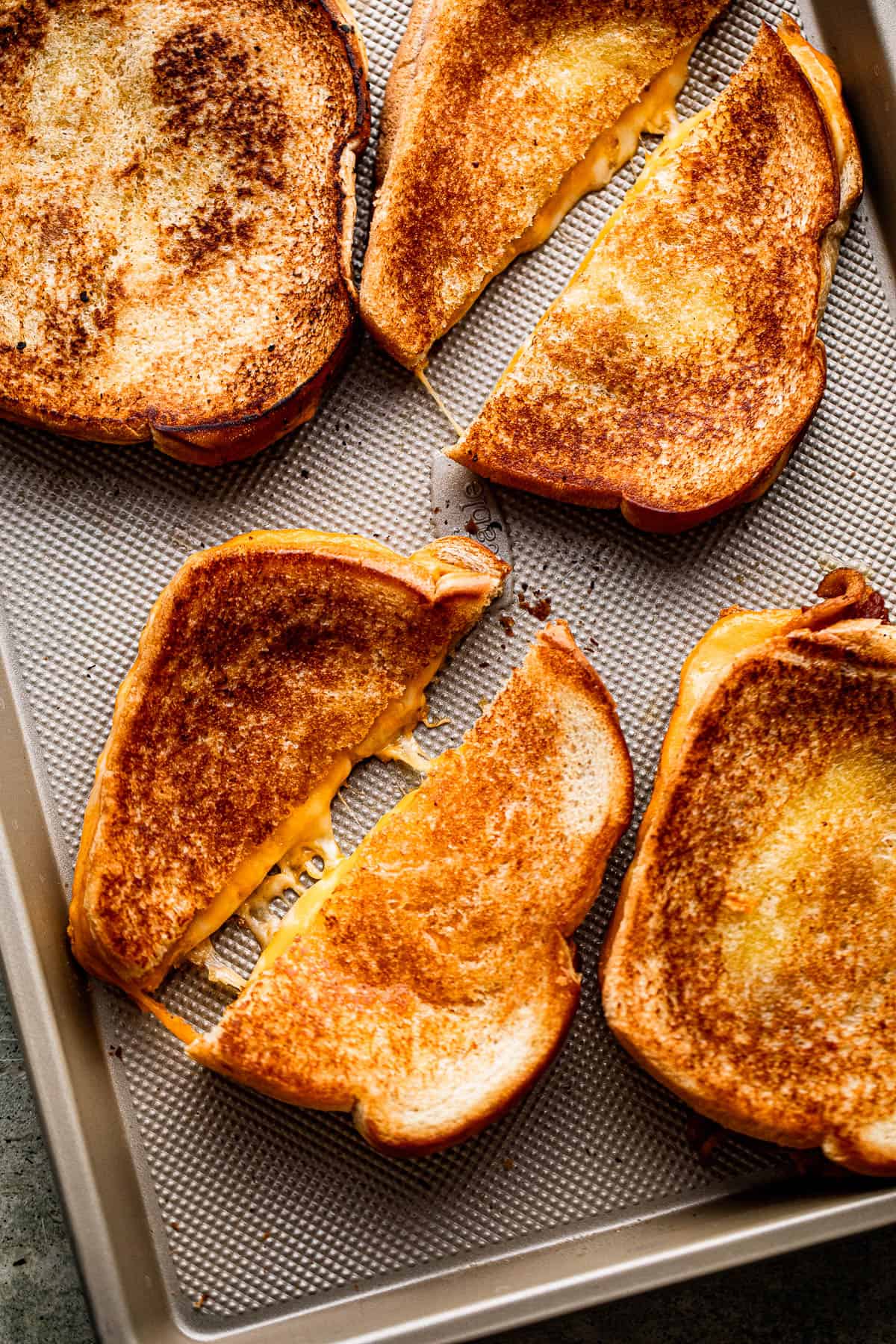 Hot, Melted, Grilled Cheese Sandwiches, the Easy Way!
If there were an Olympic-level competition of family-friendly food, I honestly think grilled cheese could be a contender, right up there with pizza and chicken nuggets! There's nothing quite like a buttery grilled cheese, whether you're a toddler almost ready to nap, a hangry teenager needing more fuel for studying, or a tired-out parent! Amiright?!
The only downside to grilled cheese sandwiches is that, even though they're very simple to make, it can take a lot of time to make more than one. Standing over a hot stove making one sandwich at a time, for a whole family? Who's got the time? ⏰
That's why this easy oven method is a game-changer. Each hot and melty sandwich is just as buttery, just as cheesy, and just as toasty, buuuut you can prep lots of them all at once, and then slide them all out of the oven, ready to eat, at the same time! high-five! ✋
Perfect for a quick and easy dinner, especially with a cup of your favorite soup.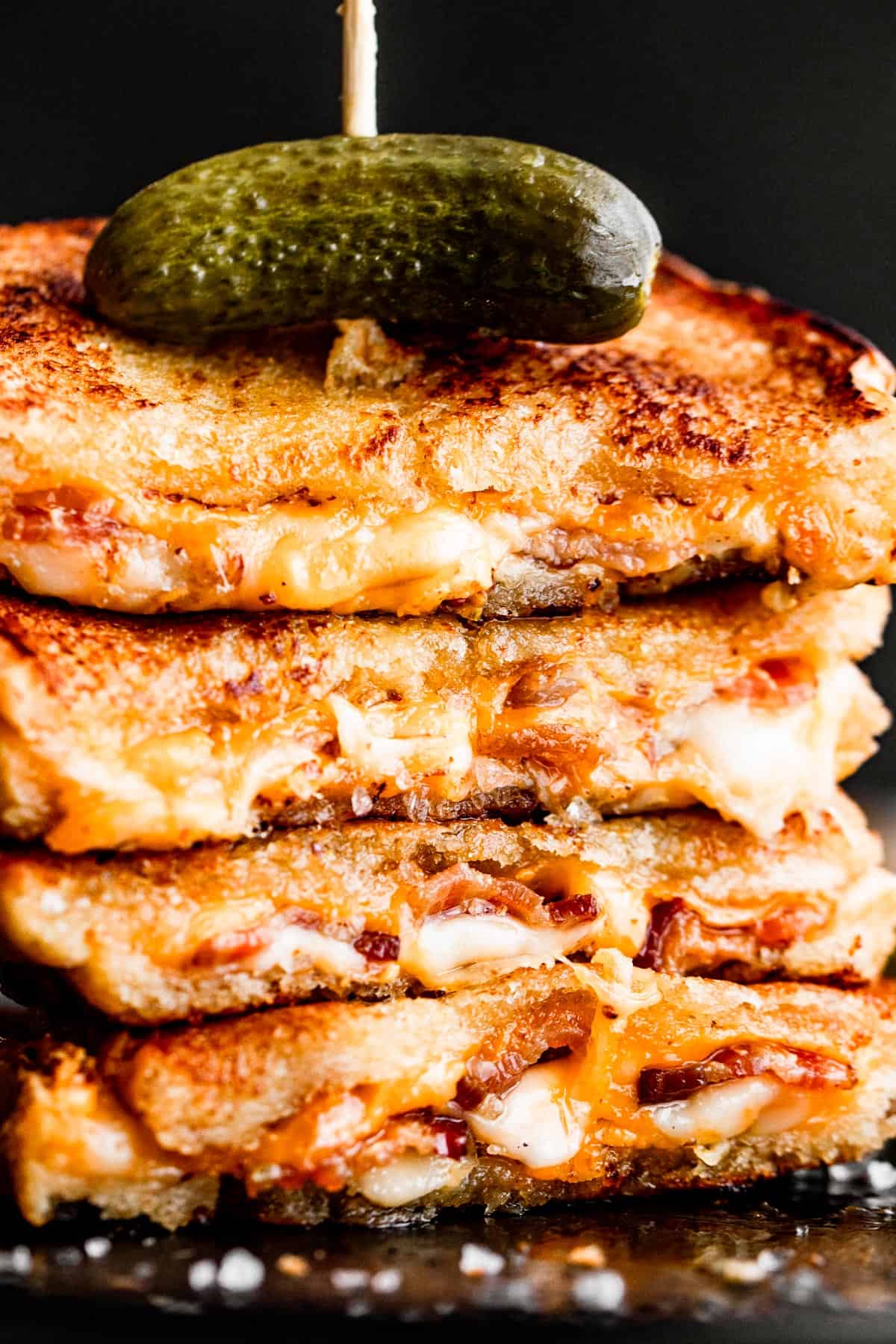 Ingredients for Baked Grilled Cheese
You'll only need a few simple ingredients to make baked grilled cheese sandwiches, but the result is out of this world! Feel free to change the types of cheese, and the kind of bread, to suit your preferences.
Bread: I love sourdough bread for grilled cheese! It is lightly tangy and has a great sturdy texture.
Mayonnaise: To flavor the inside of the sandwiches, we'll spread them with a little mayo and mustard.
Dijon Mustard: Dijon mustard has a complex, wine-like flavor, but if you would like, you could do yellow mustard, spicy mustard, coarse mustard, or even honey mustard.
Cheese: A combination of mozzarella and sharp cheddar gives these sandwiches a perfectly gooey, sharply cheesy flavor and texture.
Butter: The butter should be softened to room temperature for easy spreading.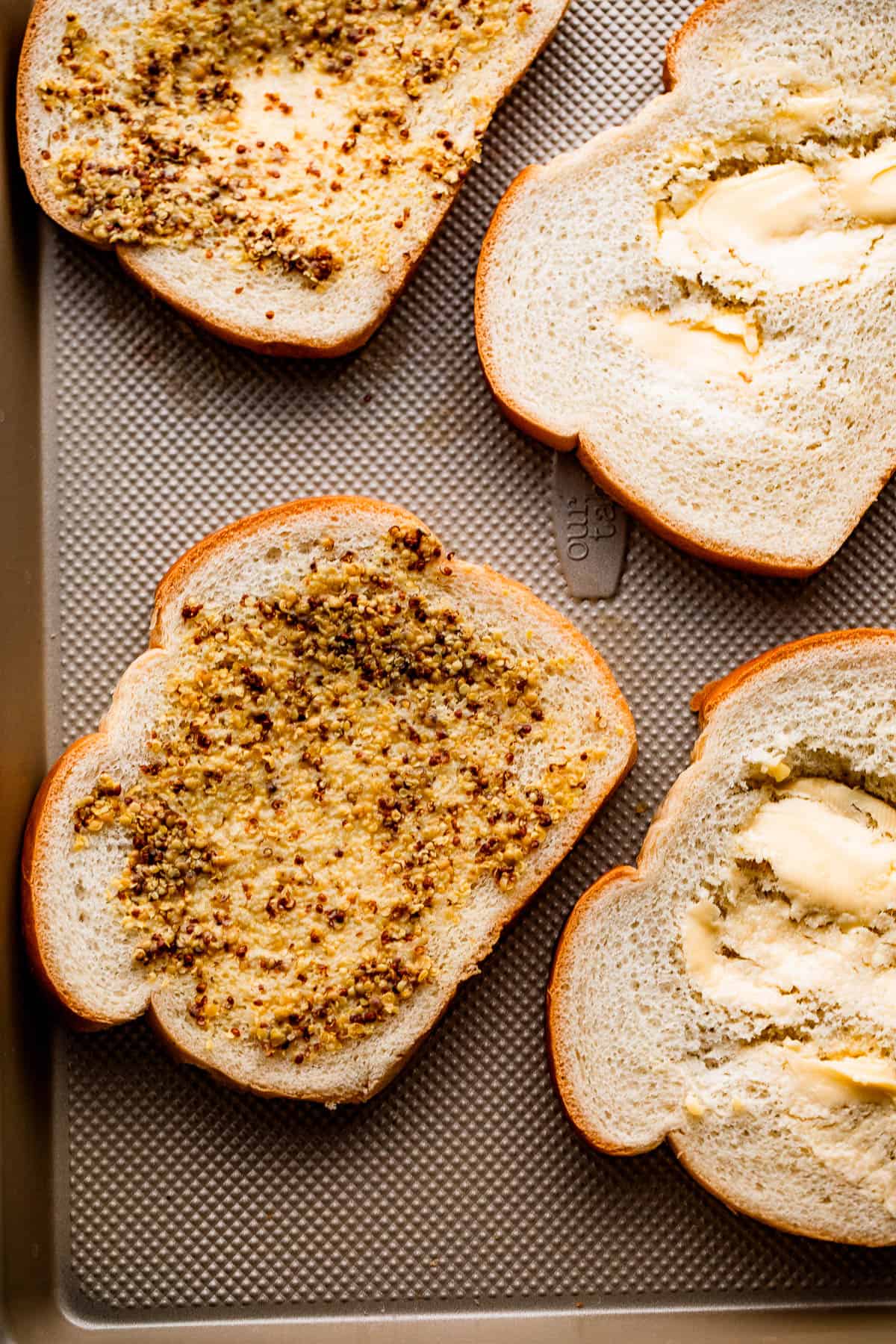 What is the Best Bread for Grilled Cheese?
Great question! As a longtime grilled cheese fan, I can confidently say… the best bread is whatever you love! You can make an awesome grilled cheese sandwich on whole wheat, rye, pumpernickel, sourdough, regular sandwich bread, homemade bread – the possibilities are endless!
Some crusty breads will create more of a rustic, panini-style sandwich. Others will make a classic soft, square sandwich with a crispy exterior.
Can You Substitute Mayo for Butter on Grilled Cheese?
Yes, you can! If you prefer, you can lightly spread mayonnaise on the outside of the bread rather than butter. This is a helpful trick to keep sandwiches from scorching when you make them in a skillet. However, since these are baked instead of grilled, I like to go with butter instead!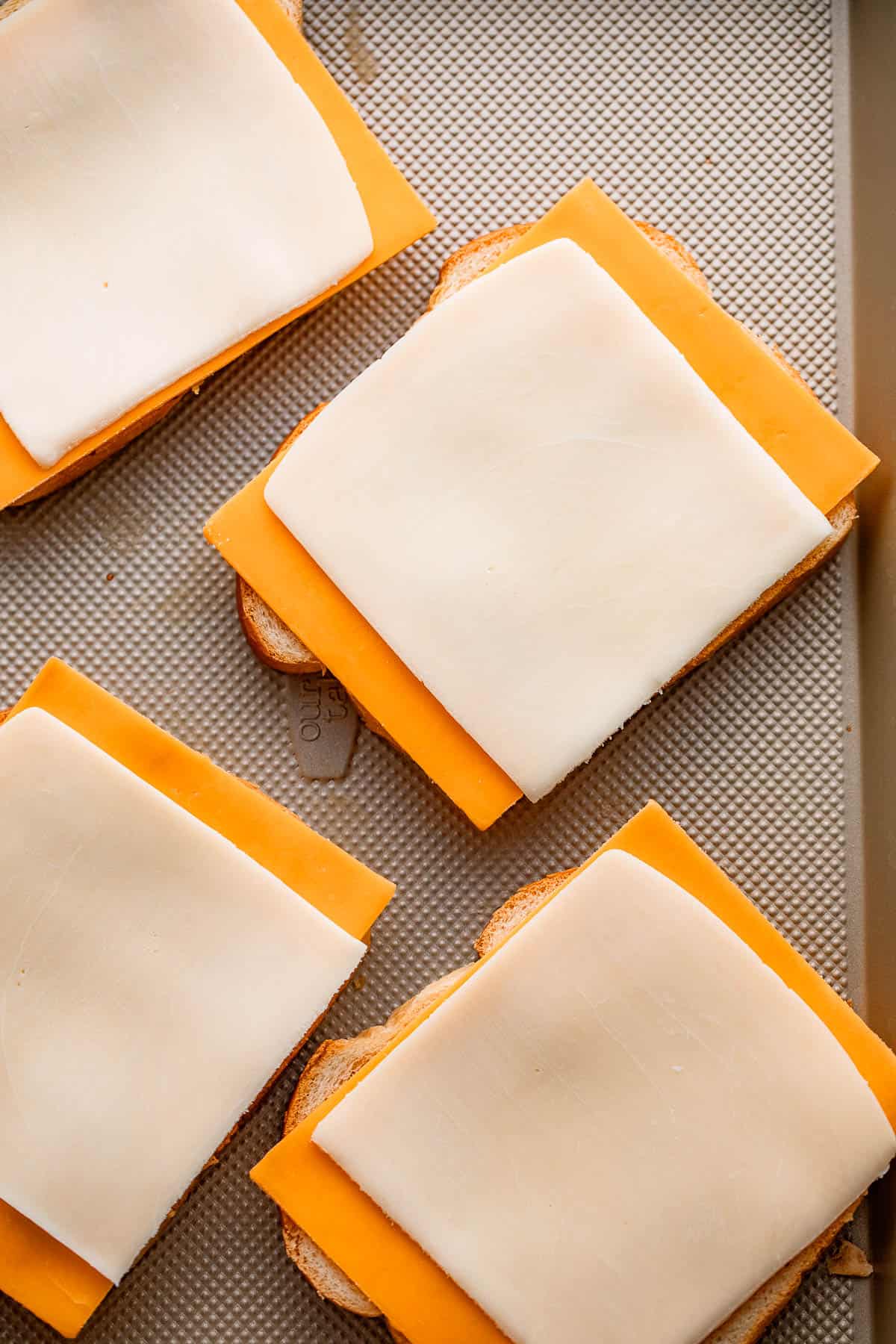 How to Make Grilled Cheese in the Oven
Making these is so easy, you'll want to make baked grilled cheese sandwiches a regular in your weekly menu! Here's the process, step by step.
Preheat the Oven and Butter the Bread. Preheat oven to 450˚F. Lightly butter one side of each piece of bread. Don't over-butter the bread or the sandwiches will be greasy. Lay bread slices, buttered side down, on a baking sheet.
Make the Mustard Mixture and Spread on the Bread. Next, in a small bowl, combine the mayo and mustard. Mix well, and spread the mixture over the bread slices.
Add Cheese and Bake. Next, add two slices of cheese to each slice of bread. Place the bread slices together to make sandwiches. You should have four sandwiches, each with two slices of mozzarella and two slices of sharp cheddar. Pop the baking sheet in the oven. Let the sandwiches bake for 4 minutes. Flip them and bake 3 to 4 more minutes.
Enjoy! When your sandwiches until golden brown and the cheese is melty, place them on a cutting board, cut in half, and serve warm.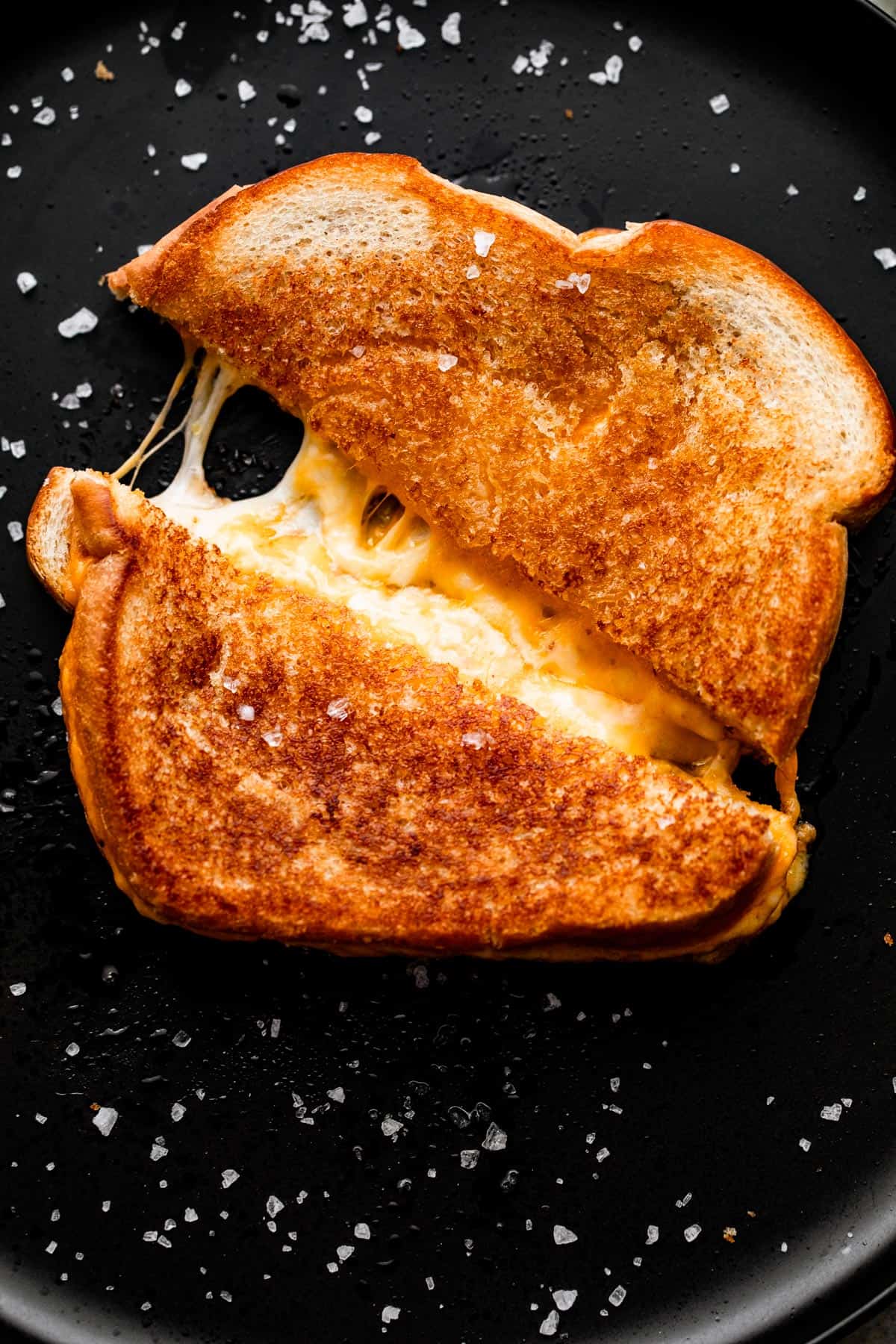 Tips for Success
When it comes to making this recipe, you really can't go wrong! Still, I do have a couple of quick tips to share, to make sure the process is smooth and easy. Read on, and bon appetit!
Watch the Bread: Because all ovens bake differently, you'll want to keep an eye on your oven and make sure to flip the sandwiches when they're lightly golden-brown. Don't let them overbake, or they will be too crunchy.
Top It Off: This recipe is a perfect base for extra toppings, from a slice or two of deli ham to sauteed mushrooms with parsley! You can make them as plain or as fancy as you would like.
Butter Battle: Avoid battling butter that won't spread! If you need to soften butter in a hurry, place it in a microwave-safe bowl and microwave on medium heat for 5 – 8 seconds at a time, until it softens. Careful, though, because butter melts from the inside out in the microwave! You may think it's still solid, only to slice into it and find that the inside is totally liquid!
Serving Ideas
While grilled cheese sandwiches are great with chips, pickles, fruit, and honestly just about any side you could name, there's nothing quite like a grilled cheese with soup! These are three of my very favorite soups to serve with a warm, cheesy sandwich.
Tomato Soup: What could be better than this classic combo? And with this easy recipe for Roasted Tomato Basil Soup, there's no need for the store-bought stuff!
Butternut Squash Soup: This rustic recipe for Italian Sausage Butternut Squash Soup is perfect for getting through the last days and weeks of winter – and perfect for serving with a fresh grilled cheese sandwich.
Leek and Potato Soup: Creamy and comfy, Classic Leek and Potato Soup is a family favorite. You'll love its velvety texture and mild, yet savory taste!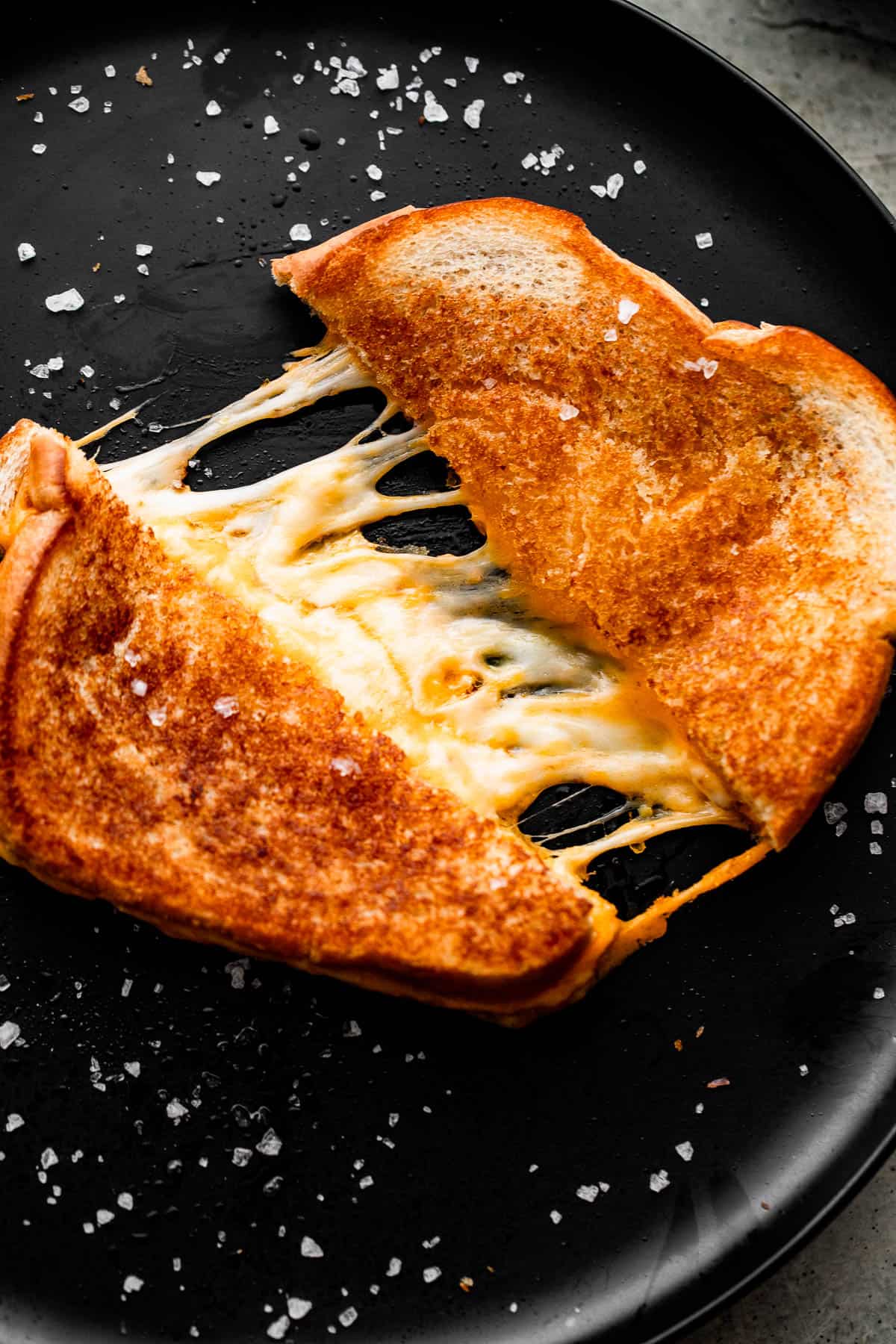 Storing and Reheating Leftover Grilled Cheese Sandwiches
If you happen to have leftovers, no worries! Grilled cheese sandwiches are melty, but not moist, which means you can place them in baggies and refrigerate for up to 2 days.
Reheat the sandwiches in a skillet with a little melted butter, until the cheese is melted again, or toast them in a toaster oven until heated through.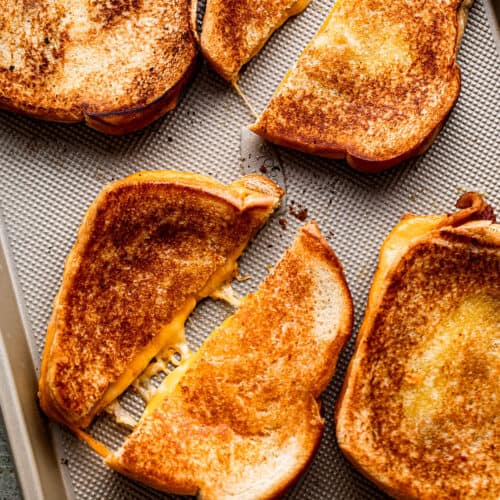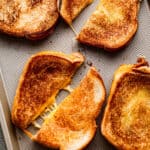 Print Recipe
Baked Grilled Cheese Sandwiches
Golden, perfectly toasted, and filled with luscious melted cheese, these hearty Baked Grilled Cheese Sandwiches are a comforting dinner that's super quick and extra delicious!
Instructions
Preheat oven to 450˚F.

Lightly butter one side of each slice of bread.

Arrange bread slices, buttered side down, on a large baking sheet.

In a small bowl combine mayonnaise and dijon mustard; mix until incorporated.

Spread the mayo mixture over bread. Add more, if you like.

Place 2 slices of cheese on each slice of bread.

Sandwich the breads together – you should have 4 sandwiches.

Pop them in the oven for 4 minutes; flip and continue to cook for 3 to 4 more minutes, or until golden brown and cheese is melty.

Remove from oven and transfer to a cutting board.

Cut each sandwich in half and serve.
Nutrition
Calories:
412
kcal
|
Carbohydrates:
14
g
|
Protein:
16
g
|
Fat:
33
g
|
Saturated Fat:
15
g
|
Polyunsaturated Fat:
7
g
|
Monounsaturated Fat:
9
g
|
Trans Fat:
1
g
|
Cholesterol:
73
mg
|
Sodium:
656
mg
|
Potassium:
87
mg
|
Fiber:
1
g
|
Sugar:
2
g
|
Vitamin A:
659
IU
|
Vitamin C:
1
mg
|
Calcium:
415
mg
|
Iron:
1
mg
More Classic Sandwich Recipes