If you like cheesecake and pumpkin spice, you'll love these rich Pumpkin Cheesecake Bars! A simple cookie crust is topped with decadent pumpkin cheesecake and a warm, buttery streusel topping in this holiday-friendly dessert recipe.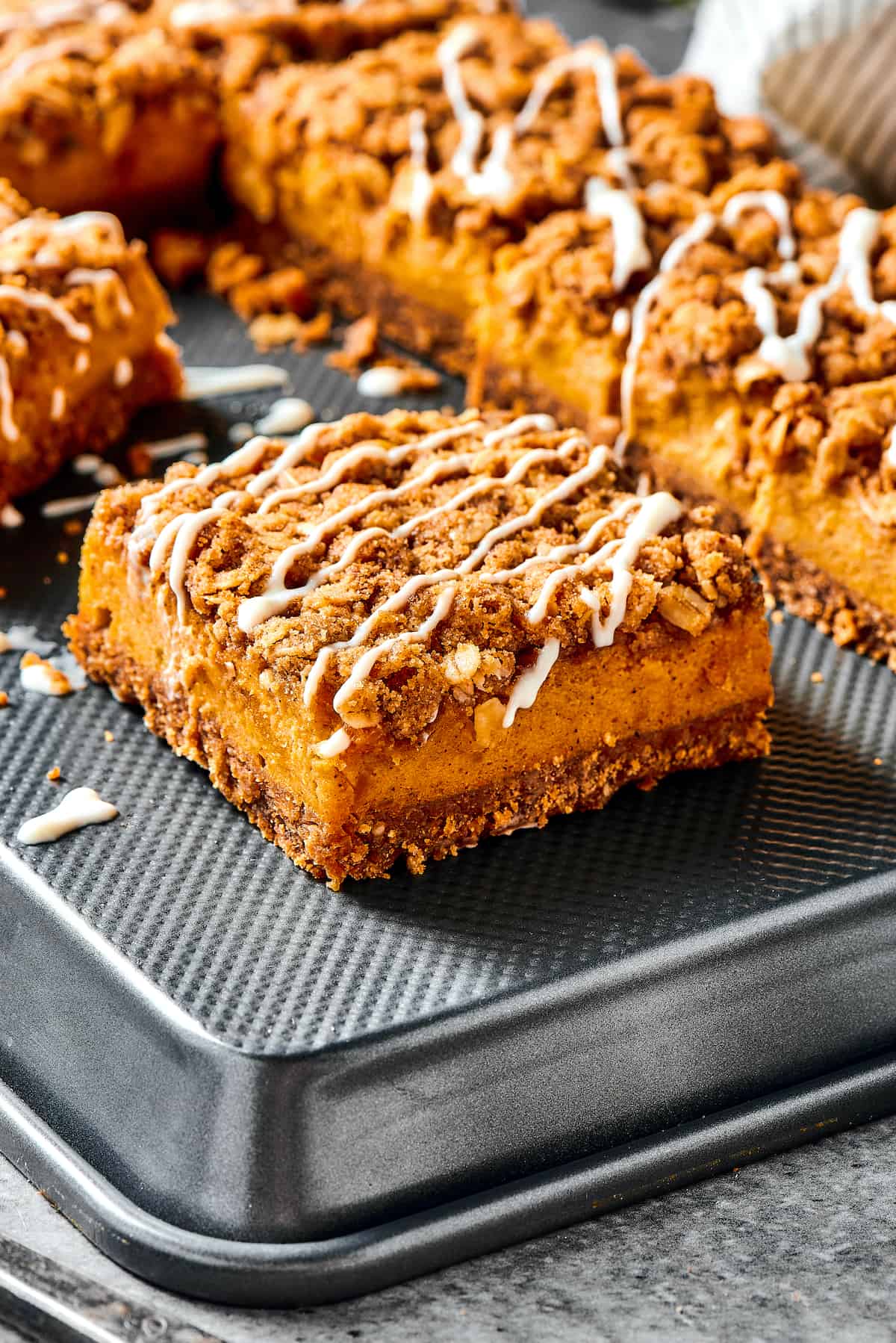 I have an ongoing love affair with cheesecake – my obsession with Instant Pot Pumpkin Cheesecake, Red Velvet Cheesecake, and Pumpkin Cheesecake Crescent Rolls gave it away. Well, this new recipe might be one of my very favorite cheesecake riffs ever! It's easier to make than a traditional cheesecake and features some of my favorite things. Hello, cookie crust. Welcome, streusel topping! Love ya, pumpkin spice! Perfect for feeding a crowd, these pumpkin cheesecake bars are great for Thanksgiving, a Halloween dessert night, or celebrating Fall.
The Ingredients For Pumpkin Cheesecake Bars
These bars have three components, and each one is a delicious masterpiece! Here's what you'll need for the rich cookie crust, smooth pumpkin cheesecake center, and buttery streusel topping.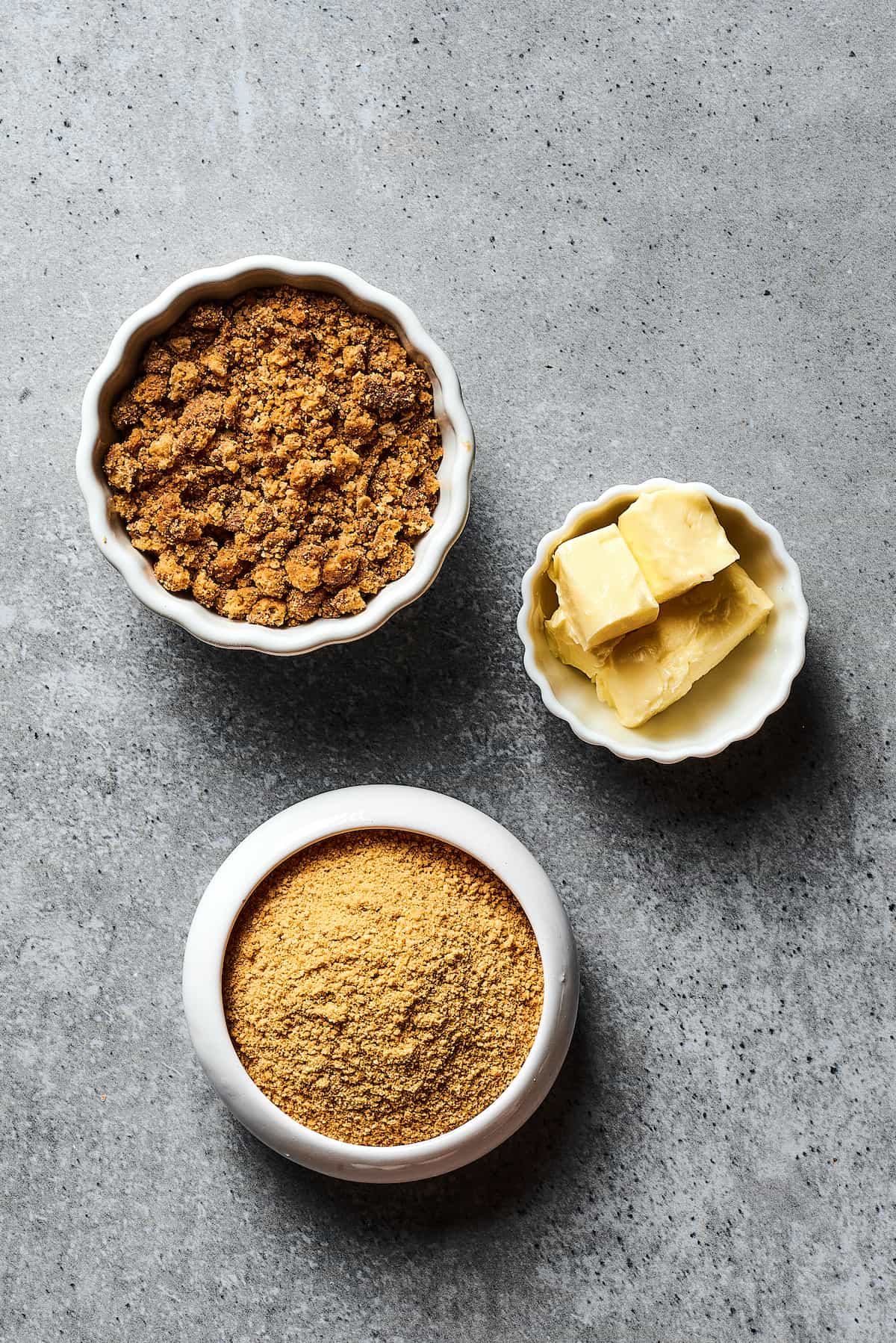 Cookie Crust
Graham Cracker Crumbs: I use a combination of oat grahams and regular grahams, but you could use just one or the other if you prefer.
Butter: Unsalted is best. It should be chilled for this recipe, not melted.
Milk: Just a few tablespoons to get the consistency right.
Cheesecake Filling
Cream Cheese: At room temperature.
Sugar: Plain granulated sugar is fine, or you can use raw sugar if you'd rather.
Eggs: Use large, whole eggs, preferably at room temperature.
Pumpkin Puree: Make sure you use pure pumpkin, not pumpkin pie filling.
Spices: A combination of cinnamon, pumpkin pie spice, and nutmeg gives the cheesecake plenty of flavor.
Salt
Streusel Topping
Brown Sugar: Dark or light brown is fine – dark brown will have a slightly stronger molasses taste.
Flour and Oats: To get a crumbly texture, use a combination of all-purpose flour and rolled (not steel cut) oats.
Butter: Again, use unsalted butter if possible, chilled.
Vanilla: Pure vanilla extract gives the best flavor.
Cinnamon: Or pumpkin pie spice.
Optional Topping: If you want to add one more little touch, try adding a drizzle of caramel sauce or cream cheese topping (see below for recipe).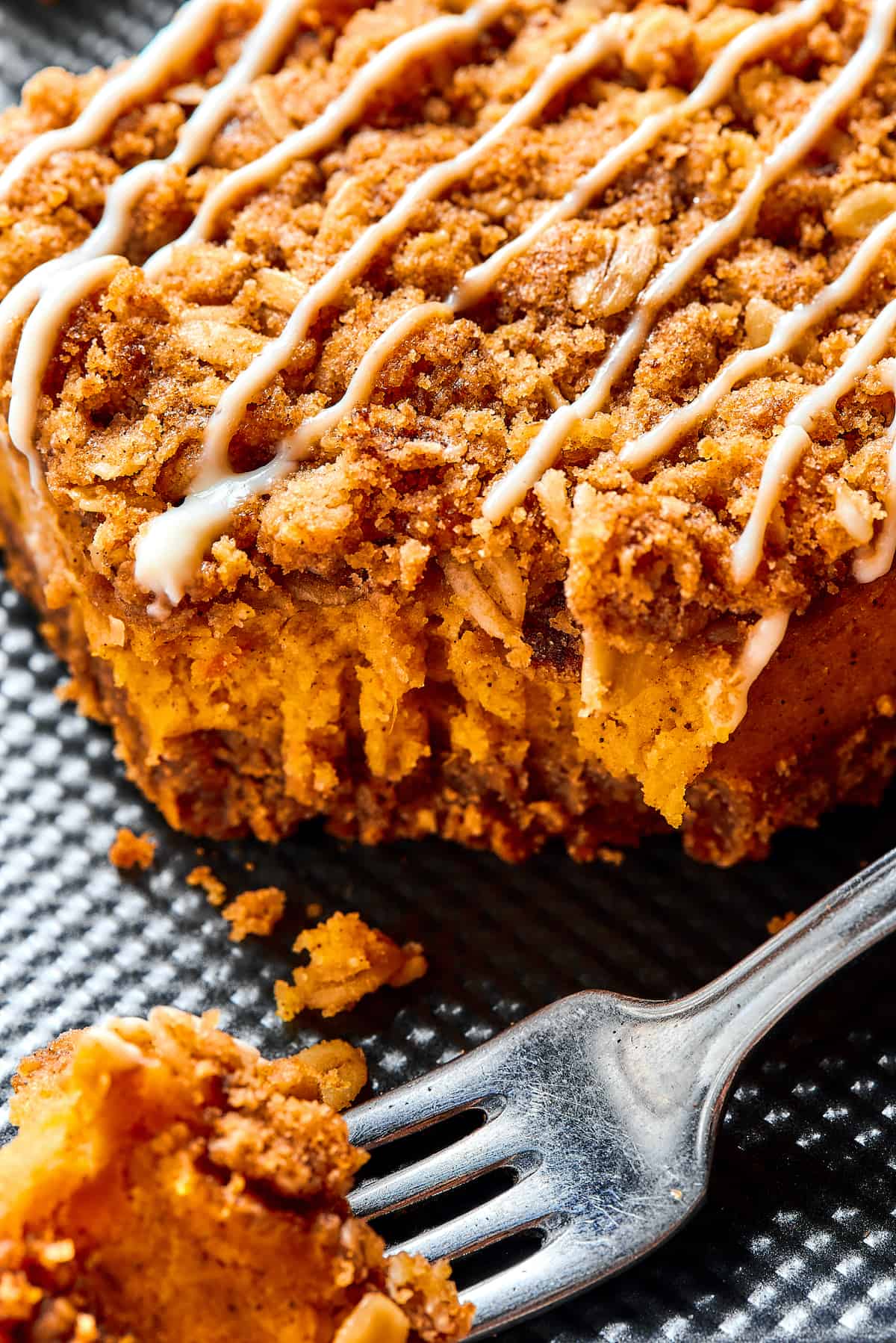 Canned Pumpkin vs Pumpkin Puree
This recipe and many others call for pumpkin puree, and yes, canned pumpkin is the same thing – as long as you get the right can. Watch out for cans labeled "pumpkin pie filling," which include sugar, dairy, and other things. Pumpkin puree should just have one ingredient: pumpkin.
How to Make Pumpkin Cheesecake Bars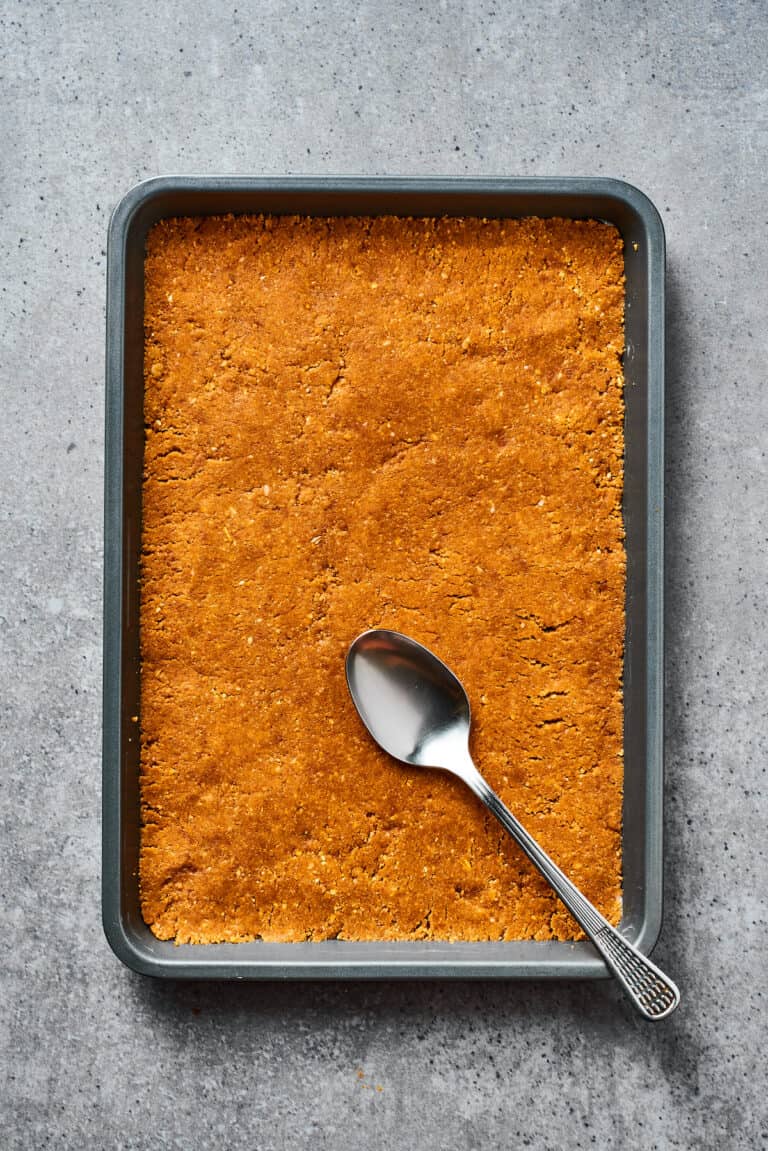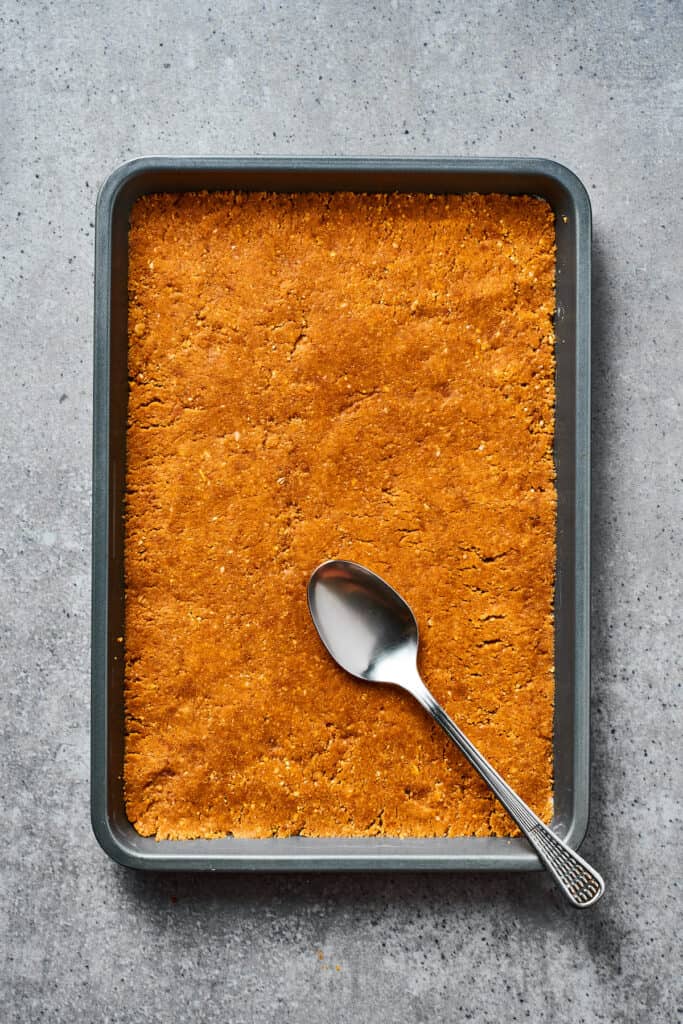 Prep. Preheat your oven to 350°F. Then, set out a 9×13 baking dish or brownie pan and line it with parchment. Leave a bit of parchment overhanging so that it's easier to remove the bars from the pan.
Make the Crust. Combine the crumbs and chilled butter in a bowl. Mash and mix until you've got a stiff, dough-like batter. Add the milk and stir until the mixture is well-blended. Press it into the bottom of your parchment-lined pan.
Make the Cheesecake Filling. Beat the cream cheese, sugar, and vanilla with a mixer. Once the mixture is smooth and creamy, beat in the eggs one at a time, followed by the pumpkin and spices. Mix well, and pour over the cookie crust, and par-bake for 15 minutes.
Make the Streusel. Combine brown sugar, flour, oats, butter, vanilla, and cinnamon in a bowl. Mix until you have a crumbly streusel.
Top the Bars with Streusel and Finish Baking. Take the partially-baked bars out of the oven, and evenly crumble the streusel all over the top. Return to the oven and bake for another 35 to 40 minutes.
Chill. Take the pan out of the oven and let the pumpkin cheesecake bars cool to room temperature. Once they've cooled to room temperature, cover and place in the fridge for several hours to chill and set.
Enjoy! Once the pumpkin cheesecake bars and fully chilled and set, cut them into large squares with a sharp knife, and serve (with cream cheese or caramel drizzle, if you like!).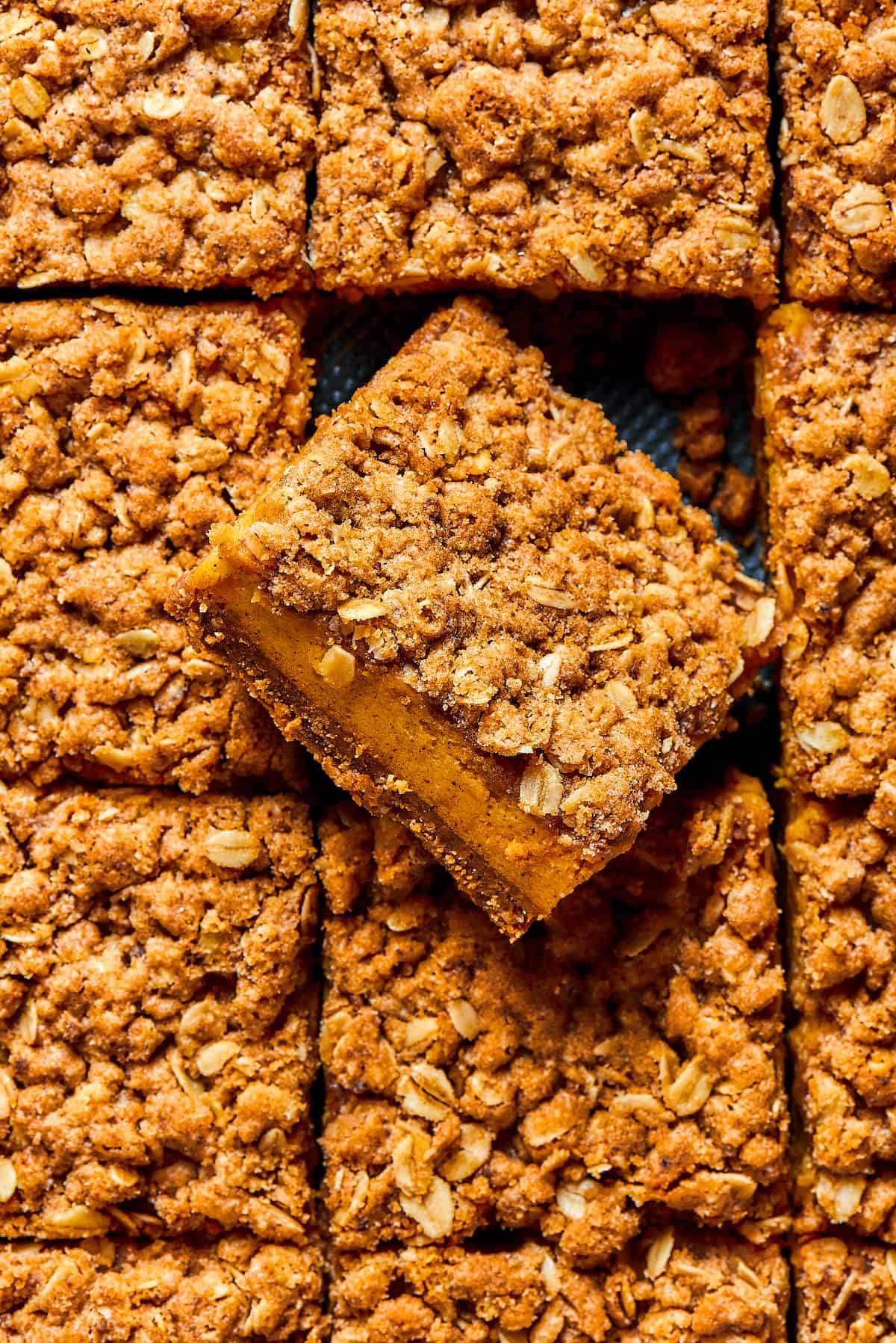 Recipe Tips And Variations
Plan Ahead: Several ingredients have to be brought to room temperature before you get started, and you also have to chill the baked bars for several hours to firm them up. If you feel like a time crunch might get in the way, make these bars a couple of days in advance.
Toppings: Pumpkin cheesecake bars are wonderful with just streusel, but a drizzle of caramel or cream cheese frosting adds an extra touch of indulgence.
Play with the spice mixture to make it your own, use a pumpkin spice or apple pie spice blend from the store.
Add Chopped Nuts for more crunch. You can use chopped pecans, walnuts, or other nuts instead of (or in addition to) the crumble topping.
Add Baking Chips like white chocolate, butterscotch, Heath bits, or semisweet chocolate chips.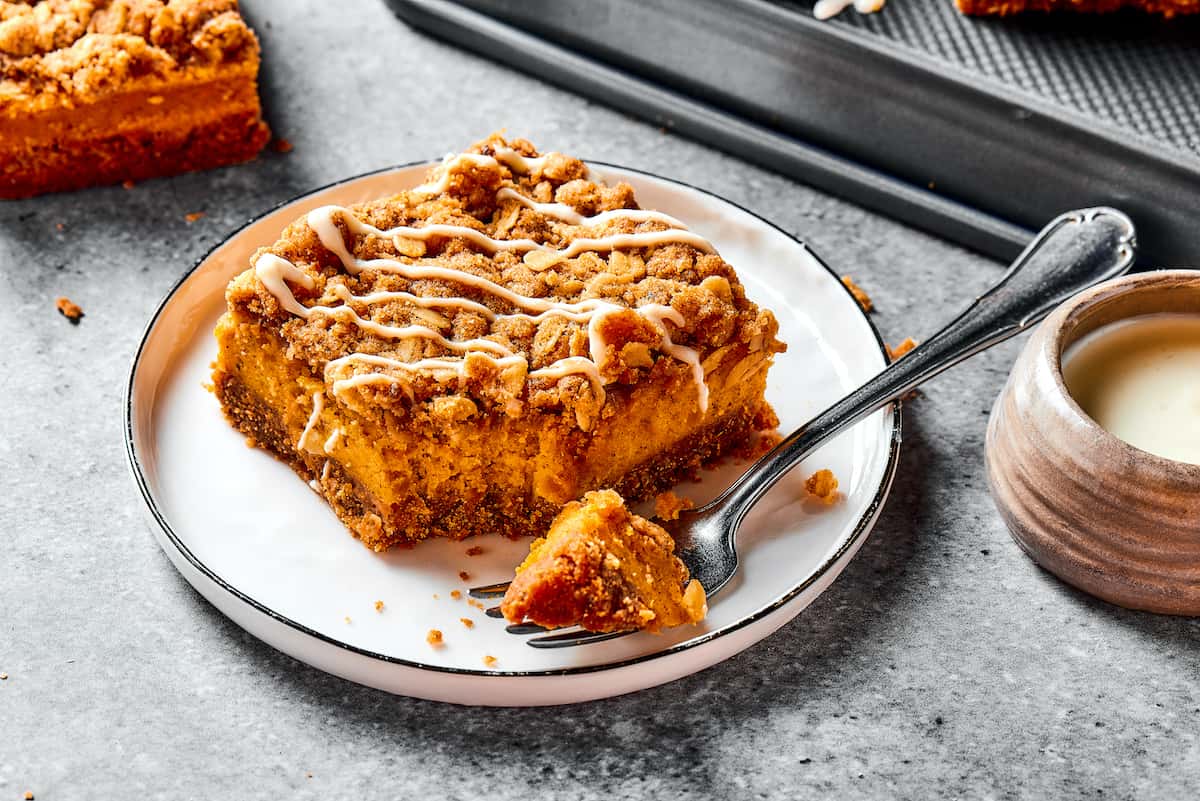 How to Store Cheesecake Bars
Store in an airtight container, and refrigerate for 3 to 4 days.
You can freeze these bars for up to 1 month. I recommend cutting them and wrapping each one carefully in a layer of plastic wrap and a layer of foil.
More Dessert Recipes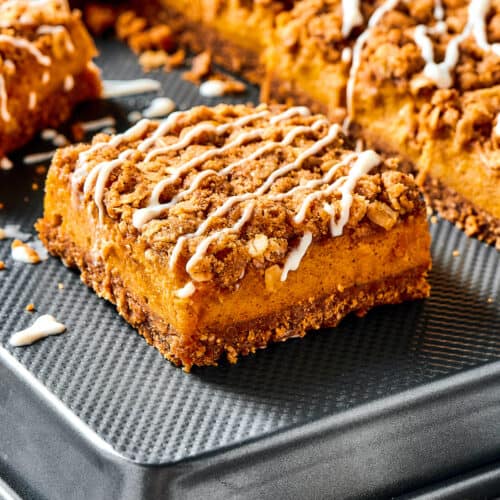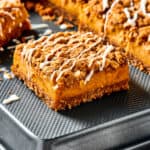 Print Recipe
Pumpkin Cheesecake Bars
Sweet and delicious Pumpkin Cheesecake Bars are prepared with a cookie crust, a decadent pumpkin cheesecake filling, and a buttery streusel topping.
Ingredients
For the Cheesecake Filling
For the Streusel Topping
½

cup

brown sugar

½

cup

all-purpose flour

½

cup

rolled oats

½

cup

unsalted butter,

chilled and cubed

1

teaspoon

pure vanilla extract

1

teaspoon

ground cinnamon

cream cheese topping or caramel topping,

for drizzling, optional
Instructions
Preheat the oven to 350°F.

Line a 9×13 baking pan with parchment paper, leaving an overhang on each end to make removing the baked bars easier. Set aside.

In a mixing bowl, combine the graham cracker crumbs and butter. Mix to make a thick dough, and then add the milk. The mixture will become softer and stickier. Spread it out in the prepared baking pan, pressing it evenly into the bottom of the pan. Set aside.

In a separate bowl, combine the cream cheese, sugar, and vanilla. Beat with a hand mixer until smooth and creamy. Add in the eggs, one at a time, beating until well combined.

Whisk the pumpkin puree and spices into the cream cheese mixture. Pour over the crust, and bake for 15 minutes.

In the meantime, prepare the streusel. In a clean mixing bowl, combine the brown sugar, all-purpose flour, rolled oats, chilled butter, vanilla, and cinnamon. Mix by hand or with a wooden spoon to make the streusel mixture.

When the 15 minutes are up, take the pumpkin bars out of the oven and crumble the streusel all over the top of the bars. Return the bars to the oven, and bake for another 35 – 40 minutes, until the streusel is golden-brown.

Take the bars out of the oven, and let them cool to room temperature. Then place the pan in the refrigerator to chill for several hours.

Once chilled, cut the pumpkin bars into large squares, using a sharp knife.

Optional: Drizzle the bars with cream cheese frosting or caramel topping before serving.
Notes
Prep Tips: Remember to bring several ingredients to room temperature and allow the bars to chill. If short on time, whip them up a day or two earlier.
Drizzle: Pumpkin cheesecake bars rock with just streusel, but you can add a caramel or cream cheese drizzle. Store-bought or homemade, both work!
Make A Cream Cheese Frosting Drizzle and mix 2 tablespoons cream cheese, 1 tablespoon sugar, and ⅓ cup milk. Whisk until smooth.
DIY Pumpkin Puree: Making it at home? Halve a "pie" pumpkin, clean out the seeds, and roast the pumpkin at 350°F for 45 minutes. Then, blend the flesh in a food processor. If it is watery, strain it by wrapping it in a cheesecloth.
Spice It Up: Adjust the spices to your liking, or grab a store-bought pumpkin or apple pie spice blend.
For some crunch, add chopped pecans, walnuts, or your fave nuts. They'd be fab with or instead of the crumble.
Chocoholics, add white chocolate chips or classic chocolate chips. Your pick!
Storage: These bars do need to be refrigerated. Cover them well, move them to an airtight container, use them within three days, or freeze them for up to 2 months.
Nutrition
Calories:
467
kcal
|
Carbohydrates:
56
g
|
Protein:
6
g
|
Fat:
25
g
|
Saturated Fat:
14
g
|
Polyunsaturated Fat:
1
g
|
Monounsaturated Fat:
6
g
|
Trans Fat:
0.5
g
|
Cholesterol:
116
mg
|
Sodium:
200
mg
|
Potassium:
176
mg
|
Fiber:
3
g
|
Sugar:
34
g
|
Vitamin A:
6213
IU
|
Vitamin C:
2
mg
|
Calcium:
79
mg
|
Iron:
2
mg