Ranch Chicken and Rice is a quick and easy chicken thigh dinner, complete with savory steamed rice and plenty of colorful veggies. Cooked all in one skillet, it's the quintessential easy weeknight recipe!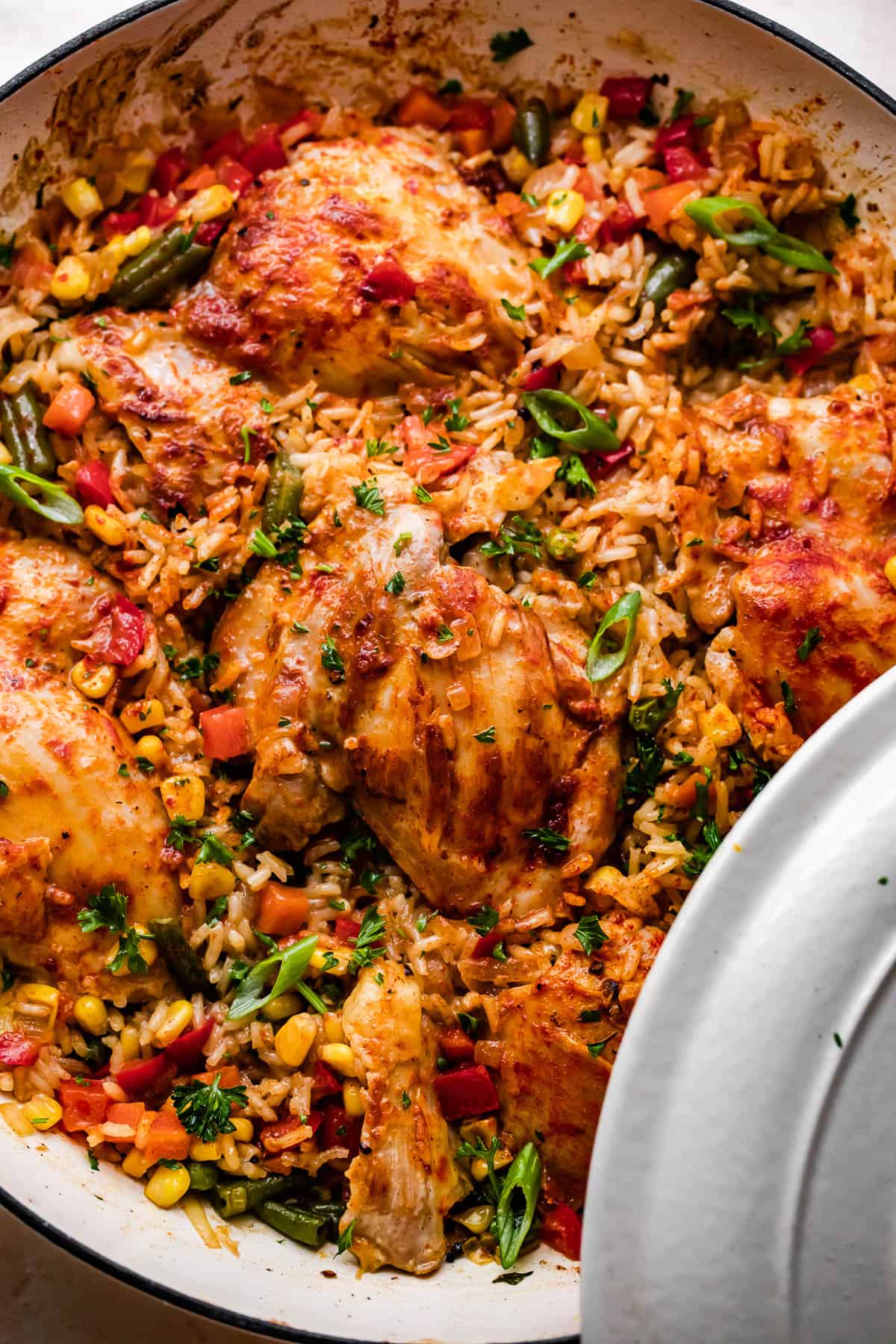 An Easy One-Skillet Chicken Dinner Recipe
One-pot meals are life. Who has time to do dishes every night? 💅 Plus, sometimes you just want the comfort of throwing everything in the pan and letting those flavors meld. I'm talking chicken and dumplings, beef stew, and soups of all kinds. Well, this easy chicken and rice skillet (spiked with ranch, you guys!) is right up there with the greats.
What do you get in this dish? Every.thing! Crisp-tender veggies, juicy chicken, and a satisfying serving of seasoned rice. Everyone is sure to devour this meal, and you can feel good about serving it, too! None of the guilt that comes with processed boxes and bags.
However, it's just about as simple to make as your favorite guilty-pleasure frozen skillet dinner.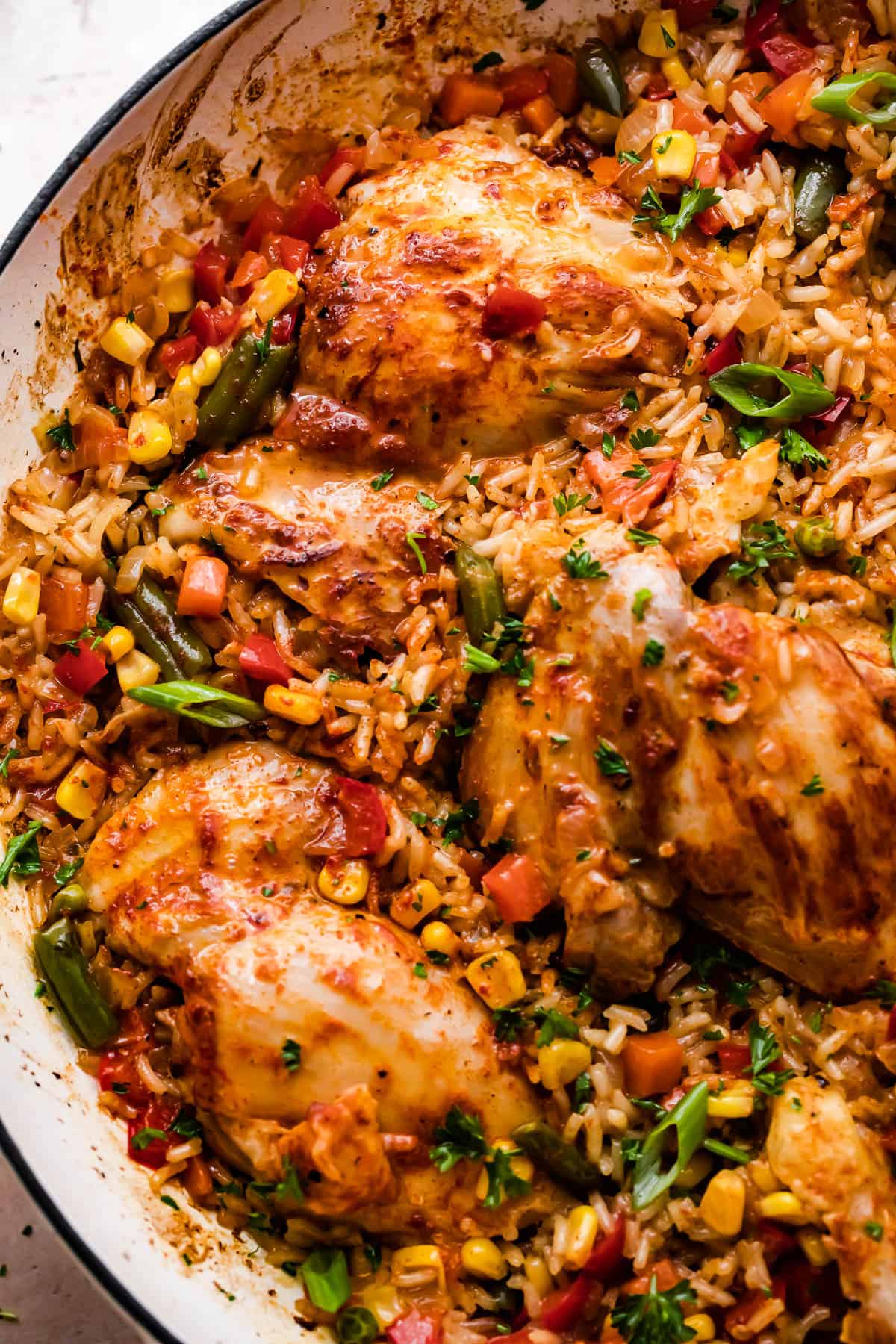 What Goes in This Chicken and Rice Casserole?
Let's get down to the nitty-gritty. What exactly will you need to make this recipe? Get ready to breathe a sigh of relief, because this list is super-short and easy. Here ya go!
Chicken Thighs: Using boneless, skinless chicken thighs is important, because they are much more forgiving than chicken breast, which has a tendency to dry out if you don't watch it carefully. Thighs stay moist and juicy even if you cook them a little longer than intended.
Salt and Pepper: Of course.
Ranch Dressing: Use store-bought, or make your own.
Vegetable Oil: Or grapeseed oil, or avocado oil… whatever high-heat oil you like for sauteing.
Onion: In a pinch? Use a generous shake of onion powder instead. Otherwise, finely dice a small onion.
Bell Pepper: I like red bell peppers, but any color will work. Finely dice this, too.
Garlic: Finely minced or pressed – or again, use a shake of garlic powder to taste.
Mixed Vegetables: Grab your favorite frozen mixed vegetables for this. I like a mix of peas, carrots, corn, and green beans.
White Rice: Plain, uncooked white rice is what you will need.
Chicken Broth: Low-sodium is my go-to, but you could also use regular chicken broth, bone broth, vegetable broth, etc.
Paprika: Smoked or sweet paprika – whichever you prefer.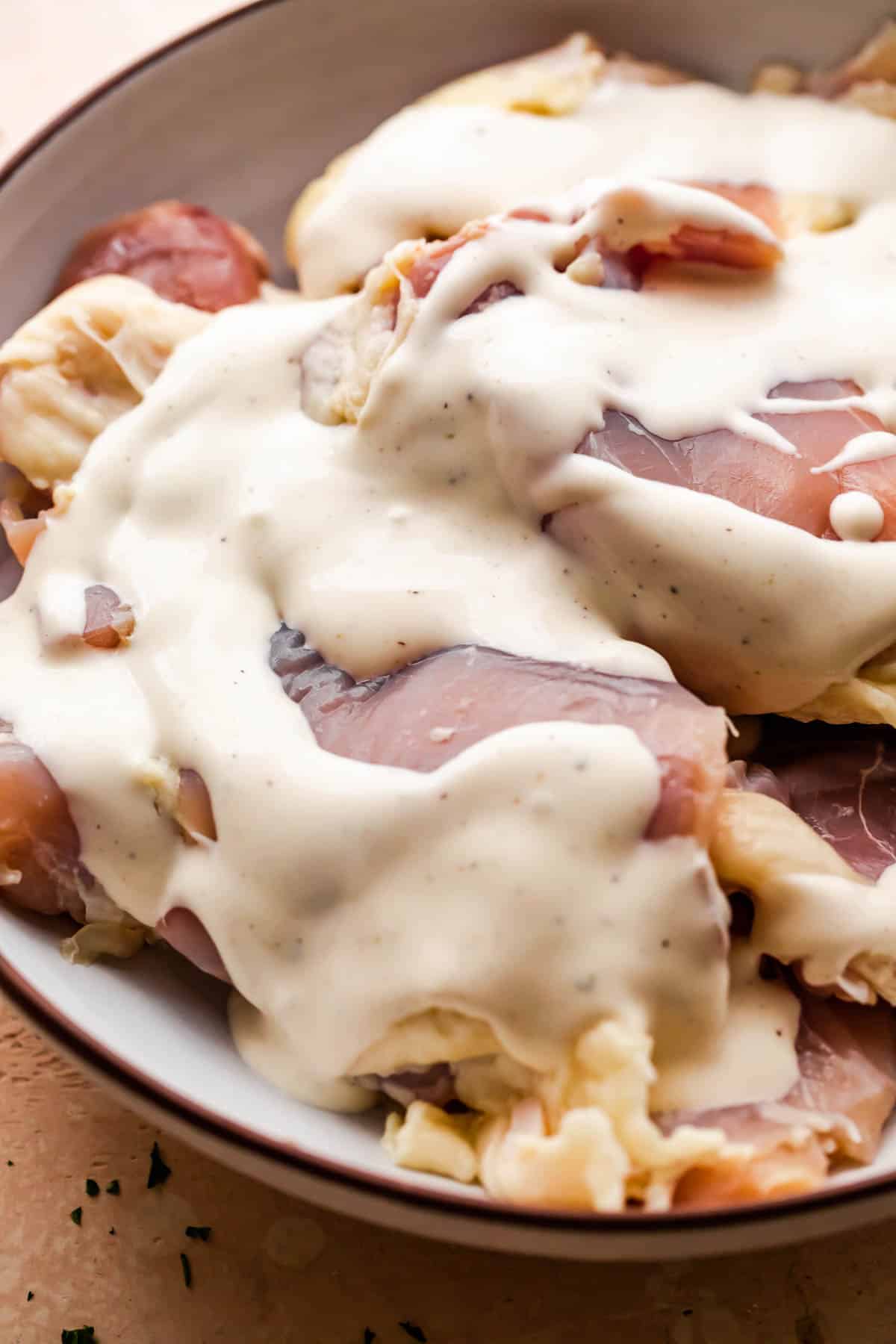 How to Make It
Like most one-skillet meals, the key to success here is adding the ingredients in the right order. You'll notice that the chicken should be browned before you add other ingredients to the skillet. Don't skip this step! It's crucial for giving the dish plenty of flavor and creating a good texture on the chicken.
"Marinate" the Chicken. To start, place your chicken thighs in a large mixing bowl. Sprinkle with salt and pepper, and pour the ranch dressing over. Toss the chicken to coat it well, and let this sit for five to ten minutes.
Brown the Chicken. Next, heat up your oil in a large saute pan (4 or 5 quarts. You can also use a braiser). Add the chicken thighs to the heated oil, and let them cook for 2 minutes or so per side. They won't be cooked through, but that's fine. Set them aside in a clean dish.
Saute the Veggies and Rice. Now it's time to build more flavor by briefly sauteing the veggies and the rice. Start with the onions and peppers. If the pan seems a little dry, add more oil. Cook for 3 minutes, or so, to soften. Then, stir in the garlic and cook that for about 15 seconds, followed by the frozen vegetables and the rice. Stir and cook for one minute.
Simmer the Ingredients Together. Pour the chicken broth over the vegetables and rice and give it a good stir. Gently arrange the browned chicken thighs on top of the rice, and give everything a sprinkle of paprika. Lower the heat to medium, cover the skillet, and simmer everything for around 20 minutes.
Enjoy! Once the liquid is absorbed into the rice and the chicken is cooked through, take the skillet off the heat. Fluff the rice and serve.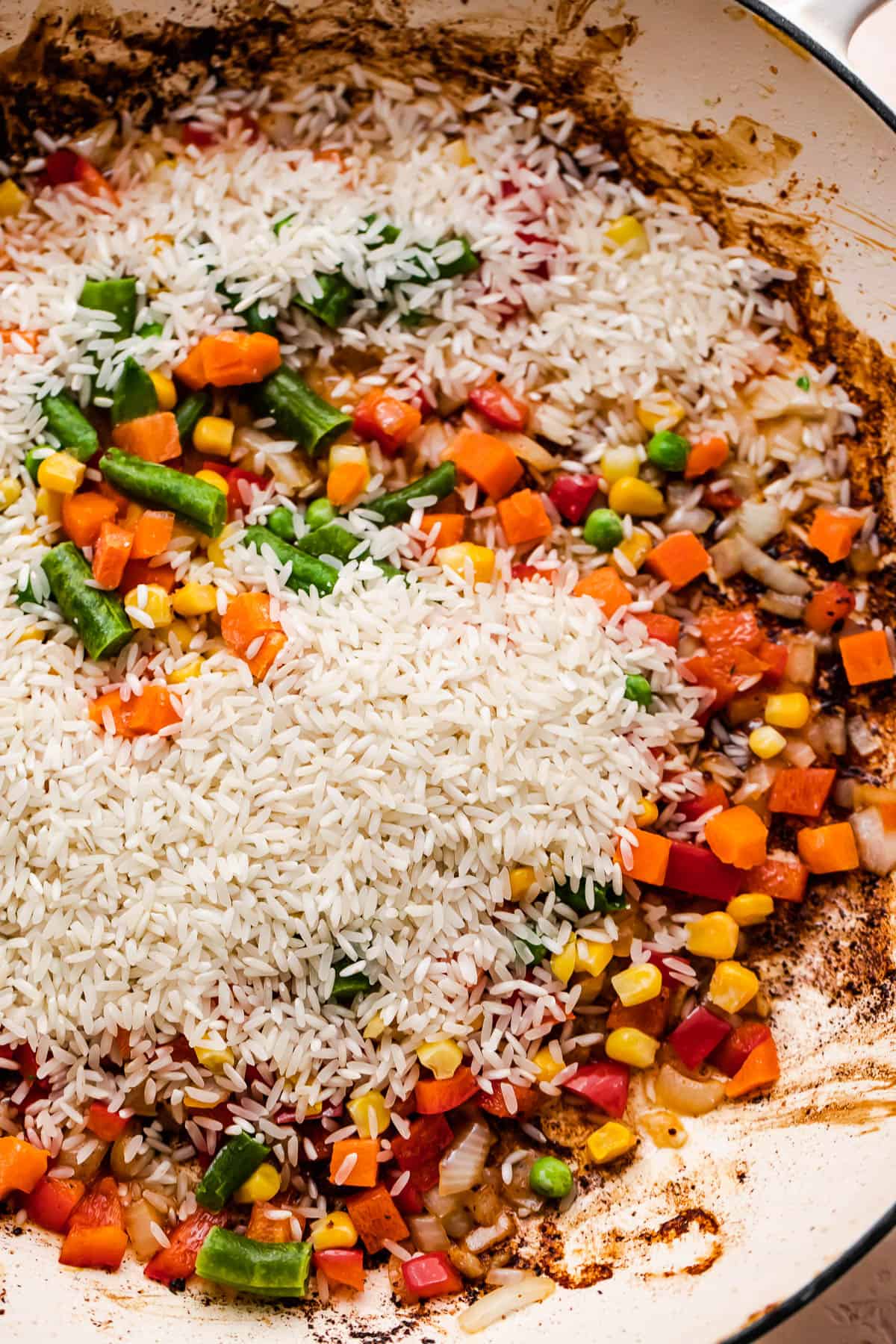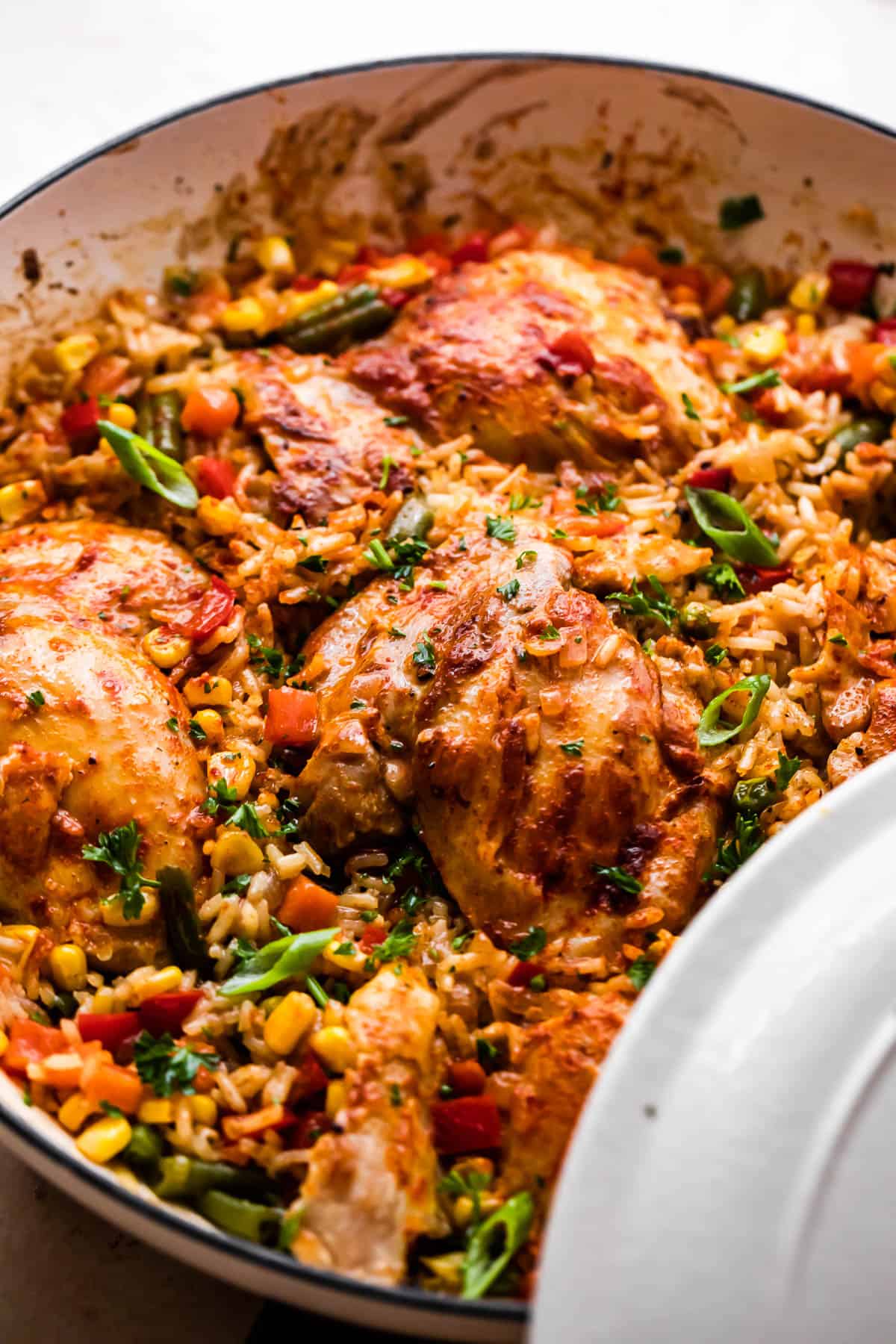 Tips for Perfect Ranch Chicken and Rice
What else should you know before making this easy dinner? Glad you asked, because I do have some tips to share! These helpful hints will ensure a great meal.
Use a Meat Thermometer: No one wants to serve (or eat!) chicken that looks done… but isn't. To make sure your chicken is done, it's easy to just use an 👉 Instant Read Meat Thermometer 👈. The chicken should register at 165°F for tender, juicy thighs.
Check the Rice: If the lid to your skillet isn't well-fitting, you may find that some of the liquid evaporated out of the skillet rather than absorbing into the rice. If that's the case, you may need to add more broth (or some water) to the skillet to moisten the rice, and let it cook longer to finish softening.
Dressing Substitutions: This dish can also be made with Italian dressing, Caesar dressing, or sweet onion dressing! 💯
Cut Up the Chicken: For easy serving, you can cut up the chicken thighs into bite-sized chunks before browning and simmering. When the dish is done, stir the chicken chunks right into the rice and serve casserole-style.
Yummy Serving Suggestions
To serve this dish, I like to add a couple of simple side dishes like bread and salad. These easy recipes will make your menu complete!
Garlic Knots: Made with store-bought dough, these crave-worthy Garlic Knots come together fast and are sure to be a hit with the family.
Healthy Salad: Bursting with fresh summer flavor, Avocado Tomato Salad is a healthy, juicy, ultra-flavorful dish that'll wake up your tastebuds.
Green Beans: I find that even picky eaters will go for green beans – especially if they're buttery and garlicky. These Sauteed Garlic Butter Green Beans are just the ticket.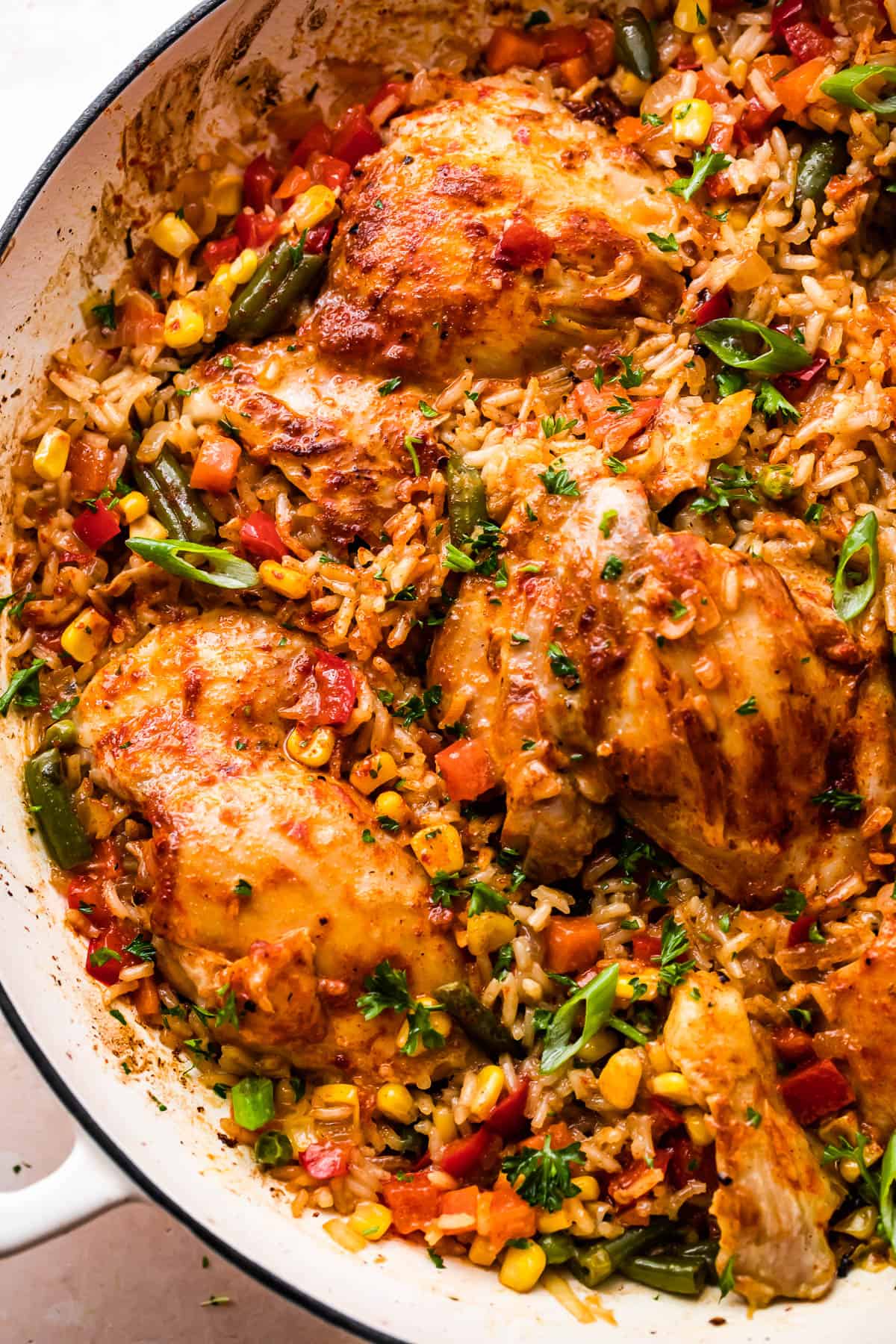 How to Store and Reheat Your Leftovers
To Refrigerate: Store your leftover chicken and rice in the fridge for 3 to 4 days. Keep it in an airtight container for best results.
To Reheat: Place the desired portion in a covered skillet. Add a splash of water if it seems dry. Heat on low until the chicken is heated all the way through.
Can I Freeze Ranch Chicken and Rice?
Yes! First, cool your leftovers down. Spreading them out onto a plate is a good way to do this quickly, and stay within the food-safety window of 2 hours from stove to freezer.
Once the chicken and rice are cool, pack into freezer containers or bags, pressing out as much air as possible before sealing.
Freeze for up to 2 months, and thaw in the fridge before reheating.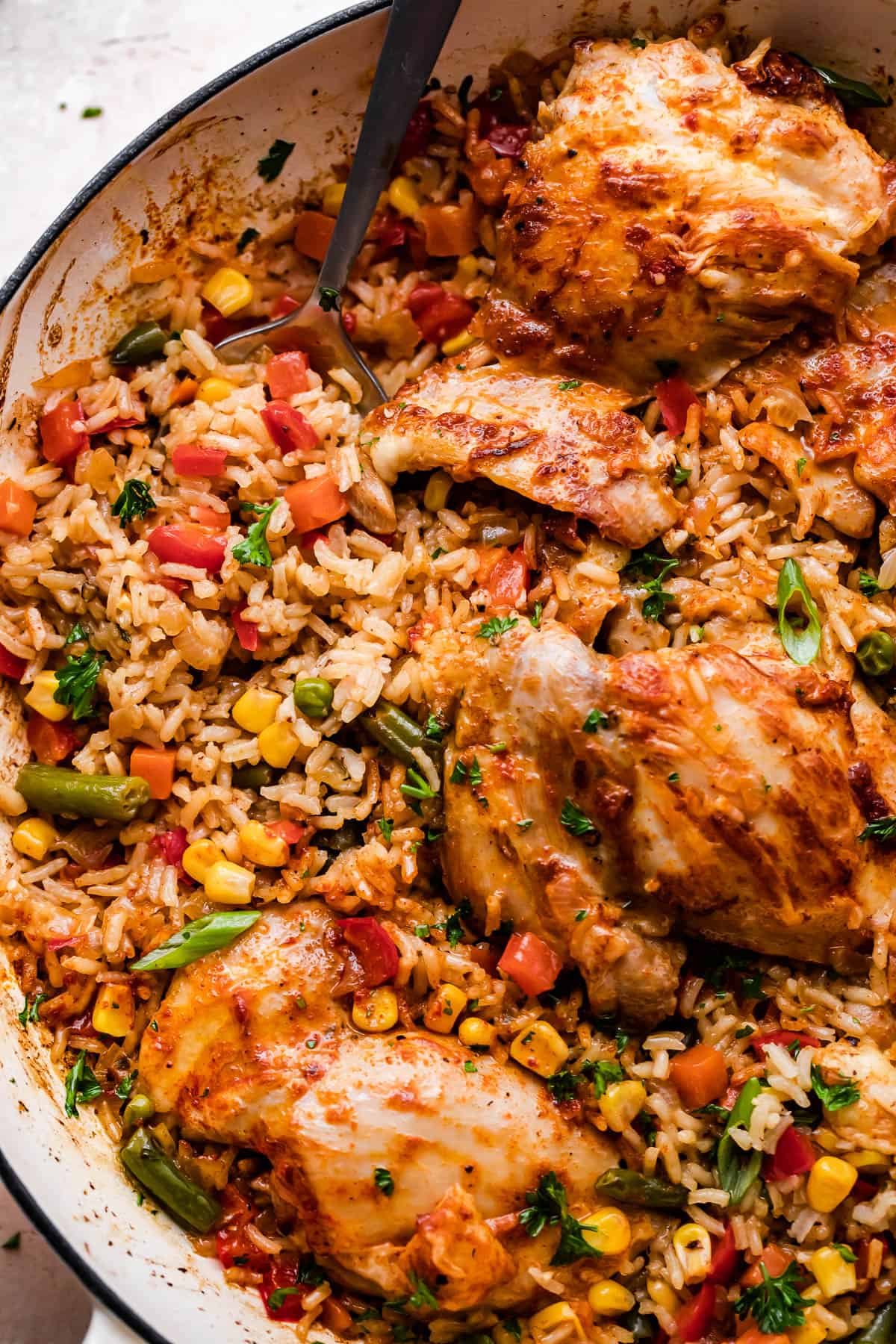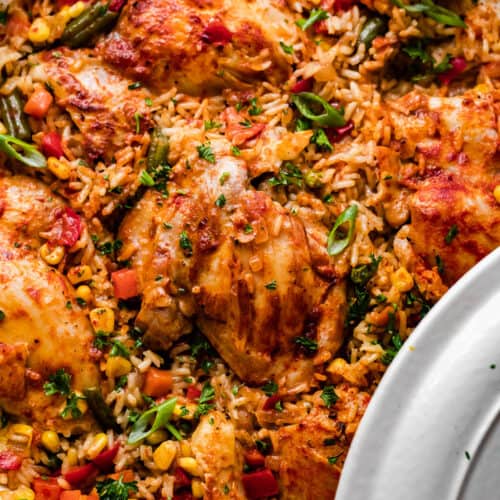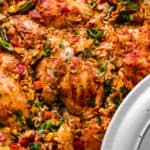 Print Recipe
Ranch Chicken and Rice
Ranch Chicken and Rice is a quick and easy chicken thigh dinner, complete with savory steamed rice and plenty of colorful veggies.
Ingredients
6 to 8

boneless, skinless chicken thighs,

(about 1.5 pounds)

salt and fresh ground black pepper,

to taste

½

cup

ranch dressing

2

tablespoons

vegetable oil

1

small yellow onion,

finely diced

1

small red bell pepper,

finely diced

4

cloves

garlic,

finely minced or pressed

1

cup

frozen mixed vegetables,

I used a frozen mix of peas, carrots, corn, and green beans

1

cup

long grain white rice,

(not instant rice)

2

cups

low sodium chicken broth

½

teaspoon

smoked or sweet paprika
Instructions
Place chicken thighs in a large mixing bowl and season with salt and pepper.

Add the ranch dressing to the chicken thighs, mix to combine and set aside for about 10 minutes.

Heat oil in a large 4 to 5-quart saute pan, or a braiser, set over medium-high heat.

Add the chicken thighs to the hot oil and cook for 2 to 3 minutes per side, or until just browned; remove chicken from pan and set aside.

Return pan to heat; add the diced onions and peppers. If needed, add more oil.

Cook the onions and peppers for 2 to 3 minutes, or until just starting to soften.

Stir in the garlic and cook for 15 seconds.

Add frozen mixed vegetables and rice; stir and cook for 1 minute.

Pour in the chicken broth and gently stir to combine.

Arrange chicken thighs over the rice; sprinkle paprika over the chicken thighs and rice.

Lower heat to medium; cover the pan and cook for 18 to 22 minutes, or until liquid has evaporated, and rice and chicken are cooked through.

Remove from heat.

Fluff up the rice with a fork. Taste for salt and pepper, and adjust.
Nutrition
Calories:
572
kcal
|
Carbohydrates:
52
g
|
Protein:
41
g
|
Fat:
22
g
|
Saturated Fat:
4
g
|
Polyunsaturated Fat:
10
g
|
Monounsaturated Fat:
6
g
|
Trans Fat:
0.03
g
|
Cholesterol:
169
mg
|
Sodium:
484
mg
|
Potassium:
808
mg
|
Fiber:
4
g
|
Sugar:
4
g
|
Vitamin A:
3418
IU
|
Vitamin C:
46
mg
|
Calcium:
67
mg
|
Iron:
3
mg
More One-Pot Dinner Recipes