Fresh, flavorful Roasted Brussel Sprouts are the side dish of your dreams! Oven roasted with garlic and olive oil, and drizzled with a wonderful maple-pomegranate glaze, they're a great veggie option you'll want to make for every occasion.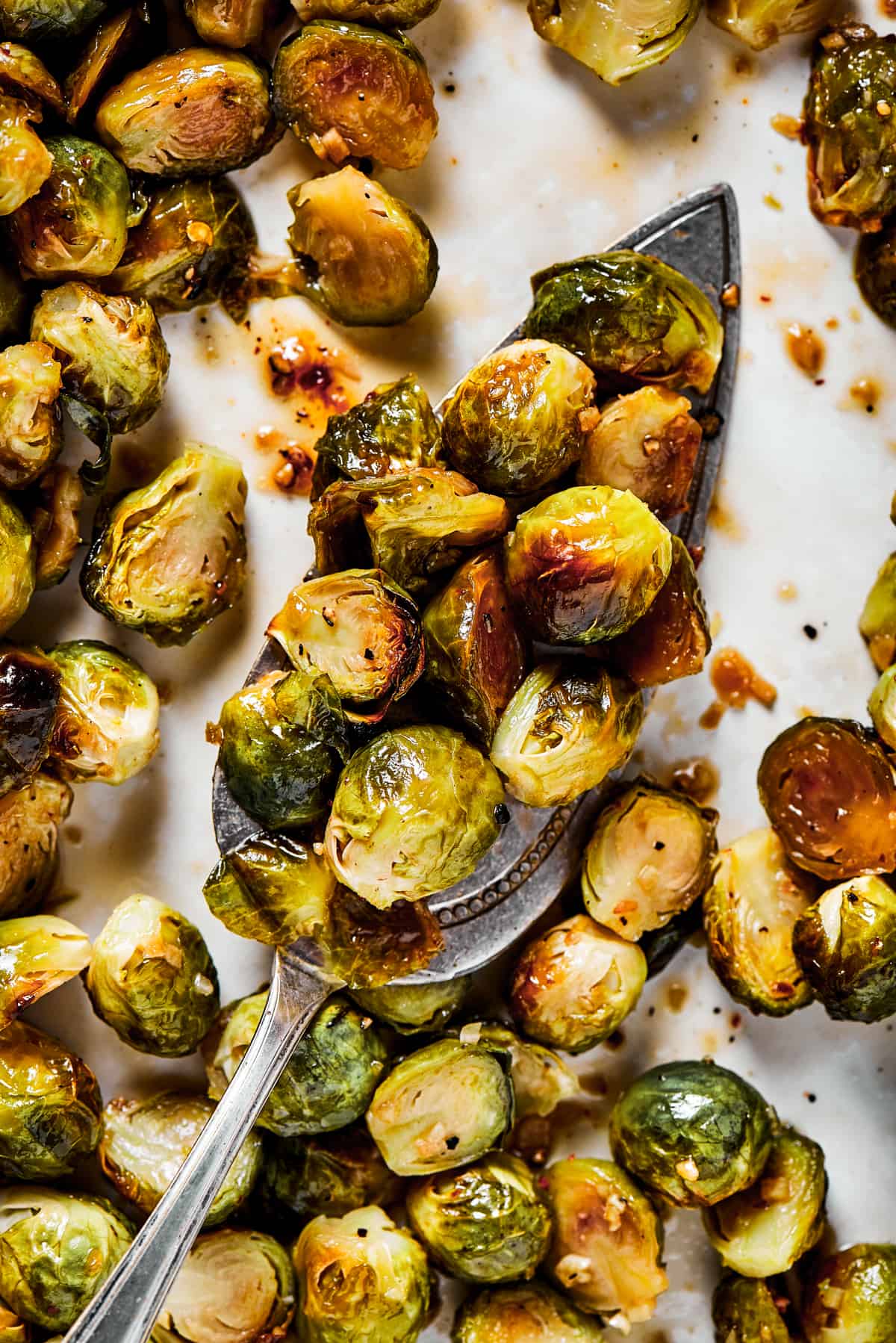 Crispy, Caramelized Brussel Sprouts with Maple-Pomegranate Glaze
Brussels sprouts are a beloved side dish, especially now that we're all roasting all of the veggies in sight.
Like other cruciferous vegetables, brussels sprouts work really well when roasted. The dry heat of the oven helps caramelize the leafy layers in each little sprout, bringing out their natural sweetness and depth of flavor. Say goodbye to soggy brussels sprouts, and make these roasted gems instead!
To make this recipe even more tempting, I've added a sweet, tangy sauce made with pure maple syrup and pomegranate vinegar (you can also use red wine vinegar). These flavors play beautifully with the hearty taste of garlicky roasted brussel sprouts, making this dish fancy enough for the holidays, but easy enough for a busy weeknight.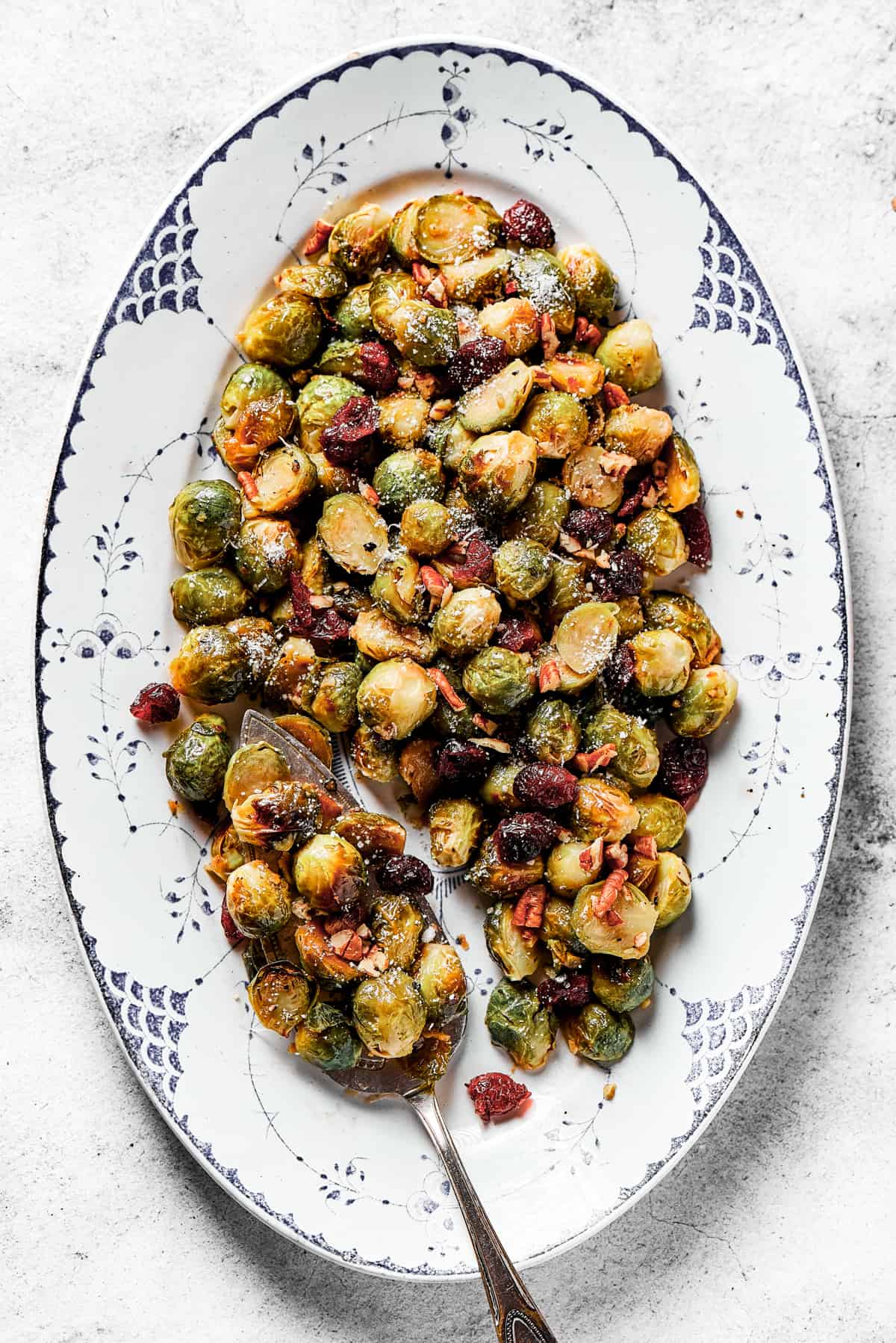 What Are the Benefits of Eating Brussels Sprouts?
Brussels sprouts are low in calories and fat, and provide a variety of vitamins and other nutrients, like vitamin C, vitamin K, folate, calcium, and more. On top of that, these cute "mini cabbages" have cancer-fighting compounds (glycosinolate glucobrassicin, for you food scientists out there) as well as carotenoids, which can boost eye health.
In short, brussel sprouts can be a tasty addition to your healthy diet. As always, be sure to ask your healthcare provider if these are a good choice for you personally.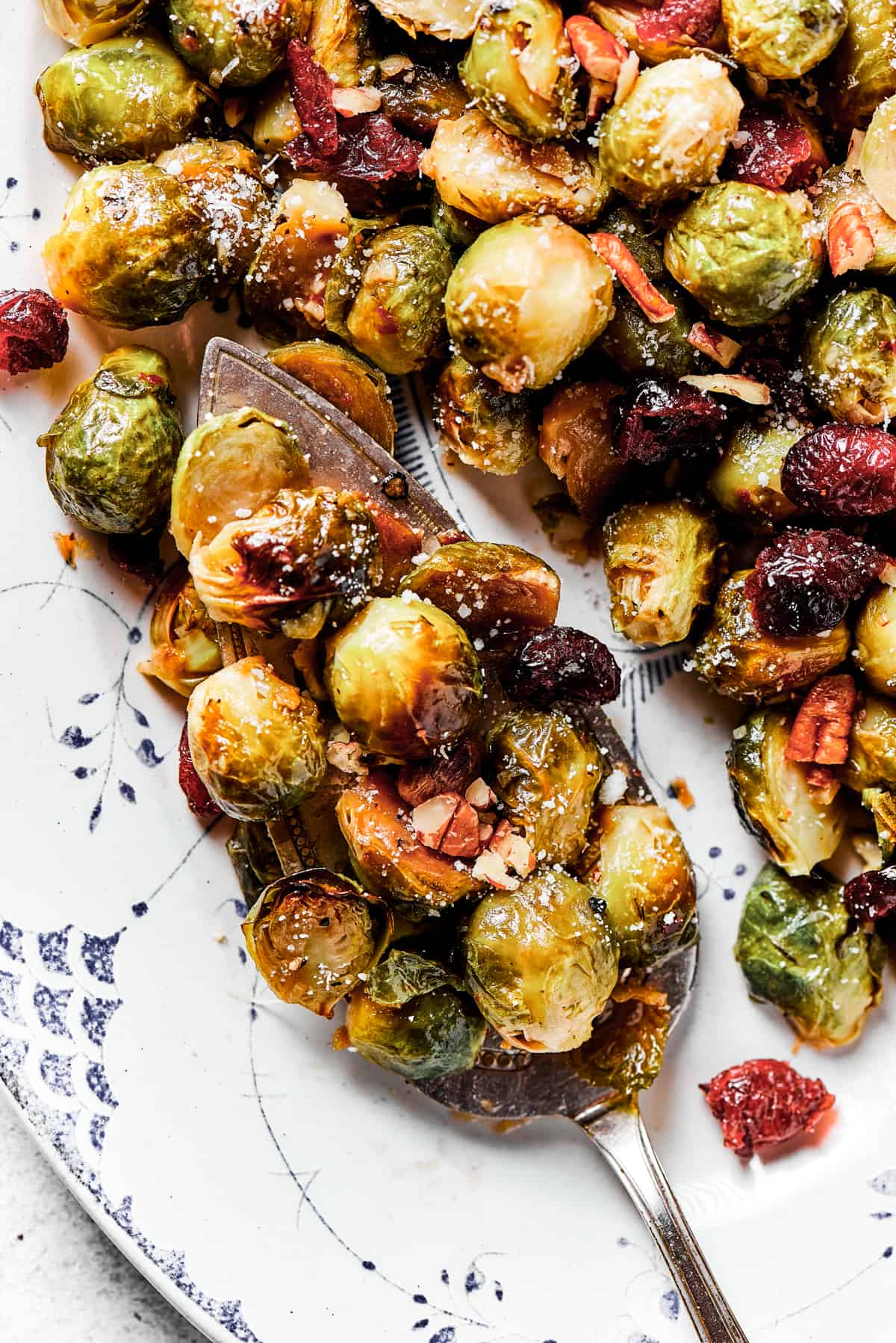 Ingredients
The secret to this recipe is the maple glaze, made with pomegranate vinegar and plenty of garlic. Here's what you'll need to make the glaze and the simple roasted sprouts:
Brussels Sprouts: Trim and halve the fresh brussel sprouts before roasting.
Olive Oil: Extra-virgin olive oil, for coating the sprouts.
Salt and Pepper
Garlic: Minced fresh garlic adds plenty of flavor.
Maple Syrup: Pure maple syrup gives a warm, festive sweetness.
Pomegranate Vinegar: If you can't find pomegranate vinegar, red wine vinegar makes a good substitute.
Butter: I use unsalted butter here, but salted butter would also be fine – just omit the pinch of salt in the recipe.
Red Chili Flakes: For a bit of heat. You could also use a small amount of cayenne pepper. Or omit the chili flakes entirely if you're not a fan.
Salt: A pinch of salt gives the glaze a little oomph.
Garnishes: Finish the dish with a little grated parmesan cheese, some dried cranberries, and some chopped pecans.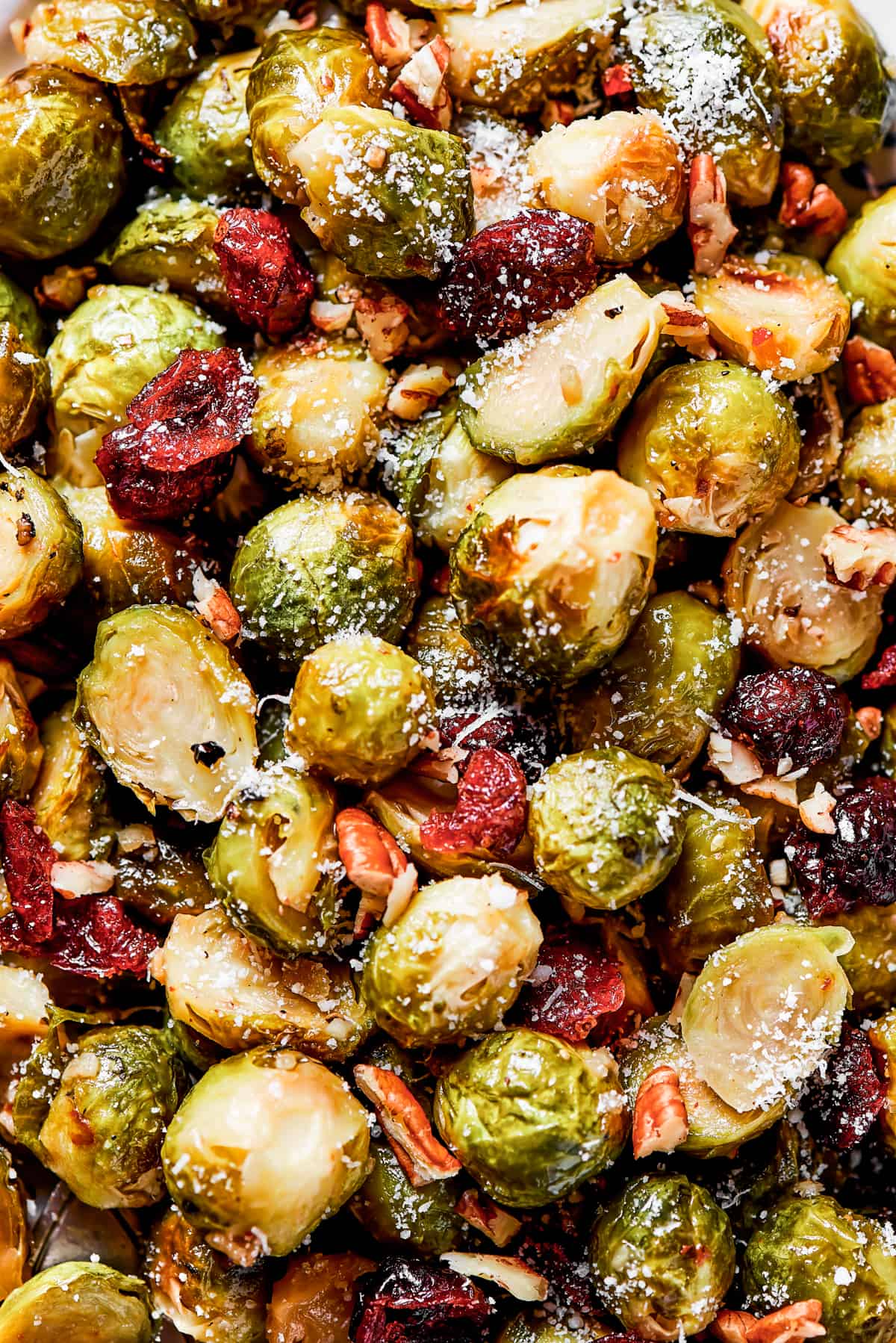 How to Make Roasted Brussel Sprouts
This method is quick and easy to prep. All you have to do is bake the sprouts until tender, and stir the glaze together in a saucepan on the stove!
Trim the Brussels Sprouts. To get started, preheat the oven to 375°F. Trim any tough ends off of the Brussels sprouts, along with any damaged outer leaves. Cut the trimmed sprouts in half, lengthwise.
Season the Sprouts. Next, place the trimmed sprouts in a large bowl. Add the oil, minced garlic, some salt, and some black pepper. Toss to coat.
Roast. Arrange the seasoned brussels sprouts, cut side down, on a baking sheet, and roast them in your preheated oven until they are tender and the bottoms are golden brown. This should take about 15 to 20 minutes.
Make the Glaze. While the sprouts are roasting, heat the maple syrup and vinegar in a small saucepan over medium-high heat. Bring these ingredients to a simmer for a few minutes, and then add the butter. Cook until the glaze is reduced and caramelized, about 5 minutes. Then take the saucepan off of the heat, and stir in the chili flakes and a pinch of salt.
Finish the Dish. Pour the glaze over the roasted Brussels sprouts, and toss gently to coat. Then place the sprouts on a large serving plate, and sprinkle with dried cranberries, parmesan cheese, and chopped pecans.
Recipe Notes
Here are my best tips for making gorgeous, golden-brown Brussels sprouts, adding extra veggies, and changing up the seasoning.
The Broiler Trick: If you want to add an extra crispness to your sprouts, try turning the oven to "Broil" for a minute or two at the end of the cooking process, and roast until the edges are nicely crisped. Be sure to watch them carefully because, broiling can scorch or burn your food very quickly.
The Foil Trick: You may find that your sprouts are not as tender as you'd like them to be, but they are already browned. To keep roasting without browning, loosely cover the baking sheet with foil to protect the brussels sprouts.
Add More Veggies: You can easily stir cut-up carrots, potatoes, or radishes into this recipe for a little variety.
Customize the Seasonings and Flavors: You can keep the basic sweet-tangy-garlicky profile here while swapping in your favorite ingredients. Try honey or brown sugar instead of the maple syrup, apple cider or balsamic vinegar instead of pomegranate, and garlic powder instead of fresh garlic. You can also add herbs to taste, like thyme or rosemary.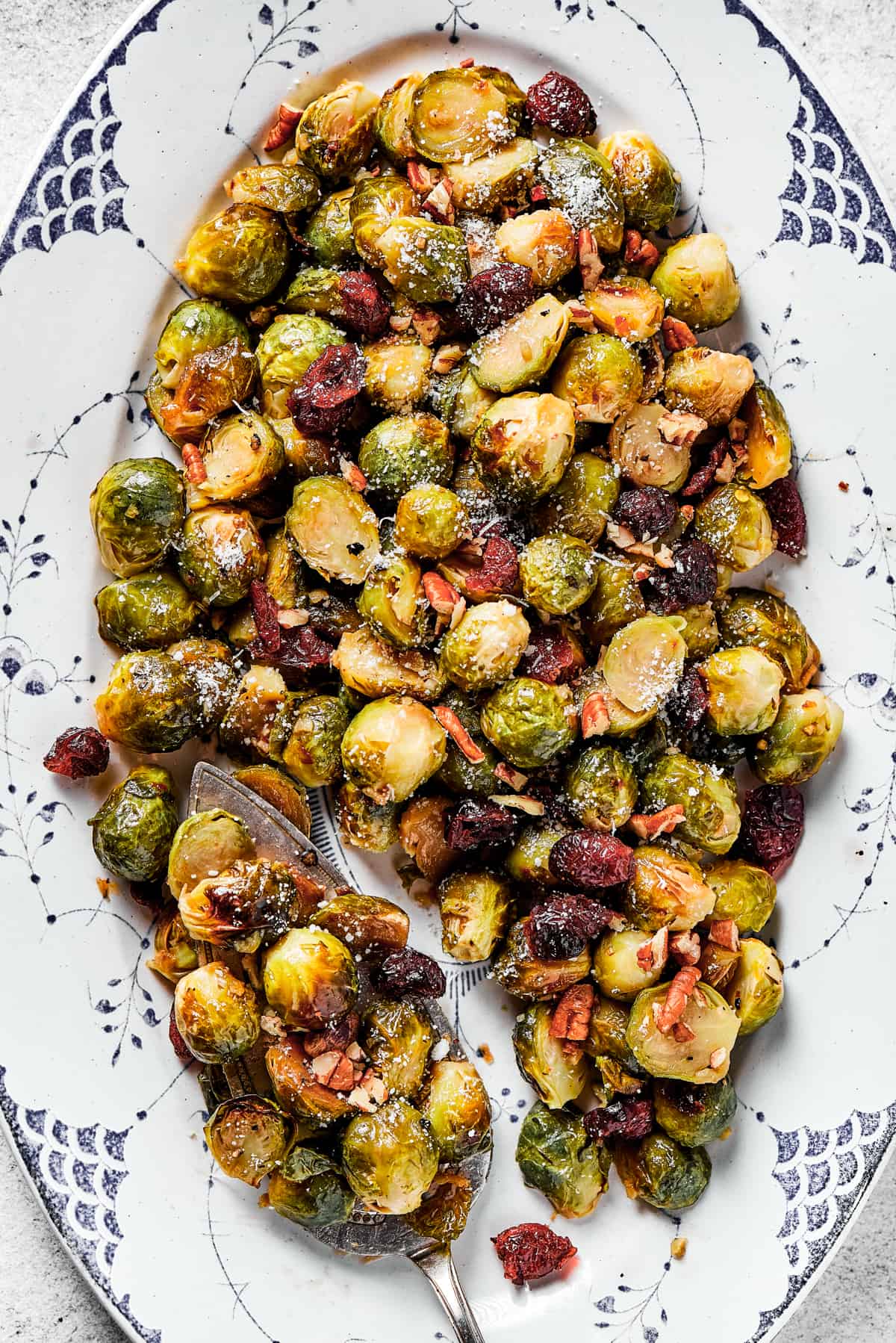 What Do You Eat Brussel Sprouts With?
Anything! Seriously, this versatile side dish goes with practically any main course you can think of. Here are just a few tasty ideas to get you started.
Pot Roast: Flavorful, tender beef with gravy is the kind of nourishing dinner that's especially good on a chilly day. Add some hearty roasted brussel sprouts to your Perfect Pot Roast for the perfect menu.
Chicken and Rice: A family favorite, this Ranch Chicken and Rice skillet dinner is bold and zesty on its own, and even better with a side of caramelized Brussels sprouts.
Pork Tenderloin: Everyone loves tender, juicy pork tenderloin, and this easy recipe for Roast Pork Tenderloin with Potatoes makes it extra-easy to get that perfectly juicy result.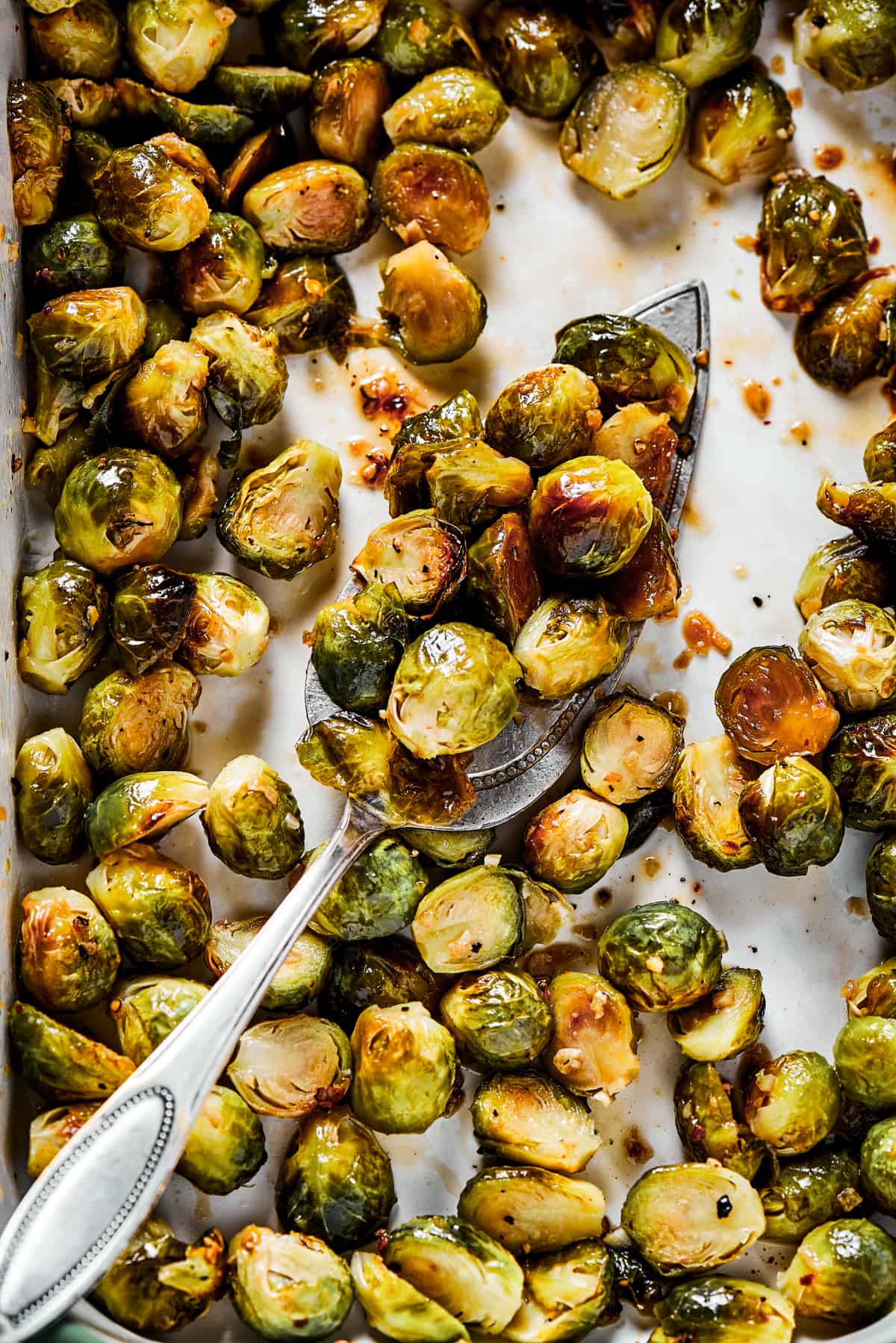 Storing and Reheating
Leftover brussels sprouts can be stored in an airtight container in the refrigerator for up to four days. You could also store them in zip-top bags, or a bowl covered with plastic wrap.
The best way to reheat them and crisp them up again is in the air fryer or oven. Cook at 375°F until fully warmed through.
Can I Freeze These?
Yes, you can freeze roasted brussel sprouts for up to 6 months. Just cool them down and place them in freezer bags, and mark with the date.
Thaw in the fridge before reheating.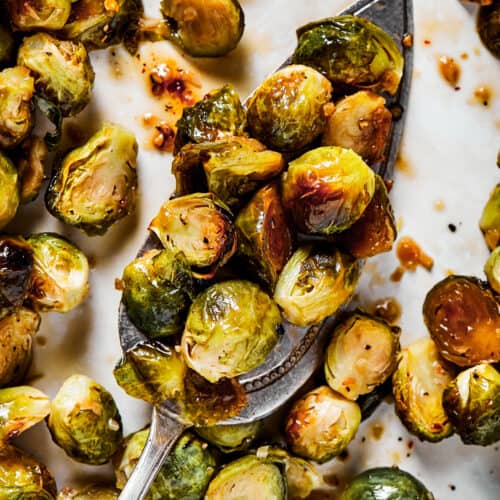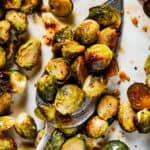 Print Recipe
Roasted Brussel Sprouts
Oven Roasted Brussel Sprouts tossed with garlic and olive oil, and drizzled with a delicious maple-pomegranate glaze.
Instructions
Preheat the oven to 375°F.

Trim brussels sprouts and cut in half lengthwise.

In a large bowl toss Brussel sprouts with the olive oil, minced garlic, salt and black pepper. Arrange Brussel sprouts, cut side down, on a baking sheet.

Roast the sprouts until they are tender and the bottoms are golden brown, about 15 to 20 minutes, stirring them halfway through cooking.

Meanwhile, heat maple syrup and vinegar in a small saucepan set over medium-high heat. Bring to a simmer and let it simmer for a few minutes. Then, add the butter and cook until the mixture is reduced and caramelized, about 4 to 5 min.

Remove from heat, add in chili flakes and pinch of salt.

Pour the glaze over the brussels sprouts and toss to coat.

Transfer the sprouts to a large serving plate and sprinkle with pecans, dried cranberries, and parmesan cheese.
Nutrition
Calories:
306
kcal
|
Carbohydrates:
34
g
|
Protein:
5
g
|
Fat:
18
g
|
Saturated Fat:
5
g
|
Polyunsaturated Fat:
3
g
|
Monounsaturated Fat:
9
g
|
Trans Fat:
0.2
g
|
Cholesterol:
17
mg
|
Sodium:
475
mg
|
Potassium:
557
mg
|
Fiber:
5
g
|
Sugar:
23
g
|
Vitamin A:
1253
IU
|
Vitamin C:
97
mg
|
Calcium:
111
mg
|
Iron:
2
mg
More Veggie Side Dishes