Need a hearty side dish that's easy to make? These Roasted Potatoes with Bacon and Cheese are a family-pleasing, rib-sticking favorite! You'll love how easy they are to make, and how well they work with a ton of different dinners!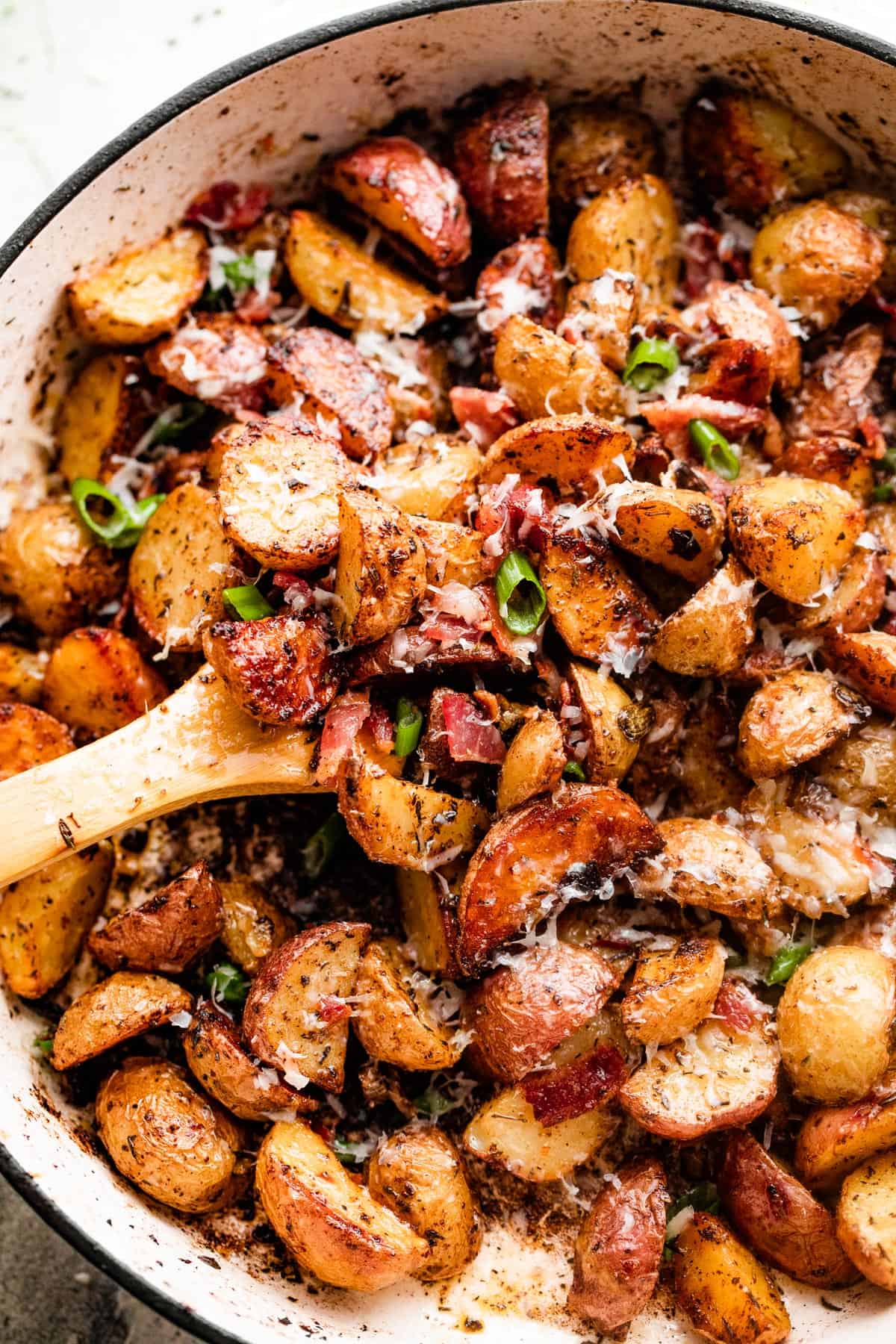 A Crave-Worthy Potato Side Dish with Parmesan and Bacon
Potatoes are amazing any way you slice them – or don't slice them! Baked potatoes, french fries, a creamy mash, maybe some boiled new potatoes with butter and salt… and let's not forget vodka. Honestly, is there anything this beloved veggie can't do?
But, holy guacamole, when you combine potatoes with cheese and bacon, you have got some slap yo' mama deliciousness going on! (Note: for the record, I do not endorse slapping anyone's mom. No matter how delicious a side dish is. 😬)
Potatoes, bacon, and cheese are a heavenly combination that is guaranteed to be devoured, instantly. That's why I'm in love with this easy side dish! It's got everything you love, without any icky processed foods or mystery sauces.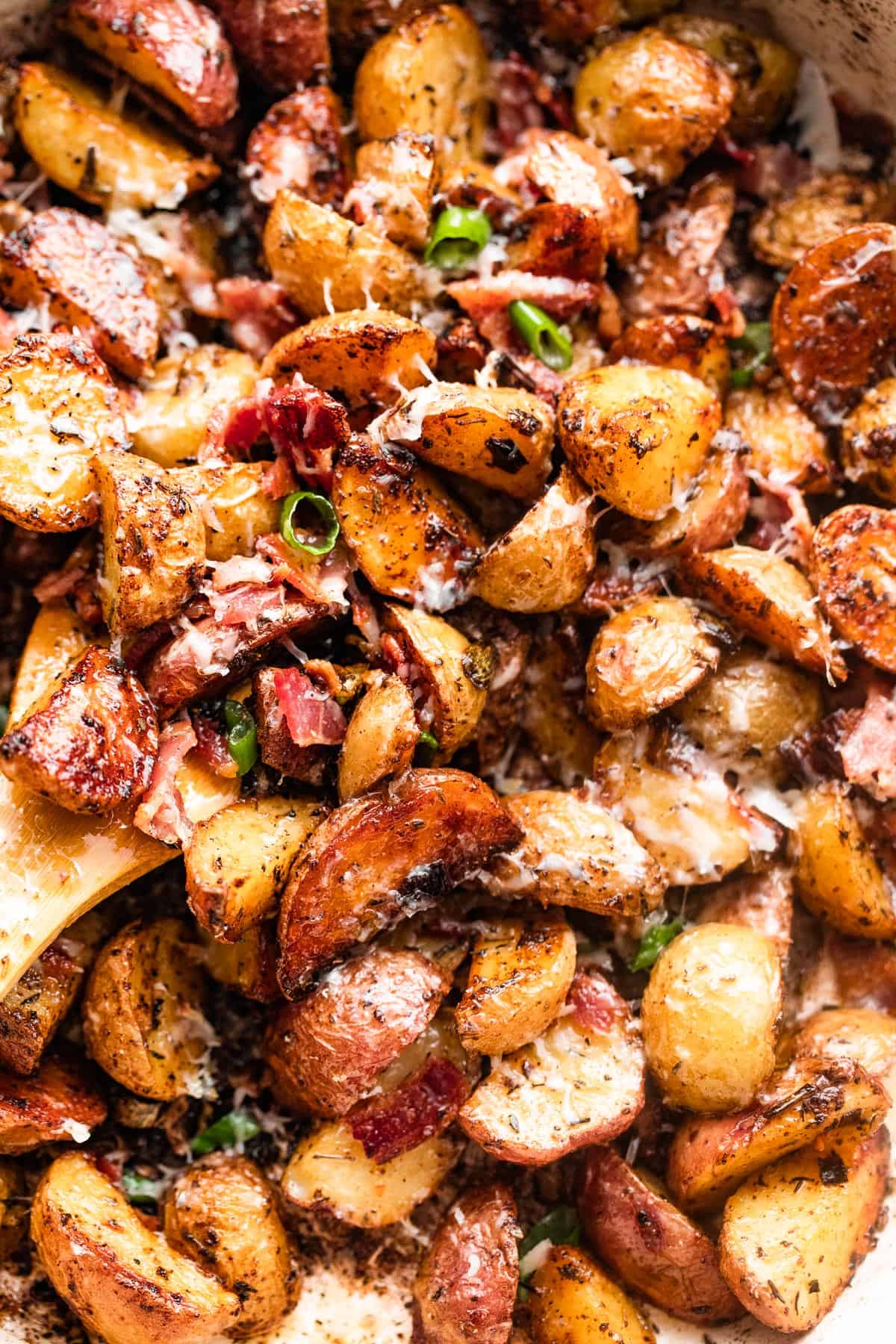 The List of Ingredients
Although it seems so indulgent, I think you will be pleasantly surprised at how simple and wholesome this recipe actually is! It tastes like a total guilty pleasure, but in reality, it's made easily with potatoes, real bacon crumbles, and just a touch of melted cheese. Here's the skinny:
Bacon: Thick-cut bacon is my favorite in this recipe, but you could use any kind of bacon that you like.
Potatoes: You'll need baby potatoes, washed and quartered.
Onion: Dice up one small onion. I use yellow, but any color is fine.
Spices and Herbs: Garlic powder, paprika, oregano, salt, and pepper make these seasoned potatoes perfectly mouthwatering.
Green Onions: Thinly sliced green onions add plenty of flavor and some fresh, bright color.
Parmesan: Grated parmesan cheese is the perfect finishing touch!
What Potatoes are Best for Roasting?
Honestly, there may not be a "best" potato for roasting – it depends on what you're looking for. Baby potatoes are my favorite because of their ease of use and thin, delicate skins.
However, larger red or white potatoes also work well, and russets are an awesome choice if you are looking for an extra-crispy result; their additional starch will crisp right up in a hot oven.
For the easiest all-around potato, many cooks like Yukon golds. 👌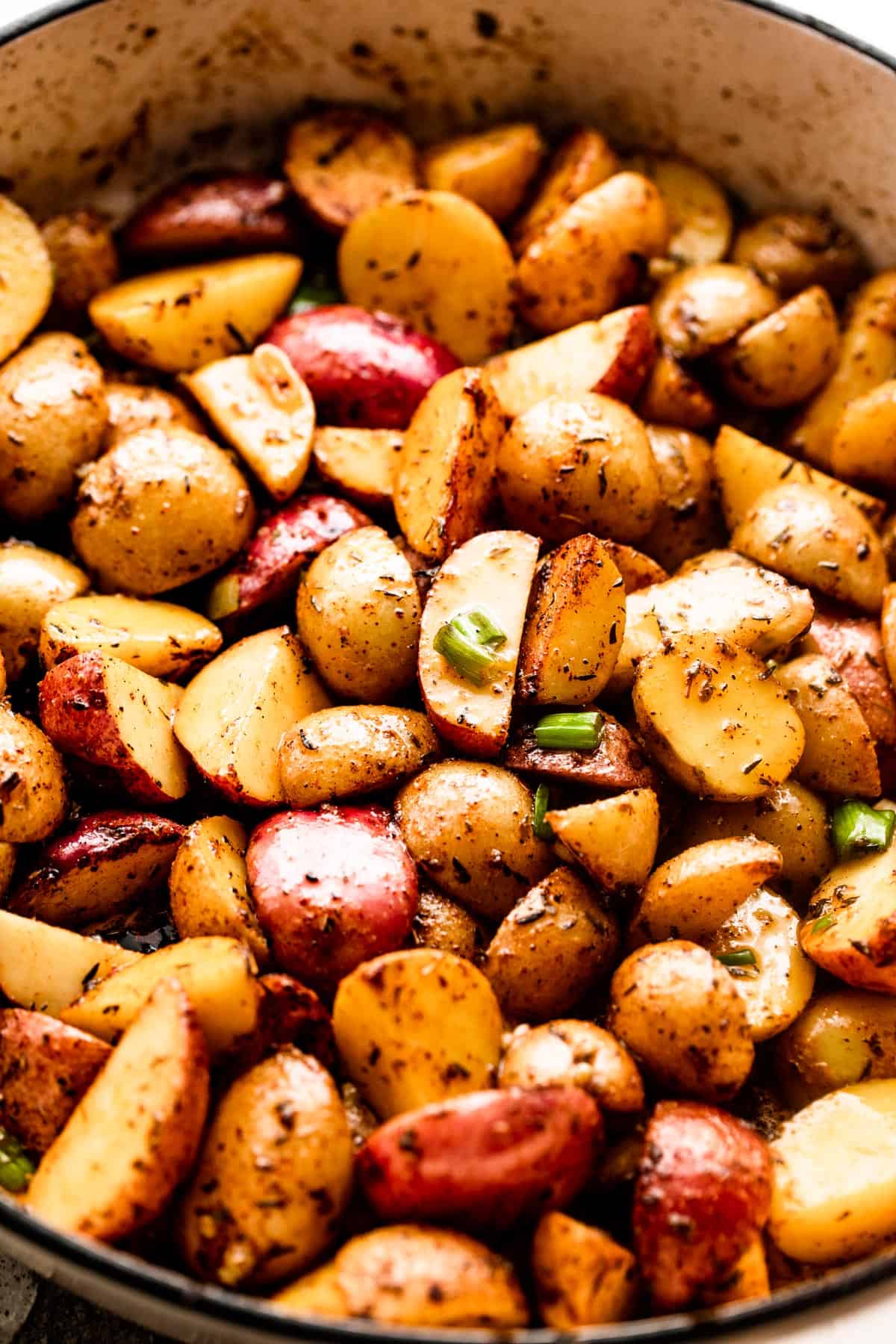 How to Make This Easy, Cheesy Dish
Making this recipe really couldn't be easier. It all comes together in one ovenproof skillet. I like cast iron for this, but stainless would also be great. Just make sure that both the skillet and the skillet handle can go in the oven.
Cook the Bacon. Before you start cooking, make sure to preheat the oven to 425˚F. Next, set a large oven-safe skillet over medium-high heat. Once it's hot, add the bacon slices, and cook them until they are crispy – this will take three or four minutes per side. Use tongs or a metal spatula to transfer the bacon to a paper-towel-lined plate. Don't discard the bacon grease!
Saute the Potatoes Briefly. With the skillet of bacon grease still on medium-high heat, saute the potatoes and onions, along with the seasonings. Cook this for about 3 minutes, stirring often.
Bake. Use an oven mitt to carefully place the hot skillet in the oven, and bake for 20 minutes. Take it out, give the potatoes a stir, and then bake for another 20 minutes, or until the potatoes are nice and tender.
Add the Bacon, Green Onions, and Cheese. Once the potatoes are done, remove the skillet from the oven. Crumble the bacon and add it to the potatoes. Top the potatoes with green onions and sprinkle with grated parmesan.
Enjoy!
Is It Better to Boil Potatoes Before Roasting?
Some cooks swear by par-boiling potatoes before frying or roasting, and for some recipes, that's a pretty important step. However, in this recipe, there's no need for boiling. A quick saute and then a long bake time creates perfectly crispy, tender potatoes. Easy peasy! 🥔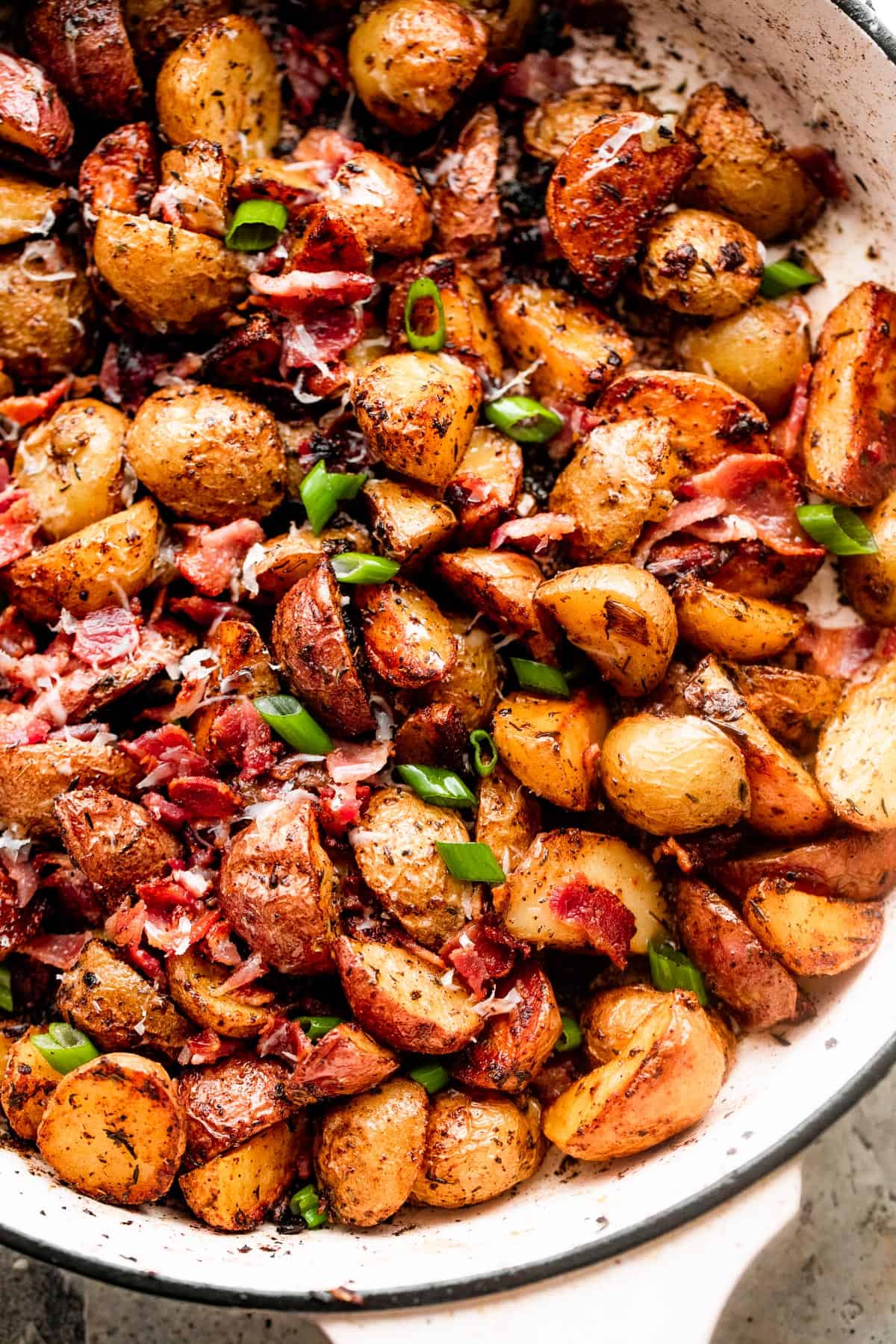 Tips for Success
There's nothing like having a helpful tip or two up your sleeve, and this recipe is no exception. Read on for my top tips for the perfect cheesy roasted potatoes. Happy cooking!
Use What You Have: If you don't have any baby potatoes, regular ones will do – just cut them into small chunks. You can peel or leave them unpeeled – it's up to you! In either case, make sure to always give your potatoes a good scrub before cooking.
Cheese Options: Similarly, you don't have to use parmesan in this recipe! All kinds of cheeses would work, from cheddar to colby jack, gruyere to swiss. 🧀
Bacon Alternatives: If you don't care to use bacon, chopped smoked sausage would be great, or even browned bulk sausage, like Italian sausage. If you want to go meatless, leave the bacon out entirely – the potatoes will still be totally delicious! I suggest adding some bell pepper or mushrooms to bulk up the recipe a bit, and add contrast.
Top with an Egg: To make a quick dinner, try topping each serving of cheesy potatoes with a fried egg (or two). It's a filling, hash-style meal you'll love!
Yummy Serving Ideas
Wondering what to make along with your cheesy roasted potatoes? No worries! I've got you covered. Honestly, just about any hearty main course is a good pick, but I think these three are especially perfect!
Baked Chicken: Baked chicken goes with everything, but a satisfying side dish of roasted potatoes with bacon and cheese is extra-delicious! This simple method of making Chicken and Vegetables in Foil Packets is a family favorite.
Barbecue: Just about anything barbecued would be amazing with these potatoes, but I especially love making Easy Instant Pot Ribs. They're so quick and so full of flavor!
Beef Barbacoa: Speaking of barbecue, have you tried Beef Barbacoa? This spicy shredded beef is full of earthy, Southwest flavor, and it's so simple to make in the Instant Pot.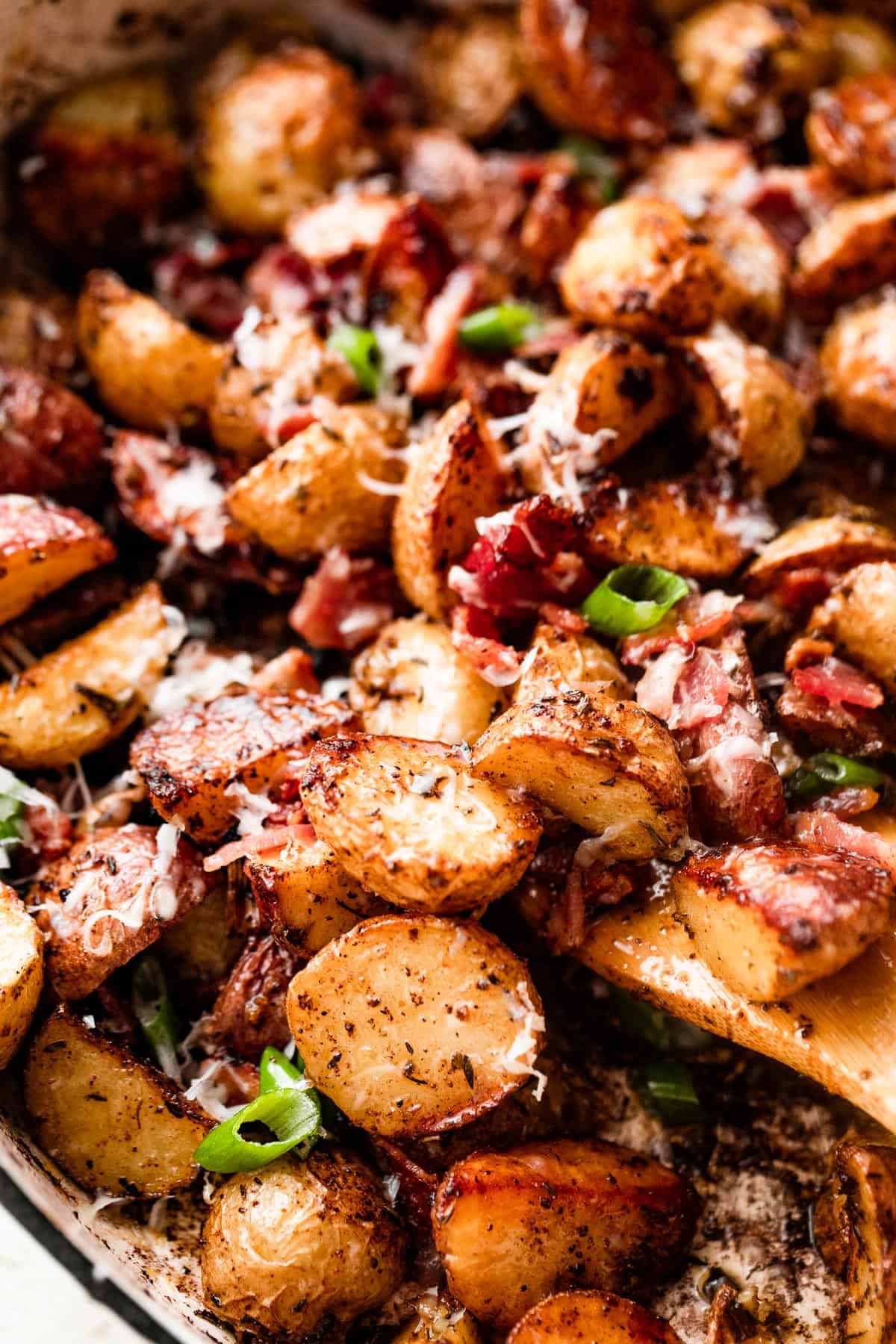 Storing and Reheating
To store, pop your leftover roasted potatoes in an airtight food storage container, and refrigerate for 3 to 4 days.
To reheat, place the desired portion in an oven-safe dish, and bake at 350˚F until heated through.
Can I Freeze Roasted Potatoes with Bacon and Cheese?
While it is possible to freeze some potato dishes successfully, roasted potatoes often turn out mushy and unappetizing when thawed. I recommend serving these fresh, and storing them in the fridge as needed.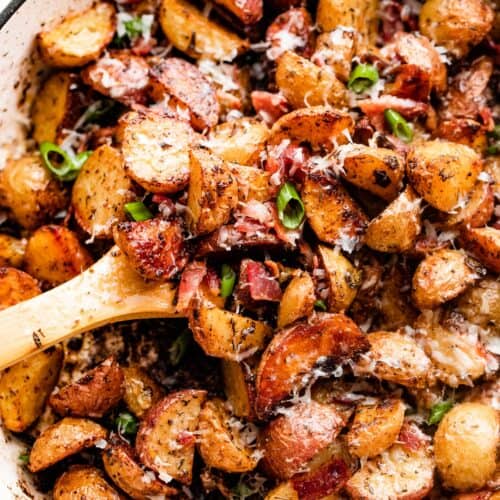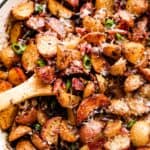 Print Recipe
Roasted Potatoes with Bacon and Cheese
These Crispy Roasted Potatoes with Bacon and Cheese are a family-pleasing, rib-sticking favorite!
Instructions
Preheat oven to 425˚F.

Set a large oven-safe skillet over medium-high heat and heat it up. Cast iron skillet works best.

Add the bacon slices to the hot skillet and cook for about 3 to 4 minutes per side, or until crispy.

Remove bacon from skillet and set aside on a paper towel lined plate. Do not discard the bacon grease.

Return skillet to medium-high heat; add the cut up potatoes to the skillet.

Stir in the diced yellow onions, and season with garlic powder, paprika, oregano, salt, and pepper; cook for 3 minutes, stirring frequently.

Transfer skillet to the oven and cook for 20 minutes; stir, and continue to cook for 15 to 20 more minutes, or until potatoes are tender.

Remove from oven.

Crumble the cooked bacon.

Add bacon crumbles to the potatoes.

Top with the green onions and freshly grated parmesan.

Serve.
Nutrition
Calories:
180
kcal
|
Carbohydrates:
21
g
|
Protein:
6
g
|
Fat:
8
g
|
Saturated Fat:
3
g
|
Polyunsaturated Fat:
1
g
|
Monounsaturated Fat:
3
g
|
Trans Fat:
0.02
g
|
Cholesterol:
14
mg
|
Sodium:
177
mg
|
Potassium:
544
mg
|
Fiber:
3
g
|
Sugar:
1
g
|
Vitamin A:
128
IU
|
Vitamin C:
24
mg
|
Calcium:
58
mg
|
Iron:
1
mg
More Mouthwatering Potato Recipes