Creamy Leek and Potato Soup is the perfect French soup recipe: easy to make from scratch, loaded with flavor, and perfectly balanced. It's a vegetarian favorite that everyone will love!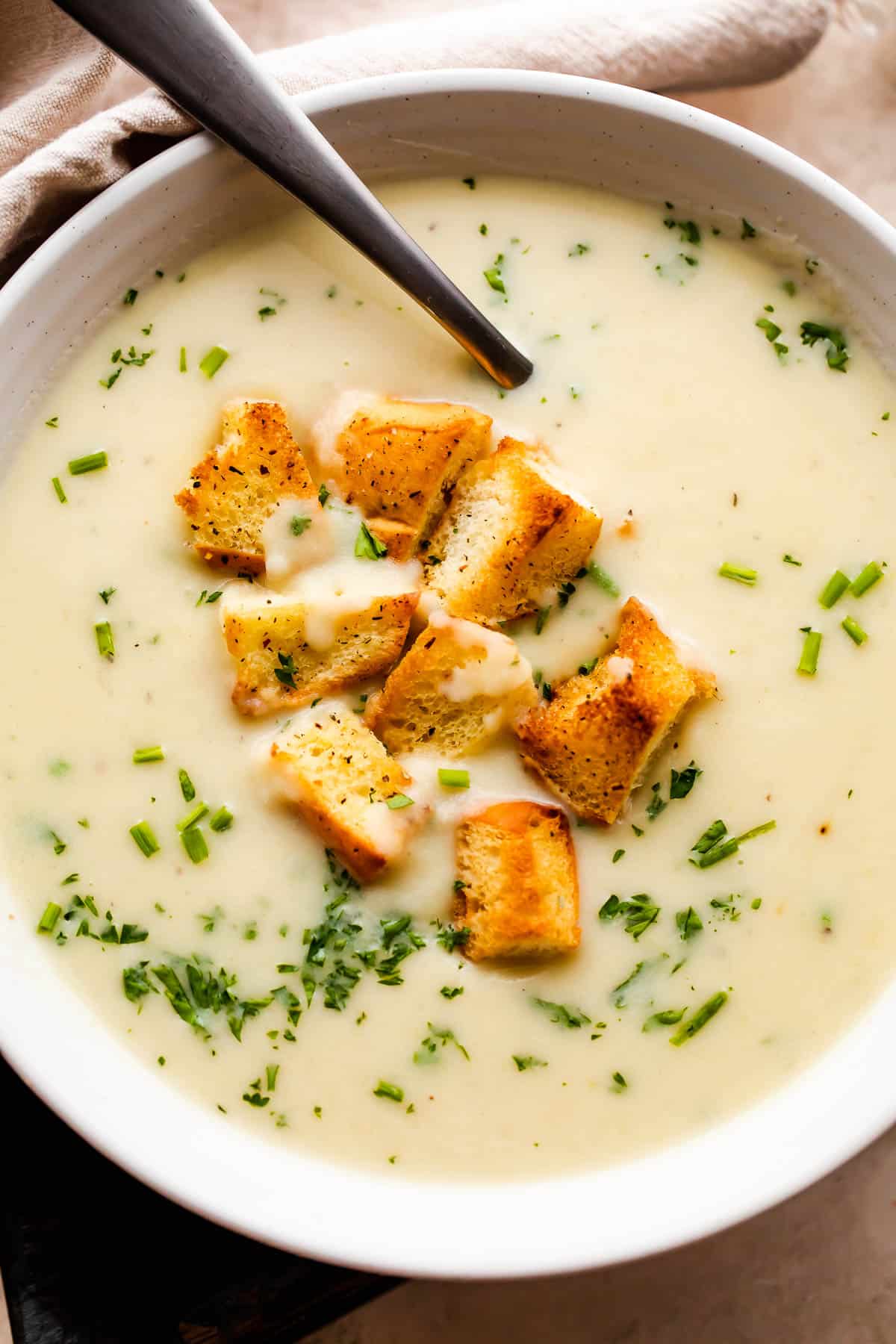 A Creamy, Elegant Vegetable Soup You'll Love!
When it comes to soup, what is your favorite? Chunky vegetable? Hearty ham and bean? Classic chicken noodle? Whatever your soup inclination, get ready, because this one might just become your new favorite! It's that good. Seriously!
This delightful vegetarian leek and potato soup is a creamy purée of soft Russet potatoes, fresh sautéed leeks, broth, and heavy cream, seasoned simply with salt and pepper and fragrant with fresh thyme.
It's a French classic that is so velvety and flavorful, yet simple and understated! You can serve this as a starter for a special meal, or just make a batch to warm up on a chilly day.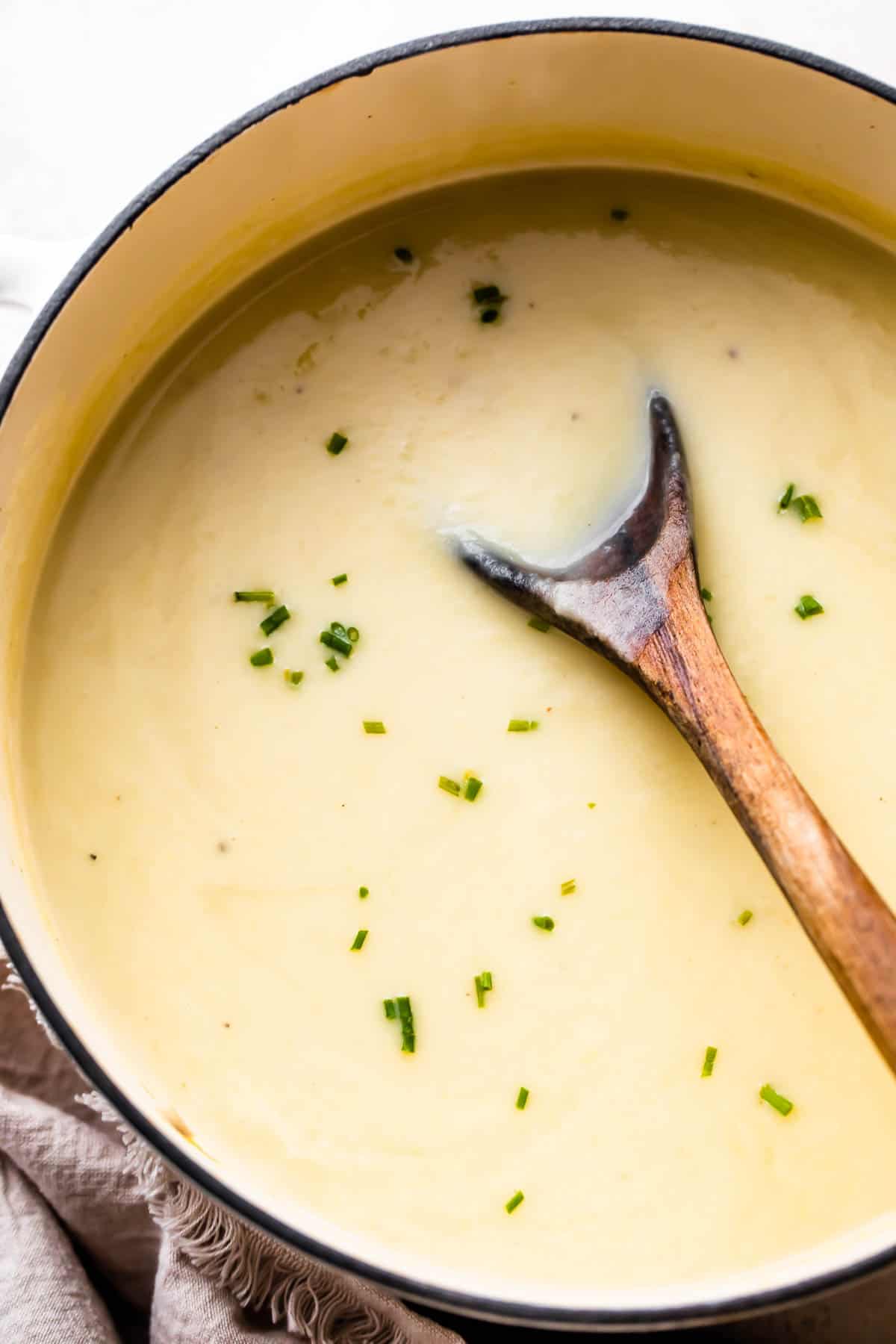 Is Leek and Potato Soup Good for You?
This light vegetarian soup is made from scratch with no processed ingredients, so I do consider it healthy! On top of that, leeks, like their other onion-y relatives, contain healthy fiber and have anti-inflammatory properties. Good for your body, and good to your tastebuds!
What Ingredients Do I Need?
You'll need a medium list of yummy ingredients here, including three fresh herbs: thyme, parsley, and chives. Dried thyme can be substituted for fresh, and the parsley and chives can be omitted, if desired.
Butter and Olive Oil: For sautéing.
Leeks: Thinly sliced the white and pale green parts of the leeks, and rinse well to remove any grit or sand.
Salt and Pepper
Garlic: Mince or press a little fresh garlic for this recipe.
Potatoes: For leek and potato soup, you'll need floury potatoes such as Russets, peeled and cut into 1-inch cubes. Don't use waxy potatoes or the soup will have a "gluey" texture.
Broth: Low-sodium vegetable broth is my go-to, but chicken broth would also be delicious here.
Fresh Thyme: Sprigs of fresh thyme lift the flavor and add an earthy fragrance.
Cream: Heavy cream is my favorite, but you could also use half and half, milk, or sour cream.
Croutons: Optional, for garnish.
Parsley and Chives: Chopped fresh parsley and chives also make a fresh, fragrant garnish.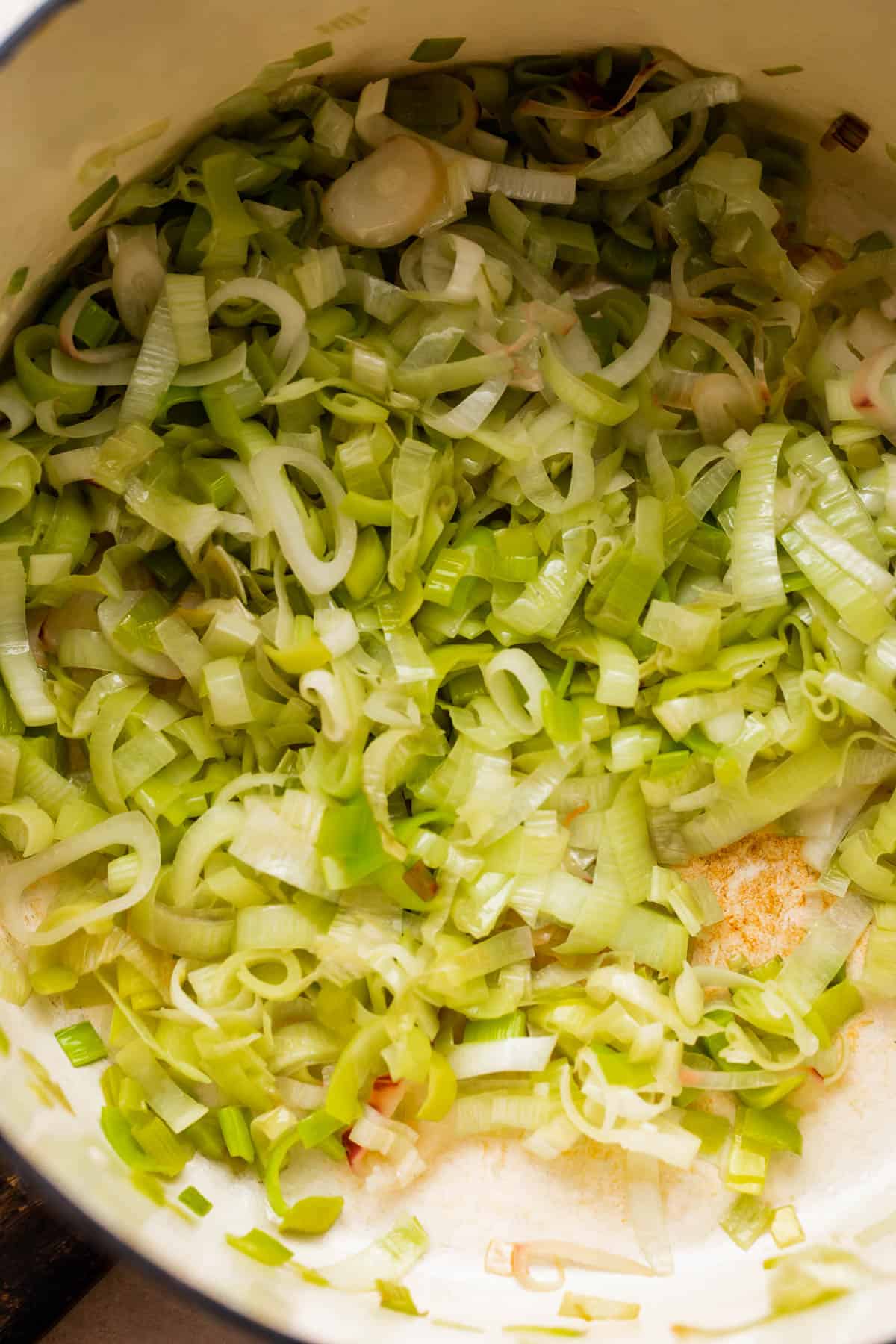 Is Leek the Same as Spring Onion?
Not exactly! Spring onions are also known as green onions or scallions, and they are basically the shoot of a young onion that hasn't grown out and rounded yet.
A leek, on the other hand, is related to onions and looks a lot like a really large green onion, but it's a different vegetable with thin, flat layers that do not round out over time. Leeks can sometimes be substituted for onions, but in this recipe, the leek flavor is a major part of the soup's distinctive taste. So, I do not recommend substitutions.
What Part of Leeks Do You Eat?
You should use the white and pale green portion of the leek, but discard the tough, dark green tops (along with the root end).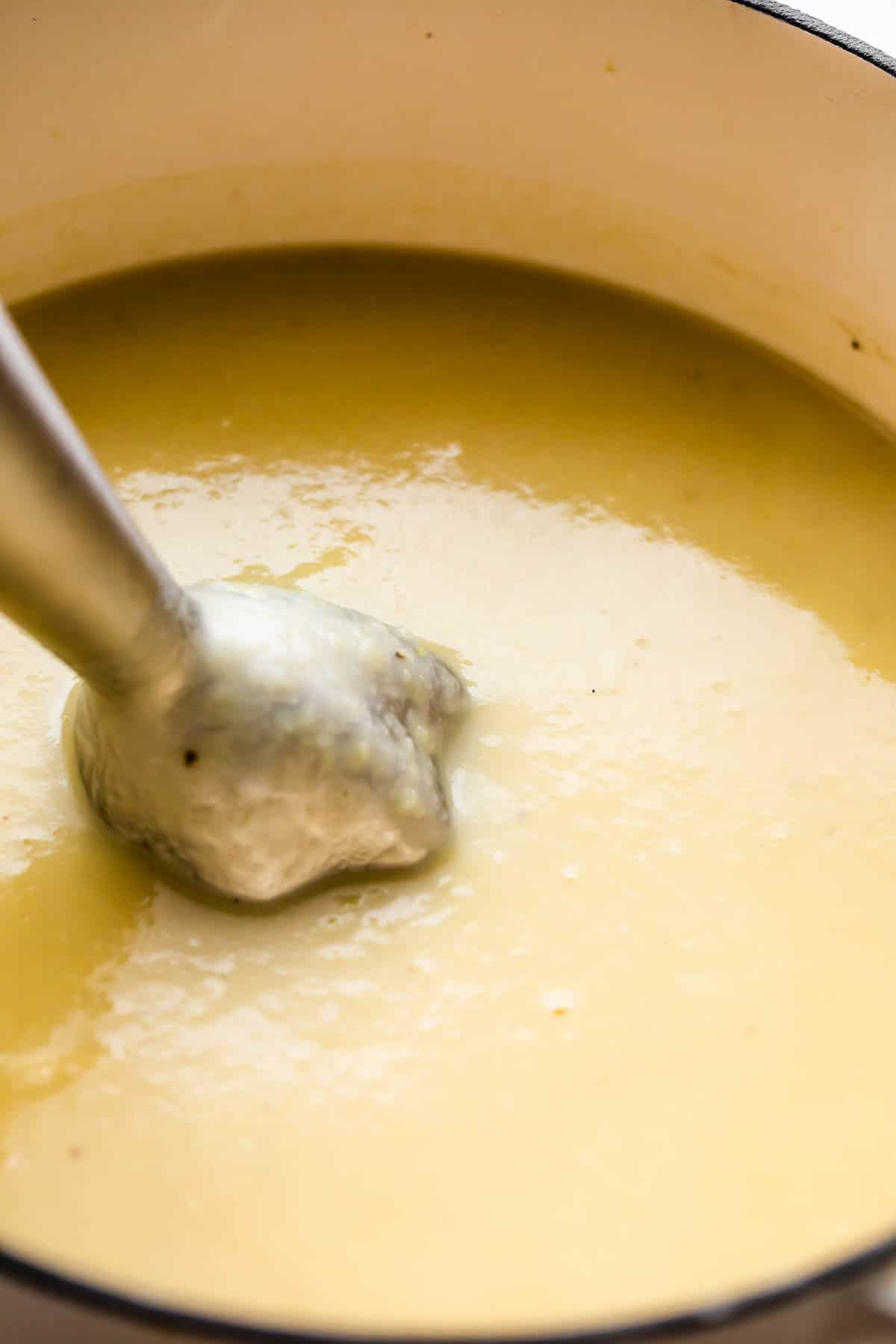 Let's Make Some Soup!
Okay, let's talk about the cooking process! It's very straightforward, so even beginners at this whole cooking thing can definitely make a delicious pot of soup. Here's the skinny:
Cook the Leeks. To begin, place a heavy soup pot or Dutch oven over medium heat, and add the butter to the pot. Let the butter melt, and then add a swirl of olive oil, followed by the sliced leeks. Sprinkle salt and pepper over the leeks, and let them gently saute for about six minutes. Don't let them burn! Stir frequently, and turn down the heat if needed.
Add the Remaining Ingredients (Except Cream and Garnishes). Next, stir in the garlic, and let it cook for just a few seconds. Then add the potatoes, followed by the broth and sprigs of thyme.
Simmer. Bring the soup to a boil, and then reduce the heat to a simmer. Cover the soup, and let it cook for around 25 minutes, until the potatoes are very soft.
Puree the Soup and add Cream. Once the potatoes are soft, remove the soup from the heat and take out the thyme sprigs. Discard those, and then get out your immersion blender. Working carefully so you don't splash the hot soup, blend just until the soup is smooth. Stir the heavy cream into the pureed soup. Taste for salt and pepper, and adjust those as needed.
Garnish and Serve. To serve, ladle the soup into bowls, and top with croutons, chopped fresh parsley, and chopped fresh chives.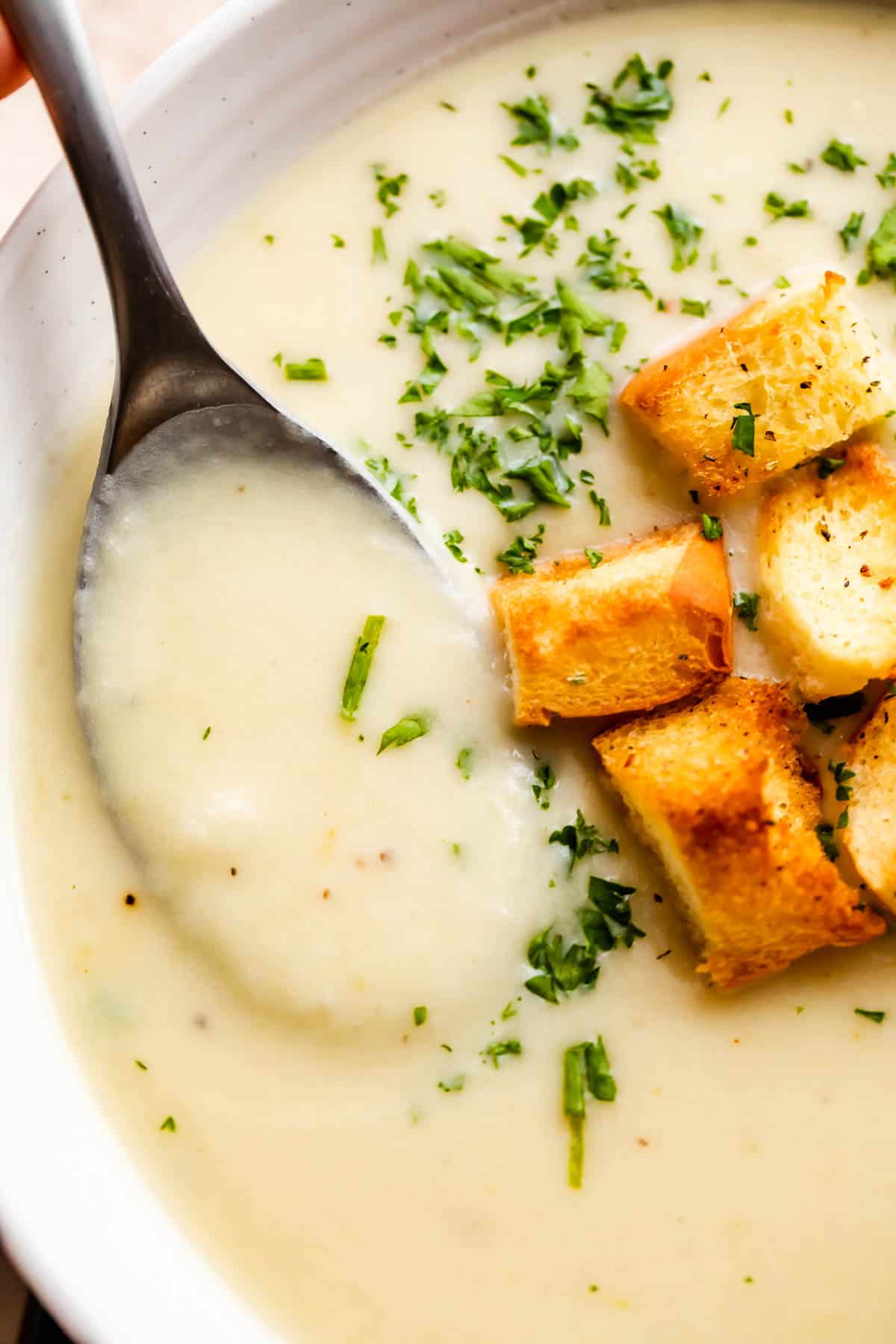 My Best Tips for Amazing Leek and Potato Soup
This classic soup is so simple, so cozy, and so creamy! And with these tips, it's guaranteed to turn out perfectly scrumptious, every time. Let's do this!
Bake the Potatoes: If you want to go an extra step that pays off with a much more pronounced, earthy, potato-ey flavor, bake the potatoes before cooking them in the soup.
Don't Overblend: It's possible to overdo it with the immersion blender, and create a "gluey" texture to your soup. It is better to under-blend the soup and then force any lumps through a mesh sieve.
Add More Texture: If you're a fan of soup with a bit more texture, use a slotted spoon to take some of the cooked leeks and potatoes out of the soup before you blend the rest. Then stir the reserved leeks and potatoes right back in.
Top It Your Way: What floats your boat, here? I usually go with croutons, but this classic soup is also amazing garnished with creme fraiche, sour cream, bacon bits, fried or caramelized onion, you name it!
Yummy Sides to Serve with Soup
While leek and potato soup makes a great starter or side dish, you can make it a meal if you want! Just add a couple of easy dishes like these!
Dinner Rolls: There's nothing like a bowl of comforting soup with a warm, homemade dinner roll. Try these No-Knead Rolls for the ultimate easy version!
Salad: A garden salad is never out of place! Want to up the ante? Then make it a Salmon BLT Salad! Swoon worthy!
Roasted Veggies: Easy Roasted Brussels Sprouts and Radishes are loaded with color, flavor, and texture! They're an amazing side dish for any meal, including leek and potato soup.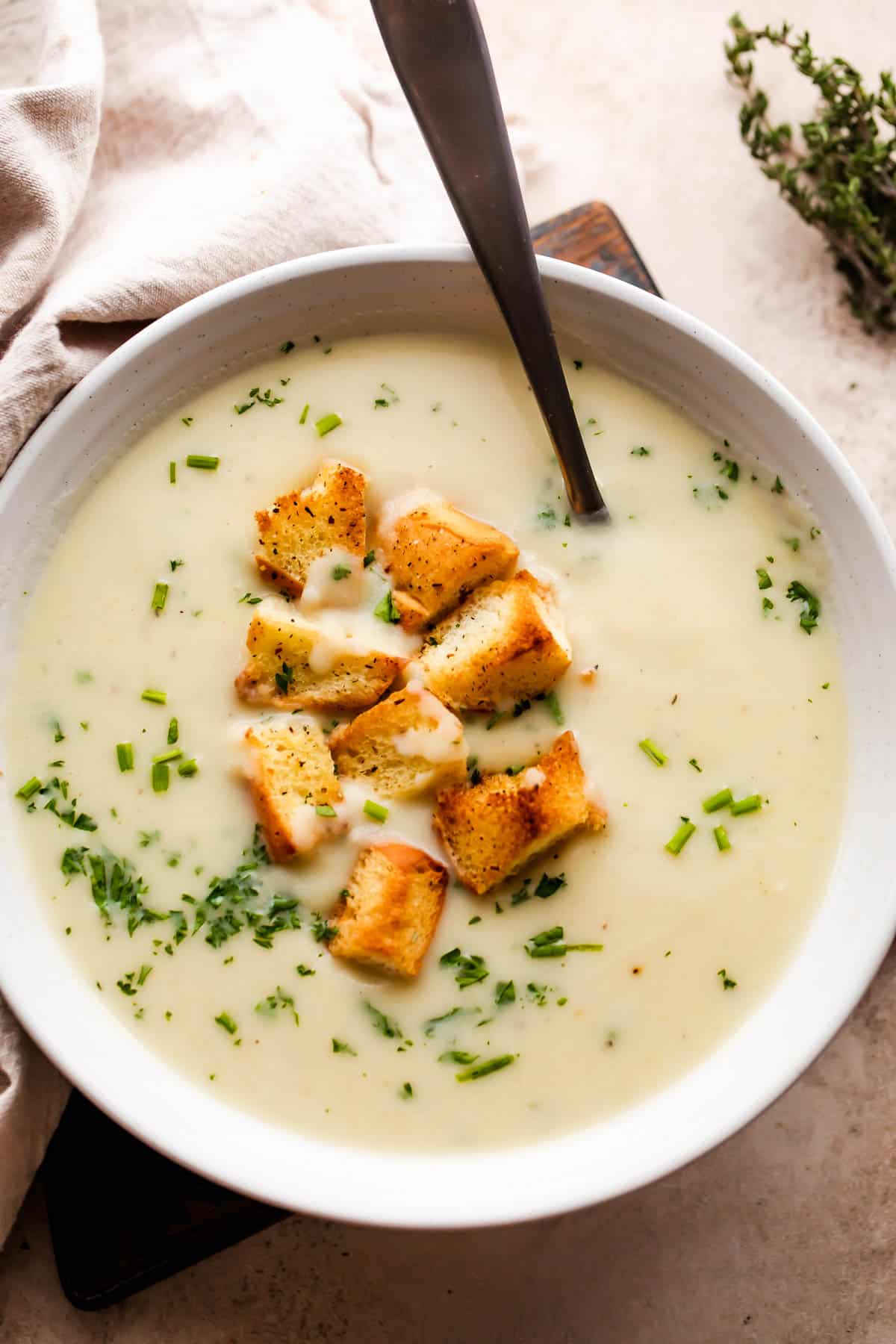 Storing and Reheating Leftover Soup the Right Way
Storing leftover creamy soup is easy! Transfer it to an airtight container, or a well-covered bowl (plastic wrap works great).
Keep it in the refrigerator for up to four days.
To reheat, you should place the desired portion in a small saucepan over low heat. Stir the soup occasionally as it heats up. Let it get very hot and steaming, but take it off the heat before it boils.
Can I Freeze This?
You definitely can freeze this soup, but keep in mind that frozen and thawed creamy soups can be grainy or separated when thawed out. If that happens, I recommend adding a little more cream and carefully pureeing the soup again with an immersion blender.
To freeze, place the cooled soup in an airtight freezer container. Leave room for the liquid to expand as it freezes; one inch is plenty. Freeze for up to two months, and thaw overnight in the refrigerator before serving.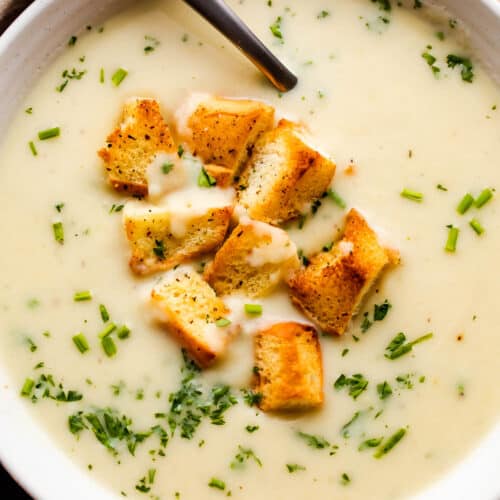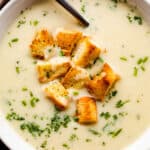 Print Recipe
Creamy Leek and Potato Soup
Creamy Leek and Potato Soup is the perfect French soup recipe, easy to make, loaded with flavor, and a perfectly balanced vegetarian favorite.
Instructions
Melt the butter in a soup pot set over medium heat. I use a 5-quart Dutch oven.

Add in the olive oil.

Add in the sliced leek; season with salt and pepper, and saute for about 6 minutes, or until softened. Stir frequently.

Stir in the garlic and cook for 15 seconds.

Stir in the cubed potatoes; cook for 20 seconds.

Pour in the broth and add in the thyme sprigs; bring to a boil.

Cover with a lid and lower the heat to a gentle simmer.

Cook for 22 to 25 minutes, or until potatoes are very soft.

Remove from heat.

Remove thyme sprigs from the soup.

Using an immersion blender, blend the soup until smooth.

Stir in the heavy cream.

Taste for salt and pepper, and adjust.

Ladle soup into bowls.

Garnish with croutons, parsley, and chives.

Serve.
Nutrition
Serving:
1
cup
|
Calories:
197
kcal
|
Carbohydrates:
27
g
|
Protein:
4
g
|
Fat:
9
g
|
Saturated Fat:
5
g
|
Polyunsaturated Fat:
1
g
|
Monounsaturated Fat:
3
g
|
Trans Fat:
1
g
|
Cholesterol:
24
mg
|
Sodium:
319
mg
|
Potassium:
536
mg
|
Fiber:
3
g
|
Sugar:
2
g
|
Vitamin A:
653
IU
|
Vitamin C:
10
mg
|
Calcium:
44
mg
|
Iron:
2
mg
More Cozy Soup Recipes