Onions and peppers mingle with homemade tomato sauce and freshly-poached eggs in this easy Shakshuka recipe! You'll love the addition of melty mozzarella cheese, and the no-hassle cooking method.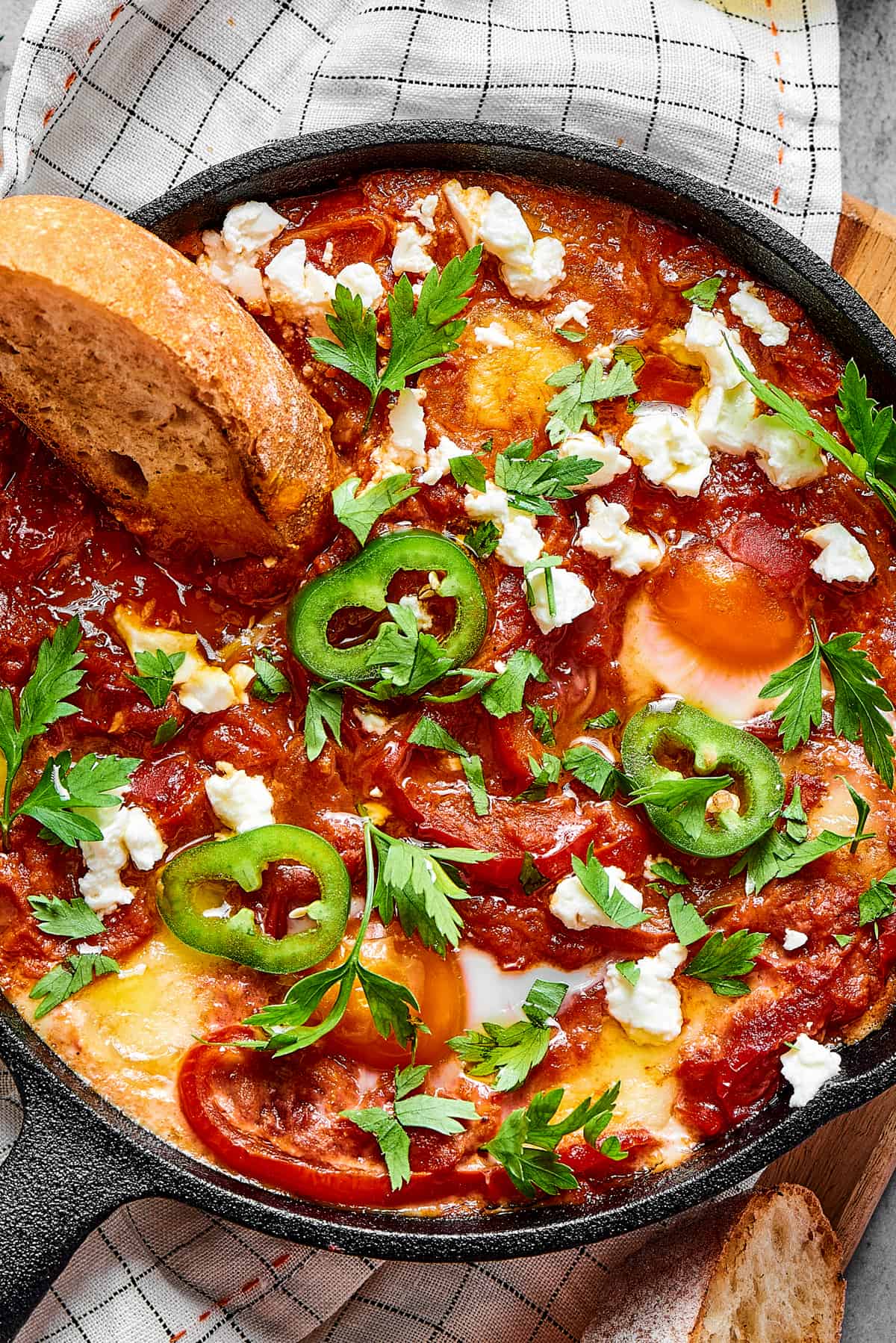 A Vivid, Flavorful Vegetarian Main Dish
Do you ever cook vegetarian dinners? Once "Meatless Monday" took off, it seems that having a weekly vegetarian night surged in popularity, even among non-vegetarians and reluctant cooks. But whether or not you include meatless recipes as a regular part of your routine, you are sure to love this one! It's hearty, filling, and made with whole eggs for a super-satisfying main course.
My version of shakshuka is incredibly simple, and comes together in no time. The addition of fresh, melty mozzarella gives the dish an almost pizza-like lushness! Served with a slice of bread, it's a quick and filling dinner you can make any night of the week. (Pro tip: it also makes a gorgeous breakfast and a convenient lunch.)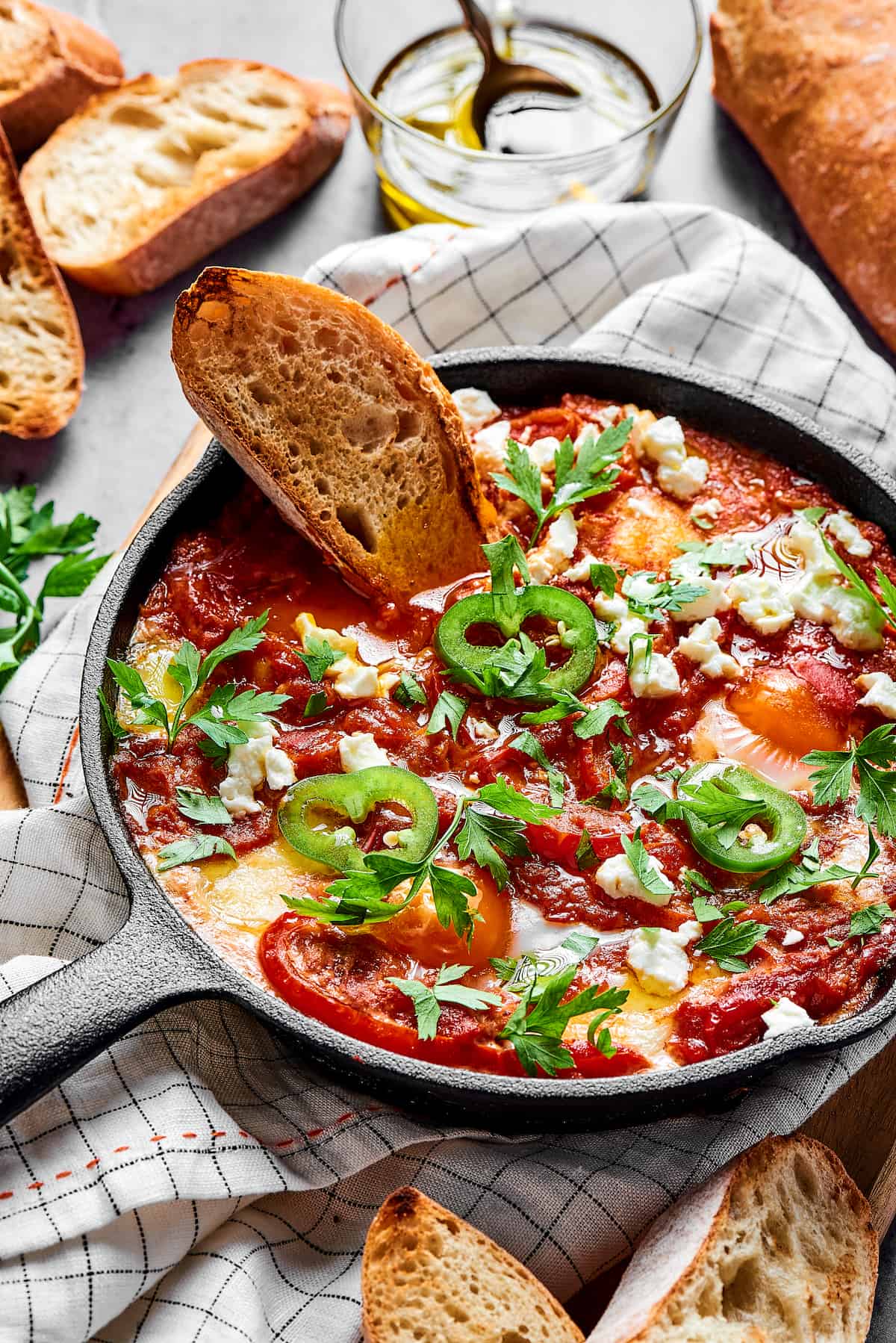 What Does Shakshuka Taste Like?
Shakshuka is a bold, yet family-friendly dinner that originated in North Africa. Today, it's hugely popular all across the Middle East and the globe! Once you taste it, you'll see why. The combination of tangy tomato sauce, sweet onions and peppers, savory poached eggs, and plenty of spices makes this vegetarian recipe a true classic. It's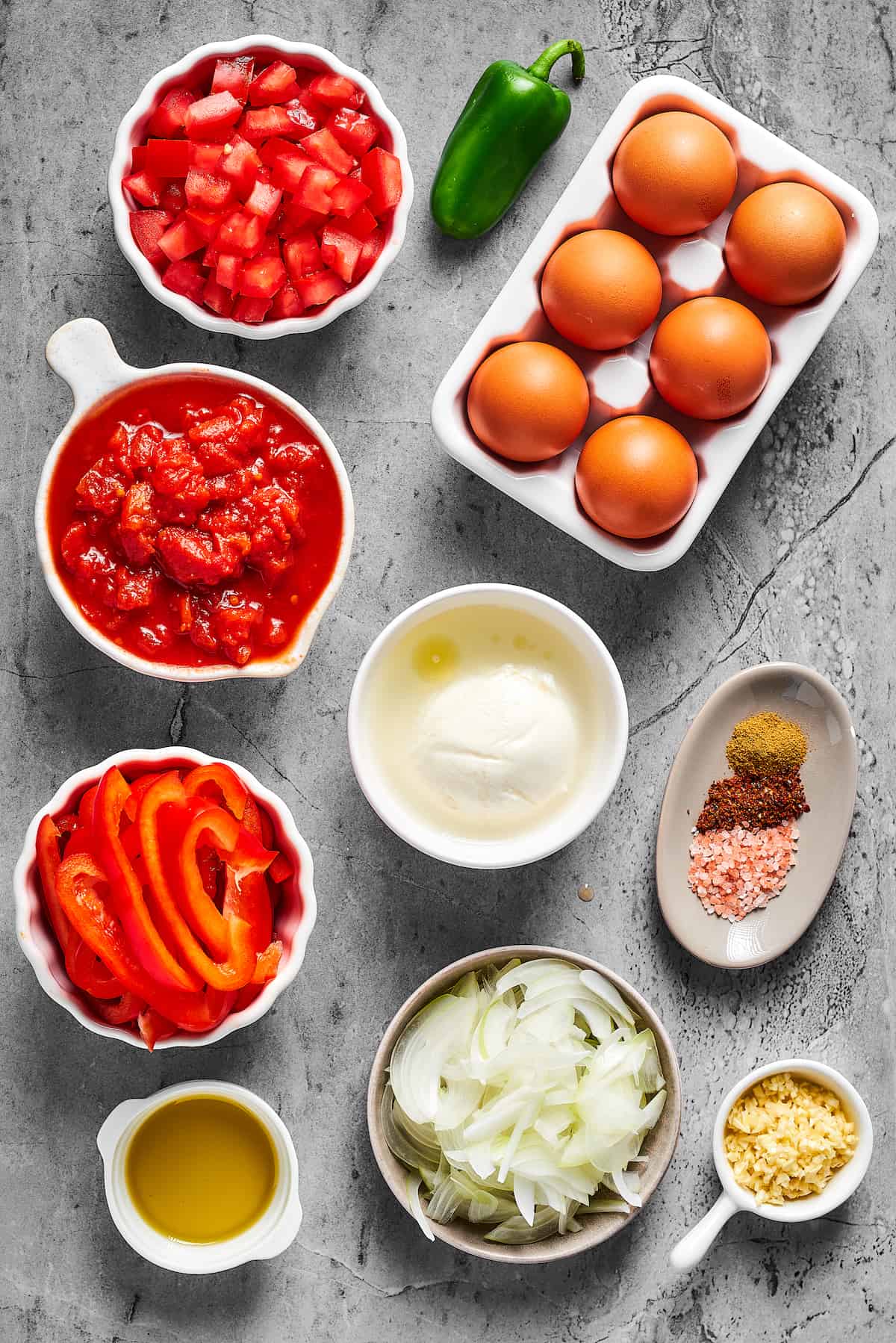 The Ingredients You'll Need
With a recipe like shakshuka, you can definitely be generous with substitutions and additions. For example, some people love shakshuka with lots of bell pepper, while other people leave out the bell pepper completely. Here's a solid basic ingredients list – but feel free to tweak it for your family and diet.
Olive Oil: For sauteing, plus extra for drizzling.
Bell Pepper: I like red bell pepper for its sweetness. Slice it up.
Onion: Sliced as well. You can use white, red, yellow, or sweet onions.
Fresh Tomatoes: I like to include fresh tomatoes for the texture and brightness. Any kind will do – just give them a rough chop.
Canned Tomatoes: Again, any kind. My go-to are crushed tomatoes, but you could use diced, petite diced, or even whole canned tomatoes broken up with a spoon.
Eggs: You'll want one egg for each serving.
Mozzarella: Fresh mozzarella is great in this recipe. You could also use regular sliced mozzarella, sliced provolone, etc. This recipe is also good even if you leave out the cheese.
Salt and Pepper
Spices: The sky is the limit with spices. I keep it simple with cumin and paprika, but you could definitely sprinkle in all kinds of spices, like coriander and turmeric, as well as herbs like cilantro or parsley.
Garlic: Minced, fresh garlic has the punchiest flavor, but you could substitute powdered garlic or garlic from a jar if needed.
Optional Garnishes: Chopped parsley, sliced jalapeno, and crumbled feta are great!
For Serving: A crusty bread such as a baguette is ideal for serving.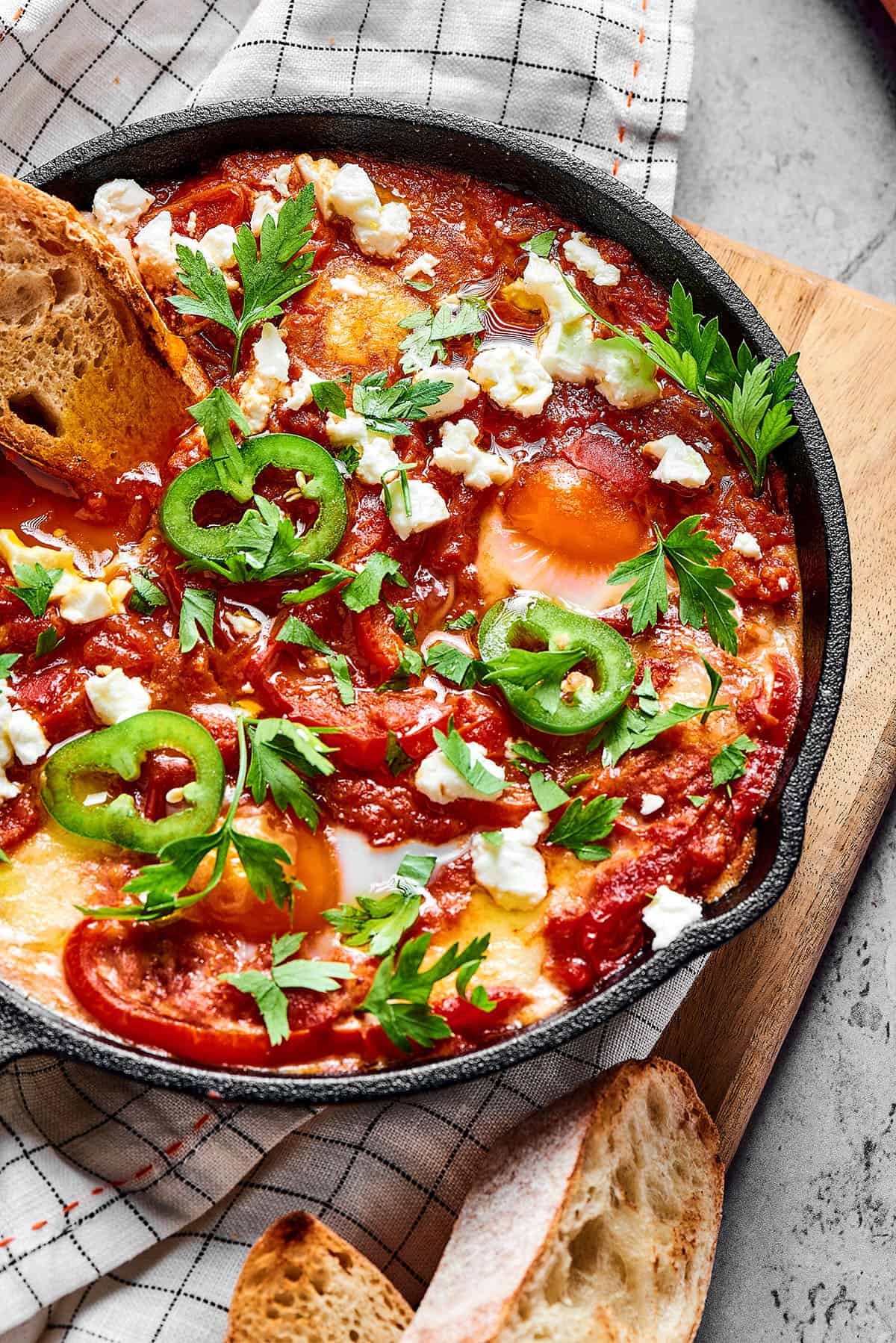 Let's Make Shakshuka!
Making this dish is very easy, and very satisfying. First you'll create the sauce, and then crack eggs into it. A quick bake to finish it off, and you're done!
Saute the Aromatics, Veggies, and Spices. Set a cast-iron skillet over medium heat, and add some oil. When the oil is hot, saute the onions and peppers until they're soft, about 10 minutes. Stir in the minced garlic, cumin, paprika, and salt, and let it all cook for 2 minutes more.
Add the Tomatoes, Simmer the Sauce, and Preheat the Oven. Next, stir in the chopped tomatoes and canned tomatoes. Reduce the heat to medium-low, and let the sauce simmer for 10 minutes or so. It will thicken slightly. While it simmers, preheat your oven to 375°F.
Add the Eggs and Mozzarella. When the 10 minutes is up, take the sauce off of the heat. Use a large spoon to make three "wells" in the sauce (or more, if you're using more eggs) and crack an egg into each well. Top each egg with bits of mozzarella.
Bake the Shakshuka. Move the skillet to the oven, and let the shakshuka bake for around 10 – 15 minutes to set the eggs. You want the egg whites firm, but the yolks soft or even liquidy inside. It pays to check on them often, because they may cook very quickly or slowly, depending on the size of the eggs, how efficient your oven is, etc.
Enjoy! Take the baked shakshuka out of the oven, and drizzle olive oil over the top. Sprinkle with salt and pepper, and add any garnishes you like. Serve with bread.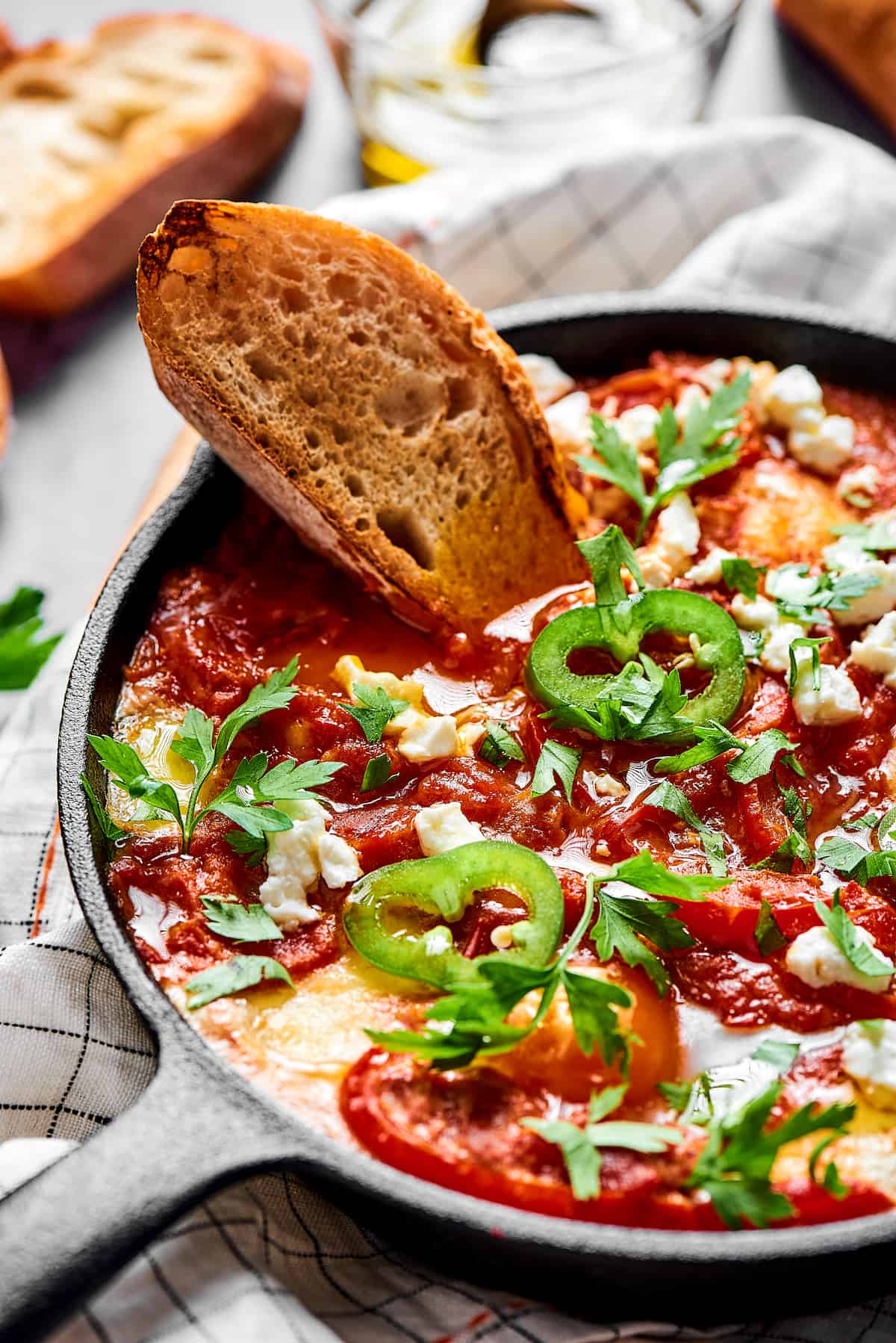 Tips for Success
It's hard to ruin shakshuka, since the whole dish is essentially chunky spiced tomato sauce with eggs. It's very flexible and forgiving – a big win for busy cooks. Still, I do have a few tips and tricks to share:
Don't Fear Canned Tomatoes: Even if you're trying to make a high-end, from-scratch version of shakshuka, canned tomatoes are still a great option. They are much faster to work with than using just fresh tomatoes, and are usually very flavorful. Good-quality canned tomatoes are better than unripe or low-quality fresh tomatoes, every time.
Add Your Favorites: As you would expect, there are tons and tons of regional variations of shakshuka. So feel free to play with your favorite ingredients and add what you love, from artichoke hearts to olives, hot peppers to exotic spices.
Control the Acidity: If you find that your tomatoes are very acidic, you can tame them a little by caramelizing your onions and peppers slightly. Alternatively, add a pinch of baking soda, a sprinkling of sugar, or throw in a little extra salt. Careful, though! Don't overdo any of these options, or you may not like the excess sweetness/saltiness.
No-Oven Option: You can definitely make shakshuka without using your oven. To help get the tops of your eggs cooked without overcooking the yolk, try gently basting the tops of the eggs with the hot cooking liquid. Do this a few times, and the eggs should cook evenly.
What Goes Well with Shakshuka?
In a word, bread! A slice of your favorite bread is considered almost essential, and it's easy to see why. That awesome sauce absolutely can't be wasted. A chunk or slice of bread is just the thing for mopping it up. In addition to some good bread, try serving:
Grilled Veggies: Savory grilled vegetables are healthy and light, and add a nice, mild, savory side dish to homemade shakshuka. These Grilled Summer Squash Kebabs with lemon and garlic would be just perfect.
Salad: Any kind of salad would be perfect here, but to keep things simple, just make this creamy Cucumber Salad with Sour Cream Dressing. It's a great contrast for this bold tomato-based meal.
Fries: Um, can we all agree that fries are good with everything? If you don't want to go with potato fries, give these Crispy Air Fryer Parmesan Zucchini Fries a try. They are so addictive!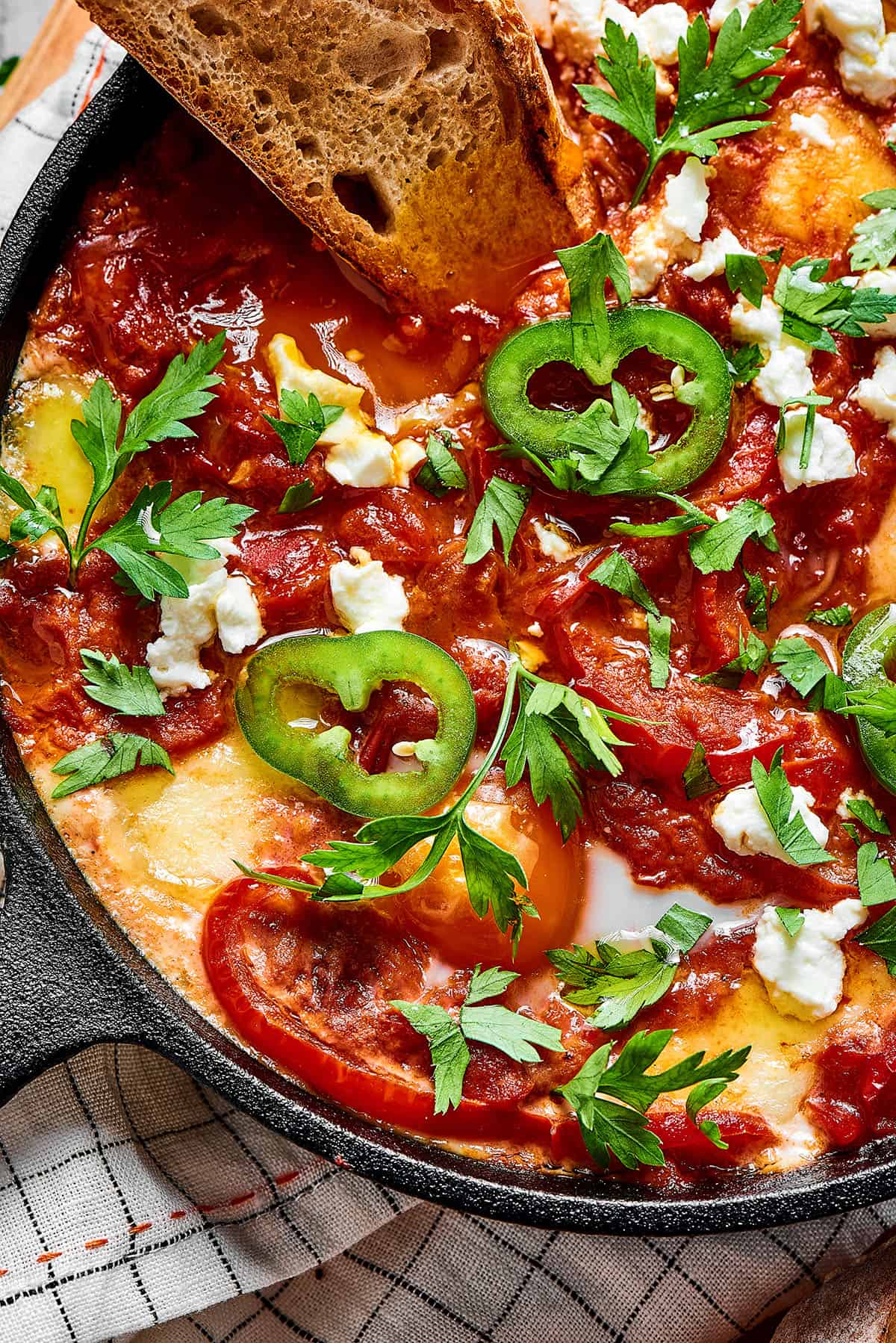 Storing and Reheating
If you find yourself with a leftover portion or two of shakshuka, you can store it in the fridge overnight, tightly covered. Reheat in a covered skillet over low heat, checking occasionally to see if it's warmed through. You want to reheat it just until the shakshuka is hot, that way, your eggs will stay as close to "runny" as possible.
Can I Freeze This?
The sauce is totally freeze-able, but I would leave the eggs out if you plan to store it in your freezer. Eggs take on a whole different texture after freezing and thawing, because they freeze and then lose their water content.
If you'd like to freeze the sauce, first cool it down, and then pack it into freezer bags or containers.
Freeze for up to 6 months. Thaw before using.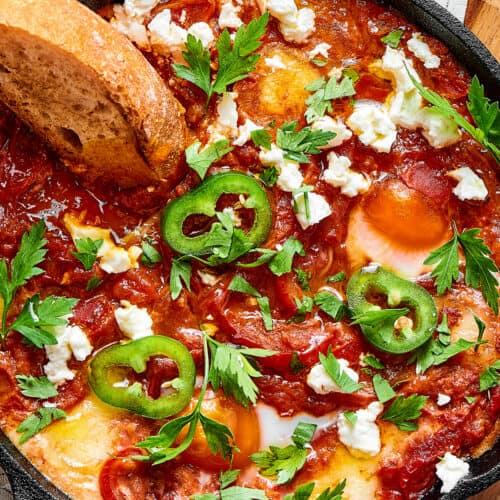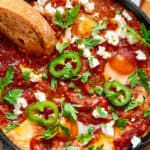 Print Recipe
Shakshuka
Onions and peppers mingle with homemade tomato sauce and freshly-poached eggs in this easy Shakshuka recipe!
Ingredients
2

tablespoons

olive oil

1

red bell pepper,

thinly sliced

1

yellow onion,

thinly sliced

2

tomatoes,

roughly chopped

1

can (15 ounces)

crushed tomatoes

3 to 4

eggs

4

ounces

fresh mozzarella cheese,

torn into smaller pieces

1 ½

teaspoons

salt

1

teaspoon

ground cumin

1

teaspoon

sweet or smoked paprika

3

cloves

garlic,

minced

fresh ground black pepper,

to taste
For Garnish:
Chopped parsley

Sliced jalapeno

Crumbled feta

Baguette
Instructions
Heat the oil in a cast-iron skillet set over medium heat.

Add the onion and sliced bell pepper, and saute until soft, about 10 minutes.

Add the minced garlic, cumin, paprika, and salt; cook for 2 more minutes.

Stir in the chopped tomatoes and canned tomatoes. Reduce the heat and stir to combine.

Simmer the sauce for about 10 minutes, or until it thickens.

While the sauce is simmering, preheat the oven to 375°F.

Remove the skillet from the heat, and use a large spoon to make 3 to 4 wells in the sauce. Carefully crack eggs into each well, and add mozzarella cheese over the Shakshuka, if using.

Transfer the skillet to the oven, and bake until egg whites are set but yolks are still slightly runny, about 10 to 15 minutes. Check often because the eggs can cook very quickly.

Take the baked shakshuka out of the oven, drizzle with olive oil, and season with salt and pepper. Garnish with parsley, jalapeno, and feta.

Serve with toasted baguette slices.
Nutrition
Calories:
278
kcal
|
Carbohydrates:
16
g
|
Protein:
15
g
|
Fat:
18
g
|
Saturated Fat:
6
g
|
Polyunsaturated Fat:
2
g
|
Monounsaturated Fat:
9
g
|
Trans Fat:
0.02
g
|
Cholesterol:
186
mg
|
Sodium:
1250
mg
|
Potassium:
651
mg
|
Fiber:
4
g
|
Sugar:
9
g
|
Vitamin A:
2340
IU
|
Vitamin C:
58
mg
|
Calcium:
227
mg
|
Iron:
3
mg
More Easy Dinner Recipes