This easy recipe for Cheese Tortellini with Roasted Tomatoes is perfect for a busy weeknight! Full of fresh cherry tomatoes, olive oil, and garlic, it's simple, summery, and beautiful.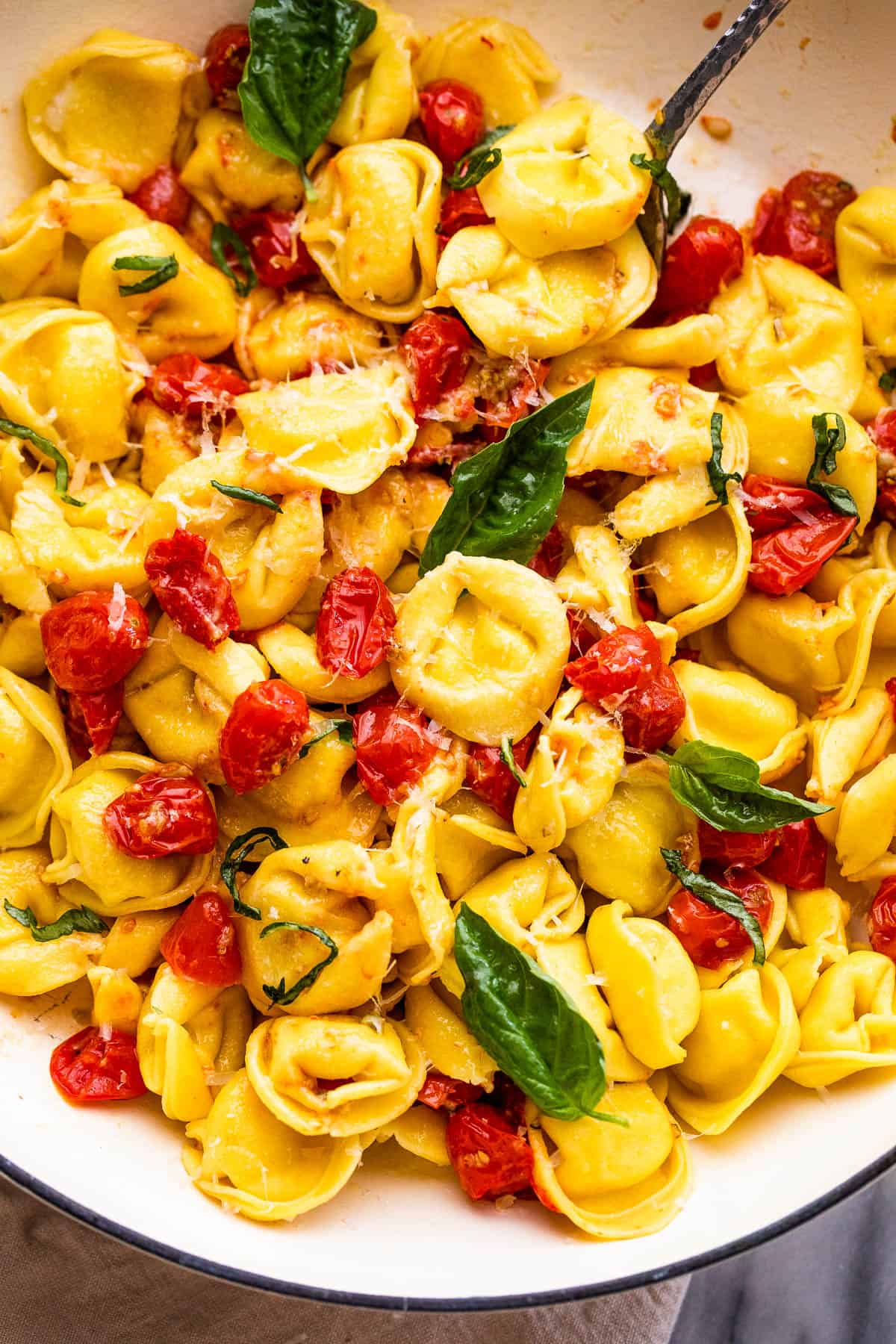 A Fast and Easy Tortellini Recipe
When it's time for an ultra-fast, ultra-easy meal, I always think of pasta! Pasta can be cooked and tossed with nothing but butter and salt, and it's still a delicious dish. Thus, if you branch out even just a tiny bit, and add some sauce, garlic, or veggies, it's practically a feast!
I like to do pasta with meat sauce or sauteed chicken a lot of the time, but now-and-then I go for a simpler vegetarian version, like this easy tortellini dish.
Tortellini are pasta "dumplings" somewhat like ravioli, and are usually filled with a mild cheese filling. You can buy fresh or dried cheese tortellini; for this dish, I recommend fresh. It's typically kept near the cheese in the refrigerated section of the supermarket.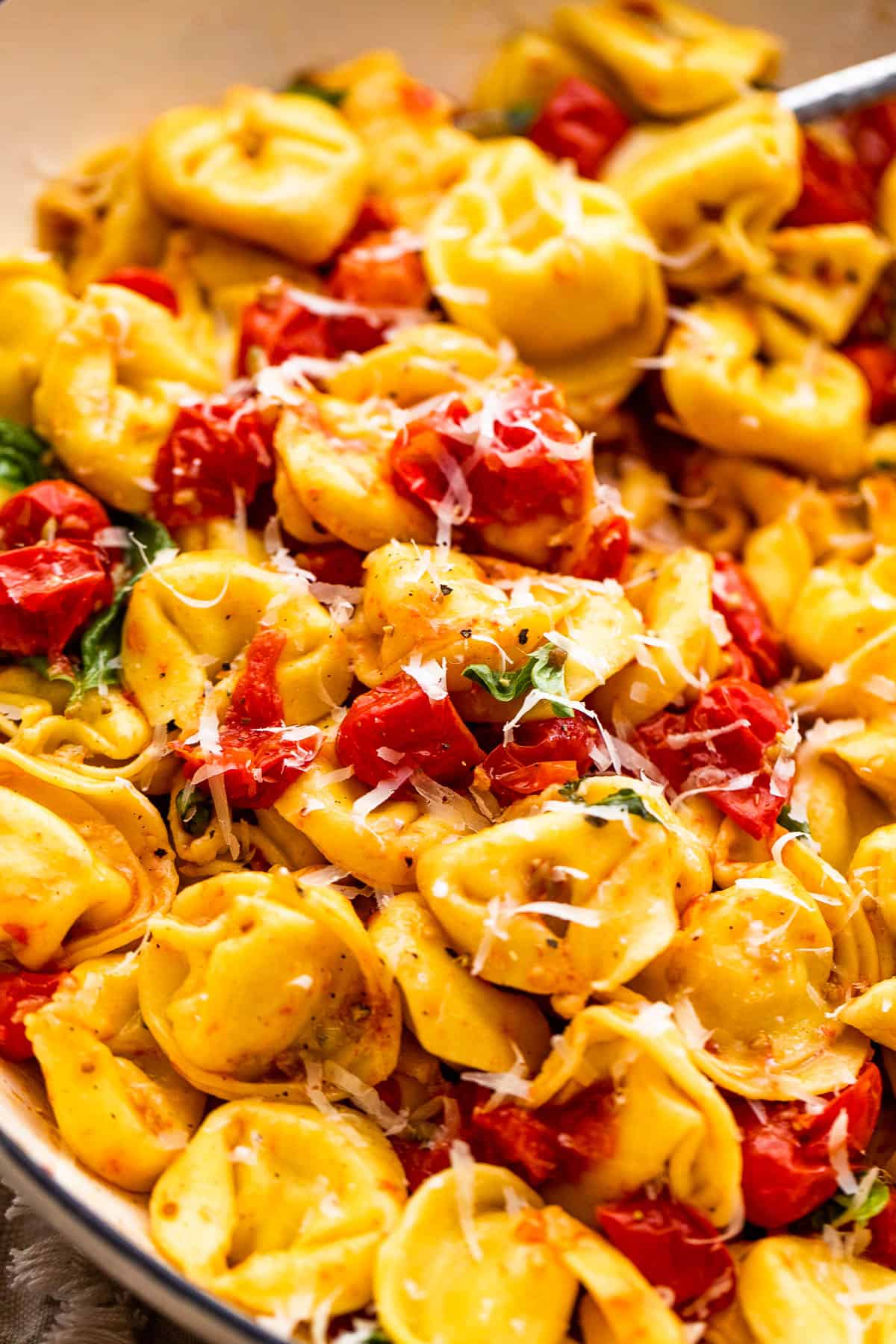 What You'll Need
This simple recipe really sings when the ingredients are fresh, so I recommend using fresh tomatoes, fresh garlic, tortellini — fresh everything! However, it's also good with substitutions, so if you need to use garlic powder, dried tortellini, or other substitutions, go for it!
Tomatoes: For this recipe, I like to use cherry tomatoes! But you can use any kind of tomato that you prefer, cut into bite-sized pieces.
Garlic Cloves: Garlic is one of the real stars of this dish, so mince or press about six fresh garlic cloves.
Oil: I use olive oil, but avocado oil would also be good.
Salt and Pepper: Use about a teaspoon of kosher salt (or your favorite salt; you may need to adjust the amount) and two teaspoons of cracked black pepper.
Tortellini: You'll need a pound of fresh, refrigerated cheese tortellini.
Parmesan: Grate it fresh for the best flavor.
Basil: For a pretty garnish, use fresh basil leaves, julienned into thin ribbons.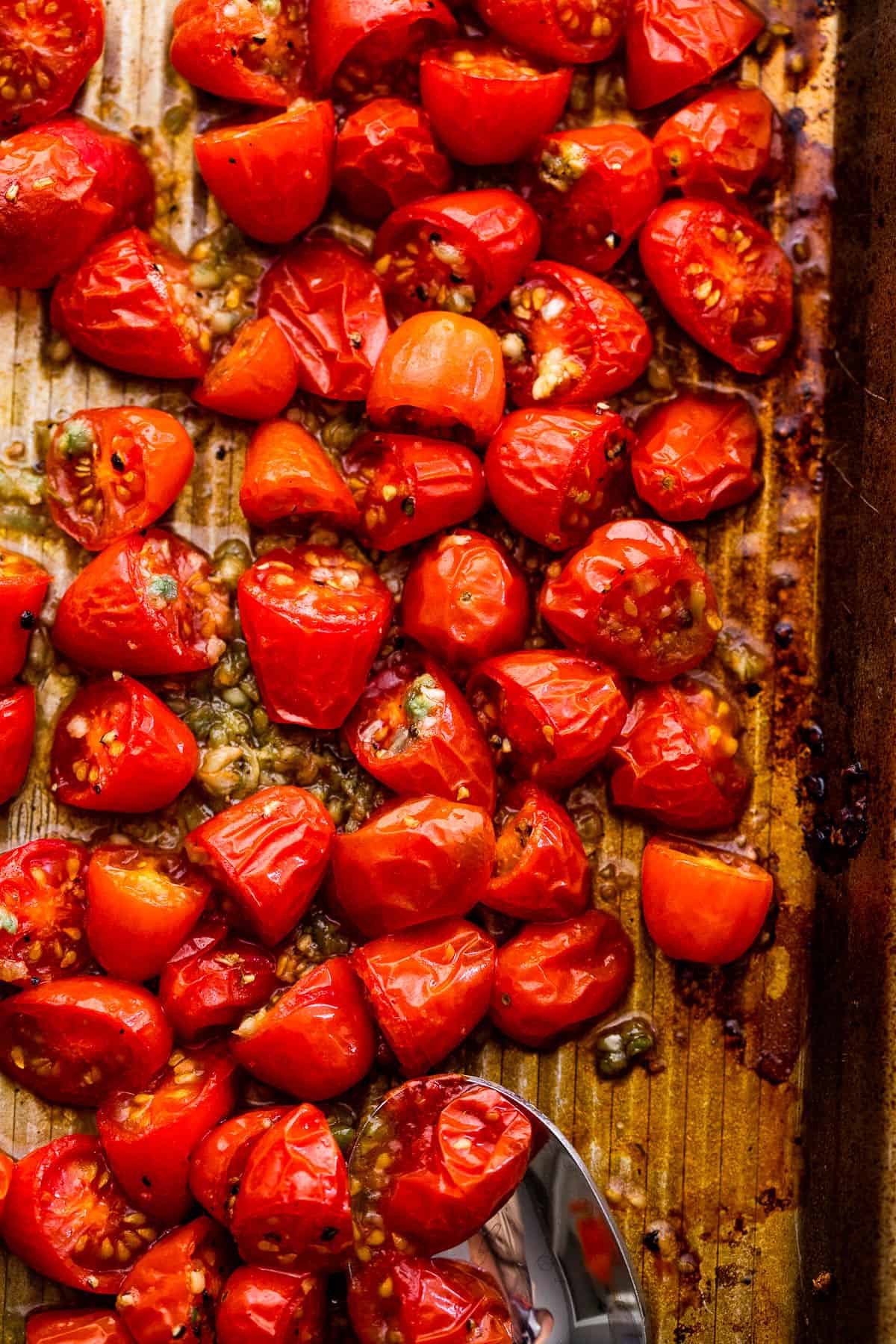 How to Make Cheese Tortellini with Roasted Tomatoes
This recipe is so easy to make, it's sure to become a favorite in your weeknight rotation. Having a fresh and healthy vegetarian meal on the table has never been simpler!
Roast the Tomatoes. First, preheat the oven to 375°F. Then, in a large bowl, toss the tomatoes, garlic, olive oil, salt and pepper together. Transfer the tomatoes to a baking sheet and spread into an even layer. Bake for 20 to 23 minutes, or until tomatoes are soft.
Cook the Tortellini. While the tomatoes are roasting, cook the tortellini according to the package directions. Drain.
Combine. When the tomatoes are done, add them to the tortellini and toss to combine. Garnish the dish with parmesan and basil, and serve.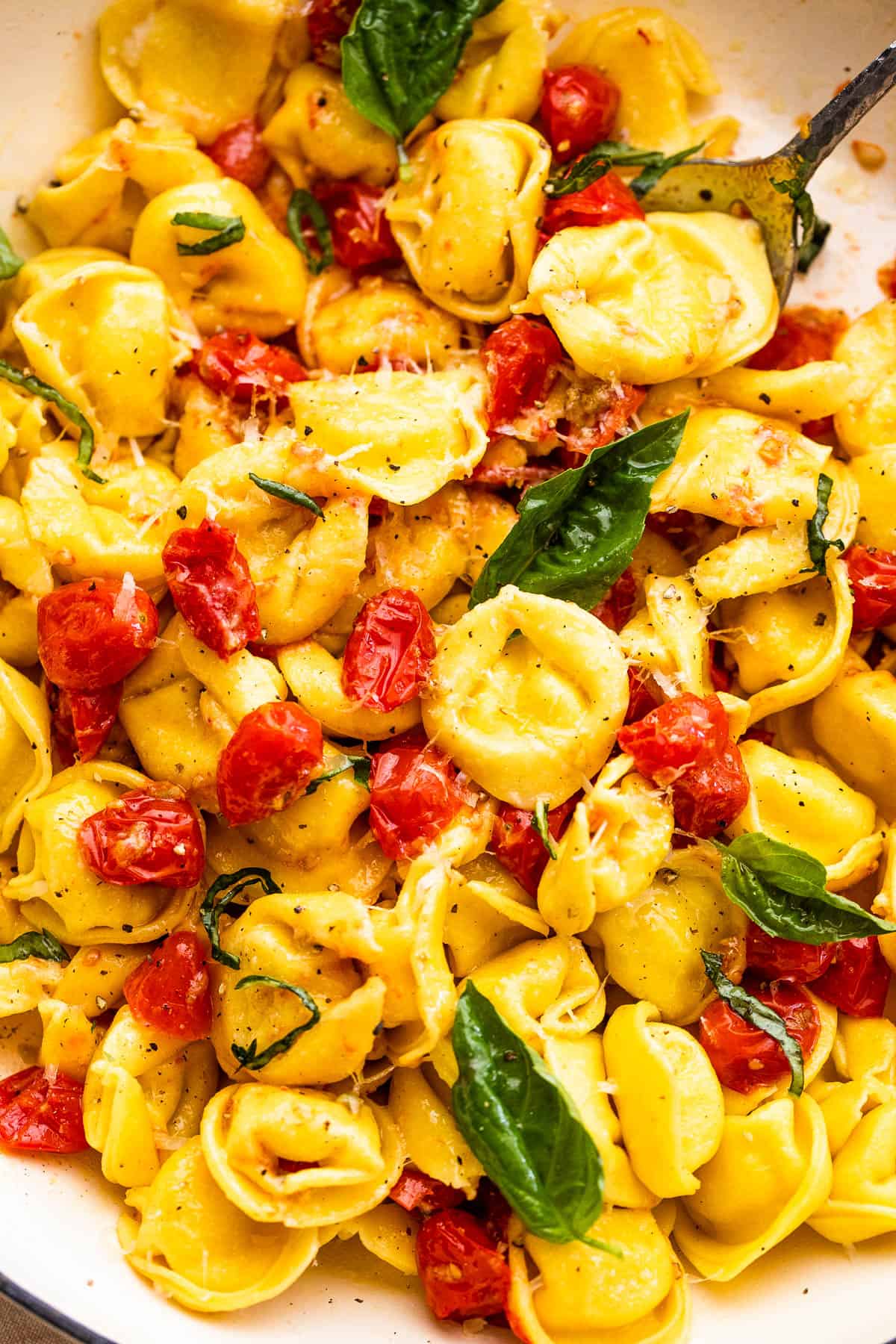 Tips for Success
Salt the Pasta Water. Different cooks feel differently about salting pasta cooking water, but I find that it helps to give the final dish a pleasant fullness of flavor.
Don't Overcook the Tortellini. The package directions on fresh tortellini typically give a range of cooking times (from 5 to 7 minutes, for example). Test your tortellini at the earliest time, to avoid overcooking. A "done" tortellini will be easy to cut with a fork or spoon.
Make Extra: Roasted tomatoes are not only good with tortellini. They're awesome to have on hand for making salsa, adding to soup, or using with meats. I recommend making extras and freezing!
What to Serve with Tortellini
Tortellini with roasted tomatoes is great on its own, but if you want to add a few sides, here are a few tasty possibilities!
Parmesan Fries: I like to serve pasta with a crispy side like my Parmesan Panko Asparagus Fries. This veggie favorite is not only scrumptious, it's easy, too!
Rolls: A side of freshly-baked No-Knead Dinner Rolls turns any meal into an occasion.
Green Beans: Classic Garlic Butter Green Beans are a foolproof side dish that goes with everything! I like to make double and save half for another meal.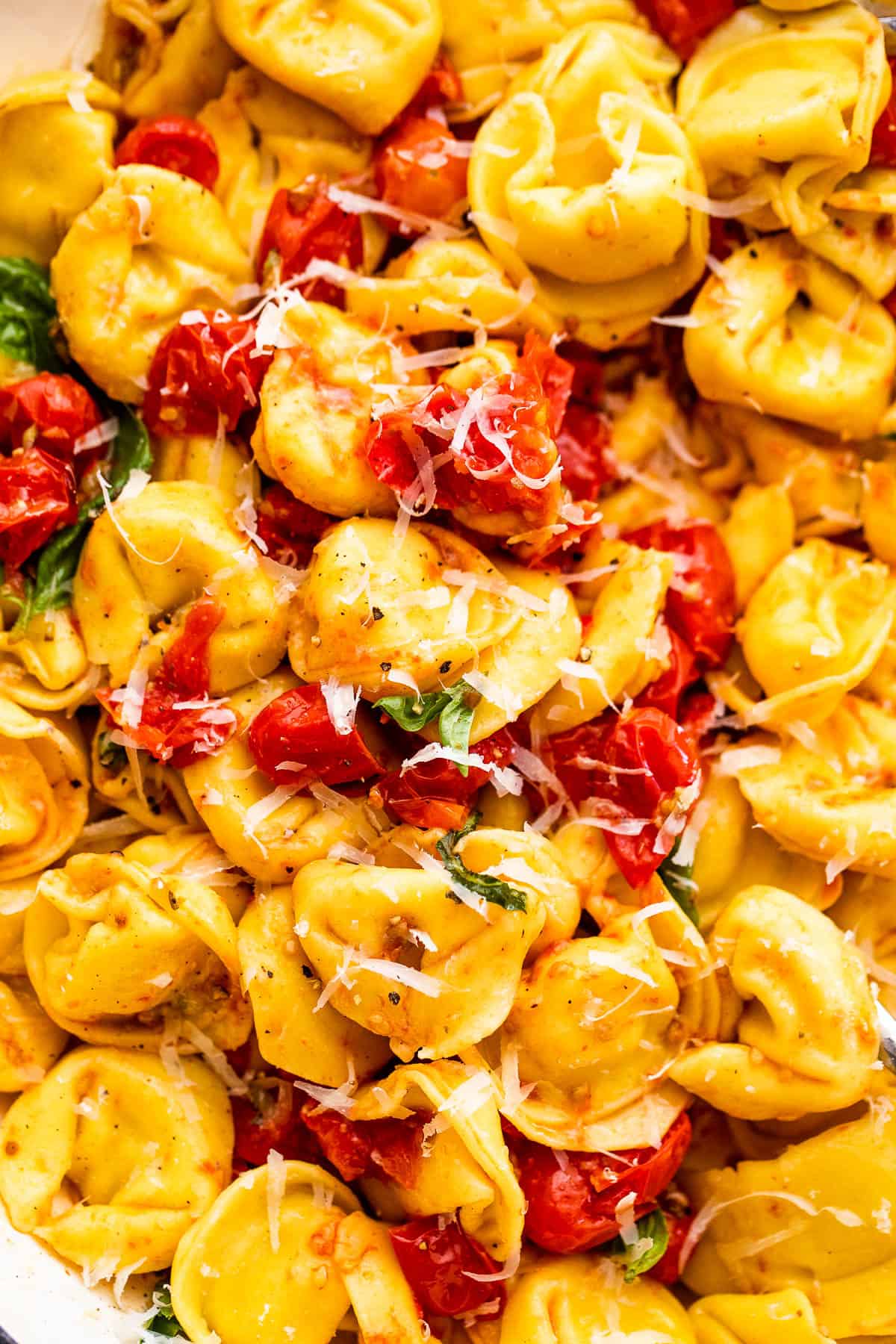 How to Store and Reheat Leftovers
To store leftovers, pack into airtight containers and refrigerate for 3 to 4 days.
To reheat, place leftovers in a covered skillet over low heat cook until just heated through.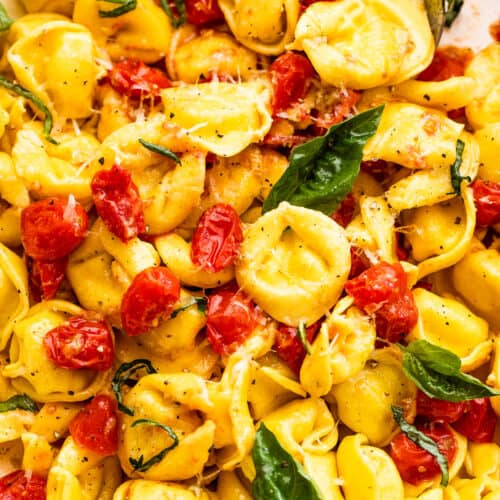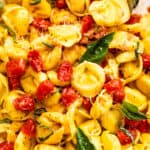 Print Recipe
Cheese Tortellini with Roasted Tomatoes
Full of fresh cherry tomatoes, olive oil, and garlic, it's a simple, summery pasta dish that comes together quickly and easily.
Instructions
Preheat oven to 375°F.

In a medium bowl, toss together tomatoes, garlic, olive oil, salt and pepper.

Transfer tomatoes to a baking sheet and spread into an even layer.

Bake for 20 to 22 minutes, or until tomatoes are soft.

Remove from oven.

In the meantime, cook tortellini according to package directions.

Add roasted tomatoes to the drained tortellini and toss to combine.

Garnish with parmesan, basil, and cracked pepper.

Serve.
Nutrition
Calories:
310
kcal
|
Carbohydrates:
40
g
|
Protein:
13
g
|
Fat:
11
g
|
Saturated Fat:
3
g
|
Polyunsaturated Fat:
1
g
|
Monounsaturated Fat:
3
g
|
Cholesterol:
29
mg
|
Sodium:
734
mg
|
Potassium:
360
mg
|
Fiber:
4
g
|
Sugar:
6
g
|
Vitamin A:
773
IU
|
Vitamin C:
37
mg
|
Calcium:
132
mg
|
Iron:
3
mg
More Pasta Recipes