The ultimate easy comfort food, this Quick Beef Stroganoff is a savory meal the whole family will love! Tender chunks of hamburger are cooked in a creamy sauce, and served over tender egg noodles.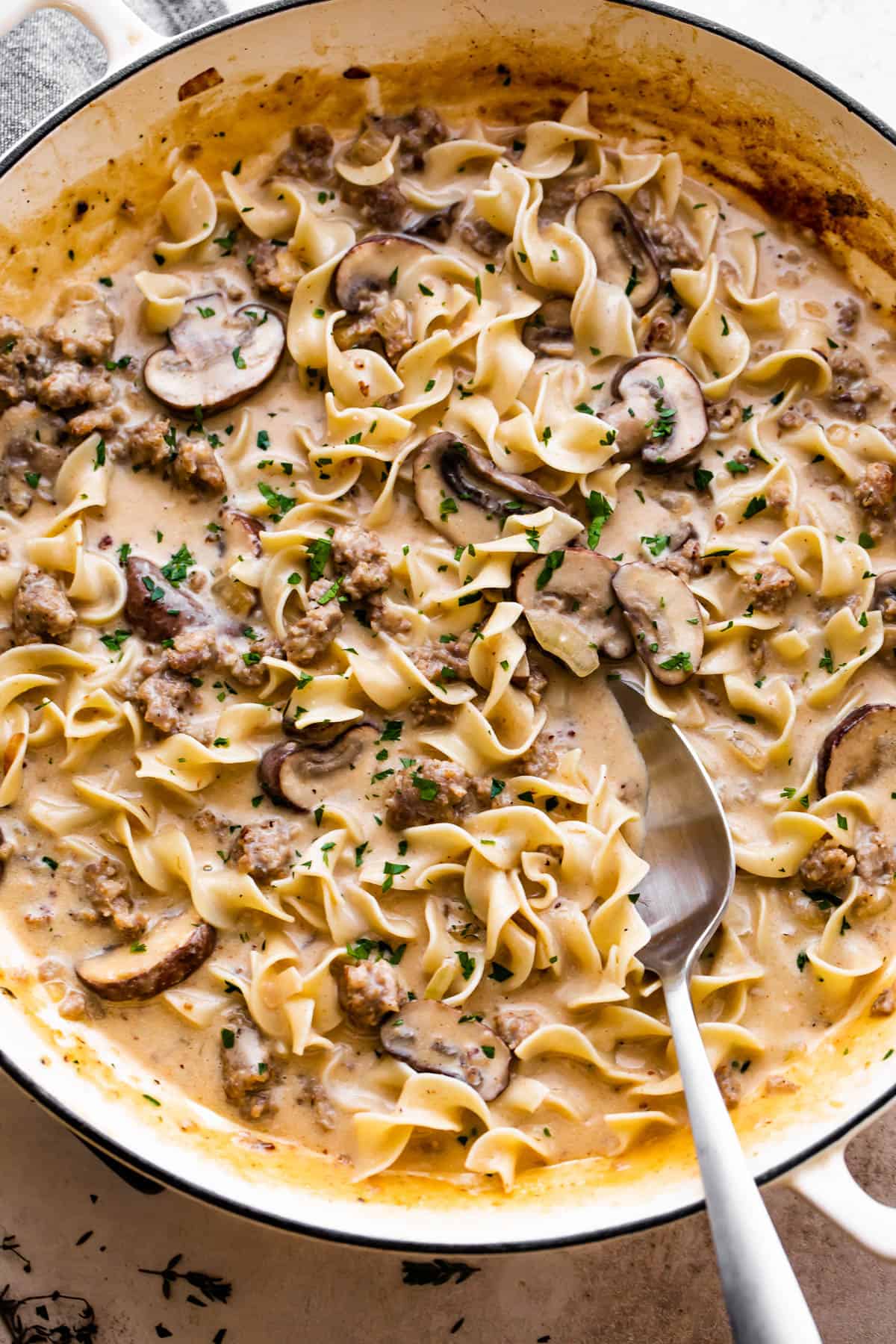 A Creamy Beef Skillet Meal That Comes Together in Minutes!
Need a quick meal for busy weeknights, that still tastes like home cooked, filling comfort food? Then this quick take on classic beef stroganoff is for you! It's got all of the cozy, stick-to-your-ribs goodness of the real thing, but in a fraction of the time.
How, you ask? Easy! Using ordinary ground beef instead of steak makes creating the meaty sauce much less of a hassle. There's no need to worry about over- or undercooking the steak, and no need to slice it.
On top of that, making the creamy sour cream sauce gets a shortcut, too. A simple can of creamy soup (I use cream of mushroom or cream of chicken, both work great) cuts out the need for making a roux-based sauce. Plus, it adds a ton of flavor!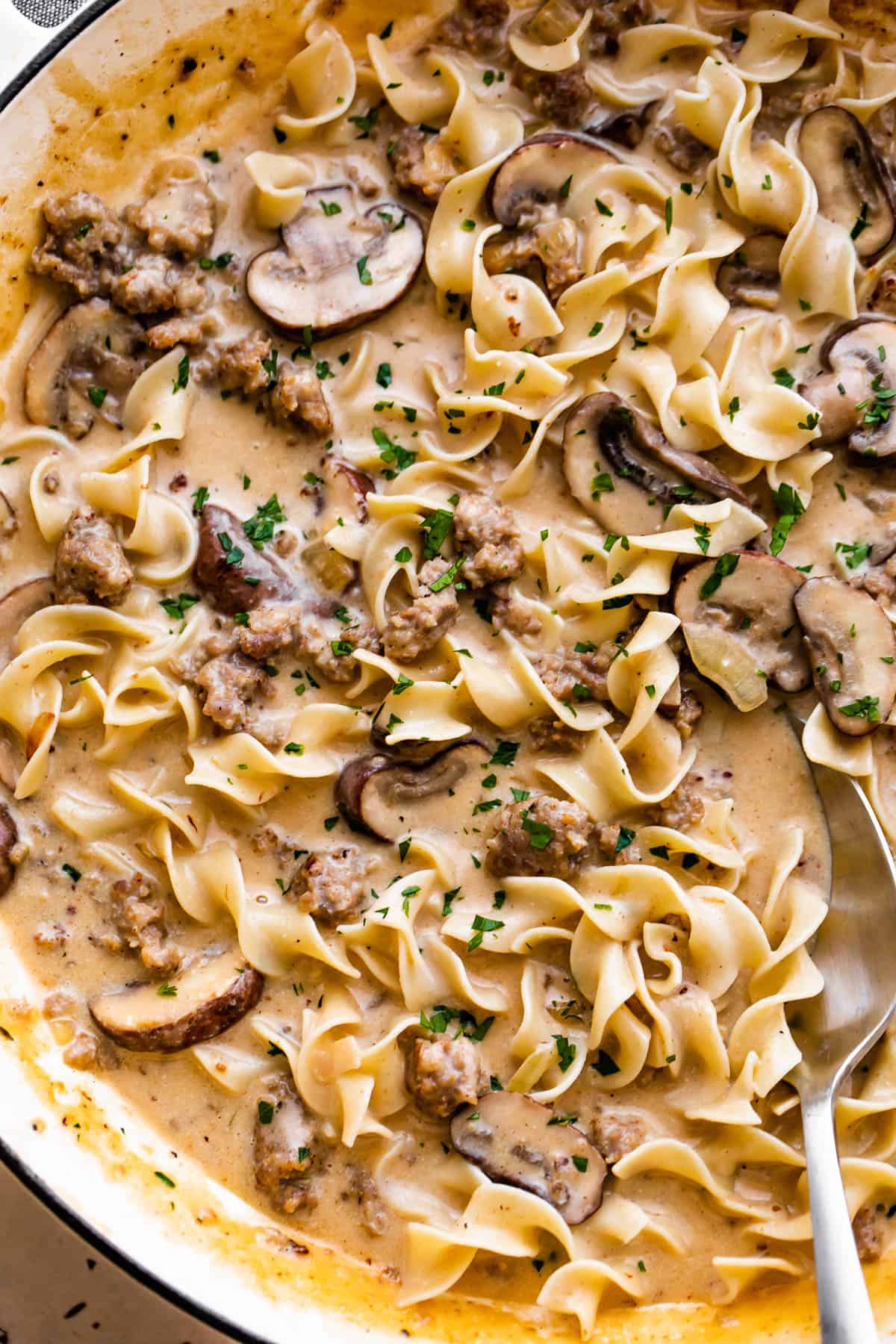 What Goes Into This Easy Stroganoff Recipe?
This simple recipe is extra quick, thanks to the condensed cream soup. It makes creating a rich and flavorful sauce a breeze!
Olive Oil: For sautéing.
Onion: Dice one small onion. Yellow, white, red, or sweet will all work just fine.
Ground Beef: Lean ground beef is less greasy, but fattier pound ground beef tends to be a little more flavorful. You can use whatever you prefer.
Mushrooms: I like to use baby mushrooms, but regular button mushrooms are also fine. Wash and slide them.
Garlic: Mince or press a couple of cloves of fresh garlic, for a savory umami taste.
Salt and Pepper: To taste.
Condensed Soup: Using a can of cream of mushroom soup (or cream of chicken soup) makes this recipe so easy and quick!
Sour Cream: I prefer full fat sour cream for the richest consistency and taste.
Egg Noodles: You'll need cooked egg noodles to mix into the sauce when it's ready. To save time, cook them according to package directions while you make the stroganoff.
Parsley: Chopped fresh parsley is the perfect optional garnish.
What Kind of Beef Should I Use?
Crumbled ground beef makes a great, tender, kid-friendly stroganoff, but if you would like to substitute, try a tender steak. Ribeye is typically very tender, as is New York strip, porterhouse, and T-bone.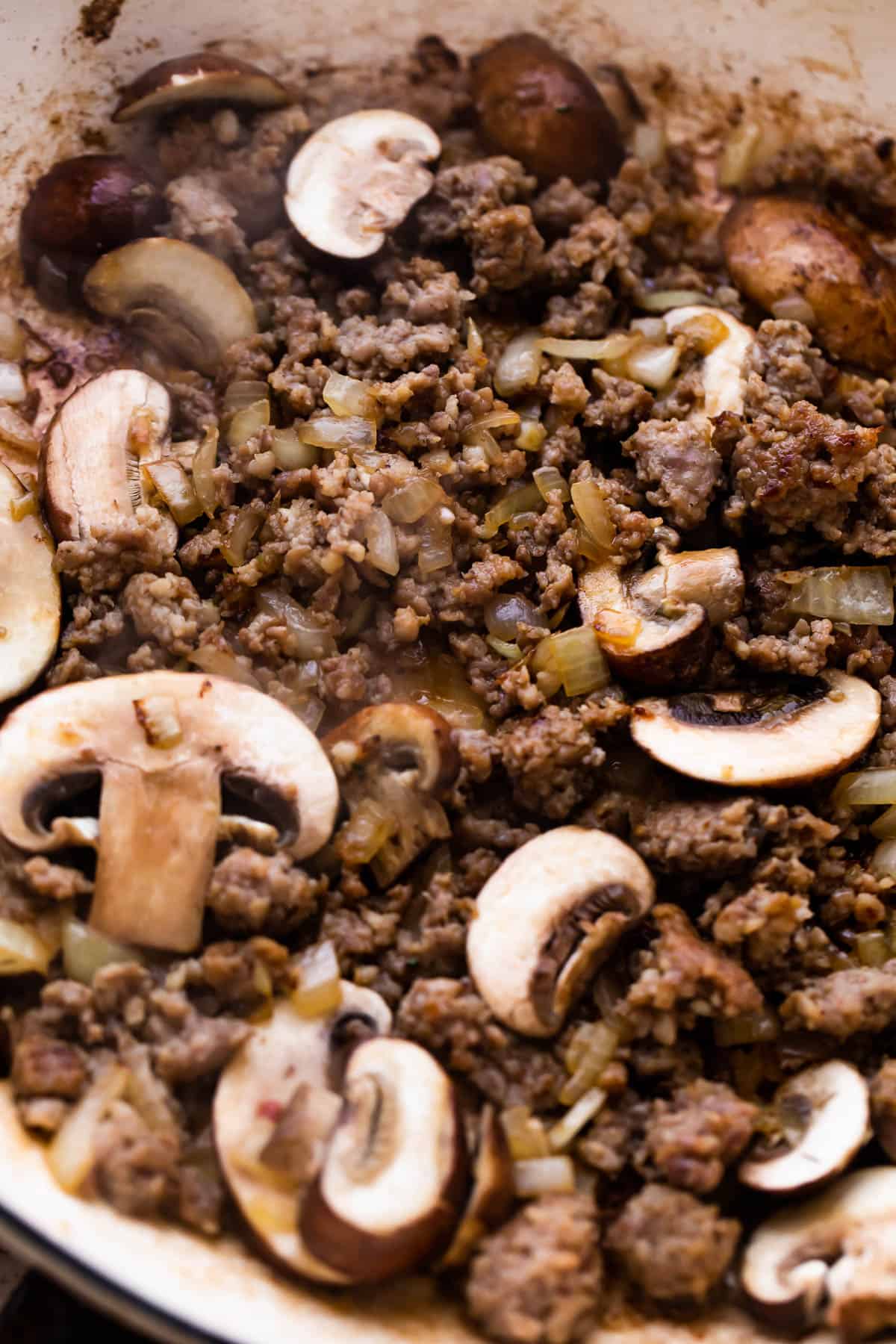 How to Make It
To make this quick beef stroganoff, all you have to do is brown the beef with the mushrooms, and then add the remaining ingredients to make a creamy sauce. So easy!
Brown the Beef with the Veggies. Add a swirl of olive oil to a large, high-sided skillet (you could also use a braiser, or Dutch oven). Set the skillet over medium heat. When the oil is hot, add the onions and let them cook for about one minute. Then add ground beef, and cook that for a couple of minutes, before adding the garlic and mushrooms. Season with salt and pepper, and cook a few more minutes, until the meat is all browned and the mushrooms are softening.
Add the Soup. Stir or whisk in the canned soup. Cook the mixture for 3 minutes or so.
Add the Sour Cream. Reduce the heat so the mixture is not bubbling or simmering, and stir in the sour cream. Stir and allow the stroganoff to heat through. Turn off the heat.
Finish the Dish. Adjust the salt and pepper to taste, and stir the cooked noodles into the stroganoff. Garnish the dish with parsley, if using.
Enjoy!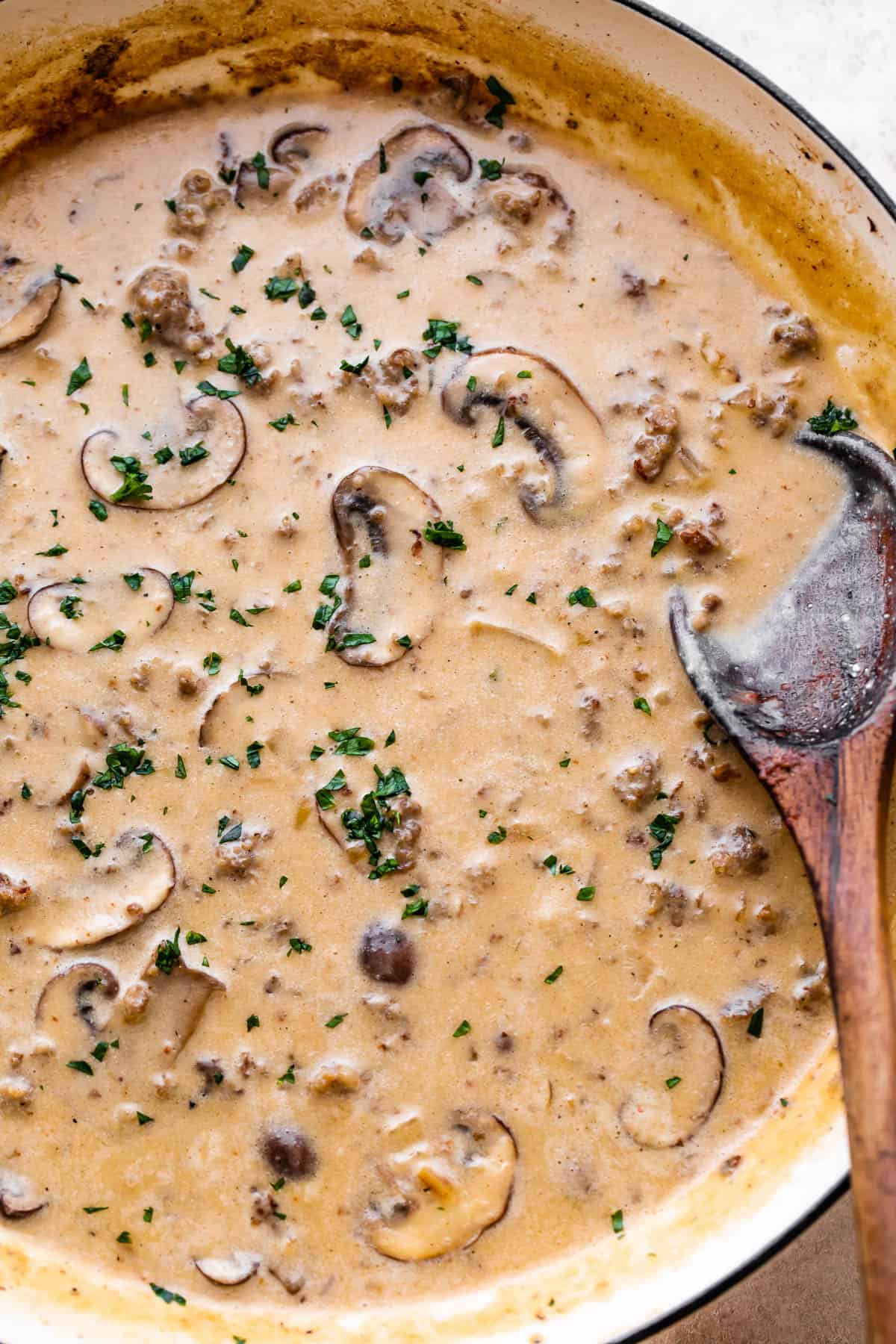 Helpful Hints and Variation Ideas
So that's it! A simplified beef stroganoff that's saucy, satisfying, and simple enough for a busy weeknight. But before you start cooking, take a look at these helpful hints to make this easy recipe even easier.
Where's the Beef? I use ground beef in this simple recipe, but you can actually go in a lot of different directions here! Ground turkey is also good, or you can use leftover shredded pot roast, or some fancy sliced steak such as London broil or New York strip.
Vegetarian Options: Vegetarian stroganoff is delicious! All you have to do is substitute your favorite veggie option for the beef. Make sure it is well-seasoned for the best flavor. Seitan, extra mushrooms, or even broccoli will all work.
Spice It Up: You can make a spicier version by adding a little cayenne, crushed red pepper, or Creole seasoning to this dish.
What Should I Serve with Beef Stroganoff?
So what should you serve alongside this easy, creamy dinner? I like to go with a couple of easy veggie options, to add nutrition and nice contrast. Here are a few yummy ideas to get you started!
Roasted Vegetables: Always a hit! These Roasted Brussels Sprouts and Radishes are especially colorful, savory, and filling.
Salad: How can you go wrong with a fresh, well-dressed salad? Answer: You can't! If you'd like something different from leafy greens, try my Avocado Tomato Salad, made with red onions, olive oil, and fresh lemon juice.
Sugar Snap Peas: Stroganoff goes perfectly with the sweetness of fresh peas. English peas are great, but these Roasted Sugar Snap Peas with red onion are another favorite. Easy and bursting with flavor!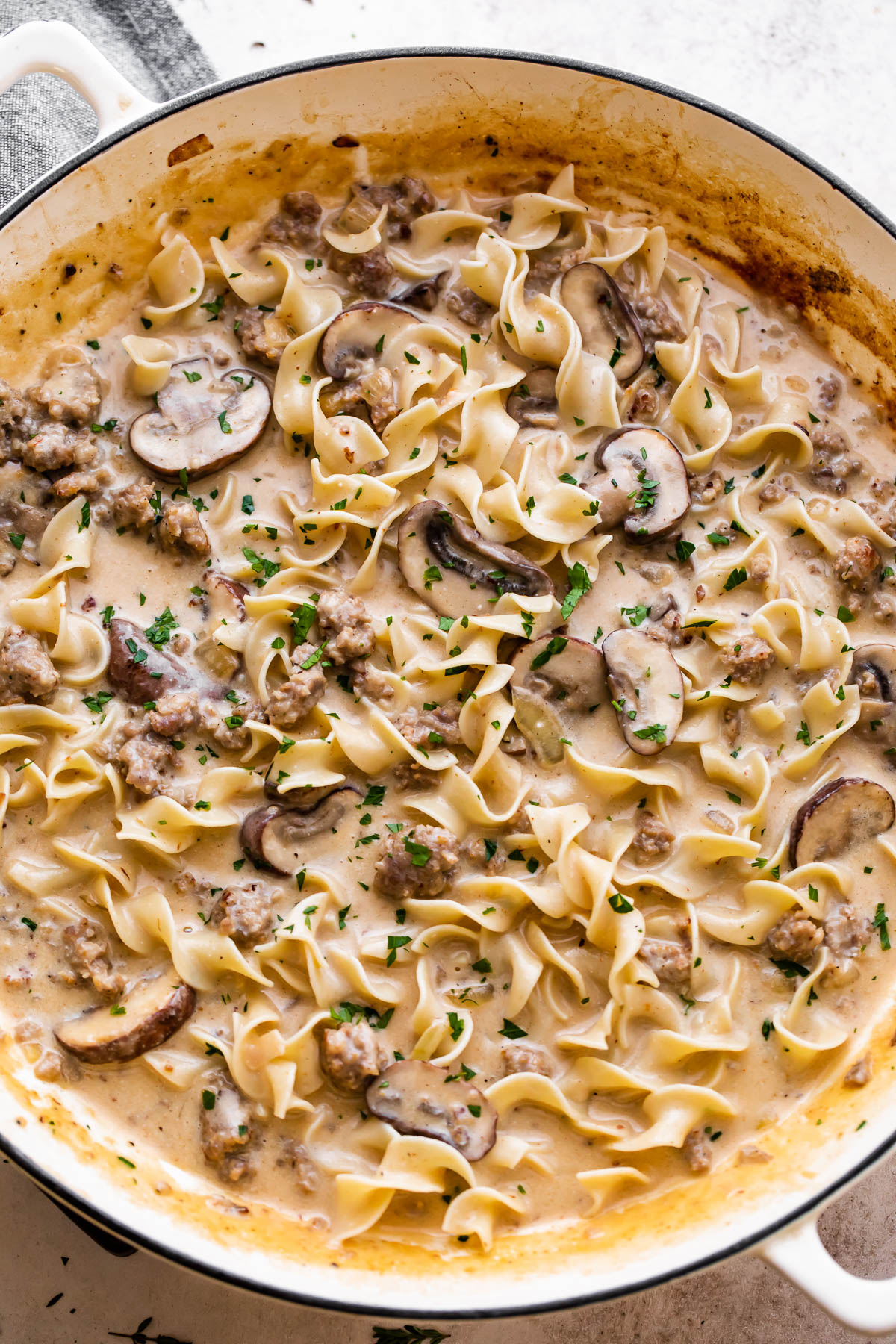 Storing and Reheating Your Leftovers
Leftover stroganoff should be stored in the refrigerator, covered well or packed into airtight containers. It will keep for 3 to 4 days.
Reheat in the microwave, stirring well to prevent hot and cold spots. You can also heat it in a covered skillet over low heat for a few minutes, stirring occasionally, until piping hot.
Can I Freeze Beef Stroganoff?
Yes, you can! Just cool the stroganoff down and pack it into freezer containers or freezer bags. It will keep in the freezer for up to 3 months.
Thaw frozen stroganoff overnight in the fridge before reheating.
Reheat in the microwave, stirring well to prevent hot and cold spots. You can also heat it in a covered skillet over low heat for a few minutes, stirring occasionally, until piping hot.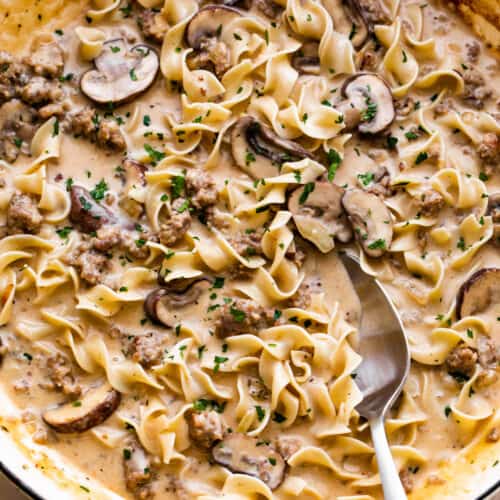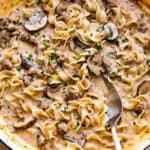 Print Recipe
Quick Beef Stroganoff
The ultimate easy comfort food, this Quick Beef Stroganoff is prepared with tender ground beef cooked in a creamy sauce with mushrooms, and served over egg noodles.
Instructions
Heat olive oil in a large high-sided skillet or braiser set over medium heat.

To the hot oil, add the onions and cook for 1 minute.

Stir in the ground beef and cook for 2 minutes.

Add the mushrooms and garlic.

Season mixture with salt and pepper and continue to cook until meat is browned and mushrooms have started to soften; about 5 to 7 minutes.

Stir in the cream of soup; cook for 3 minutes.

Reduce heat to medium low and stir in the sour cream; continue to stir until smooth and heated through, about 2 minutes.

Remove from heat and taste for salt and pepper; adjust to taste.

Stir in the cooked noodles.

Garnish with parsley.

Serve.
Nutrition
Calories:
357
kcal
|
Carbohydrates:
33
g
|
Protein:
17
g
|
Fat:
18
g
|
Saturated Fat:
7
g
|
Polyunsaturated Fat:
2
g
|
Monounsaturated Fat:
7
g
|
Trans Fat:
1
g
|
Cholesterol:
77
mg
|
Sodium:
398
mg
|
Potassium:
423
mg
|
Fiber:
2
g
|
Sugar:
3
g
|
Vitamin A:
262
IU
|
Vitamin C:
2
mg
|
Calcium:
71
mg
|
Iron:
2
mg
More Easy Weeknight Dinners