This chicken bacon avocado salad is absolutely packed with flavor. Juicy chicken, crisp bacon, creamy avocado, and fresh veggies are all tossed in a tangy honey mustard dressing. It's perfect for a busy weeknight dinner, a filling lunch, or a crowd-pleasing potluck dish. And the best part? It's ready in just 15 minutes!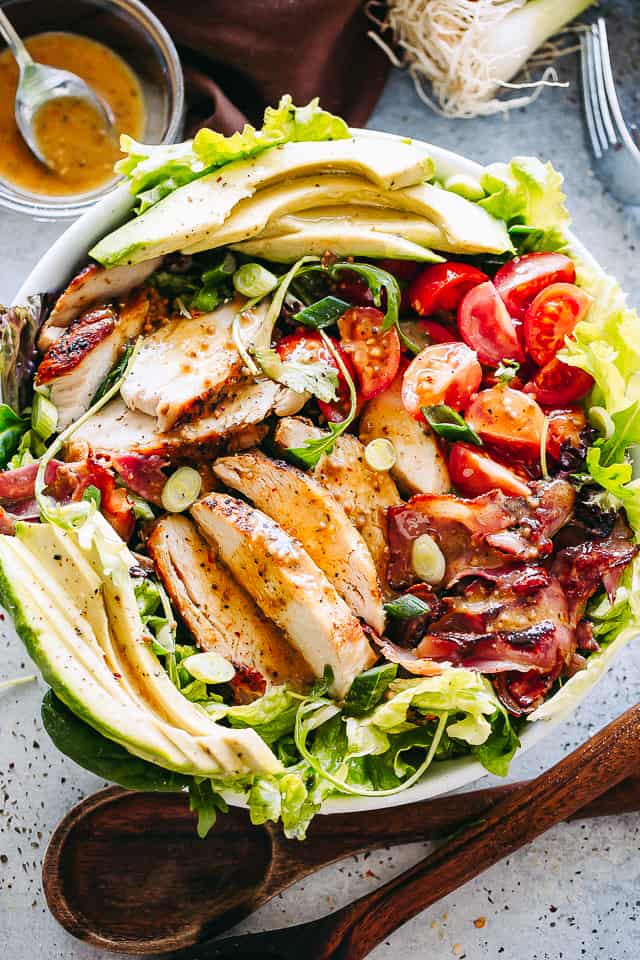 When it comes to salad ideas for dinner, I like to make it easy on myself. That's why I love to prep a batch of juicy oven baked chicken breasts on Sundays to use for lunches and dinners throughout the week. With the chicken taken care of, the rest of the dish is all about packing in the flavor. Some crisp bacon, creamy avocado, and a zippy honey mustard dressing do just that!
Why You'll Love This Chicken Salad Recipe
Great way to use leftover chicken. Whether you have leftover chicken breasts or rotisserie chicken at home, you can add it to this salad. It's a quick and easy way to make a satisfying meal out of leftovers.
Fresh and crunchy. Since a lot of chicken salad recipes are overly creamy and soft, we wanted a version that had great crunch and textures. The green salad mix, cherry tomatoes, and green onions add a burst of freshness and crunch to this salad. The honey mustard dressing adds a tangy and sweet flavor that makes the salad sing.
Perfect for any occasion. Whether you need a quick lunch, a light dinner, or a potluck dish, chicken bacon avocado salad is a great choice. You can prep the ingredients ahead of time and have a delicious meal ready in 15 minutes.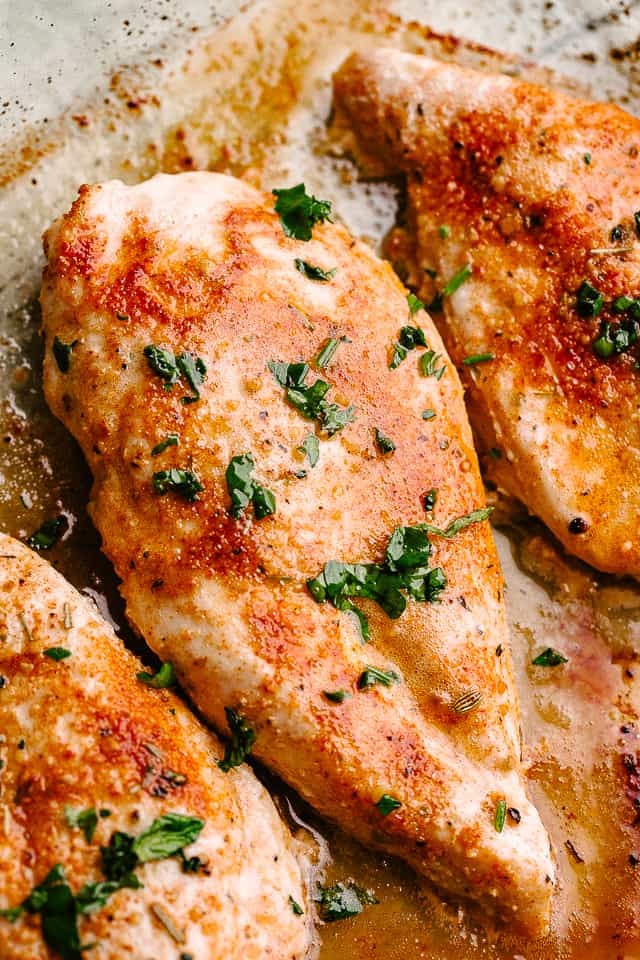 Ingredients for Chicken Bacon Avocado Chicken Salad
For the salad. Pre-cooked chicken breasts or rotisserie chicken, crumbled bacon, mixed greens, cherry tomatoes, avocados, and green onions.
For the honey mustard dressing. Dijon mustard, honey, apple cider vinegar, oil, salt, and pepper.
How to Make Chicken Bacon Avocado Salad
Prep the chicken. For the salad, start by slicing or shredding the chicken. I usually slice leftover chicken breast, while rotisserie chicken is typically easier to shred. I select which type of chicken to use based on what I have on hand or which texture I'm craving.
Assemble the salad base. Next, place the salad mix into a large salad bowl, add crumbled bacon (don't be afraid to prep this ahead of time), tomatoes, avocado slices, and green onions.
Add chicken and dressing. Last, top the salad with chicken and pour the honey mustard dressing over the salad. Give it a toss, serve, and enjoy!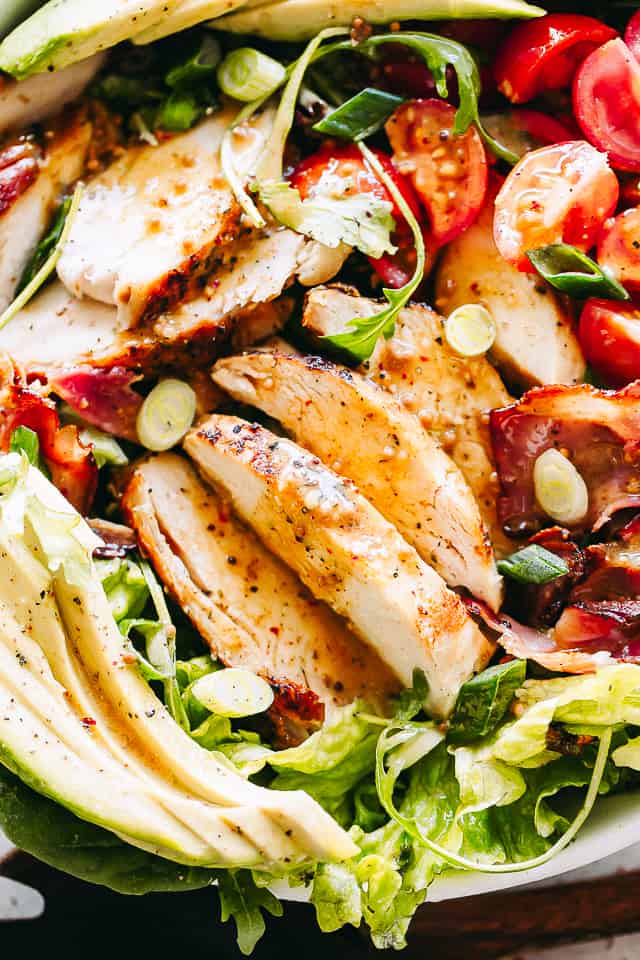 Recipe Tips
Use ripe but firm avocados. Is there anything better than a great salad with avocados? Avocados are obviously one of the stars of this salad, so be sure to use ones that are ripe enough to be creamy and flavorful, but aren't too soft or mushy. To check the ripeness of an avocado, gently press the skin near the stem. It should yield slightly to your touch, but not feel squishy. You can also look at the color of the skin and the stem. A ripe avocado will have a dark green or almost black skin, and a brown stem. An unripe avocado will have a bright green skin, and a green stem.
Crisp up the bacon. Crispy bacon adds a really nice contrast of texture and flavor to this salad. I think crispy oven baked bacon is pretty perfect in this salad, but feel free to cook it any way you like.
Shake the dressing well. Homemade honey mustard dressing will always separate as it sits. Don't worry about it! All you need to do is shake up the dressing before you use it and it'll be perfect. I typically store dressing in small canning jars with a tight fitting lid. It makes shaking really easy. If you don't have a container with a lid, you can also whisk the dressing in a bowl or measuring cup until it comes together again.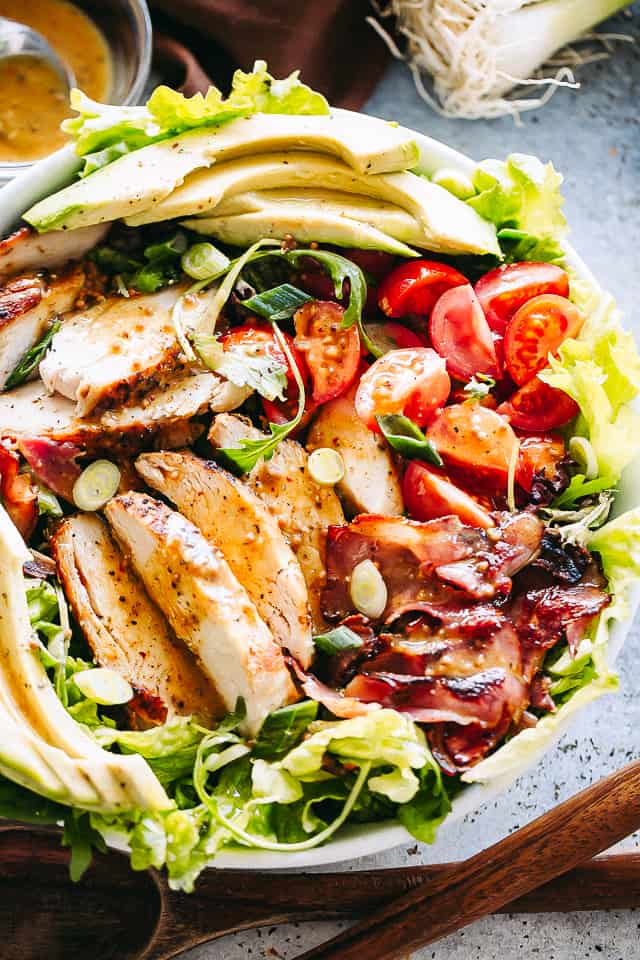 What to Serve With Chicken Bacon Avocado Salad
This chicken salad recipe is filling and can serve as a full meal in itself. On cold winter nights, I'll make smaller portions of it and serve along with a bowl of warm soup. It goes really well with loaded baked potato soup, easy cream of asparagus soup, and roasted tomato basil soup. I also love it with a slice of no knead dutch oven bread or homemade flatbread.
You can also mix up the salad toppings for different flavor profiles. Add corn, black beans, and cilantro for a Mexican vibe. If you're thinking Mediterranean, swap the avocado for some crumbled feta and olives. The possibilities are endless.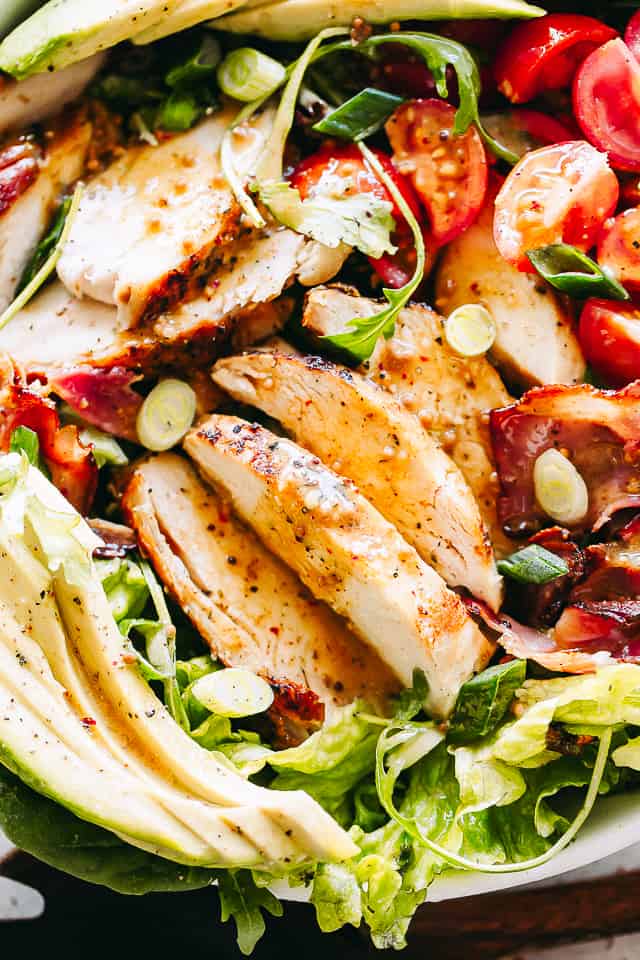 Storing Leftovers
Leftover salad notoriously doesn't keep very well if it's been dressed. Additionally, avocados, once sliced, begin to brown. I'd recommend serving this salad immediately after preparing it. If you anticipate having leftovers, keep the ingredients separate for easier storage and toss your avocados with a generous splash of lime juice to help minimize browning.
Other Easy Salad Recipes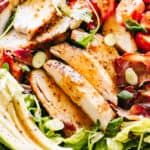 Print Recipe
Chicken Bacon Avocado Salad
This Chicken Bacon Avocado Salad is packed with flavor! It's a quick and easy dinner idea to throw together on a busy weeknight!
Servings:
4
to 6 servings
Ingredients
4

leftover baked chicken breasts, or 1lb rotisserie chicken, sliced or shredded

6

slices bacon, cooked to a crisp and crumbled

8

cups

green salad mix

(you can also use chopped romaine or iceberg lettuce)

2

cups

sliced cherry tomatoes

2

avocados, pitted and sliced

2

Green onions, sliced into coins
FOR THE HONEY MUSTARD DRESSING
1/4

cup

extra virgin olive oil

2

tablespoons

honey

2

tablespoons

white wine vinegar

2

tablespoons

Dijon mustard
Instructions
Slice or shred baked chicken.

Place salad mix into a large salad bowl; add crumbled bacon, tomatoes, avocado slices, green onions, and chicken.

Combine Salad Dressing ingredients in a jar; close with a lid and shake salad dressing well.

Toss salad with Honey Mustard Dressing and serve.

Nutrition
Calories:
671
kcal
|
Carbohydrates:
24
g
|
Protein:
44
g
|
Fat:
46
g
|
Saturated Fat:
10
g
|
Cholesterol:
118
mg
|
Sodium:
426
mg
|
Potassium:
1170
mg
|
Fiber:
8
g
|
Sugar:
11
g
|
Vitamin A:
1503
IU
|
Vitamin C:
47
mg
|
Calcium:
56
mg
|
Iron:
3
mg