Beef Bulgogi is the weeknight dinner of your dreams! Each tender strip of steak is bursting with fresh, mouthwatering flavor, thanks to an unbeatable (and unbelievably easy) marinade and quick stovetop cooking method. Everyone will devour this bold, savory dish.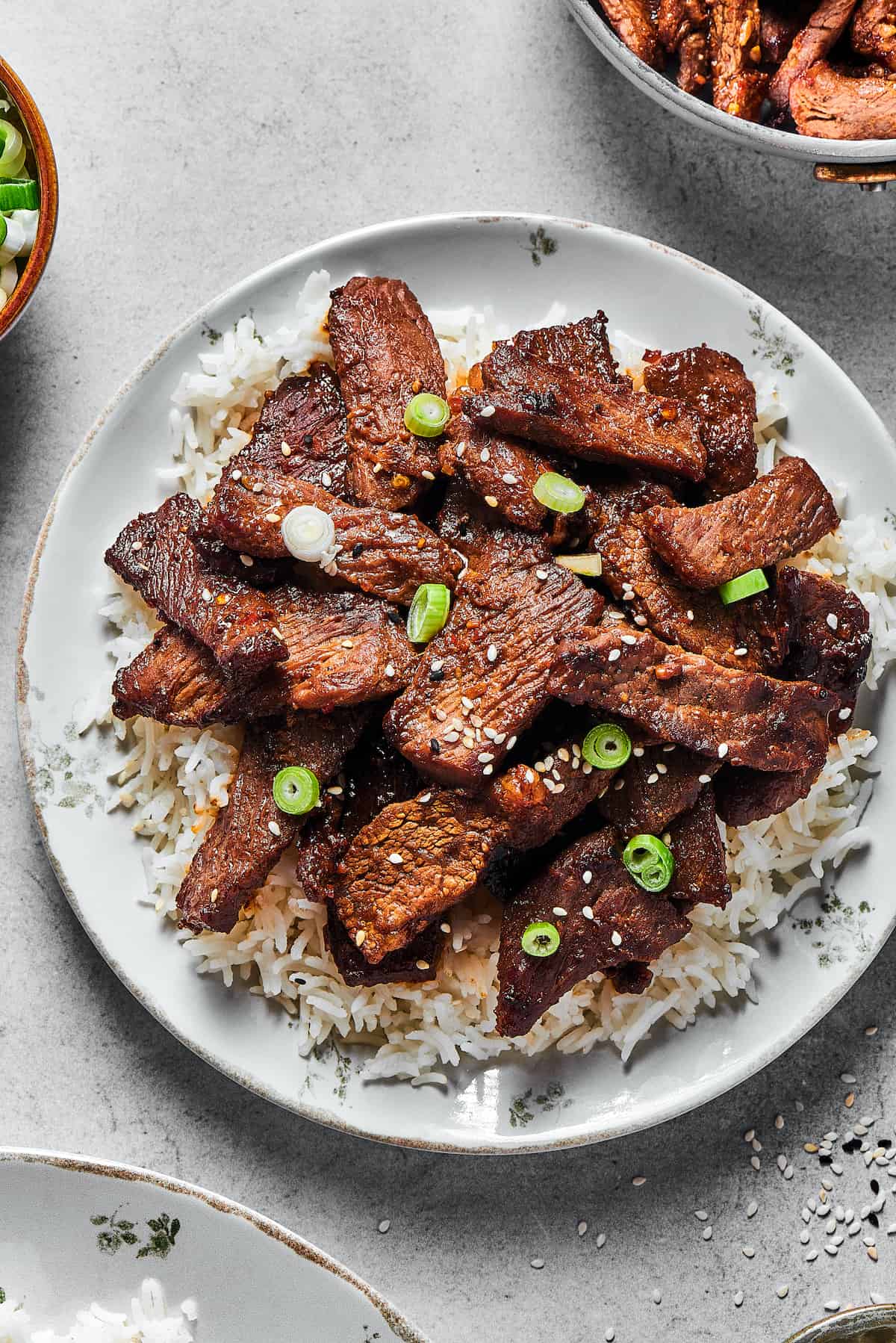 Easy Korean Marinated Steak
Beef bulgogi is a hugely popular Korean dish, made with tender strips of marinated steak cooked on a hot grill. It's a type of "Korean barbecue," featuring a marinade that's sweet and savory at the same time. If you like sticky chicken, barbecue dishes, honey garlic sauces, and other sweet-savory combinations, you'll adore this!
And, unlike other Asian dishes, which can involve a lot of prep and some complex cooking techniques, this dish is about as easy as it gets. All you have to do is thinly slice the steak, marinate it for a while, and then cook it in a hot skillet or grill pan.
You could slice the steak and throw it in the marinade in the morning, and have a super-quick cooking session in the evening – as fast and easy as frying an egg or heating up a can of soup. The result?! A restaurant-worthy dinner you'll want to make again and again.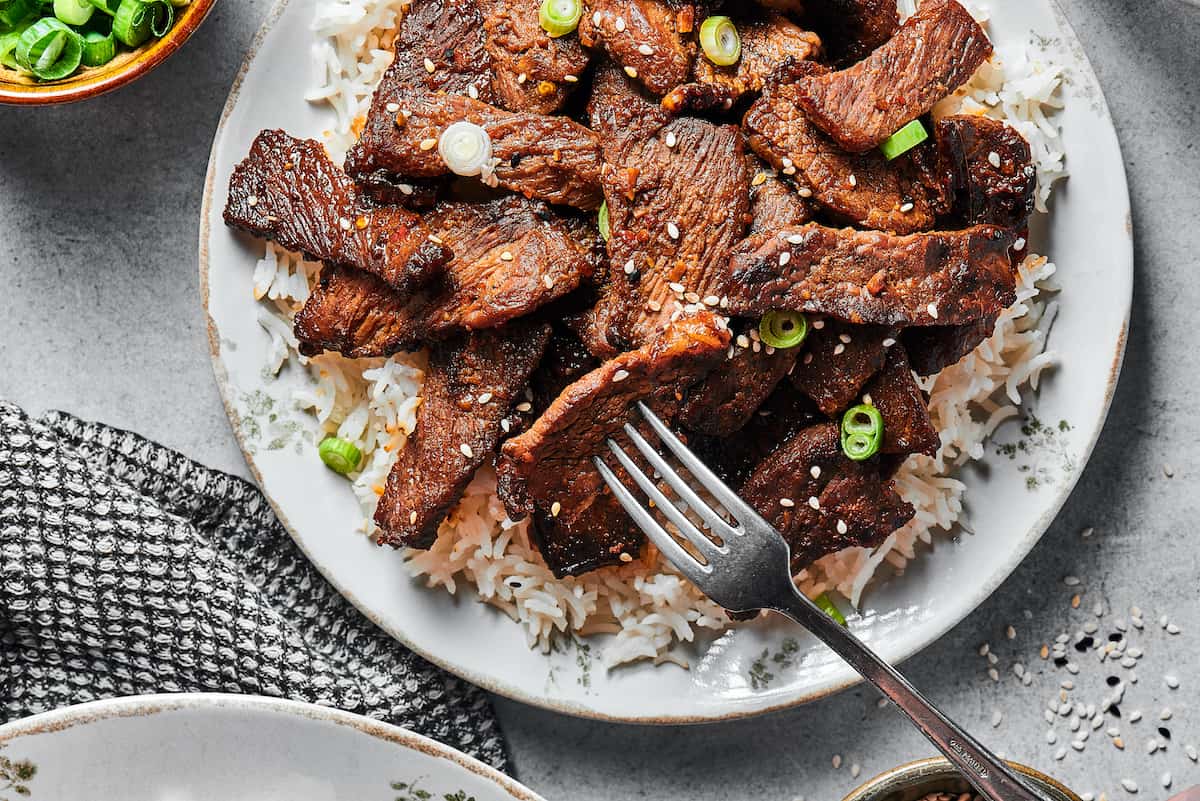 Is Korean Bulgogi Healthy?
That depends a bit on your health goals. For instance, if you need to follow a low-fat diet, then using rich ribeye steak may not be a good fit for you. However, in general, this dish can definitely be part of a balanced diet. It's got a generous amount of quality protein and fat, and not much sugar or salt (and you can reduce those if needed).
Serve with lettuce for a low-carb option (see the "Tips" section below), or rice for a healthy carb.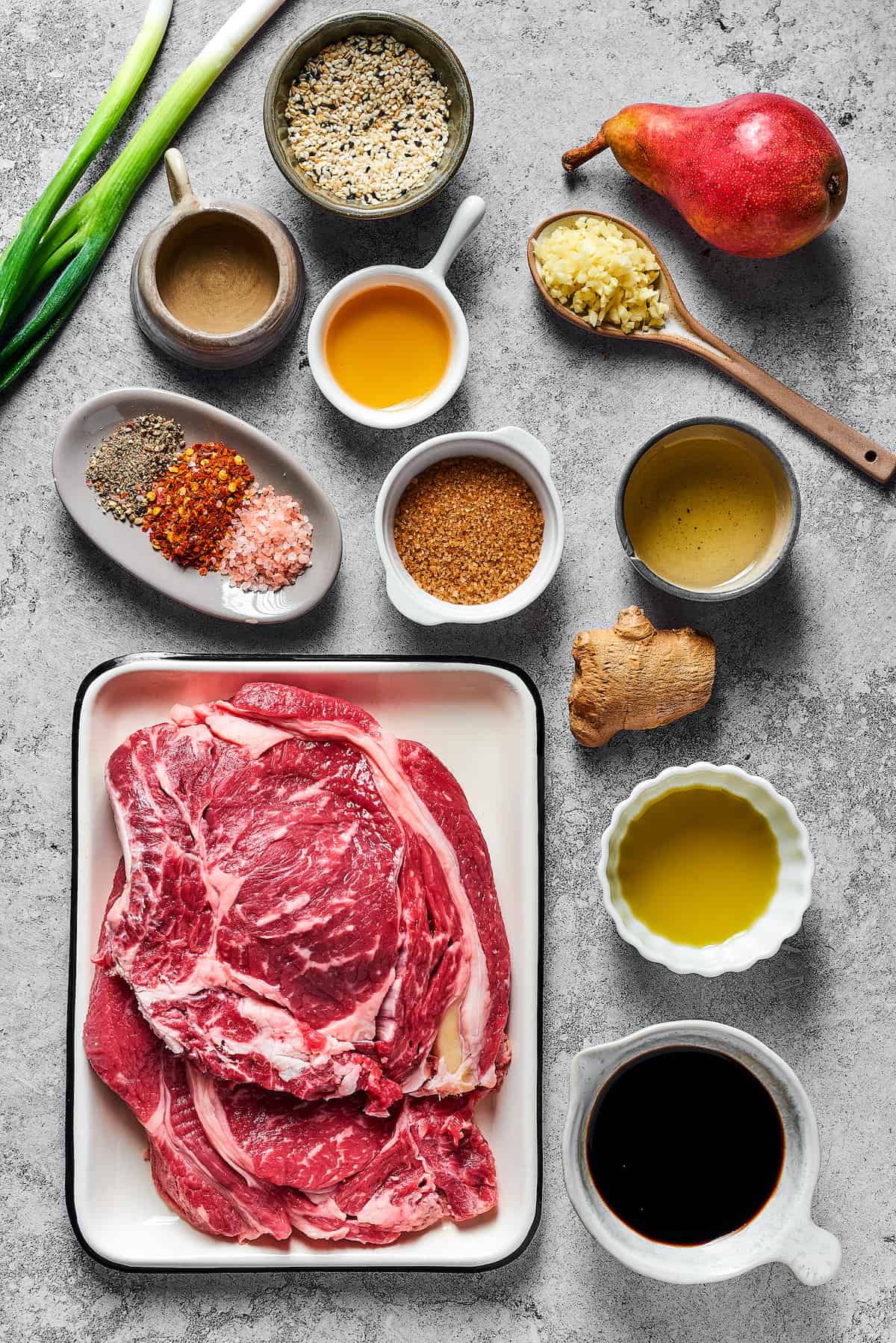 What You'll Need
This easy recipe is made with just steak, marinade ingredients, and a couple of simple but flavorful garnishes. Here's the list, in a little more detail:
Steak: Choose your favorite tender steak, or a tougher slicing steak like flank steak.
Soy Sauce: If you don't want to use soy sauce, substitute coconut aminos or tamari instead. To keep sodium low, go for a low-sodium version of any of the above.
Pear: If you can get an Asian pear, that's great! If not, shoot for a Bosc pear or any other type, peeled and finely grated.
Brown Sugar: Honey is also a good choice.
Mirin: This Asian rice wine adds a subtle depth of flavor.
Sesame Oil: This adds a crucial nutty taste – don't leave it out!
Chili Powder: Chili powder helps put the BBQ flavor into the marinade. If you want, you can also add a little heat by shaking in a few red pepper flakes.
Garlic: Mince or press a few fresh garlic cloves.
Ginger: Freshly-grated ginger gives the best flavor, but you could use powdered ginger in a pinch.
Oil: Olive oil is my preferred oil here, but any neutral cooking oil will work.
Salt and Pepper
Green Onions and Toasted Sesame Seeds: For garnish.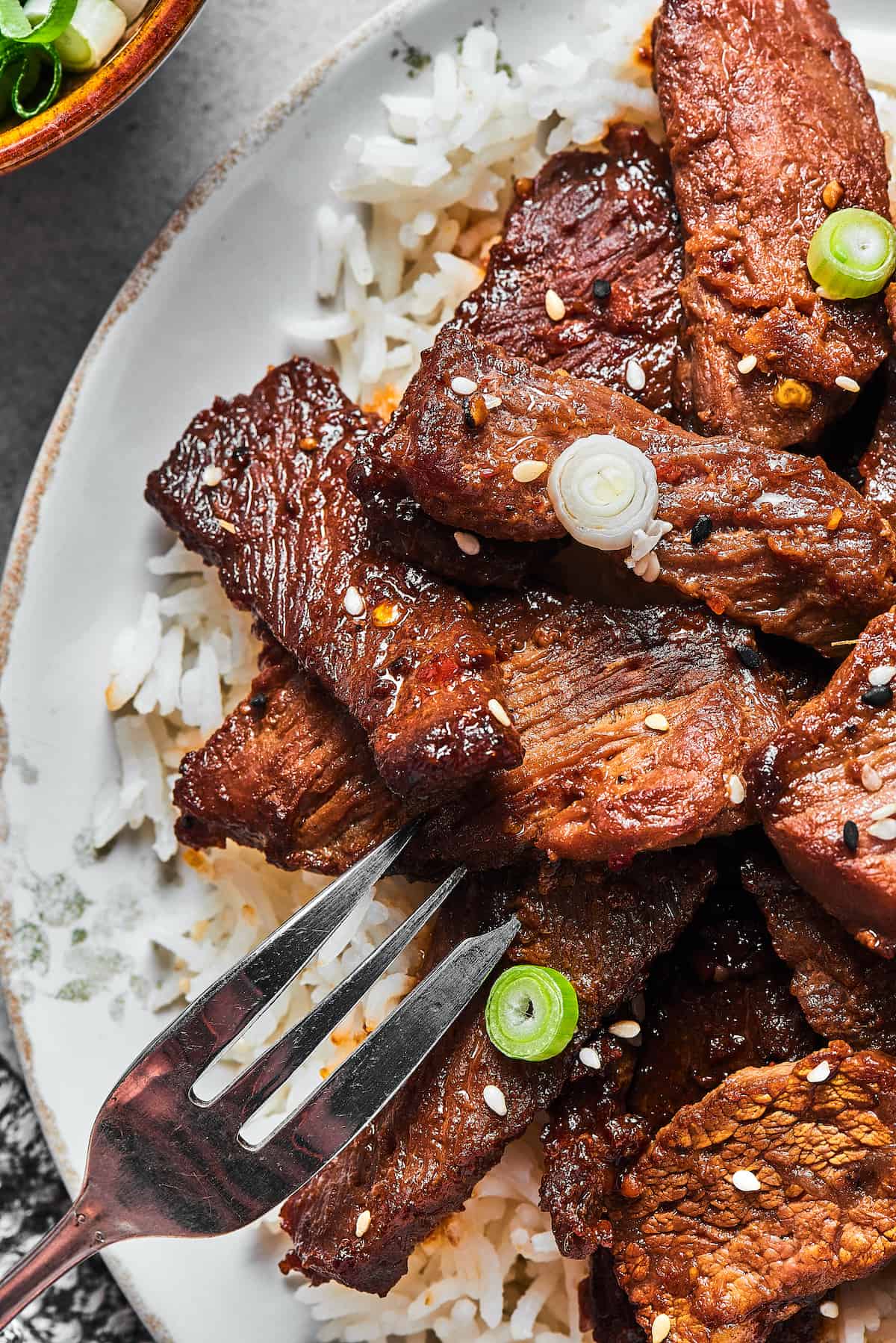 What Cut of Meat is Beef Bulgogi?
Beef bulgogi can be made with various cuts of steak, from flank steak to ribeye to sirloin. Because the meat is thinly sliced, you can get away with using tough cuts like flank steak or skirt steak, slicing against the grain for tenderness. However, tender steaks like New York strip, ribeye, and sirloin are also great.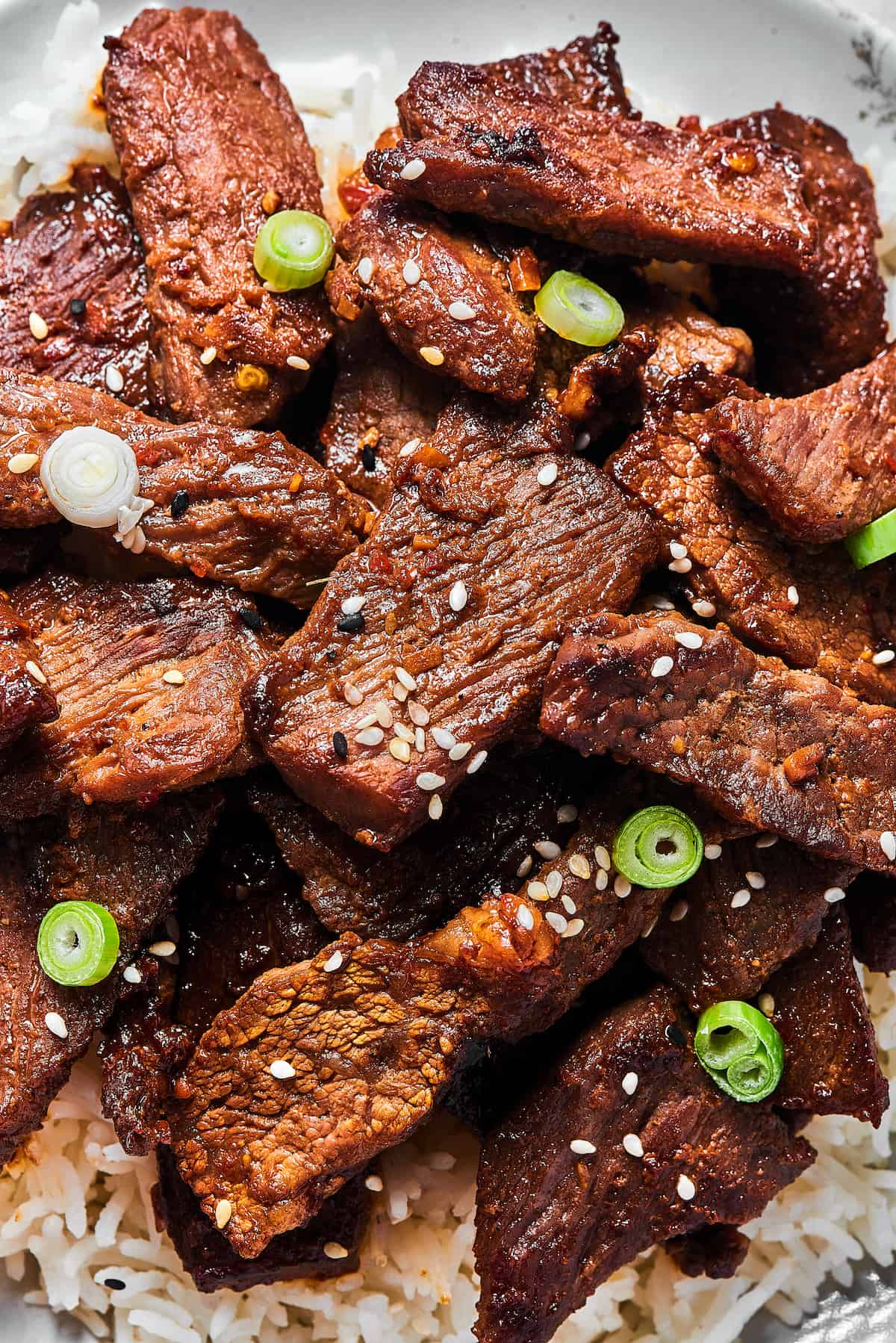 How to Make It
If you've never made Korean food, don't be intimidated – this is the perfect easy recipe to start. It's simple, fun, and mouthwateringly good.
Slice the Steak. To begin, you'll need to slice the steak very thinly, using a good, sharp knife. (To make this easier, you can place the steak in the freezer for 30 minutes before slicing.)
Make the Marinade. Mix all of the marinade ingredients (the grated pear, soy sauce, brown sugar, sesame oil, mirin, ginger, and chili powder) together in a medium bowl, or add them all to a zip-top bag and squish to mix.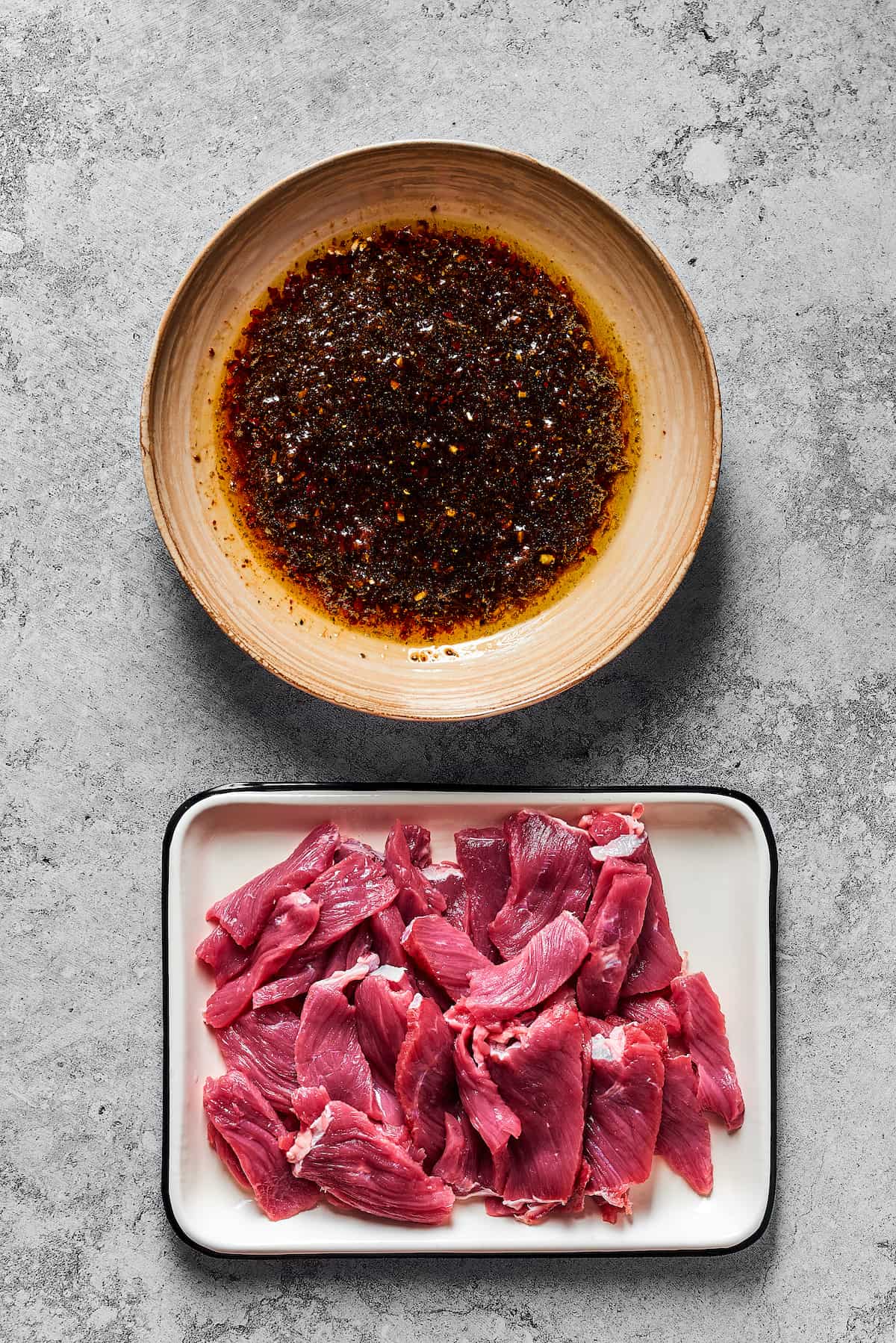 Marinate the Beef: Add the steak to the marinade, and carefully toss (or squish, if you're using a bag) to coat. Leave in the fridge to marinate for 2 hours, or overnight.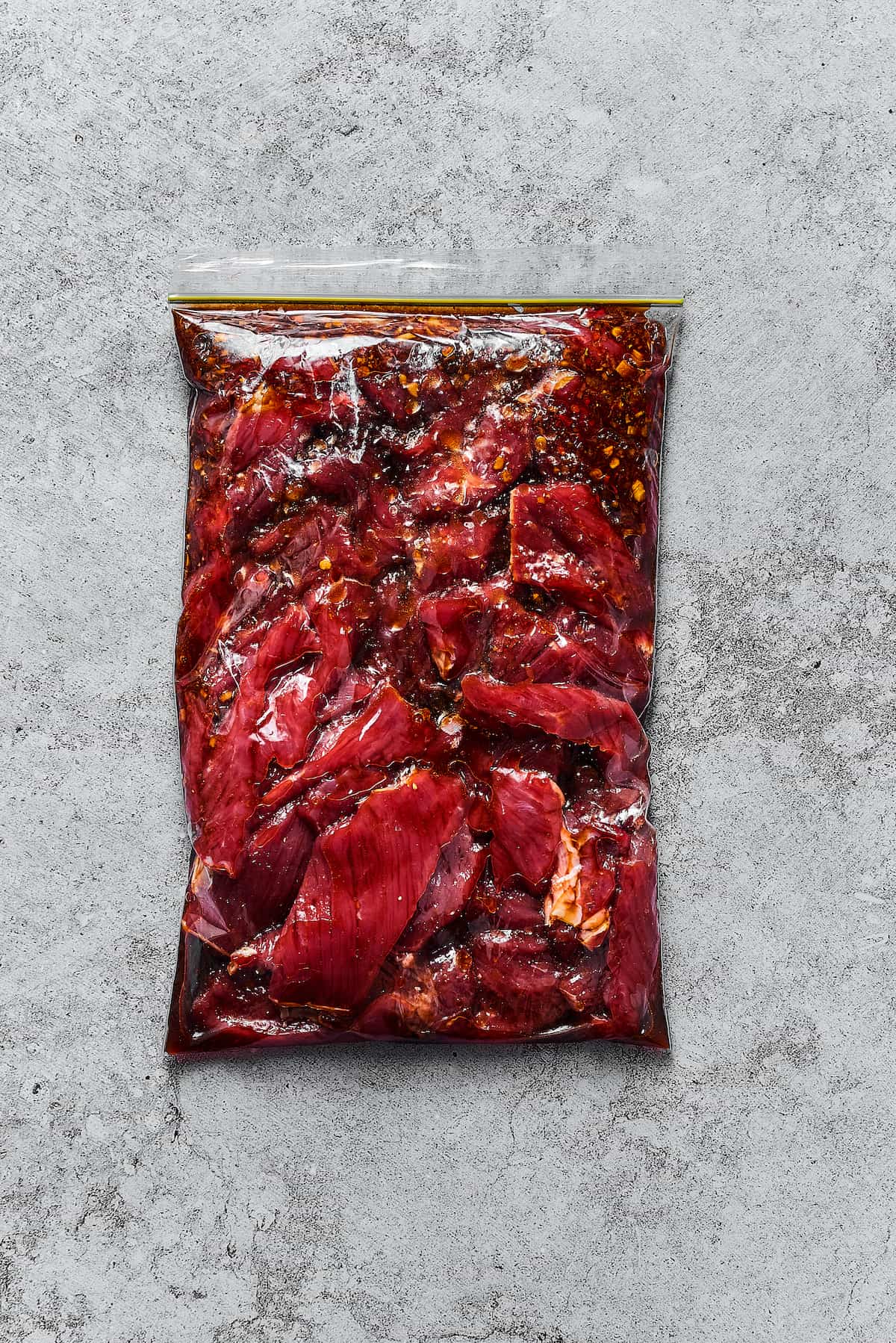 Cook the Marinated Steak. When you're ready to cook, heat up a skillet on high heat. Add the oil, and then start cooking the marinated steak pieces in batches so you don't crowd the pan. The strips need to cook for 2 to 3 minutes per side.
Enjoy! Place the cooked steak on a serving dish as you go, and then garnish them with green onions and toasted sesame seeds. Serve immediately.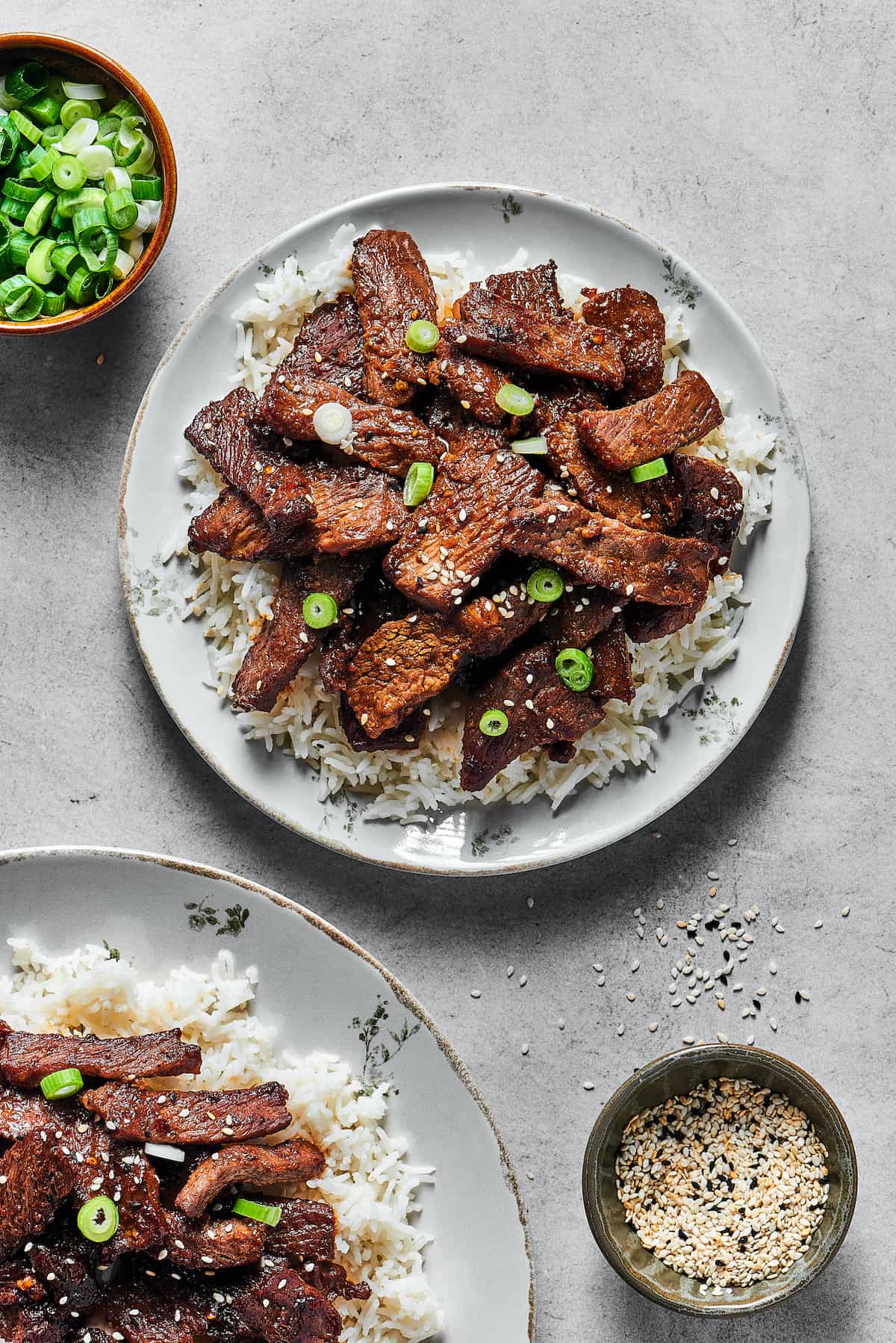 Recipe Notes
Just a few quick notes here, mainly on substitutions and other recipe variations. Let's do this!
Apples and Pears (and Kiwis?) A sweet grated apple is fine in place of the pear, but you could also use diced kiwi or pineapple. Be careful with kiwi and pineapple though – they can over-tenderize the meat, leaving it mushy. Only marinate with those for an hour or two, tops.
Mirin Substitute: Sherry makes a good substitute, as does Marsala. If you don't have either of those, try using a little white wine or vinegar, with an equal amount of honey or sugar added for balance.
Freeze the Beef: Thinly-sliced beef makes the best bulgogi, so I really do recommend freezing it for 30 minutes before you slice. It'll be much firmer and easier to work with that way. Even 15 minutes will make a difference.
Add Lettuce: Bulgogi is fantastic in lettuce leaves, like a leafy taco or wrap. Called "ssam," these can include just the beef, or have toppings and additions like rice, gochujang, etc. Give your dinner guests the option by including fresh, washed and dried lettuce leaves with your bulgogi.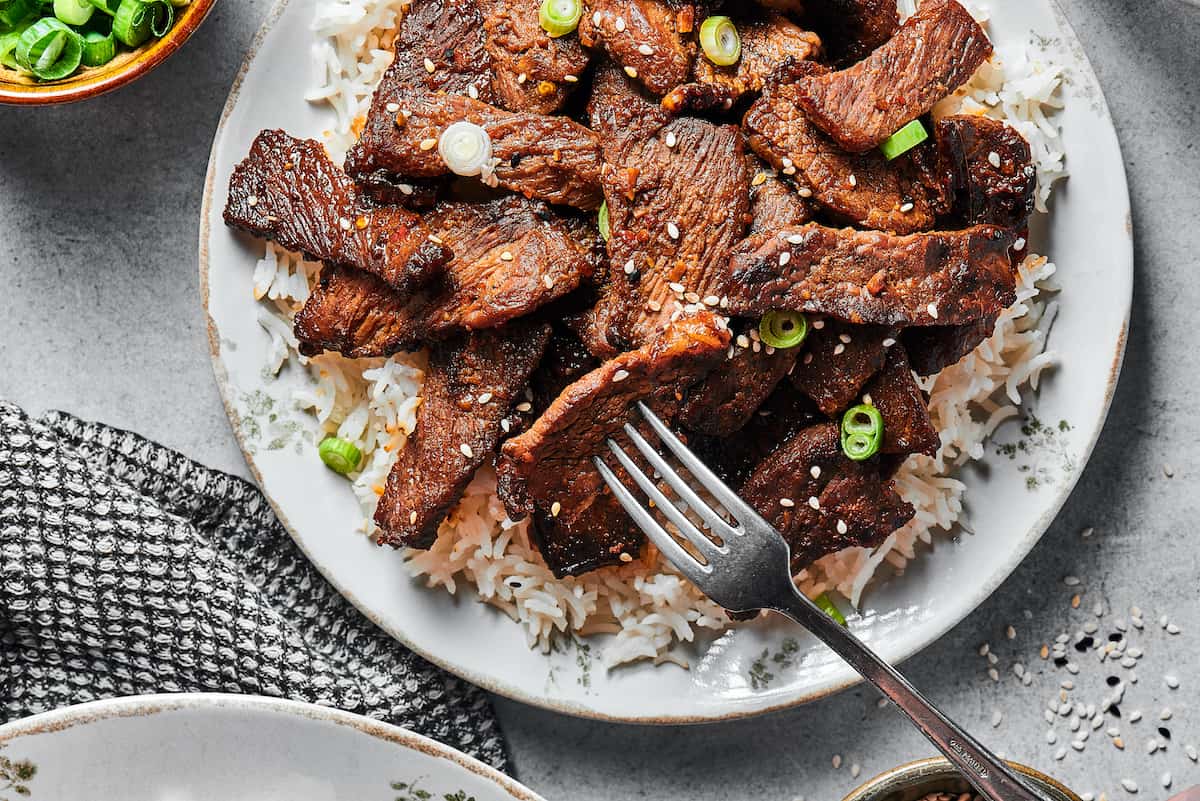 Side Dish Ideas
This dish is perfect served with a helping of rice, such as jasmine rice, and some kimchi. You could also add a side or two, like…
Egg Drop Soup: Egg Drop Soup is just so good. Easy to make, wholesome, and light, this takeout favorite is at home with any menu – even hearty beef bulgogi. Try it!
Fried Rice: Savory Shrimp Fried Rice with Pineapple may not be a typical side for bulgogi, but its fresh, tropical, Pan-Asian flavor makes it a clear winner, no matter how you slice it.
Spring Rolls: Another takeout fave, Golden Veggie Spring Rolls are crunchy, flavorful, and basically irresistible.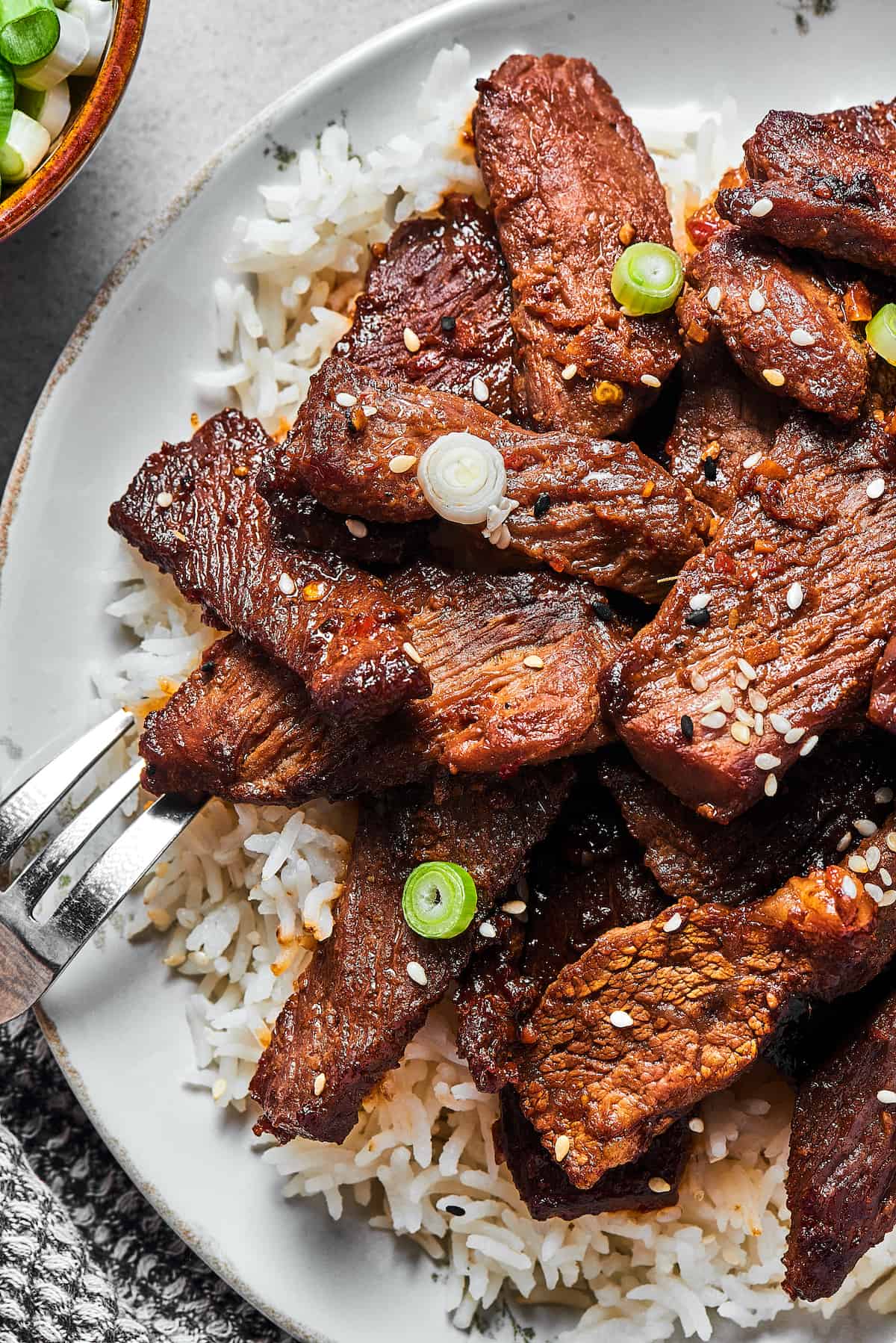 How to Store and Reheat the Leftovers
Once the bulgogi is cooked and cooled down, you can move it to an airtight container and store in your fridge for 3 to 4 days.
To reheat, just place the steak strips in a good hot skillet, and cook very quickly to warm the pieces through. You don't want to overcook them, or they'll dry out.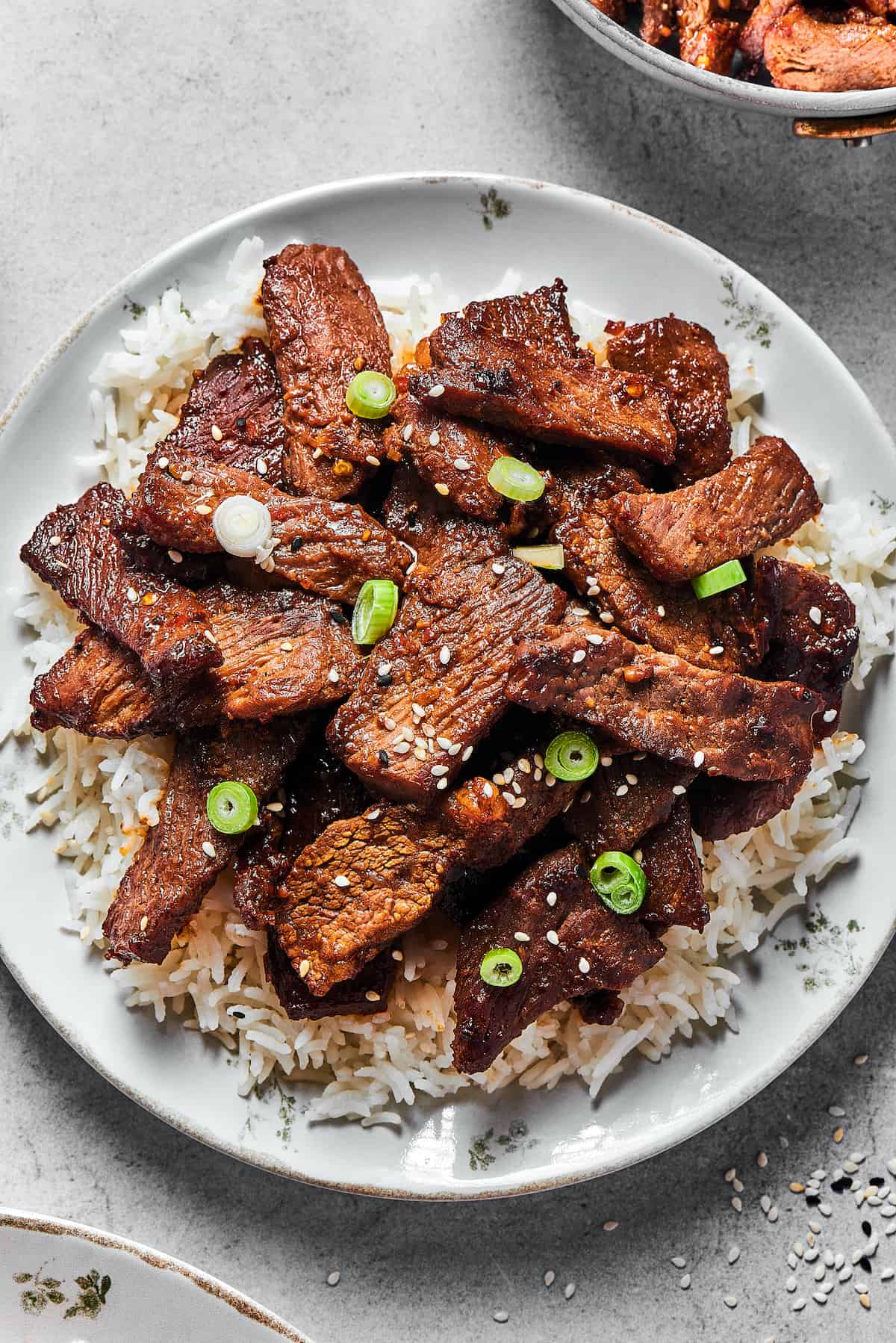 Can I Freeze This?
I don't recommend freezing the cooked steak strips – the texture is likely to suffer after thawing and reheating.
However, if you want to freeze the steak strips in their marinade, that will work well! Just pop the slices and marinade into a freezer bag and seal, pressing out as much air as you can. Squish to coat the steak in the marinade, and mark with the date.
You can freeze this for up to 2 months, and thaw in the fridge overnight before cooking.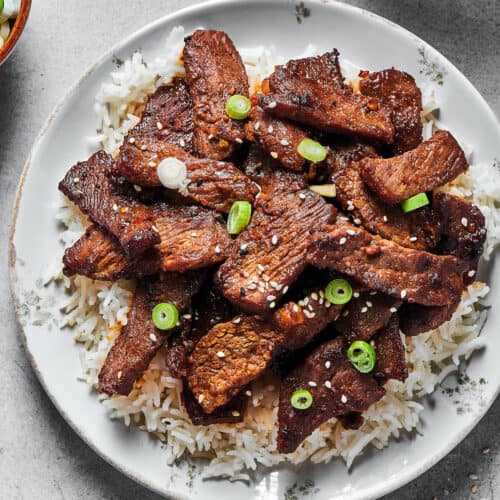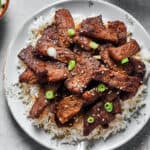 Print Recipe
Korean Beef Bulgogi
Beef Bulgogi is the weeknight dinner of your dreams! Each tender strip of steak is bursting with fresh, mouthwatering flavor, thanks to an unbeatable marinade and quick stovetop cooking method.
Instructions
Slice the steak very thinly with a sharp knife. To make this easier, you can place the steak in the freezer for 30 minutes before slicing.

In a medium bowl, combine the grated pear, soy sauce, brown sugar, sesame oil, mirin, ginger, and chili powder.

Transfer the marinade to a zip-top bag, and add the steak slices to the bag. Seal and marinate for at least 2 hours or overnight, turning the bag occasionally.

Heat the oil in a nonstick skillet or grill pan over medium-high heat.

Working in batches, place steak slices in a single layer on the pan and cook for 2 to 3 minutes per side. Do not crowd the pan. Repeat until all the slices are cooked.

Transfer the beef to a serving platter, and garnish with green onions and toasted sesame seeds.

Serve immediately.
Nutrition
Calories:
409
kcal
|
Carbohydrates:
18
g
|
Protein:
40
g
|
Fat:
19
g
|
Saturated Fat:
5
g
|
Polyunsaturated Fat:
3
g
|
Monounsaturated Fat:
10
g
|
Cholesterol:
102
mg
|
Sodium:
1306
mg
|
Potassium:
807
mg
|
Fiber:
2
g
|
Sugar:
12
g
|
Vitamin A:
604
IU
|
Vitamin C:
3
mg
|
Calcium:
65
mg
|
Iron:
4
mg
More Satisfying Steak Dinners