Slow Cooker Beef Short Ribs are a restaurant-style dinner option that's delicious and easy to make! Rustic bone-in ribs are cooked low and slow until fall-apart-tender, in a sumptuous sauce of red wine, herbs, and aromatic veggies.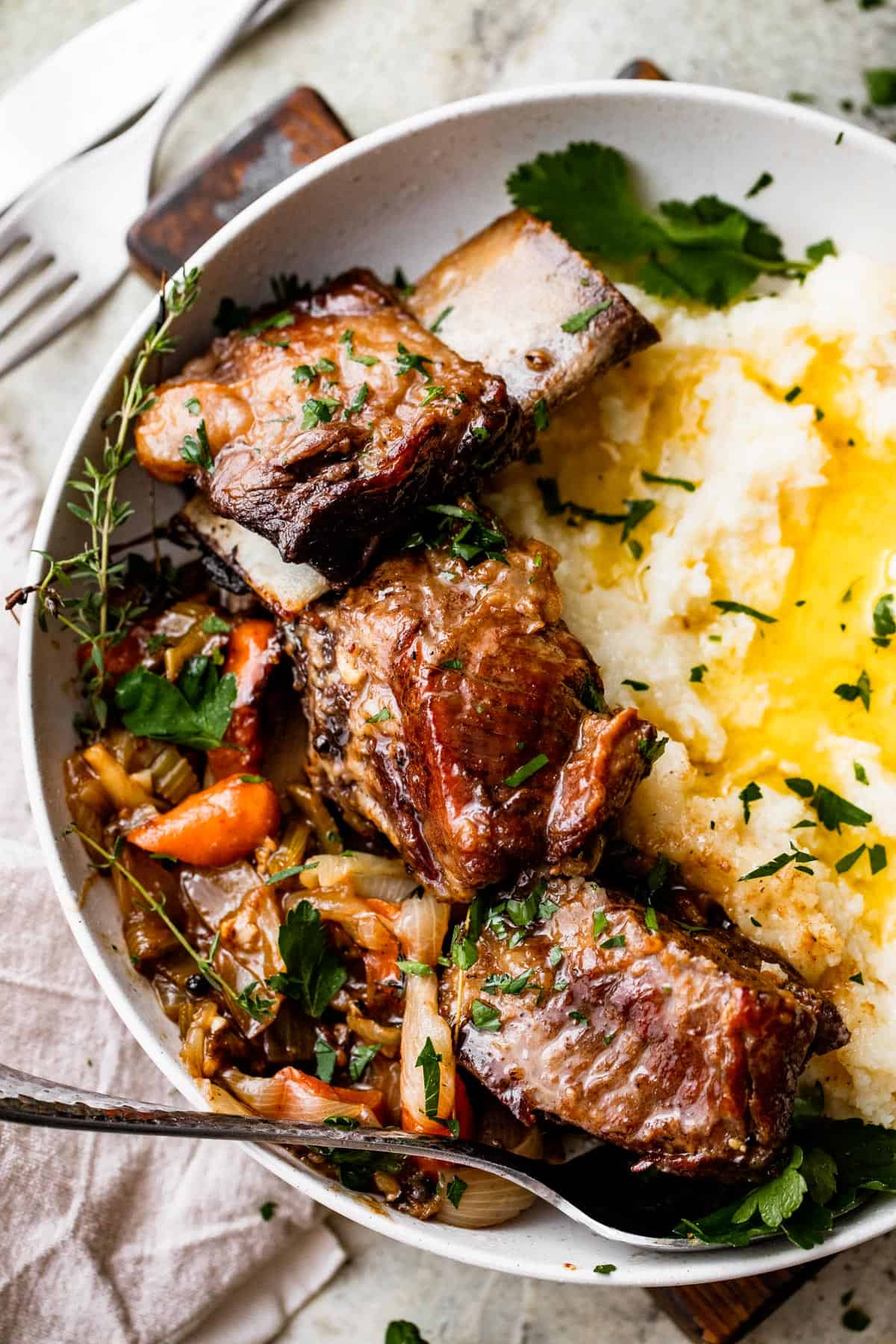 Rich, Satisfying, Beef Short Ribs Made Easy!
If you love pot roast, beef stew, or beef bourguignon, you are going to scarf down these braised short ribs! It is seriously so easy and good, it might just knock the other ones off of your menu for a while!
With plenty of dry red wine, flavorful vegetables, and meaty, bone-in beef short ribs, this is a hearty meal that is perfect for a relaxing Sunday dinner, or maybe a special occasion (cough cough, Valentine's Day ❤️).
After a long, slow braise, short ribs come out meltingly tender, with a shiny, almost glaze-like sauce from the wine and the marbling of the meat itself. This is an incredibly rich dish, and to appreciate it, you really will want to serve a favorite side like mashed potatoes, egg noodles, or maybe polenta (more on that later!). The layers of complex flavors are too good to go to waste!
Best of all, this classic recipe is super easy to pull together. After you brown the beef, it's essentially hands-off, all day long! Thanks to your handy crockpot (or Instant Pot, if yours has a slow cooker function!), you can set this ON and forget it, and still end up with a restaurant-worthy dish.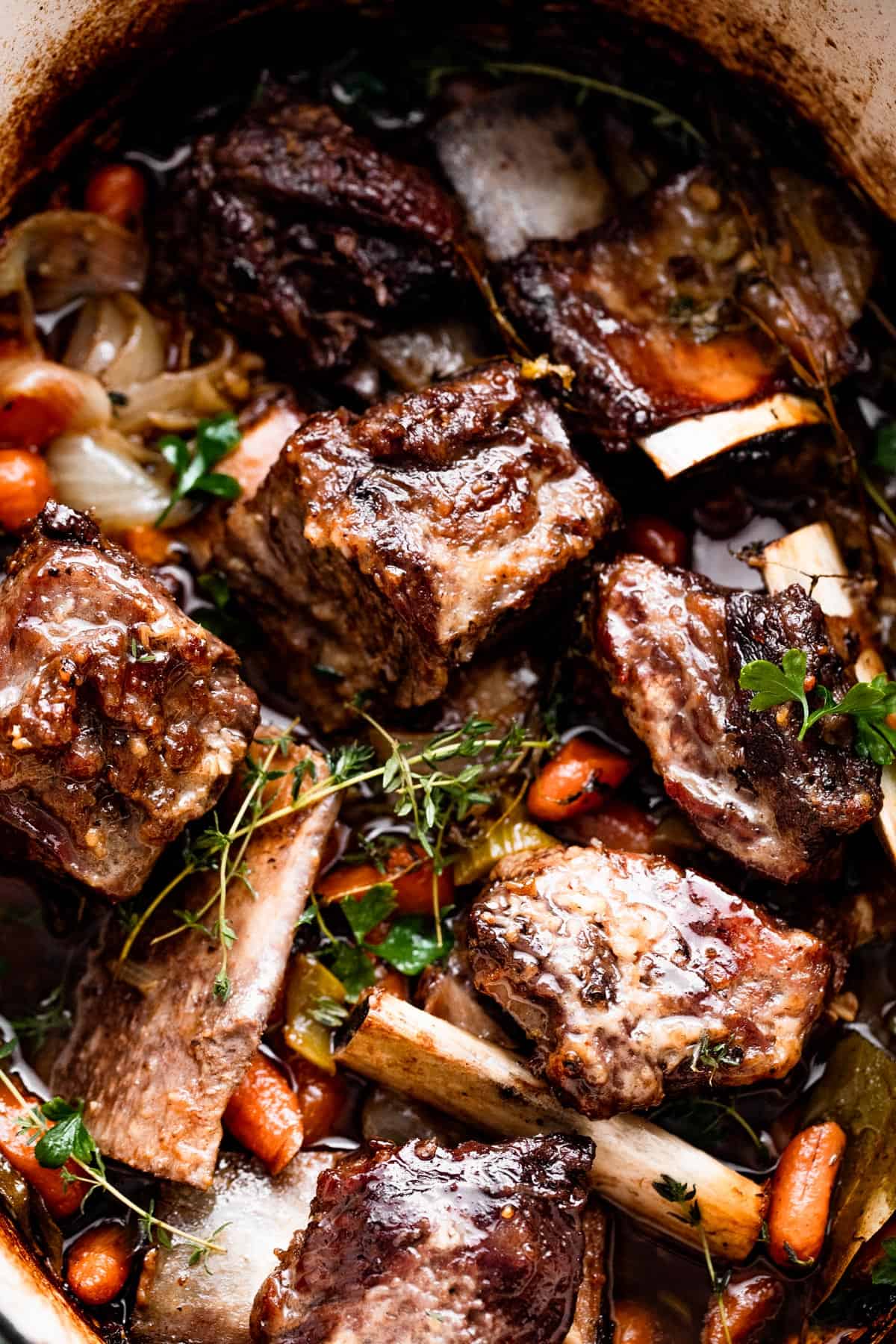 The Ingredients You'll Need
To make this recipe, you're going to need the usual suspects for a long, slow, flavorful braise. Think coq au vin! There's wine, garlic, onion, herbs… all the good stuff. Here's a quick rundown:
Short Ribs: The star of the show! I use bone-in ribs, which means I need about 8. If you use boneless, you'll want about 5 pounds.
Flour: A little all-purpose flour to dredge the meat helps create a silky, slightly thickened sauce in the final dish.
Salt and Pepper: To taste.
Dry Red Wine: Easy-to-find dry red wines include cabernet sauvignon, merlot, pinot noir, and zinfandel.
Beef Broth: A little broth is added to the sauce to dilute the wine somewhat. However, if you don't have beef broth, water is just fine – the meaty short ribs will provide plenty of beefy flavor!
Veggies: Cut up some celery, roughly chop a couple of carrots, slice one onion, and mince a few garlic cloves.
Herbs: My herbs of choice for this recipe are fresh thyme and a couple of bay leaves.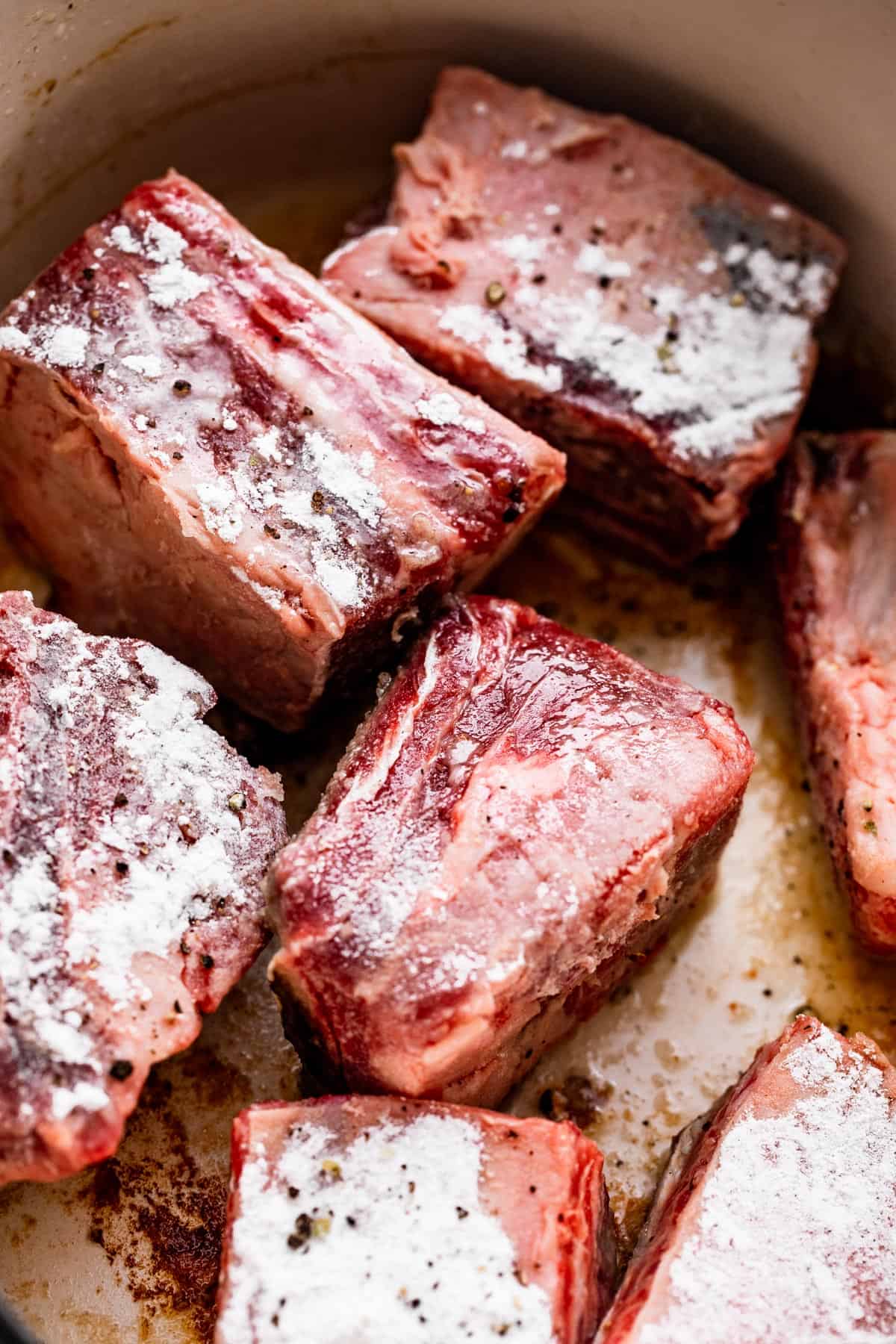 What Kind of Short Ribs Should I Use?
I usually go for English-style short ribs, the kind where the ribs are all separate and the meat sits on top of the bone. However, flanken ribs are also great – these are all attached and cut into short, wide strips. Whichever you choose, try to remove any chunks of excess fat (not the marbled fat within the meat), as well as any silver skin (a thin, white or silver membrane under the top layer of fat).
Step-by-Step Instructions
So how do you make short ribs in the slow cooker? Well, the process is actually very simple and straightforward. All you really need to do is leave enough time for the ribs to cook! Here's the skinny:
Brown the Beef. Before browning the beef, pat it dry all over with paper towels. Then, season your flour with a couple of teaspoons of salt, and one teaspoon of pepper, and dredge the beef ribs in the seasoned flour. Heat the oil in a large skillet over medium-high heat (if you're using a multi-cooker, use the Saute function). Sear the ribs until browned on all sides, working in batches if necessary so you don't crowd the pan.
Deglaze the Skillet. Use tongs or a large fork to move your seared ribs into the insert of your slow cooker. Next, pour a cup of wine into the skillet, and use a wooden spoon to stir around and scrape the browned bits from the bottom of the skillet, incorporating them into the wine to enrich the sauce. Pour this mixture over the beef in the slow cooker.
Add Remaining Ingredients to the Slow Cooker. Now it's time to pour in the rest of the wine, as well as the broth, carrots, celery, garlic, onion, thyme, and bay leaf. Stir gently but thoroughly to get everything combined. Cover the slow cooker, cook on low for six to eight hours, or until the meat is fall-apart tender.
Enjoy! Remove the thyme sprig and the bay leaf before serving with your favorite sides.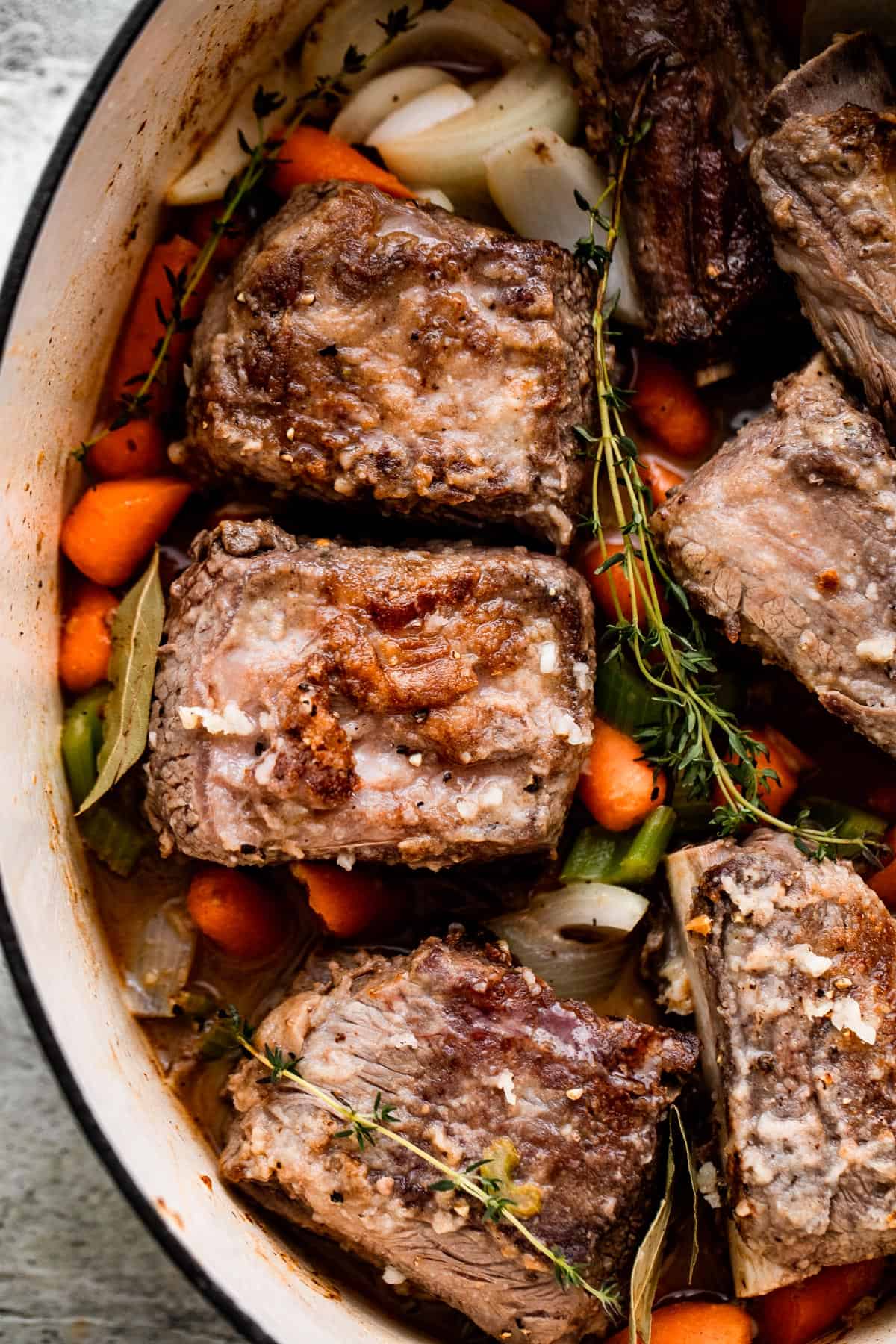 Can You Slow Cook Short Ribs Too Long?
Yes, technically you can. Slow-cooked short ribs will go from tough and chewy to fall-apart-tender, but if you keep cooking them after they are tender, they'll slowly become mushy, dry, and stringy. If you're nervous about overcooking, don't be! Just check them every hour or so until done.
Beef Short Ribs are perfectly cooked when internal temperature, at the their thickest part, registers at 203˚F.
Helpful Hints
Making perfect short ribs in the crockpot is as easy as falling off a log – especially when you have a few handy tips up your sleeve. Here are my favorite helpful hints to make this recipe awesome.
Make a Gravy. This beautiful recipe is all about that saucy goodness, so don't just leave it in the bottom of the slow cooker! Serve the pan juices as they are, or thicken them with a little cornstarch slurry.
Flavor for Days: Beef short ribs can be made ahead, and actually taste better the second day! Make them today, and serve them at a later date!
Hassle-Free Side Dish: Four hours before the short ribs are done, peel a pound of additional carrots and cut them into 2-inch chunks. Place them in the braising liquid and you'll have beautiful, flavorful carrots perfect for serving on the side.
Which Wine? For this recipe, as with most others, you can use any dry red wine for drinking. It doesn't have to be super expensive at all! Just avoid using cooking wine, because those wines have usually been treated with salts and preservatives, which degrades the flavor.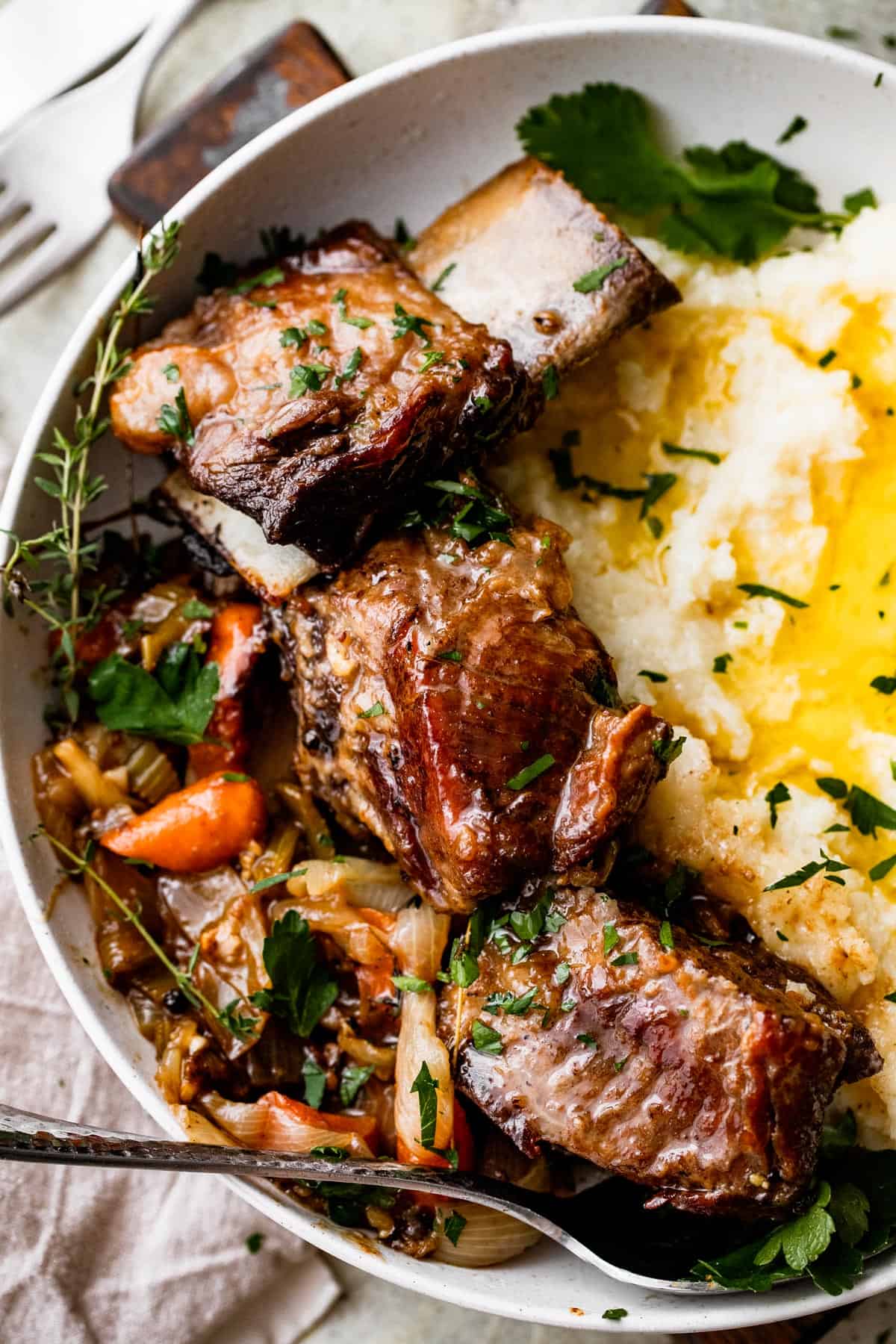 What Should I Serve with Short Ribs?
To serve these slow cooker beef short ribs, I recommend having something to make the most out of the succulent sauce, like one of these!
How to Store and Reheat the Leftovers
Leftover short ribs should be stored in the fridge, in an airtight container. They'll stay fresh for up to 4 days.
To reheat, place the desired portion in a large pot, and cook on low to medium heat until heated through.
Can I Freeze Short Ribs?
To freeze, allow the short ribs to cool completely. Shred the meat off of the bones, and place in a freezer-safe container with any juices or sauce.
Freeze for up to 3 months.
Thaw overnight in the refrigerator before reheating.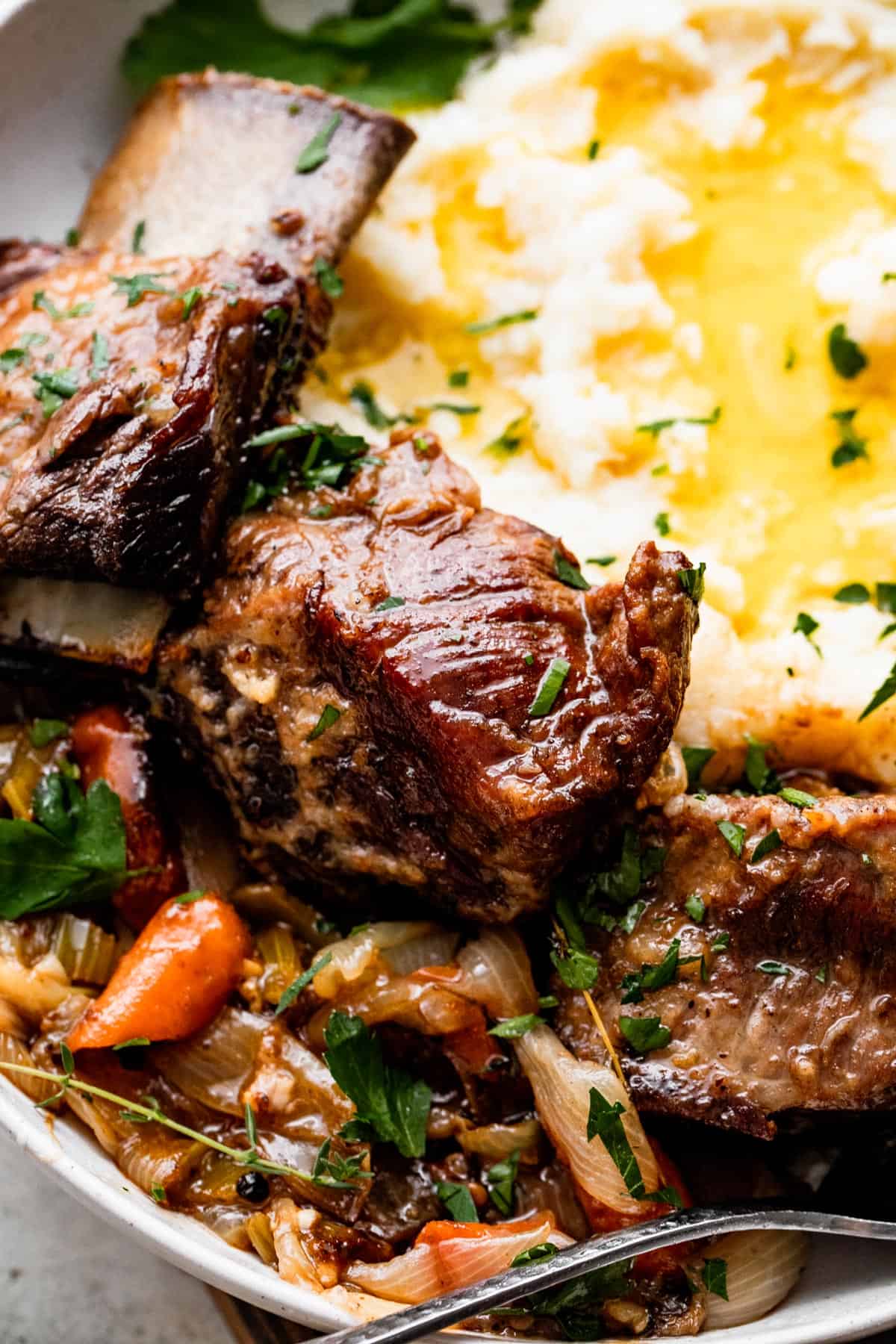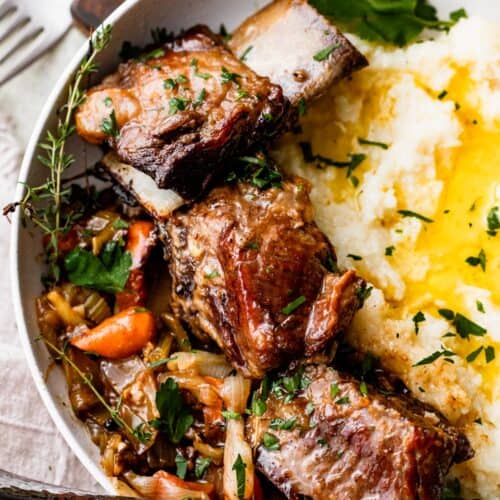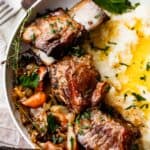 Print Recipe
Slow Cooker Beef Short Ribs
Slow Cooker Beef Short Ribs prepared with bone-in ribs cooked low and slow until fall-apart-tender, in a delicious sauce of red wine, herbs, and aromatic veggies.
Ingredients
1/2

cup

all-purpose flour,

for dredging

Salt and pepper,

to taste

1

bottle

dry red wine,

divided

1

cup

low-sodium beef broth

2

celery stalks,

sliced

2

carrots,

cut into 1-inch chunks

4

cloves

garlic,

minced

1

yellow onion,

sliced
Instructions
Pat the beef dry all over with a paper towel. In a large bowl, toss the flour with 2 teaspoons salt and 1 teaspoon pepper. Add the short ribs and toss to coat in a light layer of flour. Tap off any excess flour before searing.

Heat the oil in a large skillet over medium-high heat. When the oil is hot, sear the ribs until browned on all sides, working in two to three batches to avoid crowding the pan. Transfer the seared meat to the slow cooker.

Pour one cup of wine into the skillet, stirring to scrape up any browned bits on the bottom. Pour the wine from the skillet into the slow cooker.

Add the remaining wine, broth, carrots, celery, garlic, onion, thyme, and bay leaf to the slow cooker and stir well.

Cover and cook on low for 6 to 8 hours, until the meat is fall-apart tender.

Remove the thyme sprigs and bay leaf; serve.
Nutrition
Serving:
4
ounces
|
Calories:
552
kcal
|
Carbohydrates:
12
g
|
Protein:
49
g
|
Fat:
25
g
|
Saturated Fat:
11
g
|
Polyunsaturated Fat:
1
g
|
Monounsaturated Fat:
11
g
|
Cholesterol:
147
mg
|
Sodium:
229
mg
|
Potassium:
1035
mg
|
Fiber:
1
g
|
Sugar:
1
g
|
Vitamin A:
2572
IU
|
Vitamin C:
3
mg
|
Calcium:
34
mg
|
Iron:
6
mg
More Savory Crock Pot Recipes