These easy Crab Cake Sliders feature authentic New England crab cakes, made with plenty of real crab meat, some Old Bay seasoning, and crunchy breadcrumbs, served hot and fresh on soft Hawaiian Roll buns.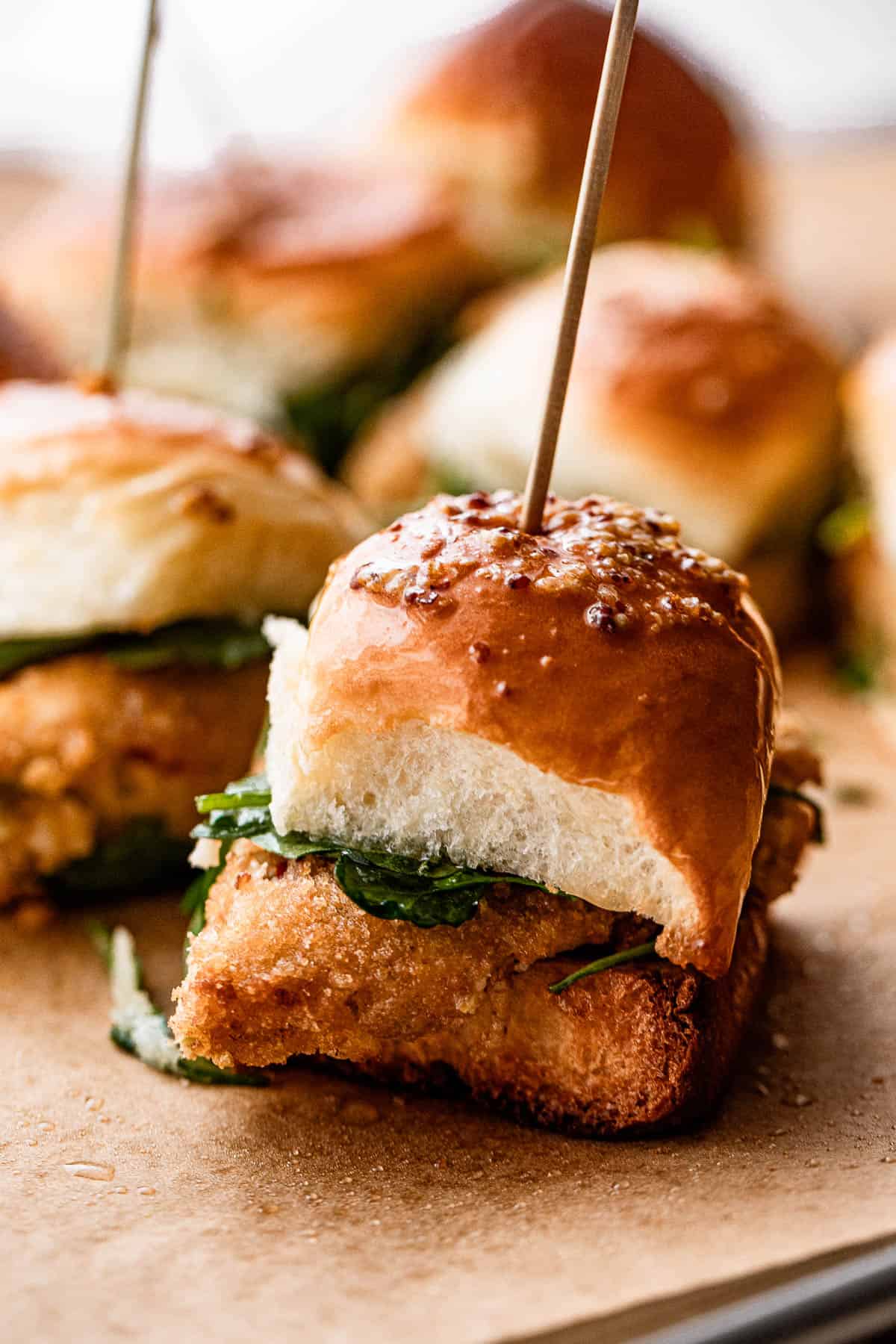 Real Homemade Crab Cakes, Served Hot on Hawaiian Rolls
As you all know, I'm madly in love with all things salmon… and shrimp… and I am definitely a big fan of the lobster genre of cooking. But now? Now it's time to talk about crab! Specifically, these gorgeous, addictive little crab cake sliders. 🍔
I guess it was only natural to go from making crab cakes to putting said crab cakes on a bun. 🤷‍♀️ It's kind of like loving salmon patties, and then realizing they could be easily turned into salmon burgers.
But, you guys. I was not prepared for the level of absolute drool-worthiness that you unleash when you put a fresh, hot crab cake on a Hawaiian Roll slathered in mayo and whole grain mustard. 😮
My mouth is watering just thinking about it! So, without further ado, let's dive into this easy, showstopping recipe!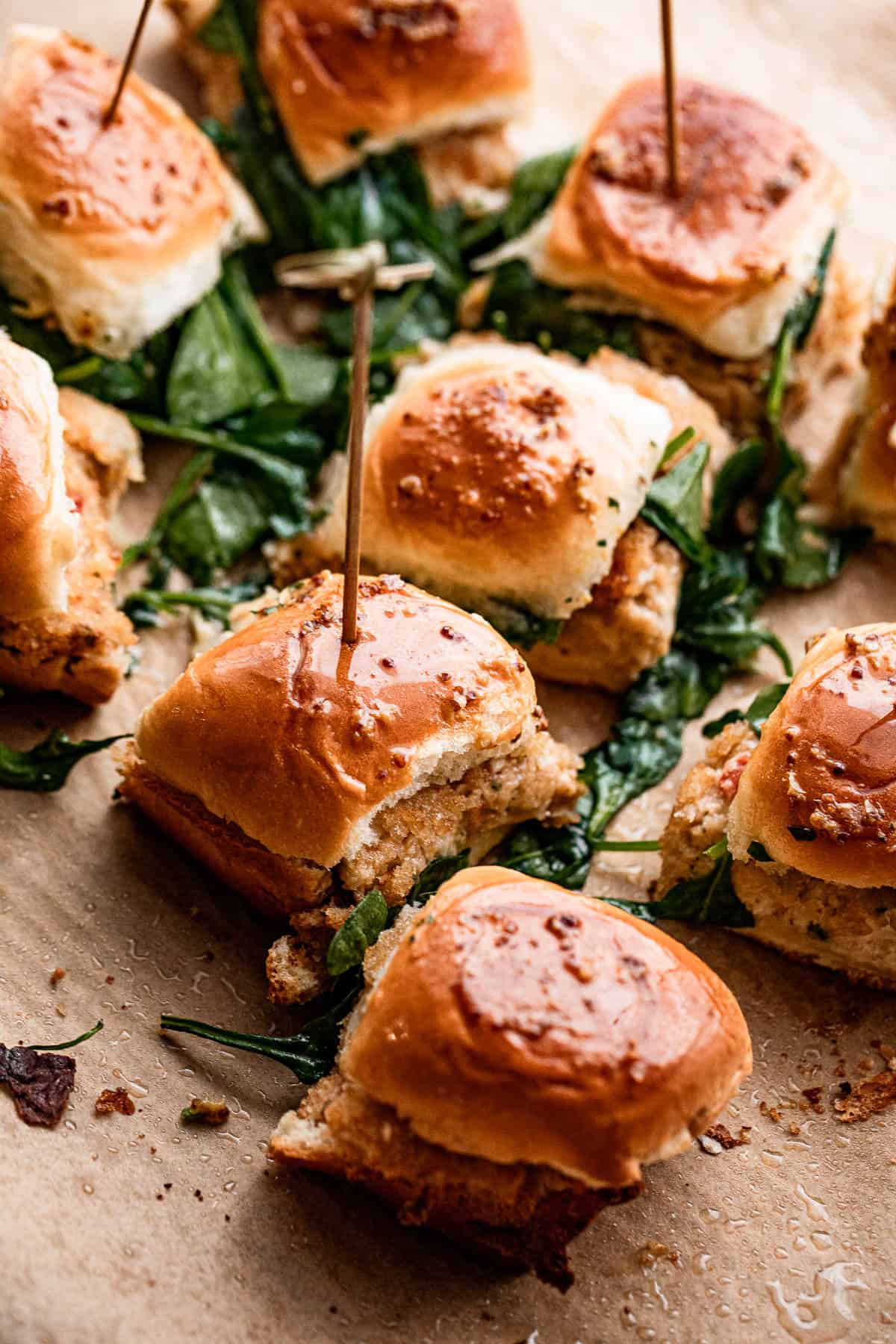 Tell Me More About These Sliders!
Sure thing! These yummy sliders are:
Sweet and savory, with a little tanginess from whole grain mustard
Pan-fried, and then baked
Made with classic Old Bay seasoning 🧂
Served on Hawaiian rolls for an extra touch of sweetness 🥯
Perfect for special occasions, like birthdays or date nights
Easy to prepare in advance and freeze to cook at another time
What Kind of Crab Meat Is Best for Crab Cakes?
This is an important question. You definitely want to get the right crab meat for your recipe, right? Surprisingly, though, the answer is… it's up to you! Here's what I mean.
When you're making crab cakes, you may find that you like a finely-textured crab cake, with small pieces of crab that are evenly mixed with the other ingredients. Or, you may prefer to have crab cakes with a looser, more chunky texture: big pieces of juicy crab meat scattered throughout.
Either of these options is fine! This is a very subjective preference, and you can get the crab meat that will work best with your preference.
If you're looking for big pieces of crab in your crab cake mixture, then choose jumbo lump crab meat (or similar). This costly crab meat does include large, juicy pieces, but be aware that they have a delicate flavor that is easily overpowered by the other ingredients. You may want to dial back on some of the seasonings if you use jumbo lump crab meat.
On the other hand, if you're looking for a finer texture, then backfin or claw crab meat might be just fine. These less expensive types of crab meat consist of smaller pieces, but tend to have a bolder taste.
The Ingredients You'll Need
So what do you need to make this festive seafood appetizer? I'm glad you asked! Let's go over the ingredients list in a little bit of detail. Here's the scoop:
For the Crab Cakes
Panko: You'll need some panko crumbs to go into the crab cake mixture, to bind it together, and a little bit for coating the crab cakes. That makes them crunchy!
Bell Pepper: Finely dice your bell pepper. I prefer red or orange peppers in this dish.
Green Onions: The green onions should be finely chopped, as well.
Mayonnaise: You'll need a little bit of your favorite mayonnaise. Keto mayonnaise is fine, or vegan mayonnaise. I don't recommend sweet "salad dressing" versions.
Egg: Egg helps bind the mixture together. You'll need one whole egg.
Old Bay Seasoning: This zesty seasoning goes perfectly with crab cakes! It has a number of herbs and seasonings that bring out the best in crab meat.
Dried Herbs: Dried oregano and dried thyme help round out the flavor profile with an earthy, pungent note.
Garlic Powder: Old Bay seasoning already contains some garlic, but the crab cakes benefit from a little extra garlic powder as well.
Salt and Pepper
Crab Meat: Drain your crab meat well, and flake it with a fork.
Vegetable Oil and Butter: You'll need a small amount of vegetable oil and some butter, for frying the crab cakes.
For the Sliders
Hawaiian Rolls: The sweet flavor of Hawaiian rolls is just right for making little crab cake sliders! You'll need a 12-count package of these little rolls.
Mayonnaise and Mustard: Mix mayonnaise with whole-grain mustard for the perfect sandwich spread.
Baby Spinach: This is optional, but topping your sliders with fresh baby spinach adds not only some extra nutrition, but also some extra color and texture.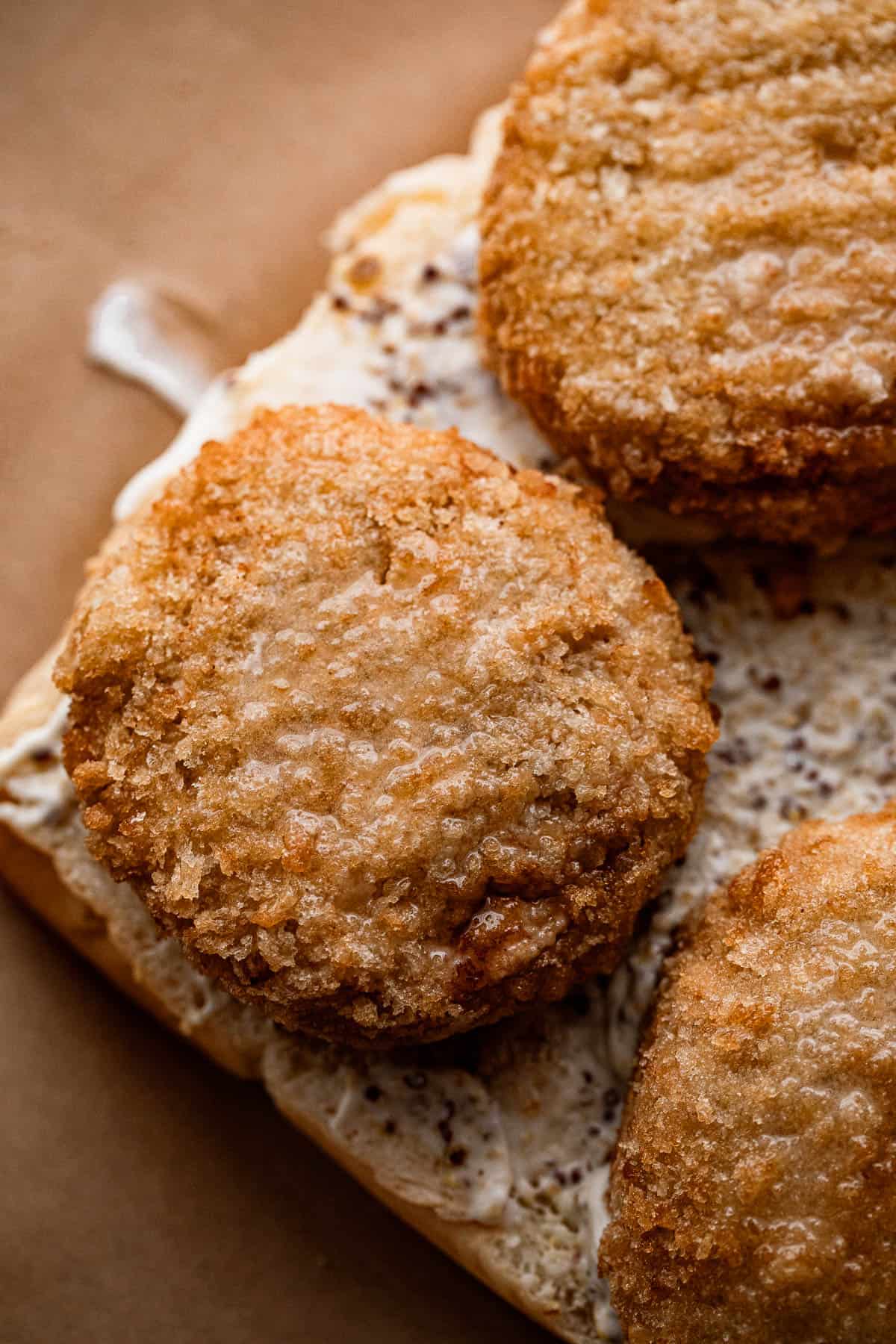 How to Make Them
Making crab cakes is fun, but you do have to keep an eye on them during the cooking process so they don't scorch or overcook. So keep in mind, this recipe is quick, but it's more of a special occasion meal than a weeknight meal. Hey, variety is the spice of life, right?
Make the Crab Cake Mixture. Set out a large mixing bowl. Add a cup of the panko to the bowl, followed by the peppers, onions, mayonnaise, egg, and all the seasonings. Gently stir everything together until thoroughly combined. The mixture should be moist and easy to shape into cakes. If it's too wet, sprinkle in a tablespoon or two of extra panko crumbs to help it come together.
Shape the Crab Cakes. Divide the mixture in half, and then in half again to make 4 portions. Divide each portion in half one more time, making 8 portions total. Shape each one into a ball. Place half a cup of panko crumbs onto a shallow plate, and roll the balls in the crumbs to coat. Finally, flatten the balls gently, to make cakes.
Cook the Crab Cakes. Set a large, nonstick skillet over medium-high heat. Add the oil and butter, and let the butter melt. Now, lay the crab cakes gently into the hot oil, and let them cook for 3 minutes per side. Each side should be golden-brown and crispy. Take the cakes out of the pan, and set them on a paper-towel-lined plate to drain.
Prepare the Buns. While the crab cakes cook, set your oven to preheat to 350˚F. Line a large baking sheet with parchment paper or foil, and slice the Hawaiian rolls in half, separating the tops of the rolls from the bottom of the rolls (like a hamburger bun or a bagel). Place the bottom buns on the baking sheet. Mix together the mayo and mustard in a small bowl or measuring cup, and spread all but 2 tablespoons of it onto the bottom buns.
Add the Crab Cakes, and Bake. Top the buns with your cooked crab cakes, spacing them about ½-inch apart. You might not end up using all of the crab cakes! I used about 6. Bake the bottom buns with the crab cakes on them for 10 minutes.
Finish Assembling the Sliders. Take the baking sheet out of the oven, and lay some baby spinach over each crab cake. Top with the upper buns, and use the reserved 2 tablespoons of mayonnaise mixture to brush the tops of the buns. Bake again, for 8 minutes or so, until the tops of the sliders are golden-brown.
Enjoy! Let the sliders stand for a few minutes, before cutting into small sliders and serving.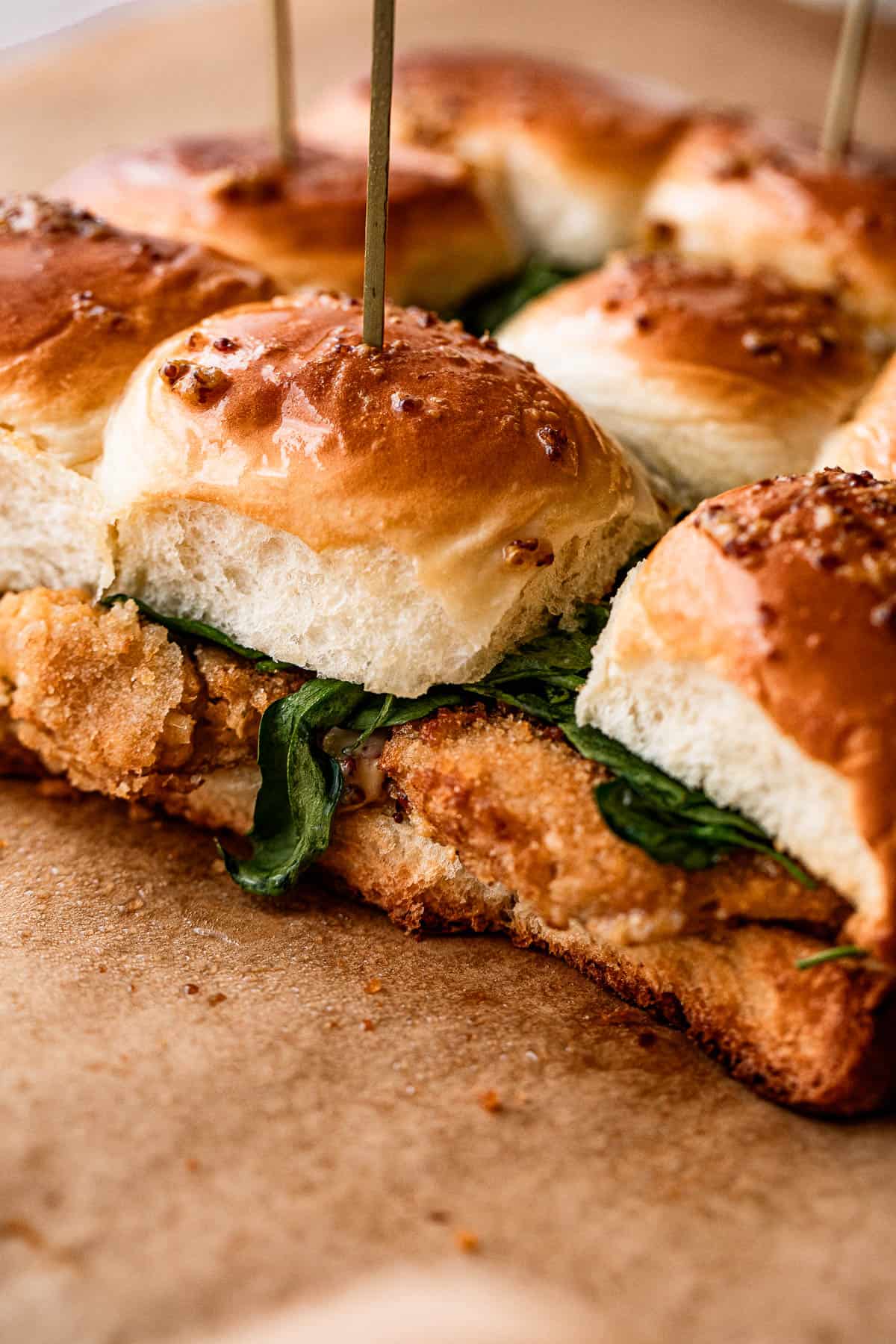 My Top Tips for Awesome Crab Cakes
So, are you excited about trying crab cake sliders? I hope so, because they are delicious! A real crowd-pleaser, for sure! But before you get started, take a minute to look over these handy tips for the perfect crab cakes. Happy cooking!
Mix Carefully: It goes without saying, but work gently when you make the crab cake mixture, to avoid shredding and smushing the delicate crabmeat.
Chill the Cakes: You don't have to do this, but if you have time, it can be helpful! Chilling the crab cakes for 15 minutes or so before cooking will help them hold together while cooking.
Use Your Favorite Crab: As I mentioned before, different cooks have different opinions on the best crab for crab cakes. Lots of people prefer lump crab, so you get big bites of crab dotted throughout the crab cake. Others swear by backfin or claw, so you get a more consistent texture and a bigger boost of crab flavor. Choose what you like, and make these your own!
Add Butter: Okay, this is a steakhouse secret, but did you know it also gives your crab cakes a scrumptious finish? That's right, brush a little bit of melted butter right over each crab cake before serving, for an extra serving of sweetness and richness.
Side Dish Ideas
Crab cake sliders are a super-festive dish, and they make a wonderful appetizer. However, with a side dish or two, you can easily turn them into a light lunch or dinner! I like to serve dishes with a fresh and healthy twist, to complement the delicate flavors of the crab. Here are a few ideas to get you started:
A Fruit Platter. Cut up some of your favorite fruits, such as pineapple, mango, strawberries, fresh apples, halved grapes, or melon. Arrange the fruit on a platter, and add a cup of Creamy Coconut Fruit Dip. Voila! A sweet and healthy side that everyone will love.
Asparagus Fries: One of my all-time favorites, these crunchy, breaded Parmesan Panko Asparagus Fries are so easy to make in the air fryer! They're as satisfying as fast food fries, but so much healthier!
Cucumber Salad: Light, fresh, creamy, and tangy, this simple Cucumber Salad with Sour Cream Dressing goes perfectly with crab! You'll love how quick and easy it is to make, too!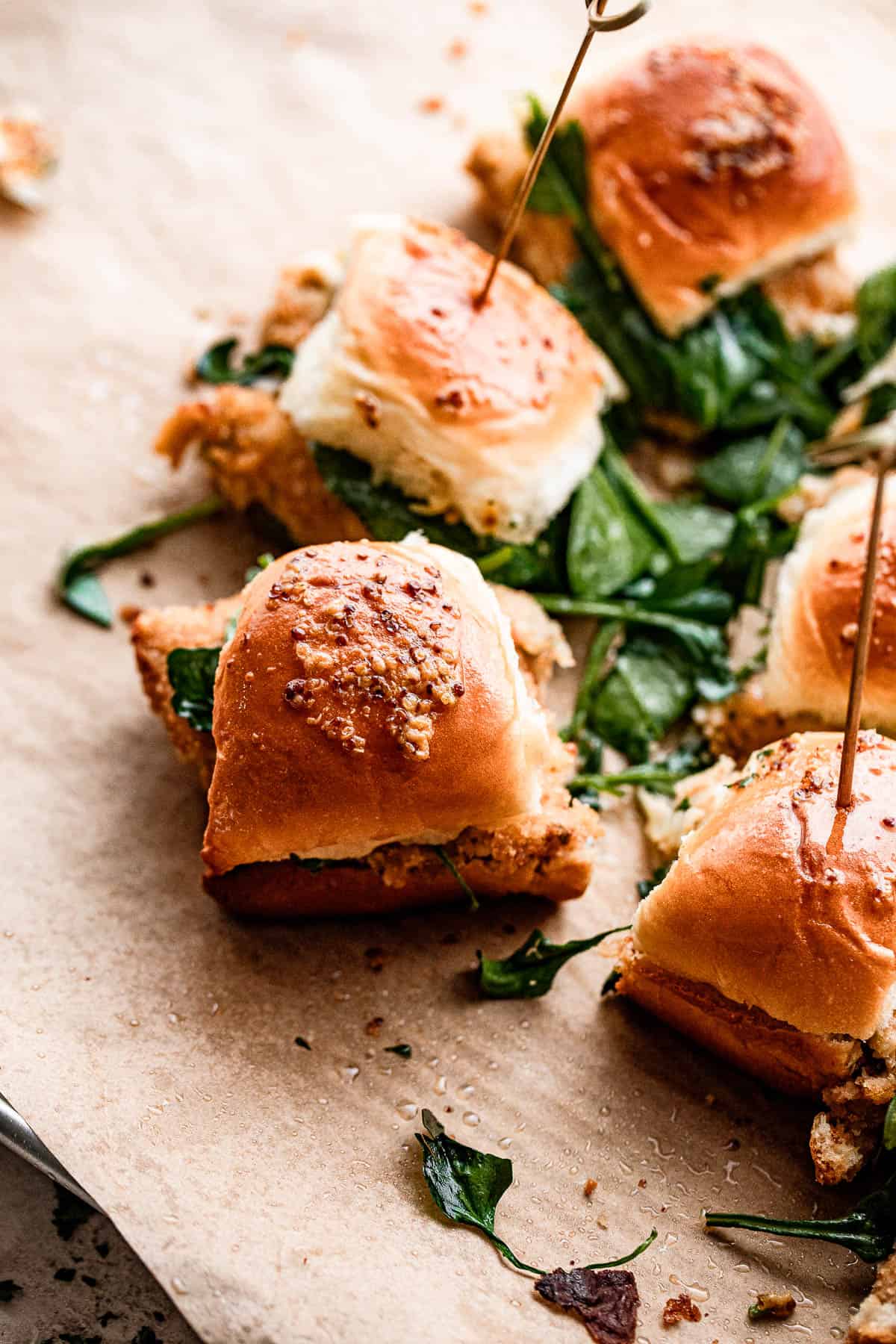 Storing and Reheating the Leftovers
To keep your leftover crab cake sliders fresh, make sure to store the crab cakes separately from the buns and mayonnaise mixture.
Store leftover slider buns in their packaging, twisted shut, at room temperature. They typically last 3 – 5 days before going stale.
Store the leftover mayonnaise mixture in a small jar or airtight container in the refrigerator, for 2 – 3 days.
Store leftover crab cakes in shallow, airtight containers in the refrigerator, for up to 2 days. They can be reheated in a 350°F oven until hot all the way through, or you can eat them cold.
Can I Freeze These?
Yes! You can freeze them uncooked, or after cooking. Here's how to do it:
To freeze uncooked crab cakes, just mix and shape the patties, and lay them on a baking sheet lined with parchment.
Pop the baking sheet in the freezer for about 30 minutes, or until the cakes are frozen solid (they will still be somewhat fragile, so be careful at this point).
Transfer the frozen cakes to freezer bags and store in the freezer for up to 1 month.
Thaw in the fridge overnight before cooking them.
To freeze cooked crab cakes, cool the cakes completely. Move them to a clean plate or baking sheet, and place in the freezer until frozen solid.
Transfer the frozen crab cakes to freezer bags, and store in the freezer for up to two months.
Thaw in the refrigerator overnight before reheating.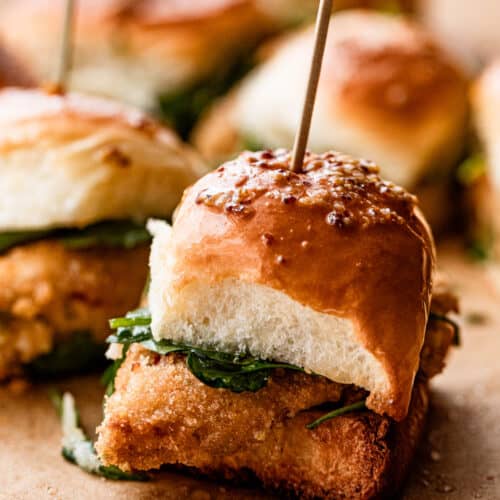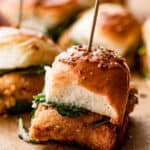 Print Recipe
Crab Cake Sliders
Authentic New England crab cakes, made with plenty of real crab meat, some Old Bay seasoning, and crunchy breadcrumbs, are served hot and fresh on soft Hawaiian roll buns in this delectable recipe for Crab Cake Sliders.
Ingredients
FOR THE CRAB CAKES
1 ½

cups

panko crumbs,

divided

1/4

cup

finely diced bell pepper,

red or orange pepper

2

green onions,

finely chopped

1/4

cup

mayonnaise

1

egg,

lightly beaten

1

teaspoon

Old Bay Seasoning

½

teaspoon

dried oregano

½

teaspoon

dried thyme

½

teaspoon

garlic powder

salt and freshly ground black pepper,

to taste

12

ounces

crab meat,

drained and flaked into smaller pieces

3

tablespoon

vegetable oil

1

tablespoon

butter
Instructions
Put ½-cup panko crumbs in a shallow plate and set aside.

In a mixing bowl combine 1 cup panko crumbs, diced peppers, onions, mayonnaise, egg, old bay seasoning, oregano, thyme, garlic powder, salt, and pepper.

Add the crab meat; mix and stir it all together until thoroughly combined. If mixture is too wet, add more crumbs to reach desired consistency.

Divide the mixture into 8 balls.

Roll each crabmeat ball in the reserved panko crumbs.

Flatten the cakes to make a thick patty.

Heat oil and butter in a large nonstick skillet set over medium-high heat.

Add crab cakes to the hot oil; cook for 3 minutes, or until golden brown.

Flip over the crab cakes and continue to cook for 3 more minutes, or until golden brown.

Transfer crab cakes to a paper towel lined plate to drain.

In the meantime preheat oven to 350˚F.

Using a large serrated knife, slice the rolls in half as you would slice a bagel, separating the tops from the bottoms.

Transfer the bottom layer of the buns to the prepared baking sheet, cut side up.

In a bowl combine the mayo and mustard; mix until well incorporated. Set 2 tablespoons aside.

Spread the remaining mayo mixture over the rolls that are on the baking sheet.

Top the rolls with the cooked crab cakes, leaving about ½-inch space between each crab cake. You might not end up using all the crab cakes. I use about 6 crab cakes for the sliders.

Pop in the oven for 10 minutes.

Remove from oven; add baby spinach over each crab cake and add the other half of the rolls on top.

Brush the tops with the reserved mayo mixture.

Put back in the oven for 8 more minutes, or until tops are browned.

Remove from oven and let stand few minutes.

Cut into sliders and serve.
Nutrition
Serving:
1
slider
|
Calories:
238
kcal
|
Carbohydrates:
21
g
|
Protein:
10
g
|
Fat:
12
g
|
Saturated Fat:
3
g
|
Polyunsaturated Fat:
5
g
|
Monounsaturated Fat:
2
g
|
Trans Fat:
1
g
|
Cholesterol:
42
mg
|
Sodium:
538
mg
|
Potassium:
106
mg
|
Fiber:
1
g
|
Sugar:
5
g
|
Vitamin A:
192
IU
|
Vitamin C:
6
mg
|
Calcium:
40
mg
|
Iron:
1
mg
More Scrumptious Seafood Recipes