What's better than french fries? Garlic Fries! With real garlic, melted butter, Parmesan, and parsley, these ultra-flavorful garlic fries are perfectly crispy, bold, and savory. A mouthwatering side or appetizer!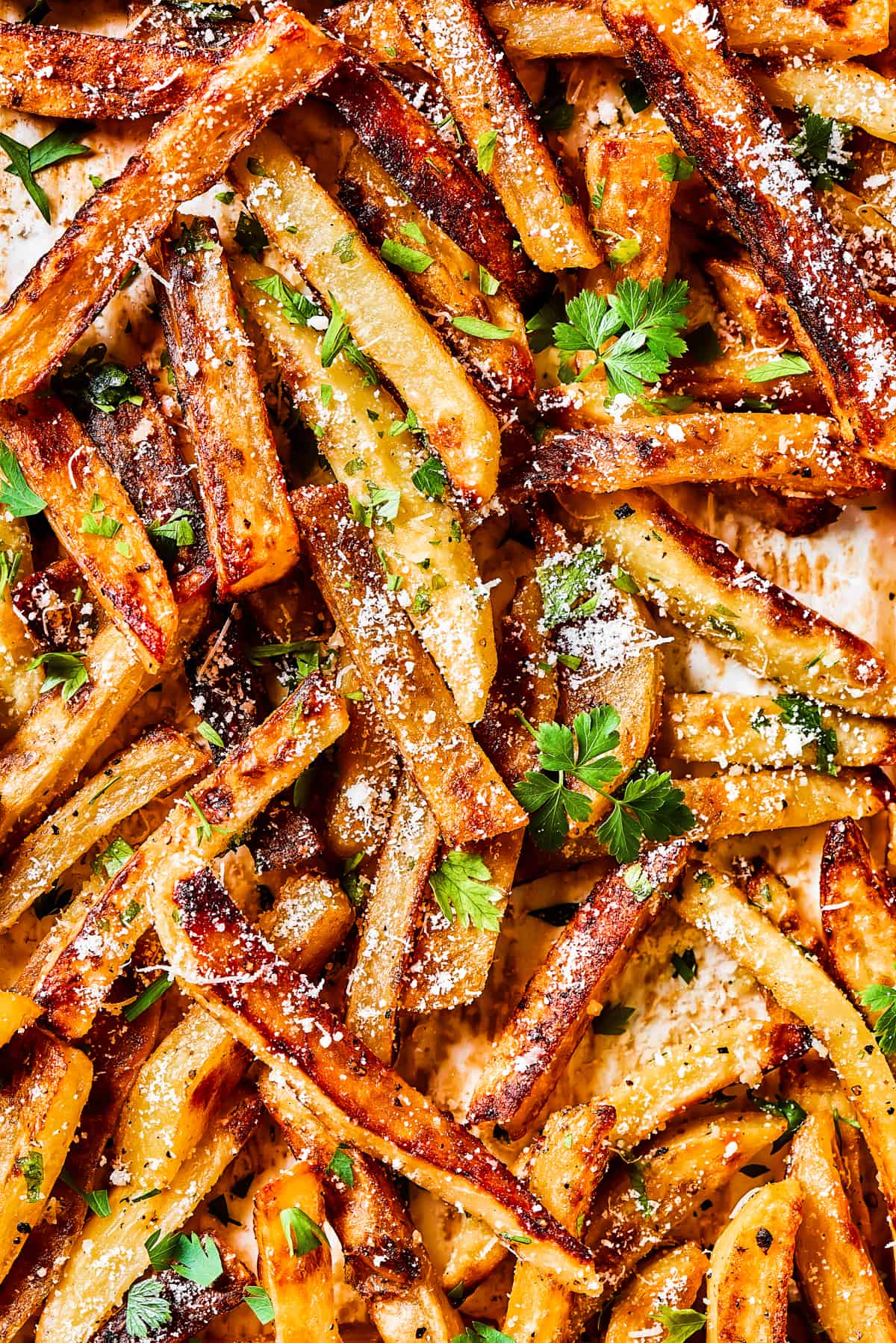 The Best Crispy Baked Garlic Fries!
Crispy, golden garlic fries are an irresistible snack. If you like potato wedges or fries, you will love this rich, garlicky twist on the classic. Perfect game-day food, perfect for a casual dinner, and perfect for a tantalizing appetizer. You can't go wrong!
Best of all, this recipe is incredibly easy. With just a few simple steps, you can transform humble potatoes into crispy, flavorful little masterpieces. Slice 'em, season 'em, and pop 'em into the oven. Drizzle your fries with garlic butter, and what do you get? A crazy-good batch of garlic fries that will have everyone begging for seconds.
These Homemade Garlic Fries Are…
Bold and Savory: Garlic fries are salty and buttery and have plenty of robust garlic flavor. My mouth is watering just thinking about it!
Versatile: These fries make a fantastic side dish for cheeseburgers, sandwiches, or grilled meats, but they can also stand alone as a satisfying snack or appetizer.
Comforting: I'm all about comfort food, and there's just something so comfy about biting into a perfectly cooked garlic fry. The warm, soft potato interior, crispy exterior, and garlic flavor are a great combination.
Easy to Make: Making this recipe is simple and straightforward. You don't need any special techniques or tools, and the prep is very minimal.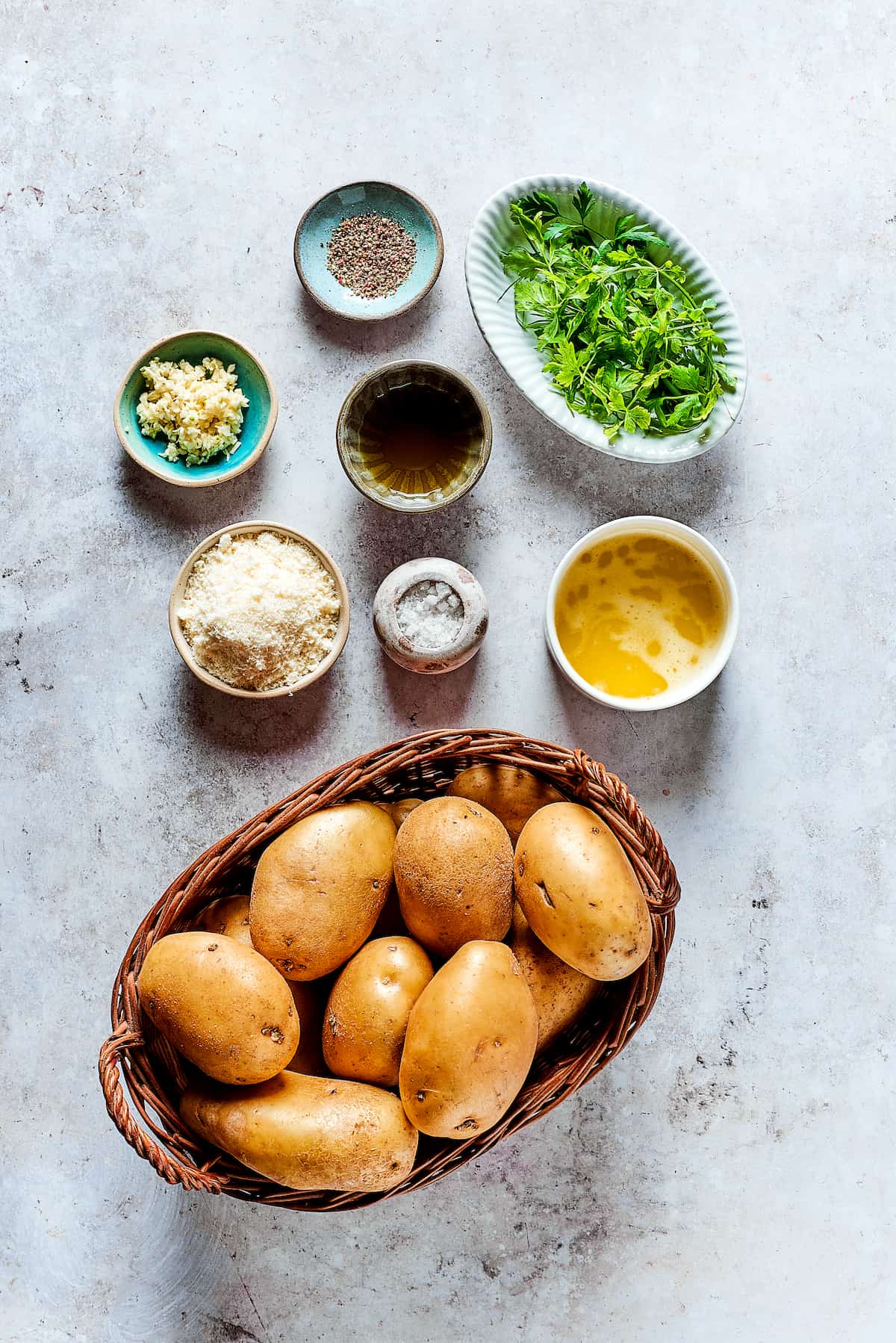 What You'll Need
So what ingredients are used in this easy recipe? Glad you asked! Because not only are garlic fries delicious, they are also easy to make, without any processed foods. Here's what you'll need:
Potatoes: I like large, Russet potatoes, but you can use any kind of potatoes.
Olive Oil: Extra virgin is the most flavorful.
Butter: Unsalted butter, melted.
Garlic: Instead of garlic powder, we'll be using fresh minced garlic.
Parmesan: Some grated parmesan cheese really brings out the garlic and potato flavor, and adds some salty umami flavor.
Parsley: This adds a little fresh, herbal note, and some pretty green color.
Salt and Pepper: To taste.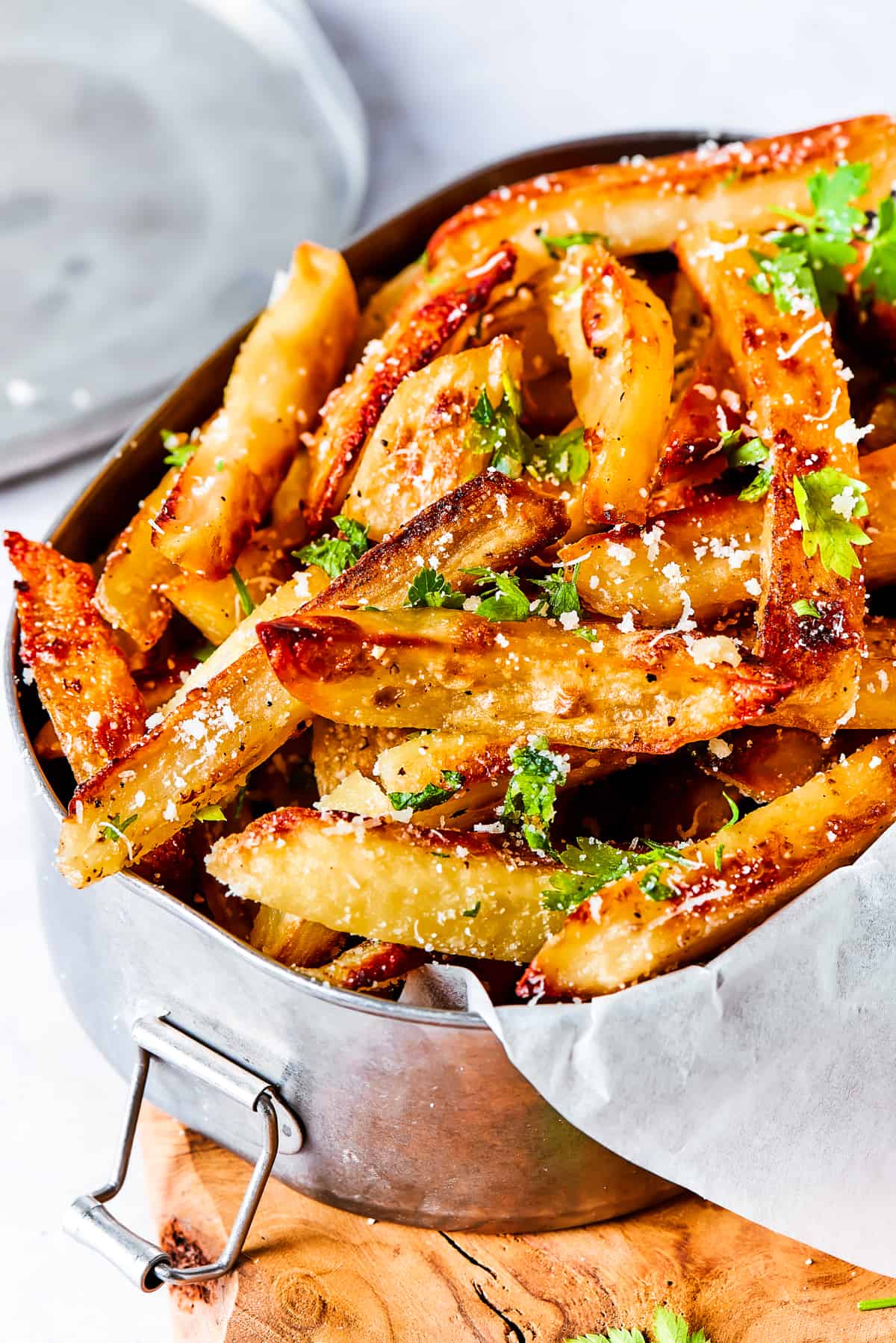 How to Make Garlic Fries in the Oven
Baking garlic fries at home is simple, but the payoff is huge.
Prep the Potatoes. To get started, first, preheat your oven to 400°F. Then wash, peel, and cut the potatoes into fries. Place them in a bowl of cold water, and let them soak for half an hour or up to one hour. Once they're done soaking, drain the water and pat the fries dry with a clean kitchen towel.
Season the Potatoes. Next, put the dried, uncooked fries in a bowl with olive oil, salt, and pepper. Toss them gently but thoroughly so they're evenly coated with seasoning.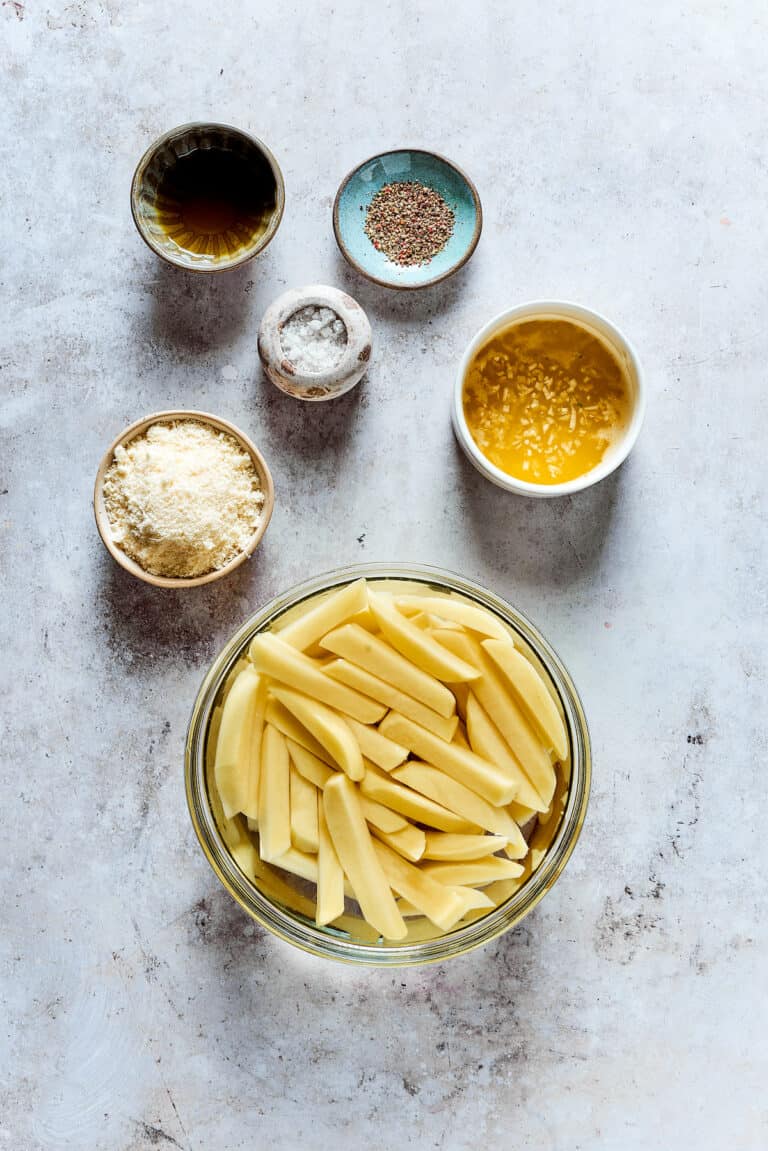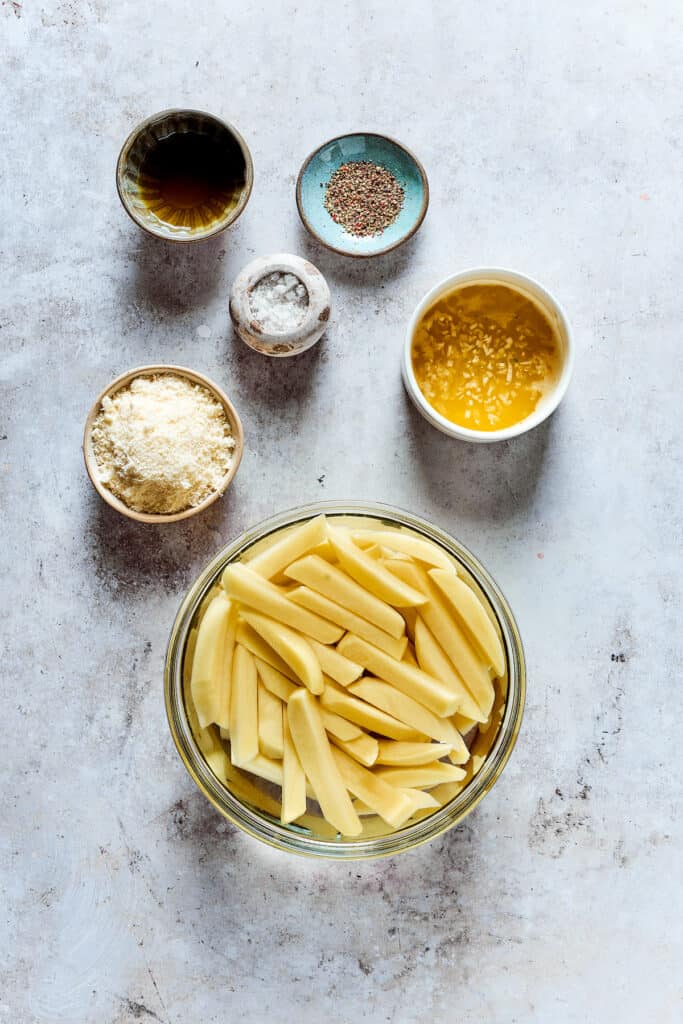 Bake! Arrange the seasoned potato strips in a single layer on a baking sheet lined with parchment paper. Make sure they're not too crowded – a little space helps them crisp up, but crowding makes them mushy. Bake for 30 – 35 minutes, flipping them once or twice during the cooking time.
Make the Garlic Butter. Once the potatoes are almost done baking, heat the butter and garlic in a saucepan over medium heat, stirring constantly. The garlic needs to start browning, but do not let it burn or turn dark – take it off the heat as soon as it begins to change color.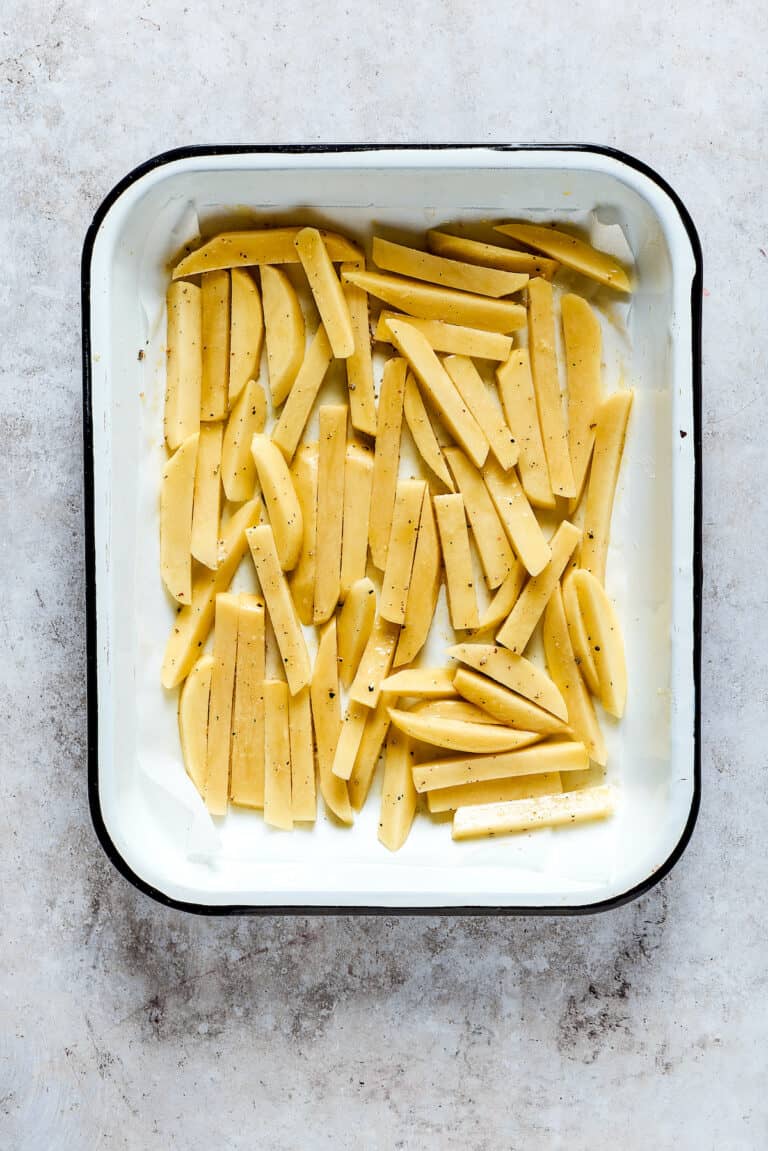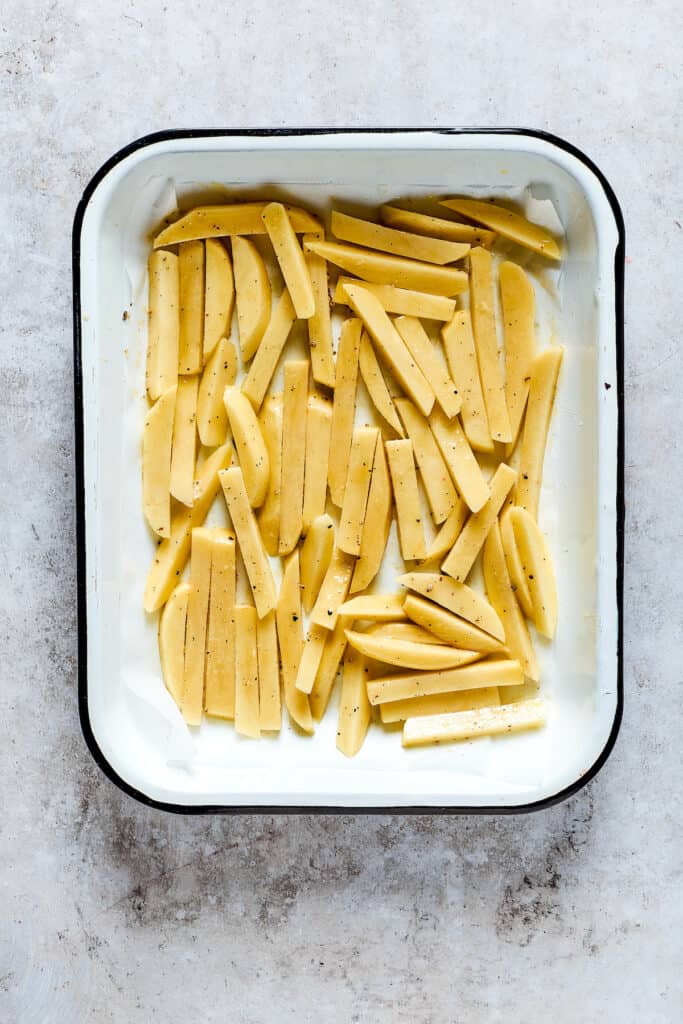 Finish the Dish. Take the crispy fries out of the oven, and drizzle them with the garlic butter. Sprinkle the parmesan over them, along with the parsley, and toss gently.
Enjoy! Let the fries cool for a couple of minutes, and serve warm.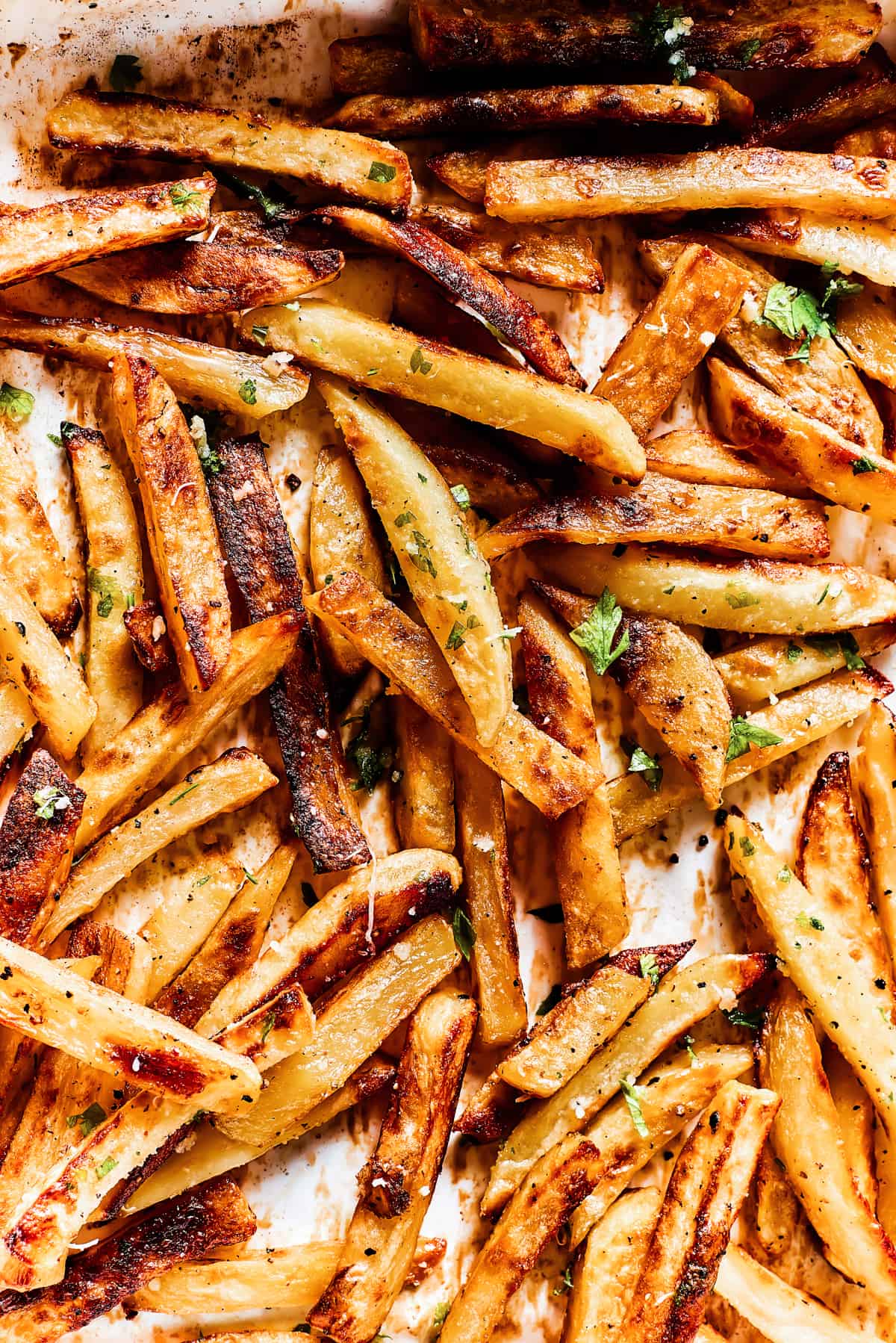 Where Did Garlic Fries Come From?
So where did garlic fries originate? Most sources trace the invention of garlic fries back to Gordon Biersch, a brewery and restaurant chain founded by Dan Gordon and Dean Biersch in 1988. These delicious fries are believed to have been invented by Gordon and then introduced in the restaurants after he joined forces with Biersch. The dish took off and became a fan favorite after being sold to baseball fans, and they are still served as a concession item at many stadiums across the U.S.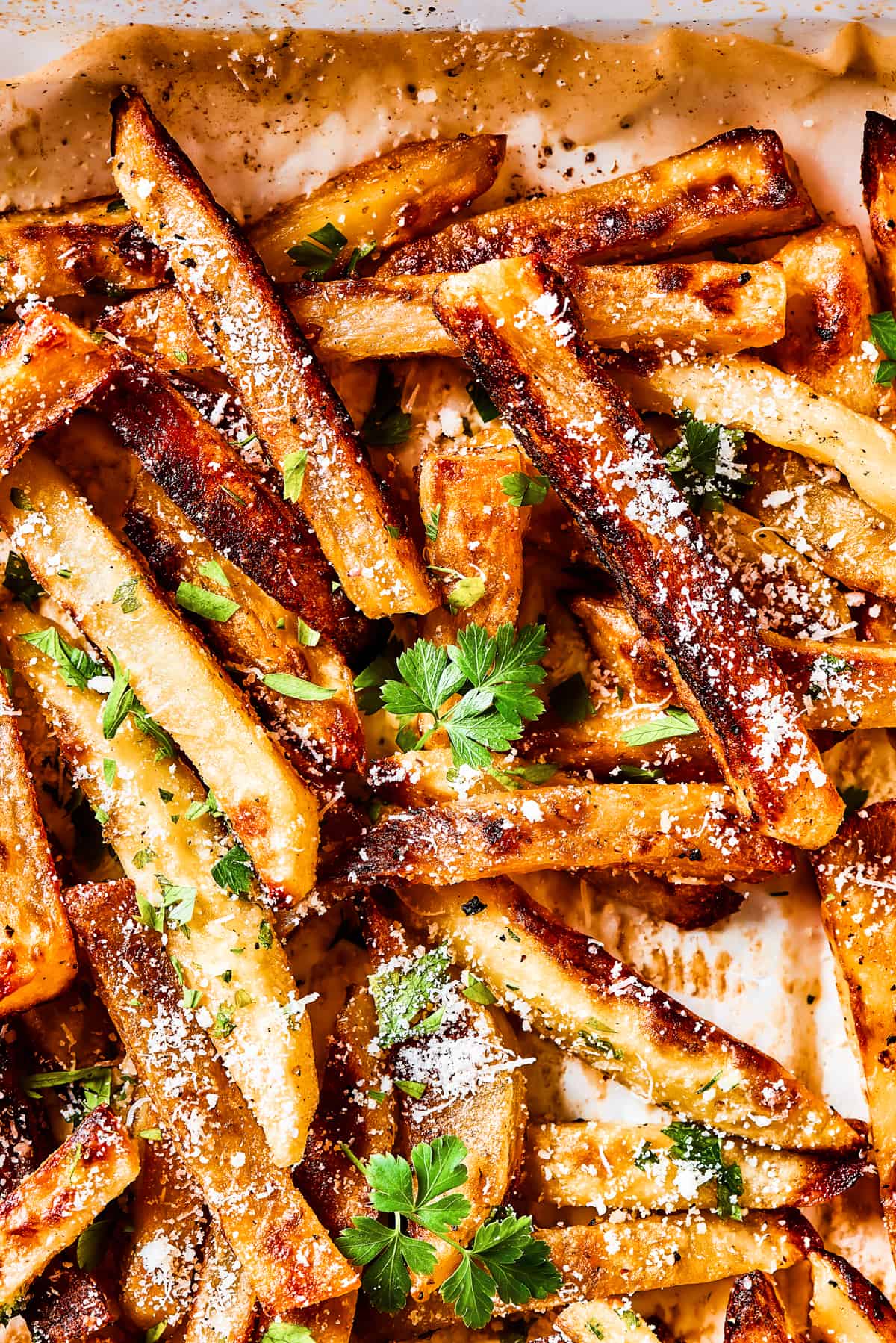 Helpful Tips
I hope you'll try making your own garlic fries – once you taste them, you'll want to make them every week! And these helpful tips will make the process that much easier.
Pre-Soak and Dry: It might be tempting to skip this step, but soaking the potatoes really does make a difference. Soaking helps remove excess starch from the potatoes, which means you get crispier fries. After soaking, make sure to thoroughly dry the potatoes with a clean kitchen towel so that the oil and seasonings will stick.
High Heat: 400°F might seem a little hot, but using a relatively high heat helps ensure a tender, soft interior and golden-brown, crispy exterior.
Garlic Butter: Toss the cooked fries with the garlic infusion immediately after removing them from the oven or fryer. That way, the garlic butter will stick to the fries and dry on them as they cool, making the most of the flavor.
Timing and Tossing: Be sure to keep a close eye on the fries during cooking to prevent them from burning, and don't forget to flip or toss the fries halfway through the cooking time so that they cook evenly on all sides.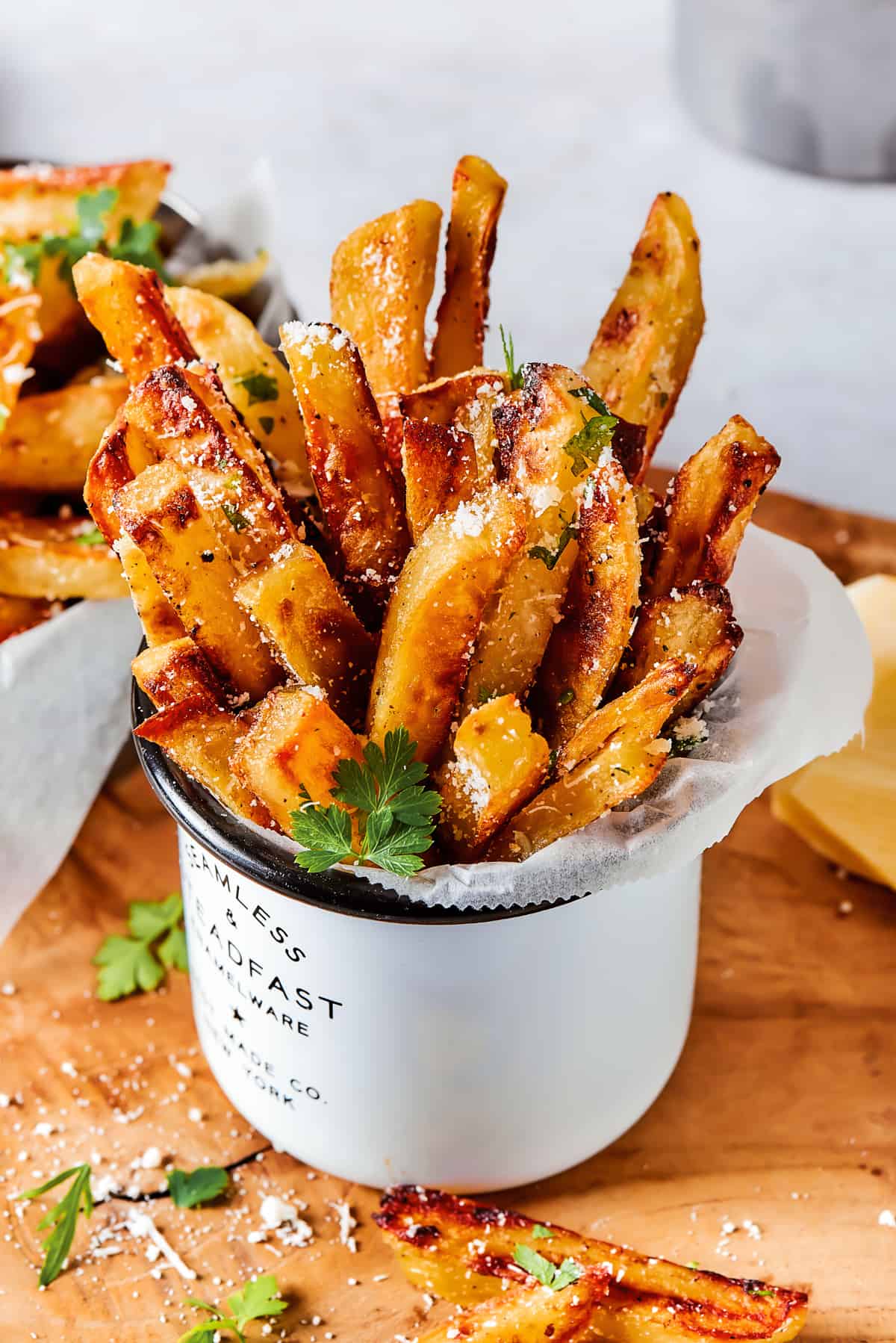 What to Serve with Homemade Garlic Fries
These garlic parmesan fries are delicious on their own or served with your favorite dipping sauces, such as ketchup, aioli, or ranch dressing. You can also pair them with your favorite main courses, like these:
Grilled Steak: Garlic fries are a great accompaniment to grilled meats like steak, pork chops, or grilled chicken. I especially love them with Grilled Flank Steak with Bleu Cheese Butter – this meal will blow you away!
Sandwiches: From hearty burgers to a classic Reuben Sandwich, these crispy garlic parmesan fries are the perfect side! They add an irresistible contrast in texture and flavor.
Seafood: The garlicky goodness of the fries pairs well with various fish and seafood dishes. Enjoy them alongside Air Fryer Parmesan Crusted Tilapia for a fresh take on fish and chips.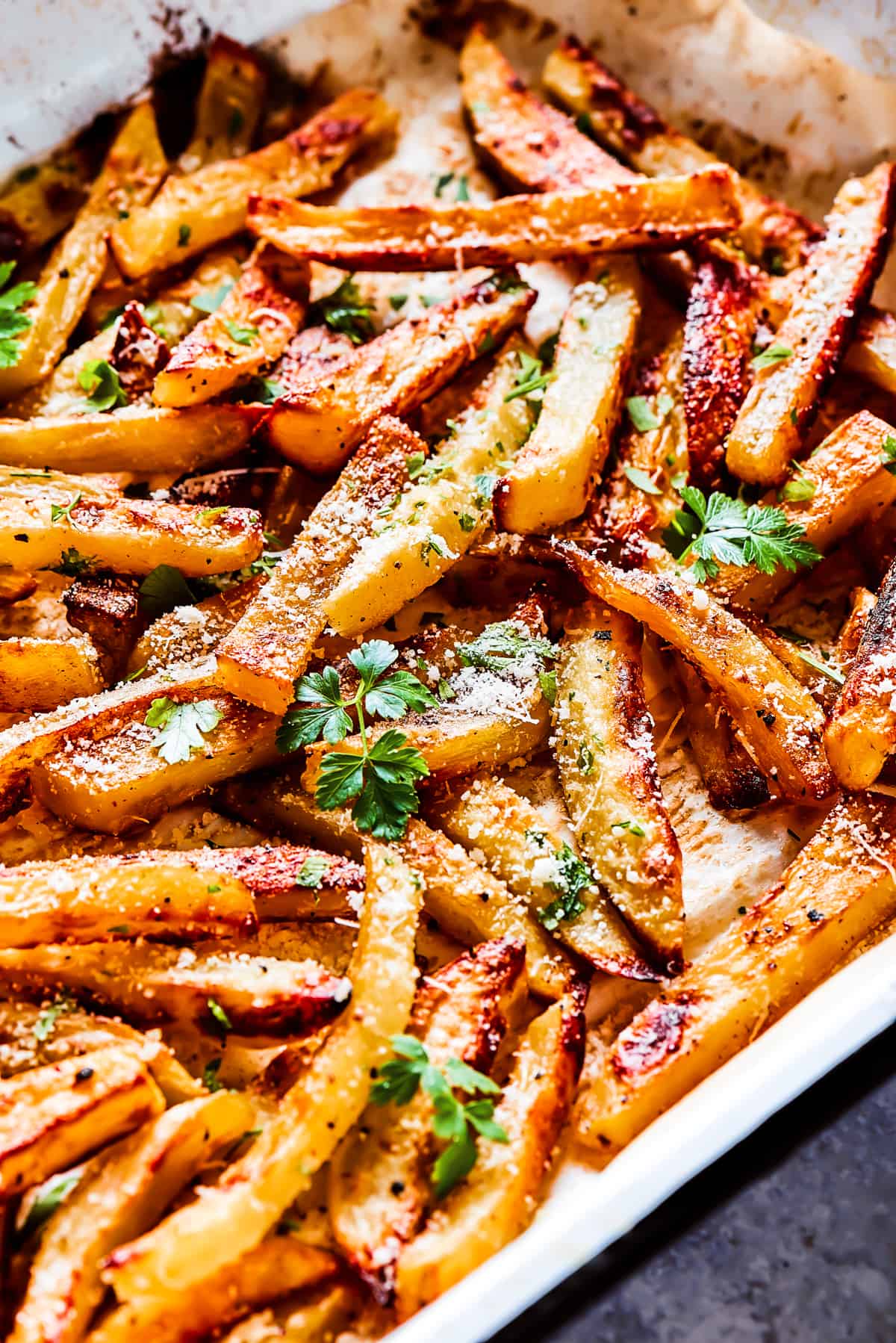 Storing and Reheating
Store leftover garlic fries in an airtight container and keep them in the fridge for 3-4 days. Reheat by baking at 350°F for about 5 minutes. Avoid microwaving to maintain crispiness.
To freeze, spread the fries out on a tray, freeze until solid, then store in freezer bags for up to 3 months. Reheat from frozen at 350°F until warm and crispy.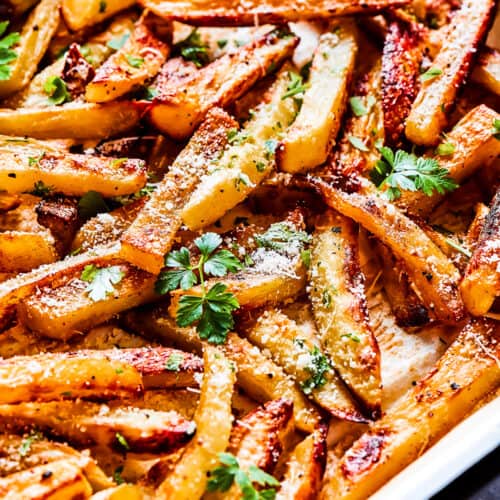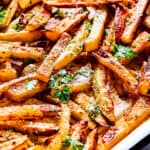 Print Recipe
Garlic Fries
Garlic Fries are ultra-flavorful, perfectly crispy, bold, and savory.
Ingredients
4

large

potatoes,

I use Russet potatoes

3

tablespoons

olive oil

3

tablespoons

unsalted butter,

melted

4

cloves

garlic,

minced

½

cup

grated Parmesan cheese

2

teaspoons

fresh chopped parsley

salt and fresh ground black pepper,

to taste
Instructions
Preheat your oven to 400°F.

Wash the potatoes and peel the skin. Cut the potatoes into thin strips.

Place the potatoes in a large bowl of cold water and soak for 30 to 60 minutes.

Drain well and pat dry the potatoes with a kitchen towel.

Place the potatoes in a large bowl; add olive oil, salt and pepper. Toss them well to ensure they're evenly coated with the oil mixture.

Arrange the coated potato strips in a single layer on a baking sheet lined with parchment paper. Make sure they're not too crowded, or they won't be crispy.

Place the baking sheet in the preheated oven and bake for about 30 to 35 minutes, or until the fries turn golden brown and crispy. Flip the fries once or twice during the cooking process to ensure even browning.

During the last five minutes of baking the fries, take a small saucepan, set it over medium heat, and add the butter and minced garlic. Cook and stir constantly for 1 to 2 minutes.

Keep an eye on the garlic as it starts to turn brown. Once you notice the garlic browning, remove the saucepan from the heat.

When the fries are done, remove them from the oven. Combine the fries with the garlic butter mixture, sprinkle with the Parmesan cheese and freshly chopped parsley. Toss them gently to coat the fries evenly.

Allow the fries to cool for a couple of minutes before serving.
Notes
Choose the Right Potato: Russet potatoes are commonly used for making fries due to their high starch content, giving them a crispy exterior and fluffy interior.
Try to cut your potatoes into equal-sized pieces so that they cook evenly. A mandoline can be an excellent tool for getting uniform slices.
Pre-soak and Dry: Soaking potatoes improves crispiness by removing excess starch. Dry them well after so that oil and seasonings adhere properly.
Cook at 400°F for a tender inside and crispy, golden exterior.
Coat the fries in garlic butter as soon as they're done cooking to maximize flavor as they cool.
Monitor fries during cooking to avoid burning and flip halfway for even cooking.
Experiment with Flavors: Try different seasonings. Garlic powder, paprika, chili powder, or truffle oil can take french fries to the next level.
Serve immediately because fries are best served right after they're cooked.
Nutrition
Calories:
395
kcal
|
Carbohydrates:
39
g
|
Protein:
10
g
|
Fat:
23
g
|
Saturated Fat:
9
g
|
Polyunsaturated Fat:
2
g
|
Monounsaturated Fat:
11
g
|
Trans Fat:
0.3
g
|
Cholesterol:
33
mg
|
Sodium:
255
mg
|
Potassium:
925
mg
|
Fiber:
5
g
|
Sugar:
2
g
|
Vitamin A:
388
IU
|
Vitamin C:
43
mg
|
Calcium:
211
mg
|
Iron:
2
mg
More Healthy Side Dishes