This easy recipe for The Best Cheese Manicotti will change your life! This beloved dish is prepared with four kinds of cheese, spinach, marinara sauce, and tender pasta.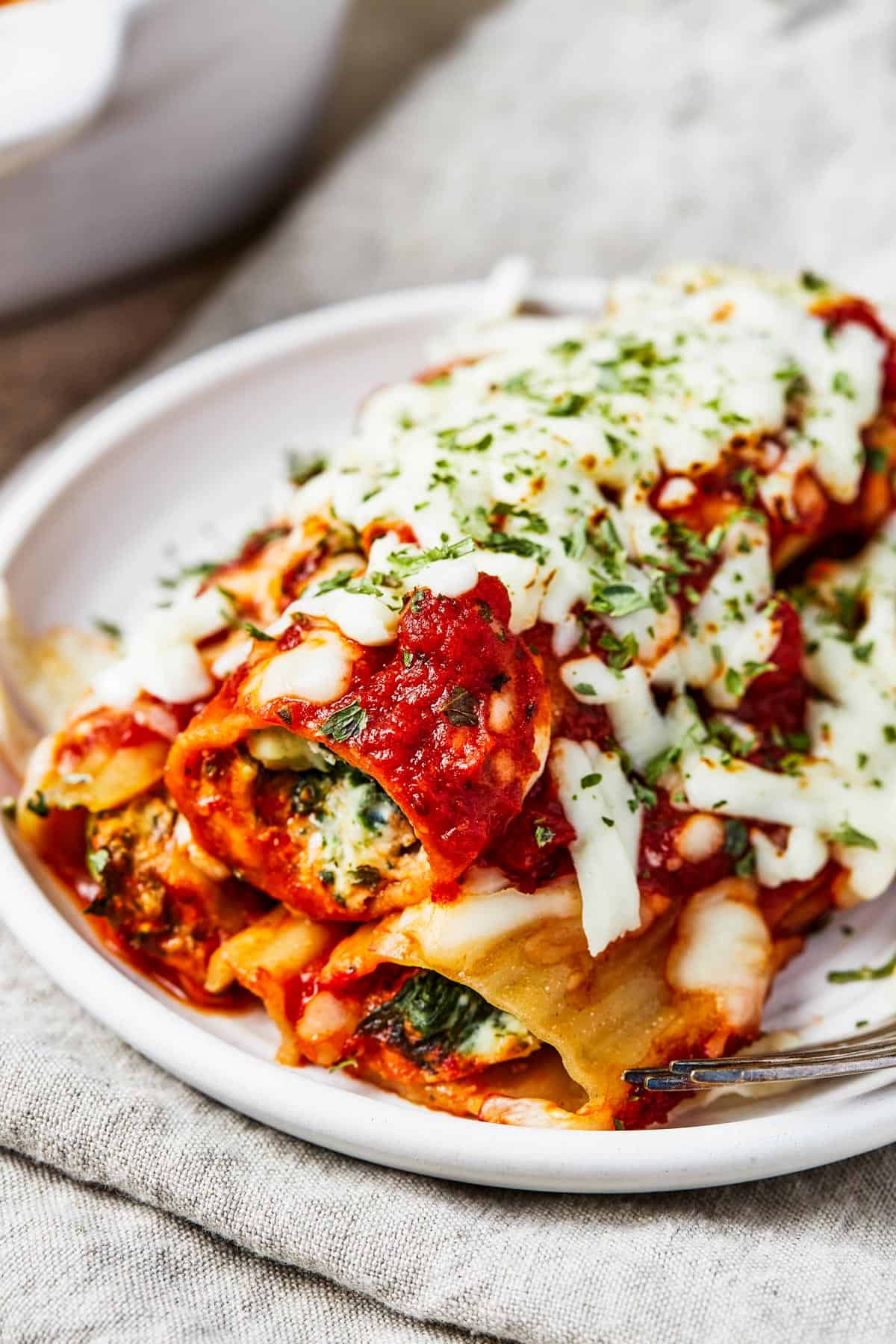 Classic Italian Cheese Manicotti
When it comes to a comforting, old-fashioned Italian dinner, manicotti is definitely one of the best. Tender cylinders of pasta are filled with the ultimate cheesy filling, seasoned with herbs and mixed with egg. From there, the filled pasta is baked in zesty marinara sauce, until piping hot all the way through! The pasta absorbs the flavor of the marinara, making every bite a masterpiece of saucy flavor.
If you've never made manicotti before, you need this in your life! It's so satisfying, and honestly, it's easy to make! You will need to set aside enough time to fill the manicotti by hand, but even that is a simple process. Serve with your favorite salad, some garlic bread, or a plate of antipasto, and you've got an amazing meal! 😋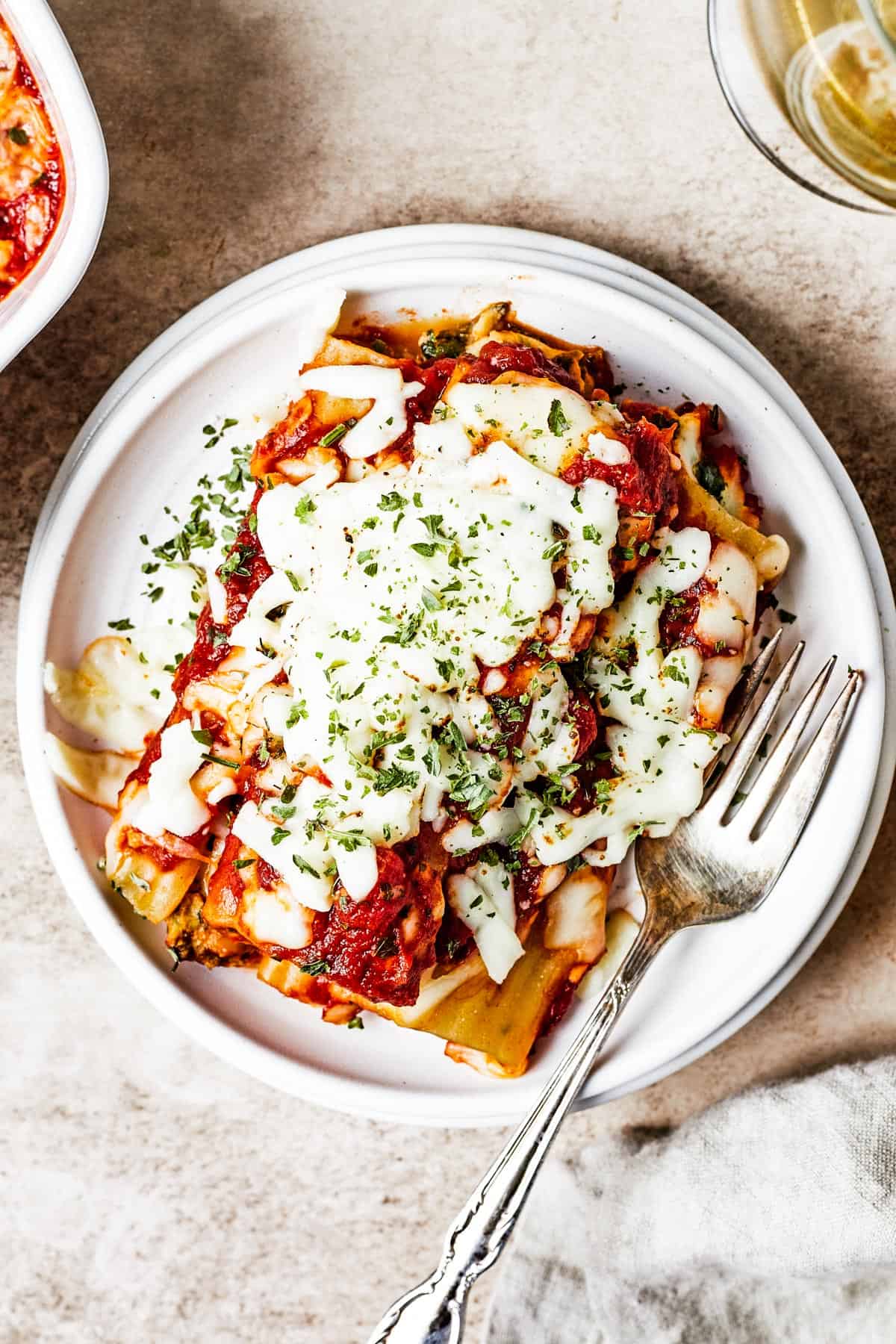 How Is Manicotti Different from Lasagna?
Lasagna is a layered pasta bake that often includes a meaty sauce similar to Bolognese sauce. Manicotti, on the other hand, uses individually stuffed tubes of pasta and is often made without meat. Both are popular and easy to make!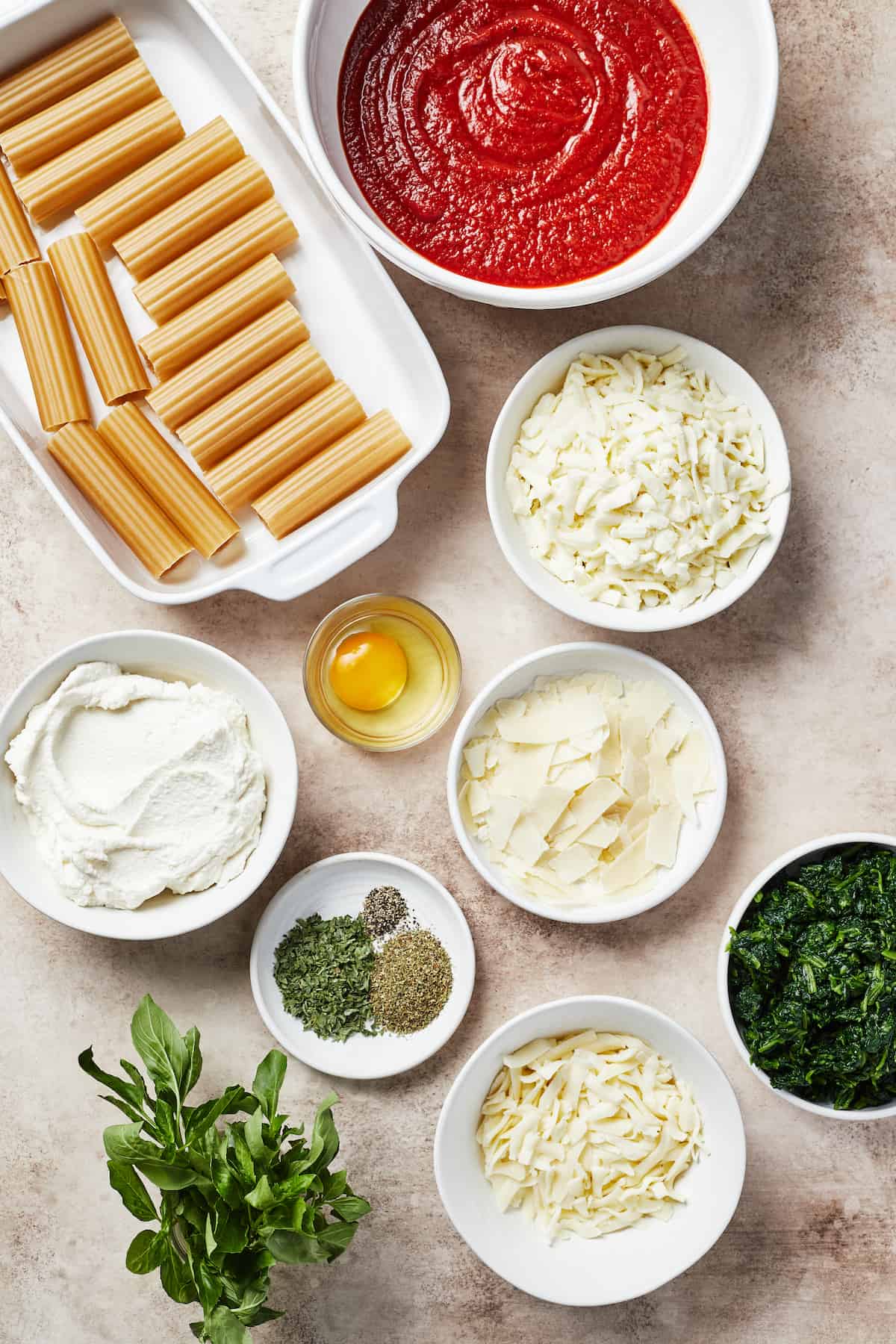 Recipe Ingredients
The pasta is a key part of this dish so if you can use real, imported Italian pasta. Italian pasta is often made with exceptionally high-quality wheat and no additives.
Manicotti: Manicotti are large, dried tubed-shaped pasta noodles, perfect for filling.
Ricotta Cheese: If you want to substitute, you can use equal parts cottage cheese and mascarpone.
Mozzarella Cheese
Provolone Cheese: Provolone is a classic Italian cheese with a mild, nutty flavor.
Parmesan Cheese
Herbs: Dried parsley and Italian seasoning.
Black Pepper
Spinach: I use frozen chopped spinach, thawed and squeezed dry.
Egg: One whole egg, whisked helps bind the cheese filling together.
Marinara Sauce: You can use your favorite store-bought marinara, or make it yourself!
Garnish: Basil or parsley make a nice optional garnish.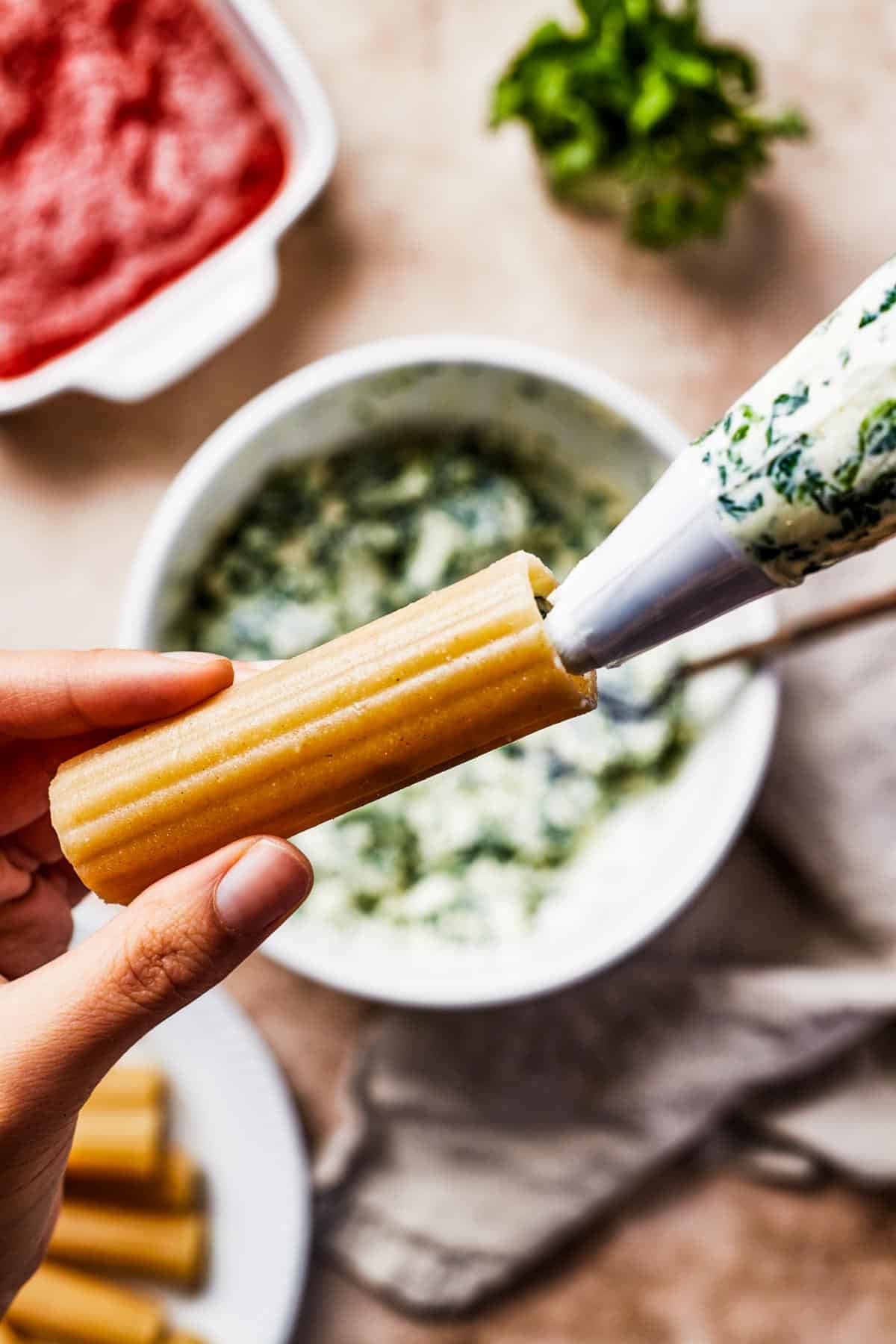 Let's Make Manicotti!
Boil your manicotti, fill your pasta with a combination of cheese, herbs, and egg, and bake!
Prep the Oven, Baking Dish, and Pasta. First, preheat your oven to 350°F. Prepare a baking dish and pour in a cup of marinara sauce. Make sure it coats the bottom evenly.
Stuff Your Manicotti. Combine half of your mozzarella cheese, provolone, parmesan, herbs, pepper, spinach, and egg in a large bowl. Using a piping bag or spoon, stuff your manicotti with the cheese mixture. Place your manicotti in the baking dish until it is full. Top it with the remaining marinara sauce and mozzarella cheese.
Bake and Serve. Cover with foil and bake the manicotti for 30 minutes. Then remove the foil and bake for another 10 minutes, or until cheese is melty and bubbly.
What Is the Easiest Way to Fill Manicotti?
By far, the easiest way to fill manicotti is with a pastry bag, or a sandwich bag with the corner cut off. You can pipe the cheesy filling right into each manicotti shell. Be careful handling the cooked pasta, though, as it can crack or break apart during this process.
If you don't want to use a pastry bag or sandwich bag, you can also use a regular butter knife. Heap a small amount of filling onto the side of the knife, and carefully insert it into the manicotti. Squeeze the manicotti against the knife while you slide the knife out, and the filling will stay in the manicotti.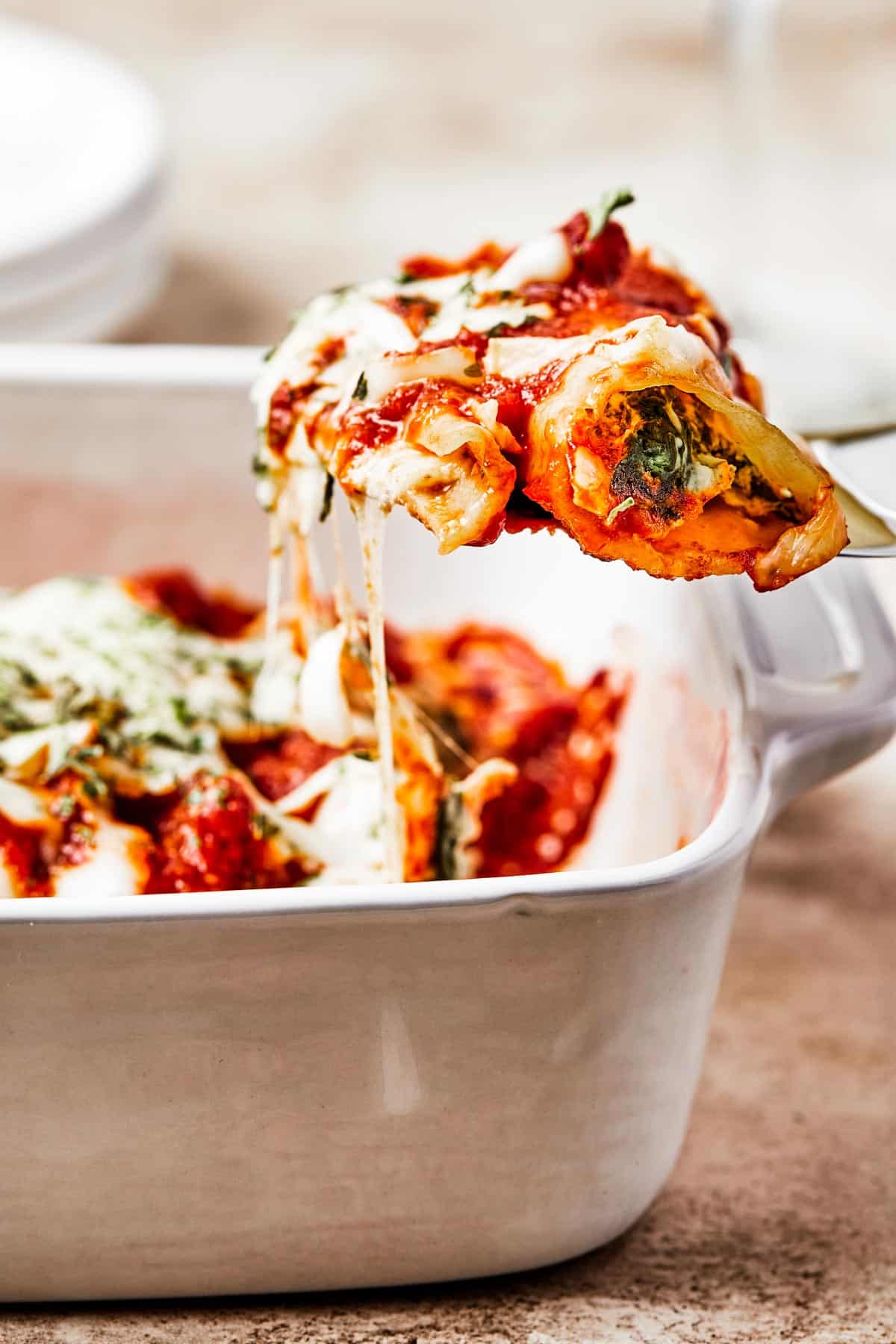 Helpful Tips and Tricks
Here are some quick tips to help you make the best manicotti ever:
Extra Cheese: If you have extra cheese filling left over, you can spread or dollop it over the manicotti, before topping the dish with marinara. You can also store the cheese filling in the fridge for up to one day.
Substitute Pasta: No manicotti? No problem! Cook lasagna noodles instead, and roll up the filling inside. Easy!
Add Protein: Cook ground beef, turkey, or Italian sausage and add it to the marinara for a great meat-based dish.
Add Veggies: If you'd like to add extra veggies to this dish, I recommend sautéing chopped vegetables in a little oil and adding them to the sauce. Mushrooms, bell peppers, and onions are all great options!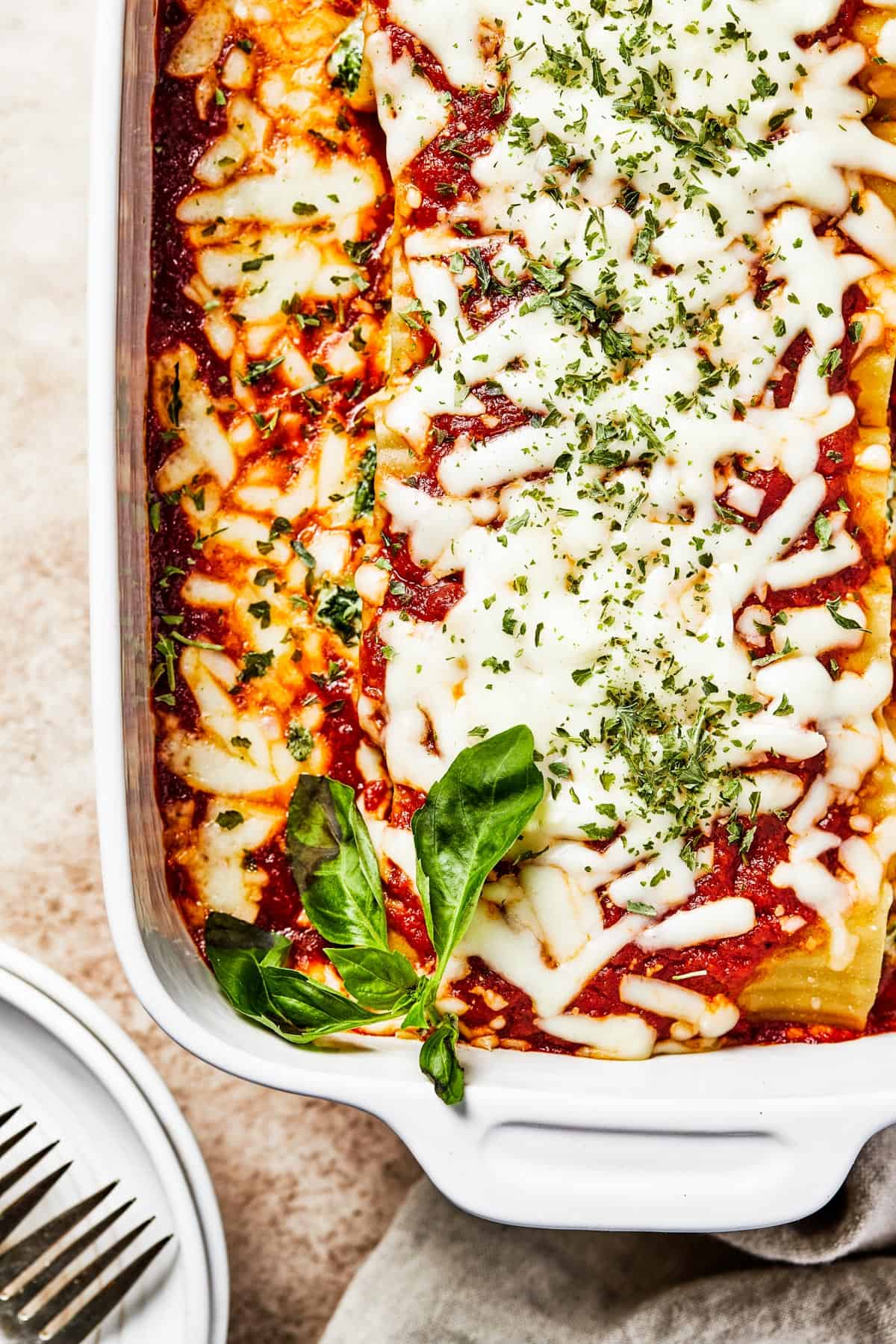 Serving Suggestions
Cheese manicotti is versatile and goes with many different sides! I like to serve a big crunchy salad and some garlicky breadsticks, but you can serve whatever you like! Here are some other family favorites:
Shrimp Salad with Avocados: For an extra-fancy dinner, make this colorful and mouth-watering Shrimp Salad with Avocados.
Easy Garlic Knots: As the name implies, these are easy and garlicky – and perfect with a cheesy dish like this one! Quick to make and fun to eat, these Garlic Knots are always a hit.
Parmesan Panko Asparagus Fries: These delightfully crispy Parmesan Panko Asparagus Fries are blanched, breaded, and baked to perfection.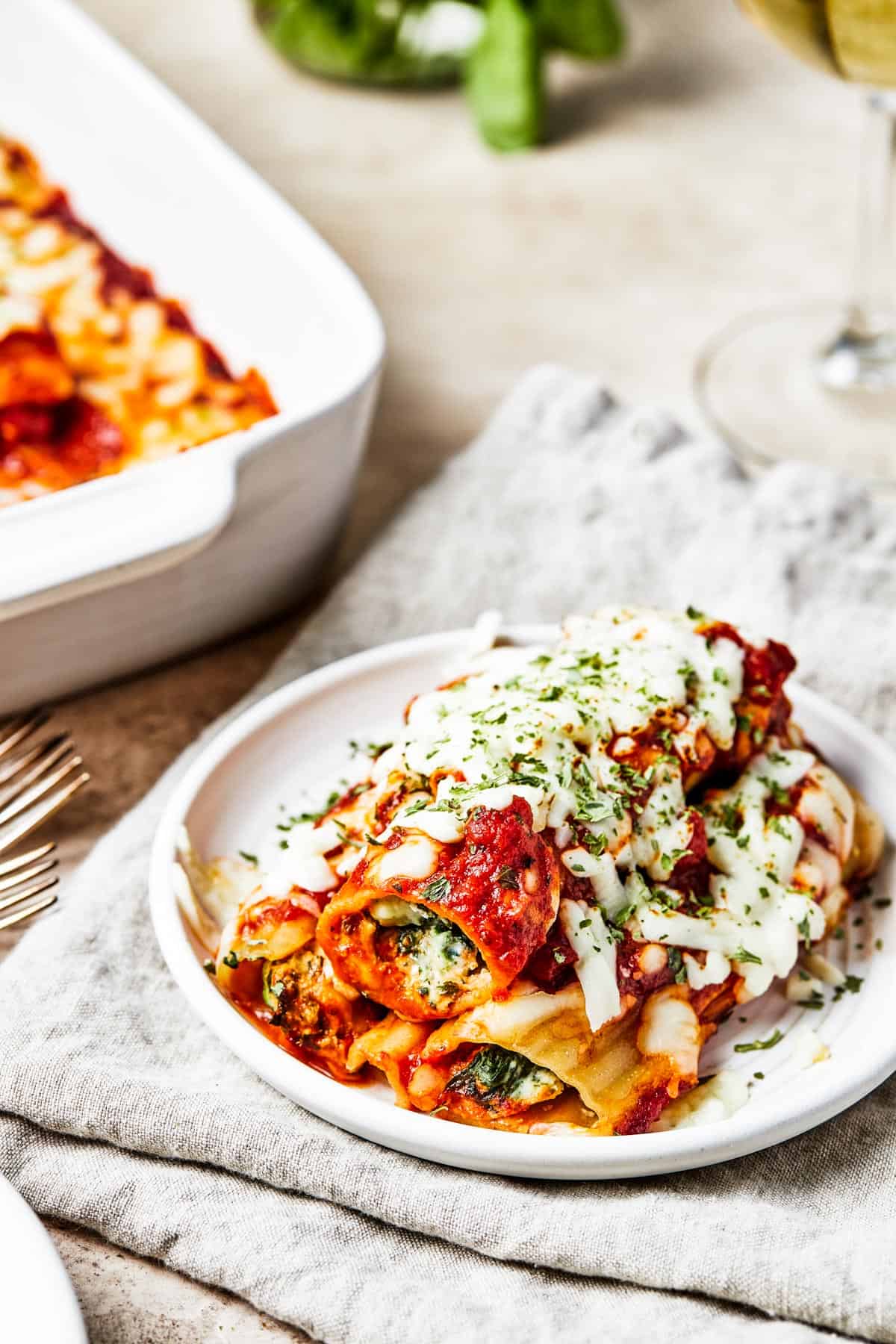 How to Store and Reheat Leftovers
Store cooled manicotti in freezer bags or airtight containers for convenient, space-saving storage. This will keep for 3 to 4 days in the refrigerator.
To reheat, place the desired amount in an oven-proof dish and bake at 350°F till heated through.
You can also reheat extras in the microwave. I recommend only reheating a single serving at a time.
Can I Freeze Stuffed Manicotti?
Yes, you can freeze this dish baked or unbaked for up to 2 months. Freeze it in the baking dish covered well with aluminum foil, then wrapped in a few layers of saran wrap.
Thaw overnight in the fridge before baking as directed in the recipe.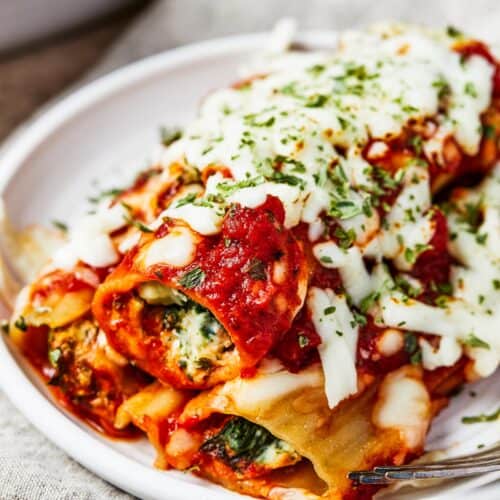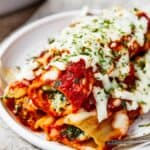 Print Recipe
The Best Cheese Manicotti
This easy recipe for The Best Cheese Manicotti will change your life! This beloved dish is made with four cheeses, marinara sauce, and tender pasta. It's sure to be a family favorite!
Instructions
Preheat oven to 350˚F.

Prepare a 9×13 baking dish (or similar) and pour in 1 cup of the marinara sauce to evenly coat the bottom.

Cook the manicotti according to the package directions. Drain and rinse under cold water to stop the cooking process. They should still be firm enough for you to handle.

In a large bowl, combine ricotta cheese, half of the mozzarella cheese, provolone, parmesan, dried parsley, Italian seasoning, black pepper, spinach, and egg.

Using a piping bag or a spoon, stuff the manicotti with the cheese mixture.

Place the manicotti in the baking dish and repeat until the dish is full. Top with the remaining marinara sauce and remaining mozzarella cheese.

Cover with foil and bake for 30 minutes. Remove foil and bake uncovered for another 10 minutes, or until cheese is melted and bubbling.

Garnish with basil or parsley and serve.
Nutrition
Calories:
474
kcal
|
Carbohydrates:
33
g
|
Protein:
30
g
|
Fat:
25
g
|
Saturated Fat:
15
g
|
Polyunsaturated Fat:
1
g
|
Monounsaturated Fat:
7
g
|
Trans Fat:
1
g
|
Cholesterol:
102
mg
|
Sodium:
1237
mg
|
Potassium:
753
mg
|
Fiber:
4
g
|
Sugar:
7
g
|
Vitamin A:
5904
IU
|
Vitamin C:
11
mg
|
Calcium:
620
mg
|
Iron:
3
mg
More Easy Pasta Recipes