This healthy Grilled Salmon Salad is made with seasoned, grilled salmon fillets, artichoke hearts, tomatoes, hard-boiled eggs, arugula, salad greens, and so much more! It's a well-balanced, light, but hearty dinner that's easy to throw together in a pinch.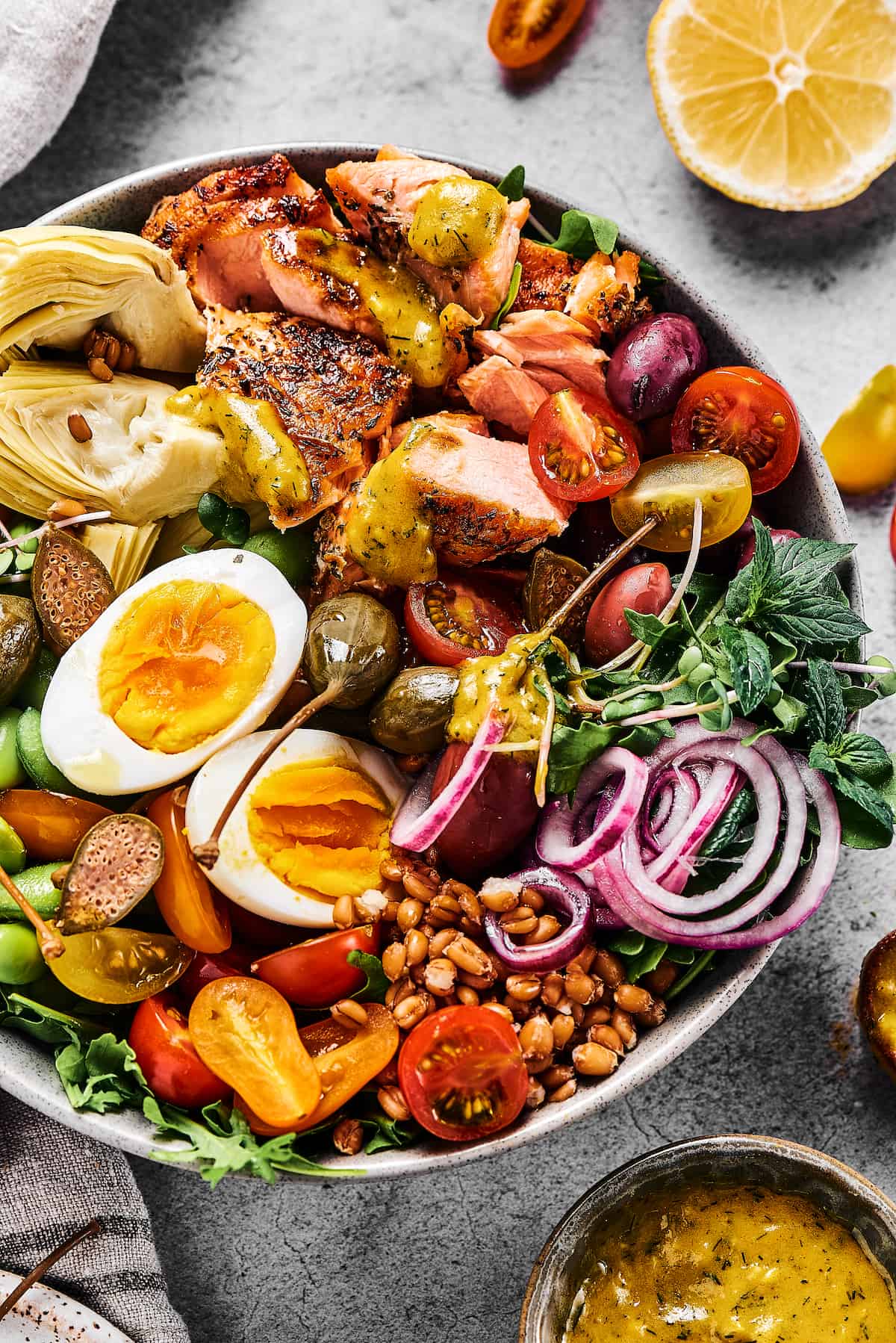 A Vibrant, Healthy Salad You'll Love
Once in a while, it's nice to have a big main-course salad for dinner or lunch, don't you think? I love a good steak salad, chicken salad, or pasta salad. But this salmon salad is extra special. It's chock-full of all kinds of goodies, like quartered artichoke hearts, capers, blanched edamame, and of course, grilled salmon! A grown-up meal that your mind and body will love.
And guess what? A restaurant-quality grilled salmon salad doesn't have to be difficult to make. This one is very, very simple to pull together. A lot of the ingredients come already prepared at the store, and the salmon itself just needs a sprinkle of seasonings and a few minutes on the grill. Feeling hungry? Me, too! 😋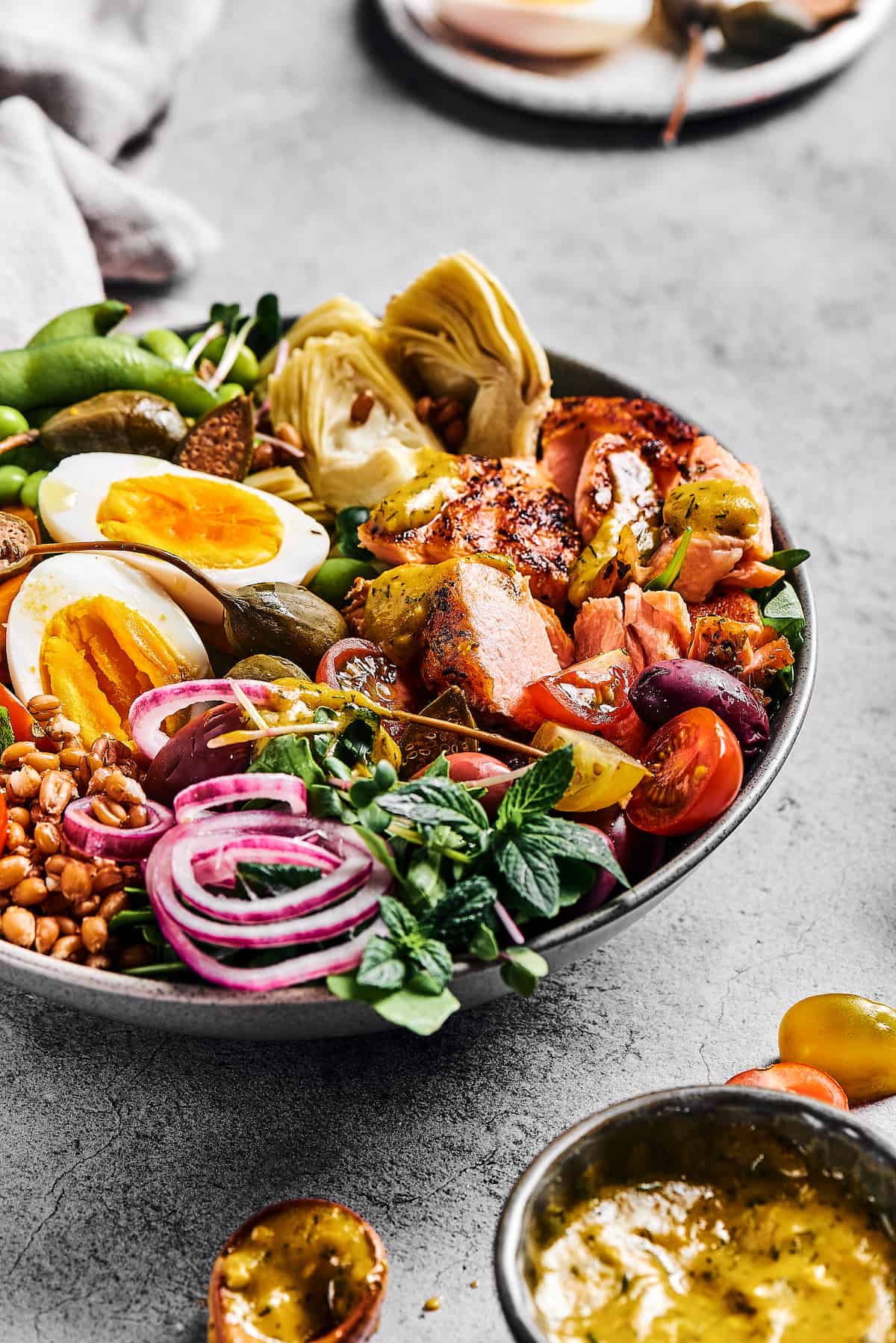 How Healthy Is Salmon for You?
Yes, most nutrition experts agree that salmon is good for you, especially wild-caught salmon from safe fishing areas. Salmon is not only high in protein, it's high in Omega-3 fatty acids, which are really good for your body and which many people don't get enough of.
Salmon is also a good source of some of the B vitamins, selenium, and other nutritional goodies that keep your body working properly.
However, most fish are known to contain some contaminants, with farm-raised fish usually higher in contaminants than wild-caught. Experts typically recommend that most people enjoy 1 to 3 servings of seafood per week, but if you're concerned or have a specific health condition that could be affected by your diet, definitely check with your healthcare provider for advice.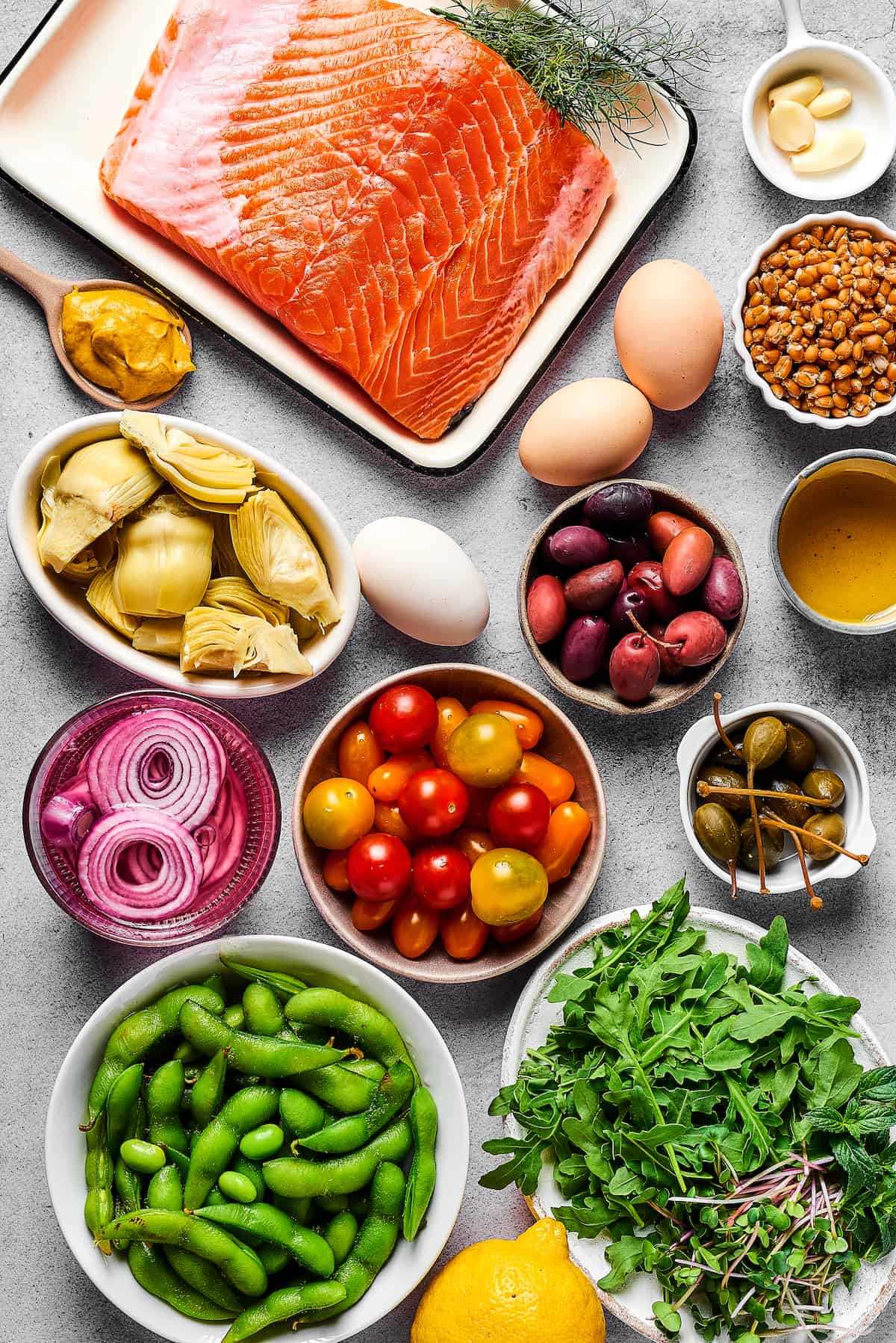 The Ingredients
This list is full of superfoods and amazing flavors, you guys. It makes my mouth water just writing it down for you! And, it's flexible, too – feel free to make whatever substitutions you like.
For the Salad
Salmon: Skinless or skin-on, whichever you like.
Mediterranean Seasoning: Or Italian seasoning, fish seasoning, or any all-purpose seasoning blend.
Artichoke Hearts: Marinated asparagus would also be great, or marinated green beans or even mushrooms.
Tomatoes: I like cherry tomatoes, any tomato cut into bite-sized pieces would be fine.
Kalamata Olives: If you don't like kalamata olives, use any kind you like – or leave them out entirely. I often use black olives.
Eggs: Hard-boiled eggs taste so good with salmon and other salad ingredients, adding a mild flavor that's both creamy and umami. Cheese would also be great, or avocado, if you're not a fan of boiled eggs.
Edamame: Blanch the shelled edamame quickly in boiling water, and cool them down, before adding them to the salad.
Grains: I like to add half a cup or so of cooked grains to this salad. Spelt, quinoa, bulgur, rice, and orzo are all great options.
Pickled Red Onions: You can make these yourself by cooking a thinly-sliced red onion with ⅔ cup vinegar, ⅓ cup water, a tablespoon of honey or sugar, and about half a teaspoon of salt. Boil in a small saucepan for 10 minutes, and you've got quick pickled red onions! Of course, you could simply leave these out, as well, or use something like thinly-sliced kimchi, pickled pearl onions, etc.
Capers: These are usually sold near the olives in most grocery stores.
Greens: I like to use a combination of arugula and radish microgreens, or other microgreens.
Salt and Pepper
For the Dressing
Garlic: Fresh garlic cloves, minced or pressed.
Olive Oil
Dijon Mustard: Other mustards, like stone-ground mustard or even plain yellow mustard, will also work.
Lemon Juice: Fresh is ideal, but bottled is fine, too.
Chopped Dill: Or any other fresh, light herb such as basil, chives, or parsley.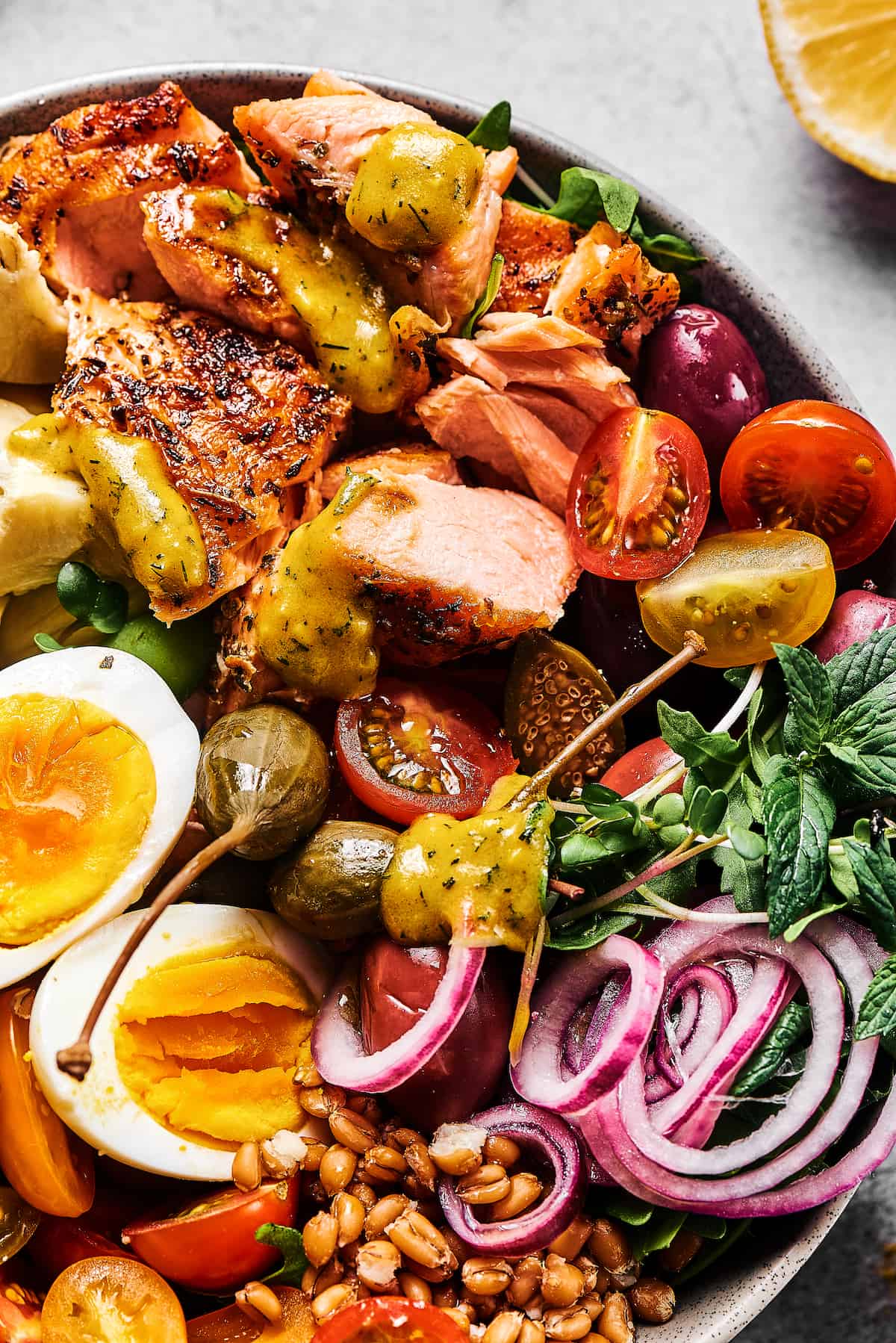 Can I Use Frozen Salmon?
Yes, you can! This recipe works with frozen salmon fillets that have been thawed, or you can cook directly from frozen (see the "Is It Ok to Cook Salmon from Frozen?" section below for tips). The great thing about frozen salmon is that it is often more fresh and flavorful than salmon thawed and sold at your grocery store fish counter.
You can select top-quality, wild-caught salmon and thaw it yourself right before you cook it.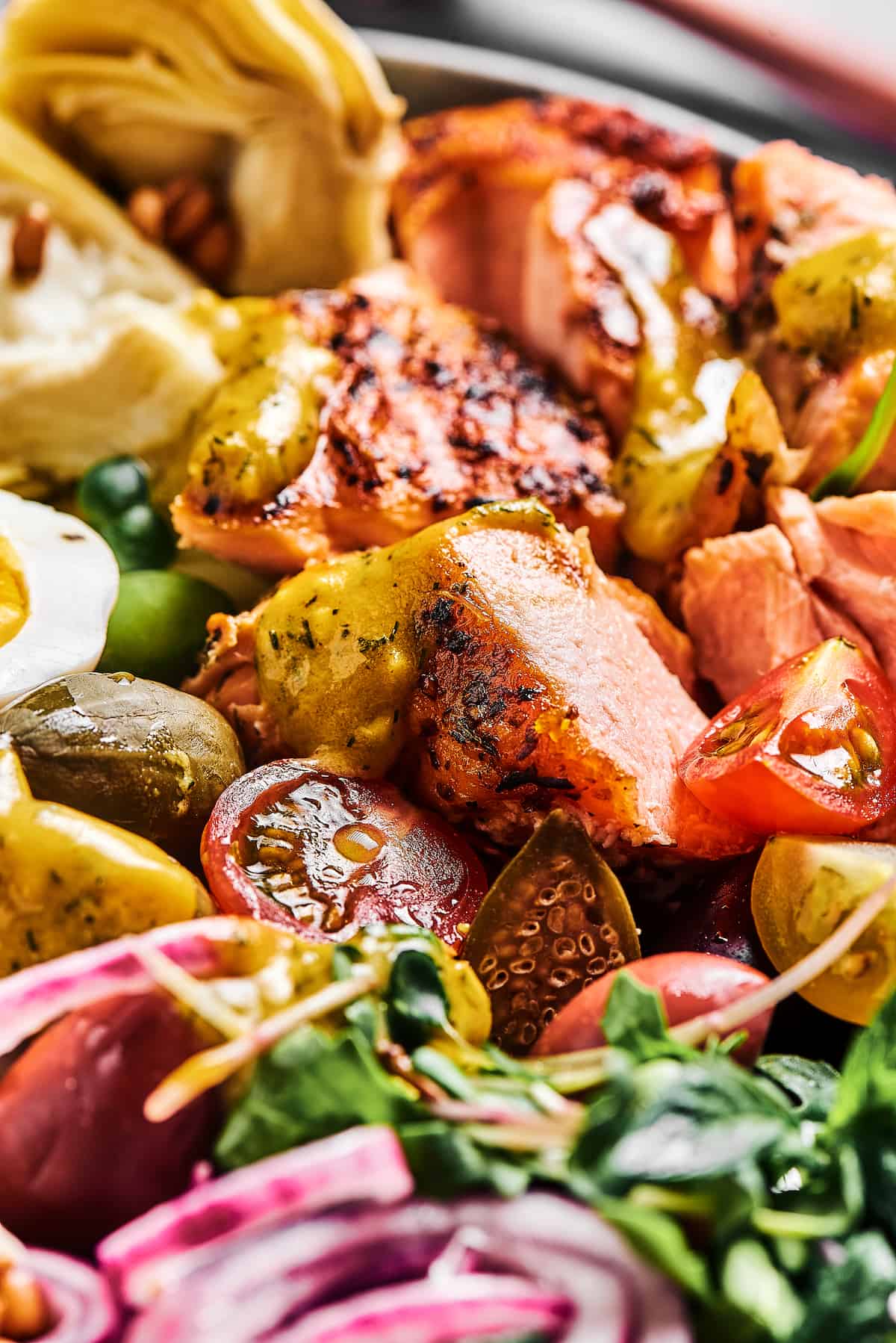 The Process
This grilled salmon salad comes together in a snap – all you have to do is grill the salmon on your stovetop, and while it cooks, you can throw together the dressing and the rest of the ingredients. Dinner? Done.
Cook the Salmon. To start, pat the salmon dry with paper towels, and season on both sides with salt, pepper, and Italian/Mediterranean seasonings. Heat up your grill pan on medium-high heat, and lay the salmon on it, skin-side-down. Cook for 4 minutes per side, or until it reaches a safe internal temperature of 145°F. Set the salmon aside.
Work on the Other Salad Ingredients. In the meantime, combine all of the salad dressing ingredients in a medium bowl, and whisk them together. In another, larger bowl, arrange all of your other ingredients: artichoke hearts, cherry tomatoes, olives, boiled eggs, etc.
Top the Salad with Salmon and Dressing. Once the salmon has cooked and cooled down just a bit, break it into bite-sized pieces and add those to your salad bowl. Drizzle the dressing over everything, and you're done!
Enjoy! Serve this healthy salad right away, with your favorite side dishes or as-is.
Is It Ok to Cook Salmon from Frozen?
Yes, you can definitely do that! This works best with evenly-sized pieces of salmon that aren't too thick. If your salmon fillets are individually packaged, run them under cool water to loosen the packaging and then snip it off with scissors. Lay the frozen fillets right on your preheated grill pan, but budget an extra minute or two for cooking.
As always, use an Instant Read Thermometer to check the internal temperature of the fillets before you eat them. Salmon is safe when cooked to 145°F.
Note: if you cook directly from frozen, you may see more white albumin, the egg-white-looking substance in salmon, forming on the surface. No worries! Just wipe it away with a fork and keep going. Albumin is harmless!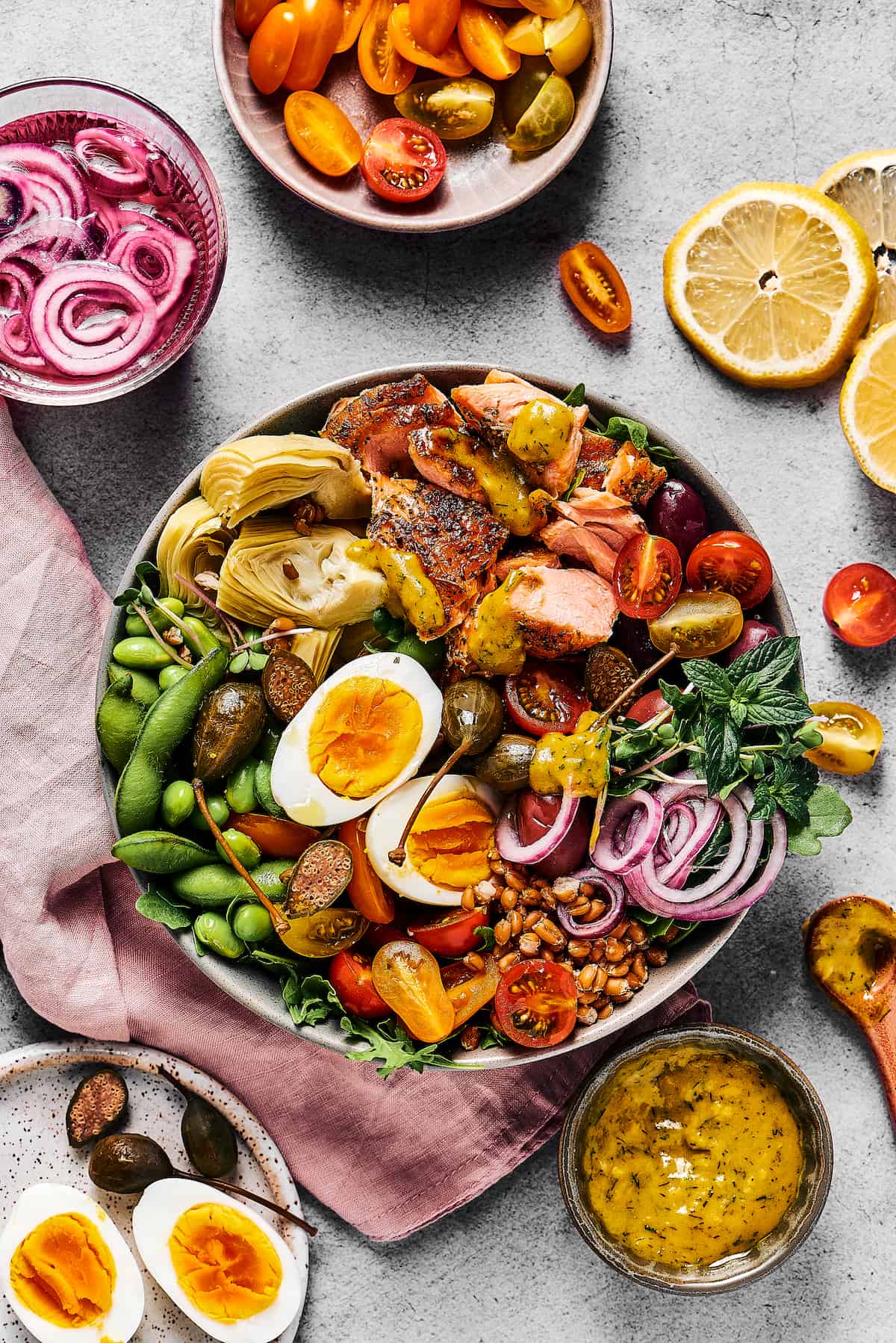 Cook's Notes
What else should you know about this recipe? Great question – and I've got all the details. Read on, and bon appetit!
Make It Leafy-er: Feel free to add more greens to this salad, or to replace the ones I've used with others that you prefer. Romaine, mesclun, and spring mix would all be great here.
Fish Options: While the bold, fresh taste of salmon is really excellent in this dish, you could definitely use another meaty fish in its place. A seared tuna steak would be fantastic, or a mahi mahi fillet, for example.
Cool It: If you put a steaming-hot salmon fillet on top of the salad, it will cause some of the other ingredients to soften or even wilt, so it's best to let the salmon cool slightly. Breaking it up into pieces also helps!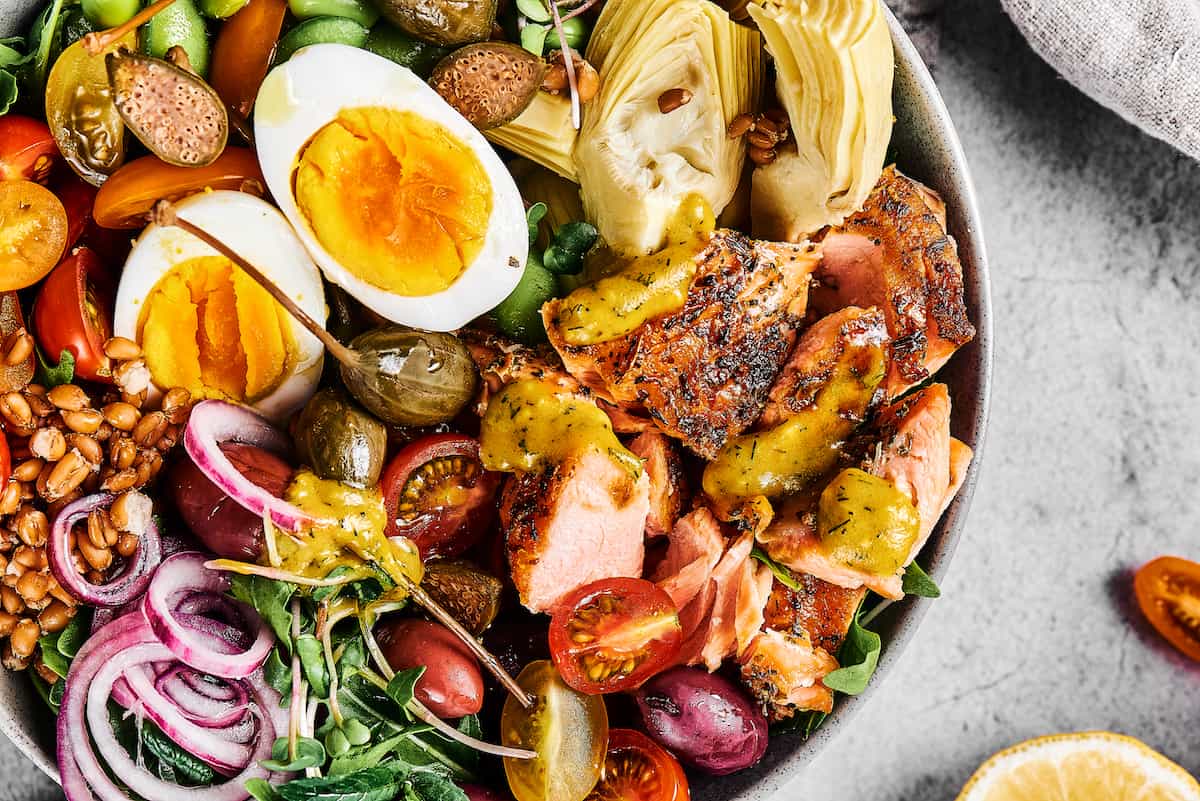 Serving Suggestions
When it comes to serving a big, hearty salad, you can't go wrong with one of the three classic sides: bread, salad, or pasta.
Flatbread: Any kind of bread is welcome with salad, but this Easy Homemade Flatbread is especially good. It's so simple, too – hardly any rising time, and you cook it on the stove!
Soup: A warm cup or bowl of Creamy Leek and Potato Soup is just right with juicy salmon and crisp garden salad. The flavors blend perfectly!
Semolina Gnocchi: Any pasta dish would be great, but you could also do something a bit different and make gnocchi. Soft, golden circles of buttery Gnocchi Alla Romana are made with semolina, eggs, milk, and butter. Comforting and perfect with this healthy salad.
How to Store the Leftovers
I don't recommend storing the mixed salad for more than 24 hours, because the ingredients will begin to turn mushy.
However, if you cook more salmon than you need, you can refrigerate the leftovers for up to three days.
Extra salad dressing will keep in the fridge for about one week.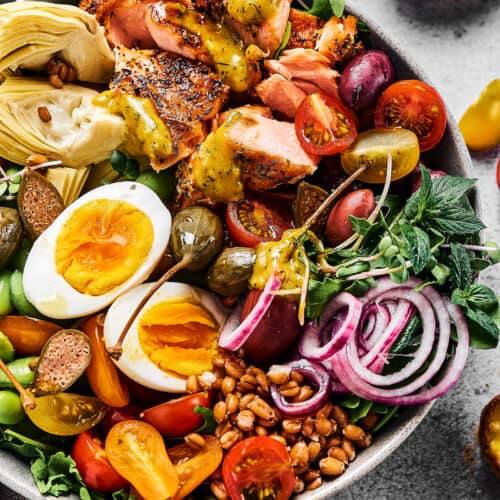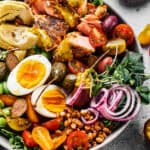 Print Recipe
Grilled Salmon Salad with Dill Vinaigrette
Grilled Salmon Salad prepared with seasoned, grilled salmon fillets, artichoke hearts, tomatoes, hard-boiled eggs, arugula, and so much more!
Ingredients
For the Salmon
1 ½

pounds

salmon fillets

1

teaspoon

Italian seasoning
For the Dressing
3 to 4

cloves

garlic,

minced

3

tablespoons

extra virgin olive oil

1

tablespoon

Dijon mustard

Juice of ½ lemon

Chopped dill
Instructions
Pat the salmon dry with paper towels, and season with salt, pepper, and Italian seasoning.

Heat a grill pan to medium-high heat. Once the pan is hot, place the salmon on it, skin-side-down.

Grill for 3 to 4 minutes per side, or until the internal temperature of the salmon reaches 145˚F. Set aside.

Meanwhile, arrange the salad ingredients in a large bowl. Then, break the cooked salmon into large pieces and add those to the salad.

Make the dressing by whisking all the dressing ingredients together in a medium bowl.

Pour the prepared dressing over the salad, and serve.
Nutrition
Calories:
594
kcal
|
Carbohydrates:
24
g
|
Protein:
51
g
|
Fat:
33
g
|
Saturated Fat:
5
g
|
Polyunsaturated Fat:
8
g
|
Monounsaturated Fat:
16
g
|
Trans Fat:
0.01
g
|
Cholesterol:
233
mg
|
Sodium:
1230
mg
|
Potassium:
1414
mg
|
Fiber:
9
g
|
Sugar:
5
g
|
Vitamin A:
664
IU
|
Vitamin C:
17
mg
|
Calcium:
136
mg
|
Iron:
5
mg
More Easy Seafood Recipes